---
Badges and Bells
from the collection of Alan Dowling
Associate member of the V & W Destroyer Association


Unofficial badges produced by ships' captains prior to 1918 were usually round but might be any shape. In 1919 the Admiralty produced standard patterns according to vessel type: circular for battleships and battle cruisers, pentagonal for cruisers, shields for destroyers and diamond for all other vessel types and shore establishments.
There are three categories of badges (frequently known as crests) on Royal Navy ships:


Screen Plaques
These massive bronze castings were attached to the screen, the front of the bridge structure at head height. They weighed 33 lbs and measured 15 3/8 inches from the top of the crown to the bottom of the rope. There might be more than one, others being attached elsewhere on the bridge structure or in the Wardroom. Small replicas were cast in light alloy and mounted on hardwood for presentation and display. Their quality varied considerably.
Boat Badges
These small brass badges were attached to the ship's whaler on V & W Class destroyers. They were 5 pounds in weight and measured 5 1/2 inches in height. About thirty of them were cast to replace ones which went missing and consequently they can occasionally be bought by collectors.
Gun Tompions
These were the same diameter as the barrels of guns and attached to a plug which closed the gun barrel.

The majority of the hand carved wooden originals from which the sand moulds were made for casting the plaques, badges and tompions are believed to be at the Royal Navy Museum in the Naval Dockyard at Plymouth and are not on display but some are on public display at Chatham. Original casts have a fine finish and exactly match the measurements given. A boat badge might be temporarily removed from a ship's whaler to make a secondary cast in a depot ship or naval dockyard
for presentation to a distinguished visitor. They are slightly smaller than the original since
metal contracts on cooling.
All castings should be polished after casting to bring them to a nice finish.
This can be done with heavy duty polishers, sandblasting, etc.
Some of the reduced size reproductions of screen plaques cast in light metal and mounted on hardwood for sale as souvenirs by commercial companies are of high quality.


Can you identify the boat badges without names? The one with the portcullis is, of course, from HMS

Westminster

and is the property of Jeremy Ouvry, son of Lt Cdr Aymé Arthur Carrington Ouvry DSC, RN (1904-89) who was her CO from December 1939 to August 1942.


Do you have a genuine screen plaque or boat badge of a V & W Class destroyer?


See the plaster cast of the 15 3/8 inch screen plaque of HMS

Venomous

(left) shown in the photograph taken in 1941
A genuine 5 1/2 inch boat badge (centre) and a small scale replica of the screen plaque made by a commercial firm in the 1930s


Can you distinguish the genuine from the copy?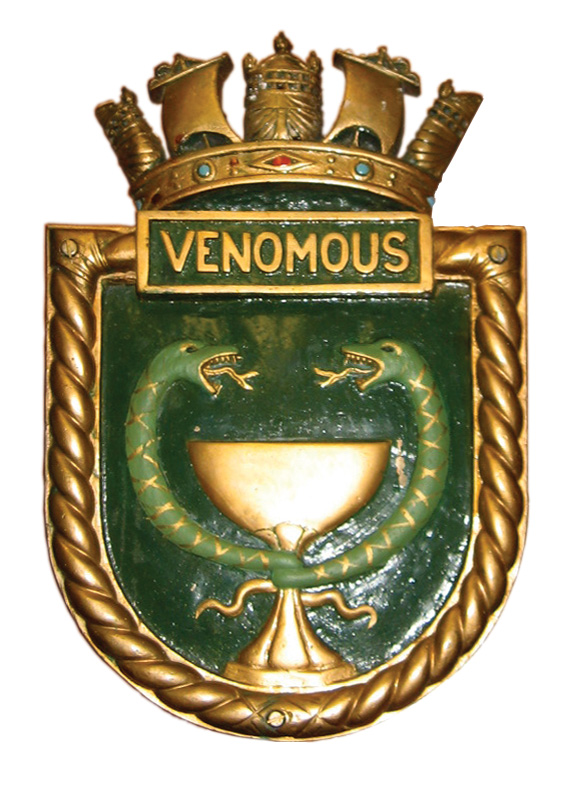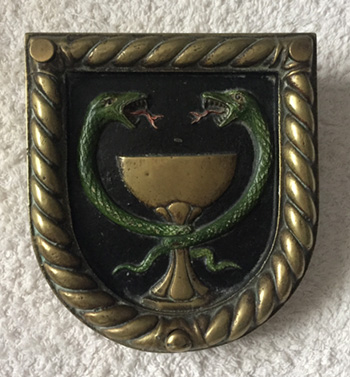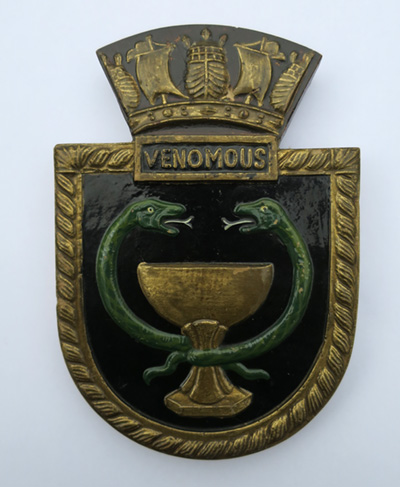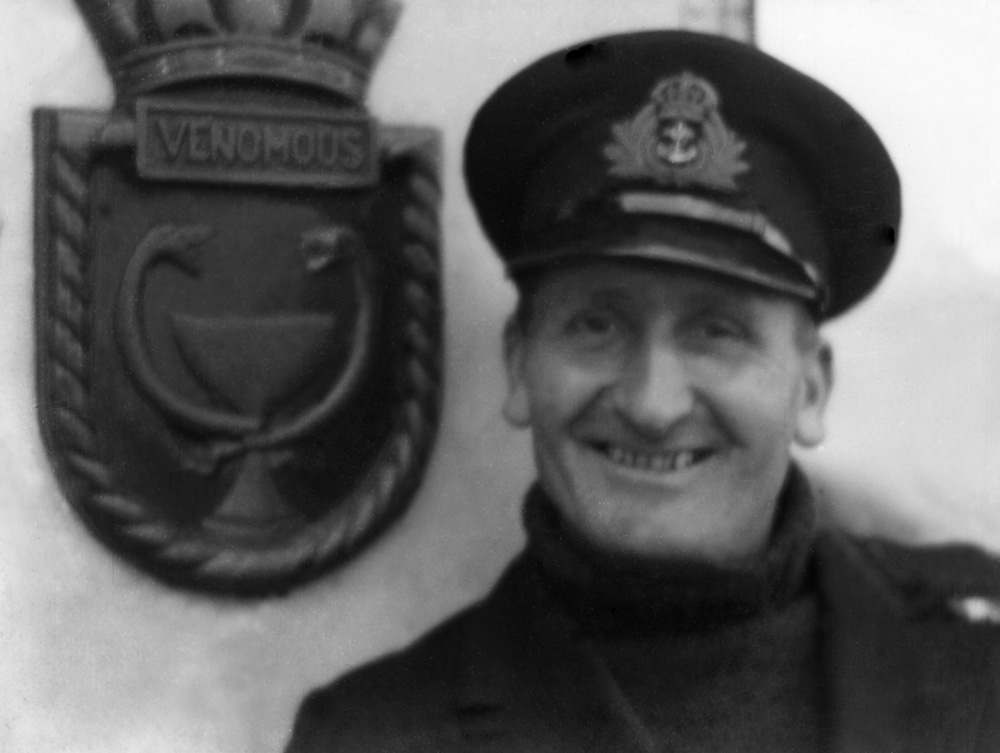 Warrant Officer Parkes RN with the screen plaque of HMS

Venomous,

1941
Compare with the photographs above and the screen plaque of HMS

Vanessa

below


Copyright Reserved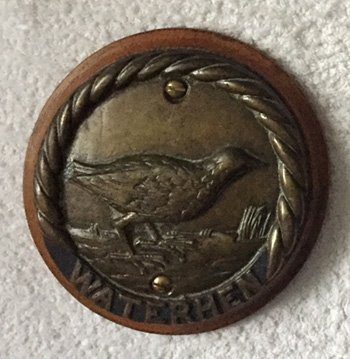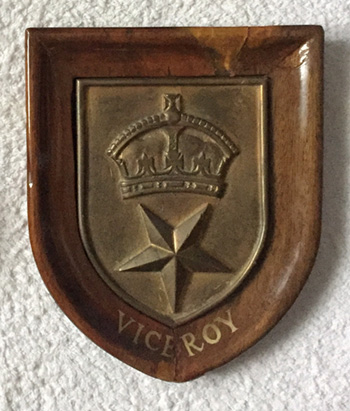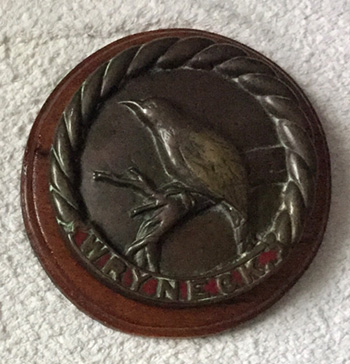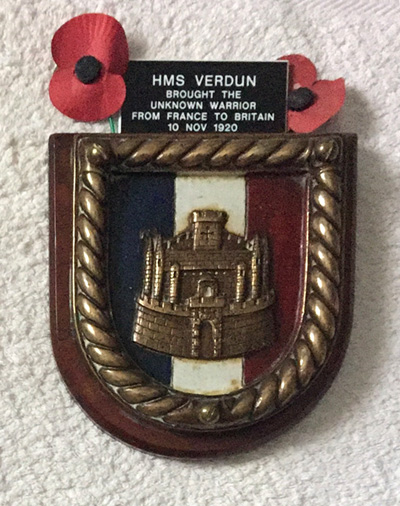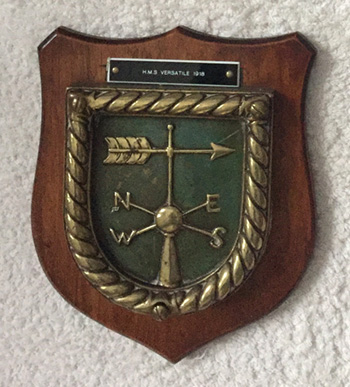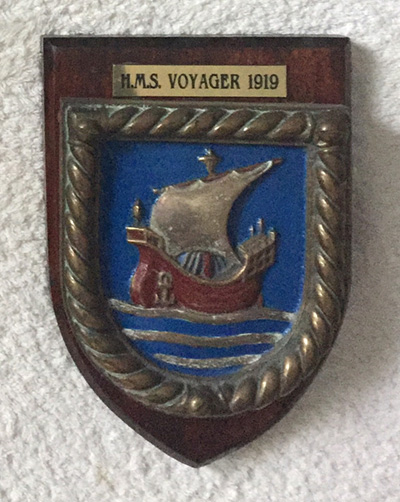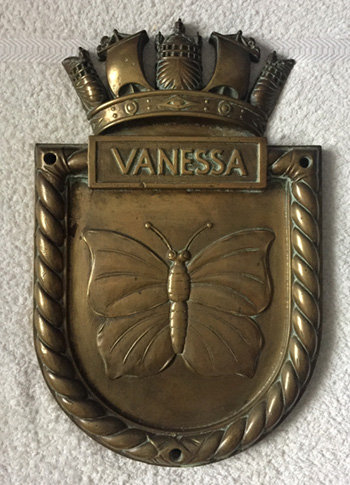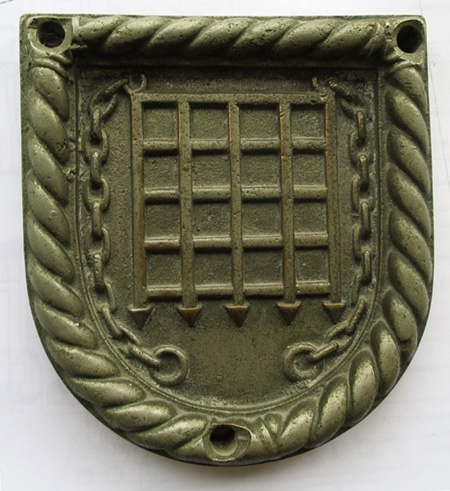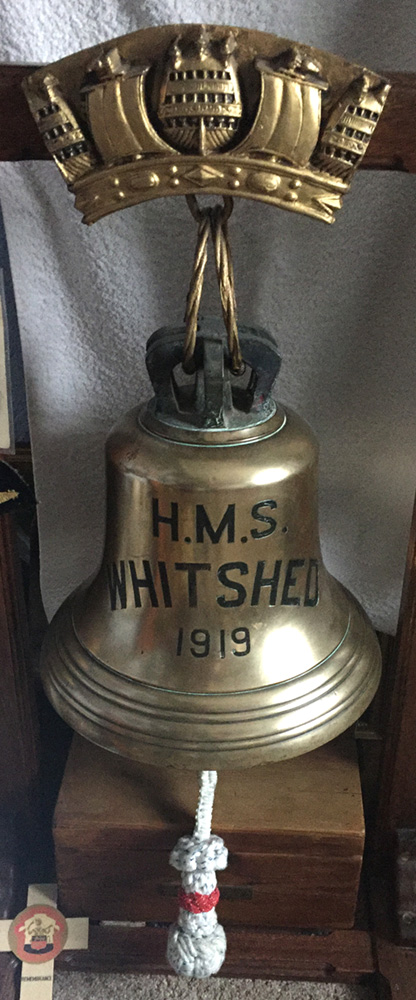 By 1934 large numbers of old warships were laid up and the expectation was that they would in time be scrapped. Consequently, on 12 April 1934 Admiralty Fleet Order (AFO) 867, "Ships Bells for Disposal", was issued listing bells from eighty named ships for sale to ships' officers and others at prices from £1 to £5. They included the bells of twelve V & Ws:

Vanoc, Vega, Verity, Veteran, Viceroy, Vimy, Vortigern, Wallace, Watchman, Wessex, Wild Swan, Witch

and

Worcester.

Most of them had a diameter of 10 3/4 inches and a weight of 27 lbs.

As Germany rearmed and the threat of war became plain these old warriors were brought back into service and fitted with new 14 inch diameter bells.
The bell of HMS

Whitshed

is the only ship's bell in Alan Dowling's collection and since it has a diameter of 14 inches we can be sure that it is the same bell that hung in the ship when she took part with five sister ships in the evacuation of the Welsh and Irish Guards from Boulogne on 23 May 1940.

Please get in touch if you own one of these bells.

Alan Dowling has the mallet used at the launch of HMS

Vancouver

in 1917 renamed HMS

Vimy

in 1928 plus an original badge of HMS

Vancouver

and HMS Vimy.
The bell of HMS

Vimy

was bought by Rodney Scott Moncrieff in British Columbia, Canada, and is rung on Remembrance Day at cenotaphs throughout the state.

Alan Dowling's collection includes sixteen "unofficial" (pre 1918) boat badges,
three screen plaques for

Viceroy, Wanderer

and

Vanessa
and thirty official boat badges (including
three Class Leaders)
to the authorised Admiralty design
.

Official screen plaques

for HMS

Viceroy

, HMS

Wanderer

and HMS

Vanessa
Unofficial boat badges

for HMS

Wallace, Shakespeare

(Class Leaders)

Winchester, Vivacous, Wryneck, Vancouver, Waterhen, Watchman, Vectris, Whitehall, Wivern, Whitshed, Vega, Vimiera, Viceroy and Viscount.



Official boat badges for HMS

Shakespeare

,

Malcolm, Bruce, Campbell

(Class Leaders),

Wishart, Viscount, Verdun, Valorous, Vivien, Wanderer, Vidette, Verity, Wolsley, Walpole, Vimy, Valhalla, Valkyrie, Wolfhound, Wild Swan, Versatile, Waterhen, Voyager, Valentine, Whitshed, Vansittart, Vega, Violent, Witch, Venomous

and

Wyvern.
The Admiralty drawings of the authorised designs were published in two volumes as

The A to Z of Royal Naval Ships Badges 1919 - 1989

by Neptune Books in 1987. An updated hardback edition was published as:

Admiralty Ships Badges: Original Patterns 1919 - 1994

. Volume 1: A - M and Vol 2 N - Z; by T.P. Stopford. Stone Frigate, 1996. ISBN 0952934604
If you want to find out more about ships's badges read


Heraldry in the Royal Navy: Crests and Badges of HM Ships
Alfred E Weightman
Aldershot: Gale & Polden Ltd, 1957
If you have a crest or bell of a V & W you would like to contribute to the web site please contact

Alan Dowling
---
Return to the Home Page of the V & W Destroyer Association
Return to the Index Page for the 69 V & W Class Destroyers
---