---
Leading Seaman Stanley A. Adams BEM
JX.147711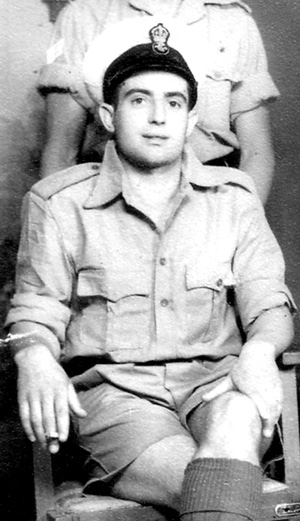 Stanley Alymer Adams
(1920-2011)
was born in Bermondsey, London,
on 20 March 1920. He came from a very poor family, his father was discharged from the Army as unfit after 150 days and had difficulty earning enough from his trade as a plumber to feed his six children.
Stanley, the fifth youngest, joined the Royal Navy as a 15 year old boy sailor in January 1936 because "he would get three meals a day in the Navy". He was a "Shotley Boy", one of the boy sailors at HMS

Ganges

on the Shotley side of the River Stour opposite Harwich.

He signed on for twelve years when he was eighteen and
served in HMS

Arethusa

and HMS

Barham
before joining

Vimiera
on 25 January 1940. He was aboard during the dramatic events of May 1940 when

Vimiera

made two trips to Boulogne and brought back 1,100 men of the Welsh and Irish Guards on the day the city was captured by German forces (see

A Hard Fought Ship

, 3rd edition, forthcoming).


HMS
Vimiera
joined the Rosyth Escort Force, the V & W Class destroyers escorting east coast convoys from Rosyth on the Firth of Forth to Sheerness.
They had HA 4 inch guns to defend convoys against German bombers and were known as WAIRs. LS Adams was one of five men awarded the British Empire Medal (BEM) for crewing the whaler which rescued men from the eight ships which ran aground on the Haisborough Sands off the Norfolk coast on the 6 August 1941. When

Vimiera

detonated the mine on the 9 January 1942 h
e was on the forward mess deck
but was immensely strong and succeeded in unscrewing an escape hatch above his head and scrambled on deck followed by two others. He suffered lacerations of the scalp which left a permanent scar.
Long after leaving the Navy he wrote a rather charming informal account of his life including two short pages about his time in

Vimiera

:


"She lay in Portsmouth harbour, a rusty old veteran from the First World War. She had just the one very old Director and I her newly trained Director Layer with only four 4-inch Guns to direct. Within weeks we had painted, polished and equipped, stored, watered, ammunitioned and in double quick time left Pompey and made our way up to the West coast of Scotland.
Here in comparative safety we could do our "rubbing up" period. A time when everyone has to learn their action station and the next man's. Gun firing, torpedo firing, anti-aircraft firing, depth charges, water tight doors, fire drills, these things went on day and night. We had to get the crew up to a decent standard. Problem was most of these lads had just been "called up". Many came from Scotland, weekend sailors, who had never been to sea before and it didn't help matters not understanding their Scottish brogue.

Of the 129 crew only about 25 of us were regular sailors. By this time I had become a Leading Seaman. I had about twenty of these lads under my care and one or two "old salts" to help out. We became an efficient bunch.
We worked with convoys from Rosyth in Scotland to Sheeerness going the speed of the slowest merchant ship, it took roughly a week to get down (not counting German interruptions), two days in Sheerness then back up North.

Usual setup was a senior more modern destroyer leading eighteen merchant ships then dear old

Vimiera

trailing along at the stern picking up the stragglers or survivors. Sadly, we lost an average of four ships per trip. By night our main worry was German E-Boats and by day their air force. An old merchant ship with engine trouble dragging along behind was easy prey for JU-88s. Recovering people from the sea under fire is how I was awarded the British Empire Medal by King George in 1942 at Buckingham Palace.

It wasn't all one way. We became a very good anti-aircraft unit, in eighteen months claiming over fourteen planes, two E-Boats at night, perhaps more, it's hard to tell on a dark night. It's also impossible to know what positive results we had against submarines after all the many "patterns" of depth charges we dropped during that time.

About every three months we had to retire to Rosyth Docks to have our "boilers" cleaned. The crew took it in turn for shore leave but it was a stuffy crowded long, long journey from Edinburgh to Kings Cross, usually 9 pm to 6 am.

Twice we were badly damaged and with all the "yards" full and being a small ship we were sent to the Isle of Dogs in London, given a real Cockney reception and fussed over the whole time we were there. It was also just a short ride home to Bromley.

Another repair job was done in Barrow-in-Furness (a very dull place). Having a Sunday walk and fancying a beer I went in the next pub and joined a couple of RAF pilots in the bar. Spitfire pilots doing some course. The result of those two pints was that I found myself the next morning at Walney Island, kitted up in leather head gear and jacket etc in the fore end of a Miles Martinet twin seater trainer. My new mad friend Sgt Tovey DFM took me into the clouds and for half an hour while he used his camera gun we dived and climbed out of six friendly bombers, an unforgetable experience.



Vimiera

made history by getting in an out of Boulogne harbour three times, rescuing our retreating army. The last trip was in the middle of the night with the Germans in control of the town. Fortunately, it was as dark for them as it was for us and on quickly filling with troops we went astern very rapidly with motar bombs dropping everywhere. We survived.

One of my jobs at sea was to train young officers rudely known as ninety day wonders. They came to us in threes, had about two weeks roughing it and I fed them all kinds of basic seamanship. After the war I spotted this smart Lt Cdr who had made the Navy a career and we had a beer together.

Sadly, on a cold snowy day we hit a magnetic mine and went down. January 1941. After swimming I was picked up by a minesweeper of ours, taken below, wrapped in a blanket, given a tot. Most of my friends were not so lucky."


He had another narrow escape in his next ship, HMS

Phoebe,

a

Dido

Class AA Cruiser. On 26 October 1942, while escorting a convoy to Freetown, she was hit abreast Q turret on the port side forward by torpedo fired by U-161 off Pointe Noire, Belgian Congo. She sustained major structural damage and 52 men were killed. "He was a very lucky man as we have an OXO tin in which he kept his tobacco and a piece of shrapnel which fits perfectly into the damaged tin from the

Phoebe

" (Paul Adams, his son). The ship limped to the USA for repairs where he stayed for three months. He was promoted to Petty Officer (PO) and remained with

Phoebe

after her repair until June 1945. The photograph (top right) was taken on his twenty-fifth birthday in 1945.

He joined HMS

Alert

, a new Bay Class frigate, commissioned for service on 24 October 1946 which arrived at Singapore, her home port, on 29 November, to join the British Pacific Fleet.

Alert

was used as an Admiralty Yacht for Flag Showing Duties in the Far East. Frank Donald recalled that she was based in Singapore when he was there in 1960 and used by the CinC for touring the Far Eastern Station. The men in Whites are a Guard of Honour paraded for an official visit with Petty Officer Adams on the right. Most of the ratings look as if they would have been at primary school when Adams joined the Navy as a boy sailor in 1936.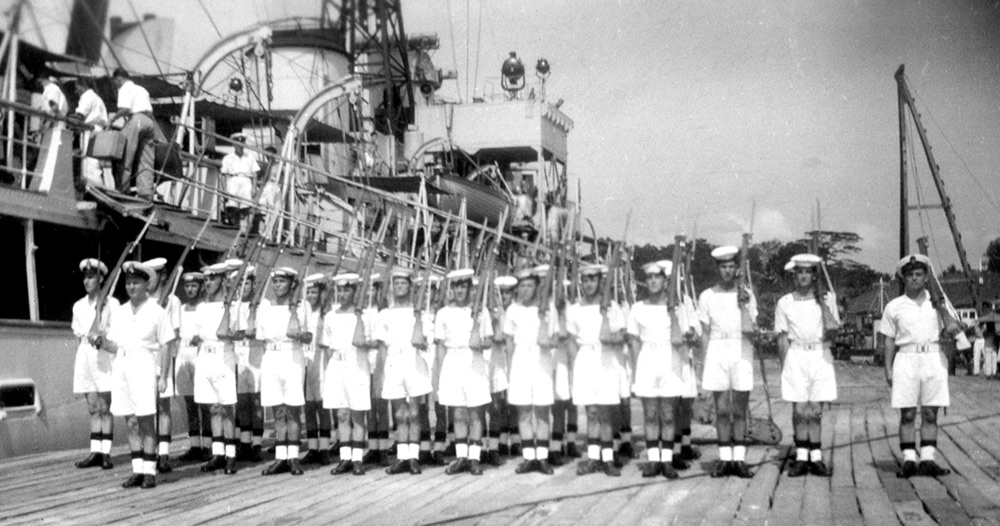 A Guard of Honour ready for inspection at an unidentified port on the Far Eastern Station while the suitcases of a guest are taken aboard HMS
Alert

PO Stanley A Adams stands on the right


Courtesy of Paul Adams



On the 17 November 1947 he joined HMS

Contest

, one of thirty-one C Class destroyers built at the end of the war, the best known being HMS

Cavalier

. She returned to Britain at the end of that month. In
1948 he bought himself out of the Navy to marry Alice Pratt who he met on home leave in Bromley, Kent. He lost his Gratuity by buying himself out before the end of his twelve year engagement and needed a job to support his wife and future family.
The Navy meant a great deal to Stanley Adams and on leaving he enrolled in the Royal Fleet Reserve and was not discharged until 1960.
They had three children and the youngest, Paul Adams, told his father's story and provided the photographs on this page.


He was a salesman for a confectionary firm for many years before buying his own business, a tobaconist in Lewisham in 1963, and was elected as the Chairman of the Newsagents Society in south east London. The family moved to Maidstone in 1971 and ran a small kiosk in the town centre until he finally retired in 1990.
He had one of the first heart by-passes in about 1970 but lived another 40 years until his death from cancer in 2011.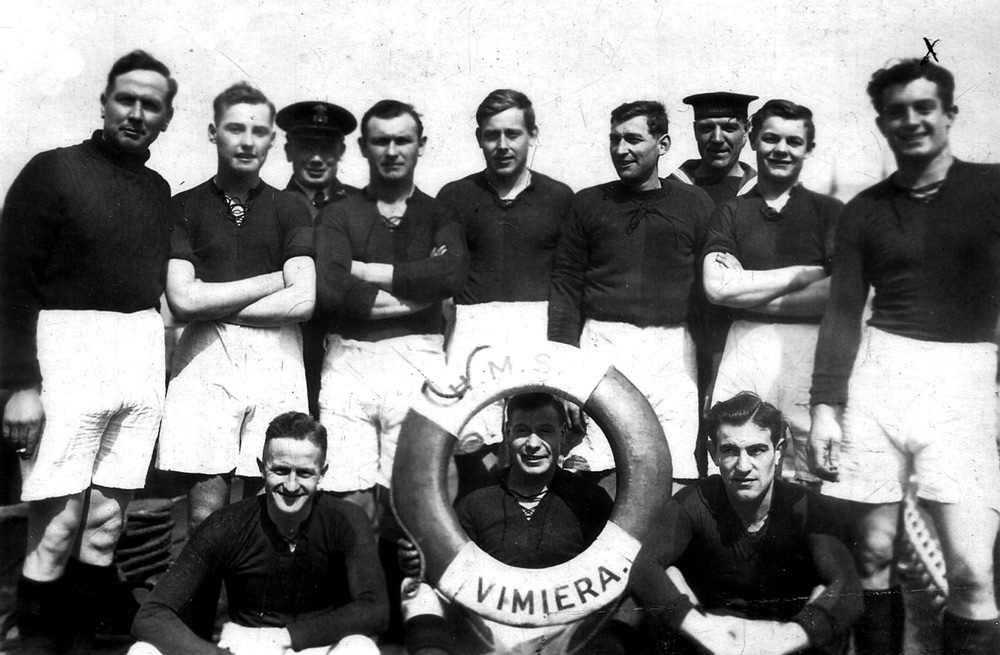 B
etween convoys
the V & Ws in the Rosyth Escort Force competed against each other at football
Leading Seaman Adams is the strong looking guy on the right with a cross above his head
Third from right, bareheaded and glancing to his right, is Leading Seaman John Daglish (No 6 in the photograph of the ship's company) who joined the Navy in 1932
and was in hospital with a broken arm when

Vimiera

detonated the mine killing 93 of his shipmates .


Courtesy of Paul Adams



If you have stories or photographs of HMS Vimiera you would like to contribute to the web site please contact Frank Donald
---
Return to the Home Page for HMS Vimiera

Return to the Home Page of the V & W Destroyer Association
Return to the Index Page for the 69 V & W Class Destroyers
---