---
Reginald J. Harris
Ty/Leading Cook (S), C/MX 60132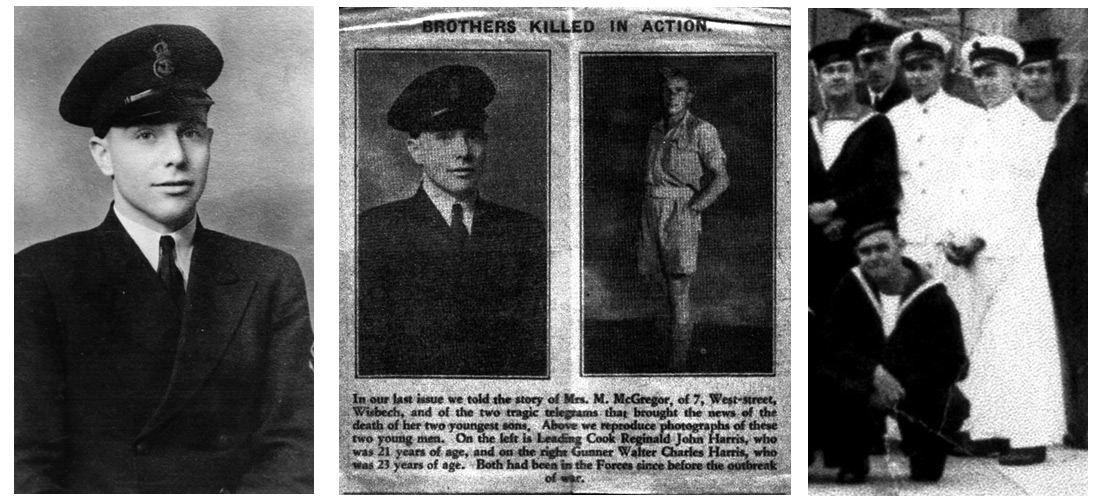 A studio portrait of Leading Cook Reg Harris in naval ratings uniform and on the right the two cooks on HMS

Vimiera

photographed with the rest of the ship's company at Rosyth in 1941

The cooks are dressed in white with Reg Harris on the left and the man crouching is LS Stanley Adams who went to fetch Reg Harris when he failed to turn up for the photograph
Reginald John Harris
was was born on 21 June 1921, one of four brothers and three sisters. His parents were Walter Harris and Frances Harris. Walter Harris, died in 1927 as a result of gas poisoning contracted in the Great War while serving in the Suffolk regiment. His Mother married James Francis Mcgregor in 1930. He had served in the Royal Navy in World War I on HMS

High Flier

and HMS

Iron Duke

and his influence may have persuaded his stepson to enlist in the Navy.


Reg Harris
worked at Elgoods Brewery in his home town of Wisbech after leaving school but enlisted in the Navy
before the outbreak of war
on his eighteenth birthday in 1939. After basic training he was drafted to HMS

Vimiera

as Assistant Cook on 25 January 1940. Less than a moth later he was rated as Cook and by the 7 September 1941 he was a Leading Cook on HMS

Vimiera

. He was in HMS

Vimiera

during the evacuation of the Welsh and Irish Guards from Boulogne on the 23 May 1940. In December 1941 he returned home for Christmas with his Mother and stepfather at the market town of Wisbech in the Cambridgeshire Fenns. He returned to duty on 30 December and within two weeks his mother received a telegraph informing her that he was missing after

Vimiera

detonated a mine and sank in the Thames estuary on the 9 January 1942.

His older brother, Gunner Walter Charles Henry, was 23 when he joined the army at about the same time as his younger brother joined the Navy. He was stationed in the Middle East and was wounded in action on November 26 1941. Within a week of learning of the death of her youngest son his Mother received the news that his brother had died of his wounds.

Her two other sons survived. The oldest, Bert Harris, had joined the Royal Horse Artillery before the war and was called up as a Reservist in 1939 and was at Dunkirk. The other brother, Fred Harris, was known as Mick Harris and served in the Navy.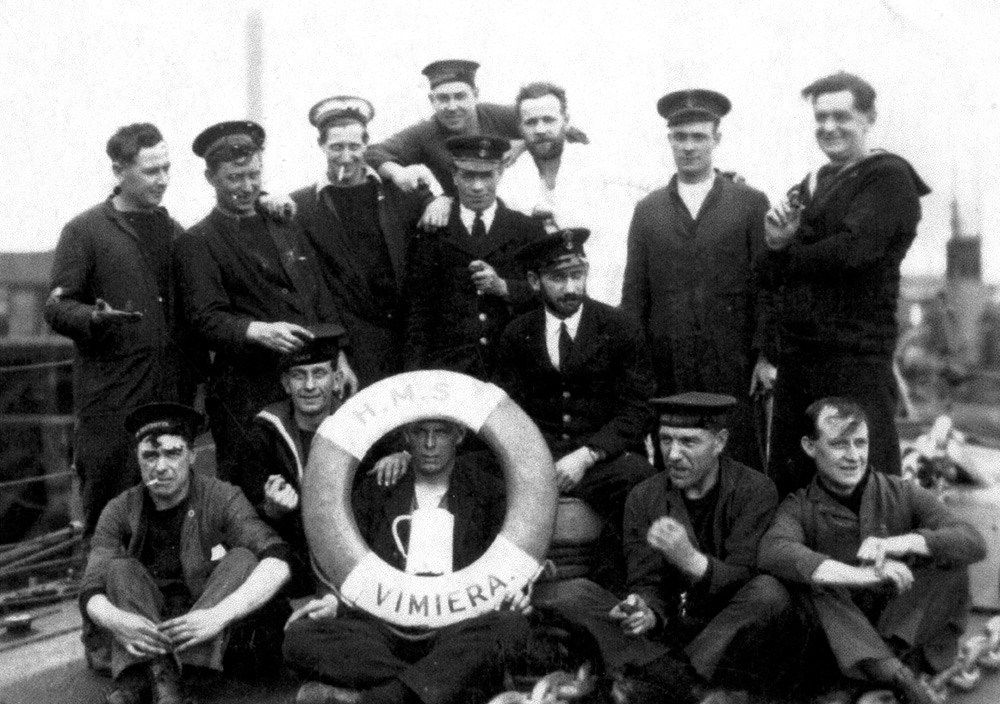 Some of the crew of HMS

Vimiera


Reg Harris is in the centre with his hand on the chest of his "fore and aft rig" of jacket and trousers and peaked caps instead of the "sqare rigg" worn by the sailors


Courtesy of John Knott



This brief account of his short life is based on information provided by his nephew, John Knott
John Knott's mother was Frances Elsie May Harris, the eldest of the three sisters of Reg Harris.

---
Return to the Home Page for HMS Vimiera

Return to the Home Page of the V & W Destroyer Association
Return to the Index Page for the 69 V & W Class Destroyers
---