---


Warship Weeks
Sandbach in Cheshire adopts HMS Vimiera
Warships Week 29 November - 6 December 1941

Between October 1941 and the end of March 1942, Warships Weeks were organised in cities, towns and villages throughout Great Britain. The intention was to raise a sum by investment or deposit in all types of war savings representing the cost of building one of His Majesty's ships ranging from the smallest to the largest vessels. Once the target had been raised the community adopted the vessel along with its crew and the bond was strengthened by presentations in recognition of the money raised. Adoption plaques were presented by the Admiralty to the community and a plaque presented by the community to the adopted vessel. Links were maintained by the writing of letters and the provision of comforts and whenever possible visits were arranged to the adopting area.
Most of the V&W Class destroyers in commission with the Royal Navy were adopted during the Warship Week scheme and in a number of cases local sea cadet units later took the name of the ship.

To find more about Warship Weeks see Peter Schofield's article on

'National Savings and Warship Weeks'.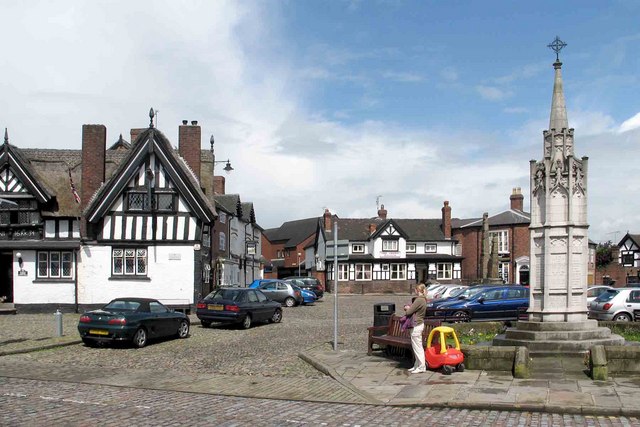 The market Square at Sandbach, Cheshire
Copyright www fotodiscs4u co uk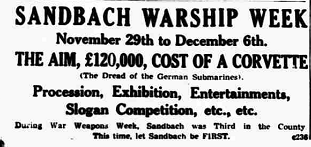 Foden's famous Motor Works Band got Warships Week off to a good start with a concert on the 30th November 1941

Staffordshire Sentinel
Wednesday, 10 December 1941
Sandbach Warship Week proved an unqualified success. The £120,000 target figure was exceeded, £160,000 being the final result. Goostrey raised £24,000, against their target of £10,000; while Holmes Chapel, aiming at £20,000, netted £21,631. Thus, Sandbach and District have purchased HMS
Vimiera
, a corvette. The average per head of the population is £11.
Staffordshire Sentinel
Wednesday, 8 July 1942
A plaque, a replica of the badge of HMS
Vimiera
, which has been sunk in action, has been sent to Sandbach Urban District Council. The ship was adopted by the town after the successful Warship Week and the plaque would be presented by an officer.
The actual figure raised was £163,880, the equivalent of £10 18s 6d per head, but a month later on the 9th January 1942 HMS
Vimiera
was sunk with heavy loss of life when
she detonated a mine in the Thames estuary
If you have stories or photographs of HMS
Vimiera
you would like to contribute to the web site please contact

Bill Forster
---
Return to the Home Page for HMS

Vimiera
Return to the Home Page of the V & W Destroyer Association
Return to the Index Page for the 69 V & W Class Destroyers
Return to the Home Page for Warship Weeks
---