---
HMS

Vimy

at Dunkirk
Based on information from "The Royal Navy at Dunkirk"
by Martin Mace (2017)


HMS

Vimy

made seven trips to Dunkirk under three COs and evacuated 3000 troops. The first was on 27th May, under the command of

Lt Cdr R G K Knowling

, who had taken over after Lt Cdr Colin Donald had been mortally wounded at Boulogne on 23 May. She escorted transports and hospital ships to Dunkirk and back to Dover; she did not go alongside, and no troops were embarked.
She sailed again at 2300 on 27th May, setting a speed of 20 knots. At 2355 the Captain left the bridge to go below, and shortly afterwards the ship altered course. As the Captain had still not returned to the bridge by 0015 on 28th May the ship was searched without success. Lt Cdr Knowling, who had a sprained ankle, was probably lost overboard when the ship turned at high speed.

Lt Northey

,

the First Lieutenant

, assumed command, and continued to Dunkirk, where initially boats were launched off the beach to assist SS

Brighton Belle

. The ship then moved to the Mole (East Pier) where embarkation was assisted by a heavy pall of smoke from burning buildings ashore.
After three sorties under Lt Northey's command,

Lt Cdr M W Ewart Wentworth

took over on 29th May for a further three trips, the last being on 31st May.

Vimy

sailed again early on 1st June, but collided with HM Yacht

Amulree

, which sank.

Vimy

rescued Amulree's entire crew and returned to Dover. HMS

Vimy

had sustained damage to her bow, and sailed for Portsmouth for repairs on 2nd June, taking no further part in Operation Dynamo.
Apart from early in the morning of 28th May all troop embarkation took place alongside the Mole (East Pier). It appears that the Vimy's boats were never recovered from SS

Brighton Belle

and the rescue of the Amulree's crew was carried out using the one remaining boat – the skiff.
Vimy

and neighbouring ships were under air attack on several occasions. On the afternoon of the 27th the two hospital ships were attacked by two twin engine aircraft. While off Dunkirk the town was continually bombed by twin engine high level bombers.

Vimy

herself was not attacked but several bombers passed nearby, and the ship's AA armaments were frequently in action.
On the afternoon of the 28th

Vimy

and four other destroyers were attacked by about 20 Heinkel bombers at high level in groups of three. The aircraft attempted to attack from astern, dropping five heavy bombs from each aircraft.

Vimy

had two near misses at 20 yards, one on the bow and one on the quarter. There was no damage. Later while the ship was off Bray AA fire was opened on several more bombers which flew over the ship to attack ships further inshore. Once the ship was alongside the East pier flying conditions deteriorated with low cloud and rain, and while aircraft were seen and engaged there were no attacks.
Shore artillery shelling the pier could make it difficult to get alongside, as in the late afternoon of 30th May when berthing was delayed.
There was one anti-submarine action, on the morning of 31st May, when Vimy was en route Dunkirk at 20 knots and clearly sighted the periscope and conning tower of a submarine. She dropped one depth charge and was joined by HMS Sheldrake. Vimy later left Sheldrake to continue the hunt and continued to Dunkirk.
Two Grandfathers at Dunkirk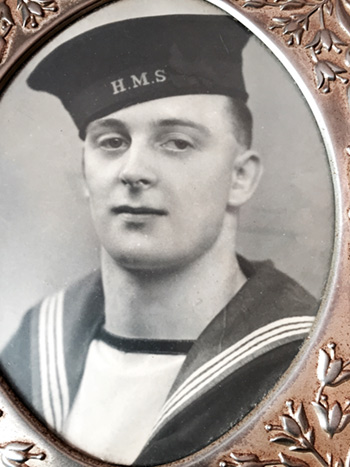 R

obert Holland
Both grandfathers of Shane Harley, who lives in Guernsey, were at Dunkirk. Shane's maternal grandfather, Robert Holland, was serving in
Vimy
, in the gunnery department, and may have stayed onboard throughout the war. From his collection of pictures taken by the ship's photographer he was certainly at the Crossing the Line Ceremony in December 1941 or January 1942 (which was disturbed when the asdic had a possible submarine contact which turned out later to be a whale) and in February 1943 when
Vimy
and HMS
Beverley
sank U187 off Iceland. He met Shane's grandmother when
Vimy
was based at Liverpool as a convoy escort.



The Gunnery Department in HMS

Vimy - Robert Holland is third from left middle row




Courtesy of Shane Harley




The 4 inch Gun in action

Courtesy of Shane Harley
Henry Harley



Shane's paternal grandfather, Henry Harley, was born in Staffordshire in 1911. He joined the 2nd Battalion of the Sherwood Foresters in 1930. After service in India and Sudan the Battalion was in Guernsey in 1937, and when Private Harley was transferred to the reserve in December 1937 he stayed on. He married a local girl, who went to live in Newcastle under Lyme during the German occupation of the Channel Islands, and Shane's father was born there in 1941.


The 2nd Battalion completed mobilisation on 3rd September 1939 and sailed for France three weeks later. For most of the time until the German invasion of Belgium on 10 May the battalion was employed in holding various defensive lines on the French/Belgian border, though they did spend a short period in the French Maginot Line to give them experience of opposing the Germans. On 11th May they moved forward to Brussels and held various defensive positions to the east of the city. On 16th May the BEF started to withdraw from Belgium, and continued moving west in stages until 26th May.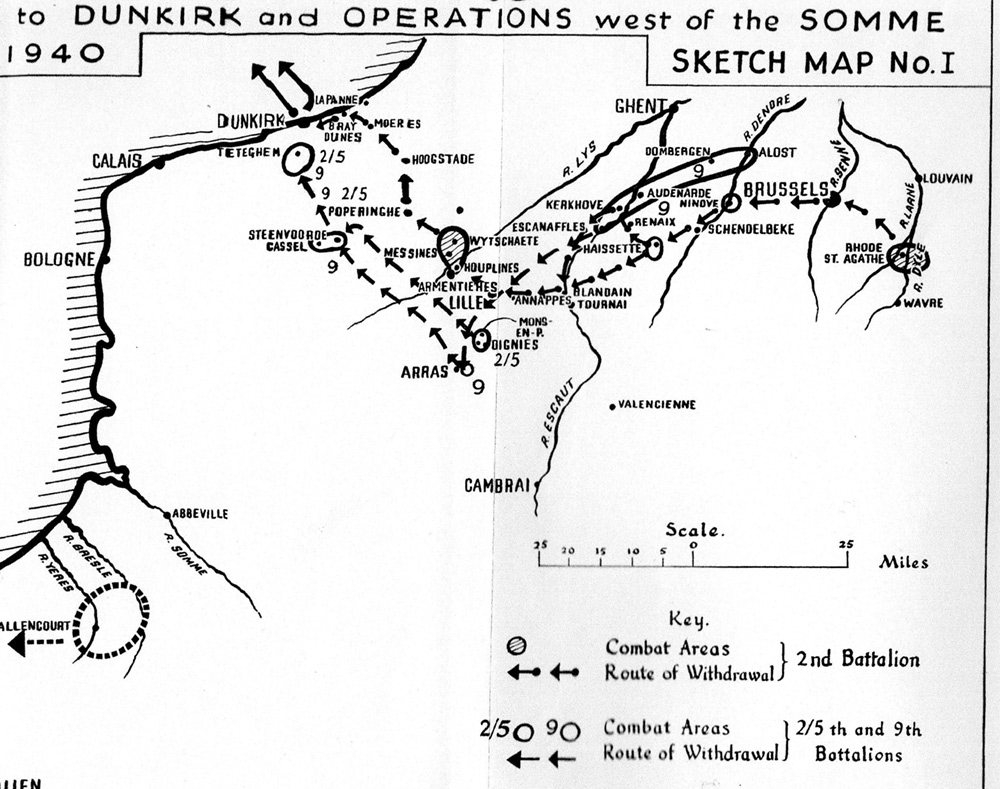 From

The History of the Sherwood Foresters (Nottinghamshire and Derbyshire Regiments, 1919 - 1957

; by C.N. Barclay
London: William Clowes, 1959
By then the Germans had reached the Channel at Calais and Boulogne, and the BEF were trapped in a narrow pocket extending about 60 miles south of Dunkirk. The 2nd Battalion was facing west, as part of 1 Corps, 1st Division, 3rd Infantry Brigade. They were withdrawn from the line with two other battalions, 3rd Grenadier Guards and 2nd North Staffordshires, to march to Dunkirk for evacuation. However General Alan Brooke, commanding 2 Corps, facing east, was worried about a gap in his front line between 5th and 50th Divisions, and on 27th May borrowed the three battalions to plug it.
The COs of 3rd Grenadiers and 2nd North Staffs reported to 5th Division HQ and were briefed to carry out an attack to push the Germans east, in which the Grenadiers were very badly mauled. The CO and Adjutant of the Sherwood Foresters were briefed to fill a dangerous gap in the 5th Division front line, but were shortly afterwards hit by a bomb, which killed the Adjutant and badly wounded the CO. Although the Battalion was unable to find the gap they were required to fill they were able to take up a position beside one of the battalions involved.
After holding the line on the 28th May the 2nd Battalion moved north towards the Dunkirk beaches, losing troops on the way due to misdirection. The remainder arrived at Bray Dunes, 8 miles east of Dunkirk, early on 31st May, with Shane's grandfather carrying an injured comrade on a rifle. An attempt was made to launch boats from the beach, but due to a contrary tide and the inexperience of the men in boat handling this mostly failed, though 10 Officers and 20 men managed to embark. These must have included Henry Harley, a strong swimmer, who with his mate Charlie Raisame swam two miles out to a waiting destroyer.
The remaining 5 Officers and 120 Other Ranks marched along the beach to Dunkirk, arriving at the Mole at about 1100, and returned to England in SS

Malines

.

Vimy

secured alongside the Mole at 1300, and had to shift berth twice due to a falling tide.
After two years service on home defence the 2nd Battalion was sent to North Africa in early 1943 where it took part in the final stages of the Tunisian campaign. In January 1944 they took part in the landings at Anzio under command of the US Fifth Army, where they suffered extremely heavy casualties in some of the fiercest fighting of the Italian Campaign so far. They later took part in Operation

Diadem

and the assault on the Gothic Line. Henry Harley transferred to the 2nd Battalion North Staffordshire Regiment in July 1944 as a battle casualty replacement. This battalion also took part in the assault on the Gothic Line and transferred to Palestine in January 1945.

Harley returned to Guernsey after the war.
Robert Pattinson
This story was told by Robert Pattinson to Radio Newcastle on 15 August 2005 and posted by them on the Peoples War website
"We were all on the sand dunes about one and a half miles north of the port of Dunkirk, we were constantly under attack from the German air force, we could see a few ships out at sea but they were too far out to swim to. We were on the beach for 2 days and then we were told to make our way to Dunkirk, we had to take great care as we were still under attack from the air and artillery. Some of our boys became casualties and we helped them get to the port and on board HMS
Vimy.
We were still being attacked from the air. The sailors gave us each a loaf of bread — no butter. I enjoyed the bread very much as it was my first food for 5 days. I was very hungry. We landed at Dover and the first person I saw was a Salvation Army girl giving out an apple, orange, and a bar of chocolate. It was like receiving 3 bars of gold.
There were hundreds of men on the railway station and about 7 trains. We were told to get on any train, mixing all the regiments. There were a number of our boys on the same train, so we were with friends. We stopped at a number of stations; the platforms were full of people giving us food and tea. What a wonderful welcome! I fell asleep and after about 4 hours woke to see the train travelling amongst hills, I thought we must be in Scotland. What a surprise when the train stopped at Pembroke Docks, South Wales."
If you have stories or photographs of HMS Vimy you would like to contribute to the web site please contact

Frank Donald
---
Return to the Home Page for HMS

Vimy
Return to the Home Page of the V & W Destroyer Association
Return to the Index Page for the 69 V & W Class Destroyers
---