---
The rescue of survivors from
SS
West Lashaway

14 September 1942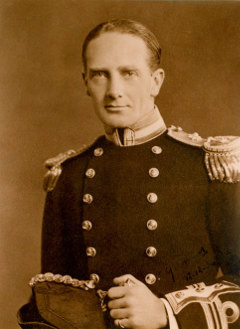 Lt.Cdr. Henry Graham Dudley de Chair RN , the CO of HMS
Vimy
(on the right in dress uniform)
,
described the circumstances which led to
Vimy
firing her main guns at a life raft carrying the survivors of a torpedoed merchantman and then rescuing the survivors, including an American missionary and four children, in an article for
The Navy
, the magazine of the Navy League of Great Britain.

After being rammed by U-162 on 4 September 1942 and handing over her survivors to the Americans at Trinidad HMS

Vimy

along with a corvette, HMS

Burdock

, was charged with escorting a small convoy of tankers to Gibraltar with oil for the imminent landings in North Africa. They had been promised air cover and the first sign of this was a bomb on their port quarter dropped by an allied plane on a suspected u-boat which

Burdock

went off to investigate:


"No sooner was Burdock's hull down than a conning tower appeared on the same bearing but much closer.

Vimy

sounded six blasts on the siren and turned to attack, whilst the convoy went off smartly in the other direction. We could not exceed 15 knots and that only with excessive vibration from the port propeller, and stern steam on the port engine. We opened fire.
The radar was out of action and control was difficult owing to vibration, but some of the U-boats upper works disappeared and she seemed to be stopped. Then a dirty white flag was seen waving: we ceased fire and reduced speed. Somehow, the conning tower looked rather too small and when within a mile definitely odd. Not until we had slowed down did we realise that the conning tower was people packed tight, standing on a raft whose sail we had shot away.
As we drew alongside this ragged party made a brave but pathetic sight. There were 17 Americans including two women and three children with virtually standing room only on their small raft. Their clothes were tattered and faded but they looked fit and tough. Their ship had been torpedoed 19 days earlier over 500 miles to the south east whence Mr Peiffer, the Bosun had sailed them."
The short description below
conveys the shock of a
seaman at coming so close to killing women and children
:
"Orders arrived for us to escort a small convoy to Gibraltar with the assistance of a Corvette. On the very first day of the voyage, 14 September 1942, we spotted what seemed to be a periscope and after closing to 'Action Stations', opened fire but on approaching closer, how glad we were at the gunners notoriously poor marksmanship. What we had mistaken for a periscope was the mast of a crude raft, crowded with pathetic survivors of a torpedoed ship. Among them were a woman and three small children. They had been adrift for some considerable time and although the men on the raft had rigged a small piece of canvas to protect the children from the fierce tropical sun, the effects of the heat and the lack of drinking water left them in a pitiable condition. Our Doctor and S.B.A. tended to their needs and they were later transferred to a tanker that was calling at the nearby island of Tobago. We resumed our duties and continued the voyage without further incident."
John Lucas-Garner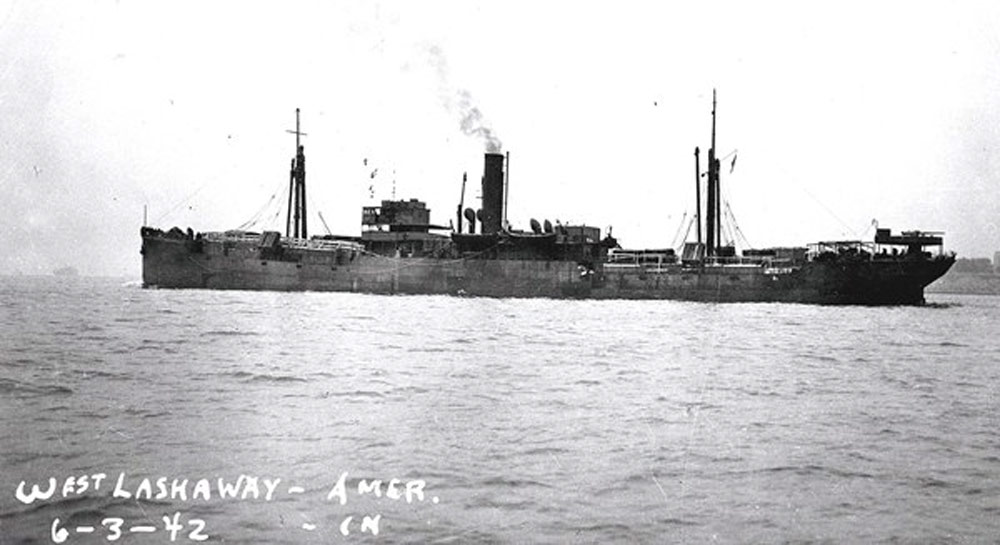 The raft was one of four launched from the Barber Line freighter
West Lashaway
(Captain Benjamin Bogden) which had been torpedoed by U66 (Kapitan Lieutenant Friedrich Markworth) nineteen days earlier, at 2.30 pm on Sunday 30th August. She had been on passage from Takoradi, West Africa, to Port of Spain, Trinidad, with a cargo of copper, tin, palm oil, latex and cocoa beans. She also carried a secret cargo of Free French Gold.
The ship had been hit by two torpedoes and capsized in two minutes, giving the Radio Operator no time to send a distress message. There was no time to launch the lifeboats either, but the life rafts, made of rough wood 8 by 10 feet with 6 oil drums for flotation, had been blown clear. There were actually four children on the raft, Robert (11) and Mary Bell (13), with their mother, Ethel Bell, a Missionary, and Richard (13) and Carol Shaw (7). Their mother Vera Shaw and sister Georgia had been killed in the sinking. Their father Harvey Shaw, another Missionary had survived, but was allocated to a different raft which was later separated from theirs.
While the survivors were struggling to get to the rafts the U66 surfaced and the officers emerged onto the casing to admire their handiwork. Most inconsiderately, the Germans tested their machine guns, firing in random directions.
Of 56 persons onboard, consisting of merchant seamen, US Naval gunners and passengers, 42 had survived. A number had been hurt by the explosion or while escaping from the ship. Captain Bogden had been badly burned, but kept this concealed. Carol Shaw had a broken arm and a gashed head.
Each raft had a survival kit with provisions – tins of pemmican, milk and chocolate tablets, and two small casks of water. James Owen, the Bosun was very resourceful, and had added canvas to the kits, which were later used to make a sail, an awning, and a partition to protect Ethel Bell's privacy. Using a flotation ring with a net beneath ("doughnut") and a pair of oars the Bosun moved about in the floating debris recovering useful items. A considerable number of survivors were scantily clad, either because they had been having a Sunday afternoon siesta or their clothes had been blown off. Cocoa bean bags were emptied and holes cut to make them into shirts.
Three of the rafts had flotation drums which had been damaged, and could only support a maximum of 6 survivors each. The intact raft was allocated 19 people, including Captain Bogden, the Bosun, Joseph Greenwell the First Assistant Engineer, Mrs Bell and the Children. Initially all four rafts were lashed together. A school of hopeful sharks took up residence in the vicinity.
The deck level of the raft was two feet above the sea, with a well in the middle which was washed through by the sea, so it was impossible to keep dry. The wounded Captain lay in the well of his raft, providing a cushion for Robert Bell.
At first there was confidence that they would soon be rescued. Although it was realised that no distress message had been sent it was thought that there would be passing shipping, On the morning after the sinking an unescorted tanker, the

Winimac,

went by, but failed to see their signals. U66 sank her at 2.14 pm, though she did manage to send a distress message and launch a lifeboat.. There was a Maritime patrol detachment for Catalina Flying Boats at Port of Spain which was scrambled in response but no aircraft come close to the rafts.
By Thursday 3 September Captain Bogden decided that it would be best to separate the rafts. While the four together would be easier to spot from the air the rafts were continually crashing together with risk of damage, and injury to the survivors. Harvey Shaw was too depressed to make any bid to rejoin his children. His son Richard saw him sitting with head bowed and decided that there was nothing to be gained by trying to make contact. The lines were cut, and the other rafts drifted out of sight.
After a week on the raft the physical condition of the survivors had deteriorated markedly. There was a constant six inches of water swilling through the well, so that those sitting on the sides had permanently wet feet which developed sores (immersion foot). The badly injured in the well, Captain Bogden and a US Naval signaler, "Flags" Croons, were wet all over. On the morning of Tuesday 8th September Croons became delirious and then died. Ethel Bell said a prayer, the body was stripped of clothes for reuse and pushed into the sea. She covered the eyes of the two girls and told Robert to look away as the sharks closed in, but it was impossible not to hear what was going on.
On the morning of Wednesday 9th Captain Bogden became agitated. He seemed to have forgotten that the ship had sunk, and held an anxious conversation with the Engineer Joe Greenwell about what had happened to the Free French Gold, apparently amounting to $50 millions worth. He died later that morning.
The Captain was buried, again with a prayer from Ethel Bell. This time Robert disobeyed his mother's order not to watch, and wished he hadn't. Captain Bogden, although mortally wounded, had ensured good order on the raft. He worried about what would happen now.


What did happen was that the Bosun declared himself in command, overriding the objections of the Engineer. He clearly resented the presence of Ethel Bell and the children and ordered them into the "doughhnut", where they would presumably not have lasted long. Mrs Bell refused and was backed up by the other survivors who declared that they would protect her and the children.
On Sunday 13th September the Bosun declared that the rations were getting low, and that "meals" would be cut to one a day. However, hope arrived in the shape of a Catalina Flying Boat which dropped supplies. Its first pass was a cardboard box which broke on hitting the water. The contents were ham sandwiches which were enjoyed by the sharks. The second pass was better packed, and yielded more tins of pemmican and of spam and hash, malted milk tablets and four cans of condensed milk. The third pass produced a woman's dress for Ethel Bell. Unfortunately, the "doughnut" was allowed to drift away but no one cared at the time, but there was no immediate rescue. On Monday 14th an American destroyer was sighted, but it did not see the raft. On Tuesday 15th , Woodman Potter the 2nd Cook, tried fishing with a bent pin and a line unraveled from the ropes that had been used to secure the other rafts. He caught two pilot fish which were gutted and shared out. The afternoon brought a further ordeal as the raft was tossed about by a tropical storm which lasted to early on Wednesday 16th. While everyone survived the storm, their nerves were fatally frayed. One man jumped overboard but somehow thought better of it and the sharks were presumably not alert. Another grabbed Carol Shaw with a view to going overboard and had to be restrained in the well. Suspicion began to grow that the Bosun, in charge of the food issue, was being unfair or helping himself.
Matters came to a head on Friday 18th when the men accused the Bosun of cheating and demanded that all remaining rations should be issue forthwith. There was very little remaining, less than a full days worth. Miraculously, at 09.50 am Douglas Stott, the Radar operator of HMS

Vimy

made a detection to the northward at five miles.


The photographer who took these pictures from the deck of HMS

Vimy

on 14 September has yet to be identified but they were brought home by LS Arnold Ludlow and sent to me by his grandson,
Peter McQuade
Open Fire!
Through his binoculars the Captain of the

Vimy

, Lt Cdr De Chair, could make out what he was certain was the tower of a submarine and and ordered his 4-inch guns to open fire. The raft was straddled by the salvo's and the sail was shot away. Ethel Bell sheltered with the children in the well, and several men threw themselves on top. The Bosun grabbed what was left of the canopy and waved it frantically.


The

Vimy

ceased firing and closed the raft. Scrambling nets were dropped over the side and the survivors were helped onboard, apart from a young steward who refused because he had been fired at. They tied a rope under his arms with a bowline and hoisted him in. Ethel Bell had broken a rib, either while sheltering in the well or while toppling over the

Vimy

's rail.
Each survivor was assigned a member of the

Vimy'

s crew to look after them throughout their time onboard. They given a shower, medical attention and clean clothing, and turned in in a clean bunk to rest while a transfer to the small Dutch tanker SS

Prins William van Orange

which was due to detach for Barbados. Sub Lieutenant Raymond Venables was put in charge of Carol Shaw. Mrs Bell and the girls received womens' clothing which had been left over from a fancy-dress party in Trinidad. An officer also presented Ethel Bell with a gift of lingerie, intended for his wife in England.


Sub Lt Raymond Venables RNVR described this strange encounter on Reel 10 of a lengthy interview recorded by the Imperial War Museum for their Sound Collection in June 2001 which can be listened to online by clicking on this link: https://www.iwm.org.uk/collections/item/object/80022193
He described mistaking the 18 – 19 survivors clinging together in the centre of the small raft as the conning tower of a u-boat and how:
On approaching closer they could see several sharks circling round the raft which made their rescue difficult and he "took pleasure in shooting several of them with a machine gun". He picked up a little American girl who said: "Gee, I'm so glad you picked us up as it's my birthday on Saturday". After that she was made a huge fuss of by the sailors who gave her toys bought for their own children. She cried when she was put on a merchant ship going to Tobago as the crew were not "Navy Boys". Carol Shaw phoned him 12 years later when she was 19 and reminded him that "you gave me tomato soup" and he told her that he had to put her on a toilet, not an appropriate thing to tell a young lady of 19! The newspapers got in touch but people hated being in the papers in those days.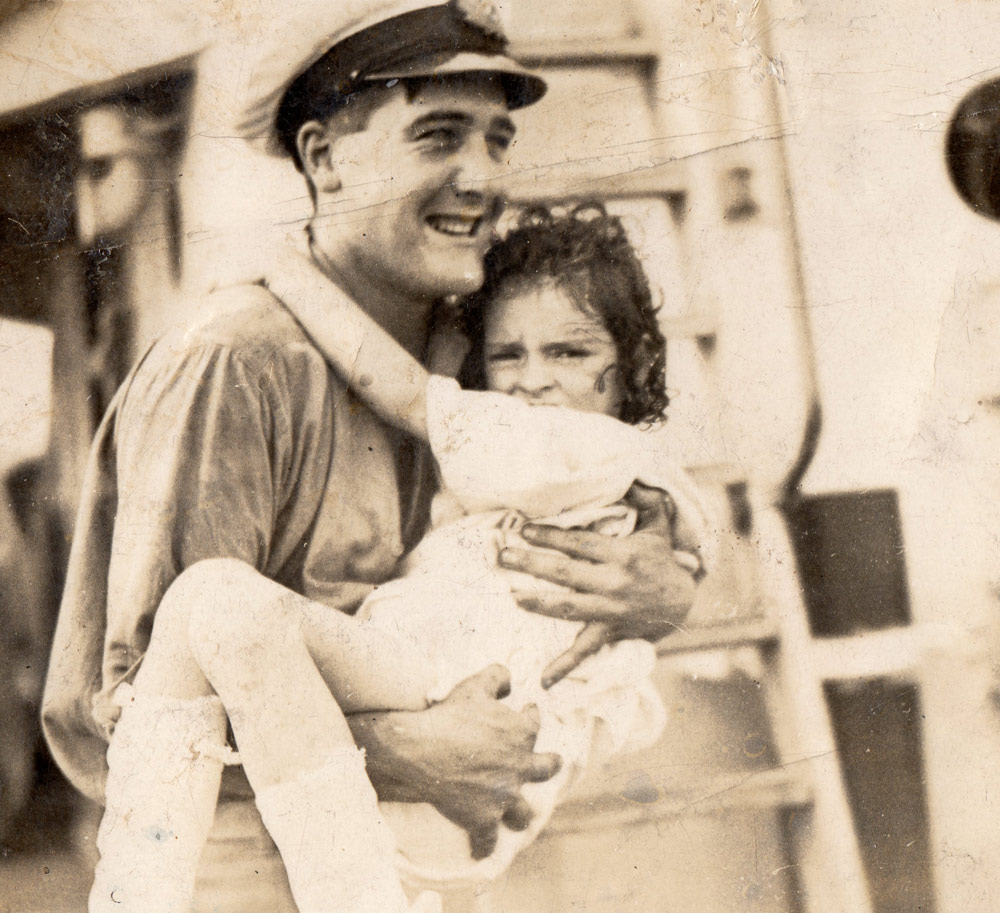 Carol Shaw in the arms of Sub Lieutenant Raymond Venables on board HMS

Vimy,

probably just before the transfer.
Courtesy of Peter McQuade, Grandson of AB Ludlow
At 3.00 pm the

Vimy

went alongside the tanker forecastle to forecastle to transfer the survivors. A jackstay was rigged and they were transferred in slings hitched to it. Manouevring was not easy due to the

Vimy'

s damaged screw. There was a considerable amount of bumping and the tanker's starboard lifeboat was stove in. Everyone landed in Brdgetown that evening and were taken to hospital.


On return to the United States all four children were place in orphanages. In the case of Robert and Mary Shaw this was temporary as their Mother was traveling around the country. Carol Shaw was adopted by the Hobson family who had been friends of her parents and given the name Donna. After the leaving the Navy, Raymond Venables became a school master at a public school, Harrow, England. In 1954 he showed his copy of the photograph to a member of the American Friends (Social) Service Committee, and through the

Chicago Daily News

and a network of Pastors he was put in touch with Donna Hobson and spoke to her on the telephone in the

Daily News

Office. He recalled her telling him "I am so glad you picked us up". She remembered him as "the man who gave me some tomato soup".
Robert Bell also became a teacher and in 1975 became a School Principal. For some time he had been lecturing on his family's experiences adrift, and decided to carry out detailed research, contacting members of the

West Lashaway

crew, the Admiralty and Imperial War Museum, the United States National Archives, and other sources. In 1978 he obtained details of U66 from the Stuttgart Library of World History, and contacted two members of the crew. This led to him and his wife attending a U66 reunion in 1991, and meeting the former Captain, Friedrich Markworth. In 1984 Doubleday & Company published

In Peril on the Sea

by Robert W Bell and D Bruce Lockerbie, on which this account is based.
At the time of its publication it was believed that Donna Taylor, formerly Donna Hobson formerly Carol Shaw, married to Bill Taylor and mother of three girls in Conway, Arkansas, had not wished to be further involved after her telephone conversation with Raymond Venables. However, according to an interview with

501 Life

, a Conway on-line newsletter in 2005, she had attended a reunion of fellow raft survivors, U66 crew members and also crew of the United States ship that later sank U66.
"That was really amazing. The Germans could not understand why we would even want to be friends with them, but when its wartime any enemy vessel is fair game and they had no way of knowing that there were civilians onboard. It was really an interesting experience to get to meet them and tour a sub like the one that torpedoed us. They couldn't believe that we wanted to be friends because they had killed our parents, so we were able to explain that we were where we were supposed to be at the right time, and that God loved them like He loved us and we didn't have any reason to hold a grudge against them."
In 2008 Donna's daughter Wendy made contact with Raymond Venables' daughter Helen via the Internet, who wrote that her father was "sitting by a log fire in a small town in South East England by his wife of 65 years".
According to

In Peril on the Sea

, only one other of the West Lashaway's liferafts was ever seen again. It came ashore on St Vincent on 23rd September with one survivor. In the empty ration box were found an American Express Money Order and an endorsed cheque, both payable to Harvey Shaw. However according to Donna Taylor and her brother Richard Shaw a newspaper article stated that Harvey Shaw was still alive when the raft touched land and died on the way to the infirmary. He was buried in the Anglican cemetery at Georgetown, and they were able to visit his grave in 2002. The reporter had asked the only survivor how he had managed to live all those days before the rescue. He said "The missionary taught us to pray".
Donna said "that let my brother and me know that he did not stay in that dejected state. He did somewhat recover from that; he was still able to help other people. That was what gave me the most closure,"
Sources
Oil for North Africa;
by Henry Graham De Chair (

The Navy

, a publication of the Navy League of Great Britain)
Let go aft: The indiscretions of a salt horse commander;
by Henry Graham De Chair (Tunbridge Wells: Parapress, 1993).


Adrft: The Story of Twenty Days on a Raft in the South Atlantic

; by Ethel Bell, edited by J.H. Hunter (Toronto: Evangelical Publishers, 2008)


In Peril on the Sea

; by Robert W Bell and D Bruce Lockerbie (Doubleday & Co, 1984)

---
Return to the Home Page for HMS

Vimy
Return to the Home Page of the V & W Destroyer Association
Return to the Index Page for the 69 V & W Class Destroyers

---