---
The last two years of the War
and the surrender of German naval forces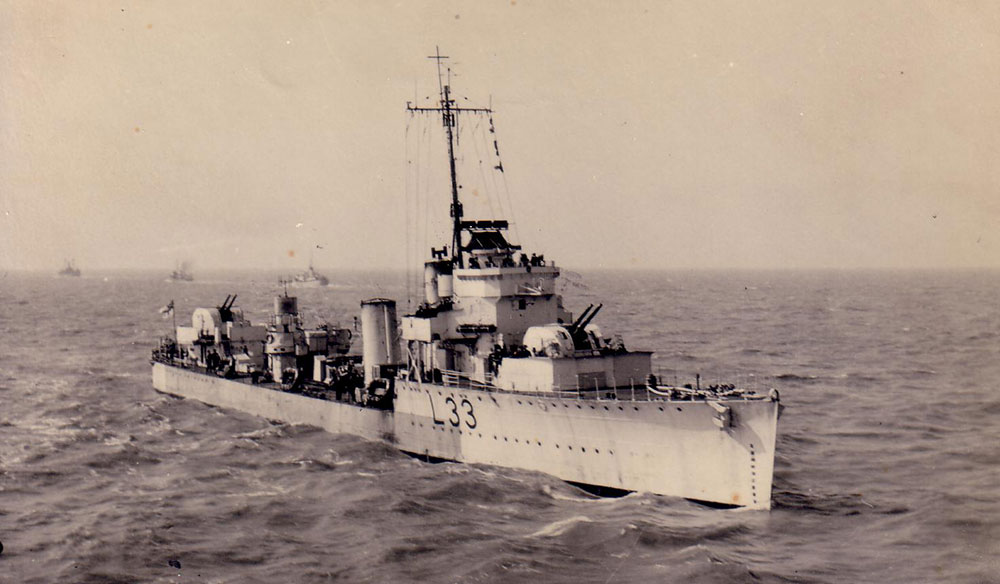 HMS
Vivien
(L33) escorting an East Coast Convoy in 1943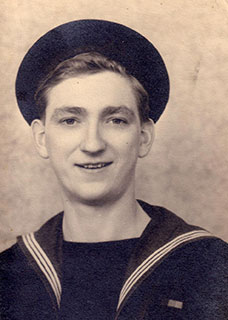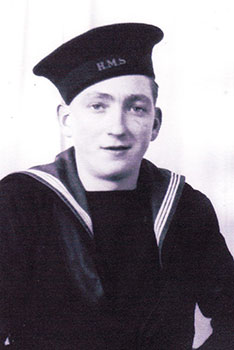 The photographs illustrating this account of the last months of the war belonged to AB Arthur Edward Taylor (JX/366159) from Ledbury in Herefordshire and were sent to me by his son, Andrew Taylor, the Honorary Curator of The Herefordshire Light Infantry Museum in Hereford. HMS

Vivien

was adopted by Bromyard in Herefordshire during Herefordshire's Warship Week in December 1941 and the Admiralty presented Bromyard with the crest of HMS

Vivien

mounted on a wooden shield with a plaque recording her adoption. Sadly, this has been mislaid and I am hoping it will be found before this year's 80th anniversary of her adoption.

Arthur Taylor was born on 24 January 1923 and worked as a "carpenter, fixer, improver". He and his two brothers all joined the Navy.
Arthur spent two years and two months with the Home Guard
in Ledbury
(5th Battalion, Herefordshire Regiment) before volunteering on 19 August 1942 and being sent to HMS

Raleigh

at Plymouth for basic training.
He joined HMS

Vivien

on 27 November 1942 and remained aboard until
19 August 1945.


The men on HMS

Vivien

carved wooden toys as Christmas gifts for the children of Bromyard and Arthur Taylor took them with him when he went home on leave and traveled to Bromyard to present them. This could have been in 1942 but is more likely to have been in December 1943 or 1944.

Arthur Taylor left HMS

Vivien

on 28 June 1945 and was discharged from the Navy in December. He returned home to Ledbury and worked locally as a carpenter and in 1948 married a local girl Audrey Keeley, who had served in WAAFs, and they had four children, three boys and a girl. He died in March 2012 in a care home about two hundred yards from where he was born.


Escorting East Coast Convoys
1943-5

Vivien had been fitted with twin dual purpose high attitude 4 inch guns in 1939, a WAIR Conversion, and throughout the war escorted East Coast Convoys from Rosyth on the Firth of Forth near Edinburgh to Sheerness on the Thames Estuary. This routine could be boring but was very dangerous when the convoy was bombed by German aircraft or attacked by high speed German "schnell" boats in "e-boat alley" south of Cromer
. The
Diary of Midshipman Derek Tolfree
covering his service escorting East Coast Convoys in HMS
Westminster
from December 1942 to March 1944 contains several references to HMS
Vivien
and gives an insight into what it was like.
Captain S.W. Roskill briefly mentions an attack on an East Coast Convoy escorted by the Hunt Class escort destroyer HMS
Eglinton
(Lt.Cdr. Frank Maclear Graves RN) and HM

Vivien

:


"In February the enemy's main effort was transferred to the east coast; but an attack by thirteen E-Boats on Convoy FS 1371 off Yarmouth on the 24th was vigorously driven off by the destroyers

Vivien

and

Eglinton

and only one merchantman was sunk." See page 293 of

The War at Sea

; Volume III: The Offensive, Part I: 1st June 1943 - 31 May 1944, the official History of the Second World War (HMSO, 1960).

Lt. Lesley Edney Blackmore, RN had been CO of HMS

Vivien

since the 12 March 1943 when he took over from Lt.Cdr. Rowland Francis Leonard. I hope to trace his Report of Proceedings and that of Lt.Cdr. Frank Maclear Graves, the CO of HMS

Eglinton,

on the defence of

Convoy

FS 1371 on 24 February 1944 in The National Archives and give a more detailed description of events on this page.

As a result of the successful defence of this convoy an official Royal Navy photographer, Lt E.A. Zimmerman, was sent aboard

Vivien

when she returned to Rosyth on 28 February and some of his photographs were given to members of the crew, including AB Arthur Taylor. Despite being battered and creased this print of the photograph of the ship's Company sent to me by his son is in better condition than the mutilated copy in the IWM.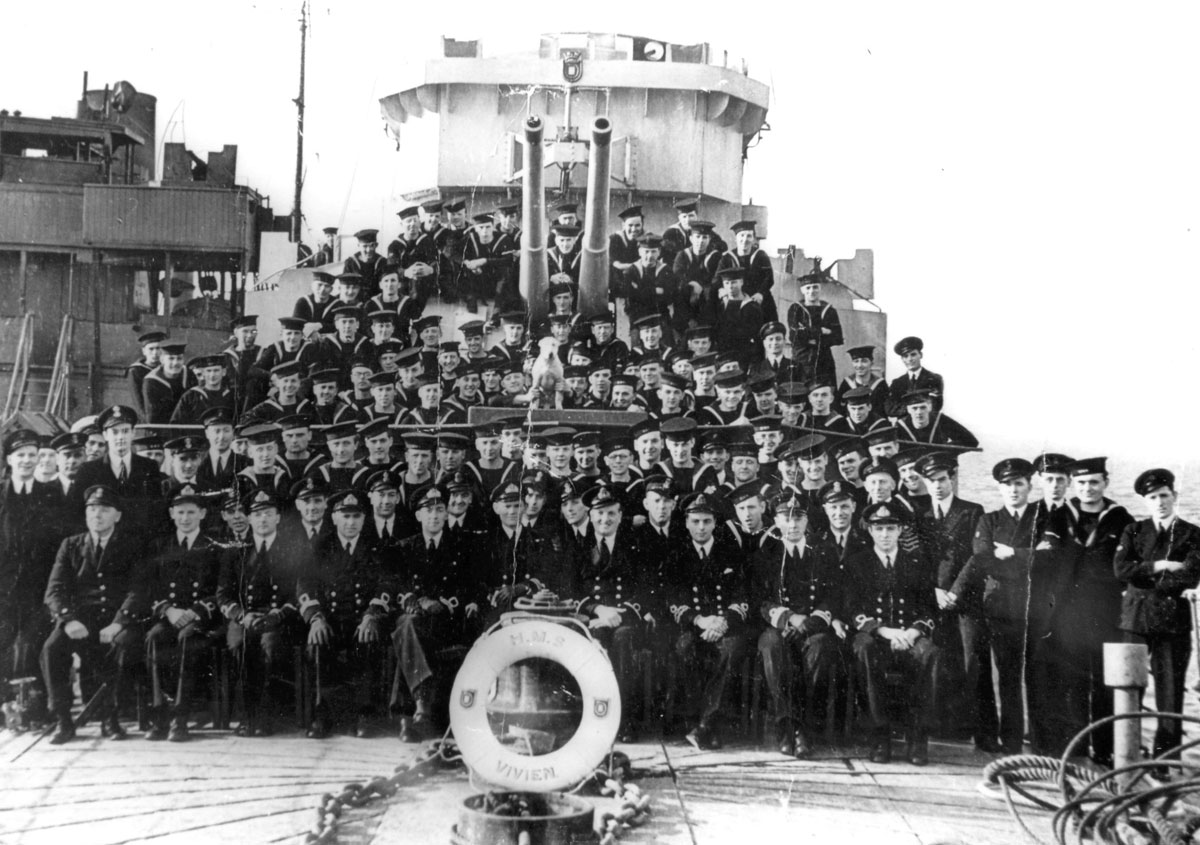 The Ship's Company of HMS

Vivien -

with the ship's dog - at Rosyth on 28 February 1944 when Lt.Cdr. Rowland Francis Leonard was CO


Photographed by Lt W.A. Zimmerman, an official Royal Navy Photographer; prints were given to crew members
The names of the officers in the front row are in the Navy List for February 1944 and some were photographed on the bridge of HMS

Vivien


Contact me if you can identify any of the officers or men - AB Arthur Edward Taylor (JX/366159) is one of those between the twin 4-inch guns


This scan was sent to me by Andrew Taylor the son of AB Arthur Albert Edward Taylor
Ly Leslie Edney Blackmore's career started at the age of 12 in the Merchant Navy and he spent his early years on the TS

Mercury

. He then transferred to the Royal Navy in 1938 as a sub-lieutenant and was on HMS

Grafton

when she was sunk while rescuing survivors rom HMS

Wakeful

at Dunkirk in 1940. Fortunately for him, he apparently bent over just as a shell passed over which killed a number of his fellow officers. He took command of HMS

Vivien

on 12 March 1943.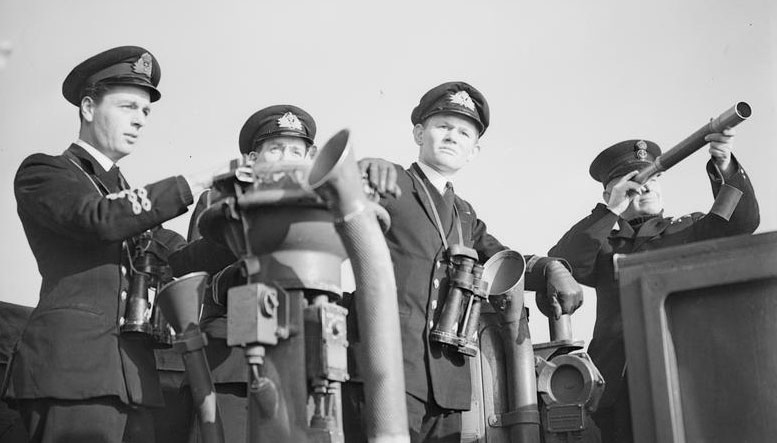 Officers on bridge: Lt R Hoskins, RNR; Lt L E Blackmore, RN, the CO; Lt W M Hartley, RNVR, 1st Lt; Yeoman of Signals
The IWM give Lt Blachmore as CO on 28 February 1943 but according to the Naval List Lt Harley was in commoand until 12 March

Photographed by Lt E.A. Zimmerman, official Royal Navy Photographer (
IWM A 22067)
Shipboard Christening of Rosemary Ann, daughter of the Commanding Officer, Lt Leslie Edney Blackmore RN

Rosyth, 6 September 1944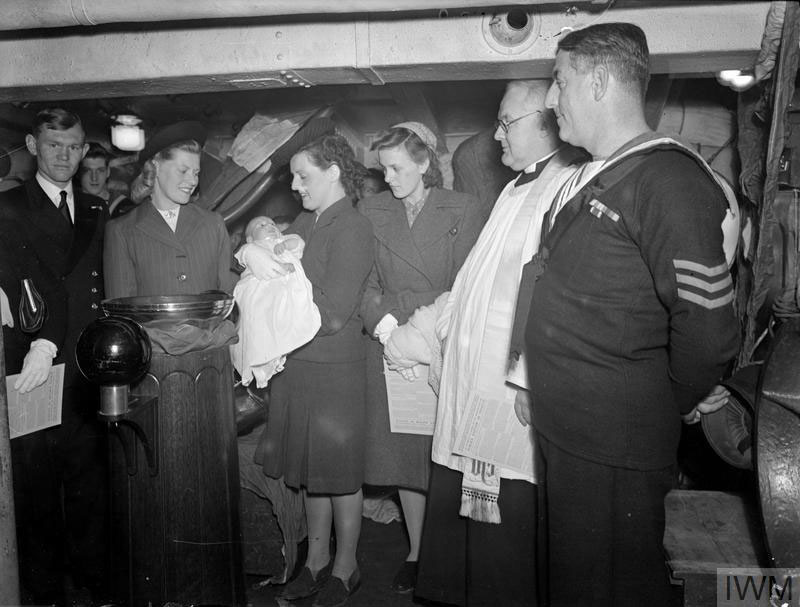 A Friend of Lieutenant and Mrs Blackmore holding the baby during the ceremony.
On the extreme right are the Rev J P Evans, and Able Seaman J Fowles, one of the guests
Photographed by Lt E.A. Zimmerman, official Royal Navy Photographer (IWM A 25486)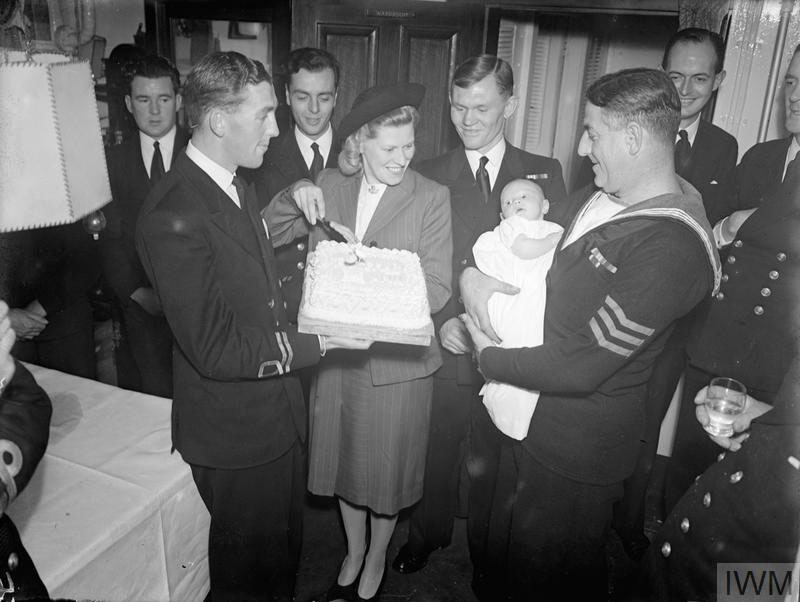 Mrs Blackmore cutting the cake made by the ship's cook.
Lt Blackmore is on her left looking on, while Able Seaman J Fowles, of Southall, Middlesex nurses the baby after the ceremony.
Photographed by Lt E.A. Zimmerman, official Royal Navy Photographer (IWM A 25487)
His daughter, Rosemary Ann, was

christened on board her father's destroyer at Rosyth on 6 September 1944. Lt Leslie E Blackmore left HMS

Vivien

after two years on 3 February 1945 to take command of the Hunt Class destroyer, HMS

Mendip

which was nominated for duty in the Clyde for destruction of surrendered U-Boats (Operation

Deadlight

). He was First Lieutenant in the Battleship HMS

Vanguard

in 1953 and may have invited Herbert Walkinshaw aboard when he took his splendid photographs of Britain's most powerful warship at the Coronation Review of the Fleet at Spithead.
HMS
Vivien
took no part in Operation Neptune, the Landings in Normandy, and remained escorting East Coast Convoys until February 1945. Lt.Cdr. Stanley Martin Booker, RNVR replaced Lt. Lesley Edney Blackmore, RN as CO of HMS
Vivien
on 3 February 1945 in time to witness events after the signing of the final unconditional surrender of Germany on 7 May, which came into effect at 0001 hours on 9 May. The surrender instructions to the Kriegsmarine were broadcast by the Allies on 8 May and applied to all U-Boats and other warships still at sea, as well as to those in Norwegian and French ports.
Celebrating VE Day in Sheerness

Tuesday 8 May was declared a public holiday and has been celebrated as VE Day ever since. AB Arthur Taylor had two sets of photographs recording events in May after the surrender. The first are a series of poor quality photographs taken aboard HMS

Vivien

on VE Day at Sheerness on the Isle of Sheppey near the mouth of the Medway. Unfortunately, no details are recorded on their reverse and his son Andy Taylor is unable to tell me anything about them but they appear to show ratings relaxing on deck after hearing news of the surrender. They are included here in the hope that a visitor to this page will know more and recognise some of the men.


The surrender of German Naval Forces
After celebrating VE Day at Sheerness on 8 May HMS
Vivien
headed North to her base at Rosyth on the Firth of Forth but now there was no need to defend a Convoy against attack by aircraft or e-boats. The
Evening Dispatch
, owned by the
Scotsman
in Edinburgh, published a front page story on Monday 14 May describing what happened after
Vivien
's arrival at Rosyth. She was sent with a boarding party to rendezvous with a brand new German Minesweeper M 607 bringing four German Navy Captains and three pilots with charts of the minefields in the Skagerrak and Kattegat areas, the strait between the north of Denmark and the south east corner of Norway, and escort her into the Firth of Forth. When she left Rosyth for the rendezvous late on on Saturday 12 May a journalist and a photographer from the
Scotsman
were aboard.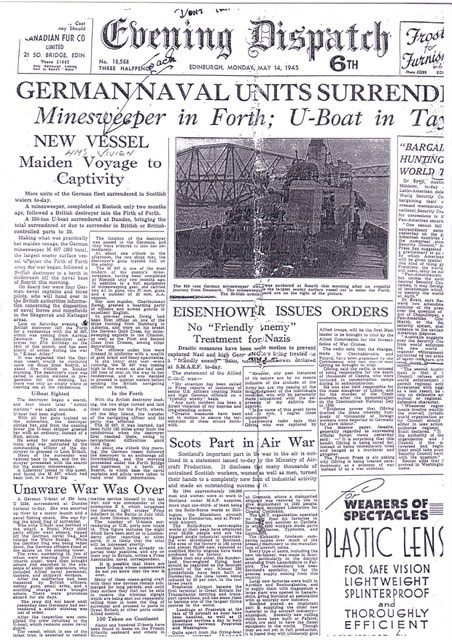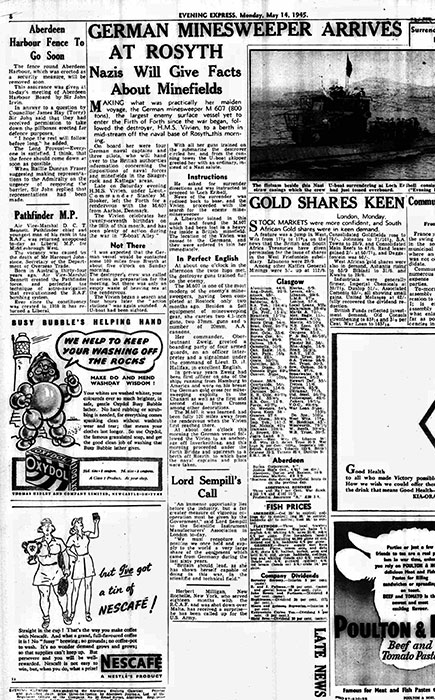 AB Arthur Taylor had written in the name of HMS
Vivien
on his personal copy of the
Evening Dispatch
. An almost identical story appeared in the Aberdeen
Evening Express
. The text of the newspaper article is combined with
the photographs given to the crew of HMS
Vivien
by the
Scotsman
to give a contemporary illustrated account of events.
"More units of the German fleet surrendered in Scottish waters today. A Minesweeper, completed in Rostock only two months ago, followed a British Destroyer (HMS
Vivien
) into the Firth of Forth. A 250 ton U-Boat surrendered at Dundee, bringing the total surrendered or due to surrender in British or British-controlled ports to 20.
Making what was practically her maiden voyage, the German minesweeper M 607 (800 tons), the largest enemy surface vessel to enter the Firth of Forth since the war began, followed the British destroyer to a berth in midstream off the Naval Base of Rosyth this morning.
On board her were four German naval captains and three pilots, who will hand over to the British authorities information concerning the disposition of naval forces and minefields in the Skagerrak and Kattegat areas.
Late on Saturday evening the British destroyer left the Forth for a rendezvous with the M 607, which was coming from Aarhus, Denmark. The destroyer celebrates her 27th birthday on the 28th of this month, and has seen plenty of action during the war in "E-boat Alley".
It was expected that the German vessel would be contacted some 100 miles from Rosyth east of Aberdeen at about five o'clock on Sunday morning, the 13 May. The destroyer crew was called to action stations in preparation for the meeting, but there was only empty waste of heaving sea at the rendezvous.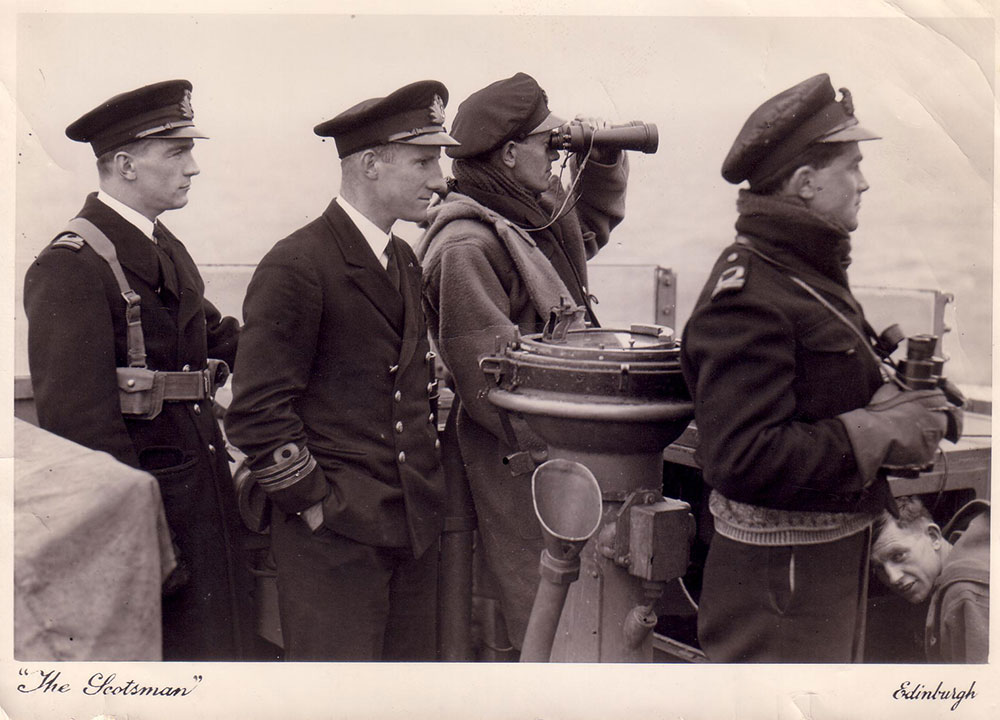 Searching for the German Minesweeper

The officers at the rear of
Vivien
's bridge are the Boarding Officer, armed with a pistol, and the Navigator who will pilot M 607 into harbour
The officer in the duffel coat is probably Lt.Cdr. Stanley Martin Booker RNVR, the Captain of the
Vivien,
and the one in battledress Officer of the Watch
Click to view the
Naval List entry for officers in April 1945
U-boat sighted


The destroyer began a search and four hours later "Action Stations" was again sounded. A U-Boat had been sighted. With all her guns trained on the submarine the destroyer circled her, and from the conning tower the U-Boat skipper greeted her with an ordinary, instead of a Nazi, salute. He asked for surrender directions, and was instructed by the commanding officer of the destroyer to proceed to Loch Eriboll.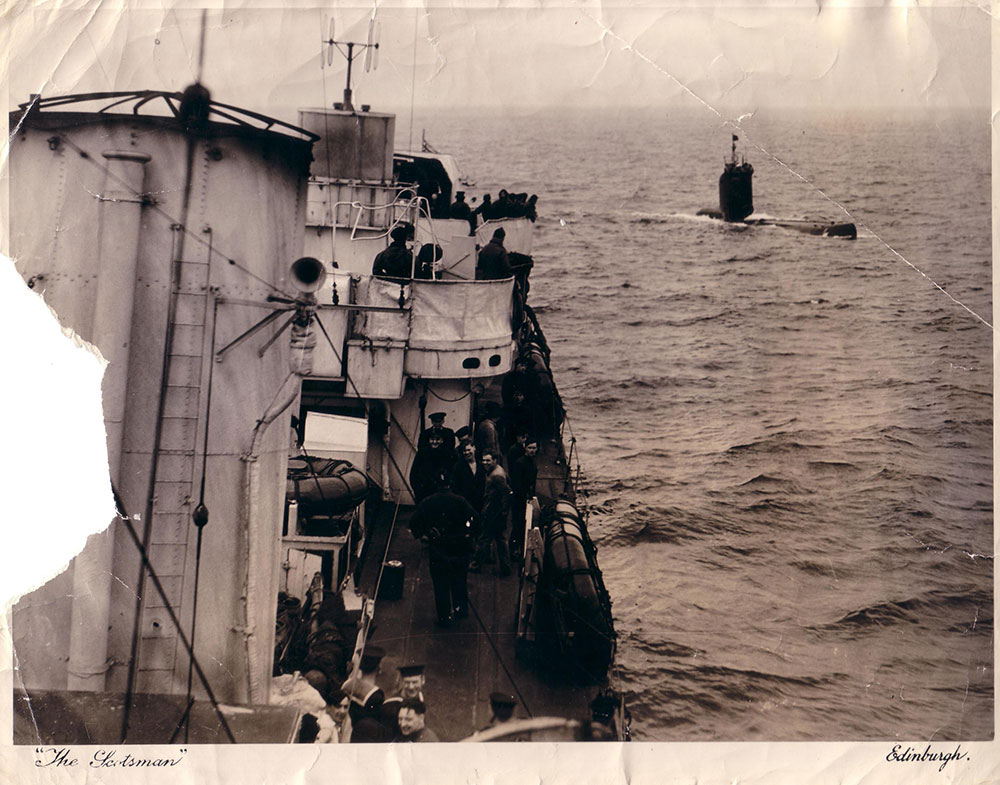 HMS

Vivien

circling U 2362
Her story is told in more detail below by her CO Karl Obst
News of the surrender was radioed back to base, and the destroyer proceeded with the search for the enemy minesweeper. A Liberator joined in this quest, and found the M 607, which had been lost in a heavy fog. The location of the destroyer was passed to the Germans, and they were ordered to join her immediately. At about one o'clock in the afternoon the two ships met, the destroyer's guns trained full on the enemy.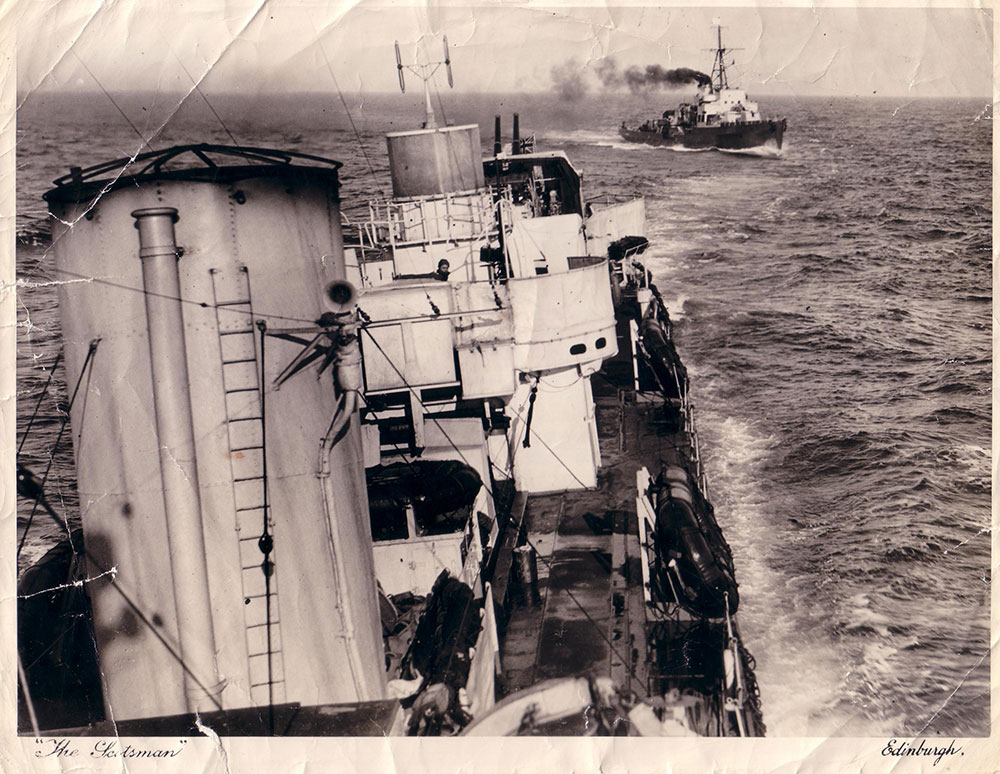 HMS

Vivien

turning to lead the German Minesweeper to the Forth on Sunday 13 May 1945

The M 607 was one of the most modern of the enemy's minesweepers, having been completed at Rostock only two months earlier. In addition to a full equipment of minesweeping gear she carried two 4.1 inch guns, two 37 mm guns, and a number of 20 mm AA cannon.
The ship's whaler transferred the boarding party to the German Minesweeper

The boarding party under Lt D.H. Halifax included an armed escort of four men, a Yeroman of Signals, and an officer interpreter
There were
two men from Blyth in HMS

Vivien
, Able Seaman A.W. Eddy and Seaman J.J. Cuggy
Her commander, Oberleutnant Zweig, greeted a boarding party of officers and armed guards in excellent English. In pre-war years, Zweig had been first officer on one of the ships running from Hamburg to America, and wore on his breast the German Gold Cross, for minesweeping exploits in the Channel, as well as the First and Second Class Iron Crosses, among other decorations. The officers under him were dressed in uniforms in a wealth of gold braid and fancy epaulettes.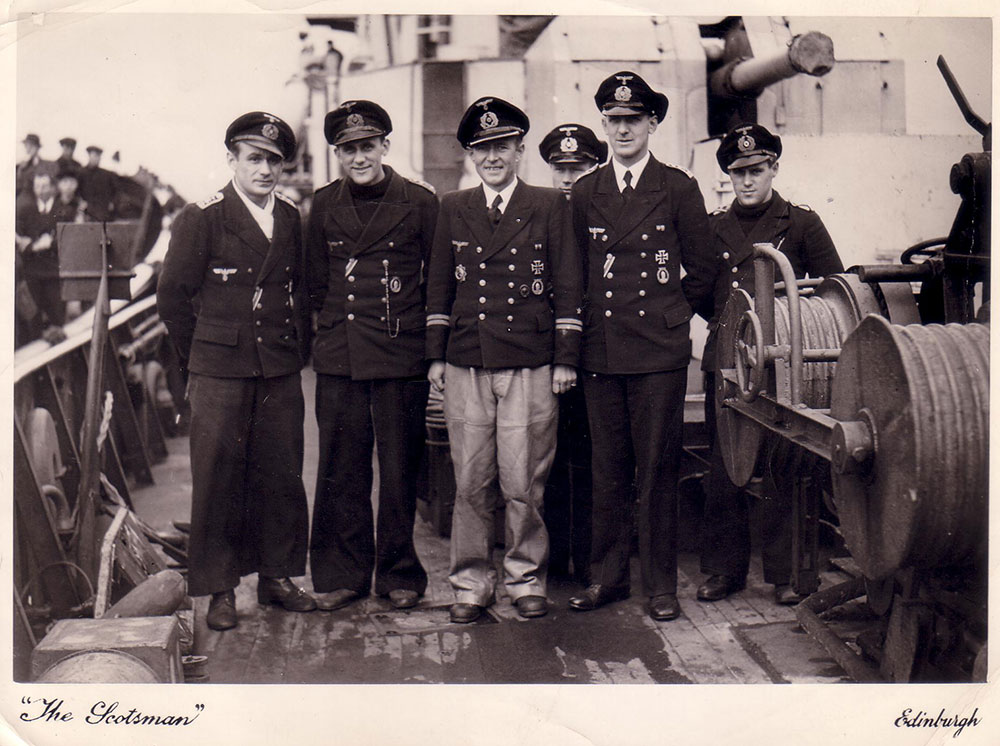 Oberleutnant Zweig in waterproof trousers (centre) with his officers on the deck of M 607
Probably taken
on arrival at Rosyth
In the heavy seas that were running the M 607 was tossing high in the water, as she had used 150 tons of coal on the way to her rendezvous, and it was decided to proceed to quieter waters before sending the British navigating officer onboard.
In the Forth
With the British destroyer leading, the two ships turned and laid course for the Forth, where off May Island the transfer of the navigating officer and his party was effected. The M 607, it was learned, had been fully 120 miles away from the rendezvous when the destroyer first reached there, owing to navigational difficulties amid thick fog.
At about one o'clock this morning, the German vessel followed the destroyer to an anchorage off Inverkeithing, and this morning proceeded under the Forth Bridge and upstream to a berth off Rosyth, to which base the naval captains and pilots were taken to hand over their information.
The story of U-2326 told by Oberleutnant Karl Jobst
The
Evening Dispatch
had this to say in its front page article on Monday 14 May about U-2326:
Unaware War Was Over
A German U-boat of 250 tons, U 2326, surrendered at Dundee harbour today. She was escorted up river by a motor launch and a naval fishing smack. She was flying the black flag of surrender.
When the U-boat was berthed at the wharf, a Royal Navy Chief Petty Officer went onboard, ripped off the German naval flag, and hoisted the White Ensign. While the German flag was being taken down, the German Officers stood at the salute on the conning tower.
The crew, numbering 15, two of whom were wearing Iron Crosses (4th Class) were then brought ashore and searched in the presence of about 1000 spectators, who included Allied naval personnel, dockers, and shipyard workers.
After the submarine had been inspected by British officers, tommy guns, small arms and a scuttling charge were brought ashore. There were provisions aboard for six days. The crew did not know until yesterday that Germany had surrendered as their wireless was out of order.
After the inspection was completed the crew returned to the U-boat which remains under naval guard.
The number of U-boats surrendering at U.K. ports now totals 16. This includes the eight which have been sent to Londonderry after reporting at other ports. It is likely that the number will be increased shortly. Another batch have already reported their positions, and are on the way to Britain, writes a Press Association naval correspondent.
It is possible that there are some U-boats whose commanders do not yet know that the war is over. Many of these ocean-going craft with their new devices remain submerged for long periods, and until they surface will not be able to receive the wireless signals which are being sent out repeatedly telling them to hoist the flag of surrender and to proceed to ports in Great Britain or other ports under Allied control.
Oberleutnant Karl Jobst's own detailed account on pages 167-9 of
Doenitz's Last Gamble,
by Lawrence Patterson (Seaforth, 2008) is briefly summarised here.
U-2326 was ordered to surface, fly a black flag of surrender and make for a British port but Karl Jobst and his crew had no intention of ending up in a British POW camp. They set course northward to a position between Aberdeen and Peterhead and then eastward towards Kiel. He ignored signals to reverse course from several RAF aircraft until a Coastal Command Liberator dropped a bomb when she was 60 miles off the Danish coast and then headed for Loch Eriboll as ordered. She met HMS
Vivien
100 miles east of Aberdeen at 0900 on 13 May as described above and was ordered to proceed to the Firth of Forth. An RAF rescue launch came alongside and ordered U-2326 to follow her to Dundee on the Tay where she arrived on 14 May in time to make that day's edition of the

Evening Dispatch

.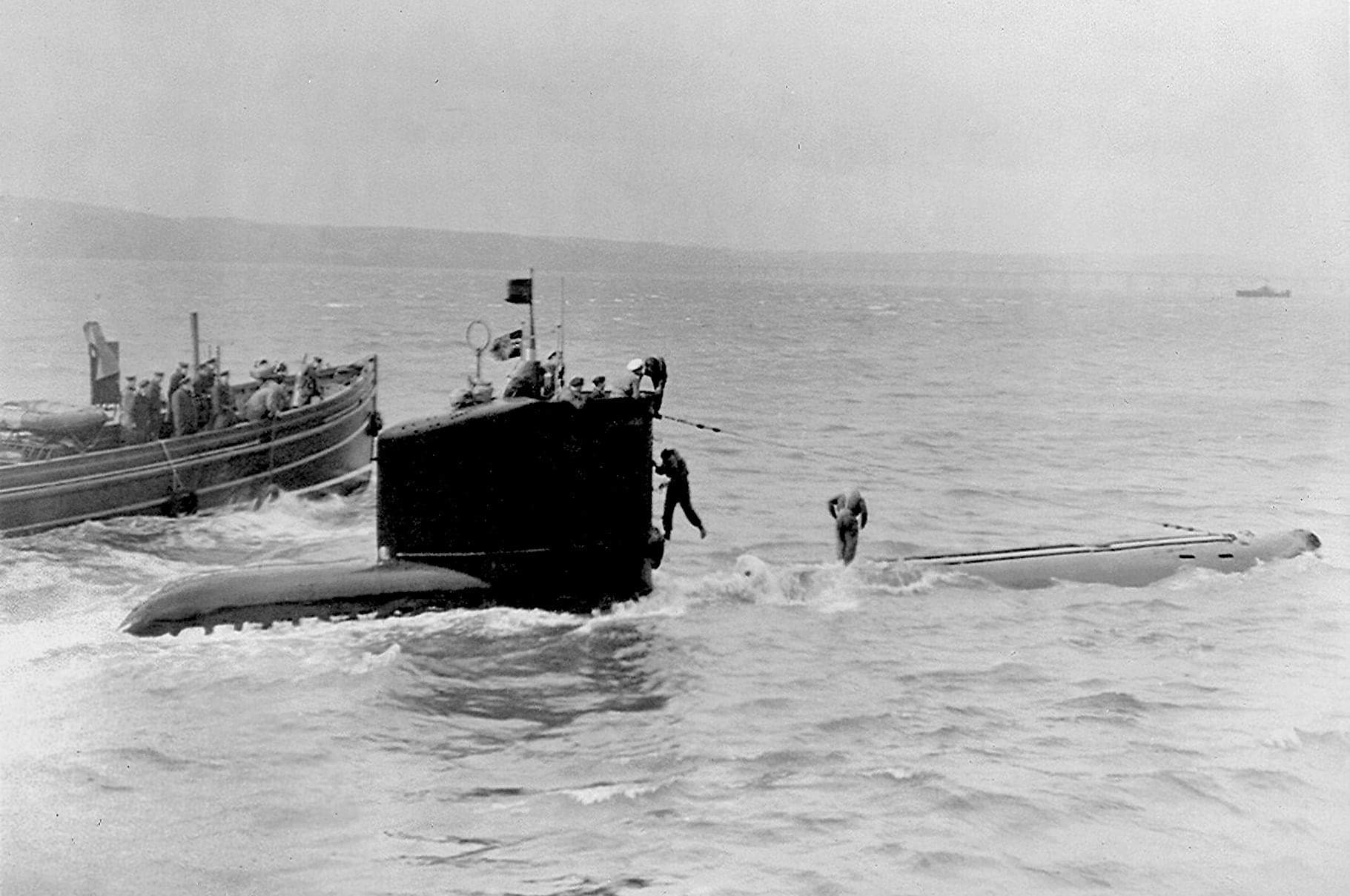 U-2326 flying the black flag of surrender being boarded off Dundee


At 0900 on 16 May she left for Loch Eriboll on the north coast of Scotland with two officers, a PO and a signalman from the British submarine HMS
Ultimatum
(P34). She arrived on 18 May and was escorted from there to Londonderry by a frigate. Most of the u-boats assembled at Londonderry were deliberately sunk (
Operation Deadlight)
but U-2326 was transferred to the Royal Navy and then the French Navy but was tragically lost with 17 dead on 6 December 1946.
The surrender of German Naval Forces in Norway
Norway had a pro-German Quisling government, was occupied by nearly 400,000 thousand German troops and had strong naval bases at ports along the west coast. The
Kriegsmarine
were not at war with Norway and would only agree to surrender and hand over their ships to the Allies. it was decided that Royal Navy warships would be sent to Oslo, the capital, and four "ports of entry" to accept the surrender of German naval forces. The Flag Officer Norway, Rear Admiral J.S. McL. Ritchie RN, in his flagship, the cruiser HMS

Devonshire

, would take a strong force to Oslo with Crown Prince Olav.
Operation Conan was directed by Capt J. H. Ruck-Keene RN, Captain (D) of the Rosyth Escort Force and eight V & W Class destroyers were selected to take essential supplies and the designated Naval Officer in Command (NOIC) to the ports of entry.
The ports on the west coast of Norway were, from south to north: Kristiansand South, Stavanger, Bergen and Trondheim.

The German minesweeper with its four senior officers, three pilots and and charts showing the disposition of German minefields in the Skagerrak and Kattegat areas were essential to the success of Operation

Conan

, the liberation of the four ports of entry and the peaceful transfer of power from Germany to the allies. But by the time M 607 arrived at Rosyth at 1 am on Monday morning the destroyers had already left. The Germans had made alternative arrangements and a German delegation led by a Captain Krueger and including pilots and charts of minefields had arrived on 11 May and met with senior naval officers, including the designated NOIC at the ports of entry, aboard the battlecruiser HMS

Renown.

On 12 May the Flag Officer Norway, Rear Admiral J.S. McL. Ritchie RN, left for Oslo in the cruiser HMS

Devonshire

and on 13 May two V & Ws left for each of the four ports of entry. My father, Lt(E) William Redvers Forster RNR, known as "Red" to his friends, was aboard HMS

Venomous

which accompanied HMS

Valorous

to Kristiansand South. HMS

Valorous

(Lt Cdr J.A.J. Dennis RN) accepted the surrender of German surface warships at Kristiansand on the 14 May and the next day a surrender ceremony was held aboard HMS

Venomous

for the seventeen u-boats at Marvika which Lord Teynham, the NOIC at Kristiansand, attended.

It was probably on that occasion that a German naval officer surrendered to my father by handing over is Lugar sidearm
. I remember my father firing its bullets into the back garden outside our bedroom window one night soon after his return home from the war. My elder brother told me he sold it for £5 to what would be called an antique shop today but back then was known by us as the "junk shop".


Read about the men who served in one of the eight V & W Class destroyers which accepted the surrender of German naval forces in Norway by visiting this page and following the links.
HMS

Vivien

was not one of these destroyers but Arthur Taylor told his son that

Vivien

was sent to Norway later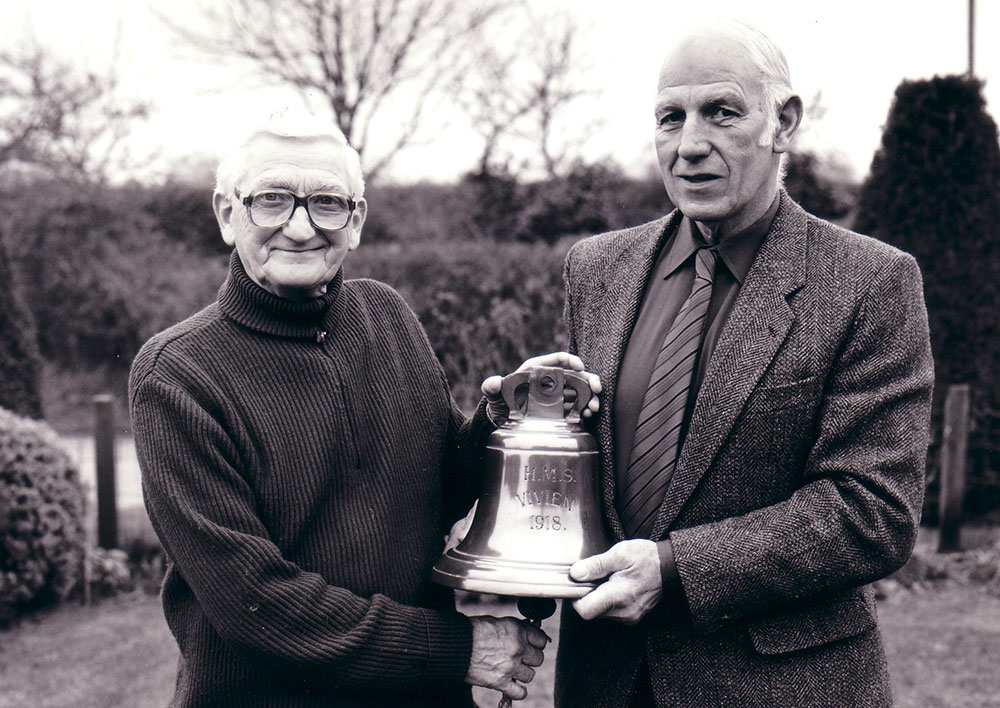 Jack Taylor (left) from Ledbury and Dick Fowler from Tewkesbury, shipmates on
Vivien
, pose with the ship's bell in 1994

Is this the bell used for the Christenig of Lt Leslie E Blackmore's daughter on 6 September 1944?
Bromyard was outbid when it came up for auction and it was bought by Mark Jarrold, a collector and dealer in Minchinhampton, Gloucestershire
Its present owner is believed to be
HMS Dalriada
at Govan on the south side of Glasgow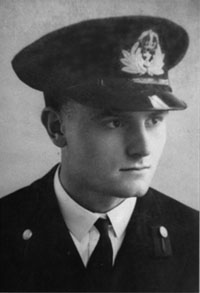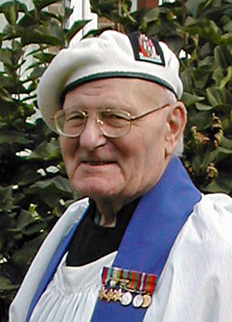 Shipmate John S. Appleby, the Honorary Secretary of the V & W Association until his death, died on the 30 August 2011 aged 86. He was born at Colchester on the 29 March 1925 and lived there all his life with the exception of his wartime service in the Royal Navy.



In 1943 he served as an OD on HMS
Wivern
on east coast convoys before being sent for officer training. After officer training he served on a second V & W class destroyer, HMS

Vivien,

as midshipman (on left) and was then posted to a fast patrol boat for Operation

Overlord

.

He joined the escort carrier, HMS

Nairana

, as part of the 2nd Escort Group (after the death of its charismatic leader, Captain "Johnnie" Walker) on Atlantic and Arctic convoys. The
Nairana
had been converted from a fast passenger-cargo ship, the

Port Pirie,

and escorted Arctic Convoys to North Russia.

He was a signals and coding specialist on the aircraft carrier, HMS

Khedive

, on her way to the East Indies. After a brief period at HMS

Lanka

, the shore base in Colombo, he was posted to HMS

Tengra

, the combined operations base at Mandapam, India, where he served on HMS

Fiery Cross

, a 249 ton converted Norwegian whaler, on secret missions to check out beaches for Operation

Zipper

, the planned seaborne asault on Japanese held Malaya.

He left the Royal Navy in 1947, returned to Colchester and married Audrey Grace Fookes. He trained as a teacher and by 1969 was Head Teacher at a primary school and retired in 1986. He had always been interested in printing and after the war ran a small printing business to supplement his income as a teacher. His wife pre-deceased him in 1993 but they had four sons, Roger, Andrew, Nigel and David. In later life he was ordained as a Minister and was much in demand at naval functions and at funerals of naval officers. In addition to being Secretary of the V & W Association he was branch secretary of the Russian Convoy Club and chaplain to both the Burma Star Association and the Merchant Navy Association. He was also a Fellow of the Royal Historical Society, took a keen interest in the history of Colchester and made an important contribution to the appendix on "Life aboard HMS

Venomous

" in the second edition of

A Hard Fought Ship: the Story of HMS Venomous

(2010, 2017).


I met John for the first time at the launch of the 2010 edition of

A Hard Fought Ship

at the annual reunion of the V & W Association at Derby but had been in touch by phone for at least a year before then. He told me a great deal about what it was like to serve in a V & W as a CW Candidate on the lower deck and as a very junior officer in the Wardroom of HMS

Vivien

but the story which sticks in my mind may have been hypothetical as it seems too good to be true. In thick fog the convoy escorts would tether themselves to one of the buoys marking the deepwater swept channel and on one occasion at first light they found an e-boat tethered at the same buoy. The German boat waved farewell as it headed back home.


Bill Forster
V & W Destroyer Association
---
Return to Home Page for HMS

Vivien
Return to the Home Page of the V & W Destroyer Association
Return to the Index Page for the 69 V & W Class Destroyers
---