"No way was I going to go in the Army, I just couldn't stand the thought of that: hobnailed boots and loud-mouthed Sergeants drilling you. So I thought, the Navy's the best choice for me. I told my Dad, and of course, he had to agree with me, because he knew I would go in the Army otherwise."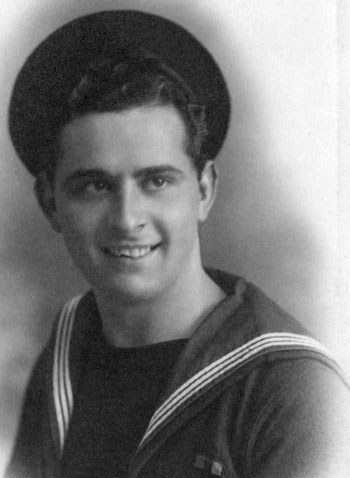 "My name was called out one morning, and lo and behold, I was sent to Harwich to pick up this HMS
Whitshed
. I didn't quite know what it was until I got there, but being an old World War 1 ship she was very crowded, and it took me a while to get settled in. But there seemed a nice crowd of blokes on it anyway. But being an Ordinary Seaman, you're in everybody's way. Any dirty jobs going, you get them!"
We went on convoys and the odd patrol. This went on for about a month, never fired shot, and you know being that sort of age and seeing all these John Wayne film, I got a bit niggled and said in the mess "Don't we ever see any action on this damned ship?" Of course, nobody said anything. I was lucky really, because it would have served me right if somebody had clipped me one on the ear — a biggish percentage of these blokes, some of them were regulars who'd been in since the 30s. Others had joined up, probably in '39, they'd been to Dunkirk, Norway, trips on the convoys on the Atlantic, the Mediterranean. They'd been shot at bombed, and this silly devil's saying "When do we get some action?"
Anyway, a few days went by, and all of a sudden, out of the blue, we got ambushed one night. I think there were either two or three E-boats. They were actually waiting for a convoy, which we were supposed to be picking up, but for some reason the convoy got cancelled, whether it was the weather or something like that. But these E-boats, instead of getting the convoy, we ran into them, and before you knew it, all hell was let loose. There were shells flying over the top, bullets clattering against the side of the ship, the ship was weaving this way and that way, hard a-starboard, hard-a port. The action went on for probably about ten, fifteen minutes and there was a loud bang and a flash, I think we'd hit one of the E-boats. I mean, they are only quite lighly built, and I think the others, they probaby panicked a little bit, and they just buzzed off. But why, I don't know, because I mean, one E-boat with a good skipper, with it being a very modern ship, would have been more than a match for our old thing. Apart from the Oerlikons - the 4.7 inch guns were too big and too slow to manoeuvre - we hadn't really got much to fight back with. Anyway, it all disappeared and things had all quietened down, and I was too damned busy to be frightened, getting yelled at "Pass the ammunition!" and all this business. We settled down to normal patrol again and I think it was probably the early hours of the morning, we'd got the morning watch. The others went down below. When it was breakfast time I went down there, and sitting in the mess was a little cockney chap named Garner. I thought at the time he was quite old, but he was probably only late 20s or thirty, and he just sat there with a fag hanging out the corner of his mouth, and he just quietly looked at me.
"Was that all right for you Woody? Is that what you were looking for?"
And I felt the biggest damned fool. Anyway, I just stood up, personally apologised to the whole mess, and from then on, I was OK with them. But I did feel a damned fool."