---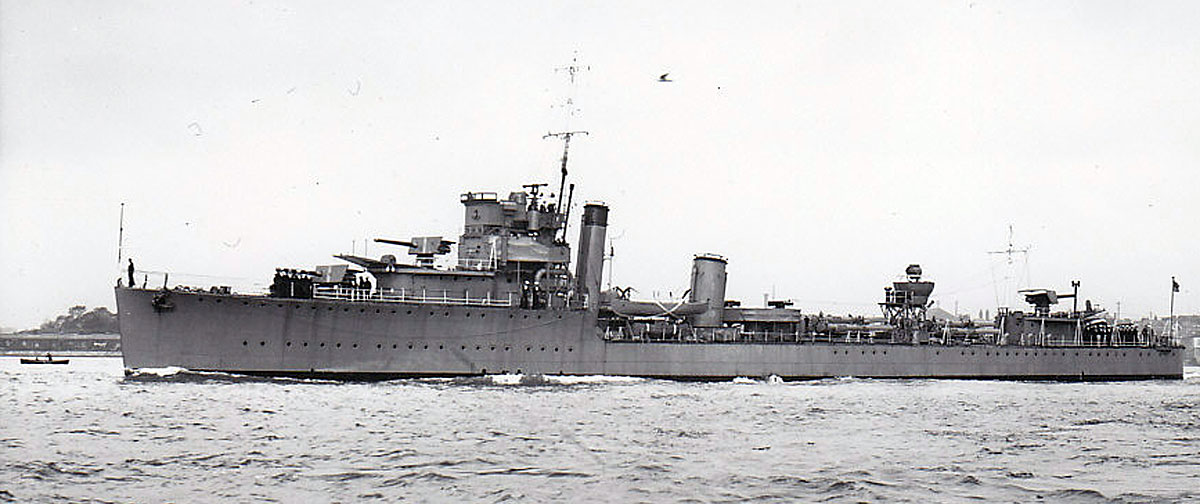 HMS

Winchester

with a single band on her front funnel as Leader of the 9th DF at Portsmouth in 1938

Image and identification courtesy of
Jim Bryce author of the guide to Pennant Numbers
on the website of the Commsmuseum

HMS

Winchester

was built by Samuel White & Co at Cowes on the Isle of Wight and completed in April 1918. She took part in the Baltic War against the Bolsheviks and renegade German forces in 1919 which helped secure the independernce of the Baltic States. In 1936 in accordance with the dying wish of the "sailor King" George V that his beloved racing yacht HMY

Britannia

should follow him to the grave she was towed St Catherine's Deep near the Isle of Wight and sunk by HMS

Winchester.




From September 1939 to April 1940,
HMS
Winchester
was under conversion to a WAIR at Portsmouth
, replacing her standard 4.7 inch guns with dual High Altitude 4 inch guns for ant-aircraft defence and her Pennant Number changed to L55. In May she reinforced Naval AA defence at Dunkirk (Operation FA). She assisted in the evacuation from Flushing in the Netherlands and was damaged by enemy aircraft off the Scheldt on 13 May 1940 but returned under her own power to Dover and was under repair at Liverpool until August.

She spent almost the whole of her war as part of the Rosyth Force escorting convoys along the East Coast between Rosyth and London. On 8 November 1940 she was bombed while escorting Convoy FN.29 near Barrow Deep and claimed to have shot down two aircraft but was damaged by a mine (ADM 199/220/17). From March to July 1944 she is believed to have been lent to the Fourth Escort Group escorting Atlantic Convoys but according to Don Kindell was having a refit in March and April.

In August she returned to the East Coast but on 8 August 1944 she was damaged by an iron hulled pilot cutter and deemed not economically repairable. In January 1945 when Atlantic convoys were re-routed through Channel and the threat of air attack had been reduced
she was withdrawn from active service and reduced to Reserve status
. She was deployed as an Accommodation Ship at Rosyth until she was sold to BISCO in March 1946 and broken up at Inverkeithing.




Commanding Officers
Officers

Former Full Members of the V & W Destroyer Association who served in HMS

Winchester
R. Blackwell (Neston), S. Claridge (Hook, Hants), F. Day (Rushden, Northants), Capt John Ronald Gower DSC (Bath), R. Madden (Kings Lynn, Norfolk), D. Olley (Aldershot).
Please get in touch if you knew one of these men or have a family member who served in HMS Winchester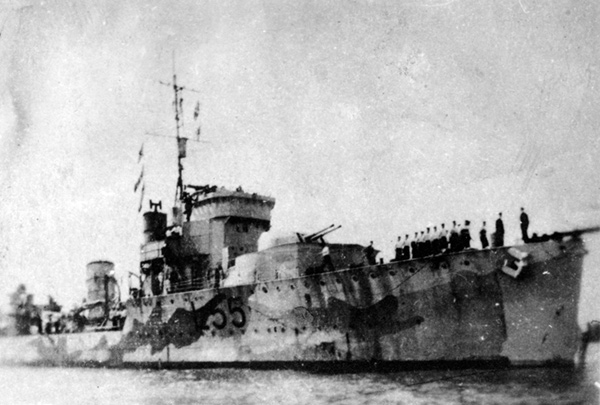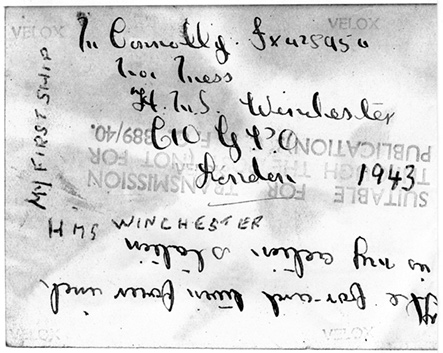 OD Connolly JX425954 (sic) joined in HMS

Winchester

(L55) in 1943 when she was escorting East Coast convoys but nothing more is known about him

This photograph was found in the papers of the V & W Destroyer Association
The ship's bell of HMS
Winchester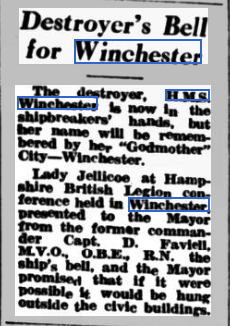 The
Hampshire Telegraph
21 December 1945
My wife and I both caught Covid on Christmas Day. I can express my thoughts clearly on the phone but find it quite impossible to transfer ideas into text via a keyboard. Luckily my wife does not have this problem and is typing this for me. I need your help in locatinng the bell of HMS Wiincchester and can be contacted by email at
billforster@vandwdestroyerassociation.org.uk
Peter Schofield mailed the British Legion on 27 Dcember 2022:
The destroyer HMS W
inchester
is now in the shipbreakers hands, but her name will be remembered by her 'Godmother' City - Winchester. Lady Jellicoe at the Hampshire British Legion conference held in Winchester, presented to the Mayor from the former commander Captain D. Faviell the ships bell, and the Mayor promised that if it were possible it would be hung outside the civic buildings.
Do you have any knowledge of the whereabouts of HMS Winchester's ships bell and if not could you possibly investigate to where it might be? The intention is to contact the Mayor of Winchester in the New Year.
Capt John R Gower RN DSC
Capt John R Gower RN DSC (1912 - 2007) was possibly the most senior "shipmate" in the V & W Association having served as CO of HMS
Winchester
from 31 May 1942 to 17 August 1943. He never wrote an account of his time as CO of
Winchester
for
Hard Lying
but he wrote a
133 page word processed account of his career
which is now in the Imperial War Museum, London, and there is
an interesting account of his life in Wikipedia
as well as
an obituary in

The Telegraph.
He did, however, write for
Hard Lying
a first hand account of Operation
Lucid
, an aborted plan conceived by Churchill and led by Captain Agar VC to "singe Adolf Hitler's whiskers" by launching fireships at the invasion fleet being assembled at Calais and Boulogne. Several V & W Class destroyers took part in Operation
Lucid
:
Campbell
(Captain 'D' 21),
Mackay, Walpole, Venetia, Witch, Veteran, Venomous, Wild Swan, Wolverine, Beagle, Vesper
, and the Hunt Class
Cottesmore
,
Garth
and
Hambledon.
Lt John R Gower RN was the First Lieutenant of one of the fire ship lying at Sheerness, an old Norwegian tanker named
Mytilus.
Since HMS
Winchester
played no part in Operation
Lucid
his account will be published elsewhere on this website.
If you have stories or photographs of HMS Winchester you would like to contribute to the web site please contact billforster
---
Return to the Home Page of the V & W Destroyer Association
Return to the Index Page for the 69 V & W Class Destroyers
---