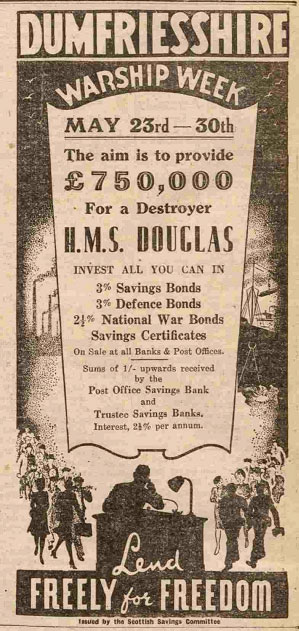 Dumfriesshire raised the huge sum of £840,000 during their Warships Week, the equivalent of £ per head of the population.
Daily Record
Monday 30 March 1942
Dumfriesshire opens its Warship Week on 23 May, when £750,000 will be the target figure. The Secretary of State for Scotland is to be asked to open the campaign.
Daily Record
Thursday 14 May 1942
HMS
Douglas
is the destroyer chosen by Dumfriesshire Warship Week Committee. The name Douglas is famed throughout the Borders and Dumfriesshire.
Dumfries and Galloway Standard
Wednesday 20 May 1942
The end of this week will see the beginning of Dumfriesshire's Warship Week, and we would ask all connected with the County to be prepared to do their duty to their Country and their County. For many weeks past a great deal of work has been done in organising the county for the effort which is to be made to secure investment of at least £750,000, being the sum needed for the purchase of the warship 'Douglas'. It was a happy idea to make Dumfriesshire responsible for Douglas. In Scottish history there are few more distinguished names than Douglas of Queensberry and Drumlanrig. The Good Sir James Douglas was Bruce's greatest captain in the Scottish War of Independence.
Dumfries and Galloway Standard
Saturday 22 August 1942
Commander Tennant made the presentation of a trophy from the personnel of HMS
Douglas
to the Dumfries Sea Cadet Corps. When the county adopted HMS
Douglas
following Warship Week, the officers of the sea cadets thought it would be appropriate if the Douglas would adopt the Dumfries Company of Sea Cadets. The suggestion was made to Commander Tennant, and he very kindly acceded to the request. He and his ship's company provided a silver cup for the cadets. The silver cup was handed to Lt. Mogerley the officer commanding the cadets and bore the inscription
Commander Tennant said that this trophy, put up by the ship and to be competed for in the Corps as the Commanding Officer should decide, was but the initial gift. More practical contributions would follow.