---
AB Arthur Bulmer RNVR

C/TDX2127
Tyne Division R.N.V.R.
Arthur Bulmer was born in Elswick, Newcastle-on-Tyne, on 31 May 1921. Times were hard and he left Atkinson Road Junior Technical School at 14 to bring in some money for the family. He got a job as an office boy at the office of a small colliery owner earning 7/6 a week, most of which he gave to his Mother. He joined the local branch of the RNVR when he was still 17 in early 1939, signing on as a boy sailor at the RNVR headquarters, HMS

Calliope

, a wooden hulled ship built in 1884 tied up at Scotswood on the Tyne. He went there for a couple of hours each week in the evening for drill practice, rope tying and basic instruction in the ways of the Navy.

When the war started in September he was called in to Chatham Barracks on the Medway and was sent to HMS

Ganges

at Harwich to join a transport ship which took a dozen men from the Tyne Division of the RNVR to join the submarine depot ship, HMS

Cyclops

, on her way back from the Middle East. They came alongside
at sea
and transferred while she was enroute to her new base at Parkstone Quay, Harwich.
Her CO was Capt Philip Ruck-Keene RN.


Harwich was considered too vulnerable to attack after the Fall of France and

Cyclops

was moved to Rothesay Bay on the Clyde estuary. She was the depot ship for the old S Class submarines,

Shark, Salmon

and

Seahorse

.
Cyclops

anchored in the bay and
the submarines berthed alongside. HMS

Thunderbolt

(ex

Thetis

which was salvaged and renamed after sinking in Liverpool Bay) and the French submarine

Surcouf

, the largest submarine in the world which had twin 8-inch gun on deck and a watertight hanger containing a scout seaplane, also used

Cyclops

as their depot ship. The Admiralty considered

Surcouf

unsafe and she was not allowed to berth alongside.



Cyclops

was described by Edward Young in

One of our Submarines

:

"In normal times Rothesay is a popular summer resort. Now the lovely bay with its long prospect of Loch Striven and the blue hills of Argyll, wasa dominated by the dirty coal-burning merchant ship that had been converted into an inadequate and uncomfortable submarine depot ship. Only the wartime shortage of shipping had saved old

Cyclops

from the scrap-heap. Throughout the submarine service she was known, almost affectionately, as the "Cycle-box". Once a year she was taken to sea on exercise to disprove (some said unkindly) the rumour that she was aground on a self-made reef of empty tins. But between these annual trips she rode peacefully at anchor, with her submarines berthed on either side of her, a mother hen with her chicks, disturbed only by the frequent gailes and squalls which came sweeping down the hills and churned the bay into an angry ferment, so that the submarines began bumping badly and had to lie off."

On 8 November 1940 Arthur Bulmer returned to Chatham Barracks and on the 14 June 1941 was posted to HMS

Valorous

at Rosyth.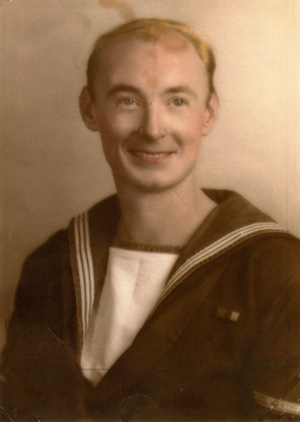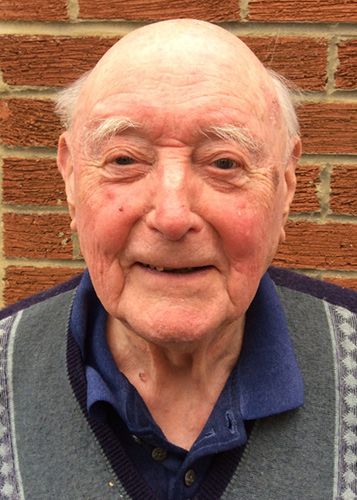 "I joined

Valorous

in June 1941. She was based at Rosyth as part of the East Coast Escort force. I joined her as a singleton and found that the mess deck crew were mostly Glasgow naval reservists. The hammock space on the deck head seemed to be fully taken and I had to drag a 10 foot long, 9 inch wide mess bench to the ship's side, put my hammock on it and secure it to the hull. Not very comfortable but I did find space to sling my hammock after a couple of days.

Valorous escorted merchant ships down the east coast and into the docks in London. We passed under the Forth Bridge and met up with our charges in the North Sea. Most were small coasters, often colliers but some had crossed the Atlantic and rounded the north of Scotland to join us in the Firth of Forth.

We were given some of the fifty old destroyers from America under a lease lend arrangement but they spent more time in dock with engine trouble than at sea.

Our first task was to get the convoy into columns. It was even more difficult keeping them in line. There always seemed to be some straggler moving out of position. Apart from the weather, the main dangers were mines and aircraft. The Germans sent E boats out from the French channel ports to lay mines in the shipping lanes along the Kent coast. The sea was quite shallow and buoys marked the wrecks but the odd mast could be seen sticking out of the water. On the mess deck, we called this area the graveyard. This was where we lost one of our sister ships,
HMS

Vimiera

.


The Germans had overrun the low-countries to the east and had access to the airfields. They would send up a spotter aircraft to monitor the convoy's speed and position. It could be seen on the horizon but kept out of range. My action station was the 4" gun on the foredeck. My job as loader was to put the heavy four-inch shells in the breech and the breech-block would swing round and knock my hand out of the way. We were piped to action stations just before dusk and a squadron of bombers would arrive before it became completely dark. They came in low and the 4-inch gun was usually ineffective, putting the pilot off target but rarely if ever doing any damage. They would come down the lines of ships, very low. I remember one passing overhead and seeing a bomb leave the fuselage. It dropped into the water about a hundred yards ahead of us but did not explode. On one such raid, we saw a few survivors drift past holding onto rafts and wreckage. Admiralty orders would not allow us to stop and pick up survivors if we were in action, so all we could do was unloosen the fastenings on the carley floats in the ship's waist and let them fall over the guard rails into the water and hope they would be found. Once the merchant ships were in the Thames estuary we refuelled at Sheerness and returned to Rosyth.
This routine was varied on one occasion by a quick dash north to Lerwick, refueling enroute at Aberdeen on a mysterious undisclosed mission which the "buzz" on the mess deck thought to be connected to the clandestine conveyance of agents by fishing boat to Norway as described in David Howarth's wartime classic,

The Shetland Bus

(1951).

We got shore leave at Rosyth between trips. I liked to go to Dunfermline and try my hand at ice skating on the rink and I still remember the beautiful plumage of the peacocks at the entrance to Carnegie Park. I also used to go to Edinburgh. I went to a dancehall somewhere down Princes Street which had two bands on a revolving stage. One of the bands was Ivy Benson and her all girls band. I would get back to base on a milk train which left Edinburgh for Rosyth in the early hours of the morning.



Valorous

survived the war and sometime in the 1940's, she was sent to a breaker's yard at Thornaby in County Durham and broken up for scrap.

All I have written took place a very long time ago and I am now an old man of 95. If there are any inaccuracies anywhere, I apologise.

Best wishes to everybody,

Arthur Bulmer C/TDX2127
Tyne Division R.N.V.R.

What came next
Arthur Bulmer left HMS

Valorous

on 25 November 1941 and on 17 February 1942 was posted to HMS

Hornet

, the shore base for Coastal Forces at Gosport, Portsmouth. There were no WRNS in those days and Arthur was a clerk in the office. On 20 September he was posted to HMS

Attack

at Newhaven where Peter Scott was in command of an MTB Flotilla. He also spent time at Coastal Forces HQ in London and recalled the dreadful "pea-soupers" which made breathing difficult. He was sent back to Chatham to train as a Torpedoman. During air raids they sheltered in the tunnels beneath the barracks, crowded, cramped and full of cigarette smoke. He returned to HMS

Hornet

in February 1943 and blamed the conditions in the tunnels at Chatham for the bronchitis and pneumonia he contracted which required hospital treatment in Reading and Basingstoke and a lengthy convalescence at Frilsham House in the tiny Berkshire village of Yattenden where he celebrated his 21st birthday by going to the village pub with a friend and two nurses.

At some point he took a course as a TLW (Torpedo Lieutenant's Writer). The Navy had decided to send a crew to replace the New Zealanders manning the cruiser, HMNZS

Leander

, under repair in the naval dockyard at Boston, USA, and Arthur needed his TLW to replace the New Zealand TLW on

Leander

. Arthur takes up the story in his own words and described his voyage to the USA on the

Queen Mary

and his year in HMS

Leander

at Boston:


An ocean cruise on the

Queen Mary



"In September 1944 I was in Chatham Barracks. Late in the month, I was called to the drafting office and told I was to join the cruiser HMS

Leander

. I was not told where I was to join her but I was given railway travel warrants and told to get myself up to Glasgow. I was met at the station by a Navel Petty Officer who took me to Gourock. I was deposited on the roadside by a little ramp leading down to a small landing stage on the waterside. There were a few civilians waiting there too and after a short wait, a ferry drew alongside, took us on board and headed out to midstream where the huge

Queen Mary

was lying.

As we came alongside a hinged panel halfway down, the hull was opened outward, a gangplank was pushed out down on to the dock of the ferry and we all walked up and into the liner. The man walking ahead of me, dressed in a trench coat and trilby hat looked familiar. It was the singer and actor Bing Crosby. He gave a concert in the ship's ballroom halfway across the Atlantic. I can still see the old groaner singing one of the popular songs "Swinging On A Star".


The huge 85,000 ton Queen Mary, pride of the Cunard line, slowly made her way down the Firth of Clyde. It was October 1944 and she was operating as a troop ship bound for New York. Once clear of the Scottish coast and into the open waters of the Atlantic, she worked up to her cruising speed of 30 knots on a slight zig-zag course. There were no escorts; none were needed. Her speed alone was enough against any U-boat attack.
Most of the Passengers were American air force crews being returned home for leave or redeployment. They did not seem to have any particular duties on board, I guess they must have been paid up to date before leaving the U.K. because any sheltered spot on the upper deck seemed to harbour a high stake poker school or crap game. I was given 4 hourly watch keeping duties round the clock, manning an Oerlikon gun, way up in the ship's superstructure. I still remember the nights I spent in the Oerlikon nest in the darkened ship. Alone with my thoughts and memories for 4 hours, the only sounds were that of the drone of the ship's engines and the soft swish of the bow waves sliding down the hull. Above my head, a canopy of shimmering silver stars as far as the eye could see. I found it truly awesome. I found myself wondering whether there were any other planets with any form of intelligent life up there and if so, were they looking down on our planet and wondering why the most intelligent forms of life on it seemed to be so intent on destroying each other. Anyway, enough of my mind's fantasies – back to the story.

The crossing was uneventful, the meals were good, the weather good and there were no signs of aircraft or U Boats, so I never got to try my hand on the Oerlikon gun.
Five and a half days after leaving the Clyde estuary, the ship glided past the Statue of Liberty and tied up alongside pier 90, New York. I managed to get into the city for a couple of beers in Jack Dempsey's bar.
The Boston Mutiny!
I slept in the nearby U.S. barracks that night and travelled by train to Boston the following morning and finally joined HMS

Leander.
At this stage I should explain the catering arrangements that existed in the Navy in those days. It was known as canteen messing and involved each mess of around a dozen men being given a weekly allocation of dry provisions and each day a ration of meat from the butcher's cold store. Two delegated mess members had the responsibility of collecting this and preparing it for the main meal, which was at noon. In normal conditions this system worked pretty well throughout the Navy, but conditions were far from normal on the

Leander

. Dust, dirt and flaked paint were everywhere, including the mess deck. Tables and mess stools were regularly scrubbed clean each morning, but by midday they would be just as dusty. The plus side of course, was the delights of being able to go ashore and enjoy the city of Boston.

Local leave for us was very generous, but unfortunately our meagre naval pay did not match it. Many of us took up casual work in town to supplement our money. A few of the hotels were happy to pay us in cash by the hour to do general labouring duties. A few of us worked on a casual basis, nights and weekends for the Wells Fargo Company in the Boston Station, moving freight around. I still have my American Social Security card given to me at the time. Months rolled by and our living conditions on board were not getting any better. Several other factors contributed to our increasing mutinous mood. The war in Europe was virtually over and we were in dock undergoing a seemingly endless re-fit. Most of us were volunteers who had already seen nearly five years of service and we had not seen our wives or families for over twelve months. We also knew from our observations that our American counter parts would not have been expected to live as we were. They would have been billeted and fed ashore during a major re-fit.

Ropes, wires and electric cables littered the mess decks and passageways. For the duty mess cooks, collecting, carrying and delivering the trays of cooked food from the galley was like an egg and spoon race over an obstacle course. The situation came to a head one day when we found our main midday meal barely edible. There had been a power failure during the morning in the ship's galley. The meat and vegetables were only half cooked and barely warm. The grumbles were in full flow, when one of the leading seaman stood on a mess stool and shouted for silence. "Right Lads" he said, "I reckon we have had just about enough of this". He then instructed us to stay put when the tannoy summoned us to fall in on the upper deck after the dinner break. There were about fifty or sixty of us and he said that if we stuck together and remained on the mess deck, someone would have to come down and listen to our complaints. Wartime discipline in the Navy was very rigid and disobeying a direct order was no petty offence. However we knew that we had numbers on our side and we were all in the same boat (excuse the pun). When the tannoy trilled into life, we all remained seated and waited. After a couple of minutes, there was a clatter of boots and down the ladder came the Chief Bosun's Mate. He glared around the mess deck and using a few choice naval expletives wanted to know why we were not on the upper deck. Our Leading Seaman spokesman stood up and reeled off our grumbles and complaints. Chief Bosun's Mates are usually long serving, experienced and held in high regard by both mess deck and wardroom alike, but I don't think he had been confronted by this situation before. There was silence while he collected his thoughts and weighed up his options. Finally, he spoke. "All right lads, now listen to me. I've heard your complaints, I cannot promise anything except that I will have a word with the Commander on your behalf, now get your backsides off those stools and get fell in before there is serious trouble". We were satisfied we had done what we could. We followed him up the ladder and normal ships routine was resumed.

There were no charges or punishment following our mini mutiny and a few days after our "sit in" the ships tannoy crackled into life one afternoon to tell us that as from the following Monday our main meal would be taken in the American mess hall on the dockside. I remember on that first Monday, picking up a stainless steel stamped out meal tray and passing along a row of cooks complete with their tall white hats. Two pork chops with all the trimmings, followed by a large slice of deep dish apple or blueberry pie topped with two scoops of ice cream and a slice of cheese – lovely grub!


It was the 20 October 1945
before we left Boston and put to sea. We had been in dry dock for at least fifteen months and I was beginning to feel like a naturalised American. To our surprise, we headed up North, up the Eastern seaboard of America, into the Gulf of St Lawrence and tied up alongside at Montreal. We remained there for only a day or two before steaming back to the U.K. The mess deck rumour was that we had diverted to Montreal to pick up gold bullion that had been sent over at the beginning of the war for safekeeping. We went to the Northeast coast and into the River Tyne and guess what! Straight into dry dock again, this time in South Shields. A few days later I went down Leander's gangway for the last time to return to Chatham barracks to await demobilisation. Before the month was out, I was given a civilian suit, a trilby hat and a railway warrant to Newcastle upon Tyne. My Navy days were over. I do not know where

Leander

was sent for the next five years, but I have looked up Naval Records and discovered that in December 1950, she was sent to the breakers yard at Blyth on the Northumberland coast and broken up for scrap.

All of these events occurred a long time ago. Seventy two years to be exact. I believe

Queen Mary

has been retired somewhere in the United States and is being utilised as a tourist attraction and a restaurant. I'm sure her visitors will find a lot of interest exploring the old lady, but I very much doubt that the Oerlikon gun nest will still be up there in the superstructure."



After the war was over ...



Arthur returned to his old job in the office of a builder's merchant in Newcastle but he was unmarried and not yet ready to settle down. In 1947 he flew from Northolt airport to Toronto with a small suitcase and £20 in cash. The plane landed in Northern Ireland to take aboard some Irish passengers including Brian Moore, who would become a good friend. On landing at Toronto he booked in at the YMCA and went to the Labour Exchange to look for work. Arthur did not mind where he worked or what he did and accepted the offer of a job as a clerk earning $25 a week on a dam construction site near Thessalon on Lake Huron in Ontario 600 miles north of Toronto and was surprised to find Brian Moore was also there. The site was miles from anywhere and the construction workers spent their leisure time playing poker. Arthur had never played poker but he joined a small stakes school. The other players did not have "poker faces" and it was easy to see when they had a good hand.
Arthur won $600 during
the six months
he worked there.

His Mother's sister in Newcastle told
Arthur
his Mother was seriously ill and he decided to return home to be with her. This was a critical turning point in his life. Arthur returned to Britain on the

Empress of France
from Montreal
and became a sales representative at a timber merchant in Newcastle. He married, settled down and had three daughters. Brian Moore had left his middle class home in Northern Ireland in disgrace after changing his religion and felt unable to return.
He got a job as a cub reporter on the Montreal

Gazette

, had several short stories published and was awarded a scholarship to study creative writing and became famous as an author of novels set in Northern Ireland. Arthur read about his friend's success and got in touch via his publisher. Brian Moore
was short-listed three times for the Booker Prize and was 77 when he died at his home in the United States in 1999.
Arthur Bulmer is 95 and alert and well though physically frail and lives in his own home looking after his younger wife but with family living nearby.
If you have stories or photographs of HMS Valorous you would like to contribute to the web site please contact

Bill Forster
---
Return to the Home Page for HMS Valorous


Return to the Home Page of the V & W Destroyer Association
Return to the Index Page for the 69 V & W Class Destroyers
---