---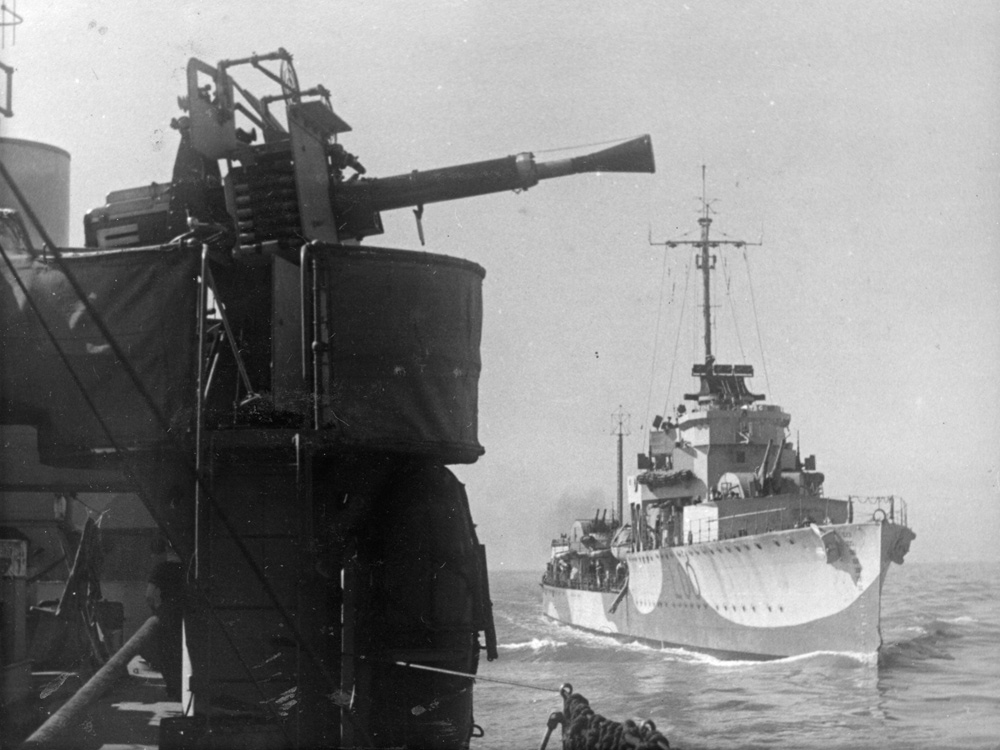 HMS

Valorous,

known as "Lucky Loo" from her pennant number (L00), was part of the Rosyth Escort Force

Note the 2 pdr single pom pom winged out abaft the funnels on

Viceroy

, the most effective close-quarter anti-aircraft defence on most V & Ws
Photographed by Lt Cdr John E. Manners RN from HMS
Viceroy

in 1944

Click on the links within this brief outline for first hand accounts by the men who served on HMS Valorous and for a more detailed chronolgy see www.naval-history.net

HMS Valorous was intended to be named HMS Montrose but this was changed to Valorous before launch in 1917. After service in the Baltic and in the Mediterranean she was placed in Reserve. As part of the naval re-armament Programme in 1938 Valorous was selected for conversion to an Anti-Aircraft Escort (WAIR) by HM Dockyard Chatham.

At the outbeak of war she became part of the Rosyth Escort Force which escorted East Coast convoys from Methil on the Firth of Forth to Sheerness on the Thames estuary. 95 year old Arthur Bulmer joined her as a 20 year old Able Seaman on 14 June 1941. A week later on the 21st June Valorous rescued the only three survivors from the tanker Vancouver mined off Sunk Head Buoy and set on fire. She was on passage to Shellhaven from Halifax, Nova Scotia. Forty five lives were lost, the highest casualties in any ship lost off Harwich.

Valorous was "adopted" by the civil community of Dewsbury, then in the West Riding of Yorkshire, as the result of a Warship Week National Savings campaign in October 1941.

In January 1942 HMS Vanity steamed to Scapa Flow to deploy with the Home Fleet for Operation Performance, to cover the break-out of ten Norwegian merchant ships interned by neutral Sweden at Gothenburg since the German occupation of Norway in April 1940. For more details of Operation Performance see Kvarstad (Swedish, arrested) ships.

In May 1945 HMS Valorous and HMS Venomous were sent to Kristiansand South to accept the surrender of German naval forces, Operation Conan. Lt Cdr J.A.J. Dennis RN was the senior officer in Valorous and Lord Teynham, the designated Naval Officer in Command (NOIC) Kristiansand was in Valorous. The wartime memoir of Dennis is in the IWM but you can click on this link to read his description of events at Kristiansand. John Garforth, an AB on Valorous, gives his account below.

If you have stories or photographs of HMS Valorous you would like to contribute to the web site please contact Bill Forster
Find out how you can help us research this ship and build this web site
Commanding Officers

Officers
Former Full Members of the V & W Destroyer Assoociation
Arthur Bulmer (Necastlt-on-Tyne), E. Clark (Bromley, Kent), C. Gare (Norwich), John Garforth (Whitehaven), W. Merry (Leicester),
L. Wadsworth (Menstrie, Clack.), W. Wills (Boothville, Northamptonshire)

If you had a family member who served in HMS
Valorous tell his story on this page
Lt. Cdr. William Hector Brereton RN
A chance discovery by a philatelist in Ireland uncovers the story told below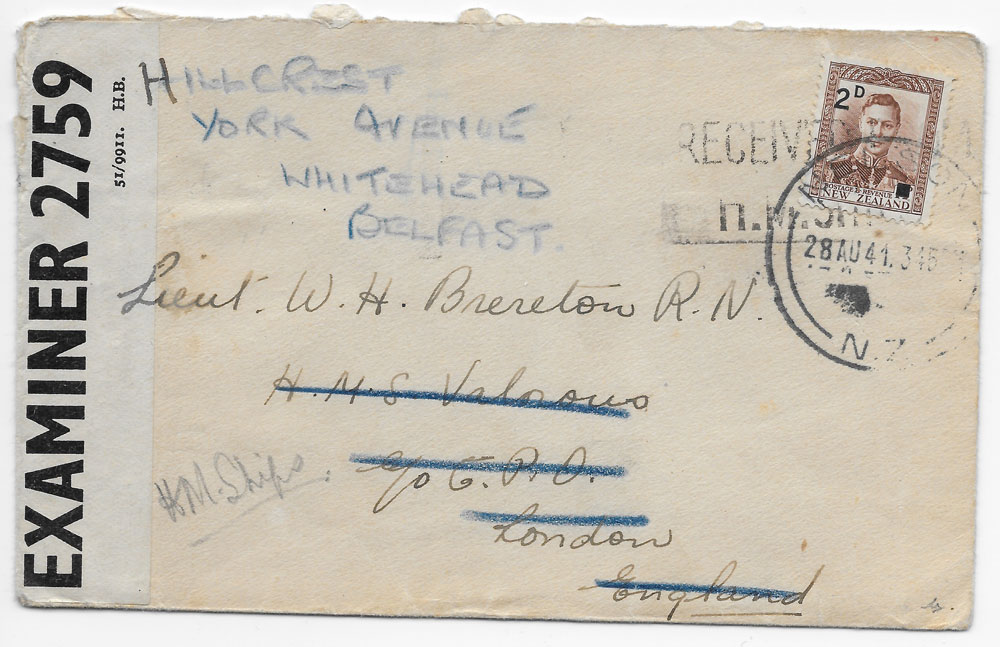 This letter was posted to Lt Brereton on 28 August 1941 when HMS
Valerous
was escorting East Coast convoys as described by Arthur Bulmer
Why was it forwarded to an address in Belfast after being opened and resealed by the censor?
Had Lt William Hector Brereton left
Valorous
and joined another ship based at Belfast?
The scan of the envelope was sent to me by Greg Todd a collector and dealer in Cork, Ireland, and the photograph is from the
"D Day Story"
museum in Portsmouth
I was able to contact his daughter in New Zealand, Penelope Shino, and was told the envelope was "in the handwriting of his mother, Margaret Irene Brereton, who lived in Nelson, New Zealand. He was possibly on leave in Ireland (hence the forwarding address) as we have Brereton cousins there".
He was born was born at Motueka, near Nelson, in New Zealand in 1919, the son of Col. Cyprian Bridge Brereton (1876-1962) and Margaret Irene Guy. Penny Shino added:


"On his father's side he was a second-generation New Zealander. His grandfather William Brereton and grandmother Anne (nee Bridge) arrived in NZ from Ireland in the

Pleiades

in 1876. I believe his mother's side (Scottish and English) came to NZ some time earlier. His father Cyprian Bridge Brereton published a book

No Roll of Drums

(1947) with a lot of detail about his family's early pioneer life in NZ with a quite a lot of information about the family's long military and sea-faring tradition."

He joined the cadet training cruiser HMS
Frobisher
in September 1936, served in the Battleship HMS
Royal Oak
and joined HMS
Valorous
after a promotion course at Portsmouth on 23 August 1939. She had been brought out of Resereve and commissionmed for service with the Rosdyth Escort Force on the Firth of Forth and spent most of the war escorting East Coast convoys to the Thames estuary, a regular routine disrupted by moments of extreme danger when attacked by e-boats or dive bombers. Her twin 4-inch Dual Purpose guns provided a defence against both.


The Twin 4-inch Guns in B position on HMS

Valorous

and HMS Vanity

Note the two "ready use lockers" for storing the 4-inch shells in their brass cartridges inside the "breakwater" which protects the 14 man gun crew in heavy seas
Find out more about
the work of the Gun Crews
on the website of HMS
Vanity



This photograph of B-Guns was published in the

Daily Mirror,

16th April 1940

Courtesy of the daughters of Cdr W.H. Brereton




The forward mounting of B-Guns on HMS

Vanity


Courtesy of the Imperial War Museum


He was promoted to 1st Lt on the new O Class destroyer HMS
Obdurate
two months before she was commissioned in September 1942. She was mainly employed in escorting Arctic Convoys to Archangel and Murmansk.

In April 1944 he was an officer aboard HMS

Prince Charles

, a former cross-channel ferry requisitioned by the Navy as a Landing Ship Infantry (LSI) during the D-Day Landings. On 6 June, she landed 300 US Rangers at Pointe du Hoc, at the Eastern end of Omaha Beach, and the same day was put in charge of Gooseberry 4, the breakwater of sunken block ships off Juno Beach). He was part of Naval Party 1732 and r
eported to the naval officer in charge at Juno Beach and described it as:


"a convoy of old medium-sized freighters, sunk overlapped, head to stern in a horseshoe off the beach. I was put in charge of this shelter, with a small crew and soldiers to man the few guns provided. There was much sea traffic and all kinds of freight and stores being landed by freighters, working the tides, using amphibious trucks, etc. This was a very busy three months, many surprises, some minor air attacks early on. A German long-range gun exploded a shell overhead every five minutes at night for several days. It took a while to work out a routine to suit a 40-odd feet tidal rise and fall".
"Safe and Sound" - inside the Razberry!

This cartoon sketch of Gooseberry 4 off Juno Beach by Ltd Cdr William H Brereton was presented to the D-Day Museum at Portsmouth by his daughters


Click on the image to view full size in a separate window




In January 1945 he joined the Escort Carrier HMS
Speaker
with the British Pacific Fleet. After the war he was lent to the the RNZ but when he retired as Lt Cdr Brereton in July 1959 he was Staff Movements Officer for the Commander-in-Chief, Plymouth. Click on the link to view a PDF of his service in the Royal Navy and the RNZN compiled by his daughter, Felicity Coggan.
He married Elaine Reynolds Hampton at Malta in 1952, "returned to New Zealand in 1960 and settled in Auckland, beginning a long career with the New Zealand Insurance Company, Marine Insurance Division" (Penelope Shino, nee Brereton) and was 90 when he died in 2009.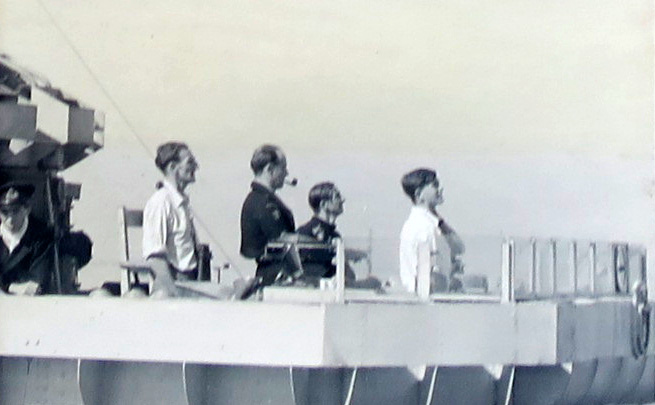 Lt Cdr M. G. MacLeod on the bridge of HMS
Valorous
Photographed by Lt Cdr John E Manners RN from HMS Viceroy in 1944

The Commanding Officer of HMS

Valorous

when she was sent to "liberate" Kristiansand in May 1945 was Lt Cdr J A J Dennis DSC RN who describes events at Kristiansand from an altogether different perspective than that of John Garforth. John Garforth was born on 28 May 1925, the son of a coal miner, in the miner's village of Crookhall near the colliery of the same name not far from the steel town of Consett in County Durham in the north east of England. He left school at 14 as was normal in those days and was soon working at the Consett Iron and Steel works which had lots of vacancies caused by men being called up for service in the armed forces. They had to work overtime to take up the slack and went on strike and John found himself out of a job. They were easy to come by in wartime and he wasn't out of work long
but on his eighteenth birthday he was called up for service in the Royal Navy. After six weeks basic training at HMS

Ganges

at Shotley Gate across the river from Harwich he was sent to RNAS

Grimsetter

in Orkney. Within a few months he was back at Chatham and was drafted from there to HMS

Valorous

lying alongside at Rosyth near Edinburgh on the Firth of Forth.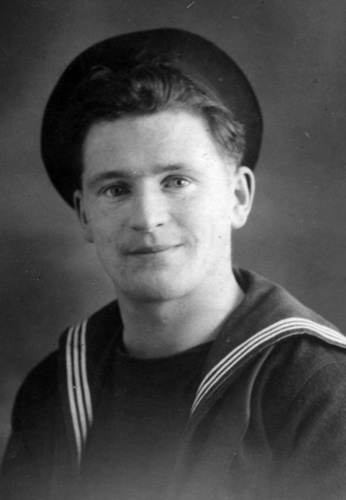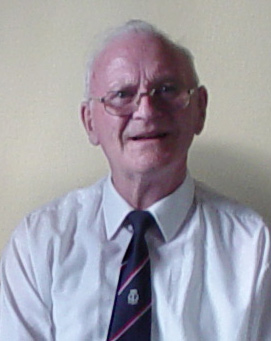 When I joined

Valorous

I was detailed "starboard watch" on "B-Gun", the twin 4-inch right for'ard below the bridge and looking over the forecastle. I was in the forard messdeck, right side next to the chain locker and when they dropped the hook (anchor) it made such a noise! It was also next to the paint locker so smelled of paint all the time. The mess deck was very small with tables down each side with lockers as seats. Water drained from the deck heads into the bilges and rushed across the mess deck
when the ship rolled
, sometimes taking the "gash bucket" with it, the contents spilling and slopping back and forth each time the ship rolled. The mess deck was like a bathroom with condensation dripping from the deck head all the time.

We had to sleep with an oilskin over our hammocks and since the hammocks were so close together (we were only allowed 18 inches for each hammock) they touched each other when slung and when anyone stirred water seeped from the oilskins into the hammocks which consequently were always wet as there wasn't much chance of drying them in winter. When we were at actions stations the hammocks never got slung. I sometimes slept on the tables if they were free but I very rarely slung my hammock as I was always seasick and did not feel like "lashing up and stow". Once, when

Valorous

was bouncing all over the place and the mess deck smelled horrible and I was not feeling very well (as usual) I got hold of two duffel coats and decided to sleep outside. I went midships near the aft smoke stack and lay down with one duffel coat the right way round with the hood up and the other back to front with the hood up. I was nicely settled down on the lee side, cocooned in duffel coats when a huge wave came from the weather side, over the smoke stack and right over me and almost washed me overboard. Somebody above must have been looking after me as I wasn't a bit wet but would have gone into the drink if it were not for the hand rails which I clung onto desperately knowing that I could not swim!

The war was coming to a close and after a few skirmishes with E-boats and U-boats. The Skipper informed us, that as we had been good boys, we had been given a special assignment. We were in Rosyth dockyard when loads of trunks, cases etc; began to land on board, some were stowed below, the large cases had to stay on the upper deck. When we were ready to sail, all types of men came aboard and were ushered to the wardroom. Norway was our destination, preceded by mine sweepers, there were plenty of mine bobbing about. I had the forenoon watch on lookout on the starboard side of the bridge and had many a scare.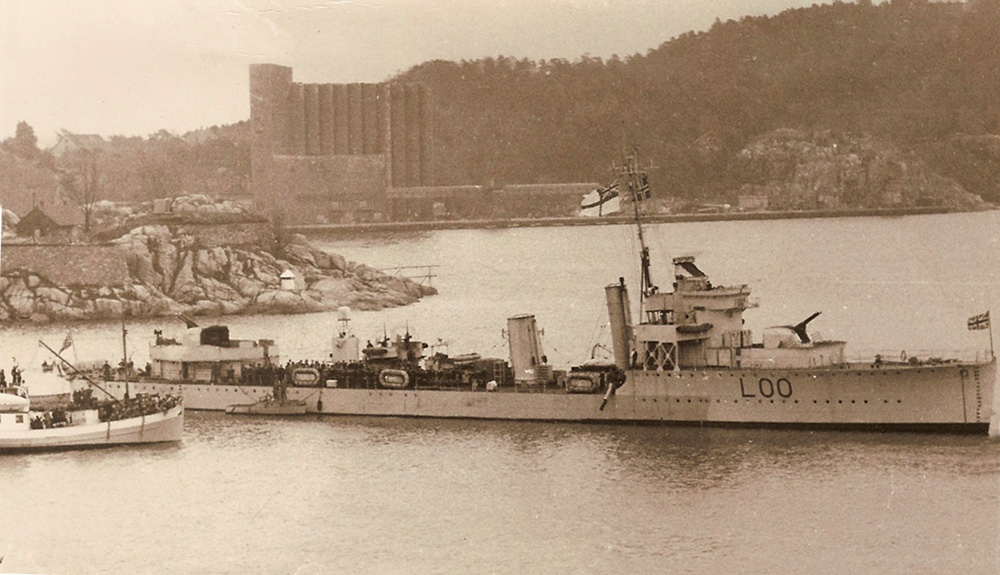 HMS

Valorous

, pennant number L00 ("Lucky Loo"), moored in the harbour at Kristiansand with White Ensign and Norwegian flag at the mast-head

A Norwegian trawler crowded with visitors is coming alongside
Courtesy of Alan Dennis

When we reached Kristiansand, the rocks and islands were amass with people cheering and waving, boats with children shouting, chocolata, sukker. Being off watch I was standing near the Mediterranean ladder leaning over the handrails, when this large cabin cruiser came alongside and an officer came aboard and went down to the wardroom, leaving a pretty girl in the cabin having a drink. Somehow I attracted her attention and gave her the sign that drink was no good. She smiled. When Grego Gregson (this being his name) returned she must have told him what I had done.
He waved me over on to his boat and plied myself and another shipmate who had followed with drink out of a secret compartment, where he kept butter, bacon, etc. We found out that Grego was a leader in the 'Milorg', the underground resistance. He had only one hand. He always carried a revolver, and would use it especially against the Germans. The girl Kari was his secretary. Early in the war she had been at university and her parents who owned merchant ships had left and gone to England, leaving Kari behind. Later I found out that she was living in a flat with a nurse. Before leaving in the cruiser Grego gave me an address to visit when ashore.

"Greggo" Gregson (left) and Lord Teynham going shore in "Greggo's" launch to meet the "powers that be" on arrival at Kristiansand

Courtesy of Alan Dennis

Little did I know that I was to follow him ashore with two other shipmates to take over a large building from the

Stappo

(Norwegian police working for the Germans, we were told they were worse than the Germans). The large building, was made up of several flats, with telephone exchange, teleprinter, armoury, laundry, etc. in the basement. The building was almost empty of inhabitants, but there was plenty of crockery, utensils and other equipment, even Luger pistols. Instead of taking a flat each, the three of us chose a flat and moved in together, combing the other flats for the best equipment. We settled in and took a watch each on the telephone exchange which had been defunk for some time. We soon began to get plenty of calls, not knowing if they were Norwegian, German or whatever. After a day we were pleased to see three army lads of the Welsh Regiment. Then came the S.A.S. with Paddy Maine and other officers living in the upper flats. They were dropping empty beer bottles down on to the jeeps parked below and down the central staircase. The building also had a lift.

After a few days the army lads came in with bottles of German rum, Schnapps and red wine which we made into a punch by putting a large bowl on the stove filling it with red wine, well sugared, with rum and schnapps then heated it up. We then invited girl friends who had befriended us, some of whom I found out later had been Quislings. One of the Welsh lads had a girl in his flat and kept her locked in, she got out one day and went round the building looking for this guy with a Luger in her hand. She was confronted by an officer. He was put on a charge and was never seen again. Soon the people of Kristiansand learned of the cache of booze and we were pestered into selling them a bottle or two, only to be invited to a party to help them drink it! I remember that at one party the Norge started play acting, some of the plays were rather crude.

After a week or two of walking around the town, I somehow met a chap, who, after talking about football, took me behind the counter of a bank, where we organised the first football match to be played in Norway since the war. It was HMS

Valorous

versus the Milorg. It was England versus Norway. The captains exchanged flowers and even though we won 2-1 we were all treated to what was available, there was very little available in those days.

On May 17th which was the national day in Norway, I was sitting on watch with steel safety doors and grid open to footpath level, it was a nice night, when a beautiful girl put her head in and asked if she could come in, no doubt she had been in before, for when a Milorg sentry, who had been watching from across the street came across, she ran off holding her head in her hands. They used to cut off their hair if they fraternised.

The building across the road was the headquarters of the underground movement, the address Grego had given me on that first day. Finding a gramophone in the basement and borrowing records from the ship, we organised the first dance in the

Soldatenheim

(soldiers home) which was not more than forty yards away. I must say that I was being well victualled from the ship and also by the army. While sitting there having a meal, two of our army friends brought in a German SS Captain dressed up as a corporal, he came in so humble, took off his cap and put it on the table, which was instantly thrown to the floor saying "You don't put caps on tables" then gave him the job of scrubbing the tables and removing crumbs from the groves with a toothbrush.

Sitting in the dining room playing records people began coming in and started dancing, then in walked Grego with two women, one of them was Kari the other his wife. I immediately asked Kari to dance and asked if she remembered me, she did, we danced all night. When it was all over, Grego took us to the back of the soldiers home where the big launch was moored. We were soon under way going up the fjords taking it in turns at the helm, drinking and firing very lights into the sky. I do not recollect if I returned to my place of work that night!! Soon after visiting Kari and her nurse friend at their flat and being plied with Danish bacon, butter etc. it was time to leave Kristiansand and come down to earth, or should I say water? Back to

Valorous

and back to England.


****************


His best friends during his eighteen months on

Valorous

were George Garwood from Eastbourne and Bill Willis from Northampton. John Garforth left

Valorous

at Rosyth and on return to barracks at Chatham was sent to Liverpool to join the MV

Orion

, a troopship bound for the Far East. The

Orion

called in at Wellingon, New Zealand, and Sydney, Australia, to return liberated POWs and then headed for Singapore where John joined HMS

Glenearn.

The war had ended by now and the

Glenearn

was sent to Kure in Japan which had been heavily bombed. John's adventures in the Far East are detailed in the book he wrote about his life which he gave the name "Memories and Magic Moments" (self published).

John Garforth was demobbed at Chatham on the 1st November 1947 and was soon working in the building trade as a glazer. He moved to Whitehaven on the Cumberland coast where he met his wife Pauline Kirkbride and lived there for the rest of his life. They had two daughters, Glenda and Christine. Pauline died in 1989. In 1995, fifty years after

Valorous

and

Venomous

were sent to Kristiansand, his daughter Glenda Lopez encouraged her father to return to the place which made such a deep impression on him as a young man. This was the first of several such trips during which he met old friends and made new ones as described in his memoir which comes to an abrupt end when John Garforth passed away on the 21st April 2010.


John Garforth

This story was first published in

Hard Lying

, the magazine of the V & W Destroyer Association
and republished in 2005 in the book of the same name which is now out of print.