---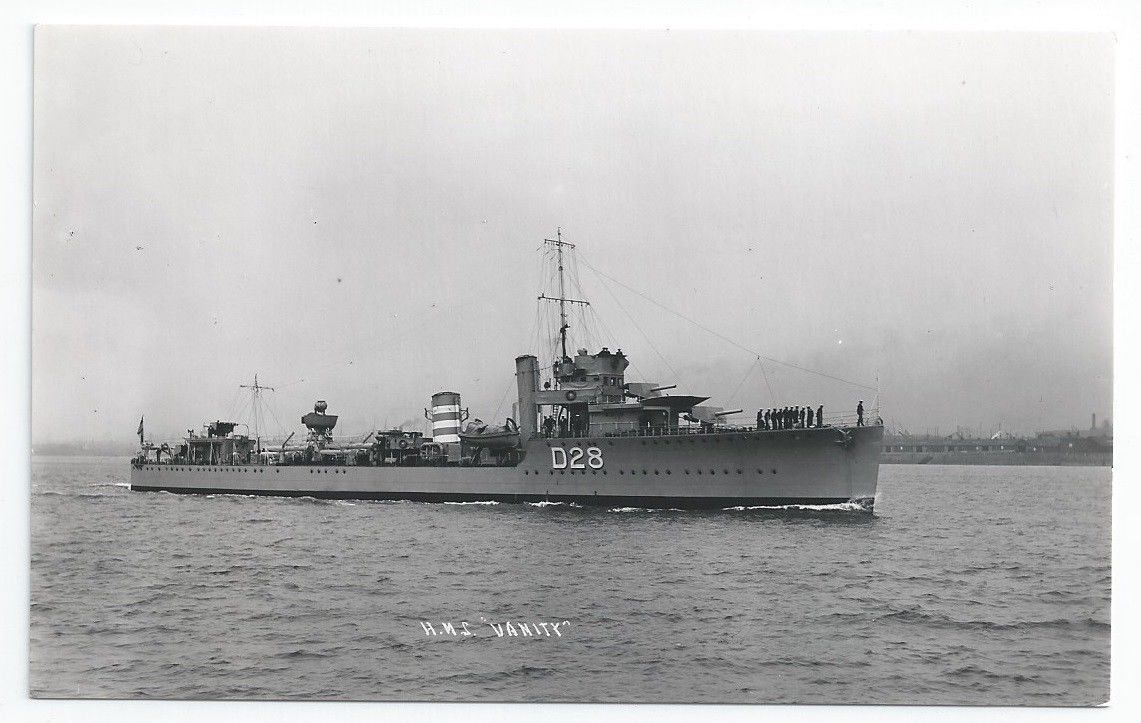 HMS

Vanity

(D28) before her WAIR conversion to an anti--aircraft ship

Downloaded from E-bay

HMS

Vanity

was was laid down on 28 July 1917 by William Beardmore and Company at Dalmuir, Scotland, launched on 3 May 1918 and commissioned on 21 June 1918. She took part in the Baltic Campaign in 1919 and remained in service with the newly formed First Destroyer Flotilla and from 1923 with the Ninth DF as part of the Atlantic Fleet. She was paid off into Rosyth Maintenance Reserve in October 1928.



Vanity

was recommissioned in August 1939 for the Royal Review of the Reserve Fleet by King George VI. Within a month of joining the 15th Destroyer Flotilla at Rosyth escorting East Coast convoys to the Thames estuary she was selected fore conversion to an Anti-aircraft Ship, a WAIR conversion, by changing her 4.7 inch guns for twin HA 4 inch guns. When she returned to escort duties at Rosyth in August 1940 her pennant number changed from D28 to L38. In December 1941, she was "adopted" by Scunthorpe in Lincolnshire) in a Warship Week National Savings campaign.

In January 1942 HMS

Vanity

steamed to Scapa Flow to deploy with the Home Fleet for Operation

Performance

, to cover the break-out of ten Norwegian merchant ships interned by neutral Sweden at Gothenburg since the German occupation of Norway in April 1940. F
or more details of Operation

Performance s
ee

Kvarstad

Ships and Men
.



In February 1942, she resumed her duties escorting East Coast convoys as part of the Rosyth Escort Force until February 1945 when she was reassigned to convoy escort and patrol duty in the English Channel, where North Atlantic convoys had been rerouted after the threat of German air attacks from France had abated. Convoys were being attacked by German snorkel-equipped submarines which did not have to surface to charge their batteries. After the surrender iof Germany on 8 May she was sent to Stavanger, Norway, and from there to Kristiansand and Oslo as described below by AB Geoffrey Barwell.



Vanity

was decommissioned soon after Germany's surrender and placed in reserve. She placed on the disposal list in 1946 and sold on 4 March 1947 for scrapping at Grangemouth, Scotland.


Commanding Officers
Cdr Henry C. Rawlings, RN (8 May – Aug. 1918)
Cdr Henry C. Rawlings, RN (24 Oct. 1918 – 10 Sept. 1920)
Cdr Reginald T. Amedroz, RN (10 Sept 1920 – 17 Aug. 1922)
Cdr Reginald V. Holt, RN (17 Aug. – Nov. 1922)
Lt Cdr Henry A. Simpson, RN (16 Nov. 1922 – 1 Oct. 1923)
Lt Cdr Ralph Kerr, RN (9 Oct. 1923 – 29 July 1925)

Cdr. Herbert James Buchanan, RAN (18 Jun 1940 - 24 Feb 1941)
Lt. Isaac William Trant Beloe, RN (24 Feb 1941 - 17 Jun 1941)
Lt. William Brabazon Robert Morrison, RN (17 Jun 1941 - 1 Jun 1943)
Lt.Cdr. Marcus Henry Reginald Crichton, RN (1 Jun 1943 - 14 Feb 1944)
Lt. Douglas Ronald Wheeler, RN (14 Feb 1944 - mid 1945)


Officers

WO H.G. Collins RN (1940-4)
Surg Lt Noel Fox RNVR (????)


Sub Lt ???????? RN (2 Apr 41 -1943)



Former full members of the V & W Destroyer Association who served in HMS

Vanity


G. Bardwell OBE (Coventry), J. Beaumont (Norwich), J. Hodge (Conway, Gwent), F. Osmond (Bromley, Kent), D. Smith (Solihull), Lt Cdr D. Witcher (Surbiton, Surrey)

Please get in touch if you knew these men or had a family member who served in HMS
Vanity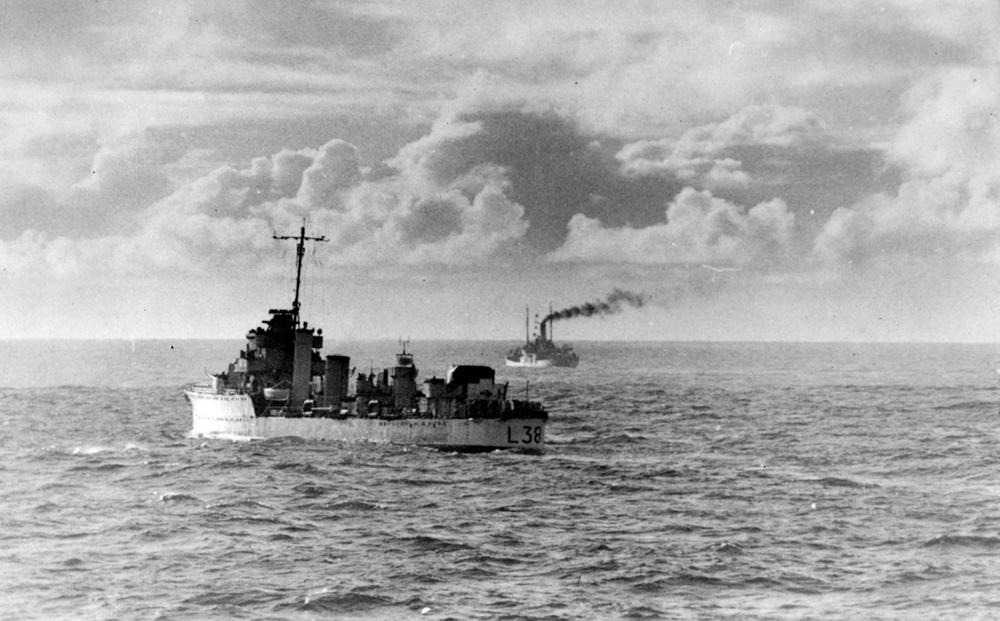 HMS

Vanity

(L38) as part of the Rosyth Escort Force in 1944

Photographed by Lt Cdr John E. Manners RN from HMS
Viceroy
On May 7th 1945 HMS
Vanity
returned to Rosyth having once again completed another North Sea, East Coast convoy duty. We were fully expecting to have a short break before setting sail escorting another convoy down the East Coast, calling at Immingham and the down to Sheerness.
Our Captain informed us that we would be flashing up and setting off at 0500 the very next morning. We were not too chuffed about this, but orders being orders, sure enough we were out of the pens, steaming under the Forth Bridge and out into the North Sea dead on time.
I closed up on my radar set (Type 271 - 5 inch screen- hand operated aerial). Other than marker buoys found nothing, no ships, no convoy! At 1100 on the 8th May The Captain came over the Tannoy. "Splice the main Brace!! The war in Europe is over. We naturally followed the order to a man! However we were not to return to Rosyth until early on the 9th May. HMS

Vanity

had been kept out to sea so the ship's company could not indulge in the end of the war celebrations taking place in Edinburgh on the night of the 8th May 1945. There were already enough rough sailors in the city that night!
As soon as we did return to Rosyth we were ordered to take aboard and stow in the engine room as many large cardboard boxes as possible. These we very soon found out, contained small tins of "Iron Rations or "Hard Tack". A couple of very thick, very hard chocolate etc. Needless to say that we were not very interested in our cargo or the contents. We were to "Flash Up" and deliver our cargo to the paratroops and service personnel in Norway immediately.
What a nightmare, when not closed up on the radar I was one of the night lookouts. I swear that some of the waves broke just below the bridge! It was Oxo and toast all the way there. So easy to heave up when calling for your old friend 'Bert'. However, after completing the morning watch, I came out of the radar cabin and found a lot of the ship's company hanging over the starboard side guard-rails. Looking over the guard rail myself I saw that my shipmates were very busy pushing a floating mine off the ship's side with broom handles! Someone mentioned in typical matelot terms that no one should strike the the mine's horns! Obviously no one did, otherwise I would not be relating this experience. When the mine was far enough away from us, the officers on the bridge believed that they could blow it up by using revolvers and small arms fire. They failed and the last I saw of it was floating away in the morning mist. I believe we must have sailed through, or very near an enemy minefield.
On arrival at Stavanger, we had to proceed slowly and wait for a German E-boat to come out and pilot us into the harbour. The German officer in charge of the E-boat made her 'turn on a tanner' (sixpence). Impressive.
The first thing I noticed on tying up alongside the harbour was that the sea was full of jelly fish. Fifty years ago the harbour was surrounded by small sardine canning factories. The heads and tails of the sardines were washed down wooden troughs into the harbour sea water. The jelly fish were thriving on this waste.
We unloaded some of our 'Iron Rations' and met some army personnel while at Stavanger and within twenty four hours we were on our way to Kristiansand, then on to Oslo. We sailed through beautiful fjords with wooden houses dotted among the pine forests, each small house proudly flying a Norwegian flag from it's own flagpole. Our ships loud speakers were turned on full playing 'Land of Hope and Glory' and 'There'll Always be an England'.
While in Kristiansand we took over an empty German wooden hall. We practically emptied Jack Dusty's store in order to lay on a buffet and entertain the Norwegian teenagers. The cooks (singe 'em and burn 'em) baked as much bread as they could. We really had a great afternoon, and after six years of occupation our hospitality was really appreciated.
Most of the Norwegians spoke good English, and I met one girl who's father had been a ship owner. I've often wondered what happened to her and her family.
Our next port of call was Oslo. The passage from Kristiansand was very rough, a life line was rigged along the iron deck in order to get to the radar cabin. One of my shipmates, coming off watch was very nearly washed overboard. A wave actually threw him at the starboard door leading to the mess deck and broke his collar bone. For the first time ever, our ship had a Doctor onboard. He was, I believe, a Norwegian Doctor taking passage from Kristiansand to Oslo and he was able to look after my shipmate. On arrival at Oslo he was transferred to a hospital where, I found out later, he had a wonderful time, the Doctors and nurses looked after him very well indeed.
We were berthed stern to and we were not very far from the main shopping centre and King Haakon's Palace. A shipmate and I went ashore for the afternoon and evening on the first day that we arrived. We noticed that some of the girls wore head scarves because they had had their heads shaved because they had been fraternising with the Germans. During the afternoon we met a Norwegian sailor who was serving with the Royal Navy. He had been based in Scotland for most of the war and had just returned home. He was very anxious to show us what a beautiful country Norway was and how the people had existed since Quisling had taken over the country.
We boarded a train at Oslo station and travelled to the small town of Skien (a forest area where ski's were made). We became quite apprehensive walking around the small town, as there were a lot of Germans still there. Some were queuing up at the local picture house with their girl friends. The scenery was beautiful and before returning to Oslo our Norwegian shipmate invited us in to a small cafe.
We sat down while he spoke to two men, who produced sheet of newspaper containing coupons. The lady cafe proprietor cut about a quarter of the paper out and then produced half a dozen rock cakes, which we enjoyed. He then advised us not to eat too many as they were made out of wood pith. Similarly when we arrived back in Oslo were invited to have a cup of coffee, which turned out to be made of oak leaves. Cigarettes at the time were made out of grass!
We said our goodbye's to Oslo and Norway and set sail for Rosyth quite early in the morning, but were amazed to see small motor boats and other craft sailing out with us, with the tops of fir trees in the bottom of their boats. Later we learnt that King Haarkon of Norway was returning that very day to Oslo from England where he had been in exile for six years, the small boats were going out to meet and greet him.
Geoffrey Barwell
Ex AB/RP3 R.N. (HO)
HMS
Vanity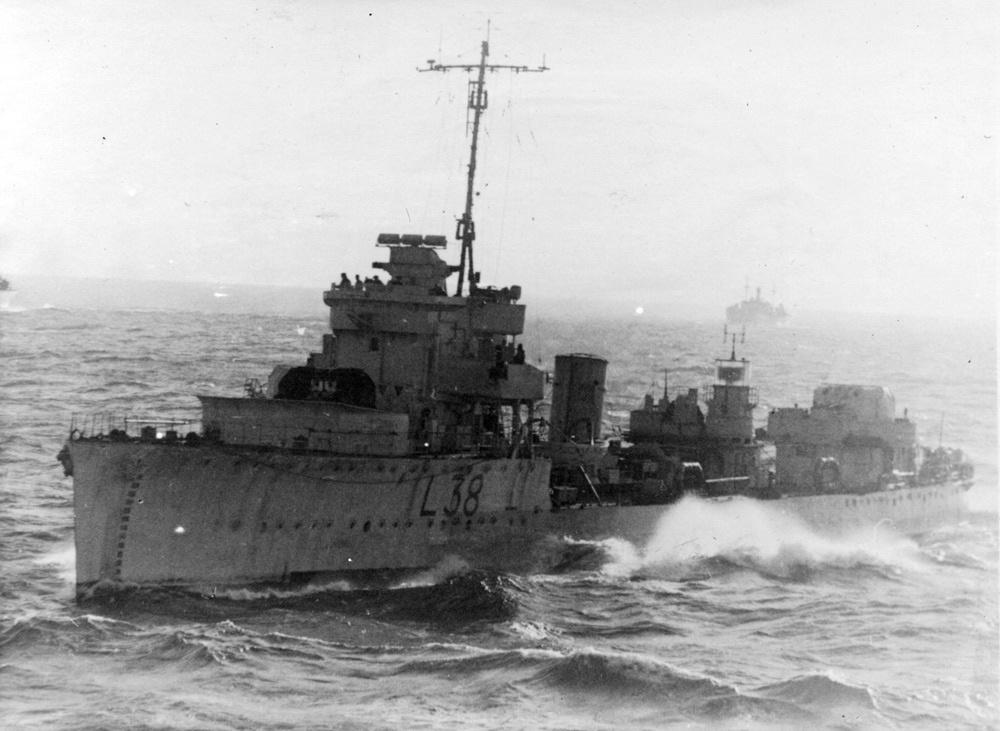 HMS

Vanity

escorting an East Coast Convoy in 1944
Photographed by Lt Cdr John E. Manners RN from HMS

Viceroy



If you have stories or photographs of HMS
Vanity
you would like to contribute to the web site please contact

Bill Forster
---
Return to the Home Page of the V & W Destroyer Association
Return to the Index Page for the 67 V & W Class Destroyers
---