---
HMS
Viceroy
was one of six Thornycroft W-Class destroyer built at
Thorneycroft's Woolston shipyard
on the opposite side of the River Itchen from Southampton.
Viceroy

was the first Royal Naval ship of the name. She was laid down as Yard number 929 on 15 December 1916 and launched on 17 November 1917. After commissioning on 18 January 1918 she joined the Grand Fleet.

After the war she joined the 2nd Destroyer Flotilla in the Atlantic Fleet. In 1921 the Flotilla, in company with the 2nd Light Cruiser Squadron, took part in a prolonged Baltic cruise, visiting the then Free City of Danzig, Memel (now Kaliningrad) in East Prussia, Latvia, Estonia, Finland, Sweden, Norway and Denmark.
In 1925

Viceroy

and the 2nd Flotilla moved to the Mediterranean Fleet, and then to the Home Fleet in 1932. She went into reserve in 1936.

In 1939 she was selected for conversion into an anti-aircraft escort (WAIR), but work did not start until 1940.
In February 1941

Viceroy

was deployed for escort of East Coast convoyss. In 1942 the ship was adopted by the civil community of Meriden, the traditional "Heart of England", between Coventry and Birmingham, after a successful Warship Week national savings campaign.


In October 1942
W.F.J. Dalkeith joined ship as a CW Candidate in the seamen's mess on the lower deck to get in his three months seatime prior to officer training. Back home in Drumlanrig Castle he was better known as the Earl of Dalkeith. He became the 9th Duke of Buccleuch in 1973 and in later life joined the V & W Destroyer Association and described his time as "a very ordinary seaman" in

Hard Lying.

In May 1943 HMS

Viceroy

was assigned to the invasion of Sicily (Operation

Husky

), and early in July joined Escort Force S in Algiers. Escort Force S left Algiers on 5 July, escorting military convoy KMS 18 (Supply Force East), but

she had to detach to Malta for repair on 9 July.

Viceroy

arrived off the Sicily invasion beaches on 11 July, the day after the initial landings, and joined Escort Group V for patrol, AA defence, and convoy escort.


She

resumed escorting East Coast convoys until April 1945, taking no part in the Normandy landings
.
Lt Cdr John Manners took command of

HMS VIceroy

while she was undergoing a refit at Jarrow on the Tyne

.

On 16 April 1945

Viceroy

was escorting Convoy FS 1874 off Sunderland when the German Submarine U 1274 attacked, torpedoing and sinking the tanker

Athelduke

. John Manners describes his attack on

U 1274 stationary on the bottom north of Newcastle upon Tyne.

Viceroy

returned to the scene on 24 April, found U 1274 in the same location on the seabed and dropped depth charges, bringing wreckage to the surface.

Viceroy

's crew recovered a case of 72 bottles of brandy which had been onboard U 1274. Capt J H Ruck-Keene RN of the Rosyth Escort Force sent a bottle in a presention case to the First Sea Lord, Admiral Andrew Cunningham, who gave it to the Prime Minister. Churchill thanked Cunningham
in a note dated 12 May
for the "interesting souvenier" and congratulated
the

Viceroy

's crew
on the sinking.


Viceroy

continued her patrol and escort operations in the North Sea until the surrender of Germany in early May 1945, and then supported Allied Forces reoccupying Norway, entering the Port of Trondheim with HMS

Wolsey

after the 9th Minesweeping Flotilla had cleared the harbour and approaches. She spent the summer of 1945 in the North Sea, paying off and being reduced to reserve after VJ Day in September.
Commanding Officers
Officers

Lt Herbert William Acworth RN (Oct 1929 - Jan 1932)
Lt Geoffrey William MacNachtane Ambrose RN (Mar 1933 – Mar 1934) 1st Lt
Lt Nigel Hubert George Austen RN (Aug 1934 – Feb 1936) 1st Lt
Lt George Ian Mackintosh Balfour RN (Aug 1933 – Aug 1934)
Actg Gnr W F Baulch RN (6 Nov 1940 – 3 Jan 1942)
Lt John William Huyshe Bennett RN (Aug 1934 – Jul 1935)
Lt I W V Browne RN (25 Oct 1940 – Jun 44)
Lt Cdr (E) A J C Bullen RN Retd (30 Jul 1940 - 13 Dec 1940)
Actg Temp Gnr G W Coombs RN (3 Jan 1942 – Dec 42)
Temp Sub Lt J S Crawford RNVR (May 1944 – Jul 45)
Temp Lt Derek Edward Crowsley RNVR (13 May 1945 – 31 Jul 1945)
Temp Surg Lt H J Danby RNVR (22 Mar 1943 – Jun 44)
Lt Bernard Sydney Davies RN (Apr 1928 – June 1928)
Temp Sub Lt D P R Davies RNVR (24 Nov 1942 – Dec 43)
Lt G H E Ellison RN (11 Nov 1940 – Dec 1940)
Lt Hugh William Falcon-Steward RN (Oct 1935 – Feb 1936)
Sub Lt R M French RN (9 Feb 1945 – Aug 45)
Cmd Engineer H Harris RN (13 Dec 1940 – Jun 43)
Mid Humphrey Leoline Jenkins RN (1922)
Lt (E) L A Lall RN Retd (18 Sep 1939 – 30 Jul 1940)
Temp Mid J R Langridge RNR (19 Dec 1942 – Dec 43)
Temp Lt D Langston – Jones RNVR (12 May 1942 – Aug 45)

Temp Sub Lt M V Lloyd RNR (19 Nov 1941 – Dec 41)
Temp Sub Lt (E) J Longhurst RNVR (17 Jul 1944 – Aug 45)
Lt John Hart MacAlister RNVR (14 Dec 1940 – Jun 42)
Sub Lt James Abernethy McCoy RN (2 Aug 1918 – Sep 1919)
Temp Sub Lt R H McGill RNVR (19 Nov 1941 – Jun 42)
Temp Actg Sub Lt H B McLachlan RNVR (8 Feb 1944 – Aug 45)
Cdr John Maurice Mansfield RN (1930 – 1933)
Lt K W Marjeson RANVR (9 Apr 1942 – Aug 45)
Lt A Nicol RNVR (4 Dec 1940 – Jun 41)
Temp Surg Lt L D Osler RNVR (7 Jul 1941 – 8 Apr 1942)
Actg Lt R K Pafford RN? (25 Oct 1943 – Dec 43)
Temp Sub Lt G F Pettitt RNVR (30 Jun 1942 – Jun 43)
Lt Terence Corin Robinson RN (Aug 1927 – Aug 1929)
Sub Lt P A Rollo RN (7 Dev 1940 – Jun 41)
Lt H D Seccombe RNVR (10 May 42 – Dec 42)
Lt J M J Sinclair RNVR (21 Jan 1944 – Aug 45)
Lt Charles John Skrine RN (2 Sep 1924 – 28 Dec 1926)
Temp Lt J Swallow RNVR (9 Feb 43 – Dec 43)
Lt D Verney RN (8 Aug 1940 – Dec 41)
Temp Actg Sub Lt J H Wilcox RNVR (18 Oct 1943 – Dec 43)
Temp Surg Lt C G Whiteside RNVR (8 Apr 1942 – 22 Mar 1943)

Former Full Members of the V & W Destroyer Assoociation
R. Blackwell (Neston), The Duke of Buccleuch (Selkirk, Scotland), Ken Foster (North Bradley, Wilts), Peter Laker (Ashford, Kent), C. Lock (Eastbourne, Sussex)
Please get in touch if you have a family member who served in HMS Viceroy
John Errol Manners was born in Exeter, Devon, on 25 September 1914 the son of Rear Admiral Sir Errol Manners RN (1883 - 1953) and entered Dartmouth Naval college at the age of 13. Despite the demands of a naval career he played cricket for Hampshire and is believed to be the last remaining pre-war first class cricketer. He was able to play
for Hampshire while serving on the Royal yacht
in 1936 but from 1937 onwards he served on torpedo boats in the Mediterranean and the Far East. HIs two brothers, Capt Rodney Manners RN and his younger brother Lt Cdr Errol A.S. 'Sherard' Manners DSC RN and their sister Angela Cartwright all served in the Navy. Their father served thoughout the war as Commodore of Ocean Convoys. He completed 52 ocean convoys including ONM.249 of 153 ships and received a KBE for his services.


John Manners died on Saturday 7 March 2020 at the age of 105
He was the last wartime CO of a V & W Class destroyer and
in 1936 played cricket for Hampshire
while serving in the Royal Yacht

Victoria and Albert

at Portsmouth
.
Read his Obituary in

THE TELEGRAPH


Bill Forster recorded an interview with him in 2018 and with the help of his family told his story on this website.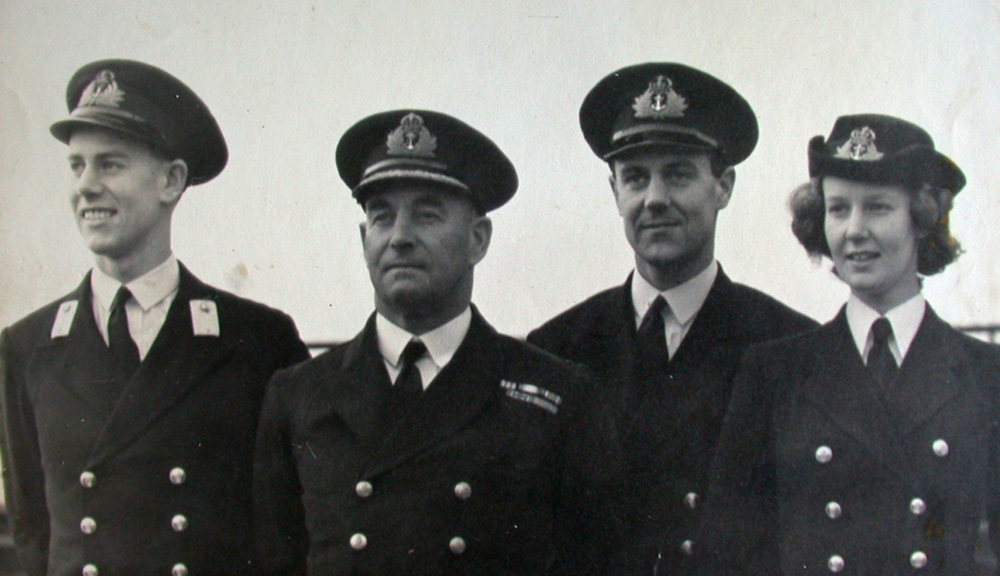 Fom left:
'Sherard' Manners
, Sir Errol Manners,
John E. Manners
and their sister, Angela Cartwright, a WREN
Courtesy of Errol Manners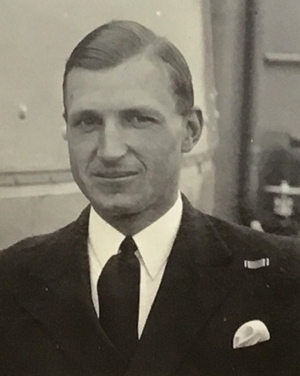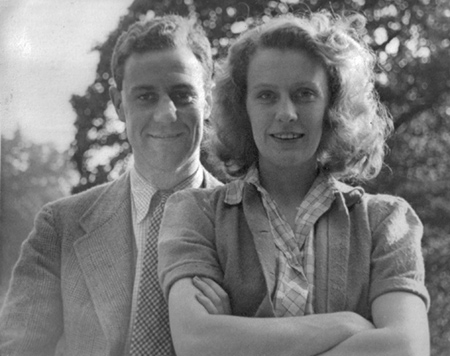 John Manners was on the China Station in HMS

Birmingham

when war was declared. He was given a new posting and arrived at Southampton in the liner

Strathalan

in January 1940 and on arrival at the family home in Alverstoke 20 miles away was met by his sister who told him she was getting married to Lt Hugh Cartwright RN (on right) the next day and in the absence of their father on convoy duty he could give her away.

John Manners met his wife, Mary Downes, an actress in the Newcastle Repertory Company, after his appointment as 1st Lt of the Hunt Class destroyer HMS

Eglinton

nearing completion at the Walker shipyard on the Tyne. His father only just managed to attend their wedding
on the 18th October 1940. He
dashed down to London from Liverpool
on returning from a convoy
the day before
. They came close to death on their wedding night when their hotel was bombed and six months later had an even closer escape.

Eglinton

was based at Harwich and his wife joined him when he had a day's overnight leave and a bomb landed in the bedroom of the flat they were renting while they were in the bathroom. They were unscathed but the other four occupants of the house were killed. The photograph of them on the left was taken during the war not long after their marriage.

Their first child, Diana, was baptised aboard the

Eglinton

in the ship's bell.
John Manners was in destroyers throughout World War II, moving from HMS

Eglinton

to the Tribal Class destroyer HMS

Eskimo,

his first command, in May 1942 and from there to HMS

Viceroy

in December 1943. All the photographs with the exception of those of him and his brothers were taken by John Manners on his 35 mm Leica camera and were sent to me by his son Errol Manners.
"Following my leave I was sent on a round of weekly courses in torpedo, gunnery and anti-submarine warfare and was then appointed to the

Viceroy

. She had been built in 1917 and early in the war has been converted into a Wair. This consisted of removing her four 4.7" guns and replacing them with two twin 4" anti-aircraft guns and fitting up four 0.5" machine guns each side on a platform amidship and just below the bridge on either side was a single oerlikon. She carried a crew of about 160 and was being refitted at Jarrow on the Tyne. The ship was uninhabitable during the refit and so I obtained accommodation in Newcastle. It took me 45 minutes by tram and train to reach the ship. I found I could do this in the same time on my bicycle. No doubt the exercise was good but not much fun in bad weather.


HMS
Watchman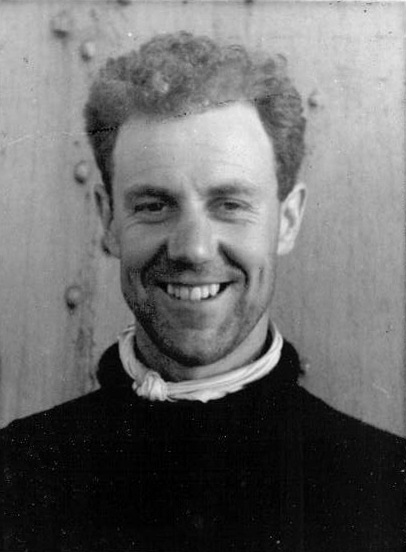 After a week or two on arrival on board I was surprisingly and unexpectedly told to report to Londonderry in Ireland as soon as possible. On reaching there I was told to command the

Watchman

and we sailed almost at once. Her captain had gone ill and they wanted someone with experience to take his place temporarily.


The

Watchman

was built in 1917 and was made into a 'long legger' by removing her foremost boiler and funnel and replacing it with a fuel tank enabling her to have a longer endurance for convoy work in the north Atlantic. We formed part of a small group which attached itself to an outward bound convoy and transferred to an incoming one, staying at sea for a fortnight or so.


On return from the first trip I had been expecting to leave but was ordered out to sea immediately after re-fuelling. The U-boats had recently been fitted with acoustic torpedoes called 'gnats' which were designed to home into the propellers of an attacking craft. One such torpedo had struck the destroyer

Hurricane

[on 24 December 1943]. We arrived at the scene and there she was stationary and looking undamaged. However, her propellers and rudder had been irreparably damaged and she was a thousand miles or so from land, there was no option but to sink her as towing that distance was out of the question. Anyhow, by this time with new ships being commissioned so frequently a single destroyer was less valuable, her trained crew being more so.


We encountered some nasty rough weather and our Asdic dome, which was in its lowered position, was broken off necessitated us going into dry dock to have a replacement fitted. On the way back to port we passed an outward-bound Atlantic convoy and the leading merchant ship signalled to us asking our name. It turned out that it was from my father who was commodore of the convoy. I altered course and drew up alongside and spoke to him on the loud hailer. He must have found out in Liverpool that I was in

Watchman

.


East Coast Convoy Escort



After six weeks in

Watchman

I was relieved and dashed back to

Viceroy

. Her refit had taken a little longer than expected and it was to be another month before it was finished.

On completion we sailed to Rosyth to join the other twenty or so destroyers that formed the 'Rosyth Escort Force'. The majority were V or W class destroyers similar to ourselves, the other eight or nine being American 'four stackers' on lease. The name was derived from the fact that they had four funnels.


After working up and doing various gunnery and anti-submarine exercises we joined the operating team. All of the ships had some form of camouflage in shades of light grey, white and light blue in a variety of different patterns, which were taken from a book of designs. By this time the dirty pink 'elephants breath' camouflage had gone out of fashion. Our duties were to escort convoys from Methil on the north side of the Firth of Forth opposite Edinburgh to their 'dispersal point' in the mouth of the river Thames.


Normally two destroyers were allocated to each convoy whose average number of ships was usually thirty or forty and the speed was eight knots. These vessels had come round Scotland and assembled. They were mostly not very large; among the biggest were the American Liberty ships of about 7,500 tons. Smaller vessels, mostly colliers joined us on the trip down from east coast ports, principally the Tyne and Tees. The ships were formed into two columns headed by the commodore.


At the start of the passage we went alongside the commodore's ship, fired across a coston line consisting of a length of twine. The commodore attached the 'convoy formation list, which we hauled aboard and after exchanging pleasantries, we proceeded on our way. In addition wireless contact was made with all ships. There were always two destroyers with each convoy, one ahead and the other astern.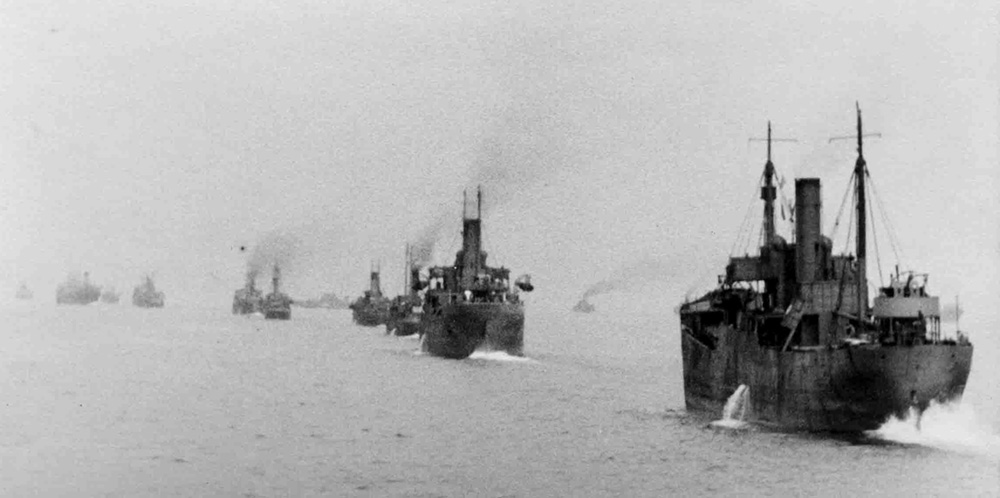 These convoys ran every day to a regular timetable and were the lifeline to London. The order of the ships and the columns they were in was arranged at a conference at Methil beforehand. On every occasion we put to sea, all the gun crews were excercised in anti-aircraft and E-boat procedures, the oerlikon guns fired to ensure they were in working order and the depth charge crews setting the depth ordered. This could be set at shallow, normal or deep, but we were always set at safe when cruising. Crews had to be able to do this by day and night and after training became very adept and quick.


Early in the war some ships kept them set all the time and in a few cases when ships were sunk, their explosions caused the deaths of swimming survivors. By 1944 the ships were mostly used to convoying, coping well with station-keeping and remaining in close formation because it was bad to be strung out too long. The length was normally two or three miles. The dangers to shipping on the east coast could come from mines dropped by aircraft, and E-boat attacks.


By the end of 1943 the enemy was fully extended and there was little action. The destroyers zig-zagged, as a precaution against submarines, until shallower water was reached in the vicinity of the Wash. Here the swept channel was entered, while minesweepers plied up and down out of sight of the convoy. Every five miles there was a buoy which facilitated navigation. A 4"gun, close range weapons, radar, Ascid and depth charge operations were manned all the time, with one third of the ship's company manning them in a state of readiness, called 'cruising stations'. Going south on passing the Norfolk coast around Sheringham we went to 'action stations' when all the armament was manned all night and watertight doors closed. Gun crews had to be ready to fire star-shell by night and semi armour-piercing shell for E-boats, while of course by day they had to have fused shells against aircraft. Personnel were closed up at action stations for the passage known as 'E-boat alley' with the period depending on the time of year as E-boats could only operate during the hours of darkness coming from the port of IJmuiden in Holland.


The dropping of mines, either magnetic or acoustic, from aircraft was sporadic and very inaccurate and caused little inconvenience. Normally the convoys took three days, two plain sailing and the third passing through E-boat alley at night and arriving in the Thames estuary on the third day and the destroyers proceeded to buoys at Sheerness.


From time to time the weather upset the schedule. Rough seas and gales slowed it down and made station keeping extremely difficult for the smaller ships. The destroyer at the tail end of the convoy had the job of trying to keep order. The other hazard was fog and as a last resort it meant having to anchor, which was done in consultation with the commodore, communicating by wireless. Hopefully, but not always, all the ships would get the message to anchor. Getting under way again was a complete circus. Some ships weighed anchor more quickly than others and if the tide was unfavourable everybody would be facing the wrong direction! One always hoped for the best and I don't recollect there being any collisions. Sometimes the fog was patchy which made decision-making difficult.


All the destroyers had open bridges so it was extremely draughty, wet and uncomfortable, especially in the bitingly cold ease winds. Everybody wore oilskins and 'sou westers' and lots of woollies and we all survived to tell the tale. On these occasions lifelines were rigged consisting of wires overhead with sliding ropes one could hang onto if it was necessary to get aft from the bridge in rough weather. My cabin was aft, as were all the others, but I also had a sea cabin just below the bridge where I spent the whole trip. All the watch-keeping officers had to pass along the length of the upper deck to get to the wardroom and their cabins. However, all went well and we arrived at Sheerness in the early morning and sometimes took some exercise ashore and occasionally played golf on the local golf course. We could usually borrow a set of ropey old clubs from the professional but our doctor wanted something better. Seeing a fine set of matching clubs he bluffed his way by saying they belonged to his great friend 'Bloggins' who always lent them to him. As we drove off on the first tee he discovered to his dismay they were a left-handed set, so we had the last laugh!


At crack of dawn the next day we proceeded across the Thames to the Southend area and picked up the northbound convoy made up of ships that had discharged their cargoes. The further north that the convoy could get through E-boat alley the better so the commodore usually put the slower ship in front and told it to get a move on. For this part of the journey an additional pair of destroyers from Harwich would reinforce the escort and patrol seaward as a protection against E-boats.


On the way north ships were continually peeling off in ones and twos to enter east coast ports, notably the colliers. The trip north took the regulation three days to reach the Firth of Forth where we passed through the protecting boom to enter the sanctuary of Rosyth for a short rest of two or three days depending on the operational requirements.
On occasions we were diverted into the Humber and secured to a quay at Immingham with the object of escorting one of the southbound convoys and if we did this our round trip took us ten days.



The

Richard Montgomery



As the war was approaching its final stages there were not many losses of merchant ships, but there was one curious incident. The American Liberty ship

Richard Montgomery

had a cargo of bombs and ammunition destined for the second front. For some reason she was ordered to anchor just off the swept channel and by mischance she swung onto a sandbank at a very high tide and stuck there. She could not be refloated till the next spring tide in a fortnight and in the meantime she broke her back. We first passed her with her flags still flying but in a sinking condition. A month later she was still there with her back broken and her stem sticking up in the air. To this day over fifty years later her masts are still showing and there are worries that one-day her cargo will blow up.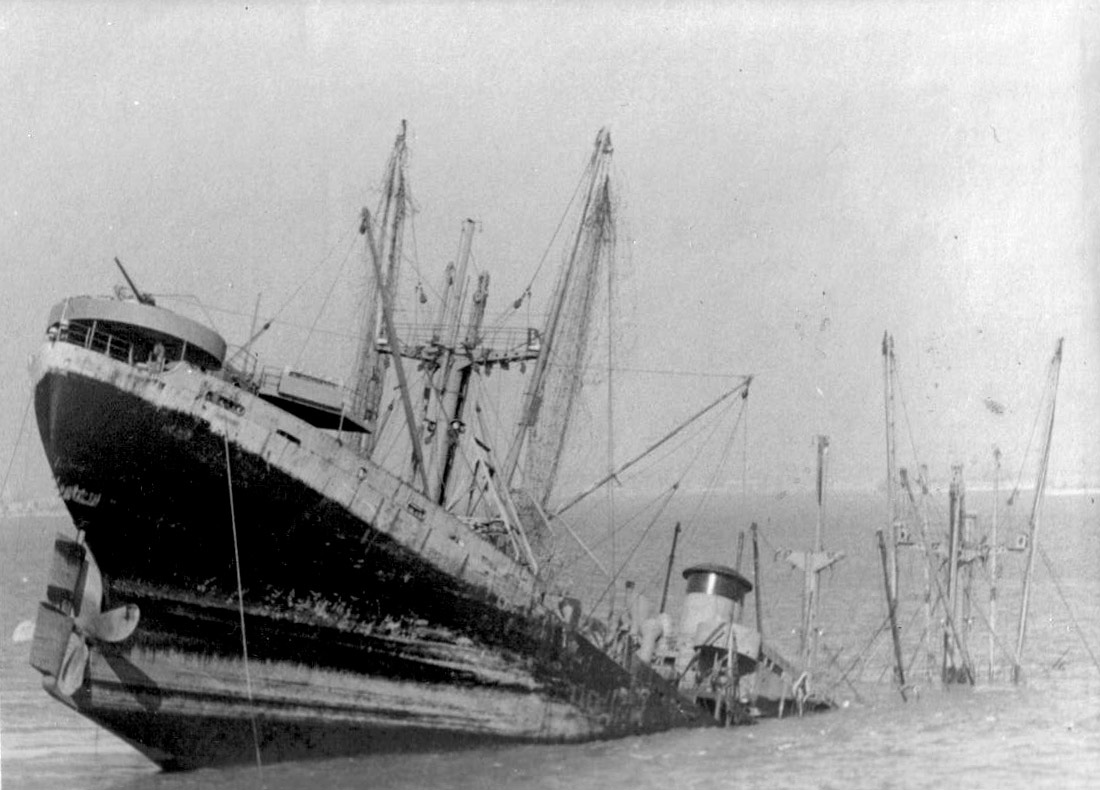 There was one sad incident when a new submarine of ours was passing by the convoy it collided with a trawler at the back and was sunk. The main excitement and achievement came with this episode with the U-boat, U-1274.


The advantage in the drawn out war between the u-boats and the convoy escorts swung in the escorts favour as the Endgame approached. Defeated in the Atlantic Donitz switched to coastal waters but many of the more experienced commanding officers were dead and their replacements were not given the time to learn:


"Oberleutnant zur See Hans-Herman Fitting's U1274 followed a tragically familiar pattern for the new U-Boats. It was the maiden voyage for boat, commander and crew and on 16th April Fitting opened fire on convoy FS1784 off England's northeast coast. The 8,966 ton tanker MV

Athelduke

, carrying 12,600 tons of molasses, was hit and sank with one man from the forty seven crew killed. But with his presence betrayed by the attack, Fitting was then hunted by British escort ships; he was found by HMS

Viceroy

and depth-charged into oblivion with all hands." From

Donitz Last Gamble: The Inshore U-boat Campaign, 1944-45,

by Lawrence Paterson (Seaforth, 2008)

On April 11 1945 HMS

Viceroy

was zig-zagging about a mile ahead of convoy FS 84, a small convoy of seven ships in two columns, three being in the port column and the other four in the starboard. The convoy was abreast Newcastle, proceeding south in calm weather and good visibility at a speed of seven knots.

At 1933 SS

Athelduke

was rent by two explosions. The water was too deep for mines and it was assumed the damage was caused by torpedoes from a submarine. There had been no previous submarine activity in the area during the war. I turned the ship to port and increased speed to 18 knots and in three minutes picked up a good echo at 2200 yards, the extreme range of the Asdic being about 2500 yards. A difficulty round the coasts is the number of wrecks all of which give an echo, as do shoals of fish, the latter can usually be distinguished by a duller note. This echo had 'doppler' which indicated a moving target with some hydrophone effect from the U-boat propellers. Speed was reduced to eight knots; the depth charges set to explode at 100 feet. Speed was then increased to twenty knots and an attack was carried out with an amount of aim off to allow for the movement of the submarine from a range of 150 yards when the set lost contact making allowance for the length of the ship and for the pattern of five depth charges dropped over the stern The first one was followed by a second one shortly afterwards, at the same time firing a charge each side from the throwers, which catapulted the charges some 15 yards outwards, and finally a fifth charge. A few seconds later with the ship about 100 yards away, the charges exploded. The ship did a big shudder, leapt a foot or two in the sea and blacked out as all the electric switches were thrown off leaving everything in darkness. The plot, which tracked our movements and the Asdic went dead but shortly the switches were re-fixed and we were back in action. Another attack with a pattern of five charges was carried out ten minutes later and produced some traces of oil. The third attack was broken off as the other accompanying destroyers got in the way. By this time the contact appeared to have no movement and had possibly bottomed in about 250 feet of water.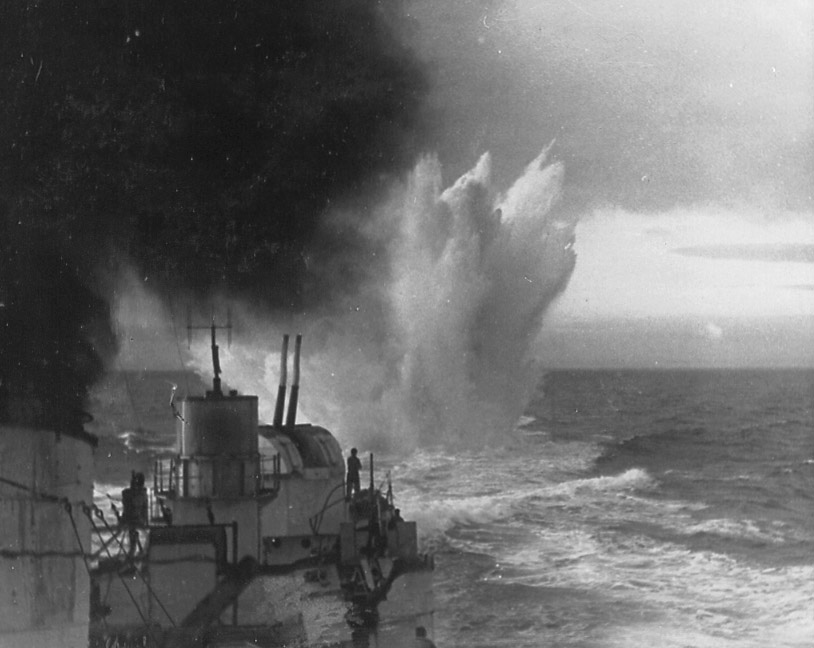 At 2017, forty minutes after the first attack, the third attack was carried out, speed fifteen knots, depth charges set to 250 feet. The first charge produced a distinctly prolonged explosion and some more oil. I signalled to
Woolston
who was stationed at the stern of the convoy that I thought this was it, but he went off chasing something else - probably a wreck on the bottom. At 2113 a fourth and last attack was carried out. In the meantime the SS

Athelduke

sank slowly and darkness set in.

The 30th escort group from the Western Approaches then arrived on the scene headed by the L

auceston Castle

who carried out a squid attack on the contact. The squid was a very much more accurate weapon as it was fired in a pattern ahead of the attacking vessel and Asdic contact could be maintained until the end. We then rejoined the convoy.

On arrival at Sheerness two days later I rang up the operations room at Pitreavie, Rosyth and asked if there was any news. A rather supercilious officer said that an RAF liberator had attacked a submarine on the surface which might have been the one damaged but the result would never be known.

On the next convoy north I was going to investigate the supposed submarine but to my great frustration I was diverted into Immingham, joining the southbound convoy the next day. This meant it was another five days before I was in the submarine area again. I then nipped ahead of the small convoy and found the contact was still there. I think I dropped a depth charge on it.

On arrival at Rosyth I spoke to captain D, who was Ruck Keene and told him the supposed submarine was still there and I was fairly convinced it was a submarine. He was rather bored with the office life and said "Bugger the office, I will go and have a look at it." He boarded us and in company with HMS

Vivien

we proceeded to the scene at a good speed.

There was a nasty moment when our steering jammed hard over at 25 knots. However, when we slowed down the fault was rectified. On arrival in the vicinity of the fateful spot it was slightly foggy and we had difficulty in locating the buoy marks. All was well in the end however and we carried out an attack and shortly afterwards a grey cylinder popped to the surface. I hoped and prayed it contained a dinghy, as it was similar to one from a German submarine that I had once seen on the quayside. Captain Ruck Keene said I had better go aft and hoist it aboard myself, which I did. On opening it up there was no dinghy but instead there was a case containing 72 bottles of brandy!

| | |
| --- | --- |
| | |

Capt D sent off a signal to the Admiralty to the effect that a German dinghy container had been recovered from the wreck of a submarine containing a case of 72 bottles of brandy fortunately none of which were damaged. One bottle was put in a casket and sent to Winston Churchill who acknowledged the gift. Capt D said he would give me the letter, but he never did. Various other items were brought up including some leather clothing containing photographs and a leave pass.


| | |
| --- | --- |
| | |

The sinking of this U-boat caused some slight excitement as the Germans were developing boats called 'Walther' boats, which ran on hydrogen peroxide and had a high underwater speed. Because of this development the 30th escort group had been sent round to Rosyth to reinforce the convoys. However, this was not one of them. This was the last U-boat of the war to be sunk by a surface ship.

The episode entailed a lot of teamwork. Everybody went to action stations and watertight doors were closed. The head Asdic operator took over, the coxswain took the steering wheel, gun crews come to the ready and the depth charge setting team were on the alert, and the engine room were ready for manoeuvring. The chart for plotting our movements was likewise manned so everything worked perfectly. The only hiccough occurring when the charges exploded and all our contact breakers flew open leaving us temporarily in the dark.


"

In due course I was awarded the Distinguished Service Cross for the exploit."


The press cutting announces the award of the DSC to Lt John E. Manners, CO of HMS

Viceroy

, and his younger brother Lt Errol A.S. Manners RN who was always known within the family as "Sherard".

Sherard was in the destroyer HMS

Bedouin

when she was torpedoed by an Italian aircraft in June 1942 during Operation

Harpoon

to relieve Malta.

He spent three and a half years as a POW in Italy and Germany.



During the few days between convoys leave was given, this enabled the crew to go to Edinburgh or Dunfermline or to take part in recreation. The

Viceroy

was very competitive in all aspects and we considered ourselves 'second to none.' There was a training unit in Rosyth for anti U-boat attacks. These were exercises that increased in difficulty and complexity and we headed the list of achievers so that it was poetic justice that it should be our ship that was the only one to sink a U-boat.

On Sundays, when in harbour, we used to have a church service on the mess deck, which I conducted as the commanding officer. In the wardroom we had some singers of varying calibre and we decided to venture into singing hymns and this proved a great success.

A small diversion at sea was letting off a depth charge once in a while just for exercise. This was taken very seriously so we could do it near a shoal of fish and collect the proceeds. We gathered around the Asdic set to see if it could locate a shoal and everybody volunteered their advice where best to explode the charge. Eventually we dropped the charge, waited a bit and up came the fish, though a lot of them would sink. The whaler was lowered and fish were recovered which the coxswain distributed to the ships company to be cooked for supper.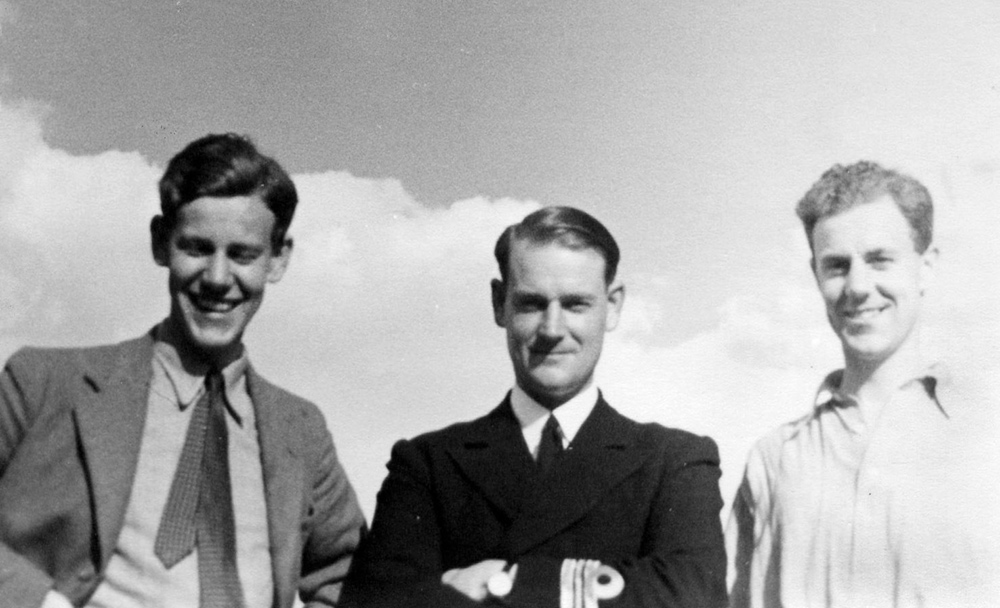 Brothers in Arms: Lt Cdr Errol Adrian 'Sherard' Manners DSC RN,
Lt Cdr Rodney Manners RN (the oldest brother, later Capt E.R. Manners RN) and
Lt Cdr John E. Manners DSC RN
All the male members of the family bore the name of Errol from their Grandfather down


C

ourtesy of Errol Manners, the son of John Manners



Operation Conan was the Royal Navy's contribution to Operation Apostle, the liberation of Norway after the formal surrender of German forces at Oslo on the 9 May. Two destroyers were sent to each of the four ports of entry on the west coast and MTBs from Lerwick to smaller towns along the coast. The destroyers carried with them the naval officers in command (NOIC) of the various ports, naval disarmament parties and small elements of air and military staffs from Britain.
The entry ports and their NOIC were: Oslo (Capt C.R.V. Pugh RN), Stavanger (Capt R.St.V. Sherbrooke RN), Kristiansand (Capt Lord Teynham RN), Bergen (Capt B D Nicholson RNVR) and Trondheim (Capt J H Ruck-Keene RN). On the 13 May eight destroyers in the Rosyth Escort Force were sent to Kristiansand South (HMS

Valorous

and HMS

Venomous

with three Norwegian minesweepers), Stavanger (HMS

Wolsey

and HMS

Wolfhound

), Bergen (HMS

Woolston

, HMS

Vivacious

and the corvette, HMS

Acanthus

) and Trondheim (HMS

Mackay

and HMS

Viceroy

). Lt John E. Manners DSC, RN, the CO of HMS

Viceroy

, describes events:


After reading this brief description by John Manners click on the link to a PDF of the eleven pages of photographs he took in Trondheim and on the voyage south through the narrow leads to the small towns of Molde, Aalesund and Kristiansand North. Not only is he an excellent photographer with a good camera but his neat handwriting and lengthy captions tell the story in more detail than is given below in the extract from his wartime autobiography. The names of the naval and military in the photographs, both British and Norwegian, are given.


"Crossing to Bergen we entered the inland waters and proceeded up to Trondheim where we had been chosen as the flagship of the naval officer in charge namely Captain Ruck-Keene who had been our boss in Rosyth. We were accompanied by HMS

Mackay

but she returned to Rosyth after a day or two and

Viceroy

stayed on for a month. We had embarked a Norwegian interpreter one Lieutenant Musters who amongst his attainments was the world expert on mice! He used our loud hailer and he welcomed all the Norwegians we saw because we were very close to land going up the fiords.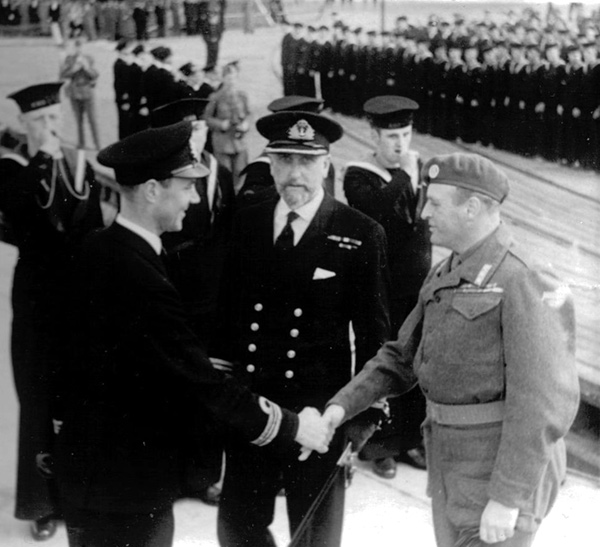 We went alongside at Trondheim and were welcomed by the locals. There were a lot of German military milling around in Trondheim. Not having been defeated in Norway they tended to be a bit arrogant. They were disarmed under the supervision of their own officers and then they were re-patriated. Life was quite pleasant with no blackout and things were feeling civilised for the first time in years. At this time the crews on ships tended to become 'de mob happy' looking forward to the day they could resume civilian life seeing that they comprised about 80-90% 'hostilities only' ratings.
When the army arrived we embarked two of their senior officers plus the Norwegian Oberst Holterman and Captain Ruck Keene went on a cruise up the fiords visiting Aldasness, Molde and Stranda up the Hjorund fiord. At Molde there were no less than 21 German midget submarines on the jetty. Everybody was overjoyed that the war was over and greeted us ecstatically.
After one such stop after being entertained and refreshed by some schnapps, Captain John H. Ruck-Keene with fire and brimstone coming out of his nostrils said "Let me manoeuvre your ship out of here". He then gave an exhilarating exhibition of ship handling in the very narrow fiord with lots of 'full ahead' and 'full astern' causing black smoke to come out of the funnels, which must have impressed the spectators, but goodness it frightened me! Anyhow we all lived to see another dawn.
The highlight of our stay was the visit of Prince Olaf on the 9th June. We paraded a very smart guard of honour for him and he was entertained aboard

Viceroy.

The photograph is of Crown Prince Olaf shaking hands with Lt John Manners RN with Capt J H Ruck-Keene RN, the NOIC at Trondheim, facing the camera.
Eventually our time was up to return to Rosyth and we were sent the following signal: 'The behaviour of your ships company at Trondheim has been exemplary and has greatly assisted me in setting a standard to other forces. Your help in running the port has been of the greatest value'. On the trip home we were told to dispose of all our ammunition and we spent the whole day throwing it overboard into the North Sea.
On arrival at Rosyth we de-stored ship which entailed emptying it of everything moveable and in the end it was like an empty coffin and everyone felt very sad. On completion we were dispersed to be demobilised or given new appointments. Having been a close-knit team for so long the final dispersion was a great anti-climax."
On leaving HMS

VIceroy

he was posted to Australia as "a spare destroyer commander" and took passage in the troopship

Otranto

. His Mother was from Australia and since there was no position as a destroyer CO vacant he contacted his uncle and was invited to visit him near Melbourne where he stayed on a friend's wool station, herded sheep on horseback and became quite a "Jackeroo" before joining the battleship HMS

King George V

.

He left her at Portsmouth in April 1946 and was able to play first class cricket again, scoring his maiden first-class century for Hampshire against Kent in 1947 and playing regularly for the Combined Services team. The photograph below shows him batting for the Royal Navy against the Army at Lords in 1951.

After his retirement in 1958 he worked as Bursar at Dauntsey's School in Wiltshire. He is the author of
Country Crafts Today
(David and Charles, 1974),
Country Crafts in Pictures
(David and Charles, 1976),
Crafts of the Highlands and Islands
(David and Charles, 1978) and
Irish Crafts and Craftsmen
(Appletree Press, 1982). The John Manners collection of his research files and photographs of rural crafts is in the Museum of English Rural Life at the University of Reading.

He used to drive a beaten up old Skoda around Hungerford and escapes the English winters by spending six weeks with his daughter's family in Melbourne, Australia. His visit in 2017 was prolonged by a fall which fractured his hip and required an operation. He made a good recovery but gave up driving when he returned home to England on 4 May 2018 when he was 103.


| | |
| --- | --- |
| | |
He was 80 when this photograph with his wife Mary was taken

and a hundred when photographed at a wedding twenty years after her death on 26 April 1995



Batting for the Royal Navy against the Army


At Lords in 1951




John Manners and Alan Rayment, Hants CC Snr Pro


Taken at home in July 2018
If you have stories or photographs of HMS Viceroy you would like to contribute to the web site please contact

Bill Forster



and to find out more about life on a V & W Class destroyer click on the link to
A Hard Fought Ship
---
Return to the Home Page of the V & W Destroyer Association
Return to the Index Page for the 69 V & W Class Destroyers
---