---

The Liberation of Norway:
HMS Wolfhound and HMS Wolsey at Stavanger
Operation Conan
May1945
Operation Conan was the Royal Navy's contribution to Operation Apostle, the liberation of Norway after the formal surrender of German forces at Oslo on the 9 May:
"On the 13 May, the Royal Navy initiated Operation Conan, sending two destroyers to each of the intended ports of entry, Oslo, Kristiansand, Stavanger, Bergen, Trondheim and Tromso and numbers of MTBs from Lerwick to smaller towns along the coast. The destroyers carried with them the naval officers in command (NOIC) of the various ports, naval disarmament parties and small elements of air and military staffs from Britain". British Policy and Strategy towards Norway; Christopher Mann (Palgrave Macmillan, 2012), page 209.

The entry ports and their NOIC were: Oslo (Capt C.R.V. Pugh RN), Stavanger (Capt R.St.V. Sherbrooke RN), Kristiansand (Capt Lord Teynham RN), Bergen (Capt B D Nicholson RNVR) and Trondheim (Capt J H Ruck-Keene RN). On the 12 May the Flag Officer Norway, Rear Admiral J.S.McL. Ritchie RN, left for Oslo with the cruiser HMS Devonshire, the minelaying cruisers Apollo (with Crown Prince Olav on board) and Ariadne, and four destroyers (Iroquis, Savage, Scourge and Arundel).

On the 13 May eight destroyers in the Rosyth Escort Force were sent to Kristiansand South (HMS Valorous and HMS Venomous with three Norwegian minesweepers), Stavanger (HMS Wolsey and HMS Wolfhound), Bergen (HMS Woolston, HMS Vivacious and the corvette, HMS Acanthus) and Trondheim (HMS Mackay and HMS Viceroy). Local surrender ceremonies were held aboard these destroyers of the Rosyth Escort Force in the harbours on Norway's west coast.
***************

HMS Wolfhound and HMS Wolsey berthed at Stavanger on the 15 May 1945 and were greeted by crowds of enthusiastic Norwegians. The photographs may have been taken by journalists on local papers but were found amongst the papers of Fred Gilleard after his death on New Year's Day 2016 and sent to me by his step-daughter, Sue Parsons. Fred Gilleard was an AB on HMS Wolfhound from October 1944 to June 1945.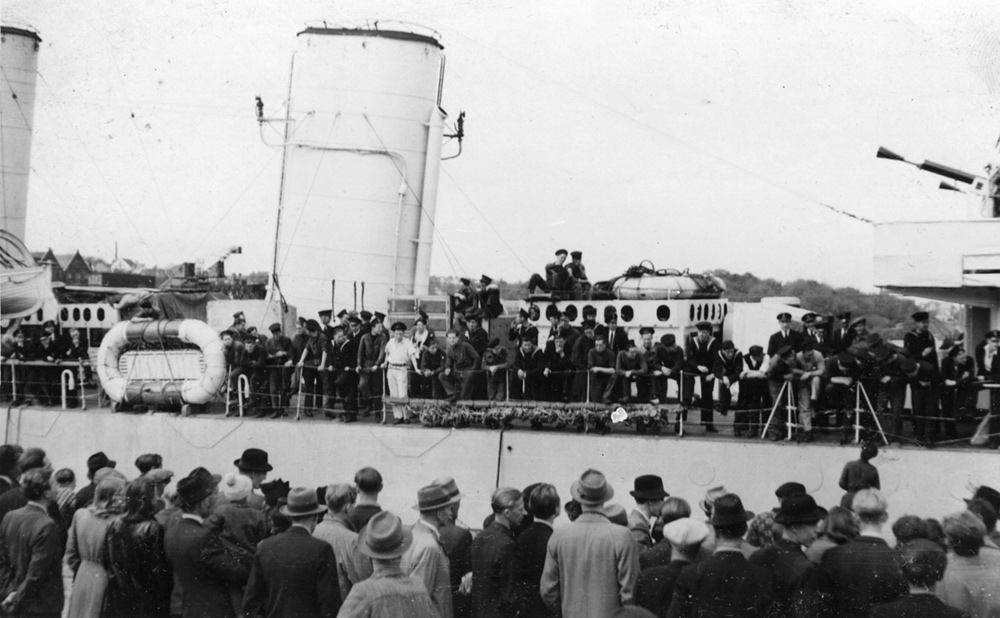 "HMS Wolsey, Stavanger, 15 May 1945" written on reverse
Courtesy of Susan Parsons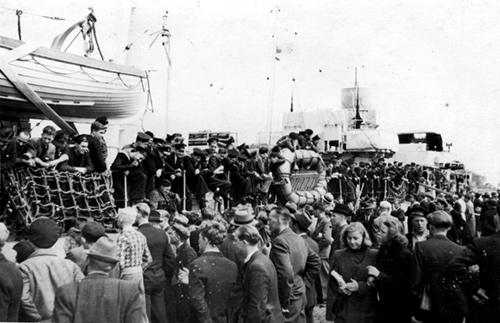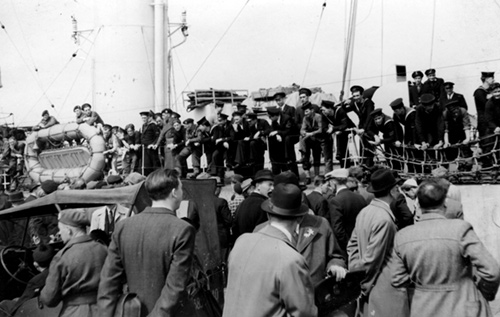 Two views of V & W Class destroyer, probably HMS Wolfhound, berthing at Stavanger
Courtesy of Susan Parsons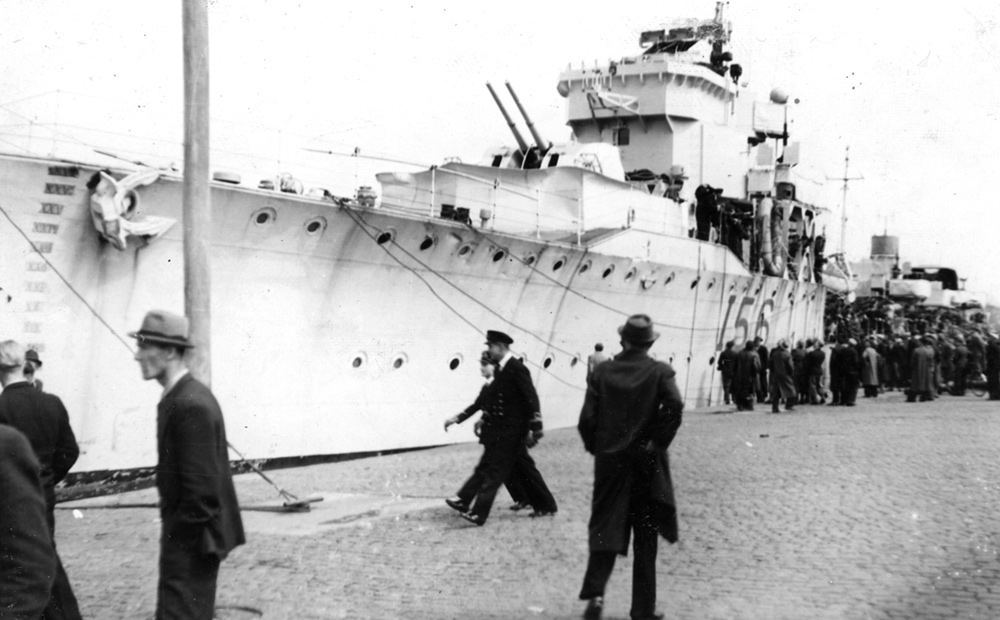 HMS Wolfhound, pennant number L56, berthed at Stavanger
Courtesy of Susan Parson

The 21st Independent Parachute Company took part in the liberation of Norway in May 1945. CSM Stewart, along with Captain Spivey and Lieutenant Page of the Royal Corps of Signals was made responsible for the Stavanger area and came to Stavanger aboard HMS

Wolfhound

and helped her prevent a German u-boat, U-901 commanded by Kapitšnleutnant Hans Schrenk, from leaving the harbour.


Documents brought back from Stavanger by AB Fred Gilleard, HMS

Wolfhound

, and treasured all his life
On left and right the front and back cover of the programme for the celebrations on the 17 May 1945, Norway's National Day.
Centre a momento of the arrival of

Wolsey

and

Wolfhound

at Stavanger on the 15 May 1945

The Commanding Officer of HMS

Wolfhound

was
A/Lt.Cdr. Thomas Aitken Easton, RNVR
(Dec 1944 - July 1945).
Peter Scott, a telegraphist on

Wolfhound

, describes the three months they spent at Stavanger from May to July

in an interview recorded by Bill Forster

at Easbourne in 2014.

Wolfhound

stopped at Bergen before continuing to Stavanger. He felt sorry for the German soldiers who had married Norwegians, decided to remain in Norway and were regarded as traitors. He also described how liberated Russian POWs sang in a choir before being returned to an uncertain future in Russia and how young Norwegians returning to Norway from neutral Sweden behaved as if they had liberated their country.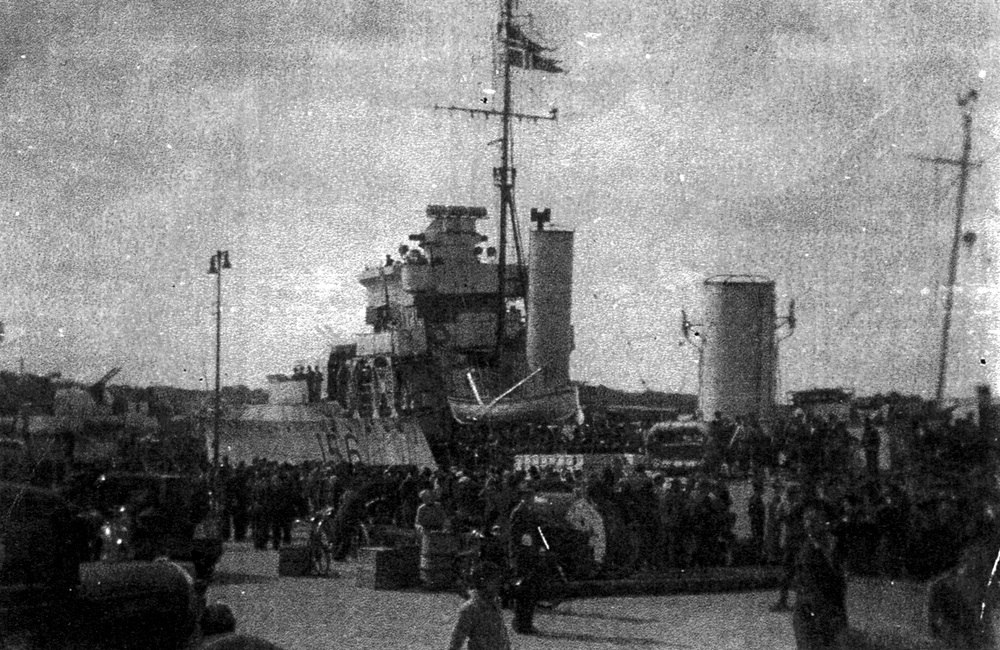 HMS

Wolfhound

flying the Norwegian flag at Stavanger.
Wolfhound

was the "trot boat" carrying mail and passengers through the inner leads between the ports and Rosyth.
Courtesy of Peter Scott
If you want to find out more about the wartime service of a member of your family who served on HMS

Wolfhound

you should first obtain a copy of their service record
If you have stories or photographs of HMS Wolfhound you would like to contribute to the web site please contact Bill Forster

---
Return to the Home Page for HMS

Wolfhound
Return to the Home Page of the V & W Destroyer Association
Return to the Index Page for the 69 V & W Class Destroyers
---