---

The Liberation of Norway:
HMS Wolfhound (L56) and HMS Wolsey (L02) at Stavanger
Operation Conan
May1945
Operation Conan was the Royal Navy's contribution to Operation Apostle, the liberation of Norway after the formal surrender of German forces at Oslo on the 9 May:
"On the 13 May, the Royal Navy initiated Operation Conan, sending two destroyers to each of the intended ports of entry, Oslo, Kristiansand, Stavanger, Bergen, Trondheim and Tromso and numbers of MTBs from Lerwick to smaller towns along the coast. The destroyers carried with them the naval officers in command (NOIC) of the various ports, naval disarmament parties and small elements of air and military staffs from Britain". British Policy and Strategy towards Norway; Christopher Mann (Palgrave Macmillan, 2012), page 209.

The entry ports and their NOIC were: Oslo (Capt C.R.V. Pugh RN), Stavanger (Capt R.St.V. Sherbrooke RN VC DSO), Kristiansand (Capt Lord Teynham RN), Bergen (Capt B D Nicholson RNVR) and Trondheim (Capt J H Ruck-Keene RN). On the 12 May the Flag Officer Norway, Rear Admiral J.S.McL. Ritchie RN, left for Oslo with the cruiser HMS Devonshire, the minelaying cruisers Apollo (with Crown Prince Olav on board) and Ariadne, and four destroyers (Iroquis, Savage, Scourge and Arundel).

On the 13 May eight destroyers in the Rosyth Escort Force were sent to Kristiansand South (HMS Valorous and HMS Venomous with three Norwegian minesweepers), Stavanger (HMS Wolsey and HMS Wolfhound), Bergen (HMS Woolston, HMS Vivacious and the corvette, HMS Acanthus) and Trondheim (HMS Mackay and HMS Viceroy). Local surrender ceremonies were held aboard these destroyers of the Rosyth Escort Force in the harbours on Norway's west coast.
This article by Ross Kennedy was published in a Glasgow newspaper in May 1946 on the first anniversary of the V & W's setting sail for the four ports on the west coast of Norway. Ross Kennedy was aboard HMS Wolfhound which together with HMS Wolsey was sent to Stavanger in the county of Rogaland near the south west tip of Norway's rugged coast and "for three glorious weeks ran a 'mailboat service' day and night through the narrow inner leads 400 miles north to Bergen and Trondheim, scarcely ever seeing open sea". It is typed as published without editing but the minor errors are excusable and the style very evocative of time and place.
***************

On the Waterfront - by Ross Kennedy
ONCE THERE WERE NINE, TRIM GREY SHIPS
One year ago today nine old destroyers left Rosyth, slipped beneath the Forth Bridge at two-minute intervals and formed in line ahead. This was their swan-song, their last operation.

They were the old "Vs" and "Ws" mostly built on the Clyde in 1918.

All the war they and others like them had been the backbone of the Rosyth Escort Force, taking daily convoys between Methil and the Thames, latterly a humdrum, hard-work task, more concerned with mines and wrecks, [than] isolated attacks by E-boats and submarines.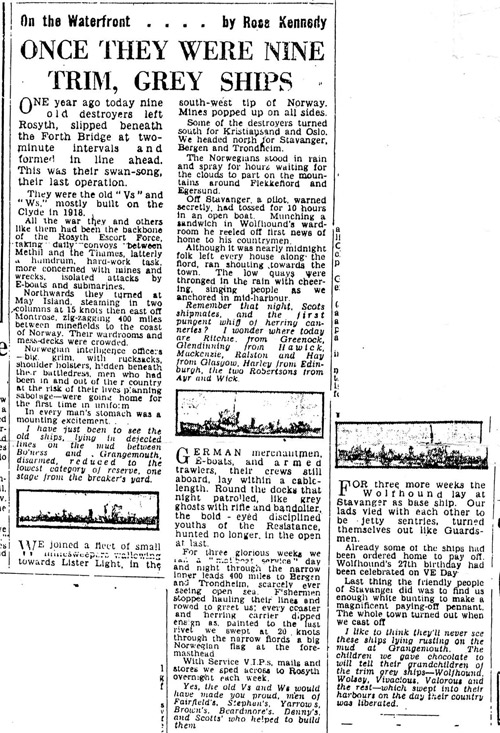 Northwards they turned at May Island, steaming in two columns at 15 knots then east off Montrose, zig-zagging 400 miles between minefields to the coast of Norway. Their wardrooms and mess-decks were crowded.

Norwegian intelligence officers - big, grim, with rucksacks, shoulder holsters, hidden beneath their battledress, men who had been in and out of their country at the risk of their lives planning sabotage - were going home for the first time in uniform.

In every man's stomach was a mounting excitement.


I have just been to see the old ships lying in dejected lines on the mud between Bo'ness and Grangemouth, disarmed, reduced to the lowest category of reserve, one stage from the breaker's yard.

We joined a fleet of small minesweepers wallowing towards Lister Light, in the south-west tip of Norway. Mines popped up on all sides.

Some of the destroyers turned South for Kristiansand and Oslo. We headed north for Stavanger, Bergen and Trondheim.

The Norwegians stood in rain and spray for hours waiting for the clouds to part on the mountains around Flekkepiord and Egersund.

Off Stavanger a pilot warned secretly, had tossed for ten hours in an open boat. Munching a sandwich in Wolfhound's wardroom he reeled off first news of home to his countrymen.

Although it was nearly midnight folk left every house along the fiord, ran shouting towards the town. The low keys were thronged in the rain with cheering, singing people as we anchored in mid-harbour.


Remember that night Scots shipmates, and the first pungent whiff of herring canneries? I wonder where today are Ritchie from Greeock, Glendinning from Hawick, Mackenzie, Ralston and Hay from Glasgow. Harley from Edinburgh, the two Robertsons from Ayr and Wick.

German merchantmen, E-boats, and armed trawlers, their crews still aboard, lay within a cable-length. Round the decks that night patrolled, like grey ghosts with rifle and bandolier, the bolds-eyed disciplined youths of the Resistance, hunted no longer, in the open at last.

For three glorious weeks we ran a "mailboat service" day and night through the narrow inner leads 400 miles to Bergen and Trondheim, scarcely ever seeing open sea. Fishermen stopped hauling their lines and rowed to greet us: every coaster and herring carrier dipped ensign as painted to the last rivet we swept at 20 knots through the narrow fiords a big Norwegian flag at the fore-masthead.

With Service VIPs, mails and stores we sped across to Rosyth overnight each week.


Yes, the old V's and W's would have made you proud, men of Fairfield's, Stephen's, Yarrow's, Brown's, Beardmore's, Denny's and Scotts' who helped to build them.

For three more weeks the

Wolfhound

lay at Stavanger as base ship. Our lads vied with each other to be jetty sentries, turned themselves out like Guardsmen.

Already some of the ships had been ordered home to pay off. Wolfhound's 27th birthday had been celebrated on VE Day.

Last thing the friendly people of Stavanger did was to find us enough white bunting to make a magnificent paying-off pennant. The whole town turned out when we cast off.


I like to think they'll never see these ships lying rusting on the mud at Grangemouth.
The children we gave chocolate to will tell their grandchildren of the trim grey ships - Wolfhound, Wolsey, Vivacious, Valorous,

and the rest - which swept into their harbours on the day their country was liberated.
Documents brought back from Stavanger by AB Fred Gilleard, HMS
Wolfhound
, and treasured all his life

On left and right the front and back cover of the programme for the celebrations on the 17 May 1945, Norway's National Day.
Centre a momento of the arrival of
Wolsey
and
Wolfhound
at Stavanger on the 15 May 1945


The situation in Stavanger when HMS Wolfhound and HMS Wolsey arrived
Two extracts from locally published books supplied by Carolyn Fjeld, Stavanger Library:

Rumours about German capitulation reached Norway and Stavanger on the 7th May when 350,000 Germans were still in Norway. The newspaper
Rogaland
distributed a flyer with the heading PEACE. And the newspaper
Stavanger Avis
wrote on the 8th May: "Thousands of people celebrated peace yesterday evening and night ... they gathered in the centre of town. Only those with something to be ashamed of tried to hide. People put on nice spring clothes and from this day the blackout was repealed".
The Joyful days: pictures of the peace celebration in Stavanger, Spring 1945

; by Marit Karin Alsvik, 1995

Political prisoners were set free. Miliray and civil leaders prepared to take over and the Gestapo left their headquarter in Eiganesveien. Early on 8 May the police chef Chr. Benneche and his staff took control and got rid of the NS people there. The newspapers started publishing uncensored news. After Churchill's peace proclamation at 3 pm Crown Prince Olav and King Haakon broadcast their thanks to the Norwegian people and the home forces.
The resistance fight 1940-45
; by Knut Stahl, 1962
The papers welcomed the allies and the British warships to Stavanger and the county of Rogaland


English warships arrive at Stavanger

"A British flotilla anchored yesterday evening in the harbour. There were destroyers and other ships. Among those on board were the Norwegian District Commander of the South of Norway, Colonel Finn Becker, and Information officer, Johannes Seland. Johannes Seland was editor of the newspaper

Vest-Agder

in Farsund from 1934. He escaped to Great Britain in 1942, where he was Information Secretary for the Norwegian government in London. Some of the destroyers anchored today at the quay outside

Middelthons Dampskipsekspedisjon

and the Dockmasters' guardroom. Lots of people came to see them and were full of joy to see the English crew. Greetings were exchanged, and the atmosphere was very warm."


And further on:

"We have been looking at dull grey and green uniforms in our streets for five years and with grim faces kept our thoughts to ourselves. It is a relief to meet allied soldiers as friends. They look stout-hearted in their colourful uniforms, not at all dull and boring and they are very friendly. In fact, many of these guys are soldiers who have been fighting with the common enemy so it is no wonder that they became our friends. It is with the greatest joy that we open our homes to them. We know that the Norwegian boys who have been in England were met in the most cordial way and treated by the English as best friends. They have been invited into their homes, and warm ties of friendship have been formed. We can now repay their friendship, not just as a duty but as a pleasure for all Norwegian women and men.
On the other hand, it is not nice to see that the children plague the soldiers by begging for sweets and autographs. Tourists in the Mediterranean countries experience such things, but it is not good that the soldiers experience things like this in Norway. Parents must stop their children from begging."


200 happy school children visited the destroyer "Wolfhound"
Chocolate, movie and "Silent Night" at a brilliant party
The Officers and crew had as much fun as the children

Two hundred children from elementary school were yesterday invited to a so-called "Tea Party" aboard the destroyer HMS

Wolfhound

, the first warship to arrive at Stavanger last week. After a short trip north, it was expected to return to Stavanger yesterday afternoon.

Each school class were represented by one pupil - after a lottery - and the 200 lucky ones, with their teachers in front, looked with excitement out over the fjord when the destroyer came slowly towards the town.

Wolfhound

seemed to them like a ship from an adventure story. Captain Easten, First Lieutenant, and the rest of the officers received the children at the gangway - not to forget Santa Claus and two pirates who shook hands with them, one by one. Yes, it was an adventure that the children will never will forget. Once upon a time…

Carefully, the children put their little hands in the seamen's rough hands, looked cautiously up at the pirates and hurried on. A few of them, a little more brave, tried a shy "How do you do" - great fun for the officers and crew. Others had picked flowers in the garden, and Santa Claus was standing smiling with the his arms full of flowers, when the last had come on board.

The group went to the tables. Officers and seamen took care of one pupil each, and at last the crowd sat down at the tables. And what a work the "Wolfhound" men had done! All the saloons were decorated with Norwegian and British flags and and signal flags. Big V's were shining from every wall, drawn and painted. On a special place could we read "Velkommen" - written in Norwegian, in white, blue and red.

The tables were like a picture in a storybook. The tablecloths were almost covered with white buns, bread, cakes and coffee, bread rings of all shapes, jam. Nothing lacking. There was milk too, and real coffee. You can guess how the enthusiasm shone out of the children's twinkling eyes. One of the officers said that no one had to stop eating before they were absolutely full. What was left over they could take home.

And while the tune of "Silent Night" was heard from the loudspeakers, the children got a Christmas meal which will be remembered by them as the greatest ever. At the end the pupils got ten chocolates each. A movie was shown, the idea of Petty Officer John Ralph, Senior PO Pawley and S.A. Bussens. After that, the pupils were taken on a tour of the ship.

In the meantime, there was a short solemn moment in the wardroom aft. Bishop Skagestad and Deputy Mayor Middelthon, among other, were present. Principal Øiestad thanked the hosts with a short speech for their great hospitality. He emphasized the good relationship between England and Norway in a brilliant way. Øiestad handed the Captain a Norwegian silk flag as a memory of the occasion.

In return, Captain Easten - A/Lt.Cdr. Thomas Aitken Easton, RNVR - said:


"The officers and seamen have looked forward to this as much as the children did. We have looked forward to it as if we were children. We are sorry that not all the children could be here. The school children were invited by Captain Eastern, Officers and seamen. Everyone have given their own rations to give their little Norwegian friends a joyful time."

All restraint was eventually abandoned. Signal lamps were used by Norwegian trainees with chocolate around their mouths and English steel helmets on their heads. The big guns also. The men of the

Wolfhound

took the children by storm. The feast they gave the children in Stavanger will never be forgotten. Thank you very much, all of you!

Petty Officer John Ralph of HMS

Wolfhound

also managed to get British pen pals for 2,420 girls in the Stavanger area!
And every Christmas, until at least the early 1950`s, Johnny Ralph sent his annual Christmas greetings to the people of Stavanger, via the local newspaper.


Peter Scott's memories of HMS
Wolfhound
at Stavanger
The Commanding Officer of HMS Wolfhound when she was sent to Stavanger was A/Lt.Cdr. Thomas Aitken Easton, RNVR (Dec 1944 - July 1945). Peter Scott, a Telegraphist in Wolfhound, describes the three months they spent at Stavanger from May to July in an interview recorded by Bill Forster at the reunion of the V & W Destroyer Association at Easbourne in 2014.

Peter felt sorry for the German soldiers who had married Norwegians, decided to remain in Norway and were regarded as traitors. He described how liberated Russian POWs sang in a choir before being returned to an uncertain future in Russia and how young Norwegians returning to Norway from neutral Sweden behaved as if they had liberated their country. Some, of course had, having fought with the resistance, Millorg, and other had escaped to Britain to join the armed forces there. Peter would not have known the complicated history of Norway during the war years and observed the scene with an outsider's eyes.
Peter Scott was a telegraphist with Combined Operations during the D-Day landings and spent spent six weeks on Gold Beach communicating between the beach master and his ship offshore. In February 2016 he was awarded the Légion d'Honneur "in recognition of your acknowledged military engagement and your steadfast involvement in the liberation of France during the second world war". Peter was 91 when he died shortly before Christmas 2017.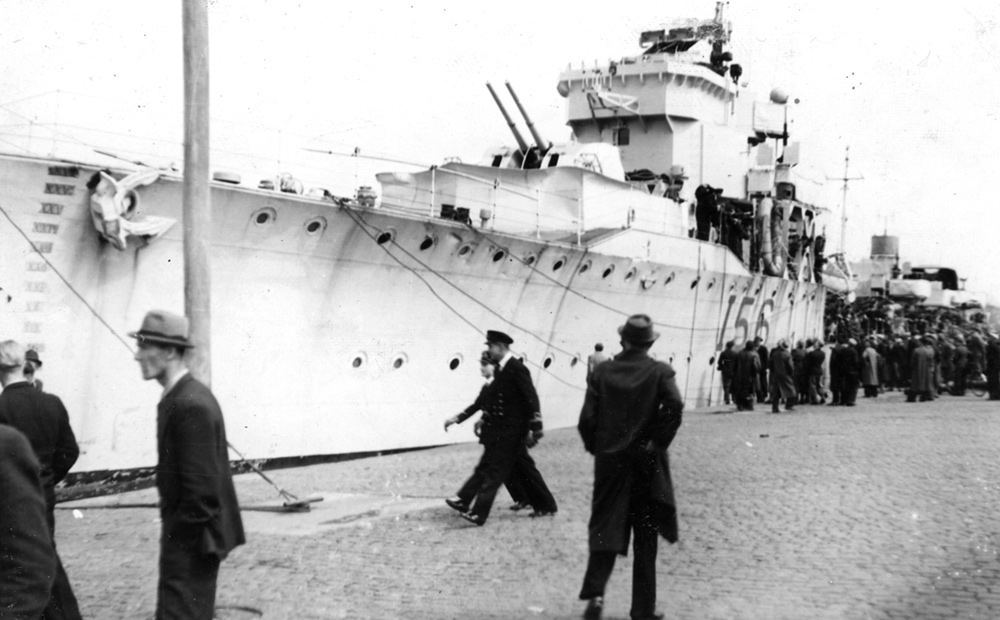 HMS

Wolfhound

, pennant number L56, berthed at Stavanger
Wolfhound
was the "trot boat" carrying mail and passengers through the inner leads between the ports and Rosyth.
Courtesy of Susan Parson
Fred Gilleard's photographs of HMS Wolfhound and HMS Wolsey at Stavanger

Fred Gilleard was an 18 year old apprentice bricklayer when he joined the Navy on the 14 December 1943 and after basic training at HMS Glendower in north Wales was posted to HMRT Bustler in May 1944. Bustler was a 3,200 HP Admiralty Rescue Tug engaged in the laying of the PLUTO "pipeline under the ocean" which carried oil across the seabed beneath the English Channel to the Normandy beaches to fuel the tanks and vehicles advancing from the beach head against German forces. In July 1944 Fred was posted from an Admiralty tug to the battleship, HMS Malaya, from one extreme to the other and joined HMS Wolfhound in October.

Fred Gilleard was an AB on HMS Wolfhound from October 1944 to June 1945. HMS Wolfhound and HMS Wolsey berthed at Stavanger on the 15 May 1945 and were greeted by crowds of enthusiastic Norwegians. The photographs below may have been taken by journalists on local papers but were found amongst the papers of Fred Gilleard after his death on New Year's Day 2016 and sent to me by his step-daughter, Sue Parsons.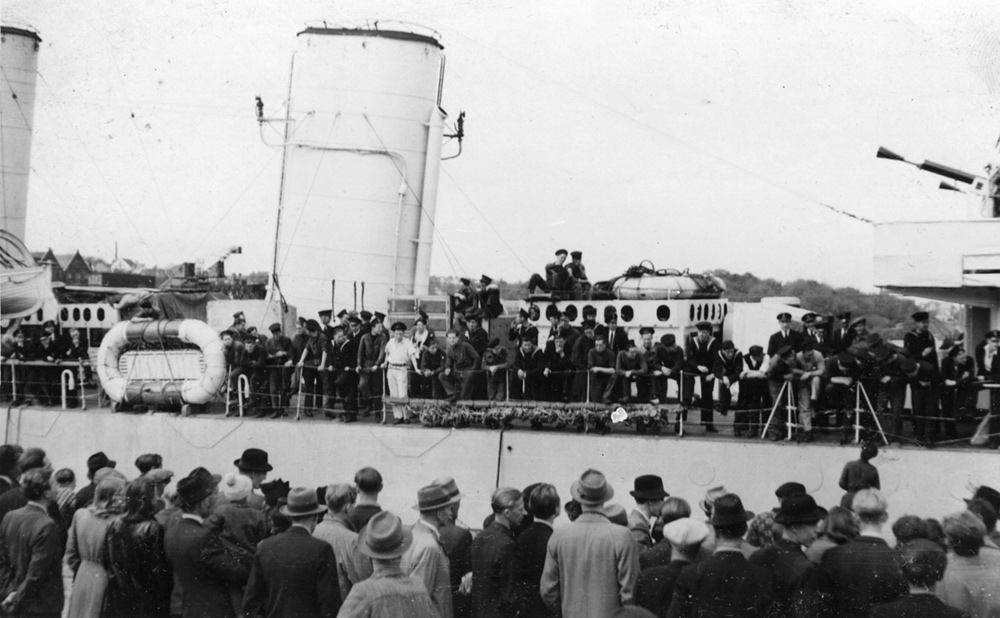 "HMS Wolsey, Stavanger, 15 May 1945" written on reverse
Courtesy of Susan Parsons
Two views of V & W Class destroyer, probably HMS Wolfhound, berthing at Stavanger
Courtesy of Susan Parsons
The 21st Independent Parachute Company took part in the liberation of Norway in May 1945. CSM Stewart, along with Captain Spivey and Lieutenant Page of the Royal Corps of Signals was made responsible for the Stavanger area and came to Stavanger aboard HMS

Wolfhound

.


But we are still trying to identify the:


"Norwegian intelligence officers - big, grim, with rucksacks, shoulder holsters, hidden beneath their battledress, men who had been in and out of their country at the risk of their lives planning sabotage - who were going home for the first time in uniform
and stood in rain and spray for hours waiting for the clouds to part on the mountains around Flekkepiord and Egersund" when HMS

Wolfhound

brought them home to Stavanger.

According to Eric Ettrup, an authority on the wartime history of Stavanger:


"They must have been part of the Special Forces attachment that travelled with the first ships to Stavanger. Most of these were SOE agents trained at SOE's Special Training School STS 25. They were mainly radio operators, many with experience from earlier operations in Norway. There were also British and Norwegian "Civil Affairs" officers on the destroyers, they were the ones who were most welcome.

Wolsey

and

Wolfhound

brought some 40 tons of supplies including coffee, milk and canned beef, which hadn`t been sold in Norway for years.They also brought medicine for the local hospital. This must have been very welcome to a city close to starvation."
U-901, commanded by

Kapitänleutnant

Hans Schenk,
was forced to surface by a Coastal Command B-24 aircraft off the Norwegian coast and ordered to Stavanger, where Schenk surrendered to the Royal Navy (Admiralty War Diary) on the day HMS

Wolfhound

and

Wolsey

arrived at Stavanger. These photographs were provided by Eric Ettrup, a member of a small group of researchers in Stavanger who have been researching the occupation of Stavanger for many years with a view to publishing a book. Further details will be added later. Can anybody identify the officers in the photographs?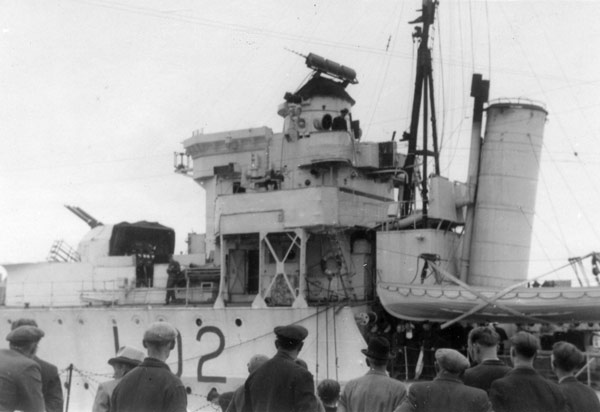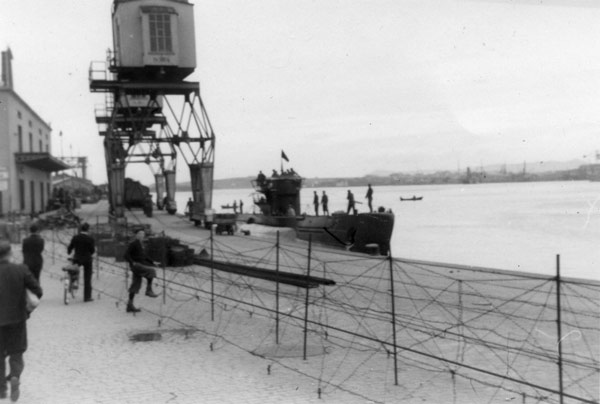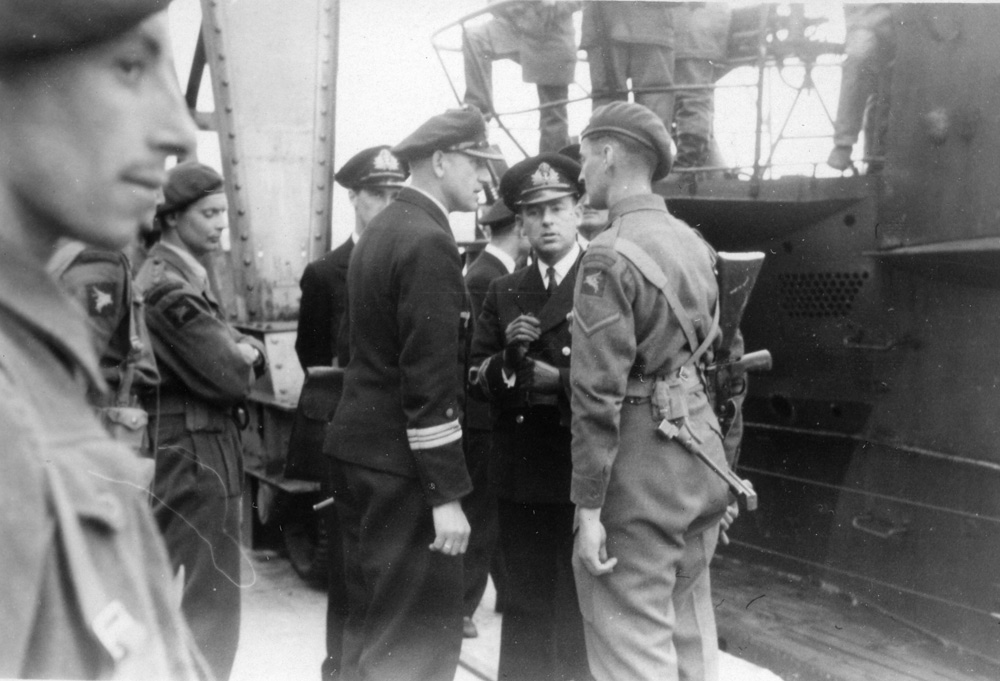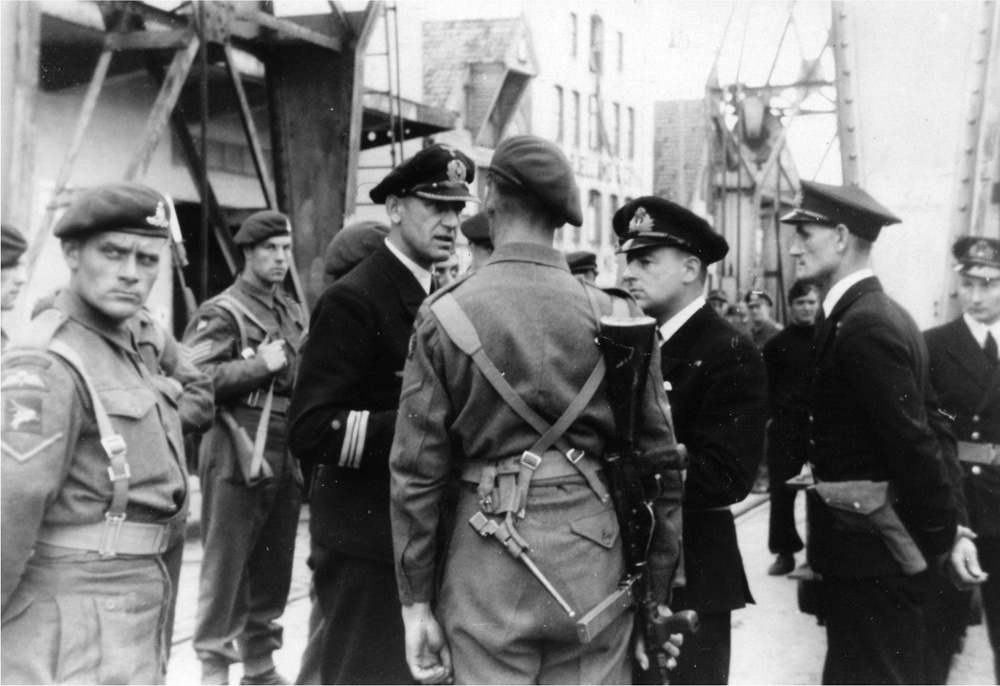 Top:
HMS
Wolsey
(L02) and the surrendered German U-Boat U-901 which entered Stavanger harbour on 15 May 1945
Below:
The senior naval officer (left) is believed to be Kapitänleutnant Hans Schenk, the commanding officer of U-901, with an RNVR Lieutenant guarded by
paratroopers from 1st Airborne Division
Courtesy of Eric Ettrup
Harry Kain and his photographs of HMS

Wolsey

at Stavanger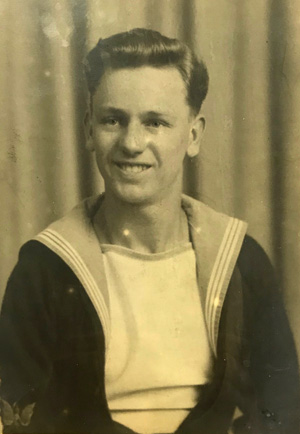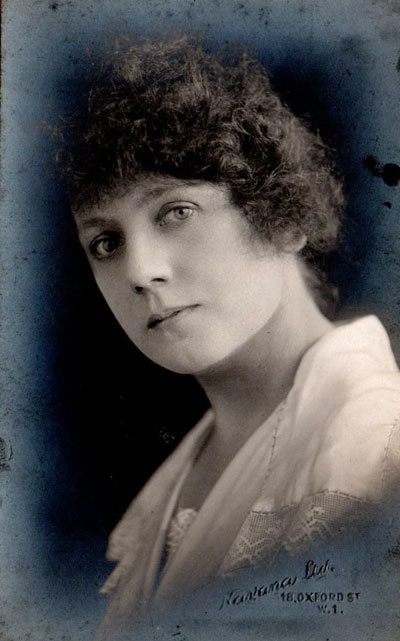 Henry John Kain, known as Harry Kain, died at a Rest Home for the elderly in Bodmin, Cornwall, on 31 July 2017 without any known family. His few possessions included a briefcase containing an album of photographs taken aboard HMS
Wolsey
at Stavanger and a framed portrait of a young naval rating which is thought to be of Harry.

The emblem resembling a butterfly (a pair of wings crossed by a lightning flash) on his lower right arm identifies Harry Kain as being an Ordinary Telegraphist in the Communications Branch of the Navy. Telegraphists used wireless telegraphy to communicate securely between ship and shore. They were known by their friends and shipmates as "sparkers" and you can find out more about them by clicking on the link.

Harry suffered from Alzheimer's and had to move from his former address at 6 Lewman Close, Probus, Truro, into the Belmont House Nursing Home in Bodmin. Harry Kain's photographs would have been thrown out had not Sgt C J Manning of RAF St Mawgan, the husband of the the Activities Co-coordinator at the care home where Harry spent his last years, emailed me digital copies.

The photographs were fascinating but raised more questions than they answered. The ones of most interest to me were those of HMS

Wolfhound

and HMS

Wolsey

at Stavanger but they included a few family photographs and a photograph of Harry with friends taken at a pub in Lostwithiel (below).


On the 17 April this year the

Cornish Guardian

published an article by Olivier Vergnault appealing to its readers to get in touch with me if they recognised Harry Kain or any of his shipmates in HMS

Wolsey

.
I was hoping readers of that article or a visitor to this web page would contact me before the anniversary of the "nine trim grey ships" arriving at the ports on the west coast of Norway on the 15 May 1945.

Marion Gould read the article in the

Cornish Guardian

and got in touch. She had known Harry for twenty years and was with him when he died. Marion is the lady with her arm round Harry's neck sitting between him and the bearded gentleman in the photograph at the Royal Oak in Lostwithiel. She told me that Harry had lots of friends and lived in a bungalow at Probus, Truro, before Alzheimers robbed him of the life he loved. He was a fanatical Arsenal fan and Marion gave him a bed cover in the Arsenal colours and he was wrapped in it and buried with his Mother in St Pancras cemetery, Camden, London.


Jim Turner was in Portugal and did not see the article in the

Cornish Guardian

until he returned home. Jim had known Harry since he came to Cornwall after his Mother died and rented the Blue House in Portloe near Veryan where he went camping. Harry was a keen sportsman all his life. He played football up to the age of 67, played cricket in Summer and went swimming every morning when living in Veryan. He had worked as a commercial traveller selling tools and exhibited at trade fairs around the country. Harry liked nothing better than sitting in front of a fire with friends in the local pub roasting chestnuts and drinking a pint of Doom Bar while watching Arsenal play on TV. Harry never married but he was engaged to "Doreen" before the war and they stayed good friends all their lives. Doreen was too infirm to travel to Cornwall for the funeral but her sister came instead.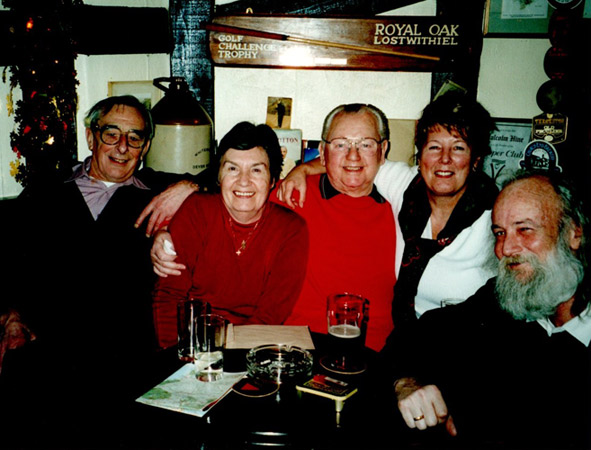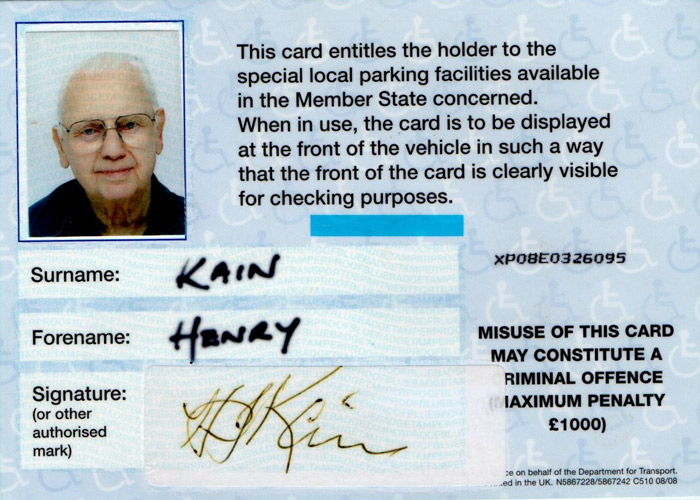 I was beginning to think I knew Harry but had learned nothing more about his wartime service in the Royal Navy but Nina Challenor, a genealogist, traced more than two hundred family members
, mostly cousins on his Mother's side. You can see her family tree of Harry Kain and his cousins (living relatives are hidden) by clicking on the link and contact Nina by e-mail with additions and corrections.

She quickly discovered that Harry was an only child born in Mile End, London, in 1921 the son of a stevedore's labourer. His Mother, Rosina Dye (top right) was the daughter of a dock labourer, who lived in Gladesmuir Road, Islington, a few doors away from her sister, Emily Louisa Zimmer (nee Dye).

Harry's Aunt, Emily Dye, married Conrad Zimmer whose grandparents were born in Germany. Their two sons married the Drablow sisters and I was able to contact their daughters, Harry Kain's closest living relatives. Neither knew anything about Harry's wartime service in the Navy but I am hoping that one of them will apply to the Admiralty for a copy of his service record. The cousin who knew him best is Yvonne Porter, born on VE Day 1945, the daughter of Maisie, one of the Zimmer sisters.

Harry never spoke about the war but one of his photographs shows him as a seventeen year old Lance Corporal in a "Dad's Army" unit of old men and young boys which was included in a full page article in

the

Cornish Guadian

on 15 May. He joined the Navy when he was eighteen in 1942. He reminisced with Jim Turner about playing cricket in West Africa which suggested to me that in 1943 he may have served in one of the destroyers of the Freetown Escort Force or in the depot ship at Freetown, HMS

Philoctetes

.

You can see Harry Kain's wartime photographs below

Please contact Bill Forster if you knew Harry Kain and can tell me more about his wartime service in the Royal Navy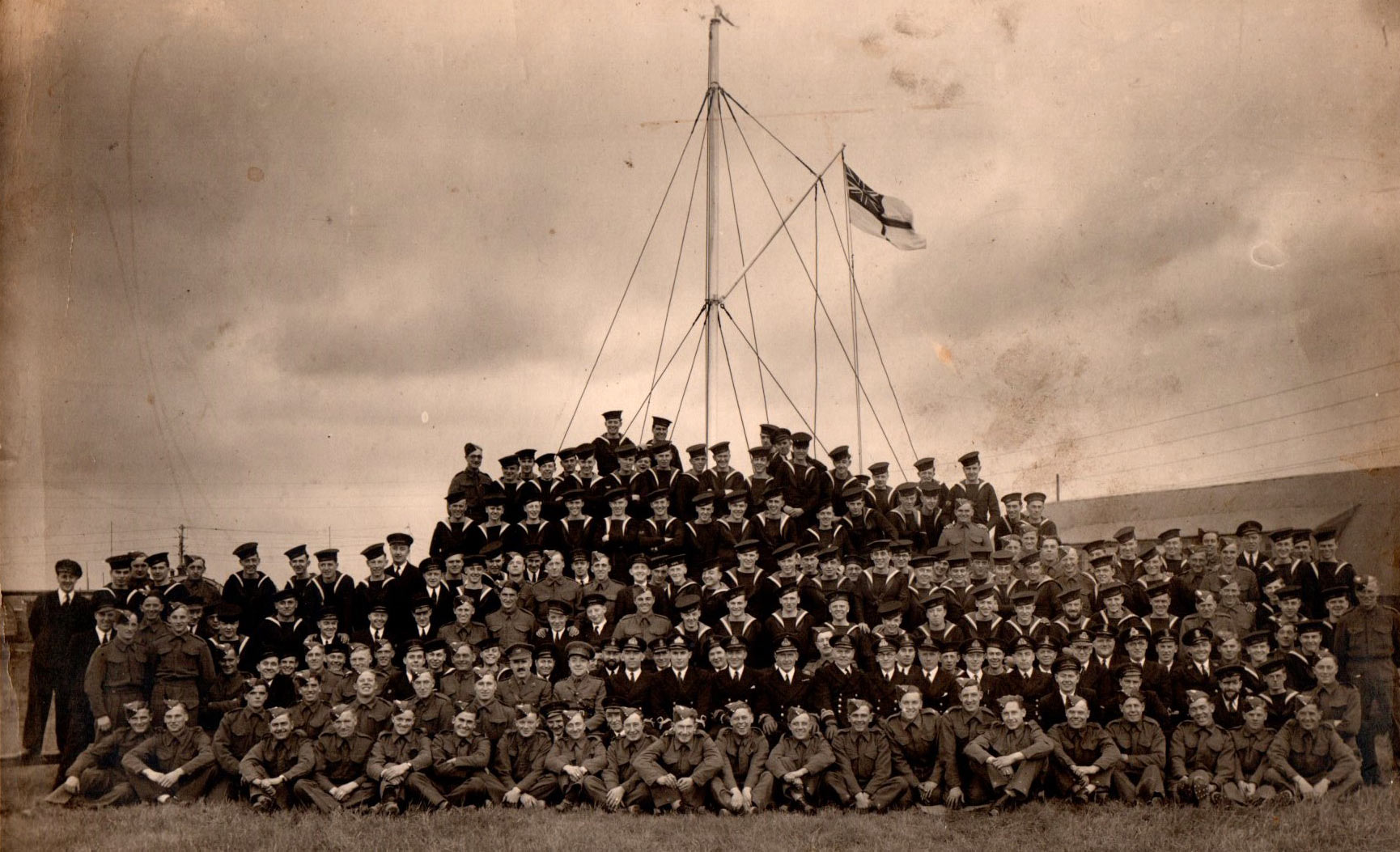 Where and when was this photograph taken?


And can you recognise Harry Kain or anybody else in the photograph?


To view full size double click the image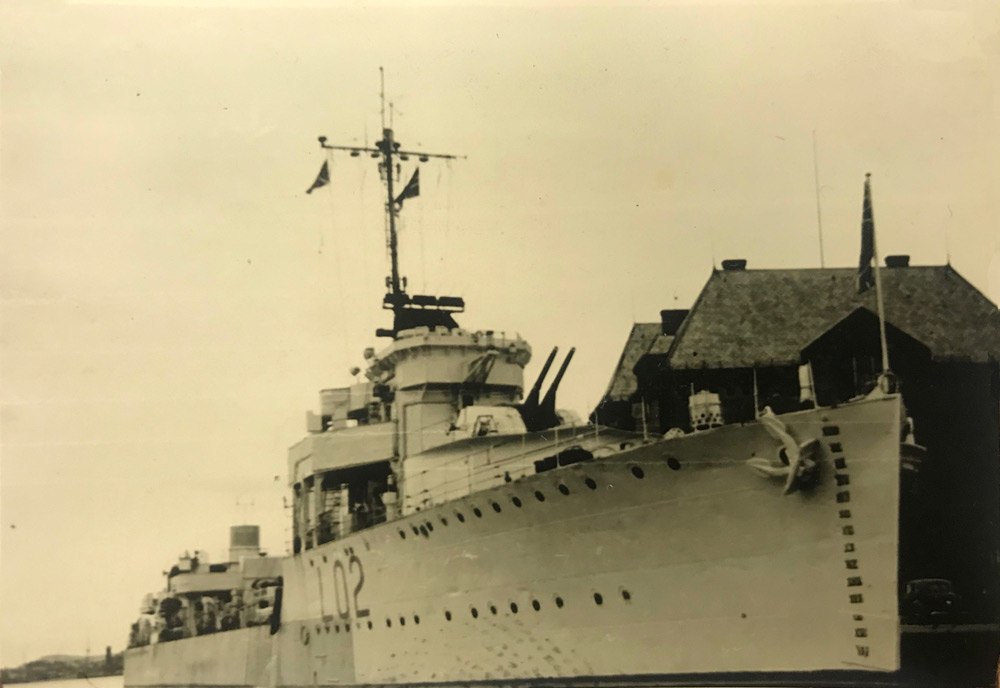 HMS
Wolsey
(LO2) berthed alongside at Stavanger, Norway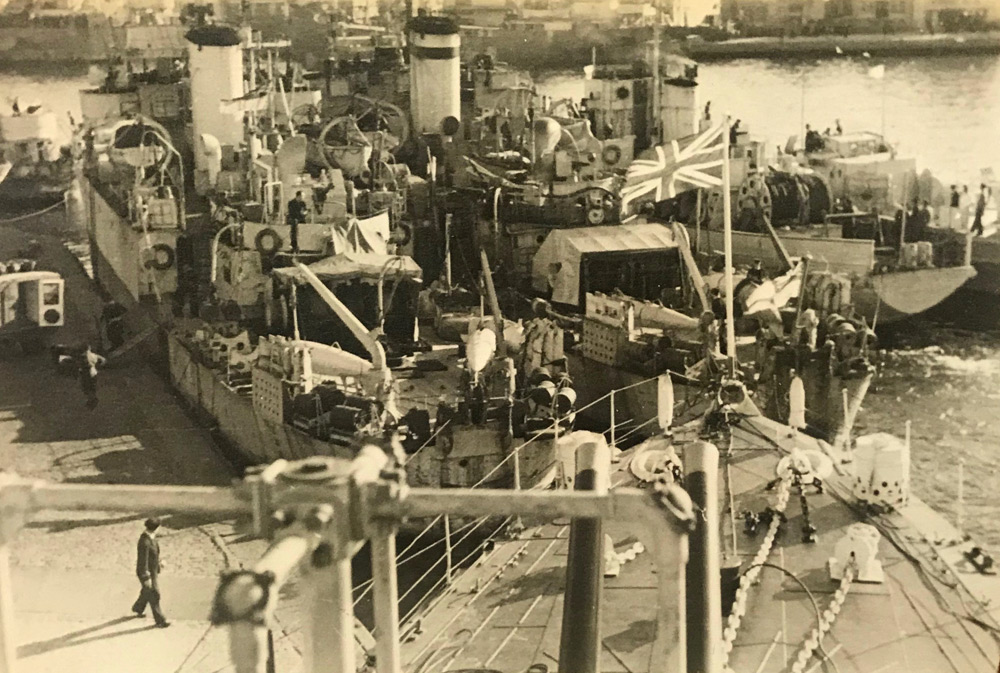 "At Stavanger. Taken from the bridge of HMS
Wolsey
looking down on the Fleet sweepers."
The two inboard ships are probably Canadian built Bangor Class minesweepers, rigged for wire sweeping. The outboard ship has an anti-magnetic loop sweep on a drum.
HMS
Wolsey
and HMS
Vivacious
(D36) escorted the minesweepers as they cleared the entrance to Stavanger
"HMS
Wolsey
behind barbed wire at Stavanger"
Probably to repel friendly civilian boarders!
Can anybody identify Harry Kain's shipmates on

Wolsey

?
Posing with the HA twin 4.6 inch Guns (left) and with the leopard crest of HMS Wolsey
Wolsey was named after Cardinal Thomas Wolsey (1473-1530), Lord Chancellor to Henry VIII, whose coat of arms included four leopard faces


Ordinary Signalman Henry John "Harry" Kain JX401063 is on the left in the photograph on the right. The only other seaman to be identified in Harry's photographs is "Spider", the ship's dog, wearing his Sailor's Suit who is visible peering out through the roundel on the left below Harry.
Cyril Horton, the son of an AB in HMS
Wolsey
, told me about Spider:
"In the roundel on the left is the ships mascot, a small whippet/terrier type dog. He used to go on leave with one of the ratings. Someone held him till the rating was on the train, just before the train left he would whistle him up, he jumped the barrier, went to the carriage then slept in the luggage rack to dodge the ticket collector, traveled everywhere for free. When the
Wolsey
was paid off he left with a sailor from Lincolnshire. My dad, AB Cyril Horton, Quarters Rating A Gun, told me this many years ago."
Cyril Horton's Photographs



Cyril Horton's father, also called Cyril, was a member of the Crew for "A" Gun on HMS

Wolsey

: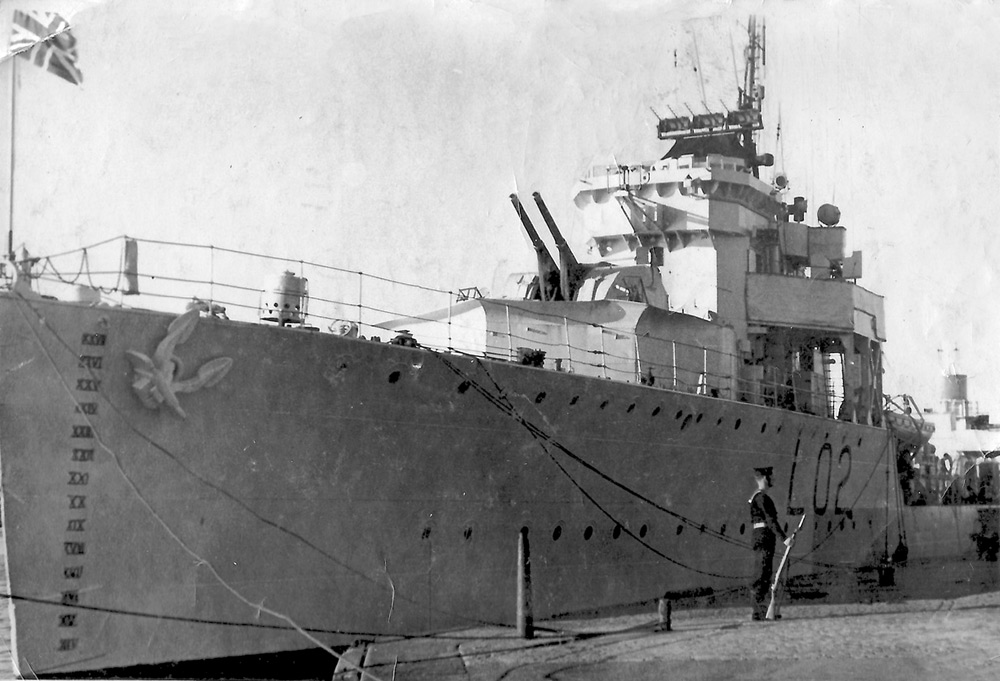 Action Stations!


"Wiggy" Bennett smiling at the camera and
Cyril Horton with his back to the camera


Click to view full size






The Crew of A Gun HMS

Wolsey

Back row L/R: Murphy, White, my dad Cyril Horton, "Trader" Horn

front row L/R: Murphy and "Wiggy" Bennet; the next 2 the names escape me

Courtesy of Cyril Horton who identified his father's shipmates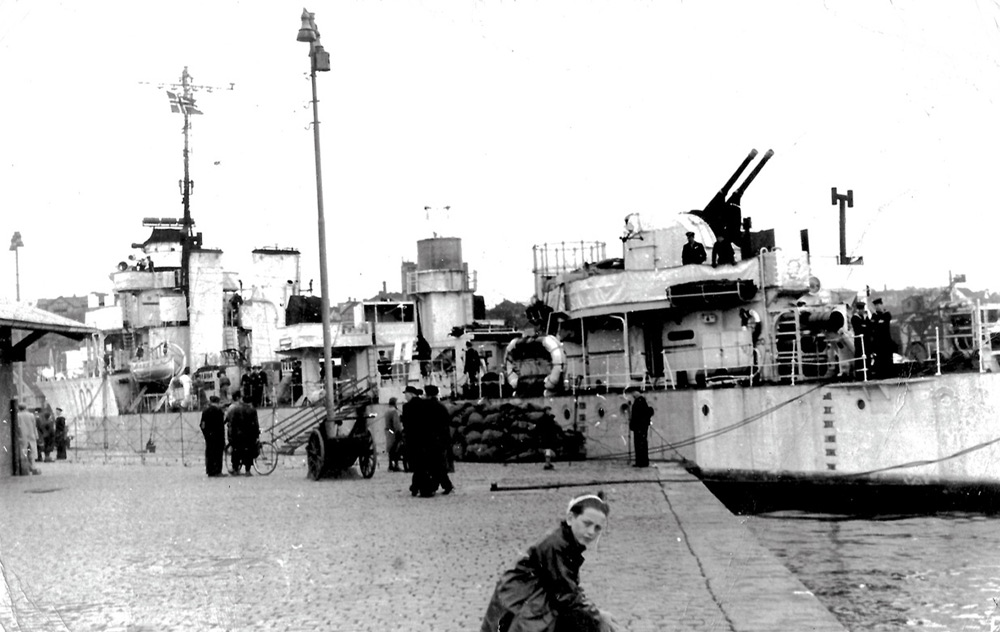 Celebrations ashore in Stavanger on Norway's National Day

| | |
| --- | --- |
| | |
The ship's company of HMS
Wolsey
marching through the streets of Stavanger on Norway's National Day,
17 May 1945
The parade is led by Sub Lt John Mervyn Tommey RNVR, the Gun Control Officer (GCO) in HMS Wolsey
I hope to hear more from Mervyn Tommey who is 94 and e-mailed me in September
Velkome Tilbake

- Welcome Back




Left

: King Haakon VII
Right:

Princess Astrid, Crownprince Olav V (later King Olav V), Prince Harald V (later Crownprince, now King), Crownprincess Märtha, Princess Ragnhild
Illustrations from the celebratory leaflet brought back from Stavanger by Fred Gilleard


Courtesy of Susan Parsons



While these events were taking place at Stavanger my father, Lt(E) William Redvers Forster RNR, was in HMS

Venomous

at Kristiansand South on the Skagerack with HMS

Valorous
A German officer surrendered
to my father
by handing over his Luger pistol
and a Norwegian gave him a beautiful hand made model of a traditional open boat as a gift for me, his five year old son

If you have stories or photographs of HMS Wolfhound you would like to contribute to the web site please contact Bill Forster
If you want to find out more about the wartime service of a member of your family who served in HMS

Wolfhound

you should first obtain a copy of their service record
---