---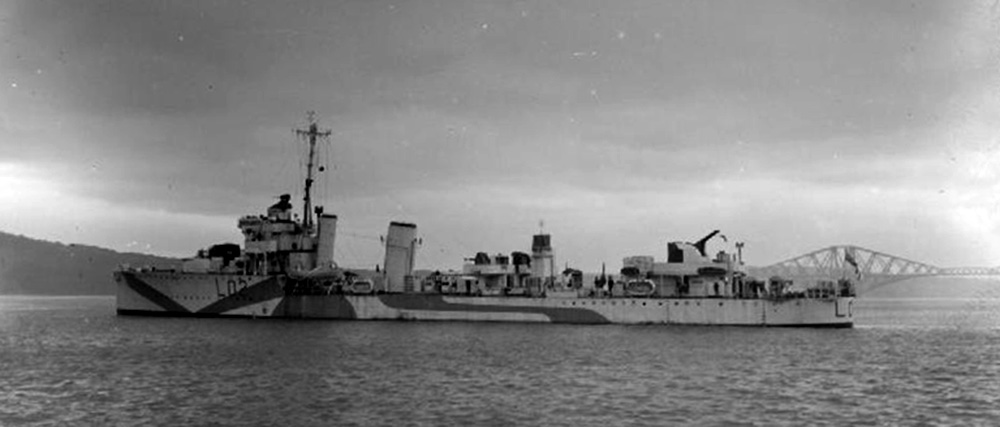 HMS
Wolsey
was one of six Thornycroft W-Class destroyer built at
Thorneycroft's Woolston shipyard
on the opposite side of the River Itchen from Southampton.
Wolsey

, the first Royal Navy ship of that name, was ordered on 9 December 1916 as part of the 10th Order of the 1916–1917 Naval Programme. She was launched on 16 March 1918, completed on 14 May 1918 and commissioned the same day. Her original pennant number of G40 was changed to D98 during the interwar period.

In 1919

Wolsey

served with the 4th Destroyer Flotilla in the Baltic. She was with the Home Fleet in 1920 but transferred to the Mediterranean in 1921. In 1926 she went to the China station and was pivotal in preventing the Chinese from taking over the British river steamer SS

Kutwo

after she collided with a Chinese troop carrying launch which sank in the Yangtze River. She returned to the Mediterranean and went into reserve at Malta in 1928.

HMS

Wolsey

was taken out of reserve in 1938 and converted to a WAIR anti-aircraft destroyer at the Royal Navy Dockyard at Valletta, Malta.

Wolsey

was still undergoing her conversion and refit when war began on 3 September 1939. In January 1940 she began post-conversion acceptance trials and pre-deployment work-ups at Malta. With all work completed on 21 January 1940, her pennant number was changed to L02, and she was selected for service in home waters.

After her arrival at Liverpool,

Wolsey

was assigned to Western Approaches Command and began convoy escort and patrol duty in the Western Approaches. On 10 May 1940, she was transferred to Dover Command to support Allied military operations during the German offensive into France, Luxembourg, Belgium, and the Netherlands that began that month. Twenty year old AB Albert Howe

,

an orphan trained at Barnado's
Russell-Cotes
Naval School, was was lost st sea on the night of 15 May. She was one of two WAIR converted V & Ws which took part in Operation Dynamo which brought the troops of the BEF back from the beaches and North Mole at Dunkirk. On 30 May an RAF officer,

Flt Lt Gordon Leslie MacIntyre

, joined

Wolsey

on "day trip" to the East Mole at Dunkirk and took some remarkable photographs.

Wolsey

collided with the SS

Roebuck

near Bray Beach off Dunkirk at 0730 on 31 May.



Wolsey

entered the Royal Navy Dockyard at Plymouth on 3 June for repairs. Upon completion, she began convoy defence operations and anti-invasion patrols in the North Sea in July 1940. In August 1940, she returned to convoy escort duty in the Western Approaches under Western Approaches Command.

In January 1941,

Wolsey

was transferred to the Rosyth Escort Force based at Rosyth, Scotland, to escort coastal convoys in the North Sea and Northwestern Approaches. By October 1941, these duties increasingly included operations to intercept German motor torpedo boats – S-boats, known to the Allies as "E-boats" – before they could attack the east coast convoys from Rosyth to the Thames.

Wolsey

was "adopted" by the civil community of Spennymoor in County Durham, England, in a Warship Week national savings campaign in December 1941. She continued on convoy escort and patrol duty in the North Sea without further major incident until the surrender of Germany in early May 1945.

After Germany's surrender,

Wolsey

supported Allied forces reoccupying Norway, and on 14 May 1945 she accompanied HMS

Wolfhound

to Stavanger. She joined the V & W destroyer HMS V

ivacious

(D36) in escorting minesweepers as they cleared the entrance to Stavanger.

Commanding Officers

Cdr. Cecil Athos Newcome Chatwin, RN (Dec 1939 - 16 Feb 1940)
Lt.Cdr. Colin Henry Campbell, RN (16 Feb 1940 - 12 Jan 1942)
Lt. Thomas Frederick Taylor, RN (12 Jan 1942 - Jul 1943)
Lt.Cdr. Sydney Alexander Cuthbert, RN (Jul 1943 - 31 Dec 1943)
Lt. Frederick William Hayden, RN (31 Dec 1943 - mid 1945)
Officers

Gunner F.W. Benoy (joined 2 Feb 1940)
Lt G. Blackler, the XO (28 Nov 1939)
Temp Surg Lt R Dowie

RNVR

(joined 11 April 1940)
S.Lt J.W. France

RNVR

(joined 20 Nov 1939)



Lt J.B. King-Church (joined 1 May 1940)


Temp S.Lt A.V. Stubbs

RNR

(joined 2 Feb 1940)


S.Lt

A.R. Taudevin

RNVR

(joined 20 Nov 1939)




Warrant Eng C.H. West (joined 17 April 1939)



Former full members of the V & W Destroyer Association who servd in HMS
Wolsey
A. Beer (Maidenhead), W. Fairbrother (Richmond, (North Yorkshire), W. Flett (Edinburgh), P.J. Taylor (Gravesend, Kent), F. Walklett (Stoke-on-Trent)
Please get in touch if you knew one of these men or had a family member who served in HMS Wolsey

On 26 May 1940,

Wolsey

was assigned to Operation Dynamo, the evacuation of Allied troops from the beaches at Dunkirk, France. She embarked evacuees from small craft offshore on 27 May and disembarked 102 evacuated troops at Dover on 28 May. She delivered another 315 troops from Dunkirk at Dover on 29 May. On 30 May, she made two evacuation voyages, carrying 616 troops to Dover on the first one and 1,065 on the second. Some remarkable photographs taken by a young RAF officer illustrate the events of that day.

On 31 May while at Dunkirk, she suffered damage when a fire broke out in her degaussing equipment and in a collision with a merchant ship, but despite her damage she deployed offshore to serve as a wireless transmitter link between Dunkirk and Dover and later in the day landed 425 evacuated troops at Dover. She carried another 535 troops from Dunkirk to Dover on 1 June before being withdrawn from evacuation operations later in the day for repairs.

The following extracts from the Report of Proceedings written by Lt.Cdr. Colin Henry Campbell RN, the CO of HMS Wolsey at Dunkirk, are taken from

The Royal Navy at Dunkirk: Commanding Officers' Reports of British Warships In Action During Operation Dynamo

(Casemate, 2017).



22 May



1913
Ordered to Dunkirk and berthed alongside Felix Faure Jetty. Embarked 200 walking wounded.
Sailed for Dover at 2105, and disembarked wounded at Admiralty Pier, finally securing to buoy at 0230.



23 May



0915
Sailed for Downs to instruct Hospital Ships Isle of Thanet and Worthing to Dunkirk, calling at Dover en route.

Wolsey

had to lead them as they did not have the necessary charts. Arrived 1430. Embarked 180 Officers and Officers of the Army GPO and other non combatants. Ships sailed in company at 2045. The Hospital Ships were ordered to Newhaven.
Wolsey disembarked troops at Admiralty Pier, finally securing at buoy at 0415/24.



24 May



Wolsey proceeded to Le Havre with

Windsor

with demolition parties. On return

Wolsey

was ordered to load ammunition for Calais but this was subsequently cancelled. On proceeding to a buoy

Wolsey

fouled the fixed boy of the West Entrance Boom and destroyed the ASDIC dome.



26 May



1445
To Calais with

Wolfhound

and carried out bombardment of the road to seaward of the Scouring Basin.
Returned to Dover at 1850.
At 1930 ordered to Dunkirk as WT Link. Fog encountered on passage but finally secured Felix Faure Jetty at 2350. (LW 2157 3.4 ft, HW 0329 17.2ft)



27 May



0530
Shifted berth to allow transports to come alongside. Remained under way in anchorage, but found communications with Shore Signal Station difficult and berthed alongside East Pier at 0700. Calculated that ship could remain alongside until one hour before low water but at 0915 found that water was getting shallow and as an air raid began at 0930 to move to the anchorage immediately. (LW 1017 3.4ft).

Grounded propellers and eventually hauled off by French Tug at 1030.

It is interesting that

Wolsey

grounded her propellers on the same tide as

Wolfhound

is believed to have done so, though

Wolfhound

is not mentioned as arriving until 1800.

Remained in anchorage for rest of day, maintaining V/S contact with Shore Signal Station with great difficulty due to dense clouds of smoke and almost continuous air raid. Ship was at action stations all day, over 70 rounds per gun being fired.

Wolsey

claims to have downed one plane, but not confirmed. Anchorage bombed six times but no bombs fell dangerously close to Wolsey.

1800


Wolfhound

arrived and went alongside (HW 1553 16.4ft).

Wolsey

and

Wolfhound

then anchored as close as possible inshore and embarked troops from the beach.
Both ships sailed at 0100/28,

Wolsey

bringing back approximately 150 troops.



28 May



am
Oiled and ammunitioned ship

1850
Sailed for Bray Beach by route "Y". Arrived 2300. Boats were immediately lowered and embarkation of troops commenced.



29 May



0400
Sailed for Dover with 500 troops.

1100


Wolsey

ordered to proceed to Sheerness in company with

Vivacious

and

Vimy

. Sailed from Sheerness at 1830 for Operation FD, but this was cancelled by Admiralty and Wolsey returned to Dover. Remained alongside while one rating who had been injured by a berthing wire was discharged to hospital.

30 May

0615
Sailed for Dunkirk. Secured alongside East Pier at 0915 (HW 0623 15.6f, LW 1252 4.6ft). Embarked approximately 800 troops and returned to Dover. Disembarked troops and again proceeded to Dunkirk at 1525 (HW 1858 15.4ft). Again secured to East Pier and embarked approximately 1060 troops, returning to Dover at 2235 . Troops disembarked and

Wolsey

oiled. A
young RAF officer, Gordon MacIntyre,
took some remarkable photographs on one of the two crossings HMS

Wolsey

made that day.


31 May

0600
Embarked Colonel Blake RAMC and medical stores and sailed for Bray Beach.

0703
In collision with SS

Roebuck.


Berthed East Pier to land Colonel Blake and stores and proceeded to Bray Beach (HW 0733 15.6ft). After embarking 40 troops and two hours, ordered alongside by

Codrington.

Secured alongside, embarked 500 troops (LW 1400 4.4ft). Returned Dover at 18 kts and disembarked troops.

1830
Slipped from Admiralty Jetty and returned to Dunkirk (HW 2005 15.6ft).
While inside Dunkirk Harbour and proceeding alongside East Pier Wolsey's DG Coil fused and caught fire. This may possibly have been due to a shell splinter, as Dunkirk was being shelled at the time. Embarked 600 troops while the Electric Light Party endeavoured to repair the DG Coil. At 2330 the Electrical Artificer reported that he had done all he could and that the coil was 30% efficient. Considered the risk justifiable and having announced repairs complete sailed for Dover at 12 knots. Either the coil in its condition was effective against magnetic mines or Wolsey was lucky and the passage was made safely. The phosphorescence was extremely noticeable and several aircraft were heard, so Wolsey proceeded at 12 knots for the first hour and a half.



01 June



0425
Secured alongside Admiralty Wharf to disembark troops, and then secured to a buoy to effect repairs to the DG Coil. At 1300 Wolsey reported ready for sea.

1600
Sailed for Portsmouth for repairs to collision damage.

A Brief Account of the collision with SS

Roebuck



As described by Lt.Cdr. Colin Henry Campbell, RN in his Report of Proceedings:
"HMS

Wolsey

was proceeding to Dunkirk along Route X, and shortly before entering Dunkirk approach channel SS

Roebuck

was observed by me about one mile on port bow steering roughly a parallel course.



Wolsey

altered (probably to port) round No 5 buoy to new course 090. SS

Roebuck

was then sighted on the port bow about 6-7 cables distant, entering the approach channel between nos 5 and 7 buoys, and steering a course nearly at right angles to the channel.

I held my course and speed and SS

Roebuck

came right across the channel across my bows. When it was seen that collision was imminent I ordered Full Speed Astern Both, and then ordered Hard a Starboard, sounding three blasts. This appeared to cause SS

Roebuck

to sight me for the first time and she altered to port. Collision was nearly avoided, the large iron-bound rubbing strake of SS

Roebuck

causing most of the damage to

Wolsey."



Remarks: SS

Roebuck

was not keeping a proper lookout. Once

Wolsey

had altered to Port she had right of way. It is unlikely that any damage was sustained by

Roebuck

.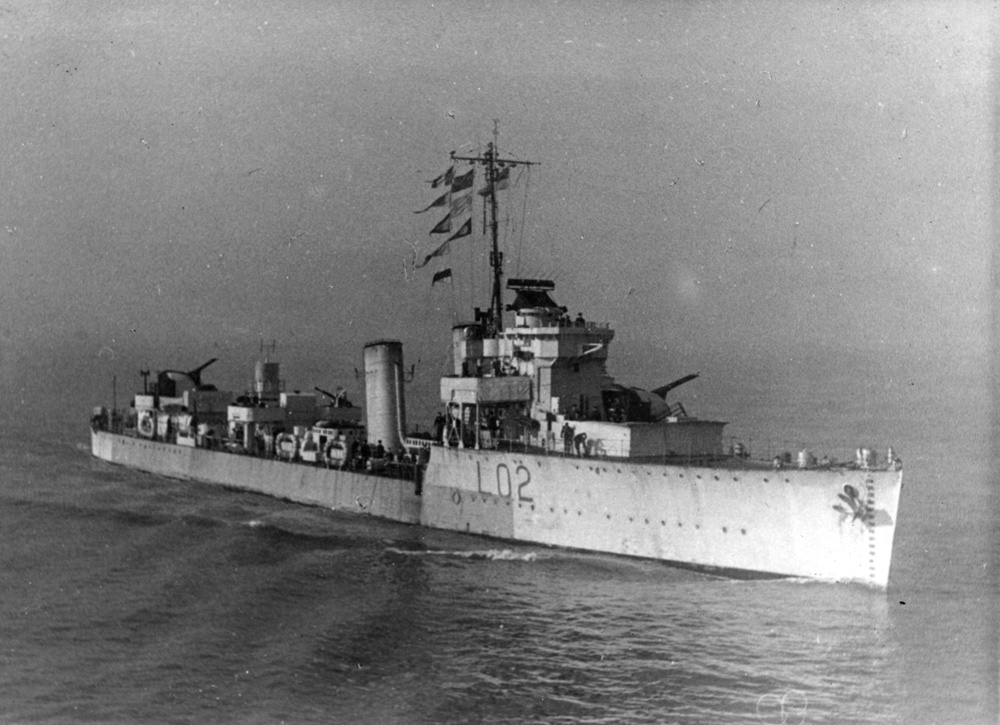 HMS
Wallace
escorting East Coast Convoys in 1944
Photographed by Lt Cdr John E Manners RN
from HMS
Viceroy
If you have stories or photographs of HMS Wolsey you would like to contribute to the web site please contact Bill Forster or Frank Donald
---
Return to the Home Page of the V & W Destroyer Association
Return to the Index Page for the 69 V & W Class Destroyers
---