---






Warships Week 1941

HMS

Wolsey

was adopted by Spennymoor in County Durham








HMS
Wolsey
was one of six Thornycroft W-Class destroyer built at
Thorneycroft's Woolston shipyard
on the opposite side of the River Itchen from Southampton.

Wolsey

, the first Royal Navy ship of that name, was ordered on 9 December 1916 as part of the 10th Order of the 1916–1917 Naval Programme. She was launched on 16 March 1918, completed on 14 May 1918 and commissioned the same day. Her original pennant number of G40 was changed to D35 and in September 1920 to D98. Pennant Numbers painted on ships' hulls are often used to date photographs but can be misleading - see below.

In 1919

Wolsey

served with the 4th Destroyer Flotilla in the Baltic. She was with the Home Fleet in 1920 but transferred to the Mediterranean in 1921. In 1926 she went to the China station and was pivotal in preventing the Chinese from taking over the British river steamer SS

Kutwo

after she collided with a Chinese troop carrying launch which sank in the Yangtze River. She returned to the Mediterranean and went into reserve at Malta in 1928.

HMS

Wolsey

was taken out of reserve in 1938 and converted to a WAIR anti-aircraft destroyer at the Royal Navy Dockyard at Valletta, Malta.

Wolsey

was still undergoing her conversion and refit when war began on 3 September 1939. In January 1940 she began post-conversion acceptance trials and pre-deployment work-ups at Malta. With all work completed on 21 January 1940, her pennant number was changed to L02, and she was selected for service in home waters.

After her arrival at Liverpool,

Wolsey

was assigned to Western Approaches Command and began convoy escort and patrol duty in the Western Approaches. On 10 May 1940, she was transferred to Dover Command to support Allied military operations during the German offensive into France, Luxembourg, Belgium, and the Netherlands that began that month. Twenty year old AB Albert Howe

,

an orphan trained at Barnado's Russell-Cotes Naval School, was was lost st sea on the night of 15 May. She was one of two WAIR converted V & Ws which took part in Operation Dynamo which brought the troops of the BEF back from the beaches and North Mole at Dunkirk. On 30 May an RAF officer,

Flt Lt Gordon Leslie MacIntyre

, joined

Wolsey

on "day trip" to the East Mole at Dunkirk and took some remarkable photographs.

Wolsey

collided with the SS

Roebuck

near Bray Beach off Dunkirk at 0730 on 31 May.



Wolsey

entered the Royal Navy Dockyard at Plymouth on 3 June for repairs. Upon completion, she began convoy defence operations and anti-invasion patrols in the North Sea in July 1940. In August 1940, she returned to convoy escort duty in the Western Approaches under Western Approaches Command.

In January 1941,

Wolsey

was transferred to the Rosyth Escort Force based at Rosyth, Scotland, to escort coastal convoys in the North Sea and Northwestern Approaches. By October 1941, these duties increasingly included operations to intercept German motor torpedo boats – S-boats, known to the Allies as "E-boats" – before they could attack the east coast convoys from Rosyth to the Thames.

Wolsey

was "adopted" by the civil community of Spennymoor in County Durham, England, in a Warship Week national savings campaign in December 1941.
John Kenneth Dixon (JX350561)
gives a brief account of the two months he spent on
Wolsey
following the "tramlines" along the East Coast and facing the dangers of E-Boat Alley at the foot of this page. She continued on convoy escort and patrol duty in the North Sea without further major incident until the surrender of Germany in early May 1945.

After Germany's surrender,

Wolsey

supported Allied forces reoccupying Norway, and on 14 May 1945 she accompanied HMS

Wolfhound

to Stavanger. She joined the V & W destroyer HMS V

ivacious

(D36) in escorting minesweepers as they cleared the entrance to Stavanger.

Commanding Officers

Cdr. Cecil Athos Newcome Chatwin, RN (Dec 1939 - 16 Feb 1940)
Lt.Cdr. Colin Henry Campbell, RN (16 Feb 1940 - 12 Jan 1942)
Lt. Thomas Frederick Taylor, RN (12 Jan 1942 - Jul 1943)
Lt.Cdr. Sydney Alexander Cuthbert, RN (Jul 1943 - 31 Dec 1943)
Lt. Frederick William Hayden, RN (31 Dec 1943 - mid 1945)
Officers

Gunner Frederick William Benoy DSC (joined 2 Feb 1940)
Lt G. Blackler, the XO (28 Nov 1939)
Lt William D. O'Brien RN (Dec 1939 - April 1940)
Temp Surg Lt R Dowie RNVR (joined 11 April 1940)
S.Lt J.W. France RNVR (joined 20 Nov 1939)

Lt J.B. King-Church (joined 1 May 1940)
Temp S.Lt A.V. Stubbs RNR (joined 2 Feb 1940)
S.Lt A.R. Taudevin RNVR (joined 20 Nov 1939)
Sub Lt John Mervyn Tommey RNVR (26 October 1944 - July 1945)
Warrant Eng Charles "Harry" West (j17 April 1939 - 16 Dec. 1941)

Former full members of the V & W Destroyer Association who served in HMS
Wolsey
A. Beer (Maidenhead), W. Fairbrother (Richmond, North Yorkshire), W. Flett (Edinburgh), P.J. Taylor (Gravesend, Kent), F. Walklett (Stoke-on-Trent)
Please get in touch if you knew one of these men or had a family member who served in HMS Wolsey
Denmark? Or Germany?
The Schleswig Plebiscite on 14 March 1920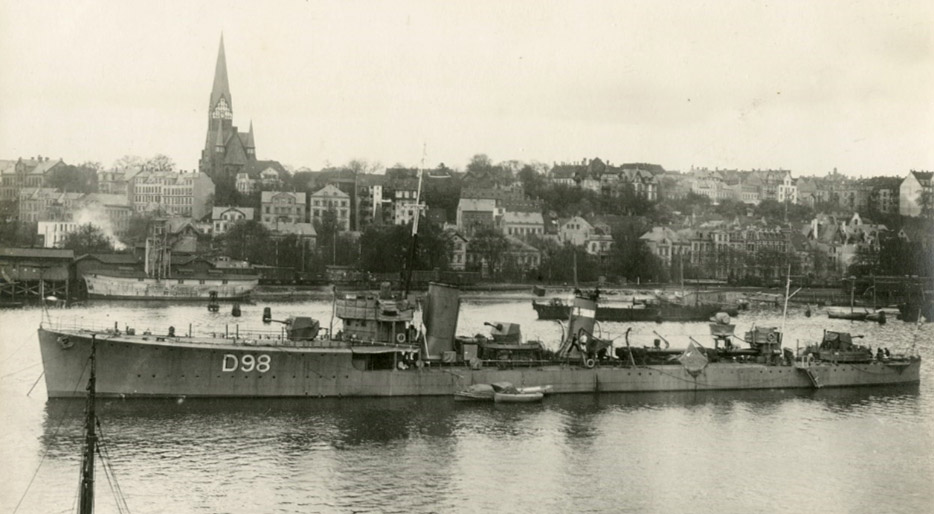 HMS

Sesame

(D98) has a superficial resemblance to a V & W but is an S Class destroyer

She was sent to Flensburg on the Baltic to monitor the Plebiscite on the boundary between Germany and Denmark
Identification courtesy of Jim Bryce author of the guide to Pennant Numbers on the website of the Commsmuseum
Image courtesy of Museum Sønderjylland
Lord Palmerston famously said that only three people ever properly understood the Schleswig-Holstein question.

One was Prince Albert, who was dead, the second a Danish statesman, who had lost his mind, and the third was himself, who had forgotten everything about it.

Altona is a suburb of Hamburg but for 300 years from 1640 to 1867 it was part of Denmark and the exact boundary between the two countries was only finally resolved by holding a plebiscite in the northern part of Schleswig-Holstein on 14 March 1920. I initially thought HMS

Wolsey

was sent to the naval base and port of Flensburg on the Baltic to observe the plebiscite but her Pennant number only changed to D98 after the plebiscite, probably in September when

Sesame

was placed in Reserve at Devonport and her Pennant Number assigned to

Wolsey.



The outcome was predictable with the Danish speaking area in the North voting to leave Germany and become part of Denmark and Flensburg, the largest town, and the German speaking area to the south voting to remain part of Germany. The two languages are widely spoken both sides of the frontier and the people of Hamburg and Altona take their holidays on the islands on the North sea coast irrespective of country. My sister in law lives in Altona but met her partner while studying Danish in Denmark and their family feel at home in both countries. The native language is neither German or Danish but Friesian on the North sea coast and Plattdeutch on the Baltic.


Last year was the centenary of the Plebiscite but the creation of the European Union made the border between Germany and Denmark largely irrelevant since there are no restrictions on the flow of people or trade between the two countries.
Their identity as separate nations is important to both countries but based history, culture and language

Mr Frederick W. Benoy, Warrant Officer (Gunner)

told by his son, who was baptised in the ship's bell!
"I was baptised in HMS Wolsey's ships bell, in the wardroom of the Wolsey, docked at RNB Rosyth, on 24/2/42.
I have tried to track down the bell, but without success."
Mr Frederick W. Benoy, Warrant Officer (Gunner), on the bridge of HMS Wolsey

As far as known
Wolsey
was not at Narvik and WO Benoy did not receive a Bar to his DSC
Courtesy of his son, Derek Benoy







Four distant snspshots taken from

Wolsey

during the evacuation of the BEF from Dunkirk


An unidentifoed plane resembling a Beaufighter with "too close for comfort" written on reverse

"French tanker on fire" - on reverse

V & W Class Destroyer - I26?

Ships on far horizon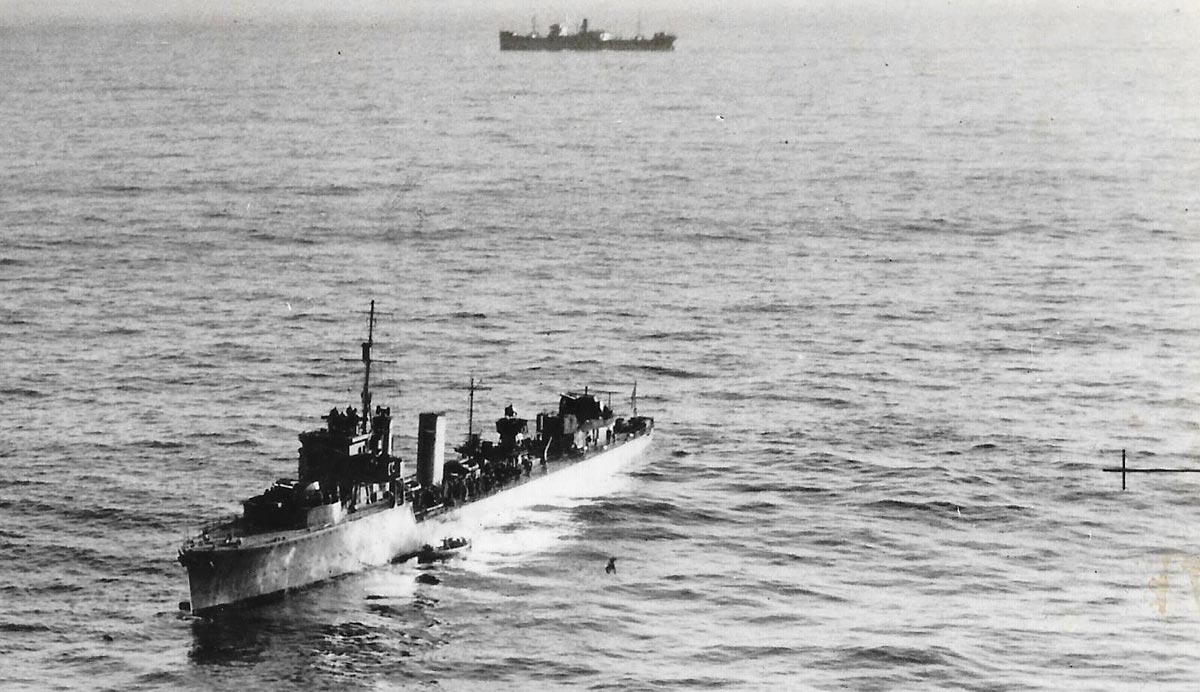 Aerial photograph of HMS

Wolsey

with the ship's whaler alongide

Was this photograph taken from the Beaufighter by
Flt Lt Gordon Leslie MacIntyre?


| | | |
| --- | --- | --- |
| Navy List - April 1940 | Navy List - May 1940 | Navy List - June 1940 |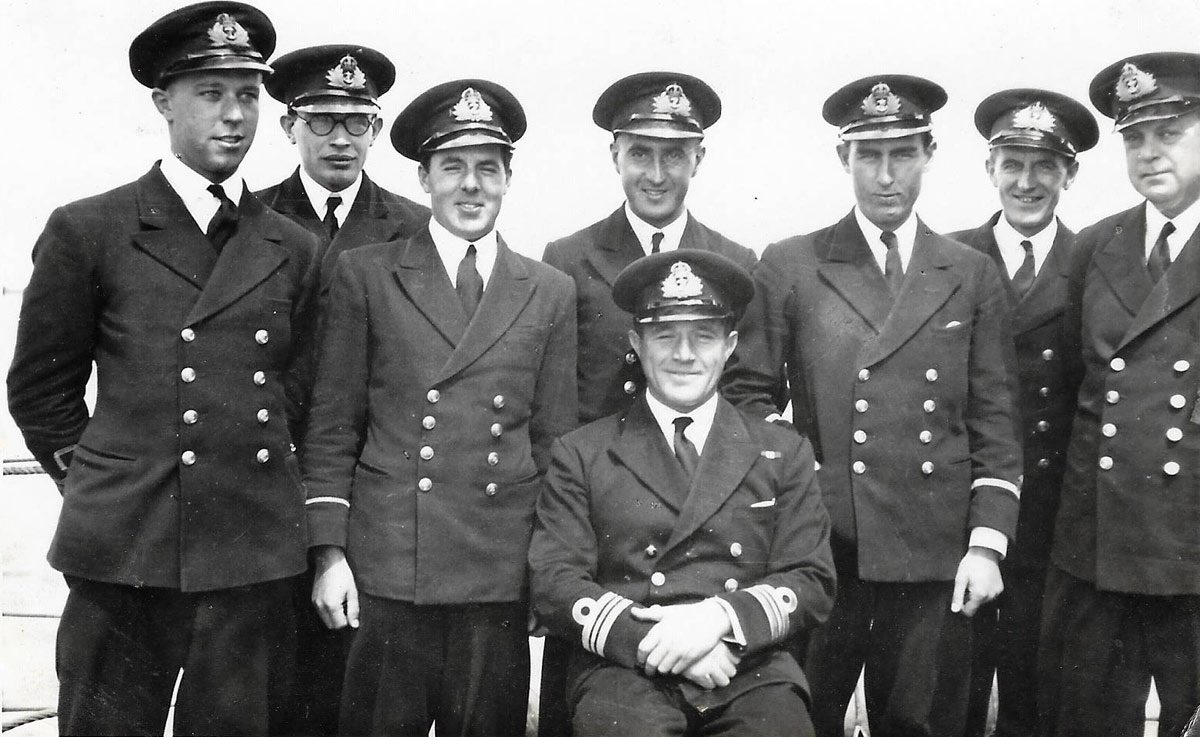 The ship's officers of HMS

Wolsey

in 1940
From left to right

: Sub.Lt A.R. Taudevin RNVR, Surg Lt R Dowie RNVR (with glasses), Gunner Frederick W. Benoy (identified by his son), Lt G. Blackler, the XO (identified by Chris Blackler,
his son
); the CO, Lt.Cdr. Colin H. Campbell
(seated)
,
an unidentified Sub Lt is followed by Warrant Engineer Charles Harry West
(M34943)
identified by his Grandson, David West; the more mature looking officer on the far right has not been identified.


Your help in providing further details of their lives and identifying the remaining officers would be appreciated

These photographs were sent to me by Derek Benoy who was born during the war and baptised in
1942 in
the inverted bell of his father's ship
, HMS

Wolsey

.
His father, Frederick Willliam Benoy, was born at Plymouth on 17 October 1914,
the son of a naval artificer, and served in the Navy for thirty years
:
"My dad was in the RN from leaving school until he retired in 1959 - 60, ie boy and man. He joined HMS W
olsey
from HMS
Vanity
, a V & W destroyer, in January 1940 and left her in 1942 to join the staff of the Gunnery School at Devonport, back home in Plymouth. From 1943 to the end of the war he served in HMS
Curzon
, a new Captain Class Frigate built in the USA. After the war he had a mixed career, including blowing up wartime wrecks off (and out of) Grimsby (as captain of HMS
Bern
), Divisional Officer at Chatham barracks, experimental minesweeping, at home and abroad (as captain of HMS
Skye)
, from Rosyth/Port Edgar, finishing his career as Sea Cadet Area Officer for Scotland and Northern Ireland."

On leaving the Navy as Lt Cdr Frederick W. Benoy after thirty years service:


"He became a Personnel Officer for an electrical company in Paisley and then Personnel Officer for Scottish and Newcastle Breweries at Fountainbridge, Edinburgh. After that, he led a quiet but busy life in a large, rambling country house near Edinburgh and served for a time as launching officer for the South Queensferry lifeboat station on the Firth of Forth. He died on 10 September 1991".

Sadly, no details of his service in HMS
Wolsey
are recorded other than the award of the Distinguished Service Cross after the evacuation of the BEF from Dunkirk.


On 26 May 1940,
Wolsey
was assigned to Operation Dynamo, the evacuation of Allied troops from the beaches at Dunkirk, France. She embarked evacuees from small craft offshore on 27 May and disembarked 102 evacuated troops at Dover on 28 May. She delivered another 315 troops from Dunkirk at Dover on 29 May. On 30 May, she made two evacuation voyages, carrying 616 troops to Dover on the first one and 1,065 on the second. Some
remarkable photographs taken by a young RAF officer
illustrate the events of that day.
On 31 May while at Dunkirk, she suffered damage when a fire broke out in her degaussing equipment and in a collision with a merchant ship, but despite her damage she deployed offshore to serve as a wireless transmitter link between Dunkirk and Dover and later in the day landed 425 evacuated troops at Dover. She carried another 535 troops from Dunkirk to Dover on 1 June before being withdrawn from evacuation operations later in the day for repairs.
The following extracts from the Report of Proceedings written by

Lt.Cdr. Colin Henry Campbell RN

(see in group photograph above), the CO of HMS Wolsey at Dunkirk, are taken from
The Royal Navy at Dunkirk: Commanding Officers' Reports of British Warships In Action During Operation Dynamo
(Casemate, 2017).

22 May

1913
Ordered to Dunkirk and berthed alongside Felix Faure Jetty. Embarked 200 walking wounded.
Sailed for Dover at 2105, and disembarked wounded at Admiralty Pier, finally securing to buoy at 0230.



23 May



0915
Sailed for Downs to instruct Hospital Ships Isle of Thanet and Worthing to Dunkirk, calling at Dover en route.

Wolsey

had to lead them as they did not have the necessary charts. Arrived 1430. Embarked 180 Officers and Officers of the Army GPO and other non combatants. Ships sailed in company at 2045. The Hospital Ships were ordered to Newhaven.
Wolsey disembarked troops at Admiralty Pier, finally securing at buoy at 0415/24.



24 May



Wolsey proceeded to Le Havre with

Windsor

with demolition parties. On return

Wolsey

was ordered to load ammunition for Calais but this was subsequently cancelled. On proceeding to a buoy

Wolsey

fouled the fixed boy of the West Entrance Boom and destroyed the ASDIC dome.



26 May



1445
To Calais with

Wolfhound

and carried out bombardment of the road to seaward of the Scouring Basin.
Returned to Dover at 1850.
At 1930 ordered to Dunkirk as WT Link. Fog encountered on passage but finally secured Felix Faure Jetty at 2350. (LW 2157 3.4 ft, HW 0329 17.2ft)



27 May



0530
Shifted berth to allow transports to come alongside. Remained under way in anchorage, but found communications with Shore Signal Station difficult and berthed alongside East Pier at 0700. Calculated that ship could remain alongside until one hour before low water but at 0915 found that water was getting shallow and as an air raid began at 0930 to move to the anchorage immediately. (LW 1017 3.4ft).

Grounded propellers and eventually hauled off by French Tug at 1030.

It is interesting that

Wolsey

grounded her propellers on the same tide as

Wolfhound

is believed to have done so, though

Wolfhound

is not mentioned as arriving until 1800.

Remained in anchorage for rest of day, maintaining V/S contact with Shore Signal Station with great difficulty due to dense clouds of smoke and almost continuous air raid. Ship was at action stations all day, over 70 rounds per gun being fired.

Wolsey

claims to have downed one plane, but not confirmed. Anchorage bombed six times but no bombs fell dangerously close to Wolsey.

1800


Wolfhound

arrived and went alongside (HW 1553 16.4ft).

Wolsey

and

Wolfhound

then anchored as close as possible inshore and embarked troops from the beach.
Both ships sailed at 0100/28,

Wolsey

bringing back approximately 150 troops.



28 May



am
Oiled and ammunitioned ship

1850
Sailed for Bray Beach by route "Y". Arrived 2300. Boats were immediately lowered and embarkation of troops commenced.



29 May



0400
Sailed for Dover with 500 troops.

1100


Wolsey

ordered to proceed to Sheerness in company with

Vivacious

and

Vimy

. Sailed from Sheerness at 1830 for Operation FD, but this was cancelled by Admiralty and Wolsey returned to Dover. Remained alongside while one rating who had been injured by a berthing wire was discharged to hospital.

30 May

0615
Sailed for Dunkirk. Secured alongside East Pier at 0915 (HW 0623 15.6f, LW 1252 4.6ft). Embarked approximately 800 troops and returned to Dover. Disembarked troops and again proceeded to Dunkirk at 1525 (HW 1858 15.4ft). Again secured to East Pier and embarked approximately 1060 troops, returning to Dover at 2235 . Troops disembarked and

Wolsey

oiled. A young RAF officer, Gordon MacIntyre, took some remarkable photographs on one of the two crossings HMS

Wolsey

made that day.


31 May

0600
Embarked Colonel Blake RAMC and medical stores and sailed for Bray Beach.

0703
In collision with TS

Roebuck.


Berthed East Pier to land Colonel Blake and stores and proceeded to Bray Beach (HW 0733 15.6ft). After embarking 40 troops and two hours, ordered alongside by

Codrington.

Secured alongside, embarked 500 troops (LW 1400 4.4ft). Returned Dover at 18 kts and disembarked troops.

1830
Slipped from Admiralty Jetty and returned to Dunkirk (HW 2005 15.6ft).
While inside Dunkirk Harbour and proceeding alongside East Pier Wolsey's DG Coil fused and caught fire. This may possibly have been due to a shell splinter, as Dunkirk was being shelled at the time. Embarked 600 troops while the Electric Light Party endeavoured to repair the DG Coil. At 2330 the Electrical Artificer reported that he had done all he could and that the coil was 30% efficient. Considered the risk justifiable and having announced repairs complete sailed for Dover at 12 knots. Either the coil in its condition was effective against magnetic mines or Wolsey was lucky and the passage was made safely. The phosphorescence was extremely noticeable and several aircraft were heard, so Wolsey proceeded at 12 knots for the first hour and a half.



01 June



0425
Secured alongside Admiralty Wharf to disembark troops, and then secured to a buoy to effect repairs to the DG Coil. At 1300 Wolsey reported ready for sea.

1600
Sailed for Portsmouth for repairs to collision damage.

A Brief Account of the collision with TS Roebuck

TS

Roebuck (11)

was a British Rail ferry built in 1925 operating from Weymouth to the Channel Islands, a service which came to an abrupt halt when the Channel Islands was occupied on 30 June 1940. My Mother was on holiday in Jersey with her sister's family and left on one of the last ferries. She was pregnant and had she "missed the boat" I would been born on German occupied territory.

On reaching Weymouth on the 29 May 1940

Roebuck

was requisitioned for immediate service at Dover and two days later on 31 May she was ordered to Le Penn nine miles east of Dunkirk. When approaching the coast she was struck in the stern by HMS

Wolsey

but was able to continue. She took on board 550 troops including 45 stretcher cases and 70 other wounded and sailed for Dover.



As described by Lt.Cdr. Colin Henry Campbell, RN in his Report of Proceedings:
"HMS

Wolsey

was proceeding to Dunkirk along Route X, and shortly before entering Dunkirk approach channel TS

Roebuck

was observed by me about one mile on port bow steering roughly a parallel course.



Wolsey

altered (probably to port) round No 5 buoy to new course 090. SS

Roebuck

was then sighted on the port bow about 6-7 cables distant, entering the approach channel between nos 5 and 7 buoys, and steering a course nearly at right angles to the channel.

I held my course and speed and TS

Roebuck

came right across the channel across my bows. When it was seen that collision was imminent I ordered Full Speed Astern Both, and then ordered Hard a Starboard, sounding three blasts. This appeared to cause TS

Roebuck

to sight me for the first time and she altered to port. Collision was nearly avoided, the large iron-bound rubbing strake of TS

Roebuck

causing most of the damage to

Wolsey."





Remarks:

SS

Roebuck

was not keeping a proper lookout. Once

Wolsey

had altered to Port she had right of way. It is unlikely that any damage was sustained by

Roebuck

.


Acting Leading Seaman
Dennis Philip Arthur Gilbert C/JX 151519
was awarded the DSM "for good services in the withdrawal of Allied Armies from the beaches at Dunkirk".
He became an A/ Gnr, Cd Gnr and Lt and retired from the Navy in 1956 with the rank of Lt Cdr.
Escorting East Coast Convoys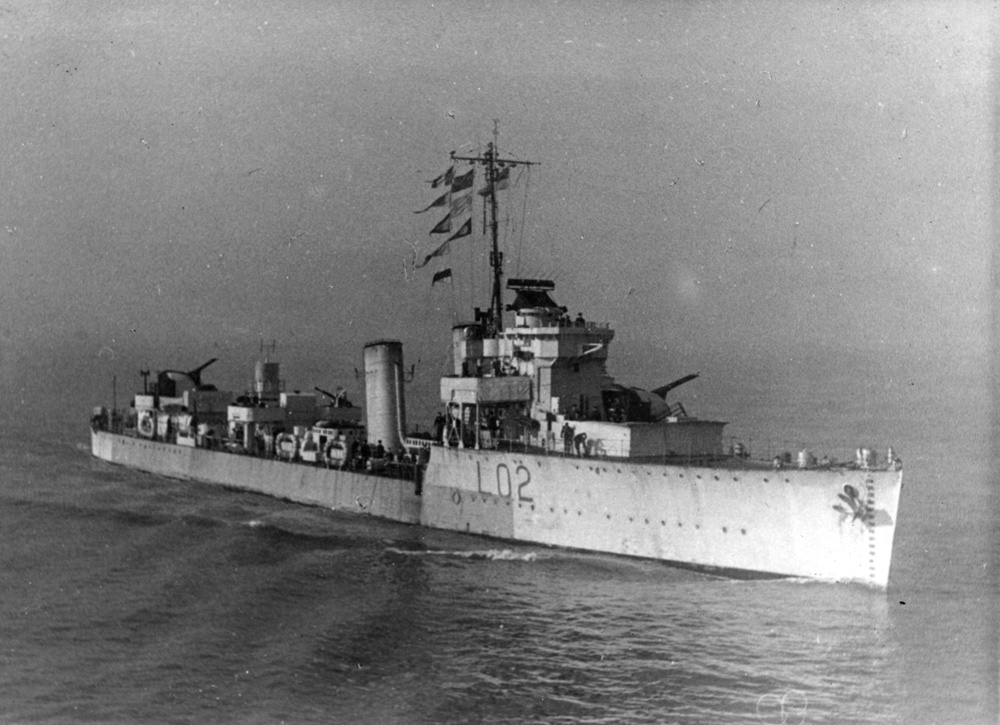 HMS
Wolsey
escorting East Coast Convoys in 1944

Her Pennant Number changed to LO2 in January 1940 after her conversion to a WAIR anti-aircraft destroyer
Photographed by Lt Cdr John E Manners RN
from HMS
Viceroy
John Kenneth Dixon (JX350561)
was born on the 5th June 1923, at 235, Tichfield Terrace, Pegswood, Morpeth in Northumberlad the eldest son of Barbara (nee Dinsdale) and Edward Stanley Dixon. He gives a brief account of how he came to join the Navy and the ships in which he served on the web:
"In 1939, I joined the sea cadets in the city of Kingston upon Hull and remained with them until I volunteered for the Royal Navy on the 5/3/1942 and was released to unpaid reserve the same day. On the 7/4/42 I received my calling up papers with a railway warrant to report to HMS
Ganges
, situated near Shotley in Suffolk. In peacetime,
Ganges
was a training school for boys wishing to serve in the Royal Navy.
On reporting to the main gate, I was directed to a building where my naval uniform and other equipment would be issued to me. The staff behind the counter asked me the relevant questions, such as height, chest, and waist measurements, leg length, size of boots and finally cap size.
I was issued with TWO of everything, the two blue uniforms, which were referred to as Number Ones (best uniform) and Number twos (working uniform). Two pair of overalls (for working party duties). Blue collars (2), Blue jerseys (2) for winter wear, White shirts, the neck with blue edging (2) for summer wear, 1 Lanyard, 1 knife, 1 money belt, underpants (2), vests (2), socks (2), boots (2). Caps, one white the other black, & H.M.S. cap bands (2). 1 Silk black band. 1 Topcoat (1) kit bag to put them in and finally a small brown case to hold such items as shaving gear, sewing needles etc. I was issued with two white uniforms (for tropical service), these were recalled at a later date."
After
Ganges
his first "attachment" was to the Chaham Naval Barracks:
Before leaving
Ganges
I was told that I had been selected as a CW (Commissioned Warrant) rating, which required me to get 6 months actual sea-time experience. If and when this had been achieved, I would be sent to an officers training school.
My first day on the working party parade I was detailed as a messenger, operating from the officers' ward block. It was a nice clean detail with one or two "perks" from the officers' dining room; it also kept me out of the way of the "Justamo", (a verbal distortion of the word "Gestapo".) They were the "policemen" of the Depot, they were always stopping and questioning, wanting to know where you are coming from and going to. Medical check-ups were part of the routine of being drafted to & returning from a ship. They were very necessary, considering the close living arrangements in the Depot and even more so aboard ship. Basically, it was a visual inspection by a Doctor once you had removed all your clothing. I would like to say at this point that all ratings had to take their hammocks where ever they were drafted to.
A further tale of a stay in Chatham Depot was the sleeping arrangements. Every night, unless you were ashore on all night leave or on duty, you had to take your hammock down the "Tunnel" and "sling it", an expression, meaning that you had to suspend your hammock anywhere you can find two hooks. This was a system of tunnels that had been driven into the natural contours of the chalk hills within the Depot perimeters. They were really underground air raid shelters constructed not unlike London's underground. You had to "sling" your hammock on the support girders of the tunnel where ever possible.
He writes well and I have "borrowed" his description of the two months he spent on HMS
Wolsey
escorting East Coast convoys:
"I was drafted to HMS
Wolsey
a V and W class Destroyer and served aboard her from 26 March until the 10 May 1943 (Penant D98 launched 14/5/1918 changed to LO2 in 1939,Speed 35 knots, scrapped in 1947). Her sea duties were to escort east coast shipping from the mouth of the River Thames northwards to Dunfirmline on the Firth of Forth, and back down to the Thames. This run was nicknamed the Tramlines but as the Thames was approached the nickname changed to E-Boat Alley. By day we were attacked by enemy aircraft and at night by the E Boats. The E Boat was a very fast craft, its main armament being her torpedoes, plus light machines guns. Obviously the main object was to sink ships. Under the cover of darkness they would tie up to one of the many buoys that were anchored to the sea bed all the way down the east coast. These marker buoys, in peace time, were there to mark out the north south sea lanes. The E Boats with their engines muffled for silent running, waited for a passing convoy. They would attack at full speed making a run at the vessel of their choosing. Our four inch guns were not able to lay and train to fire at such a low target in the water. Small arms were used to ward off these attacks and some times we were successful.
After the war I chanced to meet an ex German prisoner of war who had served on E-Boats. He was interned in a camp near the town of Market Weighton in the East Riding of Yorkshire, England. When the time came to be repatriated he chose to remain in that area. He had become fluent in English by the time I met him. In conversation I told him that I had served in the R.Navy and no doubt we might have chased each other up and down E Boat Alley. He admitted to me that the day he was captured was the best thing that had happened to him. I found him to be a pleasant man.
One particular day as we were sailing north, a small fleet of fishing vessels was sited as they were returning to their home port of Whitby. The Captain hailed one of them to come along side and made arrangments to take on board a supply of fish. We then went ahead at half speed and dropped a depth charge with a deep setting. The explosion brought to the surface enough stunned fish to compensate the fishermen. As the
Wolsey
was going in for repairs on its arrival back at Sheerness, in the Thames Estuary, I was quite prepared for my draft back to Chatham Depot. It was the C.W. six month sea time Syndrome once again."
To find out more about John Dixon's seven wartime drafts visit this site:
http://www.carlsen.karoo.net/
Although he was a CW Candidate, selected as suitable for Officer Trainnig after six months seatime, there is no further reference to this in his account and one must assume he was not commissioned and remained a rating throught his wartime service in the Navy. I am trying to contact him via the e-mail address given on his website to find out more about his time at sea.
If you have stories or photographs of HMS Wolsey you would like to contribute to the web site please contact Bill Forster or Frank Donald
---
Return to the Home Page of the V & W Destroyer Association
Return to the Index Page for the 69 V & W Class Destroyers
---