---
"At 0615 on the 30th May

Wolsey

sailed for Dunkirk. Secured alongside East Pier at 0915 [HW 0623 15.6ft, LW 1252 4.6ft]. Embarked approximately 800 troops and returned to Dover. Disembarked troops and again proceeded to Dunkirk at 1525 [HW 1858 15.4ft]. Again secured to East Pier and embarked approximately 1060 troops, returning to Dover at 2235. Troops disembarked and

Wolsey

oiled."
This photograph of

Flt Lt Gordon Leslie MacIntyre wearing a peaked cap with RAF Badge and a leather flying jacket and holding a bren gun on a mount

was sent to me by Thomas Moore in Canada:





"I have several photographs taken by my mother's first husband RAF Flt Lt Gordon Leslie MacIntyre DFC a Canadian who joined the RAF in 1939 and became a bomber pilot. During the evacuation at Dunkirk he hopped a ride on a WAIR destroyer. The photographs show this destroyer alongside the mole loading troops and underway packed with troops."





It seems quite extraordinary that a Flight Lieutenant in the RAF should have been invited on a day trip to Dunkirk by an officer on a V & W Class destroyer but that is the story told to Thomas Moore by his Mother. Thomas has always assumed the photographs were taken by Gordon MacIntyre.





The name of the destroyer and the officer who invited Gordon MacIntyre aboard is not given but the V & W has the twin 4 inch guns of a WAIR conversion and only two WAIR converted V & Ws took part in the evacuation of troops from Dunkirk, HMS

Wolsey

and HMS

Wolfhound.

The photograph of the ship returning from Dunkirk was taken in daylight and since

Wolfhound

only made one trip to Dunkirk and returned to Dover after midnight the V & W must have been

Wolsey.

Wolsey

made two trips to Dunkirk on the 30 May during daylight hours and the large number of troops on deck in the photographs sent to me by Thomas Moore suggest they were taken on one of these trips. HMS

Venomous

made the first of five trips to Dunkirk that night but by then

Wolsey

was back at Dover.



The photographs may have been given to Gordon MacIntyre rather than taken by him in which case there are sure to be other copies in circulation and we would like to to hear from anybody who recognises them and can fill in the gaps in the story they tell.



They are reproduced below with explanatory notes and linking comments

Who is the exhausted lieutenant slumping forward on the bridge

of HMS

Wolsey

?



Is this the officer who invited Gordon MacIntyre to join him aboard

Wolsey

for a trip to Dunkirk

on 30 May 1940?



The members of the Wardroom recorded in the Navy List:

Lt Cdr C.H. Campbell, the CO (joined 16 Feb 1940)
Lt George Blackler, the XO (28 Nov 1939)
Lt J.B. King-Church (joined 1 May 1940)
Temp Surg Lt RNVR R Dowie (joined 11 April 1940)
S/Lt RNVR J.W. France (joined 20 Nov 1939)


S/Lt RNVR

A.R. Taudevin

(joined 20 Nov 1939)


Temp S/Lt RNR A.V. Stubbs (joined 2 Feb 1940)
Gunner F.W. Benoy (joined 2 Feb 1940)
Warrant Eng C.H. West (joined 17 April 1939)

He has been identified by Christopher Blackler as his father,

Lt G. Blackler, the XO. The family has a print of the same photograph. The only time he ever spoke to his son about Dunkirk was to say he never slept for a week.

Note the speaking trumpet or megaphone - forerunner of the portable loudhailer.


The most distinctive feature of a WAIR converted V & W Class destroyer were the twin 4-inch high angle guns which replaced the two single barreled 4.7-inch guns at bow and stern.

The twin 4-inch HA guns could be used as an anti-aircraft weapon. The WAIRS were mainly used as escorts for East Coast Convoys which were subject to attack by German aircraft as well as by E-boats. The twin 4-inch Mark 19 mounting in conjunction with the High Angle Control System (HACS) could engage aircraft up to 30,000 feet,

and out to 15,000 yards.



Note the heavy spray breaking over the bow despite the only moderate sea. A curved steel breakwater has been errected around the guns to offer some protection to the gun crew.


A lookout on the open bridge of HMS

Wolsey

scans the sky for attacking aircraft while a burning merchant ship drifts out of control.



The V & W Class destroyers had open bridges with just a low glass screen as protection against the elements. They were very exposed to the weather on Arctic Convoys and to sniper fire from surrounding buildings

in the narrow harbour at Boulogne

.






View looking aft at the amidships Vickers .5-inch caliber quad mounting machine guns firing at aircraft.




Looking forward at the Starboard Quad 0.5 inch calibre machine gun mounting.
These were superseded latter by the more effective single 20 mm Oerlikon. On the right is a davit used for hoisting and lowering Carley Floats, etc.


The range of the V & Ws was limited but they could exceed 30 knots which made them ideally suited to high speed dashes across the Channel to Dunkirk. They often layed smoke screens to conceal themselves from German shore artillery or from aircraft, and this photgraph shows

Wolsey

laying one on the way to Dunkirk"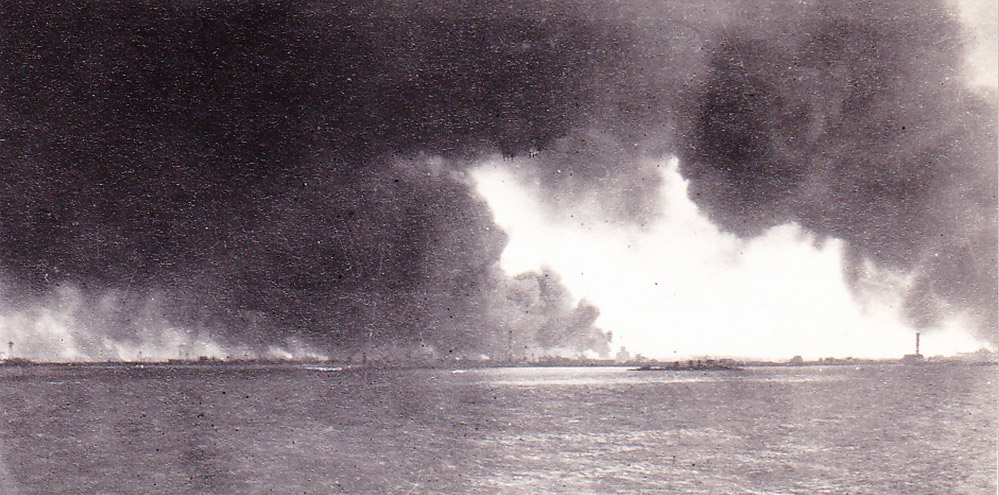 The Dunkirk skyline with burning oil storage tanks obscuring the view

Left

: Wolsey

is berthed on the inner side of the East Mole facing the shore and the long line of troops waiting their turn to scramble down to deck level.


"Measuring from the dark "tide mark" on the masonry mole indicates that the sea level is about six feet below high water, and about 3 hours 40 minutes after high water, giving a time of 1000 GMT on 30th May. The troops have a drop of about five feet to Foc'sle deck level, or 12 feet to the "iron deck" aft of the bridge. The height of the Foc'sle deck abreast the bridge is fourteen feet above the waterline, so the mole walkway is approximately 19 feet above current sea level" (Frank Donald).



Right

: Wolsey

returning to Dover with approximately 800 troops onboard.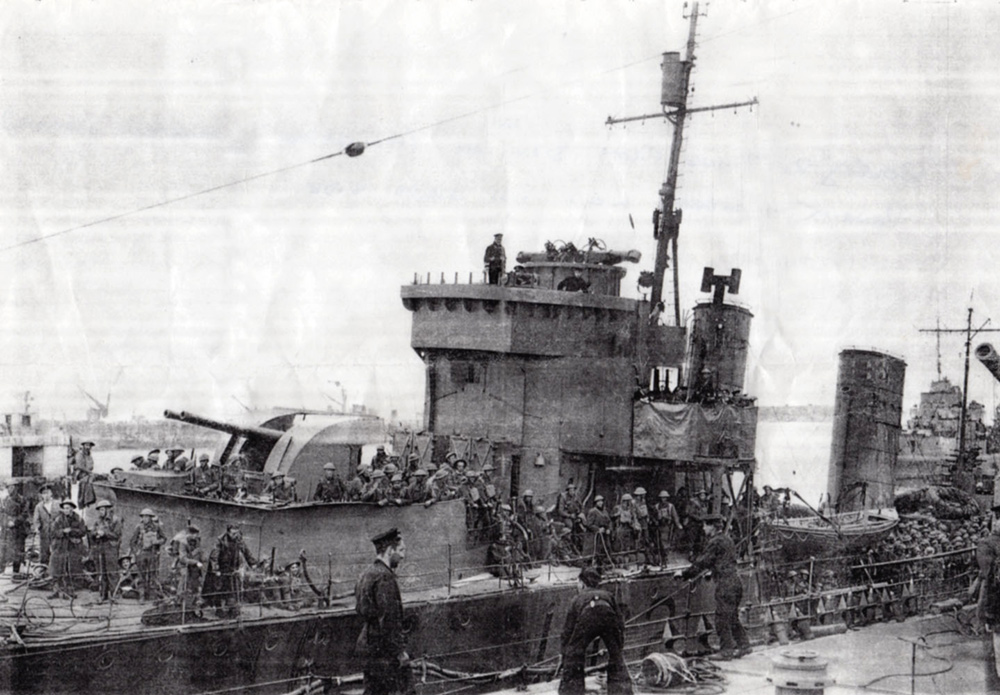 HMS
Wolsey
(L002) is berthed alongside a destroyer in Dover's inner harbour opposite Admiralty Pier
"Bonzo" posted this uncredited photograph of HMS Wolsey on the Worldnavalships.com Forum
Gordon Leslie MacIntyre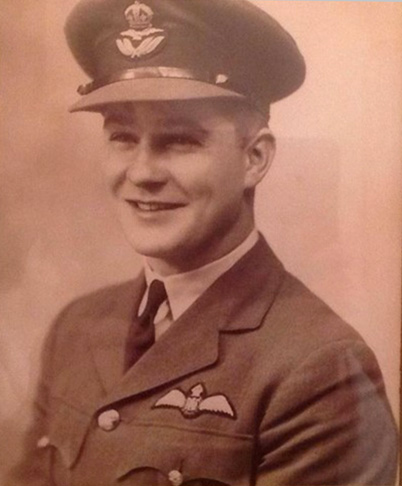 What more do we know about the Flight Lieutenant who accepted an invitation to join HMS
Wolsey
on a trip to Dunkirk? Gordon Leslie MacIntyre was born at Arnprior in Ontario, Canada, in 1915, was educated there and served in the Canadian Militia before "he hopped a liner to Britain in 1939 and joined the RAF". He was appointed Acting Pilot Officer on Probation, RAF, on 18 September 1939. This was his rank when he boarded HMS

Wolsey

on 30 May 1940.

He was confirmed as a Flying Officer on 20 April 1941 and as Flight Lieutenant on 20 April 1942. He became a bomber pilot with 221 Squadron flying in the Western Desert and later on anti-submarine patrols from bases in Northern Ireland and Iceland, where he attacked and sunk a U-Boat.
He was awarded the DFC on 18 September 1942.
He met his wife, Patricia Margaret Aimee Moore, from Coleraine near Londonderry, while she was a WREN working in London. They were married for only six months and she was pregnant when her husband was killed in a tragic accident on 29 April 1943.

He had been posted to 24 Squadron and in April 1943 the squadron was transferred to Ferry Command, the predecessor of Transport Command and flights began to Malta with passengers and mail. The pilot scheduled to take a party of senior officers to Gibraltar
on 29 April
was sick and MacIntyre volunteered to take over. The Hudson IIIA (FH307) aircraft left RAF Hendon for RAF Portreath where it would refuel before continuing to Gibraltar and onwards but weather coditions at Portreath were poor and it was decided that the aircraft should stage through RAF Chivenor instead. On the approach to land, the aircraft stalled, entered a spin and crashed 1m NNW of Chivenor.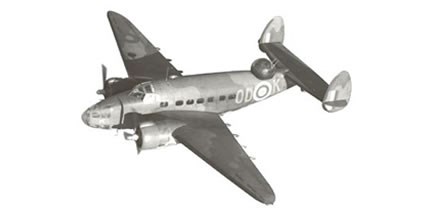 The names of those killed are given below:

42718 F/L (Pilot) Gordon Leslie MACINTYRE DFC RAF
49734 F/O (Nav.) Frederick Ronald FORD RAF
508810 W/O (W.Op.) Percy Frederick LAVER RAF
1235898 AC1 Harold John Anthony NEWTON RAFVR
Rear Admiral Philip John MACK DSO
Major General Harry Leonard Nowell SALMON MC, RCIC
Captain Sir Thomas Lubbock BEEVOR 6th Baronet
Lieutenant Colonel Charles Francis Geoffrey FINLAY RCASC
Lieutenant Colonel Guy Gervers Holmes WILSON RA


Thomas Moore commented that: "The Hudson he was flying had a nasty habit of stalling at high speed with 40% flaps, and at a few hundred feet, it would be deadly."
Major General Harry L.N. Salmon and Lt Col Charles F.G. Finlay were both Canadians.

Gordon MacIntyre and his crew are buried side by side in military graves at Mill Hill Cemetery in the London Borough of Barnet. After the birth of her son, named after his father Gordon Leslie MacIntyre, his widow went to Canada to see her husband's parents. She remarried and had two children, Elaine and Thomas, but the marriage did not last and Thomas took his Mother's maiden name of Moore. They all live in Canada.

George Blackler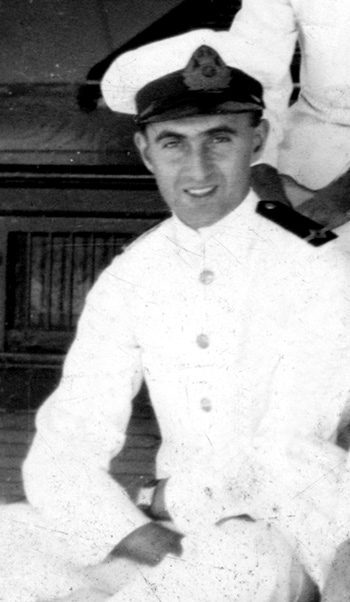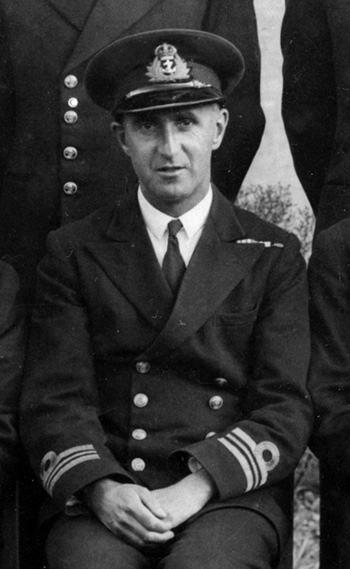 George Blackler came from an old naval family from South Devon and it was almost inevitable that he would go to sea. His grandfather, George Blackler (1839-1923) was Captain of the sailing ship

Cypromeme

and his father, also George Blackler (1870-1923), was lost at sea while Captain of SS

Archimedes.



George Blackler (1910-89) joined the Merchant Navy but was a Prob S.Lt in the RNR by 1935. He served in the V & W Class destroyer HMS

Wolverine

in 1937 and joined HMS

Wolsey

as First Lt in November 1939 and was photographed on the bridge by Flt Lt Gordon MacIntyre. On leaving

Wolsey

in November 1940 he was appointed CO of HMS

Ludlow

and went on to command the destroyers HMS

Brocklesby

and HMS

Amazon

.

In 1944 Lt Cdr George L. Blackler (right) was a senior officer on the staff of HMS

Collingwood

, the RN training establishment at Farnham for "hostilities only" (HO) ratings of the Seaman Branch but it also ran courses for the training of RN ratings as officers under the Upper Yardman scheme. RNVR Officer candidates being promoted from HO ratings were trained at HMS

King Alfred

at Hove near Brighton.


"The term Upper Yardman refers to the days of sail where the smartest and bravest of seamen manned the upper yards and its adoption served to reinforce the superiority of the officer candidates to the rest of the lower-deck and suggested officer-like qualities of courage and seamanship skill." Wikipedia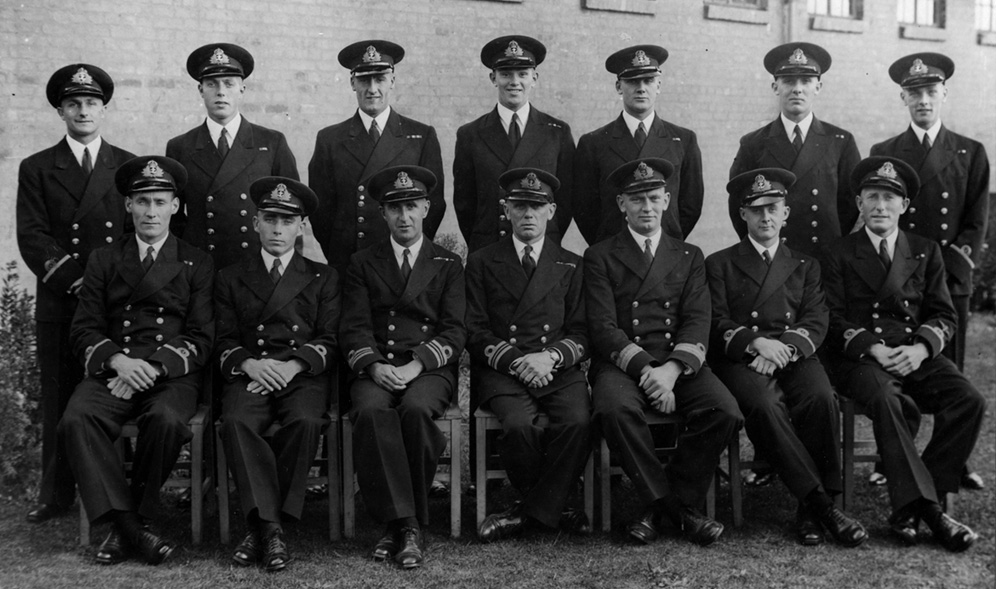 Upper Yardmen and Upper Yardmen (Air), HMS

Collingwood



Cochrane Course, Final Selection Board, August 23 1944

Rear row:
G.G.R. Miller, R.A. Wadley, J.P. Howe, J.H. Blacklock, A.R. Hunt, J.W. Daubney, R.M. Wolverson

Front row:
J.E. Bresse, F.J. Hindes, L Cdr J.Blackler, Lr Cdr A.W.C.J. Nicholson, DSC, Instr Lt Cdr K.A., Bowell, BA, W.J.K. Bell, F.J. Thomson

As the war neared its end Naval Parties were formed to closely follow the advancing land forces and assume responsibility for captured German naval establishment.
George Blackler was a senior officer with Naval Party 1734 (Kiel) under Vice Admiral H. Baillie-Grohman, Flag Officer, Kiel. He was closely involved with the aftermath of the bombing by the RAF of the Prison Ship,

Cape Ancona

, which resulted in the death of several thousand inmates from the nearby Neuengamme Concentration Camp. The Camp had been cleared and its inmates battened down in the

Cape Ancona

and two other ships in the Bay of Lübeck without food and water. It is believed that the SS intended to conceal the crimes committed at the Camp by sinking the ships. They were unmarked and the job was done for them by the RAF. Between seven and eight thousand lives were lost and George Blackler was deeply affected by this terrible tragedy. His papers and photographs relating to Naval Party 1734 and his time at Kiel are held at the IWM (Document 23731).


George Blackler spent his last two years in the Royal Navy as CO of HMS

Uva

, a Royal Navy rest camp in the hills near Kandy in Ceylon. He was accompanied there by his wife and two sons. HIs first wife died in childbirth in June 1943 and Christopher Blackler, his son by his second marriage to Dorothy Gardner, was my main source of information about his father. After leaving the Navy in the early fifties George Blackler became a publican, the owner manager of the Black Hat at Wilstead near Bedford. He sold the business and moved to Wheathampstead in 1961 where he died in 1989. His son lives there now and I visited him to see his father's photographs. Christopher went to HMS

Conway

to train for the Merchant Navy but had to break with family tradition when he was found to be colour blind and spent his working life in banking.

If you have stories or photographs of HMS Wolsey you would like to contribute to the web site please contact

Bill Forster
---
Return to the Home Page for HMS

Wolsey



Return to the Home Page of the V & W Destroyer Association
Return to the Index Page for the 69 V & W Class Destroyers
---