---


Father and Son
Ken and Peter Brown
Kenneth William Brown was born at Wanstead, Essex, on the 19 October 1919, the son of William Albert and Florence Catherine Brown. His father was the foundry manager at B. Dellagna & Co. in London, a firm which pioneered the stereotyping process for taking a mould from composed type and making printing plates from a cast. Ken started a seven year apprenticeship with Dellagna when he left school interrupted by his wartime service in the Royal Navy aboard HMS
Vanessa
and as an Observer in Barracuda Torpdo Bomber Reconaisance (TBR) planes with the Fleet Air Arm (FAA).

Peter Brown tells his father's story followed by a shorter first hand account written by Ken Brown himself. Despite covering the same ground they complement each other and I thought it better to keep them separate and hope this might inspire some of you to write down the wartime stories told to you by your father.
****************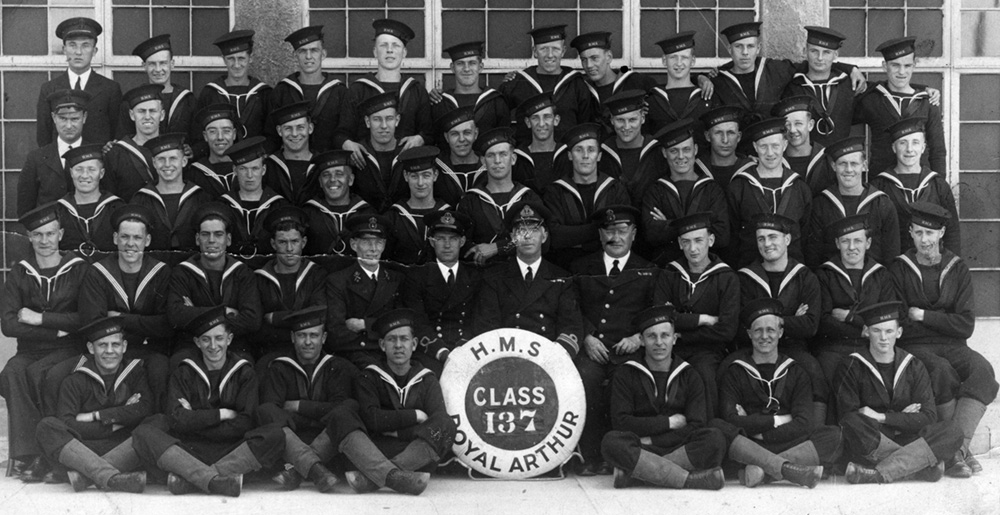 Ken Brown did his basic training at HMS

Royal Arthur

, a former Butlins Holiday Camp near Skegness

Courtesy of Peter Brown

My father was Ken Brown and this is his story as I remember him telling it to me. He joined

Vanessa

in 1940 as a twenty years old.
HMS

Vanessa

was based at Sheerness as part of the 21st Destroyer Flotilla led by Capt Donald G.W. Macintyre in HMS

Hesperus

. Macintyre was the CO of HMS

Venomous

before joining

Hesperus

.
On Sunday 18 July,
escorting Convoy CW.6 from Southend to Falmouth on
his first day at sea
,
they had only got as far as Dover when they were attacked by about forty JU87s (Stuka dive bombers).
This attack became quite famous as it was filmed by a Pathe Gazette news team.
The camera crew had a grandstand view of the action from the white cliffs overlooking Dover harbour.
A bomb fell six yards astern of

Vanessa

damaging her propellor shaft. She was towed into Dover by HMS

Gallant

and repaired at Chatham dockyard. My father went home on fourteen days survivor's leave much to the surprise of his mother.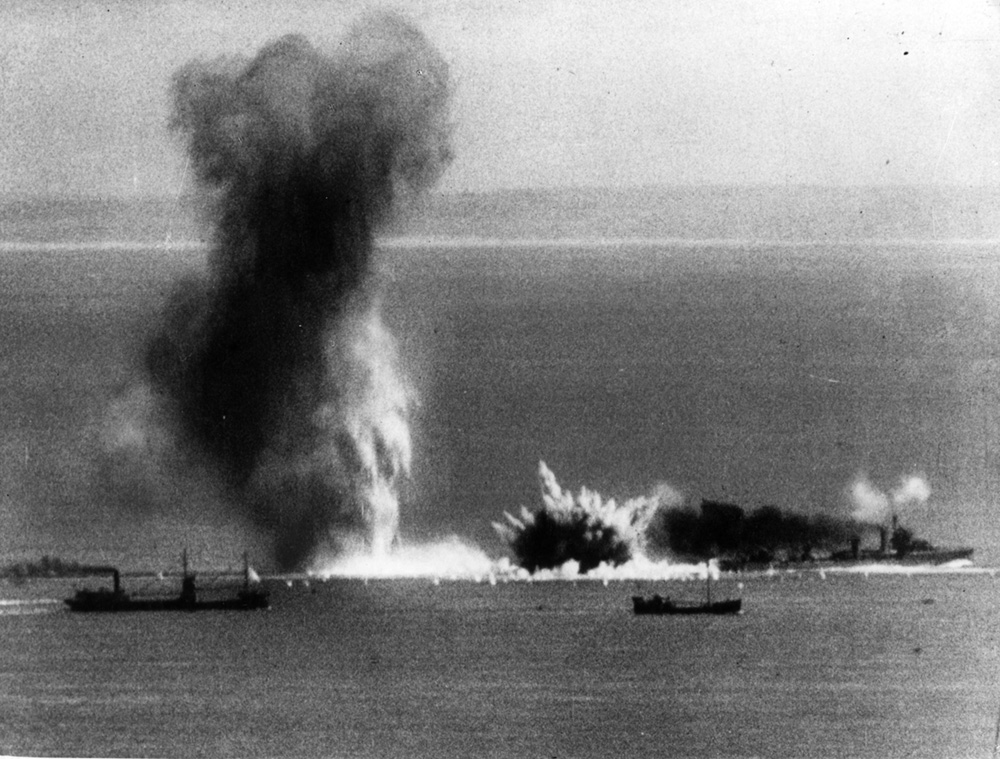 A clip from the Pathe News film of HMS

Vanessa

being bombed off Dover on Sunday 18 January, Ken Brown's first day at sea

Copyright Reserved

Vanessa resumed convoy escort duties in the North Sea until she was bombed escorting a North Sea convoy near Cromer on 19 June 1941. Dad told me they had a Blenheim providing air cover during the day. They spotted an aircraft just before dusk and fired some recognition flares, the aircraft fired some in return, it then came in amidships and was seen to be a Heinkel 111. The bomb landed amidships, hit the boiler room blowing off the fore funnel and opening up the deck killing eleven crew and the engineering officer with many more injured or burned. Ken "was asleep in his hammock on the fore mess deck when the bomb hit the ship amidships. The explosion threw him out of his hammock striking his head on the deck" and he suffered a nasty gash on his head. The description is taken from the "Certificate of Wounds and Hurts" issued to OD Kenneth William Brown PJX187735 on 2 July 1941. One of the wounded was a stoker named Jackie Rivers. Dad had been to his wedding in the East End. He last saw him in hospital in Newmarket after they were towed in to Yarmouth and often wondered if he survived the war.
Vanessa

was towed to Blackwall where it was decided she would be converted to a long range escort. My father was talking to one of the crew (a Geordie) who was moaning that he had been told he would stay with the ship during her refit. Somehow Dad managed to swap with him and as he lived in Wanstead just a few miles down the road he was homesides most nights until her rep
airs and conversion was finished in April 1942.


After her repair and conversion to a Long Range Escort
Vanessa
was conpleted in April 1942
Vanessa
joined the 2nd Escort Group of
two destroyers and six Flower Class Corvettes
at Liverpool
escorting Atlantic

convoys.

In November she was detached from Convoy HX213 to join escort of

eastbound Convoy SC107 from Sydney to Liverpool.

Convoy SC107 was attacked by a uboat wolf pack which sank 15 ships, the heaviest loss of ships from any Atlantic convoy in the winter of 1942–3.
Then she was on North Atlantic convoys to Newfoundland where my father found he had cousins! Just being at sea was dangerous as is very evident from this story told by my Dad. The seas often washed over the decks and you had to pick your moment to run along the deck to a hatchway. Dad was waiting for the right time with a steward one day and the steward mistimed his run and was instantly washed over board and lost!
My father was in

Vanessa

when she and the flotilla leader

Hesperus

sank U357 north west of Ireland on 30 December 1942 while escorting westbound convoy HX219. He told me the survivors were being washed along the side of the ship and into the propellors as they were not allowed to stop to pick them up and they were unable to hold on to the ropes lowered by the crew because they were so cold. Dad grabbed a brand new rope which was still very stiff, tied a loop into it and dropped it over the side, a young German lad managed to get into it and they pulled him aboard. My father recalled "we had a great big bosun with no front teeth who bent over him pulled out his knife and grinned at this young lad". Dad said the boy's eyes rolled up into his head thinking he was about to have his throat cut but the bosun just gently cut the ties on his lifejacket and helped him below! I believe

Vanessa

saved two and

Hesperus

saved four or five. There were 36 dead and six survivors. Admiral Sir Max Horton, KCB, DSO, Commander in Chief, Western Approaches, was photographed congratulating the officers and crew of the HMS

Hesperus

and HMS

Vanessa

after they berthed in Gladstone Dock, Liverpool.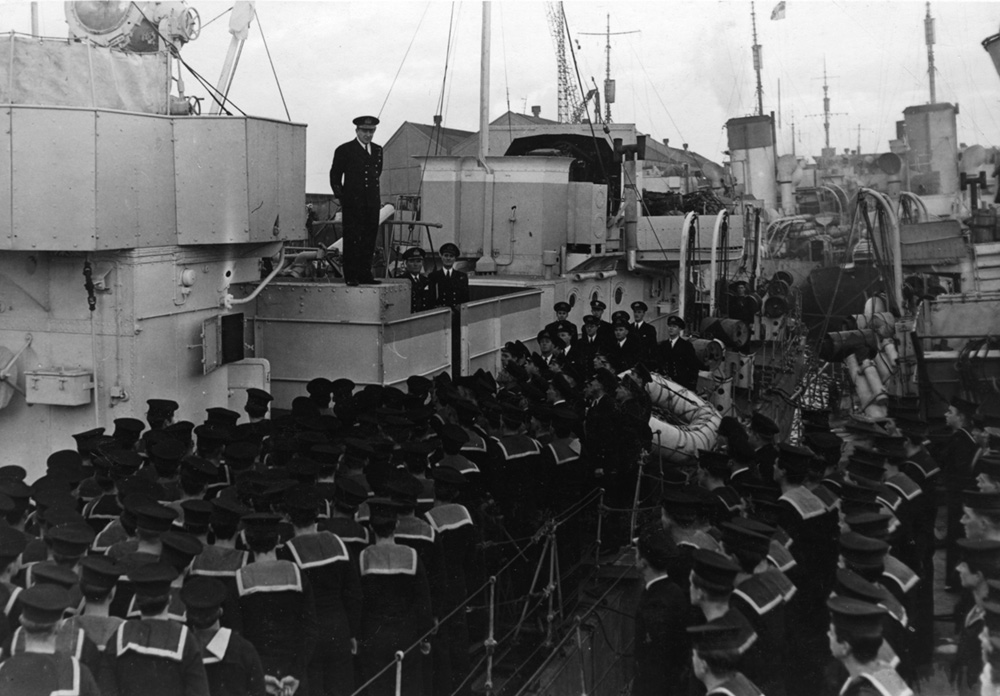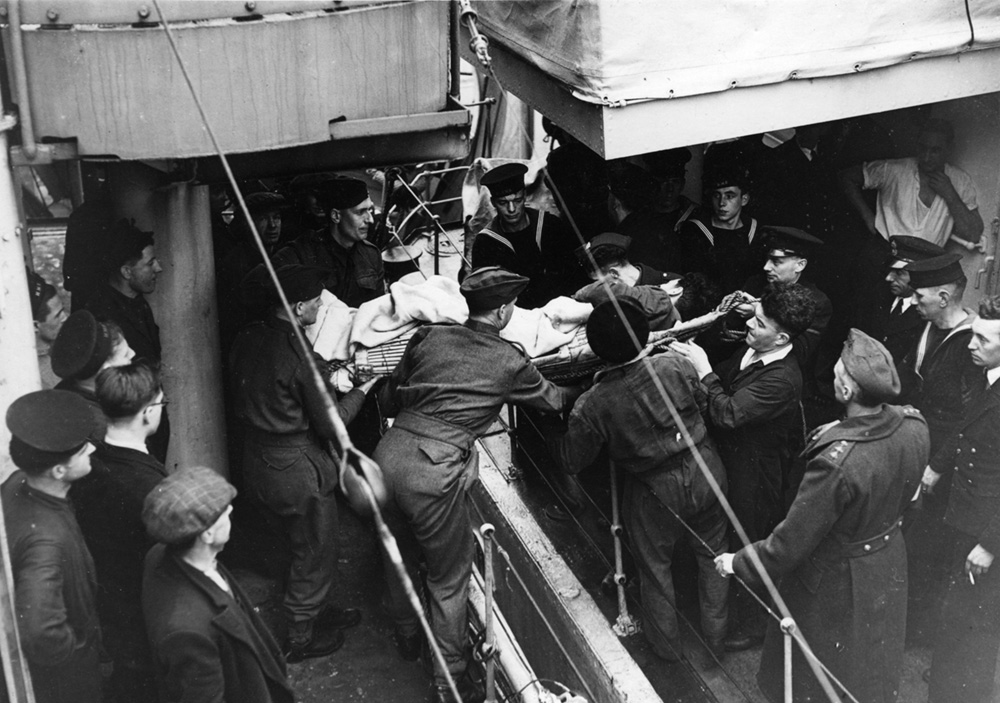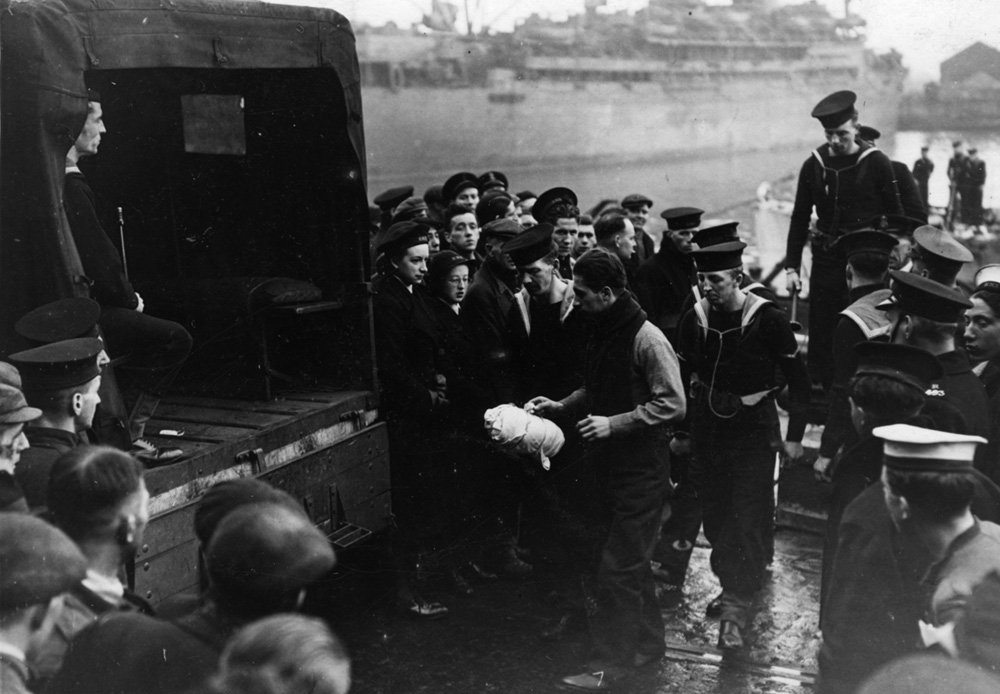 Dad stayed with the ship for fourteen North Atlantic crossings until he tranferred to the Fleet Air Arm to train as an Observer first in the Fairey Swordfish biplane and then in Barracuda Torpedo Bombers. He never forgot his days in

Vanessa

and was very proud of her. Michael Pollock (later Admiral of the Fleet) was her First Officer and was very kind to him and a great help in learning his navigation.


Ken Brown tells his own story -
"My time as a Crew Member of HMS

Vanessa"
I was a crew member in HMS

Vanessa

from July 1940 to April 1943 when I transferred to the Fleet Air Arm (FAA)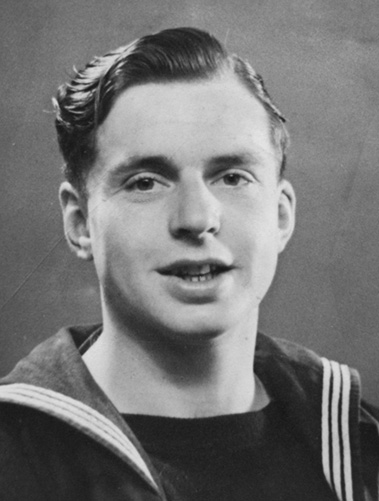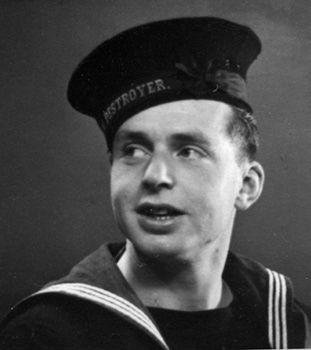 In July 1940 we were attacked by 47 JU 87 Stuka dive bombers while escorting a small convoy through the Channel. There were no direct hits but the propellors were damaged and put out of action by a salvo which fell six yards astern. We were towed into Dover and repaired in Chatham dockyard. This action was filmed by Pathe Gazette News and has appeared many times in TV documentaries.

After repair we returned to our flotilla at Sheerness and resumed duties on O Patrol protecting shipping against E-boat attack between Sheerness and Flamborough Head. During this period we were given the job of escorting and laying smoke a screen to protect the shallow draught monitor HMS

Erebus

while shelling the submarine pens near Kiel with her 16 inch guns.

On a later O Patrol we were attacked at dusk by a lone raider believed to be a Heinkel 111 which scored a direct hit amidships blowing up the boilers, blasting the forefunnel overboard and opening up the deck! Eleven ratings and the engineer officer were killed and many more injured and burned. We were towed into Yarmouth by another V&W, HMS

Vesper

.

We arrived eventually but were lost in thick fog over a minefield and rammed by a small trawler which was standing by to pick up the crew in the event of her sinking. We were towed from Yarmouth to London Docks, the Blackwall Yard of R. & H. Green and Silley Weir Ltd, where the bodies of the dead were recoverd. It was in this dockyard that she was converted to a long range escort vessel for service on the North Atlantic.

June 1942

After working up trials off Tobermory in the inner Hebrides,

Vanessa

, with a new Pennant number I29, joined a flotilla led HMS

Hesperus

commanded by Capt Donald G.W. Macintyre, and escorted convoys between Liverpool, Londonderry and Argentia in Newfoundland. Before I left this wonderful ship to join the Fleet Air Arm she completed fourteen Atlantic crossings, including one to Boston USA when the sea froze as it broke over the bows and the weight of ice made her list alarmingly to starboard.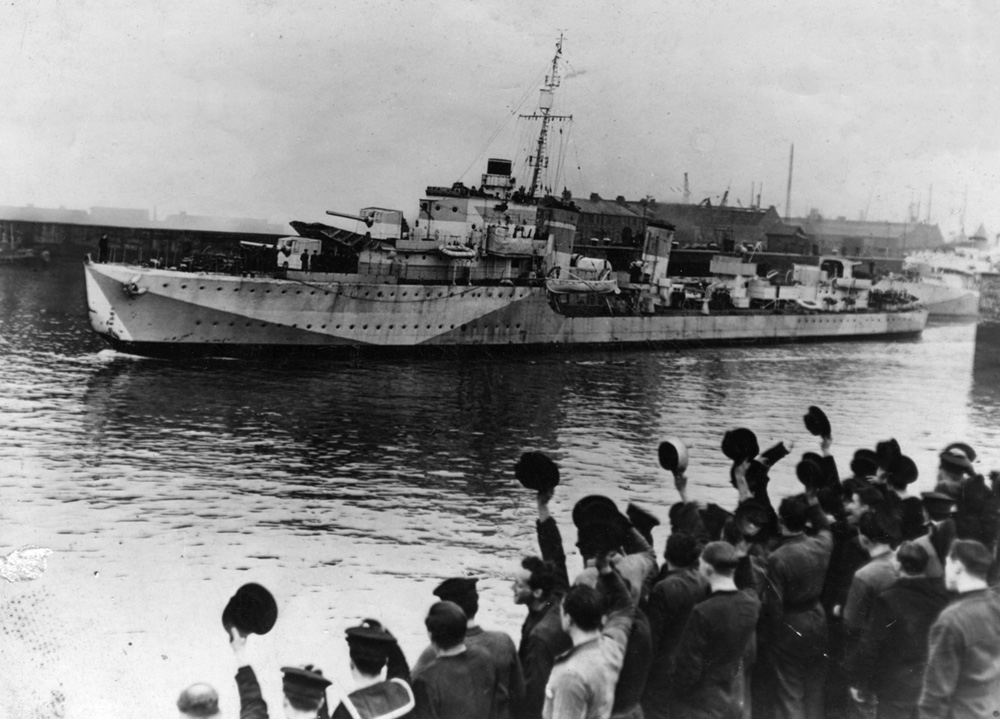 The dramatic chase of U375 by

Hesperus

and

Vanessa

which ended with the depth charging, ramming and sinking of the sub is already well recorded.

Vanessa

picked up two survivors. I have a photo of one being taken ashore at Londonderry. My interest in navigation was nurtured and encouraged by a regular naval officer Lt Roland F. Plugge RN and I was appointed Navigator's Yeoman, a resplendent title for the tedious job of correcting charts and keeping them up to date with changes, wrecks, buoys, lights, etc. which earned me an extra 3p a day or 3d as it was then.

1943

My request for transfer to the Fleet Air Arm for training as an Observer was finally granted and I said my farewells to this gallant unconquerable lady! She was laid to rest in March 1947.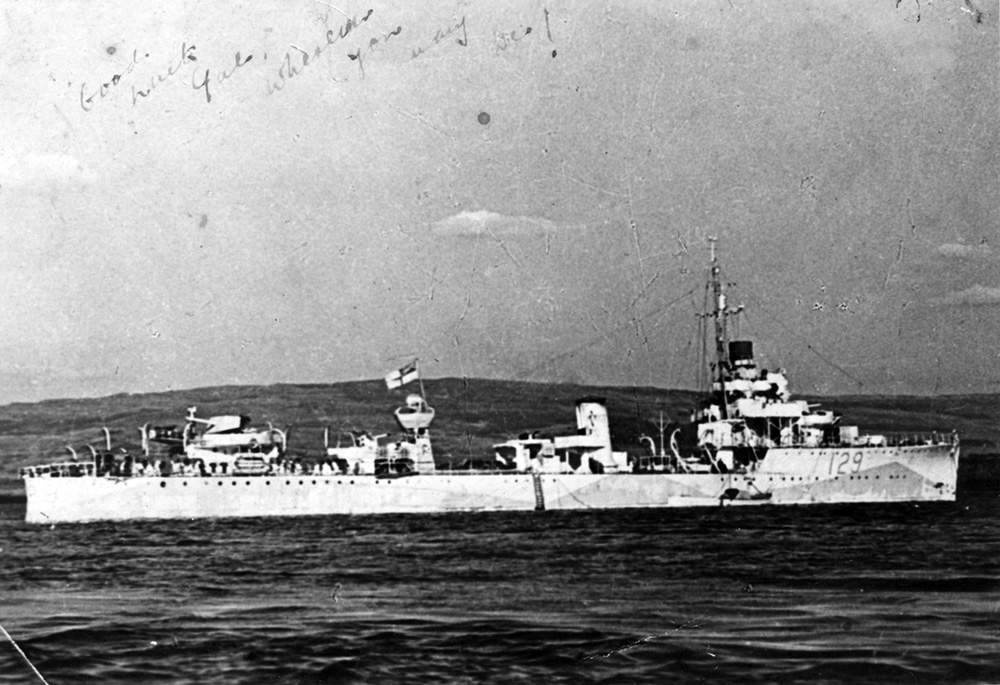 "Good luck wherever you may be!"



Shipmates



Names recalled in no special order:

AB Jackie Rivers, whose wonderful wedding I went to in London's East End and who has a daughter Maureen Vanessa Rivers, last seen in hospital at Newmarket recovering from burns received in the North Sea attack, a very dear friend.

LS Jock Waldron Q.R. Gunnery

LS "Speaky" Lowe - killed in the Heinkel attack from terrible burns.

Stoker Jim Waller

LS, later PO, Jaggor Dukes, a Westcountryman

AB Jack Walsh focsleman, buoy jumper and one of the bravest and hardest men i have ever met.

AB Jock Mcleod, skilled with rope and wire splicing

Several seamen from Newfoundland, names not recalled

AB or LS Richie my "oppo" in the for'ard magazine during the 1940 "Stuka" attack on my first day at sea.

AB's Jamieson, Dusty Miller, John Scott RN and Captain of the Heads.

Jaudy Cooks, in later days on Atlantic runs

Sub Lt Sly RNR

AB Bob (surname not recalled), a friend of "Dusty" Miller and whose father lived in Eastleigh Hants


AB Kenneth William Brown JX 187735
With the Fleet Air Arm


In Britain, Trinidad and Ceylon

Crash landing of Barracuda on carrier, Observer training at HMS

St Vincent

and studio photograph of Sub Lt K.W. Brown

Courtesy of Peter Brown

He left HMS

Vanessa

in May 1943 and from June to September did his initial training as an Observer with the Fleet Air Arm in Fairey Swordfish, a biplane known as the "Stringbag", at HMS
St Vincent,
Gosport.

In January 1944 Leading Aircraftman Brown was sent to HMS

Goshawk

at Piano, Trinidad, and trained as Observer in the notoriously difficult Barracuda TBR which replaced the Swordfish. He described the culmination of his training in a letter he wrote to his parents on Sunday 24 September 1944:


"The past week has brought virtually the end of our instruction with the completion of the lecture sylabus and the large flying exrcise, which lasts a whole day, in which a full scale search and attack is carried out on a ship some hundred miles out at sea. The first aircraft go out on search as organised by the information gleaned from 'enemy intelligence'. The first aircraft to sight the ship, makes all its reports, remains to shadow, and reports by radio all the details of the ship's movements. Meanwhile, back at the airfield, torpedo striking forces are being arranged and despatched, and an imaginary fleet puts to sea (in the form of a small but fast launch) to engage the 'enemy'. Subsequently, every half hour, aircraft are attacking the ship (whilst themselves being attacked by enemy fighters) until such time as the 'Home Fleet' is within gun range of the enemy!! It took nearly twelve hours!! In other words it was a complete replica of what will happen when the real thing comes along. Every single item is analysed and many photographs are taken by a photographer aboard the ship. We are to attend a lecture on Monday, given by the Training Commander who was on board the 'enemy' to find all the mistakes we made!!
We should have completed all our flying by next week and all our written exams by the week followig that. The end is very, very near."

At the end of the course in October he was promoted to Acting Petty Officer Observer. In December 1944 he was sent on an officer training course at Greenwich Naval College "with the chaps from his training course in Trinidad, Baker, Bampton and Dixon" and then appointed Temporary Acting Sub Lieutenant on 5 February 1945. Rather surprisingly in January 1945 he was on a training course in Scotland in the now largely superseded Swordfish biplanes followed by a further course on the Isle of Man in night flying and dive bomber training. It was especially difficult to pull the Barracuda out of a steep dive and there were several cases where planes crashed into the sea with the loss of the crew. It may have been at this time when he met Eunice Hoggett, his future wife, on a blind date.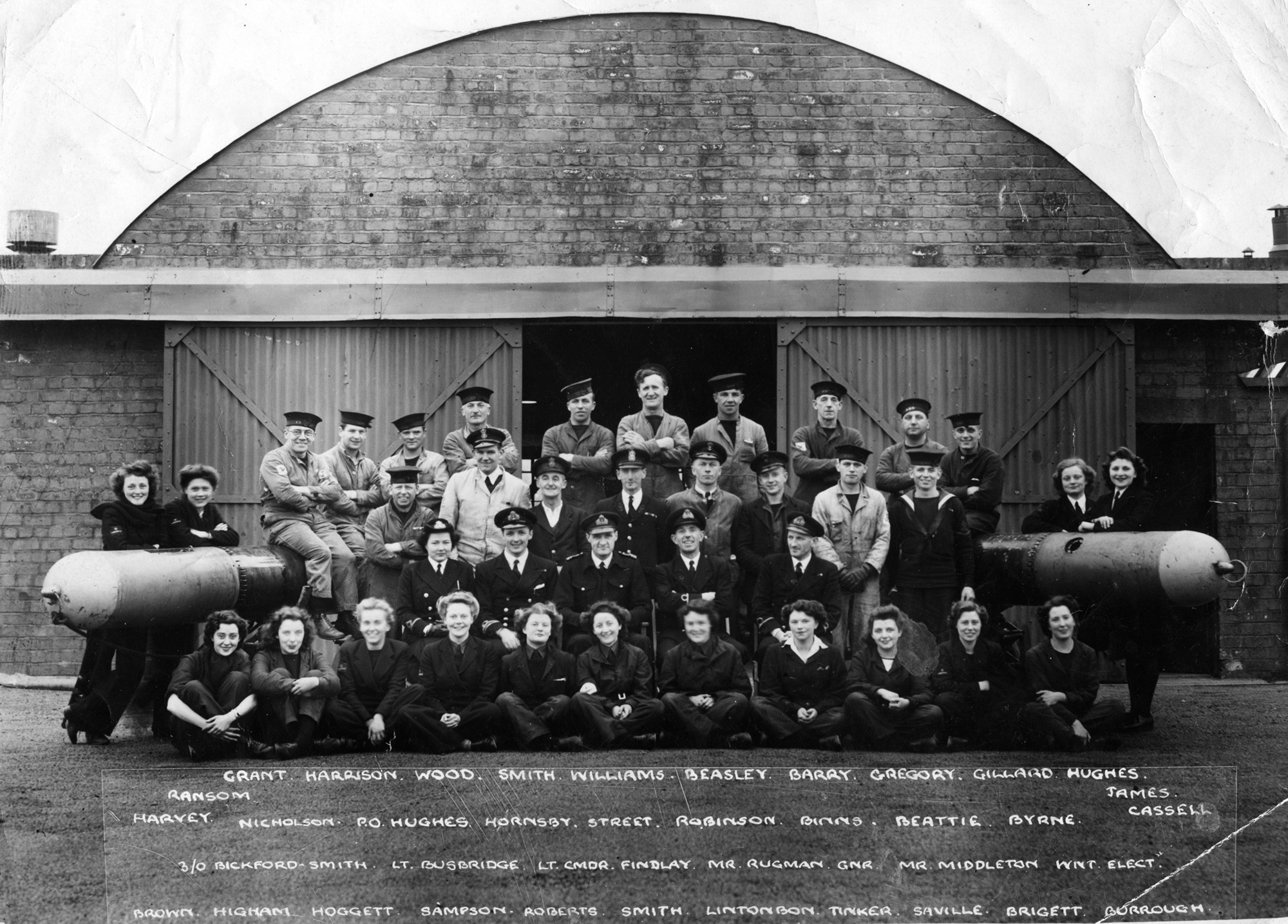 Eunice Hoggett, Ken Brown's future wife, is third from left in the front row of this photograph taken at RNAS Fearn, HMS

Owl

, 35 miles north east of Inverness at the entrance to Cromarty Firth

The practice torpedoes with concrete heads and lifting lugs to aid their recovery are British Mk15/17s



Rear row:

WRENS, Harvey and Ransom (on torpedoes), Grant, Harrison, Wood, Smith, Williams, Beasley, Barry, Gregory, Gillard with WRENS James and Cassell (on torpedoes)
Nicholson, PO Hughes, Hornsby, Street, Robinson, Binns, Beattie, Byrne
3/0 Bickford-Smith, Lt Rusbridge,, Lt Cdr Findlay, Mr Rugman Gnr, Mr Middleton Wnt Elect


Front row:

WRENS Brown, Hignam, Hoggett, Sampson, Roberts, Smith, Lintonbon, Tinker, Saville, Brigett, Burrough

Double click the image to view full size and zoom in on face

s
The war in Europe was nearing its end and the Barracuda squadrons were being sent to join the Pacific Fleet in the war against Japan. He joined 821 Naval Air Squadron on 5 June 1945 (Naval List). His Squadron embarked for Ceylon in HMS

Trumpeter

and took part in Operation

Zipper

, the recapture of Malaya. Fierce resistance was expected but by 10 September 100,000 troops had made a virtually unopposed landing, and on 11 September the fleet returned to Singapore to accept the official surrender of the Japanese High Command in the area.


These photographs were taken by Sub Lt Ken Brown from the Observer's cockpit of his Barracuda, on his last flight, off the coast of Ceylon on VJ Day

He married Eunice Hoggett, a Wren he met on a blind date on the Isle of Man, in 1946.
After the war Ken Brown completed his apprenticeship at
B. Dellagna & Co. and for the rest of his life worked as a stereotyper. He was on the

News of the World

,

Greyhound Express

and

Hansard

and then joined the

Sun

on the day it was first published in 1969 and stayed with them until he retired in 1984.
Ken and Eunice had two sons and twin daughters and he was nearly 92 when he died on the 4th September 2011.



If you want to find out more about the wartime service of a member of your family who served on HMS

Vanessa

you should first obtain a copy of their service record
If you have stories or photographs of HMS Vanessa you would like to contribute to the web site please contact Bill Forster

---
Return to the Home Page for HMS

Vanessa
Return to the Home Page of the V & W Destroyer Association
Return to the Index Page for the 69 V & W Class Destroyers
---