---
Click on the links within this brief outline for first hand accounts by the men who served on HMS Vanessa and for a more detailed chronolgy see www.naval-history.net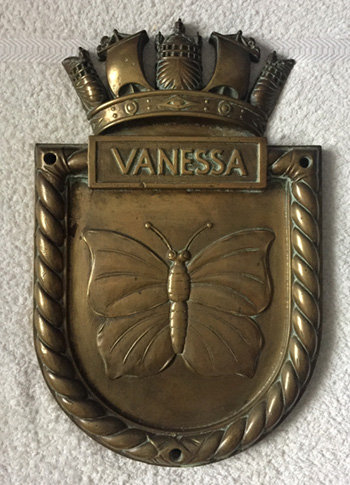 HMS Vanessa was a V-Class destroyer ordered from Beardmore at Dalmuir, Glasgow and was laid down on 10 May 1917. She was launched on 16 March 1918 and was the first major RN warship to carry this name. Build was completed on 21 June 1918 and on 27 July 1918 Vanessa claimed to have depth charged and sunk U-boat 107, the only "kill" to be claimed by a V & W in the First World War. By December 1921 she had been placed in Reserve at Rosyth and remained there until "the Reserve Fleet was taken out of moth-balls in July 1939".
to be continued ...?
Commanding Officers - these officers did NOT serve in Vanessa

Lt.Cdr. Walter James Burberry Handley, RN (22 Apr 1932 – Aug 1934)
Cdr. St John Aldrich Micklethwait, RN (Sep 1938 – Oct 1938)
Lt.Cdr. Ivo Thomas Clark , RN (15 Jun 1939 – 8 Nov 1939)
Lt.Cdr. Colin George Walter Donald, RN (8 Nov 1939 – 23 May 1940) - died of wounds after Boulogne
Lt.Cdr. Richard George Kirby Knowling, RN (23 May 1940 – 28 May 1940) - lost overboard at Dunkirk
Lt. Adrian Paul Northey,RN (28 May – 30 May 1940)

Lt.Cdr. (retd) Michael Wentworth Ewart-Wentworth, RN (30 May 1940 – 20 Jul 1940)
Lt.Cdr. Dermod James Boris Jewitt, RN (20 Jul 1940 - )
Lt.Cdr. Henry Graham Dudley de Chair, RN (20 May 1941 – 1 Dec 1942)
Lt.Cdr. Richard Been Stannard, VC, RD, RNR (1 Dec 1942 – 28 Mar 1943)
Lt.Cdr. John Neil Kelly Knight, RN (28 Mar 1943 – 24 Jun 1944)
Lt Cdr Karl Henry John Lynch Phibbs RN (24 June 1944 - May 1945)

Officers - these officers did NOT serve in Vanessa
Lt. Roderick Ian Alexander-Sinclair, RN(10 Sep 1938 – Oct 1938)
Mid. J F Barratt, RNR (29 Aug 1939 - )
Lt. T Bateman, RN (22 Mar 45 - )
S.Lt. F Bedford, RN (15 Jun 1939 - )
Tempy. Lt.Cdr(E) W A Bell DSC, RNR (19 Jun 1944 - )
S.Lt. B M A Braine, RN (30 Nov 1944 - )
Cd. Engineer H T Carter, RN (14 Oct 1937 - )
Lt. Thomas Rawdon Chattock, RN (30 Nov 1929 – Jan 1932)
S.Lt. S A G Godden, RN (19 Feb 1940 - )
Gunner (T) J H Hebron, RN (8 Jun 1939 - )
Lt. Alec Lockhart Hobson, RN (7 Oct 1931 – Jan 1932)
Tempy. Gunner(T) C H Knight (13 April 1944)

Tempy. S.Lt. R McVarish, RNVR (Oct 1943 - )
S.Lt. Robert Andrew Morgan, RN (15 Jun 1939 – Apr 1940)
A/S. Lt. Charles Rennie Cowie Morison, RN (28 Oct 1941 – Aug 1942)
Lt. Adrian Paul Northey, RN (1 Jun 1939 - )
Tempy. S.Lt Harold Norman Nutt, RANVR (27 Dec 40 – Feb 1941)
Tempy. Surg. Lt. J P Partridge, RNVR (3 Jun 1944 - )
Tempy. S.Lt. R D Perry, RNVR (17 Jun 1943 - )
Tempy.S.Lt S E Rotwell, RNVR (24 Mar 1943 - )
Lt(E) EA Taylor RN (23 May 1932 – Sep 1932)
Tempy. Surg. Lt. L D Walker, RNVR (30 Jan 1940 - )
Lt D Williams RN (10 Sep 1938 – Oct 1938)
Tempy. S.Lt. D R Webster, RNVR (26 Feb 1940 - )

Geoffrey Price, a crew member in HMS

Vanessa

, wrote this account for

Hard Lying

, the magazine of the V & W Destroyer Association

It all began in 1938 when architects came off the reserved occupation list. Now I could fulfil my ambition to go to sea. There were three members of our staff who were like minded and wished to join the Royal Navy Volunteer Reserve, but the difficulty was getting to Newhaven to attend drills and instruction but now we had a fourth who had a car, so the problem had been overcome and we duly presented ourselves to the drill hall in Newhaven and signed on. And so with the prospect of war in the near future we all (Geoffrey Price, architectural assistant, and clerical officers Cecil Scrivener, Stanley Frost and Archie Allen) joined the reserve.

We were all good keen sailors and did our best to learn all the things necessary to make us fit to go to sea with the Fleet.


"In July 1939, when the reserve fleet was taken out of moth-balls for the review by the King we all received our calling up papers for our annual fortnights sea training. What a fortnight that turned out to be.

The Sussex division was Portsmouth based and to the famous HMS

Victory

. A large contingent from the division mustered, duly equipped with hammocks, additional items of uniform, given a five pound note and allocated to a mess for the night with instructions to muster in the morning for transport to various ports throughout the country to join the ships to which we had been appointed.

I was to go to Rosyth to join the old V&W class destroyer

Vanessa

, Scrivener to

Wren,

Frost to join

Verity

while Allen went to a tug HMT

St Fagan

. After our first night in hammocks we went our separate ways, I to board a train at Portsmouth docks, the next stop Rosyth.

As this story is mine it would be as well now to relate the ways of my office companions. It is a sad story. Stan Frost and Archie Allen were both killed in action in 1940. Allen died during the Dunkirk evacuation when his tug received a direct hit from a bomb and shortly after this Frost, when

Wren

was bombed and sunk in the Channel. Cecil Scrivener became an Asdic operator in destroyers and frigates in the battle of the Atlantic and was awarded the D.S.M.

To continue. On arriving alongside the quay at Rosyth I found three or four dirty old destroyers were berthed. One was HMS

Vanessa

, her complement had about fifteen seamen from the R.N.V.R. Sussex division, most of us ordinary seamen or A.B's (Able Bodied) and not very knowledgeable about the routine of running a ship. This we soon learned. We also found that the mess decks were going to take some while to get used to. The seaman's mess was on a level with the upper deck and crowded. Each individual mess, which had one of the four corners of the area, was comprised of one leading seaman and 18 seamen, these were in turn divided into four parts of watches. Each day, in rotation one part of the watch became cook of the mess and was responsible for cleaning the mess deck and preparing the food which was cooked by the galley cooks. Each individual mess was responsible for its own catering for which some provisions were provided. The rest had to be bought from the N.A.A.F.I and accounted for by the leading hand, for this there was an allowance of one shilling and three pence a day per man. The food was good and eatable and, when we got used to it, conditions were good.

An O.S. was paid thirty shillings a week, plus one and three pence kit allowance. (We were fully kitted up in the first place and from then on we had to maintain a full kit on this allowance. Also in those ships we received a shilling a day "Hard Lying" money. Incidentally when I was a full Lieutenant and in command of a minesweeper I received the princely sum of thirty shillings per day with an additional two shillings hard lying and an additional two shilling command pay.

Having been allocated our watches and messes we duly boarded the ship and were given tea with bread and jam, then we changed into overalls and were at once put to work painting ship. Here started the first of many incidents which were to enliven what could have been a rather dull routine. Another rating and I were put to work painting the ships side. The deck level to the water was about ten feet. I had noticed on the train that one very young Volunteer Reserve, by the name of Bishop, was very frightened indeed at the thought of the whole business of preparing for war. He had been given the job of painting the stanchions and to do the outside meant standing outside the guard rail. He had an Epileptic fit and fell into the water alongside my companion and me as we were busy on a stage at water level, we realised what was up and went in after him. Anyone who has had to cope with a person having an epileptic fit will know how hard it is to restrain him, fortunately we had the stage to hold on to and the boat attending the painters was close at hand. Bishop was duly revived and put on lighter duties until he could be fully examined and assessed. We dried off and changed into dry clothes and took our wet ones into the boiler room to dry. Then it was back to the stage and the paint pot after a short break when a much needed rum ration was served up. This was the first tot of my naval career. But all was not over. During the afternoon Bishop repeated the performance exactly as before, except that he fell from the forecastle which was much higher than the after part of the ship. We duly pulled him out and again were soaked to the boots. This time when we had dried out we were summoned to the First Lieutenant's cabin and after a short talk during which he wanted to find out our occupations etc; he rewarded us with a large scotch. This I think, helped me to get ahead and gave me a more interesting job aboard than sweeping the deck, polishing the stern light and the handrails to "Y" gun. Later on I was put to doing some chart correcting and assisting the navigating officer.

There was plenty of work to do to get these ships into full working condition and much training of the raw crews. We were at it from dawn to dusk After the final trials of the ships the small flotilla sailed from Rosyth through the North Sea and the Channel to Weymouth Bay. There were many seasick sailors when we first set out, but after a few days things settled down and a quite efficient crew seemed to emerge.

I give a fuller description of these ships and our crew further on in this account, but I did hear one Admiral say that he considered that the seamen in Nelson's ships had better living conditions.

July moved into August with the review by the King, then came some really intense and concentrated training with gunnery practice, depth charge and anti submarine work, torpedo firing, boat work and flotilla manoeuvring etc; The ship's company had settled down to a pretty fair body of men and one had to admire the chiefs and petty officers whose job it was to knock us into shape. Our duties rotated in order to give us the feel of the many tasks. I had turns as crew of the motor boat, an ancient relic powered by a petrol/paraffin engine and all other parts of the ship. My daily task was as quarter deck man which entailed washing down the deck at the crack of dawn and keeping it clean during the day unless some other excitement intervened. I concentrated on the stern light and "Y" gun. They were always bright and gleaming. We did have plenty of time ashore and were able to see the lights of Weymouth and the Salvation Army hostel and to take walks to the hillside and through the town.

August moved into September and by the third of September we were at anchor in the Clyde when war was declared. On this day I learned one of the rules of survival. The Bosun came into the mess deck at about noon and asked if anyone could ride a bicycle, he got two offers, I and another V.R. found ourselves up the funnel painting out the flotilla markings. After this I was instructed to use the paint and paint the stern light grey and also the hand rails up to "Y" gun. War had really come to us.

The first alarm came that very day. The

Athena

was torpedoed somewhere off the Irish coast and we joined in the search for possible U-boats. The ship was soon back in the Clyde and a day or two later we went out to join the escort of a large troop convoy.

From then on the work was all convoy escort. Based in Devonport or Milford Haven we took convoys out into the Atlantic and then met the homeward bound ships, escorting them to the Channel ports, sometimes as far as Dover. It was on one of the Channel runs that an amusing incident occurred which made me realise how well the officers knew the crew.

One of our Sussex seamen was a young carpenter called Drake. In a very patriotic moment his parents had christened him Francis. He was a quiet lad, not the brightest of the bright, and when things were not going too well he would comment "never mind eh". It became the "in" expression in the mess if things were not going well to say "never mind eh". I was on watch as a bridge lookout as we moved up the Channel in thick fog and were passing Beachy Head. I knew this as I had done some sailing in this part of the Channel having lived in Hastings. I knew that Beachy Head sounded a bell in foggy weather and we could also hear the Royal Sovereign light ship which had a distinctive, grunting fog horn. The Captain was on the bridge and turned and asked the navigator our position. He told the Captain that the fog horn was Beachy Head, whereupon I had the nerve to butt in and correct the navigator, explaining my local knowledge. The navigator checked the chart and then confirmed that I was correct; the Captain commented "Well as Drake would say Never mind eh".

During this period of the cold war we had one trip with a troop ship to Quiberon Bay on the Atlantic coast of France. The ship was anchored off a small fishing harbour and as we had been at sea for quite a while we had run out of fresh meat. There was no refrigeration in those old ships. I was in the duty watch and a party was to go ashore and buy some meat. To ensure that I was in the shore party I told the duty officer that I spoke French fluently. We went ashore with the liberty men in the whaler towed by the motor boat and, with the help of my fluent French bought four and a half carcasses of beef which had to be carried on our backs to the landing stage, a distance of about two miles. After a wait of about two hours in the local tavern the boats came for us and picked up the liberty men. A fairly strong off shore wind had risen and on the return journey to the ship the motor boat broke down. The whaler then took the motor boat in tow and we all manned the oars and eventually returned to the ship. After the boats were unloaded the whaler had to be taken to the port side of the ship and to do this it was drifted round on its painter but someone forgot to keep a firm hold of this painter, which saw myself and O.D Buxton drifting fast out to sea. We tried hard to pull the boat back to the ship but two oars do not make headway in a heavy boat and the ship had to "up anchor" and come and get us before we got to America. Two very cold and wet seamen were very happy to get "home".

Christmas saw us in Dover at anchor. I went ashore to a dead town, no pubs open and nowhere to go. However Buxton and I were outside an army drill hall where there was a party starting when the officer in charge turned up to join in the Christmas dinner. He was a good friend of mine from my hockey playing days in Folkestone and we were invited inside and well dined and wined. We returned to our ship with a large bag of left overs for our mess shipmates.

The winter of 1939/40 was to be one of the coldest and stormiest for many years and convoy work in the North Atlantic was pretty grim. Very rough, very wet and cold is all that I can say about it. At that time in the war the earnest ladies had not yet sharpened their knitting needles and the ship was desperately short of warm clothing. I happened to mention this to my brother Peter who was serving as an instructor (sergeant pilot) with the air force. He told his wife who in turn told a rich aunt and shortly after this I received 50 parcels in the post. Each one contained one Wolseley woollen vest and a pair of matching long johns. I had friends for life. These were sold on a ballot for five pounds a set and the money went into the ship's fund which bought such things as football boots and hockey sticks.

We did get some games in when in port, especially when in Milford Haven and I was in both the football and hockey teams.

Around about Christmas, we had a change of commanding officer and the first Lieutenant also transferred. Lt Comdr. Plumer who had commissioned the ship left and Lt Comdr. (full ahead both) Stocker took over and Lt Michael Pollock replaced Lt Carey RNR. Both officers were popular with the crew and certainly knew their jobs.

Both of our commanding officers were on the reserve prior to the war. Lt Pollock was a regular officer and gunnery officer. I met him again in 1942 in Port Said when he was gunnery officer of the

Arethusa

. I have had intermittent correspondence with him during the past years. He named his daughter Vanessa and finished his service as Admiral of the Fleet Sir Michael Pollock.

Just after Christmas, I'm not sure of the date,

Vanessa

had a desperate battle in a howling gale on a very dark night when on escort duty. This is the story of that attack on a U-boat in a winter gale in the North Atlantic January 1940. We were escorting a West bound convoy. We were well out from the coast North of Ireland, the wind was at gale force with the sea running very high. Although still an OD, which is the very lowest of the low I had been put into the torpedo party and my watch station was on the bridge where the duties generally were to renew lamp bulbs and, when they blew replace the fuses. In action I handed over to the Chief Torpedo Officer and in the event of depth charging I worked with the party aft or at the throwers. In gun actions I was part of the supply line to "X" gun at the aft end of the ship where, being tall, I stood on a table in the ward room with my head and shoulders just above the deck and passed the ammunition up to the loaders for the gun.

The action started with an old merchant ship astern of the convoy being torpedoed and sunk and we were able to pick up an echo which turned out to be a U-boat. We went to depth charge stations but before I was relieved on the bridge we had dropped a pattern which involved increasing to full speed, dropping one charge astern, then the two throwers and followed by a further charge astern before turning and sweeping again to pick up the echo. We dropped a lot of charges, after the first pattern I was relieved from the bridge and went aft where a slight amount of pandemonium reigned.

Reloading the throwers and the stern charges is quite a performance even when the sea is calm, but with the ship rolling at 30 or 40 degrees and the sea coming aboard waist high it is anything but easy. A depth charge weighs about two hundredweight and has to be hoisted up from the magazine, fitted with a primer, then have the pistol placed and at the last moment the pistol pushed up to the primer and fixed and be ready for dropping or firing from the throwers, all in about five minutes and the throwers have to be armed. Hard work. With the charges to be dropped aft there was not time to fix them in the chutes and then carefully position the pistols just before dropping. We armed them fully as they came out of the magazine, rolled them across the moving deck, held them in position with two rope ends, kicking them over when we got the word, all very unsafe with the fulminate of mercury pistol already in contact with the primer.

However the charges all went off as required and we dropped about six patterns of four charges each then, much to everyone's surprise, the U-boat came to the surface quite close to the ship and "A" and "X" gun opened fire. I do not think we hit the U-boat as the ship was dancing about like a jack rabbit. Anyway, she went down again and after a few more depth charges to help her on her way we continued on after the convoy. All very exciting, but we were very wet. The ship was given a possible, but later in the war it was found that although badly damaged the U-boat got back to Germany and went into service again."

Lt Geoffrey R. Price, RNVR
Conditions on V & W Class destroyers were so bad in rough weather that the men who served on them were paid
hard-lying money
.
This account of his time in HMS

Vanessa

was
published in
Hard Lying
, the magazine of the V & W Destroyer Association and republished in 2005 by the Chairman of the Association, Clifford ("Stormy") Fairweather, in the book of the same name which is now out of print. It is reproduced here by kind permission of Clifford Fairweather and his publisher, Avalon Associates.



Postscript



Geoffrey Price was commissioned in the RNVR and served on minesweepers. A quick search on the web located this humorous letter from a Lt. G.R. Price RNVR and two fellow officers -


Ist May 1943
To the Mess President of 244 Wing
Sir,
It has been observed by various individuals of unimpeachable character that Spitfires are making use of valuable dan buoys as targets.
These dans which mark a way through a minefield have been laid at enormous expense and with great skill and daring in order to safeguard the shipping bringing you your bully, pickles, biscuits and booze. Should the unlikeky event occur of one of these buoys being sunk or damaged by one of your planes no more booze will be forthcoming. Calamity!!!
For a fee we could lay a very large-sized beacon for you to practice on and perhaps hit.
Should this pernicious habit of buoy straffing not cease, no further pennies will be contributed to buy you new Spitfires.




Geoffrey R. Price, Lt RNVR


Robin Bell, Lt RNVR
C.W. Pierce, Lt RNVR
If you know more about the subsequent service of Geoffrey Price in the RNVR and his later life please
get in touch
.