---


Warship Weeks
Nuneaton adopts HMS Vanquisher
Warships Week 22 - 29 November 1941
Between October 1941 and the end of March 1942, Warships Weeks were organised in cities, towns and villages throughout Great Britain. The intention was to raise a sum by investment or deposit in all types of war savings representing the cost of building one of His Majesty's ships ranging from the smallest to the largest vessels. Once the target had been raised the community adopted the vessel along with its crew and the bond was strengthened by presentations in recognition of the money raised. Adoption plaques were presented by the Admiralty to the community and a plaque presented by the community to the adopted vessel. Links were maintained by the writing of letters and the provision of comforts and whenever possible visits were arranged to the adopting area. Most of the V&W Class destroyers in commission with the Royal Navy were adopted during the Warship Week scheme and in a number of cases local sea cadet units later took the name of the ship.

To find more about Warship Weeks see Peter Schofield's article on

'National Savings and Warship Weeks'.


Nuneaton, a large town in the north of Warwickshire, raised £400,756 during its Warships Week, the equivalent of £6 15s 10d per head.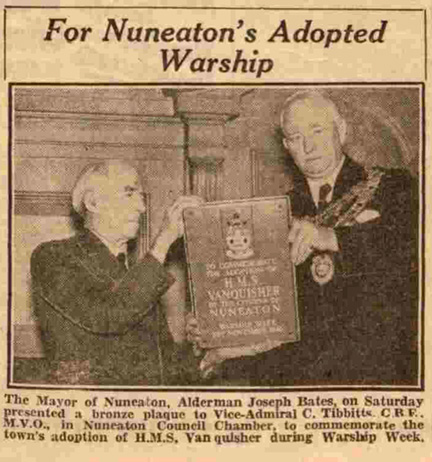 The presentation of a plaque recording the adoption made by the Mayor to Vice-Admiral Charles Tibbitts RN was reported in the Coventry Evening Telegraph on Monday 26 October 1942 nearly a year after the successful Warships Week.

Please get in touch if you are able to provide further details or photographs regarding the adoption of HMS Vanquisher by Nuneaton.
If you want to find out more about the wartime service of a member of your family who served on HMS

Vanquisher

you should first obtain a copy of their service record
If you have stories or photographs of HMS Vanquisher you would like to contribute to the web site please contact Bill Forster

---
Return to the Home Page for HMS

Vanquisher
Return to the Home Page of the V & W Destroyer Association
Return to the Index Page for the 69 V & W Class Destroyers

Return to the Home Page for Warship Weeks
---