---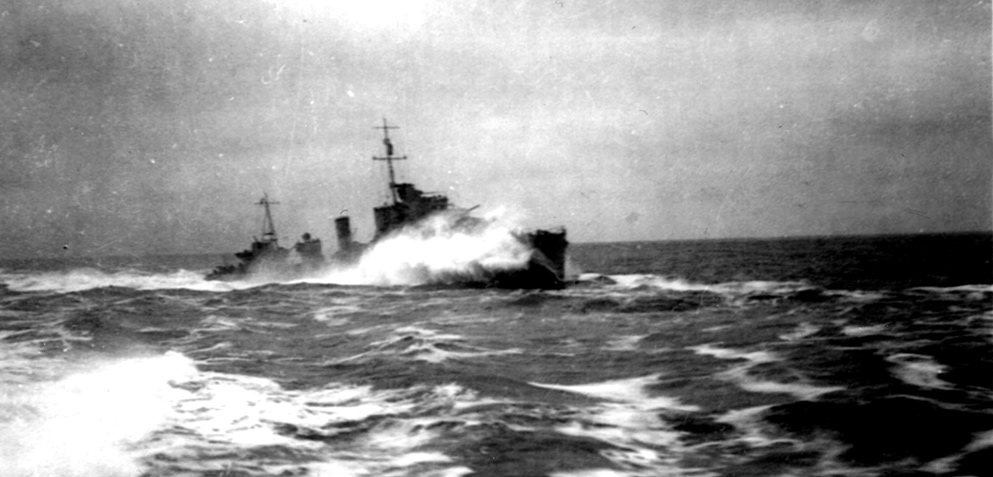 HMS
Vanquisher
in a hight speed dash through heavy seas to Dunkirk

Courtesy of A Skelton
Click on the links within this brief outline for first hand accounts by the men who served on HMS Vanquisher and for a more detailed chronolgy see www.naval-history.net

HMS Vanquisher was a ... to be continued?

Commanding Officers
HARD LYING

Conditions on V & W Class destroyers were so bad in rough weather that the men who served on them were paid hard-lying money. These stories by veterans who served on HMS Vanquisher were published in Hard Lying, the magazine of the V & W Destroyer Association and republished in 2005 by the Chairman of the Association, Clifford ("Stormy") Fairweather, in the book of the same name which is now out of print. They are reproduced here by kind permission of Clifford Fairweather. Copyright remains with the authors and photographers who are credited where known.

Vanquisher

in the Baltic in August 1921;
by PO George W. Smith

In August 1921 the 2nd destroyer flotilla embarked upon a cruise visiting all the Baltic and Scandinavian countries. At 0900 on the 31 August P.O. George W. Smith on

Vanquisher

wrote:
We met up with,

Venetia

and Viceroy and left Plymouth Sound to rendezvous with

Spencer, Victus

and

Winchelsea

off the Isle of Wight. They then proceeded to Deal where they anchored to await the arrival of V

iscount, Violent

and

Wolfhound

and the 2nd light Cruiser Squadron. They took up cruising stations and proceeded to Brunsbuttel. As Heligoland was sighted through slight haze a loud explosion was heard, it was thought to be caused by the blowing up of one of the forts in accordance with the terms of the armistice. They formed into line ahead prior to negotiating the locks of the Kiel Canal.
After being raised ten feet and taking aboard a German pilot, they began their journey through the canal which was lit up with electric light standards placed at about every 200 yards, a number of British as well as foreign steamers passed loaded with Pine, on reaching the end of the canal they once again went into the locks, this time to be lowered four feet to the level of the Baltic. Several obsolete German Battleships and Cruisers were at anchor off Kiel.
The squadron formed up and proceeded en route to Danzig, during the night the destroyers made a successful practice night attack on the Cruisers. Sunday September 4th they arrived at Danzig and were ordered to secure alongside the Torpedo Harbour in the Naval Dockyard which had not been used since the signing of the Peace Treaty, consequently it was overgrown with grass and presented a forlorn appearance. With two others I went ashore to have a look around the place. At the gates of the dockyard we were met by the usual crowd of money-changers offering German Marks for one pound notes, the exchange rate being 320 Marks to the pound.
Danzig appeared to be in a thriving condition, well set out and clean but there was a peculiar smell of burning pine trees. We went into one of the cafes where I got into conversation with a German who spoke very good English. He had served aboard British Merchant ships and had at one time lived in Barrow and had been interned on the Isle of Man during the war. After leaving him we made our way back through the back streets to the main road, while we were passing through one of the narrow lanes, someone in one of the houses on the opposite side threw a stone at us, happily it missed us otherwise I would have been out for the count. We did not stay to argue but carried on. No more back streets for us. The merchandise was very cheap so most of us visited the main stores and bought curios etc.
After two days we left Danzig for our next port of call, Memel, a distance of 60 miles and as it was an overnight trip, we once again took the opportunity of making a night torpedo attack on the light Cruisers commencing at 10pm and finishing at about midnight.
Thick fog developed so we had to reduce speed and when eventually arriving at Memel we anchored about two miles from the coast with the exception of the Flagship,

Spenser

and Wo

lfhound

who proceeded alongside the jetty. Shooting and horse riding was provided for the officers and there was a football match against the French

Chasseurs

. I did not go ashore and by all accounts I did not miss much for it was a miserable place and there was nothing to purchase.
Thankfully we were not to be there long and set sail for Libau and after yet another overnight trip arrived at 6am on Saturday 10 September, there was a strong wind blowing and because of this we had to anchor in the commercial harbour, it was 10pm by the time we tied up alongside the jetty. We were immediately surrounded by hordes of women and children begging for bread and clothes and witnessed some awful sights as most of the people were half starved. A policeman in a nondescript rig and carrying a rifle and sword was patrolling up and down the jetty trying to keep the women and children on the move. He hit one old woman and nearly got murdered for his pains by some of our lads, after that he kept a respectable distance and was later withdrawn altogether. We gave away food to some young lads, old sailors, etc.
Four of us went ashore to view the sights. We had to cross the river by a small ferry. None of us had Latvian Roubles so someone suggested that we give a cigarette each for the ferry crossing, when we reached the other side we were agreeably surprised when the man took the cigarettes with a smile all over his face and repeated thank you's, we thought that a good start; anyhow we exchanged some pound notes for roubles receiving 1,300 roubles in exchange.
Libau is noted for its amber necklaces, but after visiting several shops we were disappointed as those offered to us were of poor quality and had flaws and those that were reasonable were very costly so we gave up. As the streets were cobbled and full of ruts, we decided to take a

Drosky

. We found a young Latvian lad who could speak a little English and after a little bargaining it was agreed that we pay 100 roubles each and the

Drosky

driver would take us round the town. It was more like a switch back and we were glad when it ended as the sights were very disappointing. However we had to pay 200 roubles each before we could get clear because the arguing was drawing the attention of a crowd and there was a possibility of bringing the traffic to a standstill, so we paid up and tried to look pleasant. We then searched for a cafe where we could partake of the succulent hop, that too proved disappointing for it tasted like onion water kept over night, it had plenty of froth on the top but one bottle was enough. The bill of fare said that the price was 40 roubles a bottle but when we came to pay it was 55 roubles a bottle, it was explained that the extra was made up of 5 roubles for tax, 5 roubles for the waiter and 5 roubles for the proprietor so we had been had again, but we got our own back by two of us walking out without paying; after that little lot we just bought a few postcards and returned on board in time for tea.
When we arrived on board the amber merchant was there with some decent specimens, so I bought a necklace for 1,100 roubles. The following day the General of the Latvians paid an official visit followed by the band, "Some band"!! The General looked more like an old farmer than a distinguished soldier. I suppose he must have been distinguished in view of the respect paid him by everybody. They probably got rid of him a few weeks later, that sort of thing does not bother the Latvians. During the afternoon the Lettish band arrived in force to play a few tunes as we slipped the jetty as a farewell as we slipped the jetty and steamed past the entrance. I can't say that I enjoyed Libau.
Our next call was Riga, the main Russian port in the Baltic which exports large quantities of timber and hides etc. On our way here the cruiser

Cordelia

had a man go overboard, the first we knew of this was when we heard the cries of help from the man in the water. We switched on our searchlight and fortunately the rays fell directly on him. We stopped engines and a boat was lowered to pick him up; he was very fortunate to survive for at that time of year the water was beginning to get very cold. As we neared the mouth of the River Diva a flight of aircraft flew over to escort us up the wide river to Riga which is about ten miles from the entrance. The aircraft performed the usual stunts to impress us but after five years of war we were used to this sort of thing, but admired and appreciated the compliment paid to us. The first view of Riga was very impressive, the town seems to be one mass of gilded domed churches. It is one of the most magnificent cities that I have visited. It is very well laid out with broad avenues flanked with trees on either side, the roads are divided, one section for carriages another for bicycles. The buses are large and imposing. The people seemed well clad and the shops were full of food with black and white bread and plenty of confectionery. It was hard to believe that the Bosheviks had only recently been evicted from Riga.
A football match had been arranged between the Destroyers and the Union Club, and also between the Light Cruisers and the YMCA. The Destroyers won 1-0 but the Light Cruisers lost 2-1. They played a very good game and both matches were well worth watching. After the match we explored the place and fell in with a Lettish Soldier who could speak a few words of English. He invited us to his home which we accepted with some misgivings as to whether we were doing the correct thing. As there were three of us we chanced it. He took us to a large house opposite the Opera House and introduced us to his Mother and Father, Aunt, four Brothers and two Sisters. They could all speak a little English. There was a decent spread of boiled fish with a kind of Irish stew mixed with it, cold beef and boiled potatoes, fruit tea, coffee, black and white bread on the table and we were invited to dinner but it was 8pm and we assured them that we were not hungry, I plumped for a glass of coffee and an apple, I did not like to tackle the other stuff. Another Brother arrived who could speak perfect English. He said that he had been in England for several years but at the outbreak of war he had returned to Russia. After the revolution he had been taken prisoner by the Bolsheviks and was twice stood up against a wall to be shot but was reprieved each time through influence, he informed us that they were Russian Jews and big merchants in pre-war days so perhaps that accounted for it. We had a pleasant sociable evening, smoking long Russian cigarettes and drinking glasses of coffee. We eventually left at 11pm escorted by two of the sons back to the Custom House in the pitch dark for there were no lights. We left Riga at 4pm on Thursday September 25th bound for Revel.
On Saturday at 8pm a floating mine was sighted at the entrance to Reval. The Fleet was stopped whilst

Violent

was ordered to sink it. It proved to be a large 500lb mine with horns, as it did not have a rusty appearance it was probably laid during the last twelve months. During this operation Petty Officer Mitchell of the Flagship

Curacoa

was caught in one of the paravane wires and dragged over the side, his body was cut in two and passed between the lines partly submerged and, before it could be picked up, sank. Despite searching for half an hour it was not found so Ensigns were half-masted and the funeral service was held over the spot where he sank. The Fleet then got under way and proceeded to Revel.
On arrival off the entrance we were met by a squadron of sea-planes which manoeuvred very well considering the very high winds and rough state of the sea. The Fleet formed in line abreast in three columns, the third division of destroyers leading followed by the four light cruisers at two and half cables apart with the fourth division of destroyers bringing up the rear.
As we rounded the point to the harbour, Reval presented a very pleasing appearance with its large domed churches showing up against a clear sky and back ground. We were given to understand that we were to go alongside the jetty, so steam was kept raised ready. It was ten o'clock on the Sunday morning when the destroyers were ordered to proceed to the outer arm of the jetty, Vanquisher leading the way. It was rather a ticklish piece of work as the ships had to be manoeuvred through a small gap which didn't allow much room for turning as the channel was very narrow with mud banks on either side and owing to the strong winds it was anything but an easy job. We made two attempts before successfully negotiating the turn, eventually we secured alongside a small steamer, the other boats coming in as the others cleared the entrance.
The President of Foreign Ministers invited all the Captains to lunch with him, while a concert was arranged at the Town Hall for the men. An hours entertainment was arranged, but assistance in the way of turns from the men of the Fleet was asked for, it finished up with three and half hours entertainment.
I did not go ashore here, but from reports I received the outside appearance was far superior to the interior, the streets were very narrow and dirty, the homes in bad need of repair etc. At 6am on the Monday we left for Helsingfors the capital of Finland, which was about 64 miles across the Gulf which we reached about five hours later even though it had been a rough passage. The entrance of Helsingfors is surrounded by numerous small islands, so it was necessary to have Finnish pilots Our pilot could not speak English or French but he could speak Russian; one of our Petty Officers who had spent two or three years in Russia could speak some Russian and did the interpreting. All the destroyers proceeded to the inner harbour while the Light Cruisers went to the other side of the Island.

Helsingfors is one of the prettiest little seaports I have seen. The streets were well laid out. The main street especially was very pretty with extensive gardens running through the centre. The people were very civil and obliging. As the rate of exchange was 230 marks to the pound we found things very cheap. I purchased quite a lot of glassware, scent and other things. The Franco Restaurant that I went to put on a very good spread for 12 marks, which was equivalent to one shilling. The orchestra played while we had a lunch of steak, onions, potatoes and cabbage with cheese and black and white bread with pats of butter, all for a bob. I had a good walk round, it seemed hard to believe that Helsingfors is ice bound for four months of the year. We stayed for three days, I think we all enjoyed the visit and would have liked to have stayed longer, but we had to keep to our original programme, so we left at 2pm on Thursday for our next port of call, Stockholm, Sweden.
On leaving Helsingfors we ran into some rough weather crossing the Baltic. We were tossing and rolling all night long, ploughing through heavy seas being tossed about like corks, but as it was only a one-night trip we didn't mind too much. By 5am we were under the shelter of the Aland Islands and picked up pilots off the Island of Upsala for our 60 mile trip up the Fjords to Stockholm.
The scenery was magnificent, even though it was nearing the end of the summer season the bungalows were gaily decorated. We passed a Swedish Naval Base and Garrison about twenty miles before we reached Stockholm, the Swedish sailors standing to attention as we passed quite close to the shore at this point. We arrived off Stockholm at noon and proceeded directly to the jetty to land Lt Donnell who was taken to hospital seriously ill. The remainder of the Fleet anchored close to the oiler that had been sent out from England to fill us up with oil fuel, as we had by this time run short of oil. After oiling, all ships proceeded independently and anchored in pairs off Stockholm.
The football team was due to play against the Swedish Navy at their stadium, we lost 4-3 The city is built like Venice, on a group of islands. I believe it is called the Venice of the Baltic. The Royal Palace was quite close to our anchorage, but the King and Queen were away. Balls and Concerts were arranged for the officers as usual. Things were very expensive here. The rate of exchange was 16.80 as against 18.44 pre-war. It cost 1 Krona to open your mouth and two to shut it, not reckoning the cost to fill it! Three of us went into a cafe and ordered steak, vegetables and stout. The piece of steak was about half the size of the palm of the hand, with two potatoes, a spoonful of onions and a glass of stout the price was 21/- for the three; next move, exit the three of us.
Everyone here seemed to own a bicycle. What I saw of the place I liked but as we had no money and the banks were closed the cafe diddled you, offering 13/- instead of the 17/- at the banks so we abstained. Life didn't begin until 11.30pm when it was time for us to return on board. I did not bother going ashore again.
A stoker on

Curacoa

fell over board and drowned before he could be picked up. He was buried the next day with full honours, the Swedish Army and Navy lining the route. The ships were open to visitors on Sunday and lots of people came aboard, but as we did not know their language very few of us offered to take them round, for it proved too difficult to explain things and answer their many questions.
I was not sorry to leave Stockholm, I couldn't say why, except that I was disappointed with the place. We left at 9am on Tuesday 27th bound for Copenhagen a distance of about 500 miles and as it was planned to carry out a night exercise we did not expect to arrive until Thursday morning. The weather was still rather rough. We arrived at 8am on Thursday September 29th. The destroyers proceeded into the harbour with the Flag Ship, while the other three cruisers remained outside.
The next day the King arrived in his yacht accompanied by three destroyers. As soon as the King arrived the ships were dressed and manned as the yacht made way to her mooring just abreast of us. The King did not remain long, making his way ashore in his steam-boat and then to the Palace. He was due back at 2pm to inspect the Flagship and did so as Hon' British Admiral for which he received a 17 gun salute, the forts returning the same.
All Captains were commanded to dine with him at 7pm on Saturday October 1st. Invitations were received for the officers to visit the porcelain factory. The Danes were a very kind, likeable people and our men made many friends, and many visitors come aboard. The town itself is planned on a large scale with wide roads in the form of avenues with a special track for the bicycles which are very cheap here, everyone seemed to own one. The Langalene Gardens that run parallel to the river, possess some very fine monuments. We had a very pleasant four-day stay and were sorry to leave, which we did at 9.30pm.on the 3rd October, heading for Gothengburg in a nasty gale. We arrived at Gothenburg at 5.30 the following morning, tugs and pilots came out to receive us.
An invitation was received for 500 men each night to visit the cinema ashore. They also showed the squadron entering harbour. Although the main streets were very imposing I found nothing here tempting or exciting. The Swedish Petty Officers made a visit of inspection and the ships were open to visitors in the afternoon.
The local newspapers were full of the significance of the British Fleets visit, but as part of the German Fleet had been here some months earlier and had the same sort of stuff served out to them, we took it all as a part of a great game (Diplomacy) Once again the rate of exchange was against us, which made things very dear. Again we played Gothenburg at football and lost 10-1, so we did not have much to be proud of.
We left Gothenburg on Friday 7th October for the last port of call of the cruise, Christiana, again it was rough weather, it seems to have followed us around. We arrived off Christiana at about 7.30 the following morning, but as we had about 40 miles to go up the fjords we did not arrive off the town until 11am. After we arrived we were ordered to man ship as HM the Queen of Norway was going to pass the Fleet on her way to England on board SS

Bessheim

. The steamer passed at about 12.15. A salute was fired.
Invitations were received from the Anglo-Norse Society to attend a concert in the Opera House in Carljohans Gade, at which the King of Norway was expected to be present. I went to the concert which was a tip top one, but the King did not put in an appearance.
I also had a trip up the mountains to a place called Hollamskolen which was about 40 minutes on the electric railway. It was a spectacular view of Christiana and the surrounding Fjords. The people were so friendly and fraternised a lot with us sailors. It was rather surprising to find the number of people who could speak English. HM the King gave a Command Dinner for all Captains and paid an official visit to the flagship.
We had a very nice time here, prices were good, and I think most of us would have liked to have spent longer but as we had to adhere to our programme we left at 4pm on Thursday 13th October for our home ports, the Light Cruisers going to Invergordon and the destroyers to the destroyer base at Port Edgar.
We had one of the roughest trips across the North Sea that I have ever experienced in a destroyer so we were thankful when May Island hove in sight at about 11am on Saturday 15th October, we eventually reached our base at about 2pm very pleased to get it over with.


Vanquisher

and the Dunkirk evacuation
by Ted Loughlin
In May 1940 I was serving on a V&W destroyer, HMS

Vanquisher

, which had seen service in the 1914-1918 war. It was quite small and with a ships company of approximately 100, there was little space to spare. The armament comprised of four 4 inch guns a 3 pounder (A/A.gun) six torpedo tubes and two Lewis machine guns, when required she could produce a maximum speed of 30 knots.
In late May we were despatched from North Atlantic convoy duties and directed to Dover. On our arrival there it was a hive of activity. We refuelled, took aboard provisions and ammunition then topped up with fuel. We immediately made our way across the channel to Dunkirk. During our North Atlantic convoy duties we were aware of the problems in the Low Countries, but never envisaged the true picture. We were quickly brought up to date on the situation.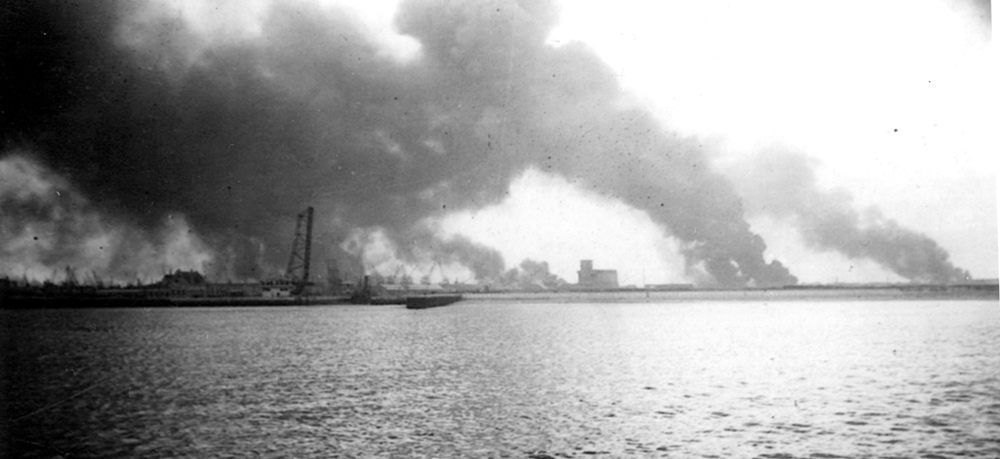 Burning oil tanks as one approached Dunkirk

Courtesy of A Skelton

I was bridge lookout and shortly after leaving Dover I could clearly see the smoke and fire ahead to which we were sailing. It was anything but friendly. The Captain addressed the ships company over the Tannoy system. By the time he had finished speaking we had no doubt of the magnitude of the task that lay ahead. We closed up for action stations in preparation for attacks by enemy aircraft, E-boats and the constant threat of mines, magnetic and otherwise which had been laid continually by German forces. We were to remain in this state of readiness every time we left Dover.
The scene that greeted us as we arrived off Dunkirk was truly horrific. The beaches were full of soldiers, lines of abandoned vehicles, and in the background, huge pillars of fire and smoke from burning oil storage tanks. On one side of Dunkirk harbour was a very long wooden mole (jetty) which stretched out from the shore. It was at least three quarters of a mile long. Moving slowly along this were hundreds of soldiers, who at the end clambered on to the destroyers tied up alongside. In addition to the personnel using the mole, small boats of every description were picking up the soldiers from the beach and conveying them to other craft in deeper waters. During all this activity, large numbers of enemy aircraft were continually strafing the harbour and dropping bombs on the beaches and harbour areas.
Whilst waiting just outside the harbour for our turn to go alongside, we were subjected to incessant bombardment from the enemy aircraft. It was commonplace for forty or more to be attacking us at one time. The screaming of the high-pitched engines of the Stuka dive-bombers, and the accompanying explosions of the bombs, and the gunfire, was something that those present, will I am sure, never forget. As well as the bombing of the beaches, ships both large and small were receiving direct hits. Many of which were embarking the troops at the time.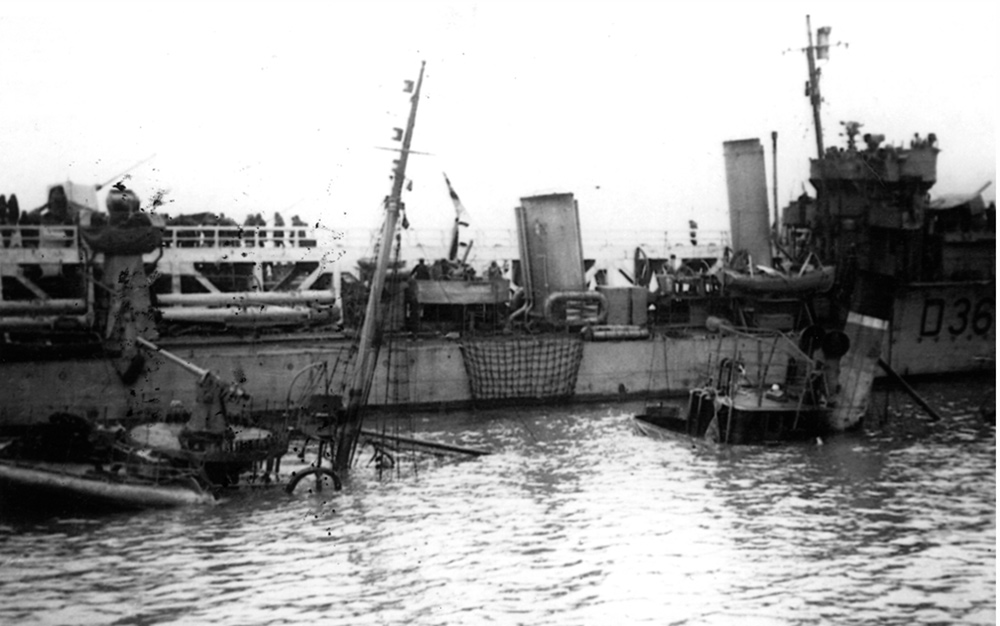 HMS

Vanquisher

inside the Mole

Note the scrambling nets
Courtesy of A Skelton
It was during a temporary lull in the attacks that the

Monas Queen

, an Isle of Man ferry was hit by a magnetic mine, she broke her back, causing her to turn over and sink in a very short space of time. We were close by and our whaler managed to pick up survivors off the hull before she went under. Fortunately, like us, she had been waiting to go into harbour, thus no soldiers were on board.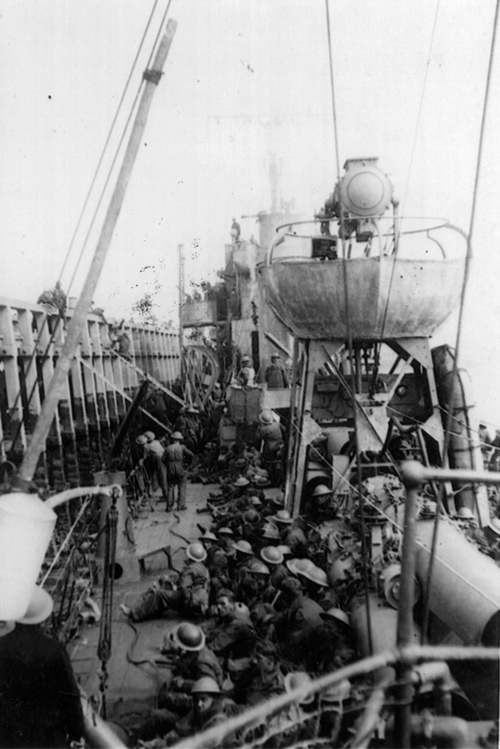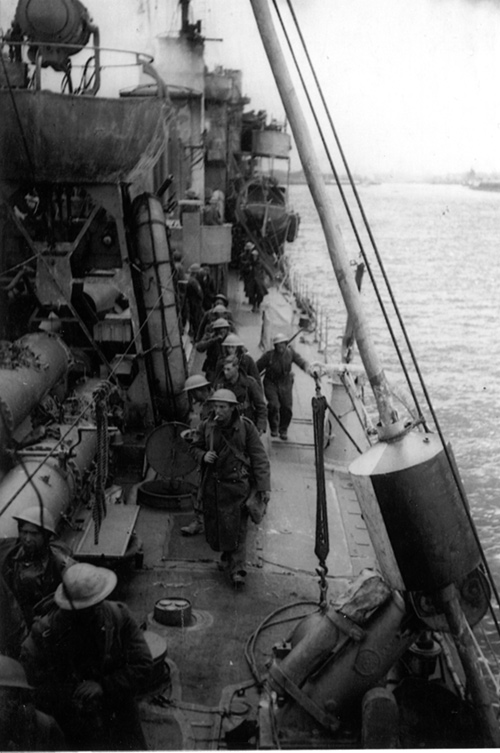 Loading from the Mole at low tide hence the ladders

Courtesy of A Skelton
When our turn came, we went alongside the Mole and took on as many soldiers as we could carry. As I have earlier mentioned, we were a small destroyer and cramped for space. At the time these ships were being built, the armament was put in first, before the question of where to put the crew was addressed! Amazingly, on each of our visits to the beaches of Dunkirk we returned with just short of a thousand soldiers. When loading was completed we quickly pulled out and another V&W destroyer would take our place. Once clear of the harbour and wrecks, it was full steam ahead for Dover.
On arrival it was a case of rapidly disembarking the repatriated soldiers and replenishing oil and ammunition before taking off again across the channel. After the initial taking on of provisions, repeat stocking up of this commodity was a rarity. We had no time to eat, and cigarettes were the prime requisite. Due to the large numbers on board, our mess decks, heads and washrooms became untenable. It meant a quick visit to the facilities on the jetty, before making our way back to Dunkirk. This meant catnaps around the guns as opposed to proper sleep. This was to be the formula for the next six trips. Each journey was full of incidents. On one occasion we passed the bow of HMS

Wakeful

(a chummy ship), sticking out of the water. It was a most sobering and solemn moment to see this tragic sight. We learnt later that she had been attacked by a large number of enemy aircraft that had scored direst hits Her sinking was a tragic and huge loss of life.
On another occasion, having endured severe air attacks by the time we tied up alongside the Mole we had expended all our ammunition, but fortunately over the preceding days we had collected quite a few Bren guns, and were able to make a bit of noise if nothing else. We had a tea chest on board into which the soldiers put their ammunition. This was quickly used in repelling low level attacks from the enemy aircraft. Our ability to maintain some sort of fire power enhanced moral.
As the evacuation of the British Expeditionary Force from the beaches of Dunkirk continued, we were discovering greater numbers of mines on our short route across the Channel. As a result we had to make a lengthy detour past the North Foreland, across the Belgian coast and thence to Dunkirk. On one of these detours we ran aground on the infamous Goodwin Sands. That too was a never to be forgotten experience. The ships engines were put to full astern, but despite the terrible vibrations, we remained stuck. All hands were then summoned aft and instructed to jump up and down simultaneously. After what seemed an eternity of jumping up and down, and with the engines at full astern, we eventually slid off the sands into deep water. We later discovered that in affecting our rescue from the Goodwin Sands we had left our Asdic Dome as a momento of our visit. On several occasions we had passed the Goodwins at low water and saw the masts of the ships that had floundered there in the past.
Going into Dunkirk at night, is best described as a 'hairy experience' The fires and smoke from the oil storage tanks, intermingled with the flash of gunfire on the outskirts of the town, provided an awesome backdrop, liken I imagine to Dante's inferno. In the foreground were the masts and hulks of sunken ships with the general flotsam floating by. During all this time we were ever conscious of the long lines of soldiers still waiting to be taken off.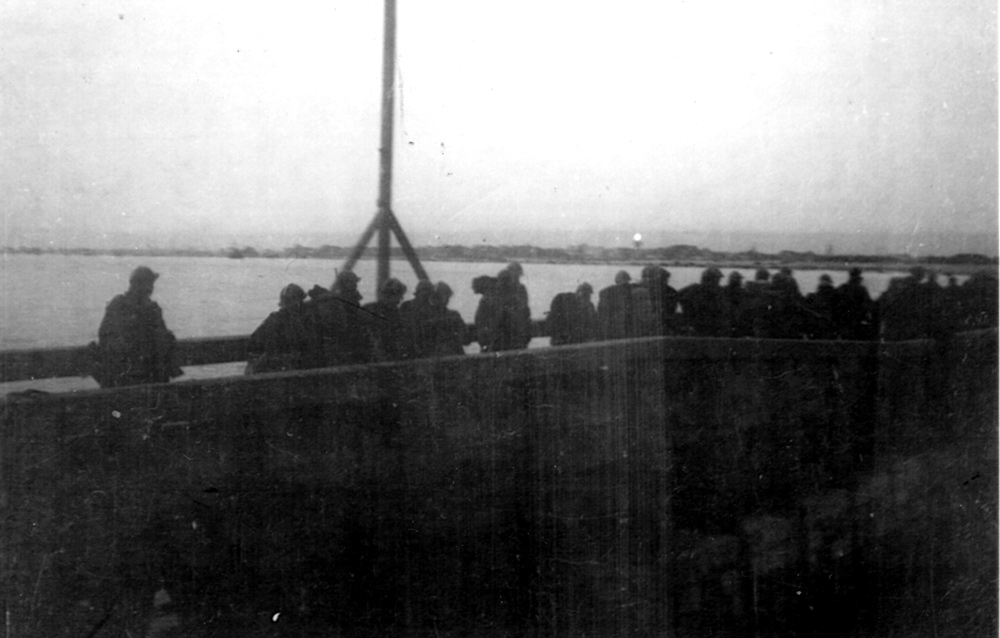 Troops queuing along the Mole waiting to board at night

Courtesy of A Skelton
On our last visit to Dunkirk, to make more space for personnel to be taken on board, the soldiers were ordered to throw their rifles into the sea. The Mole as a result of continuous bombing was now in a dangerous state. It was potted with holes and there were large parts missing, making passage along it very precarious, and the embarkation of the troops thereby slowed down.
The continued efforts over this stressful and dangerous period, gradually took its toll. Various members of the crew became hospitalised through injuries and exhaustion, and were quickly replaced by ratings sent from the barracks. Quite a number of senior officers were also replaced, but there was to be no let up in what was called 'Operation

Dynamo

'.
There were of course lighter moments. On one occasion, barges full of soldiers towed by a tug came passed us. One of the barges bore the sign 'Pickfords - we can carry anything anywhere'. If only I had a camera with me at the time, I think I could have earned myself a very good pay-day! On one of our last visits to Dunkirk we embarked French soldiers and when we arrived back at Dover, one of the Frenchmen as he was leaving the ship embraced me and placed in my hand a Rosary with a St Christopher on it. I gave the Rosary to my Mother, and the St Christopher has travelled everywhere with me since,;I still have it to this day.
Another sight that will forever remain in my memory was seeing an extremely tired and dispirited company of Guardsmen hobbling down our ships gangway at Dover. A Sergeant Major, immaculately turned out, complete with pace stick, marshalled them together, and in parade ground voice shouted 'Guards!'. As if by magic, they straightened to attention as one and marched off in ceremonial parade ground style. They were desperately tired, hungry, and unwashed, but most importantly they had retained their pride, and the spirit to march when the Sergeant Major gave the command; as the disciplined body that they were, they rose to the occasion.

At 0240 on the 4th June 1940, HMS

Vanquisher

, pulled away from the mole (a wooden jetty) at Dunkirk, laden with members of the British Expeditionary Force, the town and harbour were silhouetted by the many fires that were burning out of control, plus the continuous explosions taking place ashore. The plight of the soldiers ashore was now desperate, the German Army were on the outskirts of the town and closing in.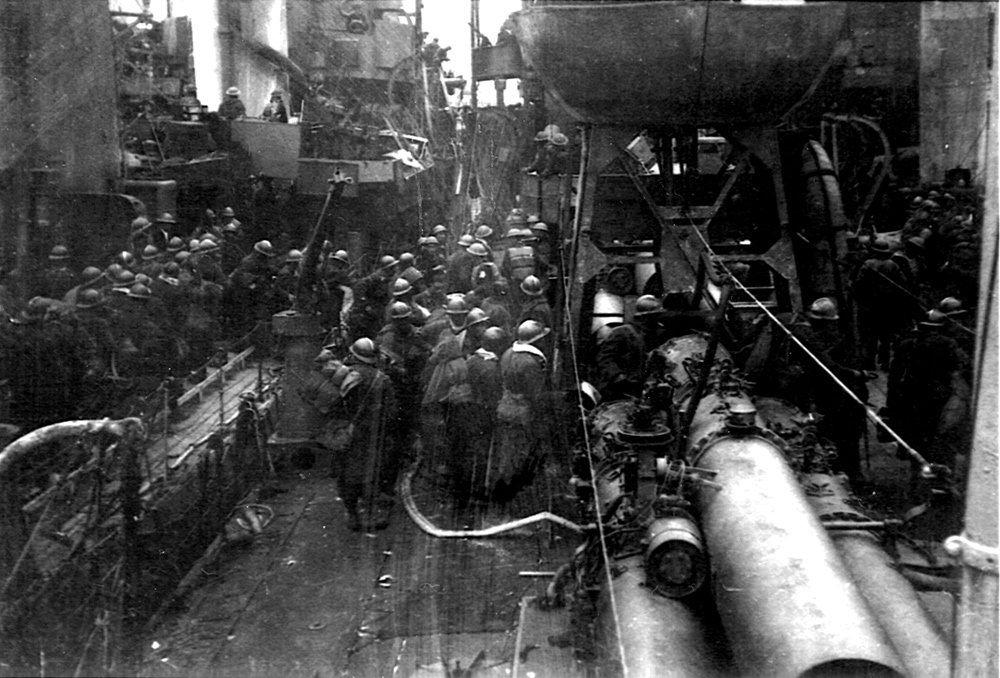 Disembarking at Dover across the deck of a sister ship

Courtesy of A Skelton

This was our seventh and final voyage to Dunkirk, a few hours later we were informed that Dunkirk had fallen and that the German Army were in control. Having disembarked the soldiers at Dover, we were ordered to Chatham, and were informed that the whole ships company would be granted three day's leave on arrival, whilst the ship was cleaned and fumigated. Having carried thousands of soldiers in the past week, conditions, particularly below decks, were in a dreadful state; the Heads, wash area and mess decks were unusable. The ship being small, it was always cramped for space, even with our normal crew of about one hundred. We looked as dirty as the ship, for there had been little time for personal hygiene over the past seven days. On arriving at Chatham and having secured the ship, we braved the filth and stench of the mess decks and retrieved our best uniforms and small cases etc. and went to the dockyard toilets and showers; after making ourselves presentable we put all our dirty clothing in our cases, were given rail warrants and off we went on three day's leave which, was mainly spent in sleeping and eating. We had been at action stations continuously for the past week and apart from the occasional 'cat naps' a good sleep had been non-existent, therefore sleep was a wonderful pick me up.

On returning to the ship, it was much cleaner and wholesome, with a distinct smell of disinfectant. It was then a case of back to work, bringing on board ammunition and provisions etc. At this time a number of sappers, explosive experts and civilians came on board, we were then engaged in man handling a large amount of explosives on board that we secured on the upper deck. We then cast off and once more returned to the war, and action stations. As darkness fell we arrived at our destination, our mission this time was to destroy the dockyard installations on the French coast. Having landed the soldiers and the civilian passengers together with their previsions and explosives at various points, our last port of call was La Rochelle, we then returned to Dover, once again counting our lucky stars that we had not encountered any serious problems during these clandestine operations.

It was daylight when we arrived at Dover, we refuelled and managed to get some sleep. We had been at action stations since leaving England. We were then informed that we would be leaving harbour later that evening. We headed back to the French coast and were then joined by two other V&W destroyers. We were told by the Captain over the Tannoy, that there were several allied ships in Bordeaux Harbour, and we were going to try and enter the harbour and get them out, but in order to achieve this we would have to travel up the river Gironde, which was nine miles long, and before we reached the river we would have to negotiate the estuary, which was fortified on both sides by Forts with six and four inch guns. The Captain carried on to say that if we came under attack from the smaller guns we would reply, but if the larger guns attacked us we would have to get out the best way that we could. He continued to give encouraging words, then clinched his message with a mention of making 'Supreme Sacrifices' and concluded by wishing us luck. The tannoy was then switched off. On hearing this we all became very quiet and extremely vigilant, the adrenaline was now flowing. He was of course preparing us for an impending bloody action, so having heard the bad news, I being the eternal optimist thought surely nothing could get worse, but to cheer myself up, hoped that things could only turn for the better.

When we approached the mouth of the estuary, the two other destroyers remained outside, ready to cover our retreat. It was now dark, we commenced making smoke, our cover being supplemented by smoke canisters on the forecastle, for although it was a pitch black night, a wandering searchlight might pick out the ship, the smoke made that eventuality more difficult. We proceeded through the estuary, unchallenged into the River Gironde; now that we were in the river our speed had to be reduced. Then began the longest nine miles I have ever known, being in the middle of the river with limited space to manoeuvre was not the best place to be if action was to be fought. I was bridge lookout, and believe me it was strange going past built up areas on the river bank, I could see some lights, but the thought upper most in my mind that by the same token they could also see us. Which was not a comforting thought.

We eventually arrived in the harbour, and I could see that there were several ships at anchor, it was soon apparent that they were expecting us for they all had steam up, we went alongside them in turn, the Captain through his megaphone identified us, and told them that they were to slip their anchor cables at an appointed time and follow us out. During this time there was a considerable amount of activity on the dockside and in the ships moored alongside. It seemed impossible that we had not been seen. Eventually, at the appointed time, the ships all slipped their cables, the anchor cables splashing in to the water, seemed to make a terrible din. Being so tensed, it sounded loud enough to 'awaken the dead' let alone the enemy. We then led the ships out of the harbour into the river and began the slow journey down to the sea, it seemed impossible that we would not be challenged and attacked, the throb of the engines to us seemed magnified, but of course we who were all in a state of readiness awaiting the first burst of gun fire, which would anounce our discovery and the start of the battle. Amazingly we completed our journey to the estuary and into the sea without incident and met our two friends, the destroyers, who took over the ships for the final part of the journey to England. We were then despatched enroute to Dover; at long last we could all now light up the cigarettes which we had craved for, as we used to say 'to steady the nerves'.

On reaching Dover at dawn we refuelled and caught up with sleep, and we had experienced what might be called a heavy night. Later that day we were despatched to Devonport. We were cheered by this news, the prospect of a couple of nights in harbour, and probably some shore leave certainly lifted our spirits. These thoughts however proved to be a flight of fancy, for on our arrival in the Hoe, we saw units of the French Fleet anchored inside. We were instructed to anchor near a French destroyer and then we went to action stations, training our guns on the French destroyer. We were informed that some of the French crews, wanted to return to their homeland but the powers that be decided to take this action to ensure that the French ships did not leave their anchorage, we then went watch and watch readiness and remained so until the politics of this situation had been settled. It was truly an amazing sight to see all the British units, aiming their guns at the French Fleet.

After some time we were stood down, and the ship ordered back to our base at Liverpool, this was great news. On arrival we were informed that there would be night leave (4pm-8am) for forty per cent of the ship's company if their watch was due for leave, this meant eggs and chips at a service run establishment, a visit to the pictures and then back on board ship. 'They' being in their teens were not allowed ashore later than 10 pm. On reflection this did us a power of good, we all needed a good night's sleep. In conclusion I would add that in a few short months, the RNVR and HO ratings, had changed from being willing, but untrained seamen, and together, with the regulars and reservists, had been moulded into an efficient and battle hardened crew, ready to face the trials and tribulations of the war years ahead. I am sure that their experiences helped many of us to survive the remainder of the war.


Ted Loughlin,
HMS
Vanquisher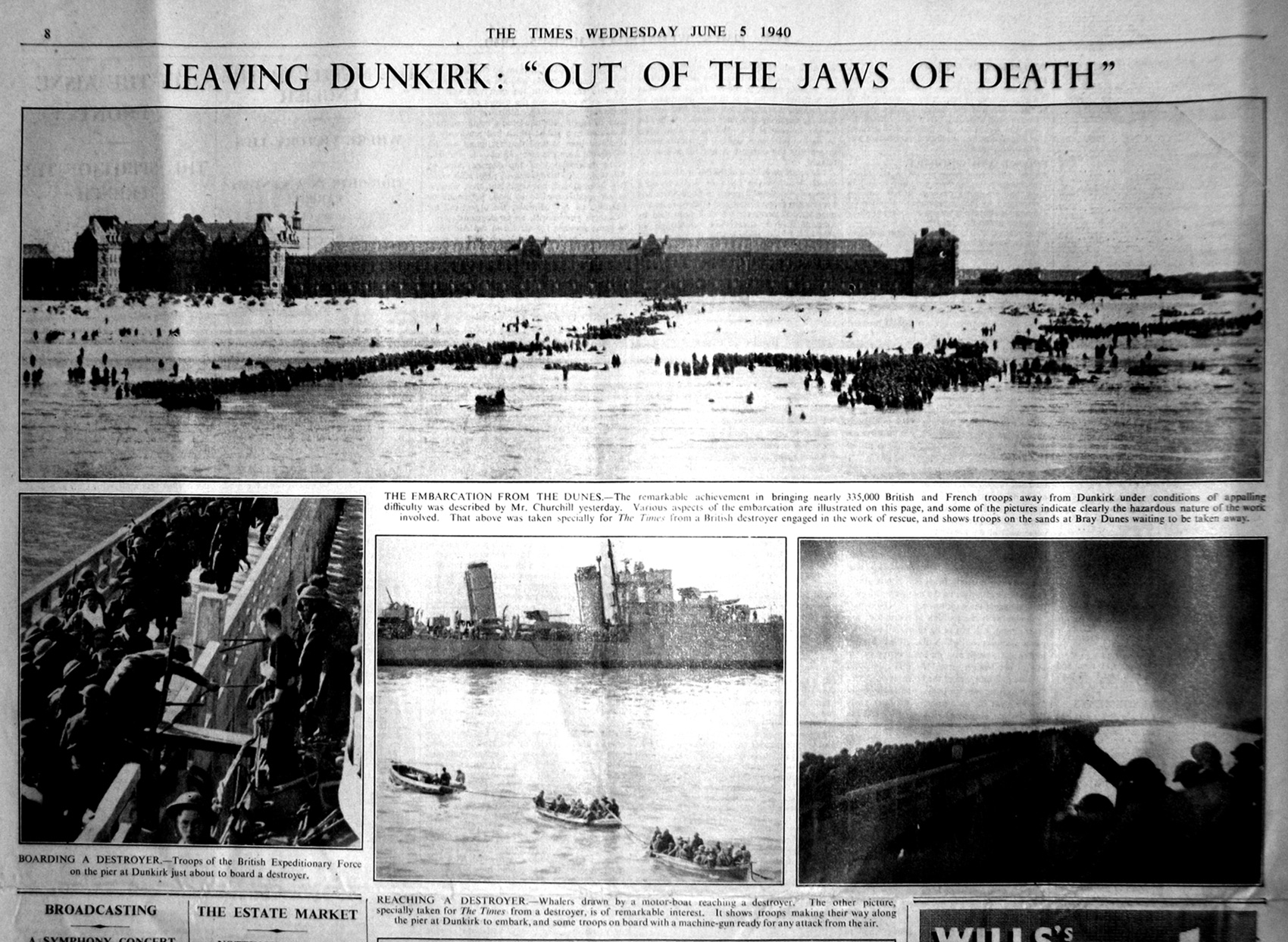 The Times

report on the evacuation of the troops of the British Expeditionary Force (BEF) from the beaches and North Quay of Dunkirk

Double click on image to view full size and to read text

And an anecdote by T. Robinson


I was at action stations aboard the

Vanquisher

in the crows nest as a look out. The crows nest was a splendid place to be, because one had such a wonderful view of all that was going on. We were alongside the Mole which had been breached by a bomb. A narrow walk way had been put across the gap and the troops were filing across in single file to reach the ladders that led down to our decks.
Two French Poilu appeared pushing a bicycle which was supporting a safe carefully balanced on the cross bar. They had obviously been doing a bit of looting and hoped that the safe contained a fortune. Their problem was how to get the bicycle across and more importantly the safe across the abyss? They were holding up the whole proceedings at a time when time was the essence and everyone was being urged to get a move on. The problem was soon solved for them when someone had the sense to push the bicycle and its load into the sea! The evacuation then continued and the poor Poilu's were left in tears. I thought the whole incident rather amusing.


Fred Garbutt was an Asdic Operator on HMS V

anquisher



Fred joined the Navy before the war and described his memories of the evacuation of the troops from Dunkirk on the BBC Peoples War web site. His account has been lightly edited and is republished here. If anybody can put me in touch with Fred's family so that I can add his photograph and further details of his wartime service on HMS

Vanquisher

I would be very grateful.



"I joined the navy in 1934 as a boy entrant (HMS

Ganges

to 1935 and HMS

Orion

from 1935-36) and served in home waters and Far East before the war (China - HMS

Diana

1936-39 – and saw the Japanese invasion of China).
At the time of Dunkirk I was a leading seaman /asdic operator on HS

Vanquisher

(V&W Class Destroyer) on Atlantic convoy operations when we were recalled for Dunkirk duties. We sailed from mid Atlantic directly to Dunkirk and made seven round trips to the Inner Harbour, the Mole or the beach over a period of five or six days.
On one trip we passed an H class destroyer (

Harvester

?) sinking. We anchored in Dunkirk harbour on Hydrophone watch and heard a large explosion, went on the upper deck and saw the Isle of Man ferry (

Monas Queen

) turning over and sinking - her degaussing gear had been damaged by shellfire and failed to protect against a magnetic mine.
Vanquisher

ran aground on Goodwin Sands with 400 troops on board and her asdic dome broke off. Entry into Dunkirk was through dense smoke from burning oil-tanks, heard cries for help in the smoke but could not stop because of E-Boat activity. Advice was that the cries were a German ruse to stop us.
While loading at wooden jetty with troops we acquired several abandoned Bren guns and tied them to the rigging and used them as AA guns. We were frequently bombed.
After Dunkirk and three days under repair at Chatham Dockyard we proceed to Plymouth to load up with explosives and sailed for St Nazaire where we landed explosives and sappers to destroy French ships under construction. We also evacuated civilians from St Nazaire.
Sailed up the River Gironde to Bordeaux on a night time mission to try to persuade neutral shipping to sail with us to joined allied cause. We sailed back to sea alone and left Gironde at 30 Knots. As it was not clear whether German advance had reached Gironde.
We observed that on arrival at Dover the rescued troops were swiftly given tea and then loaded into trucks whose drivers were not given specific orders just told to take them away anywhere and the troops would have to find their own way back to their units. All equipment was abandoned on the jetty.
Richard Baker (BBC) was a messmate of mine on the

Vanquisher

. Another messmate (LS Roy Doy) was posted to the Dover Cliff Tunnels to look after the living and the dead."




Richard Baker was born in 1925 so it seems unlikely that he could have been a messmate of Fred Garbutt until after Dunkirk but he is still alive aged 90 and is believed to be writing an account of his wartime service. I am hoping that he will read this and get in touch so that I can add his memories of HMS

Vanquisher

to this page. Further details of Richard Baker's wartime service as an officer in the RNVR are given on the unithistories web site.