---


Warship Weeks
Wrexham adopts HMS Veteran
Warships Week 29 November - 6 December 1941

Between October 1941 and the end of March 1942, Warships Weeks were organised in cities, towns and villages throughout Great Britain. The intention was to raise a sum by investment or deposit in all types of war savings representing the cost of building one of His Majesty's ships ranging from the smallest to the largest vessels. Once the target had been raised the community adopted the vessel along with its crew and the bond was strengthened by presentations in recognition of the money raised. Adoption plaques were presented by the Admiralty to the community and a plaque presented by the community to the adopted vessel. Links were maintained by the writing of letters and the provision of comforts and whenever possible visits were arranged to the adopting area.
Most of the V&W Class destroyers in commission with the Royal Navy were adopted during the Warship Week scheme and in a number of cases local sea cadet units later took the name of the ship.

To find more about Warship Weeks see Peter Schofield's article on

'National Savings and Warship Weeks'.

Wrexham and the neighboring villages of Holt, Isycoed and Marchweil raised £366,061 - £11 3s 11d per head - during a successful Warship Week from
29 November to 6 December 1941. in June 1942 the Town Clerk submitted the replica of the badge of HMS

Veteran

which had been received from the Admiralty mounted on a wooden shield and the Council resolved that the Badge be exhibited in the town and later be hung in the Council Chamber. It had been planned to affix the plaque from the Borough to the Admiralty onto the ship's Quarter-deck but unfortunately it was sunk before this could happen.


Wrexham Leader

, November 27th 1942
Vice-Admiral C. Tibbits attended the Wrexham Town Council on Tuesday evening for the ceremony of exchanging plaques relating to HMS

Veteran

, the destroyer adopted by Wrexham, as a result of Warships Week in December last. The Mayor said the sad news was recently received of the loss of HMS

Veteran

in action, and he thought it would be appropriate if they stood in silence as a mark of esteem and respect for the gallant ships company who lost their lives in the service of their country.
Both plaques are now in the care of Wrexham County Borough Museum.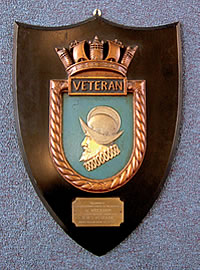 If you have stories or photographs of HMS
Veteran
you would like to contribute to the web site please contact

Bill Forster
---
Return to the Home Page for HMS

Veteran
Return to the Home Page of the V & W Destroyer Association
Return to the Index Page for the 69 V & W Class Destroyers
Return to the Home Page for Warship Weeks
---