---
HMS

Veteran

after conversion to Short Range Escort (SRE) at King George V Dock, London, 23 February 1942
Photographed by Lt F.G. Roper RN (Crown Copyright, IWM)

HMS

Veteran

(D72, later I72) was an Admiralty modified W-class destroyer ordered from John Brown and Company, Clydebank, in January 1918, and laid down on 30th August. She was launched on 26th August 1919, and on commissioning the following November she was assigned to the 3rd Destroyer Flotilla of the Atlantic Fleet. The Flotilla was transferred to the Mediterranean Fleet in 1923, and to the China Station in 1926. She was involved in the Nanking incident in March 1927 when the city was bombarded to counter rioting and looting during its capture by the Chinese National Revolutionary Army (Kuomintang).
In 1939 the

Veteran

was in dockyard hands for a major refit, in which the after bank of torpedo tubes was removed to make room for a 12 pounder quick firing gun. Y Gun was also removed to make additional space for depth charge gear and stowage. She was re-commissioned in November 1939, under the command of Lt Cdr J E Broome, who was later to achieve celebrity as an Escort Group Commander (including the escort of PQ17).


The

Veteran

was involved in a number of collisions, some of which required dockyard repair – with HM Submarine H46 in February 1940, with the SS

Horn Shell

in March 1940, with the Merchant ship

Ngkoa

in May 1940, and HMS

Verity

in January 1941.
In April 1940 her Flotilla was attached to the Home Fleet in support of the Norwegian Campaign. This included escorting HMS

Devonshire

conveying King Haakon and entourage to the UK. In June she rescued the sole survivors from the aircraft carrier HMS

Glorious.



From July to September 1940 she was based at Harwich and employed on anti invasion patrols, until she was damaged by an acoustic mine. In October 1940 she became an Atlantic escort based at Liverpool but transferred later to Londonderry. Jack Stokes describes the rescue of survivers from torpedoed ships in his description of time as a gunner in

Veteran.
In September 1941, with HMS

Leamington

, she sank U 207 in the Denmark Strait south east of Angmassalik, Greenland with depth charges.
Following a successful Warship Week campaign in December 1941 she was adopted by the civil community of Wrexham, north Wales.
She was converted to a Short Range Escort in Jan - Feb 1942 and on completion detached for service on the East coast of the US and Canada.
In July 1942 she took over the attack on U 215 from the ASW Trawler HMT

le Tiger

with depth charges and Hedgehog. U215 was sunk but credited to Le Tiger.


In 26 Sep 1942 HMS

Veteran

was torpedoed and sunk by U 404 in position 54 deg 34 N, 25 deg 44 W while escorting convoy RB-1 (Convoy

Maniac

), which had been attacked by three wolf packs totalling 17 U-Boats. When torpedoed she was engaged in rescuing survivors of the American passenger ship

New York

. All hands were lost, together with those rescued from the

New York

and the American passenger ship

Boston

. U 404 was sunk with all hands by two US and one RAF Liberator aircraft in July 1943, as victory was finally being won in the Battle of the Atlantic.
Battle Honours: MARTINIQUE 1794 – CAMPERDOWN 1797 – COPENHAGEN 1801 – ATLANTIC 1939-1942 – NORWAY 1940 – NORTH SEA 1940
Heraldic Data: On a Field Green an old warrior's head, helmeted proper
Motto

: Laudator temporis acti

Proud of former deeds
Commanding Officers
Lt Cdr H.G. Fallowfield RN (Nov 1919 - June 1921)
Cdr C.H.H. Sams RN (June 1921 - Jan 1922)
Cdr William J. Whitworth RN (Jan 1922 - May 1922)
Lt Cdr Charles F. Bush RN (April 1922 - May 1923)
Lt Cdr Thomas C.H. Ouchterlong RN (June 1923 - Oct 1924)
Lt Cdr Charles F. Bush RN (Oct 1924 - April 1925)
Lt Cdr Clanchy RN (April 1925 - May 1927)
Cdr C.V.S.J. Marsden RN (May 1927 - June 1929)
Cdr H.T.W. Pawsey RN (June 1929 - July 1931)
Lr Cdr J. Drinkwater RN (July - Nov 1931)

Lt Cdr R. Dalby RN (Nov 1931 - Feb 1932)
Lt Cd F.C. Husband-Clutton RN (Feb 1932 - March 1933)
Lt Cdr I.R.H. Black (March 1933 -Oct 1934)
Lr Cdr W.H. Selby RN (October - Dec 1934)
Cdr Geoffrey Nigel Oliver RN (Dec 1934 - Feb 1936)
Cdr John Egerton Broome, RN (11 Oct 1939 – 4 Dec 1940)
Cdr Walter Thomas Couchman, RN (4 Dec 1940 – 6 Jul 1941)
Cdr William Edward James Eames, RN (6 Jul 1941 – 19 Aug 1942)
Lt.Cdr Trevor Henry Garwood, RN (19 Aug 1942 – 26 Sep 1942)
Officers

Former Full Members of the V & W Destroyer Assoociation
P. Goodrich (Worcester), Jack Stokes (Westgate on Sea, Kent)
The Training Ship of the Sea Cadet Unit at New Romney is TS
Veteran
When the V & W Destroyer Association was dissolved in April 2017 its funds were distributed to the eight Sea Cadet Units with Training Ships named after a V & W Class destroyer
Please get in touch if a family member served in HMS Veteran


Jack Stokes left school in 1933 at the age of 14 to work for a milkman, earning 12/- for
working seven days a week
. As soon as he was 16 he joined the Navy. He began his "life at sea" as a boy sailor at HMS

Ganges

, the shore base at Shotley on the opposite side of the River Stour from Harwich. His first real ship was HMS

Ramilies

and he recalled scrubbing decks in bare feet in December, not a happy memory! He then joined HMS

Galatea

, the flag ship of the Mediterranean Fleet. He joined HMS

Veteran

in February 1940 and soon found himself in the thick of the Norwegian campaign.
This story of his time in

Veteran

was first
published in
Hard Lying
, the magazine of the V & W Destroyer Association and republished in 2005 in the book of the same name which is now out of print. It is reproduced here by kind permission of Clifford Fairweather and his publisher, Avalon Associates, but copyright remains with the author.



When war was declared, I was serving on the battleship

Resolution

in Portland having arrived there the previous day after a two day exercise in the Atlantic. At that time I had been in the Navy just under four years and was an A.B. but waiting to be rated Leading Seaman, which happened just one month later.

The declaration of war was in many ways a relief as we had had the continual threat of war hovering over us for several years. I served a further four months on

Resolution

during which time we made two trips to Halifax in Canada escorting convoys and the only excitement was chasing what we thought was a German Pocket Battleship, but turned out to be a British armed cruiser. One other interesting fact was that our cargo consisted of the gold reserves of the country being taken to Canada. We did not at first know that these small and very heavy boxes contained the gold and our cargo must have been worth millions of pounds. I spent the first Christmas of the war on

Resolution

at Halifax. I left the ship in February 1940 and soon after that joined the destroyer HMS

Veteran

, rightly named as she had been built in 1918.



The mess deck where we were to live was a nightmare



I was a bit disgusted because I would have preferred to have joined one of the many destroyers recently built and which carried far more modern and efficient weapons. It took me some time to find

Veteran

as at each port we went to she had just left. We went first to Plymouth, then to Chatham, on to Rosyth and finally Scapa Flow in the Scottish Islands. There were six of us, all regular Navy (later three of those six lost their lives in

Veteran

).

Our arrival on board was not very encouraging. We joined the ship at 0200 and with us came the ship's mail and so the ship's company were more interested in the mail than us. The mess deck where we were to live was a nightmare, it was overpopulated and contained the steam capstan that operated the anchor, consequently the crammed space with hammocks slung and the steam capstan hissing away, we can hardly say that it was a welcoming arrival. There were no spare hammock billets and so I laid out my hammock on the mess table, fortunately the man I was relieving was leaving the next morning and then I took his space. Having been accustomed to the strict routine of a peace time battleship I was horrified the next morning to see the hands fall in for the day's duties. They were dressed in nothing like the conventional uniform and I and my colleagues were the only ones dressed in the correct naval uniform. It transpired that the ship had only been recently commissioned and that many of the crew were pensioners or reservists who had just recently been called up and many had only one uniform and did not wear that for every day duties. I won't go into details but suffice it to say that the general standard of discipline was totally different to my peacetime experience. In fact I was horrified.

The Norwegian Campaign

Our first trip was to Norway, where we were engaged against the Germans. We were escorting a troop convoy and, as far as I can remember, nothing happened on the trip across. Our main duty once we arrived in Norway was to patrol the fjords and carry out bombardments on possible troop emplacements. Surprisingly this brought little response other than some high level bombings, which were not very accurate. We did have one near miss. It happened one afternoon when I was on watch on my gun. Throughout the watch a British Swordfish biplane kept zooming around us, rather showing off we thought but this one, we realized too late, had black crosses on its wings and was attacking us. I looked up to see what appeared to be a large number of small black balls hurtling towards me and I well remember saying to myself "You've had it Jack". I really thought that the bombs could not possibly miss, but they did and landed right along our port side, doing some damage but luckily no casualties. We blazed away at it as it flew away from us and we last saw it emitting smoke and we assumed that we had hit the plane, but we will never know for we did not actually see it crash.

The next scare was when as coxswain of the motor boat I was ordered to take an officer ashore and await his return. I was horrified whilst waiting to see the ship up anchor and disappear round the bend. I began to visualise being taken as a Prisoner of War and felt very isolated moored alongside the jetty. However after what seemed an interminable wait the ship reappeared. Then came the order to withdraw and evacuate the troops. This took four nights and three days, during which time we had very little sleep as we were closed up at action stations. All our meals were taken standing at our guns and consisted of corn beef sandwiches and soup. Our routine was to embark the troops during the day and go at full speed through the fjords and take the troops out to the waiting transports. On the last night we embarked a large number of French Foreign Legionnaires who were in a bad way having been fighting a rear guard action. They were dirty and unkempt, many with untreated wounds, all very hungry but they also had a large number of grenades which they were busily throwing in the water and exploding them, they also had a lot of brandy which they were happily imbibing. With the ship bursting at the seams we set off on our last journey to the troopships, and to my delight the Captain decided that we could fall out of action stations and break into two watches. It was just midnight and I realised that I could turn in my hammock for four hours, sadly when I got to my hammock I found it occupied by a Legionnaire, what could I do? I hadn't the heart to turn him out so I found an odd space somewhere and tried to sleep, but after so long sleep just would not come. We eventually disembarked them to the transports and then formed up with the other destroyers to escort them back to Britain.

T

he sinking of the aircraft carrier, HMS
Glorious
"Late in the afternoon of June 8th, 1940, the Royal Navy suffered one of its most devastating defeats of the Second World War. HMS

Glorious

, one of Britain's largest and fastest aircraft carriers, was sunk along with her escorting destroyers HMS

Ardent

and HMS

Acasta

. The three British warships were taking part in Operation

Alphabet

, the evacuation of Allied forces from Norway that had been taking place simultaneously with the rather better known and remembered evacuation at Dunkirk."
Our trip home was interrupted by a very sad event. We were ordered to leave the convoy and proceed at full speed to the Faeroe Islands where we picked up 33 survivors from HMS
Glorious
which had been sunk by a German Battleship. Of the crew of 1500 these 33 were the only survivors. It seemed that 800 got away from the sinking ship but four days in Arctic water meant that most died from the sheer ferocity of the cold sea. The 33 were in a bad way and all had suffered from frostbite and were in agony as their bodies came to life again. They were crying with pain, but we had no doctor on board so there was little that we could do. I should have mentioned that with the carrier were two destroyers which made heroic efforts to close the battleships and sink them with torpedoes, one did register a hit, but they were both blown out of the water and only one man (he was one of the 33) survived. The survivors told us some terrible stories of the way some men died. Beside the cold thirst was a big problem, some drank sea water and that was fatal one man remembered what the Bible said "You can drink your own piss and eat your own dung" and some of them did the former, again with fatal results. Sad for me though was that a friend who joined the Navy when I did, was not a survivor. It was good to get back to Rosyth where a load of ambulances were waiting. I have often wondered how many of them survived.
Preparing for invasion
From Rosyth we were ordered to Harwich to act as an anti invasion force as with the fall of France everybody expected that Britain would be invaded. On arrival at Harwich we were given 48 hours leave and on that leave I married Edie (a marriage that has lasted 58 years). We used to go out on patrol in the Channel practically every night looking for the expected invasion but it never came.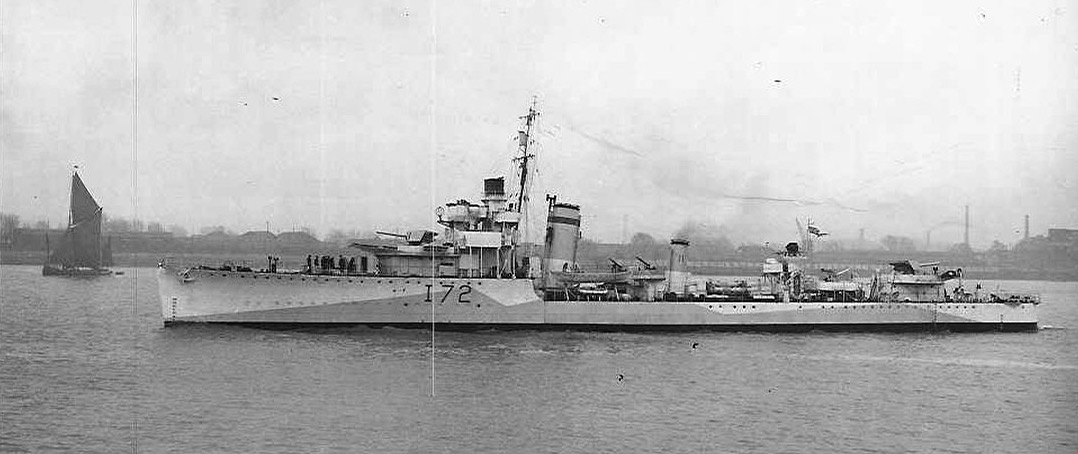 HMS
Veteran
on the Thames while stationed at Harwich in 1940

Courtesy of Paul Smith
We had a few skirmishes with E-boats, they were very fast boats and it was all over very quickly, we were lucky if we got two rounds away. We did have one hectic excursion when we were ordered to Boulogne with four other destroyers to destroy the invasion barges that were mustered there. We went right inside the harbour blazing away with all our guns but the Germans did not realise it was ships bombarding, thinking the attacks were coming from the air and to start with nothing came our way but once they realised it was ships things got a bit hot. Having gone round the harbor once I got somewhat scared when we were ordered to go round again. Only one of our ships was hit and it was quite a relief when we headed for open water again. We were led to believe that we had caused a lot of damage to the invasion barges. We spent the whole summer doing that sort of patrol.
However we were sent to Chatham for our routine boiler clean and this meant four days leave. I left home after my four days and later in the day we steamed out of Chatham heading for Harwich again, but a short time after leaving there was a terrific bang, which did some considerable damage to our stern and we had to return to Chatham for repairs. We had detonated one of the new magnetic mines. This meant a few more days leave.
Atlantic Escort
Jack Stokes' vivid descriptions of the rescue of survivors from torpedoed merchant ships does not record the names of the ships but we do know that in April 1941 HMS
Veteran
picked up 25 survivors from the British merchant ship
Harbledon
which had been torpedoed and sunk by U 94 south west of Iceland. In May 1941 she rescued 91 survivors from the British passenger ship
Nerissa
which had been torpedoed and sunk by U 552 south east of Rockall. In 10 June 1941 she picked up 29 survivors from the British merchant ship
Ainderby
that had been torpedoed and sunk by U 552 west of Bloody Foreland. Jack Stockes may not have known the names of the ships but they are the most likely cndidates.
By the October of 1940 the invasion scare was off and we were ordered to go to Liverpool to join the Atlantic convoy escort groups but instead of going through the English Channel we took the longer and safer route going northwards round the coast of Scotland. In all my experiences at sea it was one of the roughest trips that I have known. The

Veteran

had been in reserve for many years and we found that in very rough weather she leaked like a sieve, consequently our mess deck was flooded with up to about a foot of sea water. The worst storms were when we were passing through the Minches, the waves and winds were just unbelievable and we sometimes wondered if the old ship would master the elements, but she did and on many Atlantic convoys we were to experience equally rough storms.

After our very rough trip we arrived at Liverpool, topped up with stores and that same afternoon set sail for our first Atlantic convoy. In the next eighteen months we were to do many such trips. I never kept a diary during that period. I only wish that I had for so much happened and it was by no means a success story. We just did not have enough escorts, we had no air support, no radar. The U-boats outnumbered us and they would gather in packs and make concerted attacks on the convoy. At that time we had received on lease lend 50 old U.S destroyers, but at first they were of little use because they kept breaking down. Our only weapon against the U-boats was depth charges, which in those early days were not very effective. The Germans used Focke Wolf planes to shadow our convoys and radioed our position, course and speed to the U-boats. The aircraft would fly over very low and out of gun range and there was little that we could do about it. Later we too had air cover and they were a match for the Focke Wolfs, our aircraft would also attack the U-boats on the surface as well as passing on information to the convoy escorts.

Those early months in the Atlantic were pretty disastrous, we lost a lot of merchant ships and had little success against the U-boats.

Veteran

fired many depth charges but scored no direct hits, we did pick up an awful lot of survivors. One I shall never forget was when coming across a ship's boat loaded with survivors. We had established a routine for picking them up, and my job was to hang on a scrambling net hung over the side and then to assist the survivors to get aboard. On this particular day it was quite rough, and one moment when the boat was in the trough of the wave I would be looking down at them and then when it was on the crest I would be looking up at them. I therefore instructed them to jump for the scrambling net when I said so. One young lad (I was told afterwards that he was only 14) jumped too soon, missed the scrambling net and fell into the ocean and, as he did so, a gigantic wave bashed the boat and his head against the ship's side. We never saw him again. On another occasion we came across a boatload all dead.

One humorous incident, we came across a single survivor sitting cross legged on a raft which was just about big enough to seat him. It was windy and very rough and because of the heavy seas we could not get close enough to him to drag him aboard, We tried throwing lines to him but the wind made it almost impossible, and after many attempts this chap (he was a Canadian) called out "Say you guys, you're not very good throwers, I wouldn't have you in my ball team". It transpired that he had sat on that raft for forty-eight hours. When we finally got him aboard he was in agony as he tried to straighten his legs, having sat cross legged for all that time. On another occasion as cox'n of the sea boat I was ordered away to pick up two survivors who were obviously in no condition to help themselves. They were Chinese and the only survivors of an oil tanker sunk by aircraft bombs. They had both been badly burnt and picking them up was not a very pleasant job. The tanker was one of our own convoy and had been sunk by an aircraft which flew in just as it was getting dark and despite all the weapons blazing away at him he made straight for the centre of the convoy and scored a direct hit. There was a terrific explosion and when it all cleared all we could see was oil, some wreckage and these two survivors.

In those early days before we had radar, the U-boats would surface at night almost sink ships ad lib, with so few escorts we were helpless.



Admiral Sir Percy Noble




Admiral Sir Percy Noble was Commander-in-Chief for Western Approaches Command at Derby House Liverpool from 17 February 1941 to 19 November 1942 when he succeeded Admiral Sir Andrew Cunningham as Head of the British Naval Delegation to Washington DC before retiring from active naval service in 1945. He was succeeded as CiC Western Approaches
by Admiral Sir Max Horton
.



Towards the end of 1940 a new CinC was appointed. Admiral Sir Percy Noble and he decided that before taking office he would do one convoy trip in one of the escorts and we were chosen. On one occasion he came into our mess and sat and had a meal with us. I cannot remember, but it is possible that we had no plates or other utensils because, due to the extreme rough weather all our crockery would get broken. We used to escort the convoy for about five days, then due to shortage of fuel we had to leave them and return to Liverpool, picking up another convoy on its home trip.



The Christmas Blitz of Liverpool 1940



On Boxing Day 1940 we were due in Liverpool, incidentally after a very rough trip Christmas Day was wonderful, flat calm, no wind and the sun shone. I remember it being so warm that while on my gun on the afternoon watch I was able to take my great coat off. We heard on the radio that Liverpool had been subjected to air raids and as we neared the Mersey we could see heavy clouds of smoke from obvious bomb damage. It was worrying for me because Edie had come up to live there and naturally I was concerned as to what might have happened to her. I was even more concerned when we were ordered not to enter but to go to Londonderry instead. We soon went out on another convoy, but this time on our return we were allowed to enter.

I went ashore to try and contact Edie, it was Wednesday when Edie usually did voluntary work at the Y.M.C.A. But no luck, I was informed that they had not seen her since Christmas. That was a very worrying thought and then I made my way to the place where we lodged, and I feared the worst when I found the road closed off and there was a lot of damage. The Warden could not tell me anything about casualties other than the fact that there had been some deaths and many injuries. I began to fear the worst, however he directed me to where I could get more information. Off I went, and then to my great relief I saw Edie walking along the road towards me! The house had been flattened by land mines, but as she was in an air raid shelter she had not suffered in any way. This was on Christmas Day evening, and she had spent Christmas day in the local parish hall eating Lancashire hot pot for her Christmas dinner. Soon after this we obtained a three bedroomed house quite near the docks for thirty shilling a week. We shared with another chap from the ship, which meant that his wife and Edie had company when we were away. However the ship was transferred to Londonderry and Edie went back to her home in Wembley. Being based at Londonderry meant that we could escort the convoys a little longer and we did not have the problem of air raids when we were in harbour.



Hitting back!



By this time we were getting escorts and air cover by a rather ugly looking aircraft called the Catalina. It was very economical on fuel and could remain with us for most of the daylight hours. They could also give us information about the U-boats on the surface. By now we also had radar and learnt with amazement that our radar had picked up a U-boat at 6,000 yards, we thought this incredible. This was in the latter part of 1941 and two incidents stick in my mind. One evening during the last dog watch (6-8pm) we were suddenly attacked by an aircraft, but I received no order to open fire, despite bombs being dropped. The next morning just as it was getting light, another aircraft zoomed in on us. I did not wait for any order this time and opened fire, at which an angry and stentorian voice from the bridge called "Captain of the gun report to the bridge". You see the aircraft was one of ours, a Sunderland flying boat. The Captain gave me a roasting, including saying "It is grinning apes like you that are losing us this war". However when I mentioned what had happened the night before he withdrew his reprimand and congratulated me on my initiative. The story goes that the aircraft signalled to us "Good shooting Navy, but you definitely spoilt my breakfast."

The time when a certain kill of a U-boat was not a kill, we got a definite echo and dropped depth charges only to see a whale surface and make off at high speed. Our first kill did come in the latter part of '41 by which time we had a new skipper, Commander Eames. We received a report that a submarine had been sighted on the surface just off Iceland, and

Veteran

and an ex American destroyer

Leamington

were despatched to investigate, we soon found her and attacked with depth charges and were pretty certain that we had hit her, this was confirmed when oil and other debris appeared on the surface, later we were told that it was U207. In sixteen months of convoy escorting and attacking numerous U-boats that was our only kill. How different it all was when I next went to sea. I left my beloved

Veteran

in February 1942, by that time I was Petty Officer and went back to gunnery school at Chatham to qualify as gunnery instructor.

In September of 1943 I was drafted to another destroyer HMS

Duncan

based in Londonderry and once again on Atlantic convoys, but how different it was, plenty of escorts, better weapons, far more efficient Radar and improved Asdic's, in addition we had air cover almost continuously.
The tragic loss of HMS

Veteran

with all hands




Veteran

and her sister ship HMS

Vanoc

were escorting Convoy Maniac (RB.1) from Halifax, Nova Scotia, to St Johns, Newfoundland, on the first leg of the Atlantic crossing to Britain. The German High Command believed RB.1 to be a convoy of fast troop carriers and sent a heavy force of U-boats to intercept. It is widely believed that RB.1 was a decoy convoy of Great Lake steamers to lure the German wolf pack away from a more important convoy which got through. A list of those who died can be seen on Uboat.net

When I received the news that my old ship was lost at sea, I was shattered. I could hardly believe that the ship in which I had served for almost two years was no more. I was even more shattered when I learnt that there were no survivors. I had left the

Veteran

in March 1942, when I was drafted to the gunnery school at Royal Naval Barracks Chatham to qualify as G.I.

Shortly after I heard of her loss, I received a letter from the wife of one of my

Veteran

shipmates, asking if I could find out whether her husband, Yeoman of signals Berie Wiltshire was on board and therefore one of the casualties. She told me that she had received a letter from him saying that he was in hospital in Halifax (where the ship was based) and that he had heard that the ship was returning to the U.K. shortly and that he would do his damnedest to get aboard again before she sailed. Regrettably my enquiries revealed that he did.

It was then that I learnt that there were no survivors and that in addition to the ship's company there was a large number of Merchant Navy survivors on board.

Veteran

had been engaged in picking up survivors when she was torpedoed. Something we had done countless times during my time on her.

You will realise that I had a number of friends on the ship, but my thoughts went out to two in particular, Jock Falconer and Jimmy Mavir, both A.B's, my gunlayer and trainer on 'A' gun. The former was a three badged AB. Jimmy Mavir was from Carlisle and joined the ship when I did, he was a one badge AB, but unlike Jock, not interested in further advancement. His main ambition in life was women, and according to his own stories, he was very successful.

So ended the story of a ship that I did not want to join, horrified at what I found when I first went aboard, but which will forever be remembered by me. On Remembrance Sunday, the old ship

Veteran

is always foremost in my thoughts.
Jack Stokes


You may be interested to hear something about the convoy, now known as RB1. On 21st September 1942 when I was in command of U-404 she and six other U-boats received orders to dispose in line north to south to intercept an east going convoy. News of this convoy may have come from secret channels and the observation of British and American wireless traffic.
On the 13th September first contact was made by one of the U-boats in a position north of the line, but because of weather conditions and skilful manoeuvring of the convoy contact was frequently lost. No attacks could be launched before the 25th when during that day and night the British steamers
Boston
and
New York
were torpedoed and sunk by two U-boats, while U-404 was handicapped with temporary breakdown of one of the diesel engines.
The two big steamers I attacked on the 26th were probably stragglers from the convoy shepherded by this HMS

Veteran

. I fired three torpedoes but as I did so

Veteran

ran across my sight. Having fired I immediately submerged and heard two explosions and noise indicating the breaking up of a ship. I did not know it was the destroyer. I only learnt this later and was not aware until recently that there were no survivors.
You might also like to hear of an incident at daybreak on the 1st June, some 300 miles off the coast of Bermuda, when U-404 attacked the American freighter

West Notus

with gunfire. The risk of meeting an adversary with superior artillery had to be taken because shortage of fuel prevented us from taking up a position ahead. Opening fire we had the good fortune to obtain a hit on the bridge with one of the fist shells and the flames spread quickly. Very effective fire by their 5inch calibre gun was returned with some near misses and splinters which caused some damage to us, as we were running away and zig zagging. Then suddenly the ship was abandoned and the boats were lowered. Two of the boats got away in good order, the third filled with water and was motionless.
One of thes men in this boat was ordered to come aboard (he was the chief mate). I welcomed him with a handshake and the words "I am sorry but this is war. I hope it will soon be over and I am sure we will be very good friends". We had a long conversation about the ship, the cargo and the gunfight whilst we were towing the damaged lifeboat to the other boats that were now under sail. Returning to the burning ship we found another man in a life jacket, picked him up and took care of his wounded leg and delivered him to the other life boats.
The enclosed copies of cuttings from Ohio newspaper dated about the end of July 1942 was sent to me by a Mr Ritzenthaler who later with a Mr Sherlock visited me in Germany. This rescue work was a matter of course and simple humanity, but it may be of interest in the light of propaganda against the Germans during the war years. I have never heard a 'Hurrah' from the crew when a ship had been torpedoed and sunk.

You should also read the account of the sinking of HMS

Veteran

by James Reed on the website of HMS Vanoc.

but the book on HMS

Veteran

written and self published in 2006 by John Lawton contains the most detailed description of her loss




The Proudest of Her Line;

by John Lawton.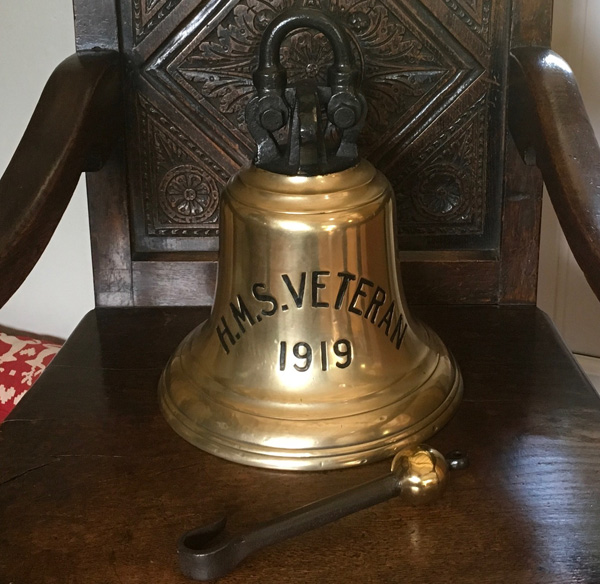 Veteran
was launched on the 26th August 1919
There were no survivors when she sank on 26 September 1942


Photograph courtesy of Greg Jepp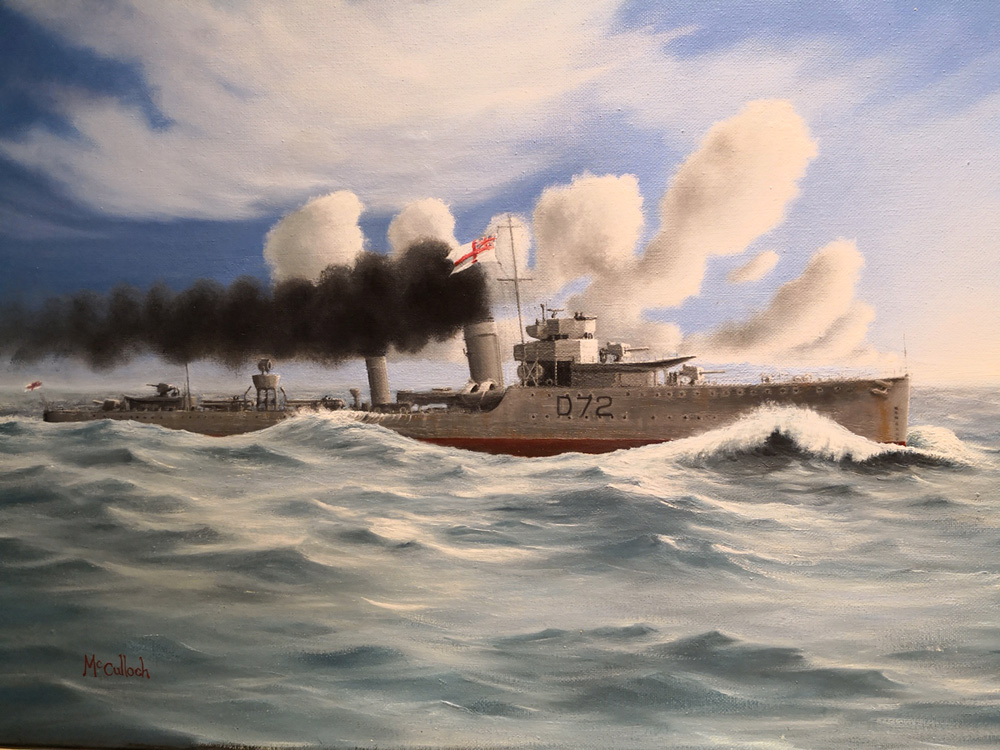 Commissioned by Greg Jepp, the grandson of Leading Seaman Herbert Charles Jepp JX125487
If you have stories or photographs of HMS Veteran you would like to contribute to the web site please contact

Bill Forster
---
Return to the Home Page of the V & W Destroyer Association
Return to the Index Page for the 69 V & W Class Destroyers
---