---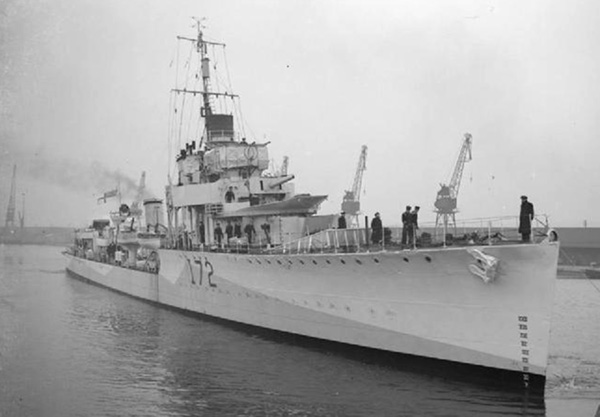 HMS

Veteran

(D72, later I72) was an Admiralty modified W-class destroyer ordered from John Brown and Company, Clydebank, in January 1918, and laid down on 30th August . She was launched on 26th August 1919, and on commissioning the following November she was assigned to the 3rd Destroyer Flotilla of the Atlantic Fleet. The Flotilla was transferred to the Mediterranean Fleet in 1923, and to the China Station in 1926. She was involved in the Nanking incident in March 1927 when the city was bombarded to counter rioting and looting during its capture by the Chinese National Revolutionary Army (Kuomintang). In the early 1930s she was placed in refit.

In 1939 the Veteran was in dockyard hands for a major refit, in which the after bank of torpedo tubes was removed to make room for a 12 pounder quick firing gun. Y Gun was also removed to make additional space for depth charge gear and stowage. She was re-commissioned in November 1939, under the command of Lt Cdr J E Broome, who was later to achieve celebrity as an Escort Group Commander (including the escort of PQ17).

Most of the

Veteran

's war service was as a convoy escort, but April 1940 her Flotilla was attached to the Home Fleet in support of the Norwegian Campaign. This included escorting HMS

Devonshire

conveying King Haakon and entourage to the UK. From July to September 1940 she was based at Harwich and employed on anti invasion patrols, until she was damaged by an acoustic mine. Following a successful Warships Week campaign during December 1941 she was adopted by the civil community of Wrexham, then in Denbighshire but now part of Clwyd, Wales.

The

Veteran

took part in the sinking of two U-Boats. In September 1941, with HMS

Leamington

, she sank U 207 in the Denmark Strait south east of Angmassalik, Greenland with depth charges. In July 1942 she took over the attack on U 215 from the ASW Trawler HMT

le Tiger

with depth charges and Hedgehog. U215 was sunk but credited to

Le Tiger.



In April 1941 HMS

Veteran

picked up 25 survivors from the British merchant ship

Harbledon

which had been torpedoed and sunk by U 94 south west of Iceland. In May 1941 she rescued 91 survivors from the British passenger ship

Nerissa

which had been torpedoed and sunk by U 552 south east of Rockall. In 10 June 1941 she picked up 29 survivors from the British merchant ship

Ainderby

that had been torpedoed and sunk by U 552 west of Bloody Foreland.

The

Veteran

was involved in a number of collisions, some of which required dockyard repair – with HM Submarine H46 in February 1940, with the SS

Horn Shell

in March 1940, with the Merchant ship

Ngkoa

in May 1940, and HMS

Verity

in January 1941.

In 26 Sep 1942 HMS

Veteran

was torpedoed and sunk by U 404 in position 54 deg 34 N, 25 deg 44 W while escorting convoy RB-1, which had been attacked by three wolf packs totalling 17 U-Boats. When torpedoed she was engaged in rescuing survivors of the American passenger ship

New York

. All hands were lost, together with those rescued from the

New York

and the American passenger ship

Boston

. U 404 was sunk with all hands by two US and one RAF Liberator aircraft in July 1943, as victory was finally being won in the Battle of the Atlantic.

Battle Honours
MARTINIQUE 1794 – CAMPERDOWN 1797 – COPENHAGEN 1801 – ATLANTIC 1939-1942 – NORWAY 1940 – NORTH SEA 1940
Heraldic Data
On a Field Green an old warrior's head, helmeted proper
Motto Laudator temporis acti

:
'Proud of former deeds'
Commanding Officers
Officers

If you have stories or photographs of HMS Veteran you would like to contribute to the web site please contact

Bill Forster
---
Return to the Home Page of the V & W Destroyer Association
Return to the Index Page for the 69 V & W Class Destroyers
---