---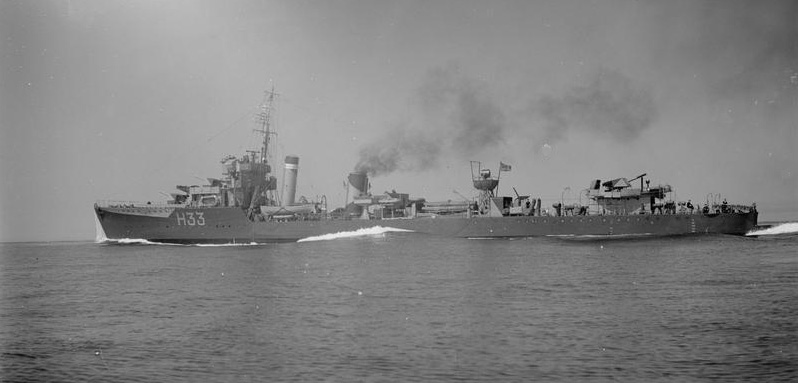 Vanoc was built at John Brown & Company's Clydebank shipyard and launched on 14 June 1917. She was commissioned on 15 August 1917 with the pennant number H33. She was named after a Knight of King Arthur in Sir Walter Scott's narrative poem The Bridal of Triermain. In the First World War she was used as a minelayer and convoy escort roles and in 1919, she took part in British operations in the Baltic as part of Allied efforts to intervene in the Russian Civil War.

In 1939 she was part of the 2nd Destroyer Flotila based at Plymouth and accompanied HMS Scarborough in February 1940 on her first Atlantic escort duties after Scarborough's refit. She accompanied the Polish troop transport MS Chrobry into Namsos in Norway just before sunrise on 17 April 1940. On 29 April 1940 she deployed with the destroyers HMS Echo, Firedrake, Havelock and Arrow to evacuate troops from Mo and Bodų. The troops were taken to Harstad in preparation for their final evacuation from Norway. In June 1940, Vanoc took part in Operation Ariel, the evacuation of British and allied troops from ports in north western France, escorting a convoy of 10 ships from St Nazaire on 18 June.

In March 1941 Vancoc was one of three V & W Class destroyers which sunk the u-boats commanded by Germany's three top u-boat aces. HMS Wolverine is credited with having sunk U-47, commanded by Gunther Prien, on 8 March 1941. Vanoc was a member of the 5th Escort group at Liverpool led by Lt Cdr Donald G.F.W. Macintyre RN in HMS Walker; within two weeks U-100 (Joachim Schepke) was rammed and sunk by HMS Vanoc and Otto Kretschmer was captured when U-99 was forced to surface by HMS Walker and scuttled by her crew. A brief outline of events is given below.

On 15 March the Group was escorting Convoy HX 112 when U-100, commanded by Joachim Schepke, sighted the convoy, and made a surface attack, torpedoing the tanker Erdona. The destroyer Scimitar spotted U-100 and summoned Vanoc and Walker. The three destroyers depth charged her, and Vanoc and Scimitar kept the submarine submerged while the convoy continued. Schepke evaded the destroyers and re-sighted the convoy later that night, sending location signals that helped to direct more U-boats against the convoy.

At about 10:00 pm on the following night, the 16 - 17 March, U-boat ace Otto Kretschmer in U-99 infiltrated the convoy and fired her remaining eight torpedoes, hitting six merchant ships and sinking five of them. At 01:30 a u-boat was detected by Walker's sonar and attacked by Walker and Vanoc, Walker left to rescue survivors from the merchant ships sunk by U-99 leaving Vanoc to continue the attack. The depth charges caused serious flooding aboard U-100 (Joachim Schepke) which was forced to surface. She was spotted by Vanoc on her primitive Type 286M radar, the first confirmed British surface ship radar sighting of a U-boat, and rammed. Only six of her crew survived with Schepke amongst those killed. U-99 tried to slip out of the convoy on the surface, but was spotted by Walker and dived. Walker picked up U-99 on her sonar and attacked with depth charges, forcing her to the surface. Vanoc spotted the surfaced U-99, and both destroyers opened fire on the stricken U-boat, which was scuttled by her crew. Read the account by Walter Edney and the photographs on the website about HMS Walker. The sinking of the three U-Boat aces in March followed by the the capture of U-110 and its Enigma machine and code books in May was a turning point in the Battle of the Atlantic.
Gainsborough, a market town in Lincolnshire, had informally adopted HMS Vanoc at the beginning of the war but this was formalised when the town helld a Warship Week in Gainsborough from 14-21 Feb 1942 which raised £250,000 in National Savings to pay for the cost of a new destroyer, the equivalent of £9 0s 2d per head of the population.

In March, 1942 Vanoc joined Escort Group B-5 which included the destroyers HMS Havelock, Caldwell, Walker, frigate Swale, and the corvettes Pimpernel, Godetia, Saxifrage, Buttercup and Lavender. Escort Group B-5 was reassigned to Caribbean trade convoys from March 1942. From July to August 1942 Vanoc was deployed for convoy escort off the east coast of Canada and USA. In September 1942 HMS Vanoc and HMS Veteran were the escorts of a convoy of Great Lake River Steamers from the Gulf of the St Lawrence to the Clyde designated as Convoy RB1 but widely known as Convoy Maniac. its passage to the UK during which three of the steamers and HMS Veteran were torpedoed by U-404 is described below by James Reed.

On 16 March 1944 in the Straits of Gibraltar at position 35°55' N 05°41' W Vanoc co-operated with the frigate HMS Affleck and three 3 US Catalina aircraft (VP 63) in sinking U-392 with a hedgehog attack, resulting in 52 dead (all hands) from U-392's crew. On 21 January 1945 Vanoc collided with, and sank, the naval trawler HMS Computator off Normandy (49°42' N 00°37' W).

Commanding Officers
Officers


Former Full Members of the V & W Destroyer Assoociation
A. Barber (Stirling, Scotland), D. Blair (Woking, Surrey), R. Fleeman (Northampton), O. Pamplin (Haverhill, Suffolk), James Reed (Southampton),
E. Wells (Wimborne, Dorset), R. Whalen (Deer Lake, Newfoundland),

Please get in touch if you knew one of the men or have a family member who served in HMS Vanoc


Two months after the outbreak of war the S

heffield Daily Telegraph

on Monday 11 December 1939 reported that


"HMS

Vanoc

has been adopted by the ARP Wardens' Post at Nether Edge Liberal Reform Club, Sheffield, believed to be the only post in the city with a regular knitting circle. Women's wardens – among who is Sir Henry Cowards daughter – and wardens' wives, are knitting comforts to send to the ship, and tomorrow will hold a whist drive in aid of their wool fund".

This private initiative may have been the first adoption of a V & W Class destroyer. By December 1941 Gainsborough, a market town in Lincolnshire between Sheffield and the Humber estuary, had established a close relationship with HMS

Vanoc

and formally adopted her when the town held a Warship Week from 14-21 Feb 1942 which raised £250,000 in National Savings to pay for the cost of a new destroyer, the equivalent of £9 0s 2d per head of the population.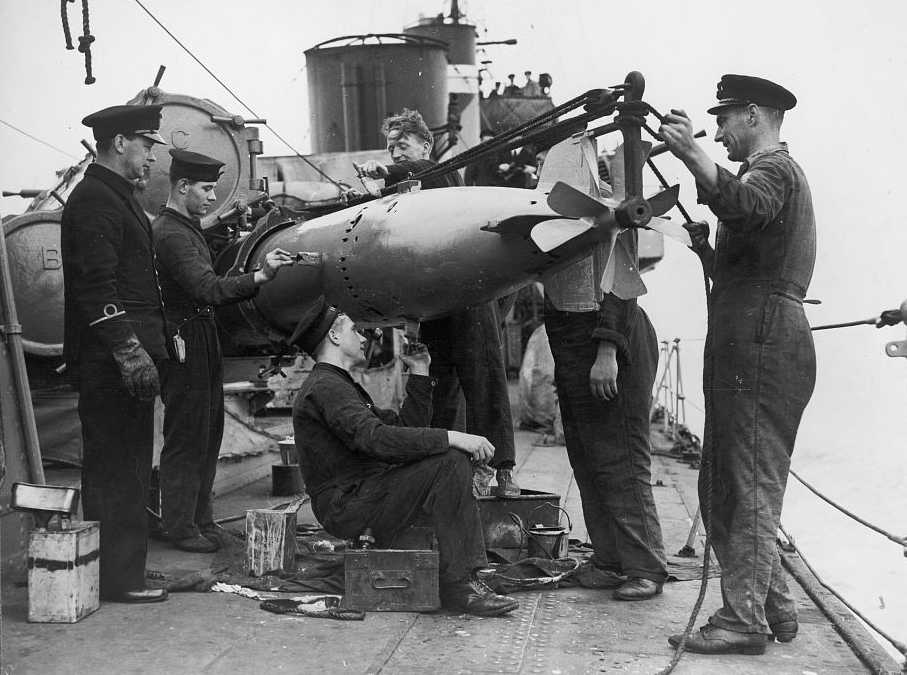 Preparing a Mark 11 or 1V torpedo aboard HMS

Vanoc

in August 1941
Office of War Information, Washington Overseas Picture Division, 1944.
Library of Congress Photograph ID LC-USZ62-132627


This is an extract from Walter Edney's autobiography written in 1993 and edited by his son, Jonathan Edney, and published as


Scuppers to Skipper: A personal account of life in the Royal Navy 1934-1958

(2015)


by Lt.Cdr. Walter P. Edney, RN (1918-2003)
This book provides both a personal story and a deep insight into life in the Royal Navy during the mid 20th Century. It contains fascinating details of daily life aboard ship as well as exciting accounts of wartime action in North Atlantic convoy duty - including the infamous sinking of two U-boat aces "Otto Kretschmer in U-99" and "Joachim Schepke in U-100" in a single night. Walter Edney joined the Royal Navy in 1934 at the lowest rank: a boy seaman. Over the next 25 years, he rose through the ranks, eventually becoming a Commissioned Officer and the commander of HMS

Fenton

. To do this he had to cross a huge class divide between "lower ranks" and "higher ranks" and his promotion was exceptional.

This book is taken directly from his personal memoirs written based on the detailed dairies that he kept through his life. As a result it provides a first-hand account of Naval life as well as a warm personal story. During his career, Walter Edney served on HMS

Iron Duke

, HMS

Nelson,

HMS

Maidstone

, HMS

Vanoc

, HMS

Sheffield

, HMS

Constance

among others. Before WW2 he showed the strength of the British Empire aboard HMS

Nelson

. During WW2 he fought on HMS

Vanoc

in the North Atlantic, protecting convoys of merchant ships against U-boat attack. He also landed at Anzio in Italy to provide a communications centre.

He begins this chapter in his life when he joined HMS

Vanoc

in Norway as a Leading Telegrapher at the end of May 1940 and ends it when he left

Vano

c as a Petty Officer after he was injured by a shall splinter at Gibraltar at the end of 1942.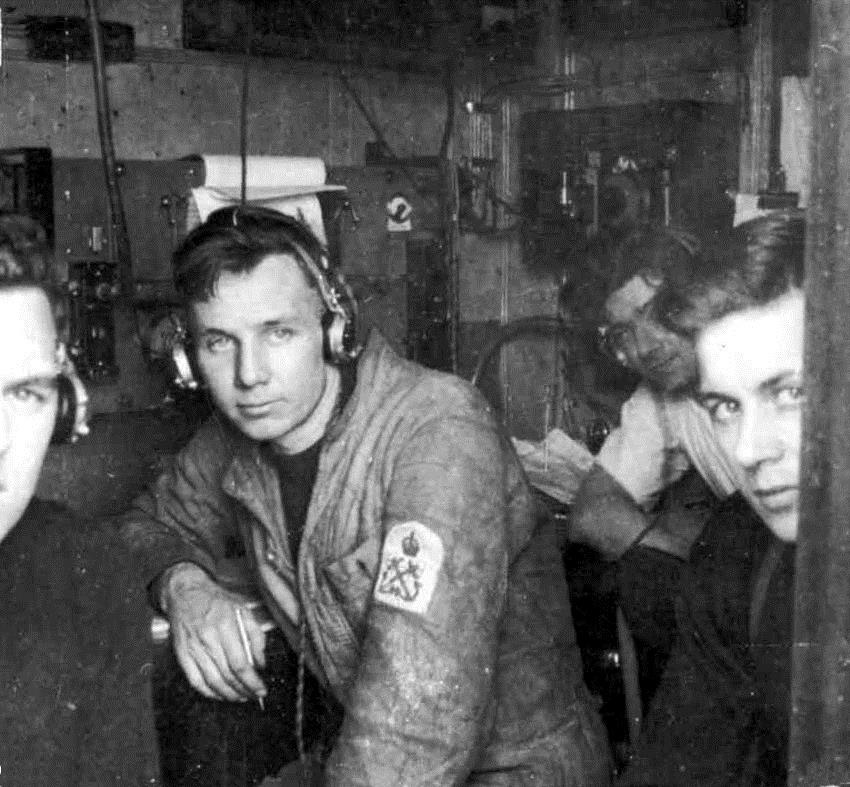 Leading Telegrapher Walter Edney in the Wireless Office on HMS
Vanoc
Life aboard these V & W escort destroyers was rough - to put it mildly. There was no refrigeration and on leaving harbour, fresh meat had to be kept in the upper deck lockers. After three days any meat remaining became inedible. From then on there was only tinned meat and the only tinned meat available in 1940 was corned beef. I have never eaten corned beef since. Much the same has to be said about bread, supplies of which were sufficient for three days after which it was too stale or mouldy and we lived on biscuits -- hard ship's biscuits, but not those from which weevils had to be shaken out first.

Sanitary arrangements were somewhat primitive, and consisted of a shelter on the upper deck, fitted with a long bench containing about a dozen tin bowls. Cold water was pumped up and each man queued to fill his bowl. Showering was non-existent but a two-gallon bucket of cold water was used for a bath in the open on deck. The only hot water was obtained from the galley where the cook kept an urn, heated from the range, for tea making purposes only.

The cook wasn't responsible for preparing meals; his role was to keep the galley range burning and supervise the galley. At 8 am, the cook of each mess (taken in turn by members of the mess) would assemble for his mess's issue of bread and meat. If fresh meat, it could be any type or cut and each mess received a different cut. If it was corned beef there was no problem. The cook of each mess was then responsible for producing a meal for the mess out of the joint he had been issued. More often than not, fresh meat was made into a hot pot or stew and corned beef into some kind of shepherd's pie if potatoes were available.

It seems incredible now but the mess decks and galley were swarming with cockroaches -- not huge ones but a little larger than a fly and no one took the slightest notice of them – it would have been a waste of time anyway, there were so many, running around the table as we ate.

I can't remember how we kept warm, but never remember feeling particularly cold. We wore plenty of clothing including thick white roll neck submarine sweaters - I still have one. There may have been pipes running through the mess decks with hot water from the ship's engine room. Our sleeping quarters comprised a hammock slung in the mess decks in the usual manner.

To compensate for these conditions we were paid what was known as "hard lying money," the princely sum of one shilling (5p) per day - quite a lot in those days when the weekly payment for a leading telegraphist was in the order of 30 shillings (£l-50.)



Joining ship in Norway



When I was appointed to

Vanoc

she was in Norway doing her best to assist our army stem the German offensive but in the main, evacuating our soldiers who had been cut off. I was sent to Glasgow on 29th May where I stayed two days before being sent on to Scapa Flow to join HMS

Veteran

-- another destroyer of the same class, on 1st June.

Veteran

sailed immediately for Norway, arriving after an uneventful journey at Harstad (Northern Norway) on 4th June. Here we met HMS

Vanoc

, busily evacuating troops and I transferred to my permanent ship. We took the troops to Narvik where they were to make their last stand and spent three days patrolling and bombarding the Norwegian coast. Subsequently our troops were taken offshore to troopships for return home.



The Wireless Office and Telegraphists



The wireless office of which I was to be in charge was situated on the lower part of the bridge and consisted of two receiving sets and a very ancient arc/spark transmitter which jammed everyone else within a radius of 20 miles when used. My original communication complement was just 3 telegraphists.

I relieved the Leading Telegraphist, a real nautical character who looked as though he had been at sea with Nelson. He had a heavy black beard and looked like an old sea dog of about 60. In fact, he was probably less than 40. His name was Bill Mansfield and it did not take him long to turn the reins over to me. Then he was away, probably to a troopship but I never saw nor heard of him again.

The staff that I inherited consisted of just three telegraphists, all "hostilities only." They were characters of such diversity that the details are worth including here. Firstly there was

Jack Oldfield

.

Here was a man well into his thirties who hailed from a manor house in Sittingboume, Kent. From a most wealthy background, he had been educated at a top public school, Marlborough or possibly Winchester. He spoke in an impeccable manner as would Royalty, never loudly, never shouting, and always in perfect English He was polite and courteous always. In peacetime he had entered politics as a member of the Greater London Council and had unsuccessfully attempted to become a Member of Parliament at the election in 1937. Oddly enough, despite his background, he was a Labour candidate, hence his entry into the Royal Navy at the outbreak of war as just an ordinary sailor, instead of as a Sub-Lieutenant which would normally have been the case for a man of his education. We became great friends and corresponded long after the war until in the l960's he invited me down to his Manor where he was engaged in mushroom farming. Still more odd was the fact that after we had parted company, whilst in Canada, he was recalled to London to contest a political seat. He failed and then took his commission and became an officer. He also switched his allegiance from Labour to Conservative at this time.

The second member was "Dinger" Bell, a pleasant but quite uninspiring Irish lad from Belfast with a very strong Irish accent and the third was Ted Scott, a regular service telegraphist from Devonport depot. Lazy and lethargic would be putting it mildly. Pity really because he was a good operator, but seemed to have little interest in life or the goings on. He also had marital problems also, but this was hardly surprising. The four of us kept watch throughout each 24 hours on the basis of the four watch system -- a motley staff without a doubt.


On the 8th June, after most British troops had been evacuated, we sailed for Sullom Voe, Orkney Islands. The weather was fine, but there was a sizeable swell. I had not been to sea in a vessel this small and it is not surprising that I was seasick and lay prostrate, feeling very sorry for myself in the small wireless office.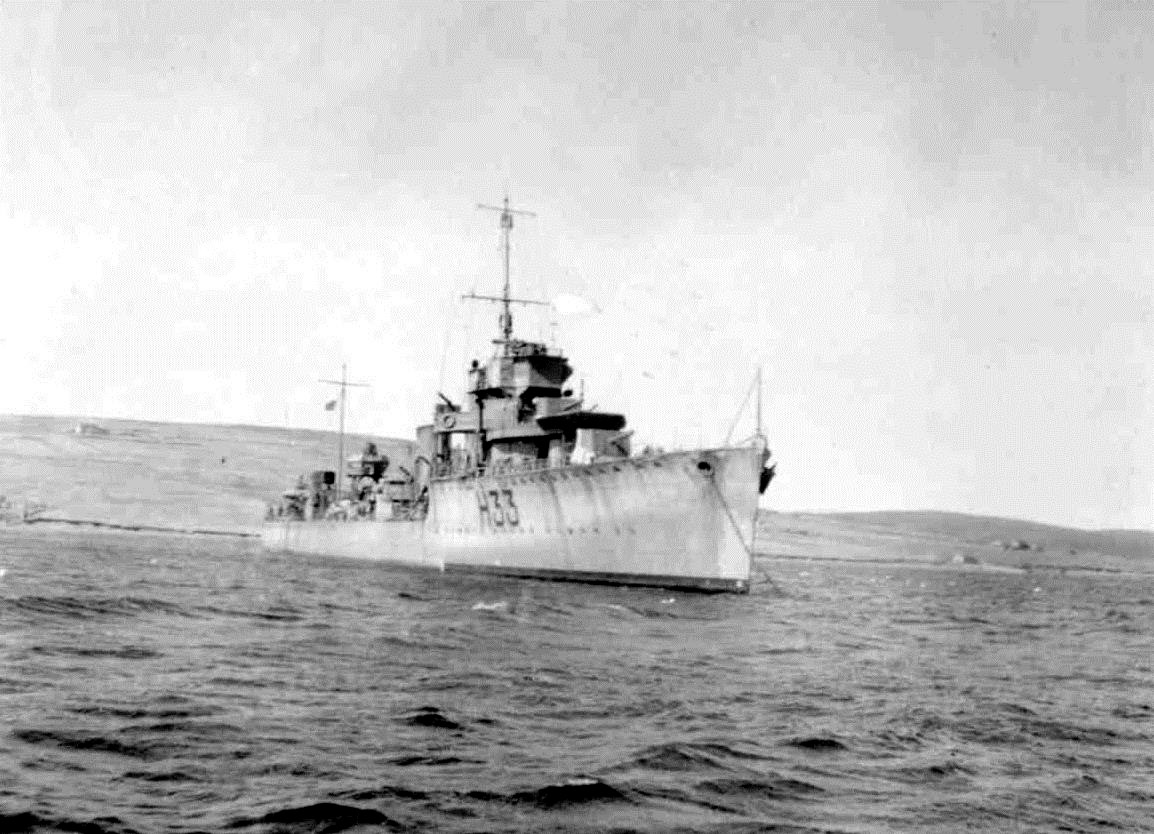 HMS
Vanoc
at Sullom Voe
,

Orkney Islands.

On the morning of the 9th, about half-way between Norway and the Orkneys we were attacked by a German Bomber - a Junkers 88 which straddled us with bombs doing little damage but blowing away our aerials. This consisted of a four wire stretch from the topyard of our mainmast to the mizzen mast on "x" gun deck aft. We could not remain at sea without communications, so, seasick or not, I had to get up and get on with repairs. I was amazed that although this was a communication problem everybody aboard turned in to help, be they seamen, stokers, electricians or whatever. I had never seen cooperation like this on larger ships and soon learned that this was a hallmark of life in the destroyers. Repairs were completed on the rolling ship and my seasickness disappeared rapidly, never to return on this voyage.



St Nazaire



Our stop at Sullom Voe was brief, time enough to refuel and re-arm then it was off to St. Nazaire in Northern France, calling briefly at Greenock on the way. The British Army were taking a battering in France with the heavily armed Germans pushing forward on all fronts -- quite unstoppable. Our job at St. Nazaire was to evacuate as many of the British troops as we could and get them aboard troopships for return home. At the same time, in the English Channel, a mass evacuation was taking place at Dunkirk, where a miracle was achieved in getting the majority of our troops home. During our evacuation at St. Nazaire, we had just completed loading one troopship, with some 1,000 or more soldiers when she was bombed and sunk by German Aircraft - I believe one bomb went straight down her funnel and blew her to pieces - how many survivors there were I do not know, but not many I suspect. The job was completed by 18 June when we returned to Plymouth, for a break, to get our breath back and await further developments. Seemingly, relatively quiet, we were sent to Liverpool on 1st July for convoy duty.

Whilst operating from Liverpool during July and August I took the opportunity to pass the examination for W/T2 (Wireless Telegraphist 2nd grade). This was the technical qualification required for advancement to Petty Officer Telegraphist, the educational examination having been obtained in my days aboard HMS

Nelson

in 1936. This was of a lower standard than normally required and it would be necessary for me to attend a training course which lasted several weeks at the Signal School, HMS

Mercury

at Petersfield, before taking the full examination and I could not be spared at this stage in the war.



Anti-invasion Patrol



A German invasion was widely expected and in September the German Luftwaffe attempted to take control of the air. While the Battle of Britain was fought and won it was our duty to prevent a seaborne invasion landing troops along our South Coast. On 8 September we were assigned to the Anti-Invasion Patrol in the English Channel, constantly on patrol from Dover to Isle of Wight and refuelling as necessary at Portsmouth or Southampton. By 28th September, the immediate invasion scare was over and we settled ourselves in Portsmouth alternating between immediate notice and four hours' notice to sail.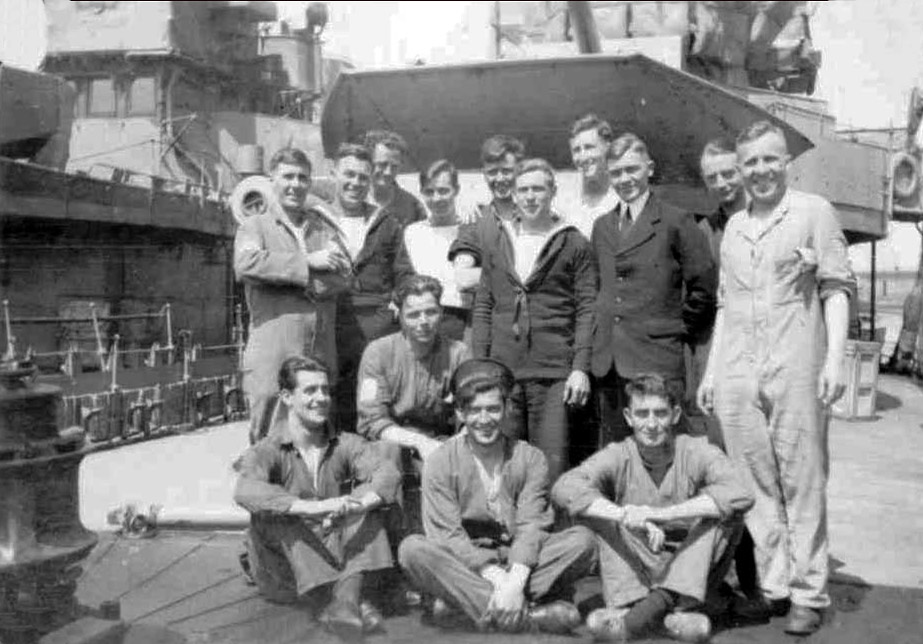 "The Vanoc Boys 1940"

Updating the Wireless Department
This breathing space was an opportunity to update the wireless department. Our old and useless arc/spark transmitter was taken out and a modern set installed. We also had RDF (RADAR) fitted, primitive though it was compared with later installations. Depth charges and throwers were fitted, plus anti-submarine equipment, and many other modifications made.
On 7 November 1940, I was promoted to Acting Petty Officer Telegraphist (temporary) on the basis of the examination I had pressed in August. I was just 22 and not far from my ultimate ambition of Chief Petty Officer, with 18 years yet to serve.

I remained in sailor's uniform (not the square rig of a confirmed Petty Officers) but wore the appropriate insignia on my right arm together with the good conduct stripe I received at the age of 21. It was almost unheard of for a rating with less than eight years service to be a petty officer, but the war helped and I did it in four years. I moved from the sailors' mess deck in the bows of the ship to the petty officers' mess, a much more civilized mess, completely separate and consisting of around eight other petty officers. It also meant that I could take my daily issue of rum, neat, without water added.

The work in the Wireless Office gave me the opportunity to get home to Bognor and see my family when we were at four hours' notice for sailing. The train journey to Bognor was about one hour. I frequently took Jack Oldfield with me which, looking back, must have frightened my mother to death. To me he was just a colleague but I fear my mother must have been full of apprehension. However, we went and enjoyed ourselves. My brother and I used to delight in getting Jack down to the Pavilion for roller skating. He couldn't skate of course but we would get him on the rink and push him until he fell. We had great fun but I don't know whether he enjoyed it. We were at sea from time to time, on anti-submarine or depth charge trials, sometimes escorting a convoy through the channel. Throughout this, whilst at immediate notice, we had our wireless watches to keep. On 9 January 1941 while in harbour, bombs were dropped, close to the ship and on 10th we moved out to Spithead. Just as well as on that night the Air Blitz on Portsmouth took place and the town was still burning on 11th.

On 19 January I was granted a week's leave and went to Liverpool to see a young girl whom I had met there during our spell of convoy duty between July and September the previous year and with whom I had maintained communication by letter. I stayed in one of the service hostels, probably the Union Jack Club, which was quite comfortable. Some time was spent with Doris at the cinema or the Grafton Dance Hall, some on my own at the great Liverpool Empire Hall. On return from leave my new transmitter and RADAR had been fitted and I spent many hours with the Warrant Telegraphist of the dockyard, tuning it followed by RADAR trials at sea. By 5 February we were ready and left Portsmouth for Liverpool in rough seas which made me quite seasick.

We arrived at Liverpool on the 7 February and sailed with our convoy on the 9th. These convoy trips lasted about ten days. We refuelled at Londonderry and could not operate more than ten days without refuelling again. We escorted an outbound convoy for five days almost halfway across the Atlantic and then picked up the homeward convoy. The speed of the convoy was that of the slowest ship and was at best six knots on an irregular zig-zag course to avoid torpedoes from U-Boats. This doubled the distance we travelled. The weather was often rough, uncomfortable, cold and unpleasant, but the job had to be done to keep our island fed and clothed. The respite in harbour varied between 2 or 3 days to a week, depending on the maintenance required. Obviously we all made the most of our time in port by getting ashore whenever possible, going dancing, drinking, or visiting the shows or a cinema.

Rum was a daily issue to all seamen not of commissioned officer rank, over the age of 21. For the sailors it was diluted, 3 of water to one full tot of rum, it had to be consumed on the spot of issue, 12 noon daily. Alternatively, those who did not want a rum issue could be paid four pence daily. I found the concoction insipid and elected for the extra pay. However as a Petty Officer with neat rum available I chose the rum which was "lifting" to take and, although illegal, could be bottled as it would keep. Mostly I drank mine daily, bearing in mind that eight full tots was the equivalent of a full bottle of spirits.

Another concession of the navy was a monthly issue of tobacco or cigarettes. This amounted to one pound of tobacco, either pipe or cigarette, or 500 previously rolled cigarettes. There was a small charge for this, but it was negligible as it was duty free. There was also an issue of leaf tobacco in lieu, if required. This was the plain tobacco leaf, which the old salts rolled tightly and bound with tarred hemp, what was known as a "prick" and was subsequently cut in thin slices to smoke in a pipe. Guaranteed to make any normal youngster violently sick, it was a dying art - none of the navy could take that. For my part I did not bother drawing my tobacco issue, sensibly knowing it was no good for me.



The most momentous event of my life was about to happen ...



On Sunday 9th, I went ashore with Jack Oldfield for drinks at a pub and then on for a meal at the rather elite Exchange Hotel and on Monday 10th I was invited to join Jack -- the canteen manager and Paul, the ship's supply petty officer to go with them to the Grafton, for a blind date. It was not a blind date for them - they had met a couple of girls the previous time in port - Iris and Esther and had been invited to Iris' birthday party on the 24th February. Iris had a sister, Thelma, who appeared to be unattached at the time but was rather young, just 17. It was agreed that Iris and Esther would bring Thelma along to the Grafton and Jack and Paul would take me, to make up the six. Needless to say, we had a great time. I found Thelma, very lively, very entertaining and most attractive with a tremendous personality and sex appeal. I plied her with drink, in which she had not imbibed before at her young age, and then escorted her home by tram to Stoneycroft. The following day I met her again and took her home where her very kind parents gave me a bed for the night, returning to

Vanoc

the following morning. I again met her later that day and we went to the cinema. There was quite a heavy air raid on Liverpool whist we were in the cinema, but we sat through it all and then had to walk home all the way from Lime Street in the centre of Liverpool to Stoneycroft - about 5 miles, as there was no transport running. Many a time on that long walk home did we drop flat on our faces on the pavement as the bombs dropped, but we made it uninjured. It had been a lovely four days in harbour and when we sailed with the next convoy on 13th March, I was very happy.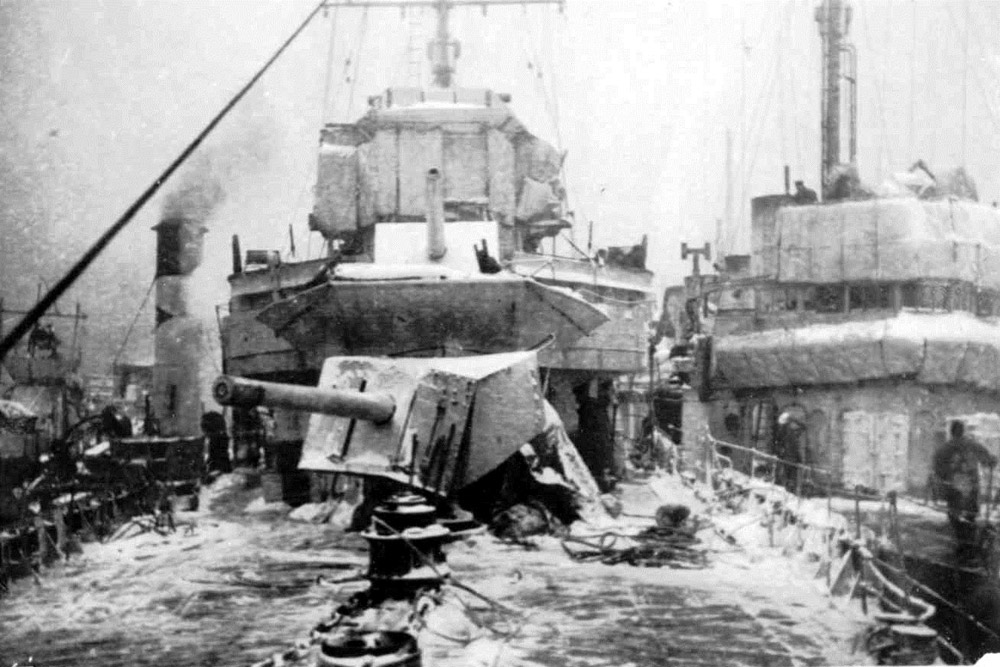 Vanoc
after an Atlantic gale



The end of three U-Boat Aces



The next convoy escort began as most others, quite peacefully in a calm sea, up through the Irish Sea to Londonderry for refuelling. Little did we know what lay ahead. We wasted little time in Londonderry and sailed again at almost full speed, 20 knots, to pick up a convoy. The sea remained calm. During the night of 14th, although we had not met the convoy, it was reported that one of their number, a tanker, had been torpedoed. We finally reached them on Saturday 15 March 1941 in mid-Atlantic and joined HMS

Walker

to bring the convoy home. By midnight four more ships had been torpedoed and it became clear that U-Boats were operating among the convoy, surfacing and firing torpedoes at will. What use could two First World War destroyers be against this? Just after midnight,

Walker

sighted the fluorescent wash of a U-Boat retreating on the surface and gave chase, dropping a pattern of depth charges (10) over the likely diving position of the U-Boat. Unfortunately, contact was lost, the U-Boat disappeared and Walker steamed on to pick up survivors from yet another tanker. The U-Boat had been damaged by the depth charges and unable to stay under water for long it surfaced to inspect the damage. As it surfaced my RADAR operator immediately reported a dark green blob which he thought might be a U-Boat. This was reported to HMS

Walker

and both ships raced at top speed along the bearing given by the RADAR operator. After a little more than a mile, the silhouette of a U-Boat could be seen on the surface, and without hesitation our Captain gave the order "Stand by to ram." This we did, in no uncertain manner, at full speed, hitting the U-Boat amidships and toppling her over. It brought

Vanoc

to a sudden standstill, embedded in the U-Boat which was only cleared by both engines being set full astern. The U-Boat rose high in the air and sunk, the Captain still on the bridge wearing his white cap but badly injured went down with her. There were few survivors, just five from a crew of 50 who had probably jumped over-board before the collision.

We later found out that the U-Boat we had sunk was U-100, captained by a Lieut. Capt. Schwepke, a U-Boat Ace who had sunk many thousand tons of British shipping. This was the first time that such a primitive and crude RADAR set had led to a successful attack on a U-Boat, bearing in mind that the set had only been installed a few months before and the aerial had to be rotated manually.

We swept the surface of the waters with our searchlight to pick up survivors. I well remember and will do so always, the cries of men in the icy waters "Camerade." In my youth, my bitterness towards them was extreme; they had sunk our ships and many of our seamen drowned at sea. Their air force (the Luftwaffe) had bombed our cities relentlessly killing thousands of innocent civilians. I just had to shout "Leave them there." Fortunately, perhaps, the older members of our crew had more compassion and pulled up the side as many as they could, before the next alarm. It amounted to just five, one officer and four men.

Whilst recovering these survivors the

Walker

ASDIC operator reported an echo which, on investigation, placed the u-boat directly under our stem, where we were stopped recovering survivors. There was only one thing to do, get away quickly and depth charge the area, followed by a run over the spot by HMS

Walker

which also dropped a bank of depth charges. Any further survivors in the water, and there were some, could not possibly have survived this fierce attack. After a short while, a U-Boat surfaced just astern of us, so close that it was necessary to move out of the way fairly quickly for fear of being torpedoed or fired upon.

Walker

and

Vanoc

both opened fire at the U-Boat, with no answering fire and no movement from the U-Boat it was clear that she was badly damaged and the crew would have to surrender. The U-Boat flashed a message in English to

Walker

that she was sinking. The bow of the U-Boat rose in the air and she slithered down to her grave. The whole of the crew took to the water, all saved, including the captain, with the exception of the Engineer Officer and two seamen.

What we had achieved! This was U-99, captained by Lieut. Cmdr. Kretschmer, the unchallenged Ace of the German U-Boat fleet after Prien who had been sunk with his U-Boat a few days before by HMS

Wolverine

- another of the old V & W class. But what of ourselves? The damage to our bow was extensive, but the water-tight doors were holding and the engines were sound; we would be of little further use as an escort but we remained with the convoy at slow speed and left them for Loch Ewe, Scotland on the morning of 18th. We were desperately short of fuel, having steamed at high speed to meet the convoy and been at full power during the action. It took three hours to refuel and we left to re-join the convoy for Liverpool, but did not proceed into harbour as usual. We anchored outside in the Mersey. The following day, the 20 March, we proceeded up harbour at 11 am, to be met by the Admiral of Western Approaches and many other top brass. We received congratulations all round, discharged our prisoners, and settled ourselves in Gladstone Dock for what was to be a period of repairs to our bow, among other modifications. In due course, many months later, awards were made for this action, our own Captain and the Captain of

Walker

were both awarded the Distinguished Service Cross, our ASDIC operator the Distinguished Service Medal and for my part, not that I know what it was, I received a mention in dispatches. I suppose my part had been keeping sound and efficient communications including the RADAR which was my responsibility. A good account of this action is given in

The Golden Horseshoe

by Terence Robertson.

This is an extract from Fred Chilton account of the ramming of U-100 published on the Internet by his wife, Iris Chilton, the sister of Walter Edney:


"I was in the wireless office, which was on the deck underneath the bridge, so I could not see what was actually happening but I knew that our ship was dropping depth charges.

The next thing I remember was a terrible crashing noise and everyone in the wireless office was thrown about. We all thought that the

Vanoc

had been torpedoed as the ship toppled over at an alarming angle. However, the lights stayed on and after some time the ship gradually righted itself. Meanwhile, Petty Officer Walter Edney had already started to put the confidential papers into the weighted bag ready to thrown overboard if needs be. My instant reaction was to inflate my life belt that we always wore on the body when at action stations. After the ship had returned to an even keel I could hear a lot of noise and commotion coming from the upper deck and on the bridge so I went out of the wireless office to see what was happening. I could hear men in the sea shouting and calling for help. Our searchlights were scanning the water trying to see them in the blackness. Our crew flung nets over the side of the ship to try to help the German sailors in the sea to climb up the nets to safety. I realised by then that the

Vanoc

had rammed the U-boat. While the survivors were being picked up the

Vanoc

was stationary and it was very vulnerable from attack from other U-boats in the vicinity. The

Walker

circled around us to try to offer protection from attack. It was very difficult to pick up survivors and we only managed to save one officer and five ratings from the sea. I learned later that the submarine that we had sunk was the U-100, captained by the famous 29-year-old U-boat ace Joachim Schepke.

The U-boat was about 1000 yards from the

Vanoc

after the depth charges were used and it was forced to surface when it was badly damaged. It was then located by the ships new radar system and the order was given to make full speed ahead and to ram. The

Vanoc

hit the submarine at full force in the middle by the conning tower. The men near the conning tower were flung into the sea. When the

Vanoc

rammed the U-boat the captain was standing near the tower and he was unable to get away before the

Vanoc

's bows crashed into his boat at right angles. He had both his legs severed and his body fell into the sea. The U-boat then sank with the rest of the crew still on board. The six survivors were made prisoners of war aboard

Vanoc

and they considered themselves lucky to be alive. A short time later the

Walker

received another ASDIC contact with a second U-boat and

Vanoc

was ordered to join

Walker

to locate the submarine and to drop depth charges. Before long the depth charges found the target and badly damaged U-99 surfaced. This time all but three of the crew were picked up and taken on board HMS

Walker

. The U-boat sank and the German sailors were made prisoners of war. The captain of the second U-boat, was Otto Kretschmer, another U-boat ace, young and much decorated by Hitler for so much success in sinking merchant ships.

In one memorable night, 17th March 1941, two of Germany's ace U-boat commanders were put out of action. One killed and the other taken prisoner for the duration of the war. The

Vanoc

and

Walker

rejoined the convoy of the remaining merchant ships and smaller navel ships and reached Liverpool a few days later without further incident. As we drew up to Princes Landing Stage we were welcomed by a group of high ranking naval officers from Western Approaches Headquarters that was based in Derby House nearby overlooking the River Mersey. The German sailors were taken ashore and sent off to prisoner of war camps. The five ratings on the

Vanoc

had slept and ate with us in our mess and were able to converse with one of our men who could speak a little German. They were treated well and were no trouble. When they left the ship we gave them a small package of chocolate each. As they left the ship and walked down the landing stage they turned and waved farewell to us on board. The one officer turned and made the nazi salute. They were all convinced that Germany would win the war in a matter of months but as we all know now they were very wrong. They would have spent many years in a prison camp before being allowed to return to Germany at the end of the war.

As the bows of the

Vanoc

were badly damaged when it rammed the U-boat we were all given four weeks leave when she was repaired in dock. After our leave we rejoined the ship in Liverpool and continued to do convoy duty in the North Atlantic for the rest of 1941."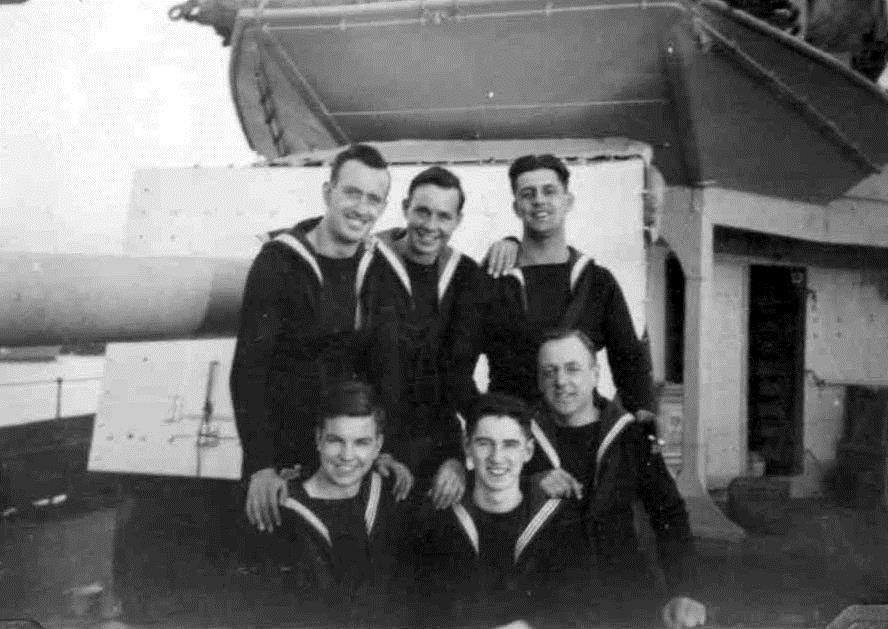 The Telegraphers in the Wireless Office on HMS

Vancoc


Walter Edney is in the centre at the back and Fred Chilton is front right. John Richard Anthony Oldfield (1899-1999), known as Jack Oldfield, may be the older rating standing on the left next to Walter Edney.


Liverpool


Well, the first thing for me to do on return to Liverpool was to call and see Thelma, which I did without delay. I had a good hot bath at her home, went out and got very drunk. We were going to be in dock some time for repairs, so two weeks leave was immediately granted although I did not go myself until a week later. There was work to do on board before the "Dockies" took over - dismantling certain transmitters, taking down wireless aerials, and rewiring the radio office, but I was able to get ashore each evening and be with Thelma. We spent our evenings at the Grafton, dancing, or went to the cinema or even, on a Sunday, for a picnic in North Wales. Thelma was working, of course. I frequently stayed overnight in her home. Her parents treated me as though I was their own son; I had meals provided, hot baths, and all home comforts, which considering they were on strict rations, was exceptionally good of them and very much appreciated.

So much for Thelma's family background. Our vessel was soon moved to Birkenhead and dry docked for repairs. Home leave was granted and I went South to visit my parents. I spent most of my leave with my brother, going to cinemas or at the roller skating rink or the pub with my father. I had a very nice two weeks and a lovely girl to return to in Liverpool. There was not a great deal to do on board while dockyard repairs were taking place and life aboard was not at all comfortable. Consequently, the opportunity was taken for plenty of home leave. Late in April, I applied for my full qualifying course for P.O. Telegraphist, at the Signal School, at Petersfield, Hants. In late April I had a further week's leave and took Thelma to my home in Bognor to meet my parents. I think she found my home somewhat different to her own and was probably glad to leave when I saw her off on the train a week later. I went directly from this leave to the Signal School at Petersfield.

It was a disastrous trip home for Thelma. Liverpool had been heavily bombed the previous night. The city was ablaze, with thousands of refugees tramping out carrying what little belongings they could salvage. They were making their way to the outskirts, anywhere away from the burning city. Thelma was terrified of course, but joined the refugees. She had no choice, eventually arriving home, footsore and weary to see most of the houses in her street had been bombed flat. She was sure that her home and her family were gone. In the event, it was the houses opposite to hers which had taken the hit and her mother and sister were safe though severely shaken Her father was missing. He had been on police duty in the city the previous night – fire watching from the roofs of buildings and it was not known whether he had survived. Fortunately he did, for he turned up home, many hours later, blackened and dishevelled, but safe.

I spent two weeks of intense study at Petersfield during which I was informed that I was to be drafted to HMS

Talybont

, a small new destroyer escort which had just completed building. This worried me intensely.

Vanoc

was not entitled to a fully qualified petty officer, but it probably meant that my days of operating from Liverpool and seeing Thelma would have to come to an end. I protested and so did my officers from

Vanoc

, on my behalf, so the draft was not enforced and I was allowed to stay. I returned to

Vanoc

in mid-May. Repairs to the ship were finally completed by mid-June and we sailed on the 19th for Londonderry where we carried out trials of all the new equipment and fully tested everything, bringing ourselves back to fighting fitness. We had one week of working up trials. Whilst in dock, I had got together with the ship's gunner - a petty officer who had a gunnery station on the upper deck. I had to have some of my new wireless equipment fitted into his office, which backed on to my wireless office. We had built for ourselves a pair of bunks in what was known as the Transmitting Station and from now on, our sleeping arrangements would be quite civilized. We sailed to collect our next convoy from Greenock on 24th June. Meanwhile the results of my examination came through - I had passed, top of the class and was able to drop the "Temporary" from my title.



Atlantic Convoys



The next three months were spent on convoy escort duty, each trip lasting seven to ten days with usually three days in harbour at Liverpool. Ships of the convoy were often sunk and sometimes, but not always, survivors were rescued by the escorting destroyers. Frequently depth charges were dropped when an Asdic (SONAR) contact was obtained but there was never confirmation of any further U-Boat sinkings. Sometimes, the convoy was bombed by aircraft but although ships were hit non were sunk. We formed a ship's football team to play other escort destroyers during the brief periods in harbour and I was able to see Thelma at frequent intervals. It was a quiet and somewhat boring period, but we were doing an important job and the convoys were getting through. There was no way Hitler was going to starve us out. He had missed his opportunity to invade and we were rearming and re-equipping at breakneck speed with the help of the USA.

In October there was a slight change to our normal routine when we left an outward-bound convoy in mid-Atlantic and proceeded to Iceland for refuelling. Our first visit was on the 1 October for three days. This lengthened the time for each trip, but it was a pleasure to be able to get fresh provisions halfway through a convoy. These visits to Iceland (Reykjavik) continued into December, sometimes in the roughest of weathers - the seas can be very unkind in that part of the world in late autumn and winter. Our football team was very active during this period, never missing the opportunity to play, be it in Liverpool or Reykjavik. I gave up my position as goalkeeper for the team which was either boring and cold standing around or as an "Aunt Sally" for the opposing team in mid-field.

On 10 December

Vanoc

entered Liverpool for a slightly longer break than normal in order to give each watch seven days leave. We were due to sail again on 21 December so would not be home for Christmas. I stayed at the seaman's hostel in Liverpool in order to see as much of Thelma as possible, which I did - every day. By this time I had decided that I would like Thelma for my wife and we discussed the matter. After some gentle persuasion, she agreed, but would set no firm date for the engagement, although she agreed to come with me and select a ring. This was surprising really as our relationship had been far from smooth, quite the contrary. There had been more arguments and sulking than there had been happy periods, but underneath it all was a love on both sides I believe. On Monday 15th December we both went into Liverpool to do Christmas shopping and looked at various engagement rings in jewellers until we found the one Thelma liked - not gold but platinum, with two rather lovely diamonds inset. I said she would not see it again until our engagement day. We went to Reece's in the centre of Liverpool, upstairs to the tea rooms for tea and cakes, during which Thelma asked to see the ring again. I said "No," not unless we become engaged now. She finally submitted, said she would, and I produced the ring and placed it on her finger. She was thrilled, I was thrilled, but I don't know if her parents were - their permission had never been sought, but, such as they are, they accepted the situation and wished us well. After the greatest leave ever, I returned aboard the ship sailed for Londonderry on the 21st.

Monday 22nd saw us on our way to meet a convoy which was being attacked by U-Boats, but on the 23rd we were ordered to chase, catch, and sink a German tanker, close to the north coast of Spain. We were attacked by two Junkers 88 bombers, but managed to get away without damage. That evening we were running seriously short of fuel due to the high-speed chase after the tanker. We discovered later that a signal from the Admiralty, ordering us home at 4am had not been received. Now we were ordered to proceed to Gibraltar. Christmas day was spent in a very calm sea and we made the most of our Christmas dinner, albeit corned beef, concocted into a dish. My diary says "Very nice dinner." It was extremely doubtful whether we would make Gibraltar, due to the fuel running so low, however we made it by 2pm on Boxing Day with just 1.5 hours fuel remaining - a near thing.



Petty Officer



HMS

Maidstone,

my previous ship, was stationed in Gibraltar and I wasted no time going aboard to visit some of my old shipmates. I had left them eighteen months before as a very junior Leading Telegraphist and was now a Petty Officer. What is more, my Petty Officer rating had been confirmed in full in November, so I was no longer wearing a sai1or's uniform, but what was known as "square rig" - shirt, tie, jacket, trousers, and peaked cap. Anyway, it was nice to see them again and to go ashore to the various bars in Gibraltar with them. Needless to say, as always on these occasions we had more than enough to drink.

I spent the morning of the 30th aboard MV

Batory

and we sailed at 6pm in calm seas with this important vessel as her escort to Milford Haven, where we arrived at 2am, January 4th. Our stop was short, just long enough to refuel and sail again at 11am with another important vessel for the Clyde. This duty completed on 5th January we turned and set sail for Liverpool arriving on 6th to be greeted by masses and masses of Christmas mail and time enougth for me to dash ashore to Thelma's home. During these few days respite, Thelma and I arranged an engagement party for Friday 9th January, although her parents had all the work and expense. I invited all of my staff from

Vanoc

, including Jackie Oldfield and Fred Chilton who had been with us for some months. It was here that Fred met Thelma's sister Iris, subsequently to wed and live a long and happy married life. We received many engagement presents, Jackie Oldfield made a very pleasant speech and we all had a wonderful evening running into the early hours of the next morning. All stayed overnight, sleeping on the floor or wherever a space could be found. Back on board the following day, we sailed with our next convoy and returned on 18 January 1942.

It was now decided that escorts pn the western coast of North America needed strengthening.

Vanoc

and several other "V" class destroyers sailed with a convoy from Liverpool on the 25th February, arriving at St. John's in Newfoundland on 4 March and from there to Halifax, Nova Scotia. We escorted convoys along the east coast to Boston and, in May, we went to Bermuda for a short refit in the dockyard. Bermuda was a haven of peace and rest for a month. We had a week away from the ship, camping out in the beautiful islands and occupied ourselves with football, shooting, fishing, sailing, etc. It was a sad day when we had to leave, but the war was still raging and in June it was back to Halifax where, until September, we worked with convoys along the American coast, visiting Newport and Boston on a number of occasions. Our visits to American cities were a revelation, far better than Halifax in Canada. Shops and stores were packed full of goods the likes of which we had never seen at home, especially with a war on. Needless to say, we spent all our money on goods to bring home. I especially remember buying 20 yards of pure white satin for Thelma's wedding dress.

The sinking of HMS

Veteran



In early September 1942 we left Halifax for St. Johns, Newfoundland, to collect a convoy and make our way back home, leaving St. Johns on 16 September. Two days out of St. Johns ships in the convoy were being sunk by U-Boats, a not unusual event. HMS

Veteran

, an accompanying destroyer, obtained a sonar contact on a U-Boat and left the convoy to investigate. She was never seen again, sunk at night with all hands by torpedo. All we knew was that she did not re-join the convoy and we could make no contact with her by radio. For me, a sad loss of many friends. This was the ship that had taken me from Glasgow to join

Vanoc

. Eventually we reached Liverpool on 1st October after refuelling at Londonderry. Now came the problem of getting all our goodies, purchased in the United States, ashore without paying too much to the Customs Authorities. Many items were honestly declared, but I did not wish to pay duty on the yards of satin I had purchased. I wrapped it round and around my body and put my clothes on top, looking considerably more portly than I would normally. Dressed in this fashion, I waltzed through the dock gates, past the dock police, my heart pounding, but I was not stopped and got my valuable purchase back to Thelma's home for her dress to be designed and made. Fortunately, her mother was a qualified dress maker so there would be no problem in this respect.

Our stay in Liverpool was to be short-lived. We were now required for convoy escort duties in the Mediterranean, so, on 16th October we sailed to Gibraltar, where, until the end of 1942 we escorted convoys along the North African coast, visiting Algeria, Oran, Casablanca, but never as far as Malta, now under siege by the Germans but holding out valiantly. It needed more up to date destroyers than ours to fight off the attacks on Malta convoys. One unfortunate incident occurred whilst alongside the harbour wall in Gibraltar during this period. The warship ahead of us was engaged in cleaning its Bofors gun, aft. I was standing on the Port Waist at the top of the forecastle ladder discussing some matter with the ship's communications officer, an Australian Lieutenant RNR. There was a huge explosion just above my head, the Bofors gun in the vessel ahead had been accidentally fired and the shell struck the stanchion just above my head. Splinters of metal flew everywhere penetrating the chest of Lieut. Knott who staggered back, fell down the ladder and was, sadly, killed. I was more fortunate, one piece (as far as I know) of shrapnel penetrated my head, near to the brain, but not deep enough to cause damage. Many weeks later it worked its way to the surface and came away of its own accord. A very small piece I am happy to say.



After the war, in HMS

Sheffield

he toured the major ports of North and South America to show the flag and celebrate with the expatriate British communities. In the Korean war he patrolled Korean waters under threat of hostile fire and, finally, during the Cyprus crisis he patrolled in the Mediterranean Sea. Throughout all this he raised a family of four children and was devoted to his wife, Thelma, who he married during WW2. This book is an authentic account of Navy life written by hands that had done all the jobs from scrubbing the decks to saluting the Duke of Edinburgh. This extract was first published on THE BBC Peoples War website. Scuppers to Skipper: A personal account of life in the Royal Navy 1934-1958 (2015)

can be bought from Amazon as a print edition or a Kindle e-boook.
Convoy

Maniac

(RB.1)
and the sinking of HMS

Veteran

in September 1942
by James H. Reed

Conditions on V & W Class destroyers were so bad in rough weather that the men who served on them were paid
hard-lying money
.
This story by James Reed was first
published in
Hard Lying
, the magazine of the V & W Destroyer Association and republished in 2005 by the Chairman of the Association, Clifford ("Stormy") Fairweather, in the book of the same name which is now out of print. It is reproduced here by kind permission of Clifford Fairweather and his publisher, Avalon Associates, but copyright remains with the author, James H. Reed.


This story covers just a few days, a little more than a week, but the events of that short period in late September 1942 at the start of an early winter in the North Atlantic will always be remembered by those who were lucky to survive the crossing. And we also remember those who paid the supreme price.

As far as the escorts are concerned these events started at Halifax, Nova Scotia. Since very few of the escorts had the fuel capacity to round up stragglers, hunt for U-boats, dash to the rescue of those whose ships had been sunk and complete the crossing to Britain they
would escort the convoy to mid Atlantic where they would hand over responsibity to escorts from the U.K.

The Atlantic at this time of the year was subject to heavy gales, rough seas and fog and consequently all these ships wore the well worked look that comes only from days, and weeks of continual fighting against these elements. Their grey paint wore away and what remained was nearly white from the salt.

Two such ships on that day were the old V&W class destroyers

Vanoc

and

Veteran

both about 25 years old, but still very sound and ideal ships for the job. The ship's crews were good comrades on shore leave or when lying alongside, sharing sessions of tombola or just a smoke and a yarn.

The crew of the

Vanoc

, cleaning up after a spell of convoying, watched as the 'Old Man', Commander Churchill crossed the decks of one or two ships to come aboard after a visit to Naval H.Q. ashore. Needless to say a few good natured remarks passed round the lads "What's he wants volunteers for now" and so on. These remarks were always made discreetly but were loud enough for the 'Old Man' to hear but he never let on, although he must have chuckled inwardly. Every man respected him. He was one of the old breed of no nonsense Naval Commanders and was old enough to be the father of most of us. Also he suffered sea sickness with the best of us.

Shortly after the Captain's arrival on board, the Bosun's mate piped 'clear lower deck, fall in aft', an order reserved for rare and special occasions. The response was immediate, and in no time a tightly packed circle was formed around the Captain who was standing on a hatch. No dock workers were allowed on board, just the crew. The Captain proceeded in as few words as possible to tell us that the

Veteran

and the

Vanoc

, were to go back home to the U.K., that a few hours shore leave would be taken in two watches for shopping purposes and above all, not to mention anything to anyone ashore. Secrecy was normal throughout the war but we were constrantly reminded that 'Careless Talk Costs Lives'.

It was vital to carry as much oil fuel as possible. The water tank used for washing, cleaning, etc had to be sacrificed for fuel to increase the range. This left one small tank of about 1,500 gallons for drinking and cooking. No luxuries like washing and shaving or cleaning. The only access to this water was a small tank in the galley which was restricted to meal times, at other times the stop cock was locked. Needless to say the

Veteran

had the same rules. It must be remembered that the complement of these very overcrowded ships could be up to 170 officers and men, which gave no leeway in the efforts to conserve fresh water and indeed fuel oil, over several days of appalling weather.

The convoy was at first called 'Honeymoon'- a reference to the thousands of American couples who had sailed in these ships in peace time. It left Halifax at 1100 on Wednesday 16 September 1942 bound for St Johns, Newfoundland. The convoy consisted of eight ships; there were going to be eleven ships but one was totally destroyed by fire and the other two were found to be unsuitable for a deep sea crossing. At the given sailing time

Vanoc

and

Veteran

slipped their moorings and with screws turning we got under way with the usual good hearted remarks from our sister escort ringing in our ears. As we cleared harbour and approached the open sea we saw for the first time the convoy we were to escort home to the U.K.

Prior to departure for St Johns, the escort commanders and ships captains attended a briefing at Naval H.Q. At this meeting the official name of the convoy became R.B.1. The code name 'Honeymoon' was replaced by 'Maniac'. Captain Beckett said that the code word was very appropriate but he considered it should be in the plural. One can only wonder who could sardonically and cynically suggest such a name.

The convoy left St Johns for the Atlantic crossing at 1400 on the 21st September with the eight ships and two escorts formed into three columns. The seasoned crews of the convoy escorts were
accustomed to
all types of cargo and troop transports but the eight ships of RB1 were different from anything we had seen before. Unlike conventional cargo ships their superstructure was very high, two had twin funnels and the others high single funnels.
From a distance, in haze or at night, or from a
U-boats periscope they could quite easily be mistaken for large troopships, some resembling our more famous liners. As we came closer we could see that they were in fact coastal or river pleasure boats. By no stretch of the imagination would any seafarer consider them to be suitable for an Atlantic crossing as winter approached. All the ships had undergone considerable work to 'whaleback' them with heavy timbers to protect the most vulnerable parts of the superstructure.

They carried no cargo, no passengers, and were in ballast to reduce the top hamper and, as we learned later, were manned entirely by volunteers from Coastlines Shipping, Liverpool, 500 officers and men who
came over on the

Queen Mary
.

Within 36 hours of sailing the convoy was in the area of operation of the German wolf packs. Between 22 - 26 September

Vanoc

received at least 29 U-boat sighting reports and there were 10 reports of U-boats making sighting reports of the convoy. RB1 was sighted and reported by U-404 which was was on patrol with U-380 and U-91. The report indicated that the convoy was a fast troop transport convoy.

The German U-boat Command instructed the

Vorwarts

group of 10 U-boats to close and engage, also group Pfiel of seven U-boats to proceed to the scene on completion of operations against convoy SC100. The Germans were completely fooled by the ships' profiles and identified them
as ships of the Queen Mary Class
and considered the convoy so important that the high command sent 17 U-boats to attack.



Vanoc

's Commander Churchill sent the following signal to C in C Western Atlantic:


"RB1 was shadowed from ahead all last night and suspect shadowing continues today Thursday 24th. Escorts have in sufficient fuel to carry out putting down sweep. Evasive tactics proved useless in extreme visibility with full moon. Air cover would be appreciated as soon as possible".



Friday 25th September



Fourteen U-boats had reported being in contact with the convoy and at 1337 local time U-216 attacked and sank the twin funnelled ship SS

Boston

, some of the survivors were picked up by

Veteran

, and others by the rescue ship

New Bedford

, an unconfirmed report gave the

Veteran

as having saved 48 survivors.

The two escorts were kept busy trying to keep the U-boats at bay and the convoy together but this was not helped by one of the merchant ships breaking down and going round in circles when it eventually rejoined the convoy.

At about 1830, the convoy was reformed with seven ships in line abreast with

Veteran

to port and

Vanoc

to starboard. Later

Veteran

signalled to

Vanoc

. "Suggest we change stations, as you seem to be getting all the action and getting short of depth charges".

Vanoc

agreed, "I am short of fuel, I will take station ahead and you astern".

The next attack came at 2057 when U-96 attacked the second of the two funnelled ships, SS

New York

, the torpedoes caused a heavy explosion which started fires, she remained afloat for some time, but was attacked again. The convoy became disorganised and scattered. The escorts fired flares to force the U-boats to submerge.

Veteran

again stood by to take on survivors, whilst

Vanoc

proceeded to attempt to reform the convoy in the darkness.



Veteran

reported that she was proceeding to rejoin the convoy and that she had 28 survivors aboard. The lookouts on both of the escorts were continuously searching for the tell tale signs of periscopes. The U-boats were blatantly signalling to each other information to attack, four more attacks were made but all were unsuccessful.



Saturday 26 September



At 0736 the next morning U-404 (Von Bulow) fired a spread of three torpedoes. Two found their target.

Veteran

blew up and must have sunk within seconds for there were no survivors.

Vanoc

was at this time over the horizon, trying to reform the convoy. Lieutenant Commander T.H. Garwood had a complement of Nine officers and 150 men in HMS

Veteran

and was believed to be carrying 28 survivors from the

New York

and 48 from the

Boston

.

C in C Western Atlantic has sent a signal to HMS

Sabre

, HMS

Scimitar

and HMS

Saladin

which read "If you have completed refuelling, proceed to reinforce convoy RB1, giving the position of the now depleted convoy.

On 1000 hours

Vanoc

identified a ship ahead as the

President Warfield

and at the same

Saladin

and

Scimitar

were sighted and proceeded to escort her and were joined by the

Vanoc

. A coastal command aircraft was asked to carry out a search for the

Veteran

without success. All W/T signals to the stricken ship also failed.

All the crew of the

Vanoc

could see of the convoy a
fter the night action
was this single funnel ship and many thought the two ships were the only survivors. Many of the U-boats had been outpaced and left behind
but the Germans had not given up their attacks yet
. The

Yorktown

had decided to leave the convoy and sail independently but at 2025 on September 26th she was sighted by U-619. The U-boat attacked, hitting her on the port side immediately beneath the bridge. This caused a complete collapse of the superstructure of the wooden bridge and everything forward. The engines stopped and the ship broke up and sank within three minutes.

The survivors in the water manned four rafts and a waterlogged boat they had managed to right and bale out. They were picked up by the destroyer

Sardonix

after being sighted by what is thought to have been a Very Long Range (VLR) B-24 Liberator. Eighteen men lost their lives out of
the ship's complement of 62
.

Although unknown at the time the remaining ships of Convoy 'Maniac' on the night of Saturday September 26th were: HMS

Vanoc

, and five river boats,

Northland, Southland, President Warfield, New Bedford

and

Naushan

. The ships lost were HMS

Veteran

, SS

Boston, New York,

and

Yorktown

with 300 lives.

Jim Reed's opinion of the

Maniac

convoy:


"I was there at the time on the only surviving escort, HMS

Vanoc

. I have always had misgivings about the true reason for this convoy and am in disagreement with what has been accepted of its story. The year was 1942 and September was the start of the season of equinoctial gales. The North Atlantic convoy system
was at grave risk in the later months of 1942
and only a whisker away from total collapse. More than a thousand merchant ships had been sunk and the German U-boat command had withdrawn U-boats from other areas to concentrate on the destruction of the North Atlantic convoy system. Over 160 U-boats were operating in the Atlantic.
There were two other grave threats to the convoys. The "Black Hole", an area of over 300 square miles along the convoy routes had no air cover allowing the U-boats to press home their attacks. The other major threat was the entry into the Atlantic of the first German milch-cows in around
April 1942
. These oil tanker U-boats lying some 500 miles north-west of Bermuda, could refuel the U-boats without them returning to their bases in France or Germany.
Convoy

Maniac

was indeed a decoy convoy which invited destruction in the Atlantic to safeguard a great convoy of vessels laden with munitions of desperately needed munitions. The eight ships engaged in trade on the Great Lakes sailed in a convoy to decoy enemy U-boats away from a munitions and troop convoy which set sail from America at the same time. The plan succeeded and the latter got through without loss."
James H. Reed is the author of:

Convoy "Maniac": R.B.1

Book Guild Publishing Ltd, 2000. 114 pages, ISBN 1857764714

See also Chapter One of:


The Decoys: A Tale of Three Atlantic Convoys, 1942

; by Bernard Edwards


Pen and Sword Maritime, 2016, ISBN 978-1-47388-708-4

If you have stories or photographs of HMS Vanoc you would like to contribute to the web site please contact

Bill Forster
---
Return to the Home Page of the V & W Destroyer Association
Return to the Index Page for the 69 V & W Class Destroyers
---