---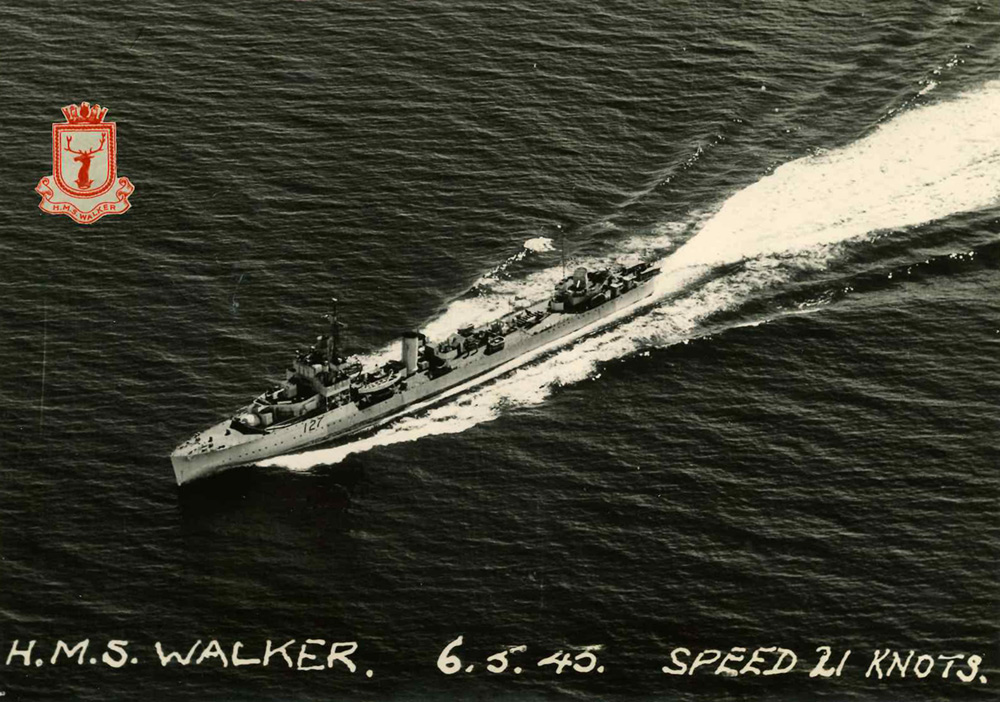 Official Royal Navy Photograph (
Courtesy Philip Dodd)
Click on the links within this brief outline for first hand accounts by the men who served on HMS Walker and for a more detailed chronolgy see www.naval-history.net

HMS Walker (D27) was built at Dumbarton on the north bank of the Clyde by William Denny and Brothers, launched on 29 November 1917 and completed and commissioned on the same day, the 12th February 1918. Walker took part in the British campaign against Bolshevik forces in the Baltic in 1919 and was shelled by the battleship Petropavlovsk during an attempted breakout of the Bolshevik fleet from Kronstadt.
At the outbreak of war HMS Walker was based at Plymouth with the 11DF. On 11 September 1939 while returning from escorting a convoy Walker and Vanquisher collided 200 miles southwest of Ireland, killing 14 men, with both ships seriously damaged. The First Lieutenant was compelled to shoot some of the injured trapped in the wreckage. Her repairs took until mid-November while Vanquisher was not fully repaired until early January 1940.

Walker resumed escorting convoys in the South Western Approaches until April 1940 when she transferred to the Home Fleet at Scapa Flow to support operations during the Norwegian Campaign. She was attacked from the air while evacuating troops from Andalsnes and Molde on the 30 April and 1 May and was the last Allied ship to leave the Narvik area when she escorted the final Allied evacuation convoy from Norway on 8 June.

On 2 July she made an unsuccessful attack on U-47 after the sinking of the Blue Star passenger liner Arandora Star carrying German and Italian internees from Liverpool to Canada (800 died out of the 1,647 aboard). U-47 was sunk on 7 March by HMS Wolverine and Verity and her CO Gunther Prien, who sank the Royal Oak, killed. HMS Walker was under repair until October and on 5 February 1941, became part of the 5th Escort Group based at Liverpool as the flagship of its senior officer, Donald Macintyre.

While escorting Convoy HX 112 HMS Vanoc assisted by Walker attacked and sunk U-100 (Joachim Schepke) and HMS Walker sank U-99 and captured her commander, U-Boat ace Otto Kretschmer. The defence of HX 112 and the loss of three ace u-boat commanders was a decisive victory for the 5th EG and a turning point in the Battle of the Atlantic.
HMS

Walker

was converted into a Long Range Escort (LRE)
between January and May 1943
and in July she was assigned to the 4th Escort Group for convoy defence duties in the Northwestern Approaches. Between January and May 1944,

Walker

escorted Arctic convoys as part of the Home Fleet as described by Albert Foulser and Bill Perks.

She was part of Escort Group 137 escorting troops ships and landing craft to the Normandy beaches during Operation

Neptune.

By October she was back escorting Arctic Convoys JW61 and JW 63 and return convoys to Murmansk on the Kola Inlet wiith a South African CO, Lt Cdr A.R. Trew SANF(V).

After the end of hostilities HMS

Walke

r was reduced to Reserve status and placed on the Disposal List. She was sold to British Iron and Steel Company (BISCO) for breaking up in 1946 and arrived in tow at the West of Scotland Shipbreaking Yard, Troon, on 15 March that year.


Commanding Officers
Lt. Cdr Lawrence F.N. Ommanney RN (July 1922 - August 1923)
Lt. Cdr Guy B. Amery-Parkes RN (Dec 1928 - Oct 1930)
Lt. Aubrey St Clair-Ford, RN (1932)
Cdr. Leslie Swain Saunders, RN (1934)
Cdr. Wilfrid James Cameron Robertson, RN (Aug 1939 - Jan 1940)
Lt.Cdr. Arthur Andre Tait, RN (Jan 1940 - Feb 1941)


Cdr. Donald George Frederick Wyville MacIntyre, RN (Feb 1941 - Feb 1942)
Cdr. James Marjoribanks Rowland, RN (Feb 1942 - early 1943)
Lt.Cdr. Arthur Nichol Rowell, RN (Apr 1943 - June 1944)
Lt. Cdr. Antony Francis Trew, SANF(V) (29 Sep 1944 - May 1945]
Lt. Thomas William Lancaster, DSC, RN (June 1945 - July 1945)



Officers
This short list of officers who served on HMS Walker all have entries on the unithistories.com web site. Further names from the Navy List will be added later.
Former full members of the V & W Destroyer Association who servd in HMS Walker
J. Bardgett (Morecombe, Lancs), J. Begg (Ormskirk, Lancashire), J Clark (Braintree, Essex), G. Cook (Wells, Somerset), Albert Foulser (Loughton, Essex), David Napper (Woodbridge, Suffolk), J. Strickland (Port aux Basques (Newfoundland, Canada), K. Harnett (Stockport, Cheshire), J Hope (Blackburn, Lancs), J. Howard (East Preston, West Sussex), M. Jay (Gloucester), F. Lees (Rochford, Essex), H. Kidd (Didcot, Oxon), C. Parker (Freemantle, West Australia), Bill Perks (Leamington Spa), J. Perry (Southall, MIddx), J. Prior (West Moseley, Surrey), R.L. Sayer (York), S. Taylor (Burgess Hill, Sussex), L. Wadsworth (Menstrie, Clackmanshire), J. Whitmill (Liskeard, Cornwall).

Please get in touch if you knew these men or had a family member who served in HMS Walker
The defence of Convoy HX 112 by
HMS Walker and the 5th Escort Group

This short uncredited article was first published in Hard Lying, the magazine of the V & W Destroyer Association and republished in 2005 by the Chairman of the Association, Clifford ("Stormy") Fairweather, in the book of the same name which is now out of print. Paul Smith, the grandson of George Smith, the Wireless Operator in HMS Walker supplied the photograph of uboat ace Otto Kretschmer disembarking from Walker at Liverpool after Macintyre sunk U-99 and his grandfather kept in touch with his former CO long after the war ended. I hope to replace it with a more detailed description of the sinking of the three uboats based on accounts by the families of the men who served in HMS Walker.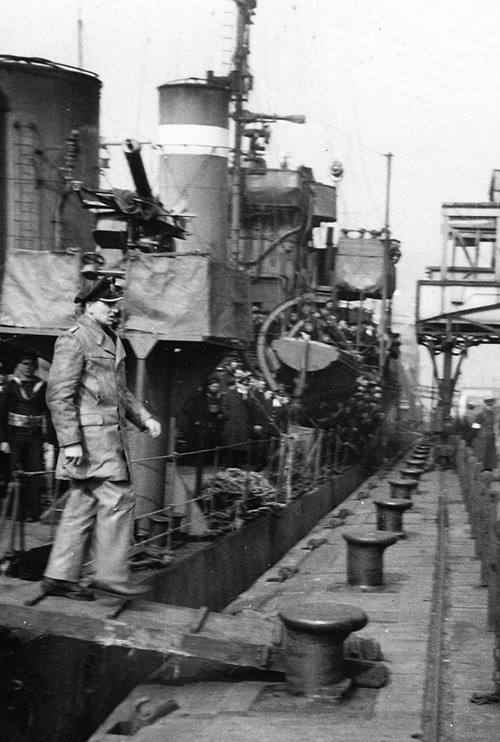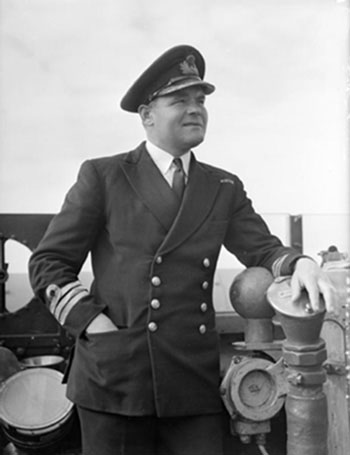 By early 1941 merchant ship losses had become disastrously high. The U-boat aces were having a very successful time until the V&Ws took a hand in March. On 8 March, HMS

Wolverine

, commanded by Commander J.M. Rowland, attacked and sunk U-70 south of Iceland while escorting convoy OB 293.

Wolverine

and

Verity

were jointly credited with sinking U-47 commanded by U-boat ace, Gunther Prien (who sank the

Royal Oak

at Scapa Flow) in the same action.

Soon afterwards Convoy HX 112 was attacked off the Hebrides and HMS

Walker

, commanded by Captain Donald Macintyre (on right), sighted the wake of what could only be a U-boat and immediately attacked with depth charges. The explosion of the depth charges was followed by another explosion and an orange flash spread across the surface and we knew that we had made a 'kill'. About half an hour later

Walker

had another Asdic contact and again attacked with depth charges.

Vanoc

joined in the attack. While this was going on lights had been spotted in the distance which could only be lifeboats.

Walker

and

Vanoc

set forth to investigate. They were the lifeboats from one of the merchant ships that had been sunk. While

Vanoc

kept vigil the

Walker

picked up the survivors and they returned to the scene of the attack.

Walker

noticed that

Vanoc

, contrary to orders, was going at full speed, and a few moments later signalled to

Walker

"Have rammed and sunk U-boat". HMS

Vanoc

had spotted U-100 on her Type 286M radar, the first confirmed British surface ship radar sighting of a U-boat. HMS

Vanoc

rammed U-100 and her commander Joachim Schepke was crushed against the periscope mast. There were only six survivors.

It was almost unbelievable that so many U-boats should be nearby, but it was not long before, once again an Asdic contact was made and further depth charges were dropped. Soon afterwards

Vanoc

signalled to

Walker

, "U-boat surfaced astern of me". Both ships after illuminating the U-boat opened fire with their 4-inch guns. The U-boat signaled by lamp "We are sinking". The crew of U-99 were were picked up by the British destroyers. Their Captain was the much decorated U-boat Ace Otto Kretschmer (left). In just three short actions the old V&Ws had disposed of three of Germany's U-boat aces and had made a huge contribution to the winning of the 'Battle of the Atlantic'.

George Stephen Frederick Smith
The wireless operator on HMS

Walker
The capture of Kretschmer in March 1941 by Captain Donald MacIntyre of HMS

Walker

is described in his book
U-Boat Killer

(London: Wiedenfield and Nicolson, 1956) and in

The Golden Horseshoe: The Wartime Career of Otto Kretschmer

,

U-Boat Ace

by Terence Robertson (Evans Brothers, 1955).
Donald Macintyre was the first wartime CO of HMS

Venomous



Read the stories told by shipmates Albert Foulser and Bill Perks about their service in HMS

Walker

on Arctic Convoys
And listen to them tell their own stories in interviews recorded at the annual reunions of the V & W Destroyer Association