---

Click on the links within this brief outline for first hand accounts by the men who served on HMS Walker and for a more detailed chronolgy see www.naval-history.net

HMS Walker was a ...................
THIS IS A DRAFT PAGE
a volunteer researcher needed to help create this web site

take a look at this online guide for researching V &W Class Destroyers
And if you are interested contact bill forster <venomous at holywellhousepublishing.co.uk>
Commanding Officers
Lt. Cdr Lawrence F.N. Ommanney RN (July 1922 - August 1923)
Lt. Cdr Guy B. Amery-Parkes RN (Dec 1928 - Oct 1930)
Lt. Aubrey St Clair-Ford, RN (1932)
Cdr. Leslie Swain Saunders, RN (1934)
Cdr. Wilfrid James Cameron Robertson, RN (Aug 1939 - Jan 1940)
Lt.Cdr. Arthur Andre Tait, RN (Jan 1940 - Feb 1941)


Cdr. Donald George Frederick Wyville MacIntyre, RN (Feb 1941 - Feb 1942)
Cdr. James Marjoribanks Rowland, RN (Feb 1942 - early 1943)
Lt.Cdr. Arthur Nichol Rowell, RN (Apr 1943 - June 1944)
Lt. Cdr. Antony Francis Trew, SANF(V) (29 Sep 1944 - May 1945]
Lt. Thomas William Lancaster, DSC, RN (June 1945 - July 1945)



Officers
This short list of officers who served on HMS Walker during World War II all have entries on the unithistories.com web site. Further names from the Navy List will be added later.
The men in HMS Walker tell their stories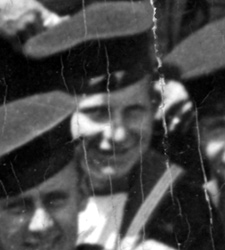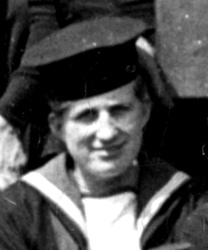 Albert Foulser (left) and Bill Perks (right) met for the first time when they joined HMS Walker at Chatham after her conversion to a Long Range Escort in April 1943. They were shipmates and close friends on Atlantic Convoys to Gibraltar and Arctic Convoys to Murmansk until Walker was paid off at Barrow in Furness at the end the war. They next met at the Cenotaph in 2005 when they were awarded the Arctic Emblem and heard their names called out.

I interviewed Bill Perks at the V & W reunion at Eastbourne in 2014 and Albert Foulser at the reunion in St Ives near Cambridge in 2016. Read the brief outlines below and click on the links near the bottom of this page to hear them tell their own stories. The photographs were taken by Albert Foulser whose parents bought him a Box Brownie camera in 1932 for 5/-. He was the only man with a camera on the ship and he gave copies of the photographs he took to his shipmates including Bill Perks.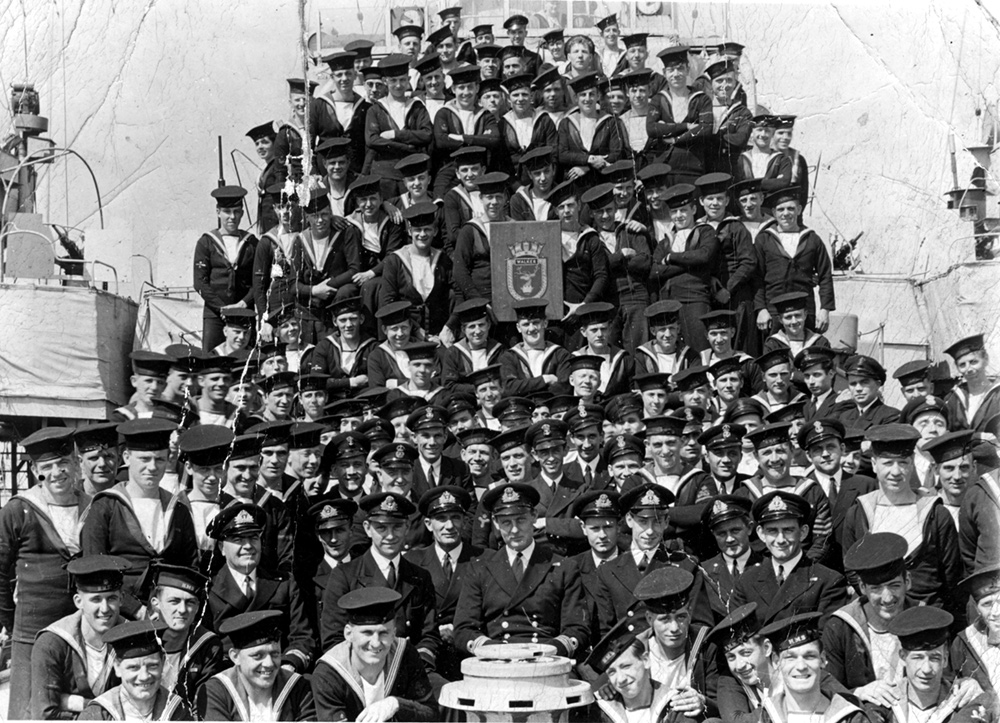 Lt.Cdr. Arthur Nichol Rowell, RN and the ship's company of HMS

Walker

at the start of her new Commission in April 1943

"Albert Foulser, 4th from right in row behind the shield (ship's crest)" and "Bill Perks is in row in front of shield, 5th from left."
Courtesy of Albert Foulser
Albert George Foulser was born in Walthamstow, North East London, on 11 August 1924, the son of a green-grocer. He was the second of five sons and had four sisters. He left school at 14 and trained as a cabinet maker in a furniture factory but they were all made redundant when the factory changed to making aircraft. By the time he was eighteen and received his call-up papers he was "filling in" working for the father of a friend as a "bottle washer'! He did his four months basic training at HMS Glendower at Pwllheli, a former Butlins holiday camp in North Wales. He returned to Chatham and was posted to HMS Walker which had just been converted to a Long Range Escort (LRE).

Leslie William Perks was born on 31 March 1925 at Leamington Spa and still lives there today. He left school at 14 and became a despatch rider with the National Fire Service. He was a a few months short of his eighteenth birthday when he decided to join the RAF but was told to come back when he was older so he joined the Navy instead. He did ten weeks basic training at HMS Ganges and going up the mast in the early morning was "a frightening experience". He had to prove he could swim by putting on a big "duck suit" and floating in the pool for three minutes before he was allowed to go on the ferry to Harwich. If you couldn't swim you had to go to Ipswich for an evening out. He was sent from the depot at Chatham to Tobemory for an Asdic course but they were all "ping happy" so he deliberately failed the course. On returning to Chatham he joined HMS Walker as an OD at the start of her new Commission after conversion to a Long Range Escort (LRE).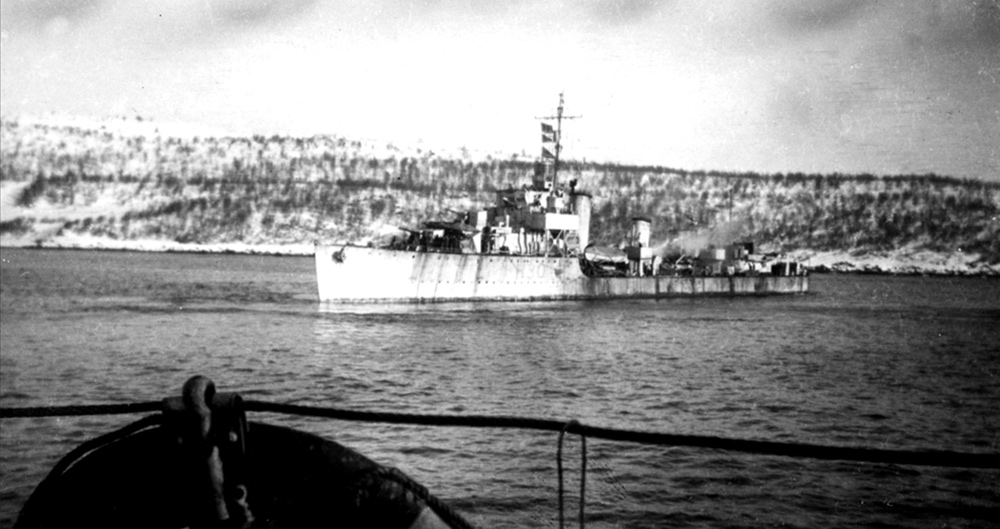 HMS Beagle (H30) in the Kola inlet near the Russian naval base of Polyanoe
Courtesy of Albert Foulser
HMS Walker had just been converted to a Long Range Escort, in the King George VI Docks in London. His best friend on HMS Walker was Albert Foulser, a shipmate in the V & W Destroyer Association. They were part of a new ship's company, very few if any had served with Donald Macintyre, the renowned "U-Boat Killer" (and first wartime CO of HMS Venomous) who commanded HMS Walker from March 1941 to February 1942. Albert took the photographs of the ships company on this page and is standing alongside Bill Perks in both photographs. Their first CO was Royal Navy, the second was "wavy navy" (RNVR), a South African. They "worked up" in Scotland and were then sent to Londonderry, their base for escort duties to Gibraltar. On one occasion they ran out of fuel and had to go into Azores, a neutral country, to refuel.

They were sent to Gairloch and fitted out with cold weather gear for Arctic Convoys. The convoys formed up in Loch Ewe. Bill Perks and Albert Foulser were on four Arctic Convoys (JW63, RA.63, RA.61 and RA.577) to Polyarnoe, the Russian naval base near Murmansk on the Kola inlet from late 1943 or early 1944. Billo Perk's action station was aft on the deck charges and there was a safety line with a sling to help you get there safely. When an officer failed to turn up for his watch he was found to have left the wardroom at the stern but had been washed overboard on his way to the bridge. The water froze on the top, guard rails, focsle and you had to chip ice to prevent the ship becoming unstable and capsising.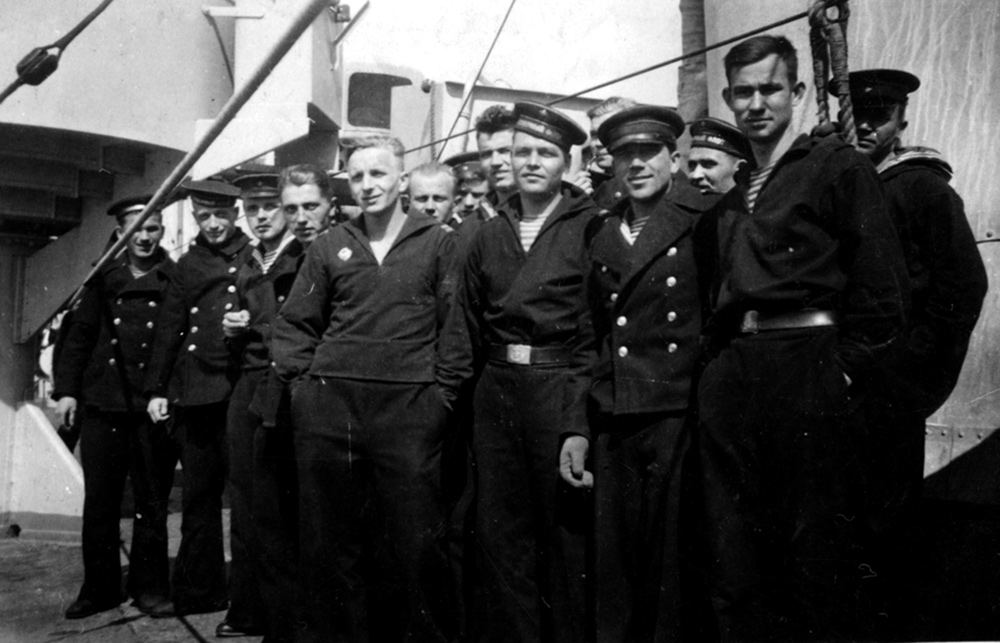 Russian seamen on HMS Walker after being rescued from the William S Thayer
Courtesy of Albert Foulser

On the 30 April 1944 as HMS Walker left Polyanoe a Liberty Ship, William S Thayer, was torpedoed and they managed to go bow to bow and saved 22 men with 21 being rescued by HMS Whitehall. They were mostly Russian seamen being taken to Scotland to crew the Royal Sovereign which was on loan to the Soviet Navy. Walker already had some American sailors onboard, in addition to her own crew so was quite crowded. On another convoy the stanchions above the focastle were washed away and mess deck badly damaged and they went into Iceland where the Mess Deck was shored up with timber instead of being repaired. They escorted a convoy of troops from Milford Haven to the D-Day beaches but from then on were local escorts, Stranraer to Larne, until being paid off at Barrow in Furness. Bill Perks was sent to Malta to join a small minesweeper, L76, with a crew of 17 and they swept the North African coast, the Aegean and the Adriatic before being drafted back to Chatham and demobbed in 1946.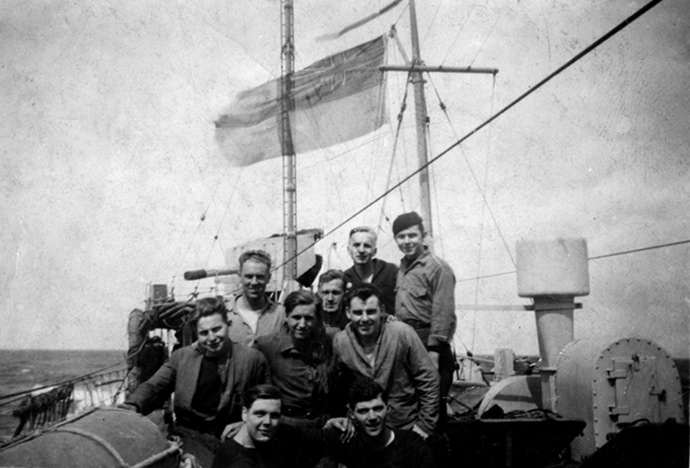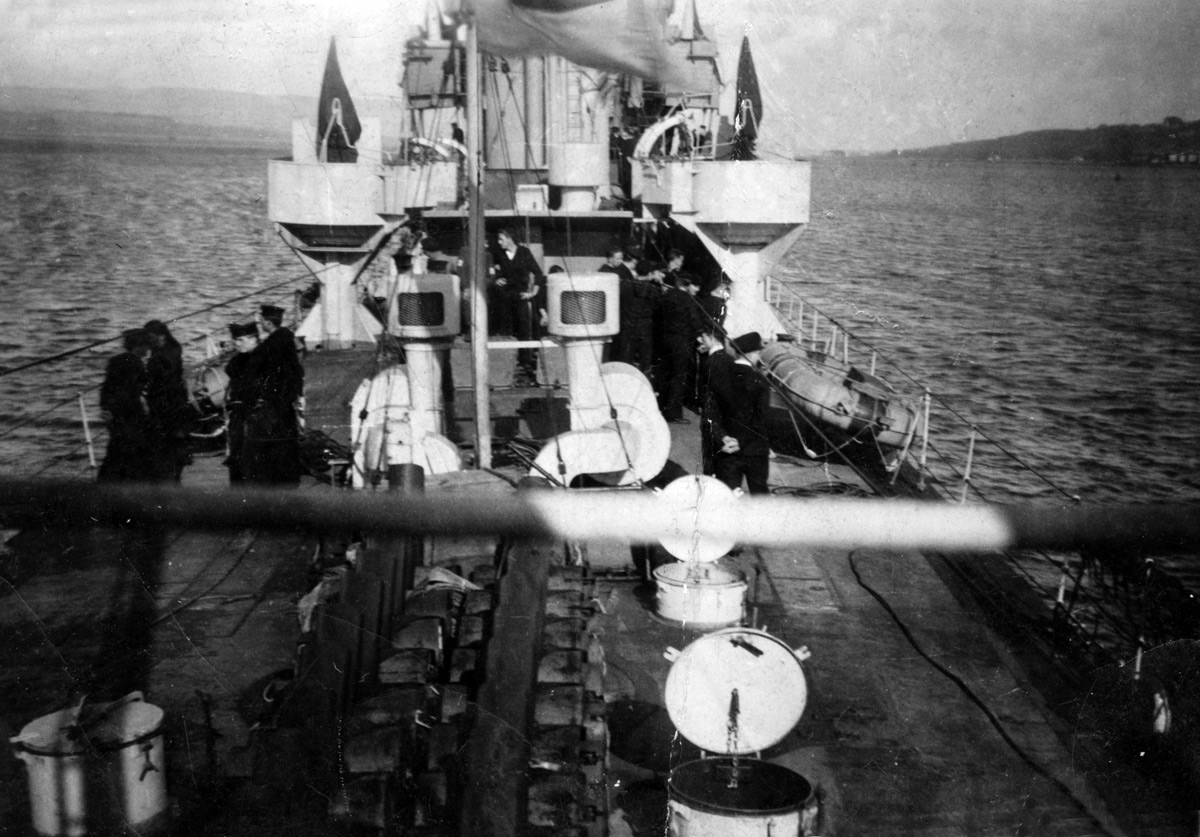 Bill Perks, as a young rating in 1944 and wearing his Arctic Star in 2014, and a photograph of the Kola Inlet near Murmansk in Arctic Russia taken from HMS Walker
Courtesy of Albert Foulser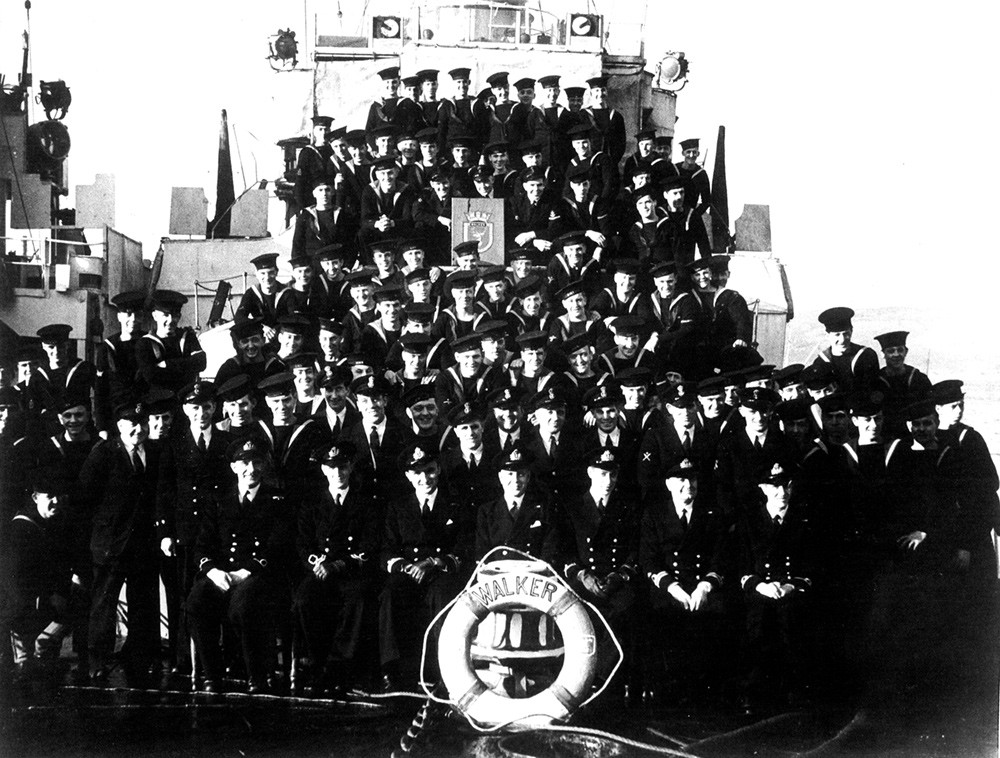 Lt. Cdr. Antony Francis Trew, SANF(V) and the ship's company of HMS

Walker

in October 1944
Courtesy of Albert Foulser

Bill Forster recorded an interview with Bill Perks at Eastbourne in 2014 and Albert Foulser at St Ives in 2016
You can click on the links to hear them describe their wartime service on HMS Walker
be patient - it takes a couple of minutes before the file opens and they start speaking
HARD LYING

Conditions on V & W Class destroyers were so bad in rough weather that the men who served on them were paid hard-lying money. These stories by veterans who served on HMS Woolston were published in Hard Lying, the magazine of the V & W Destroyer Association and republished in 2005 by the Chairman of the Association, Clifford ("Stormy") Fairweather, in the book of the same name which is now out of print. They are reproduced here by kind permission of Clifford Fairweather and his publisher, Avalon Associates. Copyright remains with the authors and photographers who are credited where known.

By early 1941 merchant ship losses had become disastrously high. The U-boat aces were having a very successful time until the V&Ws took a hand in March. On 8 March, HMS

Wolverine

, commanded by Commander J.M. Rowland, attacked and sunk U-70 south of Iceland while escorting convoy OB 293. Soon afterwards Convoy HX 112 was attacked off the Hebrides and HMS

Walker

, commanded by Captain Donald Macintyre, sighted the wake of what could only be a U-boat and immediately attacked with depth charges. The explosion of the depth charges was followed by another explosion and an orange flash spread across the surface and we knew that we had made a 'kill'. About half an hour later

Walker

had another Asdic contact and again attacked with depth charges.

Vanoc

joined in the attack. While this was going on lights had been spotted in the distance which could only be lifeboats.

Walker

and

Vanoc

set forth to investigate. They were the lifeboats from one of the merchant ships that had been sunk. While

Vanoc

kept vigil the

Walker

picked up the survivors and they returned to the scene of the attack.

Walker

noticed that

Vanoc

, contrary to orders, was going at full speed, and a few moments later signalled to

Walker

"Have rammed and sunk U-boat". It was almost unbelievable that so many U-boats should be nearby, but it was not long before, once again an Asdic contact was made and further depth charges were dropped. Soon after wards

Vanoc

signalled to

Walker

, "U-boat surfaced astern of me". Both ships after illuminating the U-boat opened fire with their 4-inch guns. The U-boat signaled by lamp "We are sinking". The U-boat crew were were picked up by the British destroyers. Their Captain was the much decorated U-boat Ace Otto Kretschner and U-100 was commanded by yet another of the Germans Ace's, Joachim Schepke. In just three short actions the old V&Ws had disposed of three of Germany's U-boat aces and had made a huge contribution to the winning of the 'Battle of the Atlantic'.


For a more detailed account than this annonymous contribution to

Hard Lying

see
U-Boat Killer, the autobiography of Captain Donald Macintyre first published by Wiedenfield and Nicolson in 1956.