---
Lt Cdr A.R. Trew SANF(V)

CO of HMS Walker, 29 September 1944 - May 1945

and his officers on Arctic Convoys in 1944-5

After a few months as First Lt in HMS Versatile Lt Cdr Anthony R Trew SANF(V) - below right - succeeded Lt.Cdr. Arthur Nichol Rowell, RN (on left, below) as CO of HMS Walker on the 29 September 1944. Trew was in command until the end of the war when Lt T W Lancaster DSC RN was appointed CO in June 1945.

Tony Trew was born in Pretoria in 1906 and left school at 16 to go to sea as an officer cadet with the Union Castle Line before bring commissioned in the South African Naval Service from 1926 to 1929. In 1933 he joined the Automobile Service of South Africa but remained in the Reserve of the SANF. He married Nora Houthakker in 1931 and they had three sons.

Called up at the outbreak of war in 1939 he commanded various mine-sweeping and patrol vessels until December 1940 when he served for a year as Lieutenant-Commander in the 22nd A/S Group, the first South African armed forces unit to enter the Mediterranean theatre. After two years in a staff job back in South Africa overseeing the repair of naval vessels at Cape Town he asked to be seconded to the Royal Navy. After another spell in the Mediterranean he attended the Senior Officers' Staff Course at the Royal Naval College, Greenwich, before being appointed to HMS Versatile and HMS Walker, his first command of a destroyer.
******************

His officers served under both Lt Cdr A.N. Rowell and Lt Cdr A.R. Trew but at present we have no first hand account from any member of the Wardroom but as is often the case their sons and grandsons have provided a few brief details and a 16 year old deck hand on a Norwegian tanker provides an interesting first hand account of Arctic Convoys JW.61 and return Convoy RA.62 which were escorted by HMS Walker in October to November 1942.

Officers
Navy Lists, October 1944 - April 1945

Lt. Cdr. Antony Francis Trew, SANF(V)
Lt R W D Bray RN
Lt Derek W. Napper RN
Lt J J Glossop RN
Lt(E) Ernest C.E. Hughes SANF(V)
Tp Lt (E) S W Keck RNR
Tp Gnr (T) J E Baker RN
Tp Gnr (T) A W Norish RN
Surg Lt Graves Merries RNVR
Tp Sub Lt R B Mann RNR
Tp Sub Lt A H B McClatchley RNVR
Tp Sub Lt E R Lawson RNVR
Sub Lt (E) R.R. Brooks RCNVR
Sub Lt Arthur Dodd RNVR
Sub Lt A.D. "Sandy" Powell RNVR
Sub Lt R R Rossiter RN
Mid (E) B D Griffith RN
Mid (E} C E R Newman RN


29 Sept - May 1945


14 Jan 1941 - Feb 1945
30 Aug 1944 - May 1945
20 May 1943 - 22 Nov 1944
18 March 1944 - Jan 1945
27 March - July 1945
5 March - May 1945
5 May 1944 - March 1945
15 March - May 1945
17 April 1941 - Feb 1945
25 June 1942 - Feb 1945
May 1943 - May 1945
14 Oct 1943 - March 1945
31 Jan 1944 - April 1945
20 March 1944 - April 1945
10 Oct 1944 - May 1945
5 March - July 1945
5 March - July 1945

Derek Napper was born in 1922 at Abu Road, a railway town in Western India where his father was a civil engineer working for the Bombay, Baroda & Central India Railway (1920-1938). He was 14 when he was sent to Dartmouth and by the time he joined HMS Walker on the 3 October 1944 he had been Mentioned in Despatches while serving in HMS Havock as a Midshipman at the Battle of Matapan and served in the battleship HMS Valiant and the destroyers HMS Ilex and HMS Calpe. He was priomooted to 1st Lt, Ececutive Officer, by Lt Cdr Trew before leaving to join HMS Cygnet in May 1945. The two junior officers, Sub Lt Arthur Dodd and Sandy Powell, were both RNVR called up for service for the duration of the war but Napper stayed on and in 1971 was Cdr D.W. Napper RN, Chief of Staff of the Far East Fleet.

Lt James J Glossop RN had joined HMS Walker as a Sub on 20 May 1943 when Lt.Cdr. Arthur Nichol Rowell, RN was the CO and was promoted to Lieutenant on 16 May 1944. He was the son of an Australian naval hero of the Great War, Capt John C.T. Glossop RAN (1871-1934), who commanded the light cruiser HMAS Sydney when she sank the Emden, a commerce raider which had created havoc in the Indian Ocean until outgunned by Sydney, set on fire and driven ashore she was forced to surrender in November 1914. Sub Lt James Glossop took part on Arctic Convoys JW.57 and JW.58 and the return convoys described by ABs Albert Foulser and Bill Perks. HMS Walker did not take part in the D-Day landings but two days later on 8 June escorted Military Convoy E2B2Z which reinforced American forces on Utah and Omaha Beaches.

Joseph Glossop may be the only officer who served in HMS Walker alive today and we hope to give a full account of his wartime service including his memories of these convoys. He left HMS Walker on 23 November 1944 to join the destroyer HMS Penn with the 10DF at Trincomalee for deployment with the East Indies Fleet and stayed on in the Navy after the war and retired with the rank of Lt Cdr in 1969. He is in his mid nineties and lives at a retirement home in Australia.




JW.57
RA.57

JW.58
RA.58
RA.59



JW.61
RA.61

JW.63
RA.63


Departed Kola Inlet on 2 March and arrived Loch Ewe on 10 March 1944

Departed Liverpool 27 March and arrived Kola Inlet on 4 April 1944.
Departed Kola Inlet on 7 April and arrived Loch Ewe on 14 April 1944
Departed Kola Inlet on 28 April and arrived Loch Ewe on 6 May 1944


Departed Liverpool 20 October 1944 and arrived Kola Inlet on 28th October 1944
Departed Kola Inlet on 2 November and arrived Loch Ewe on 9 November 1944

Departed Liverpool 20 December and arrived Kola Inlet on 8 January 1945
Departed Kola Inlet on 11 January and arrived Loch Ewe on 21 January 1945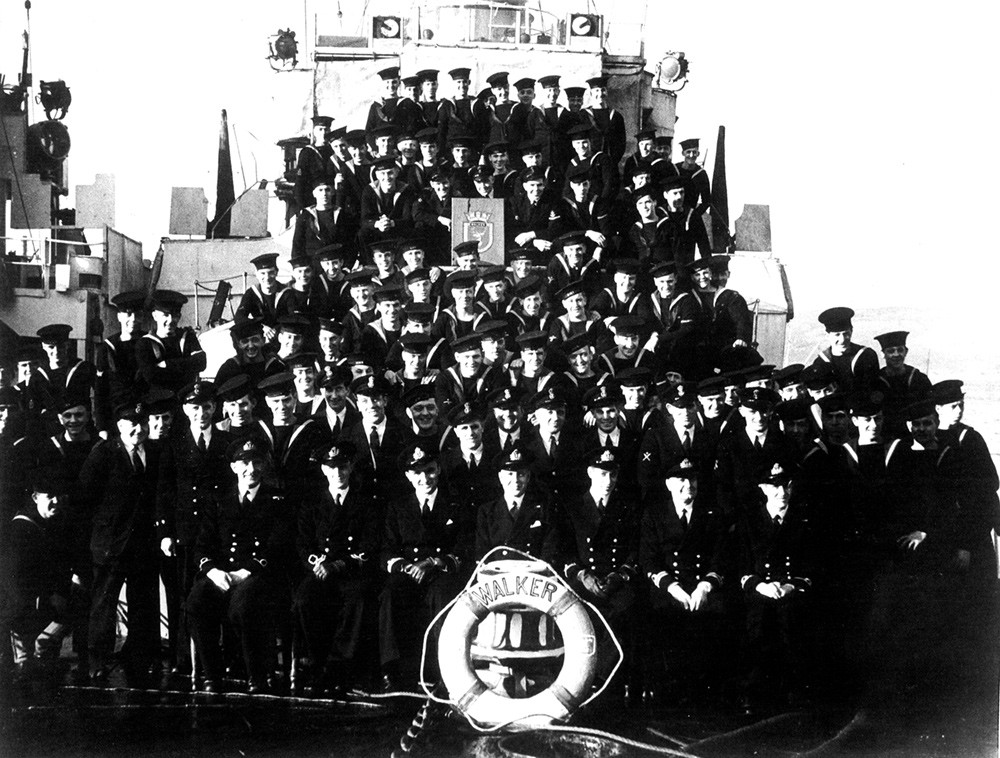 Lt. Cdr. Antony Francis Trew, SANF(V) and the ship's company of HMS

Walker

in October 1944

First Lt Derek William Napper is sitting on the right of Lt Cdr Trew, the CO, and Lt Sandy Powell on his left
Arthur Dodd's copy of this photograph is dated February 1945
Courtesy of Albert Foulser


Arctic Convoys 2: the view from the Wardroom

Tony Trew and the officers in his Wardroom endured several Arctic Convoys to Northern Russia in HMS Walker and a charming little book written by Roxane Houston based on the diaries she kept during her time as an officer in the WRNS vividly depicts the brief period in their lives together before HMS Walker escorted Arctic Convoy JW.61 to the Kola Inlet. Roxanna was based at the HQ of the Senior Officer Assault Ships and Craft (SOASC) Greenock on the Clyde and was friendly with Jane Price who worked in the Convoy Routing Office dealing with the merchant ships at nearby Gourock. Derek Napper was the brother of a friend of Jane's which resulted in an invitation from Lt Cdr Tony Trew to bring some friends aboard Walker for a party. Derek Napper met his future wife, Isobel Cowie, at this party.
"It was a great evening, full of laughter. Tony Trew was a charming host, Derek Napper, the brother of Jane's friend, showed us all over the ship, and Dacre Powell (usually called Sandy Powell after a current popular comedian) a shy but attentive companion. We all got on very well, and Jane promptly arranged a reciprocal evening in the guest room at Belleaire [the WRNS quarters in Greenock]."
Changing Course - The Wartime Experiences of a Member of The Women's Royal Naval Service 1939-1945; by Roxane Houston (Grubb Street, 2005).

At present we have no first hand account of Arctic Convoys JW.61 and return Convoy RA.62 by an officer in HMS Walker but Laurence Downey, a 16 year old seaman on the Norwegian tanker Marathon described these convoys in his unpublished autobiography. Roxane and her friends were shocked to see the state of the ship when HMS Walker returned and even more so by the exhausted look of the young officers they had invited to an early Christmas dinner before they left for the Kola Inlet. Derek Napper would tell his son of 60ft waves and having to clear ice from the superstructure to avoid the ship becoming top heavy.
On the 30 December HMS

Walker

joined joining

Keppel, Westcott

, and the sloops of the 8th Escort Group on 30 December 1944 as the close escort of Convoy JW.63 which arrived at the Kola Inlet on 8 January 1945 after an uneventful passage. From 11 to 23 January,

Walker, Keppel

, and

Westcott

escorted Convoy RA 63 during its voyage from the Kola Inlet to the Clyde, a passage made in very bad weather that allowed only slow progress.

Walker

returned to Atlantic convoy duty in February 1945. In March, she was assigned to antisubmarine warfare operations and convoy defence in the waters around the British Isles, continuing in this role until the German surrender in early May.
In that month Tony Trew was given command of five gun sloop HMS

Cygnet

(an escort with

Walker

for JW.63) and took Derek Napper with him as Executive Officer. Derek Napper married Isobel Cowie, the girl he met at the party organised by Roxane Houston, at Glasgow
on the 1st November
and they had four sons. One of them John Napper, told me their story.

Lt Cdr Tony Trew was awarded the DSC in 1945 and left HMS
Walker
in May to take command of
a six gun Bird Class sloop,
HMS
Cygnet,
until July
.
After the war he rejoined the Automobile Association of South Africa and retired in 1966 as Director-General. He had his first book published in 1964 and for nearly thirty years he publishd a string of well crafted thrillers many with a nautical setting.


The book likely to be of most interest to readers of this website is

Kleber's Convoy

(London: Harper Collins, 1974) the setting for which is an Arctic Convoy. U-Boat commander Kapitanlieutenant Johan Kleber was the first to sight Convoy JW 137 bound for Murmansk and it was given his name. Lt Cdr Redman was the CO of HMS V

engeful,

a V & W in the close escort. Their lives were crossing paths for the second time.

But, disappointingly, Tony Trew wrote that: "those who served with him in that ship who try to link what they read in the book to their experiences and shipmates do so in vain."
Lt Cdr Anthony R Trew DSC SANF(V) Ret

Anthony Trew signed this copy of

Klebers Convoy

for Athur Dodd, his former Anti-Submarine Control Officer in HMS

Walker

,
at Weybridge on 10 July 1974




He kept in touch with his former shipmates in HMS

Walker

and incribed a copy of his book for Arthur Dodd, his former Anti-Submarine Control Officer (ASCO) responsible for the Asdic and RDF team on

Walker

.





"The Middle Watch" 1981


From left to right: Arthur Dodd, Tony Trew, Derek Napper and Sandy Powell


Courtesy of Philip Dodd



He moved to England and died at Chertsey in the borough of Runneymede on 12 January 1996.
Tony Trew's Editor at Harper Collins summed up Tony Trew's character in the obituary he wrote for him the

Independent:




"I first met Antony Trew in 1987 at the offices of his publisher, Collins (now HarperCollins), and soon regarded him as a friend. His immaculate scripts arrived promptly and needed little work; he was a craftsman, whose skill at building character, plot and dramatic suspense in novels such as

Yashimoto's Last Dive

(1986) had not dimmed with age.
Spry for his years, and endearingly courtly in his manners, Trew was lively company. Having spent some time in Mozambique (formerly Portuguese East Africa), he revealed a compassionate understanding of black Africa's problems, and described movingly his son Antony's imprisonment for activities in the South African resistance. (He is now a civil servant in Nelson Mandela's private office.) His wife Nora was his lynchpin, and he spoke with pride of his other sons, Peter (Conservative MP for Dartford, 1970- 74) and Robert, an architect.
Part of Trew's charm was his good-humour, and he seemed wrily aware of his diminished status at Collins now that his book sales were in decline as fashions in thrillers changed. Lunching an author is the traditional way a publisher shows appreciation, but with Trew's wide-ranging sympathies and air of mischievous amusement the treat was invariably mine."

If you have stories or photographs of HMS
Walker
you would like to contribute to the web site please contact

Bill Forster
---
Return to the Home Page for HMS

Walker
Return to the Home Page of the V & W Destroyer Association
Return to the Index Page for the 69 V & W Class Destroyers
---