---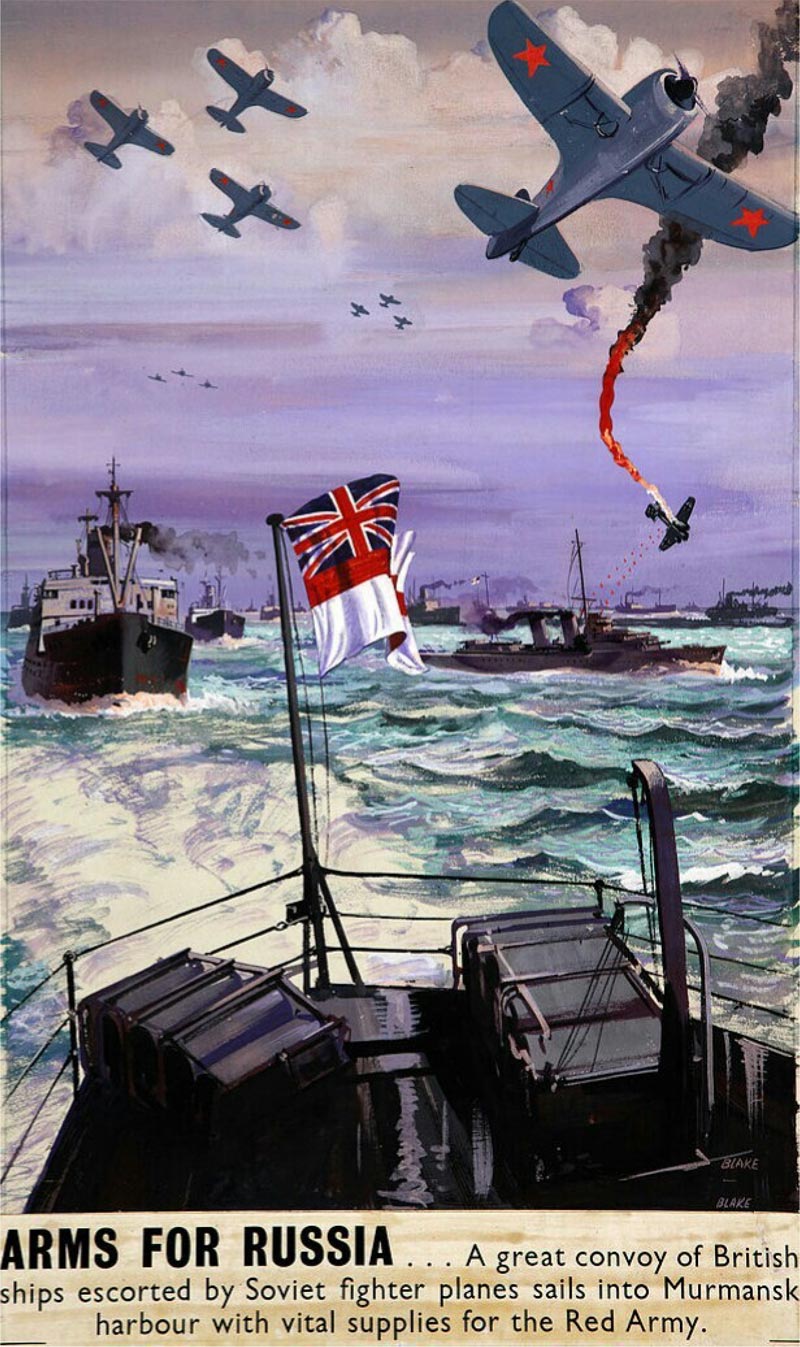 Arctic Convoys: Part 1

When Lt Cdr. Arthur Nichol Rowell RN - "Hooky Walker" - was CO 1943-4
Lt Cdr Arthur N. Rowell, RN (below, left)
took command of HMS Walker after her conversion to a Long Range Escort (LRE) and was CO when she escorted Arctic Convoys JW and RW.57 and 58 and RW.59 in 1944. He also commanded
Walker
during Operation
Neptune
escorting supply convoys to US forces on Utah and Omaha Beaches.
He succeeded Cdr. James Marjoribanks Rowland, RN as CO
in April 1943 and was followed by Lt. Cdr. Antony Francis Trew, SANF(V) - below right - on 29 Sep 1944.
He was born in 1909 and educated between 1922-5 at the Nautical College Pangbourne which trained boys to become Merchant Navy officers. He decided on a career in the Royal Navy at Pangbourne and entered service as a Naval Cadet in 1925 and was a Lieutenant by 1932. He has a brief entry in "Obituaries and Death Notices 1917-2016" in
The Old Pangbournian Record
:
"Rowell, A.N. (22-25) was a much-decorated officer in the Royal Navy who retired as a Commander and died in the 1990s. Serving in HMS
Walker
during the Second World War he was Mentioned in Despatches twice in two months for his part in Operation
Neptune
(the Normandy Landings) in December, 1944, and New Year 45 in January, 1945. For his role in Operation
Neptune
he was also awarded the
Croix de Guerre
by the post-war French government. Subsequently he was awarded two DSCs while serving in HMS
Whitesand Bay
in the Korean war – the first in June, 1951 and the second in October, 1952."

Lt James Glossop RN explained how his CO Lt Cdr A.N. Rowell acquired the nickname of "Hooky Walker". The CO is often referred to by his ship's name, hence Rowell was known as "Walker". A serving officer who reached Flag rank, Admiral H.C.T. Walker, lost his left hand in World War 1 and had a hook fitted and became known as "Hooky" Walker. Since then every CO of HMS
Walker
was known as "Hooky Walker". Admiral Walker had the disconcerting habit of unscrewing his Hook if he needed a less constricted arm, such as when he used the heads, and would pass it to his Flag Lt for safe keeping
ARCTIC CONVOYS TO THE KOLA INLET IN NORTH RUSSIA

cick on links below to view merchant ships in cruising order by columns

Lt.Cdr. Arthur Nichol Rowell, RN
April 1943 - 28 September 1944




JW.57
RA.57

JW.58
RA.58
RA.59



JW.61
RA.61

JW.63
RA.63





Lt.Cdr. Arthur Nichol Rowell, RN in comman

d





Departed Liverpool 20 February and arrived Kola Inlet on 28 February 1944.
Departed Kola Inlet on 2 March and arrived Loch Ewe on 10 March 1944

Departed Liverpool 27 March and arrived Kola Inlet on 4 April 1944.
Departed Kola Inlet on 7 April and arrived Loch Ewe on 14 April 1944
Departed Kola Inlet on 28 April and arrived Loch Ewe on 6 May 1944



Lt Cdr Tony Trew, SANF(V) in command



Departed Liverpool 20 October 1944 and arrived Kola Inlet on 28th October 1944
Departed Kola Inlet on 2 November and arrived Loch Ewe on 9 November 1944

Departed Liverpool 20 December and arrived Kola Inlet on 8 January 1945
Departed Kola Inlet on 11 January and arrived Loch Ewe on 21 January 1945




Lt Cdr Tony Trew SANF(V)


29 September - May 1945



Lt.Cdr. Arthur Nichol Rowell, RN and the ship's company of HMS

Walker

at the start of her new Commission in April 1943
Only a few of the men on the lower deck have been identified:
"Albert Foulser, 4th from right in row behind the shield (ship's crest)" and "Bill Perks is in row in front of shield, 5th from left."
Courtesy of Albert Foulser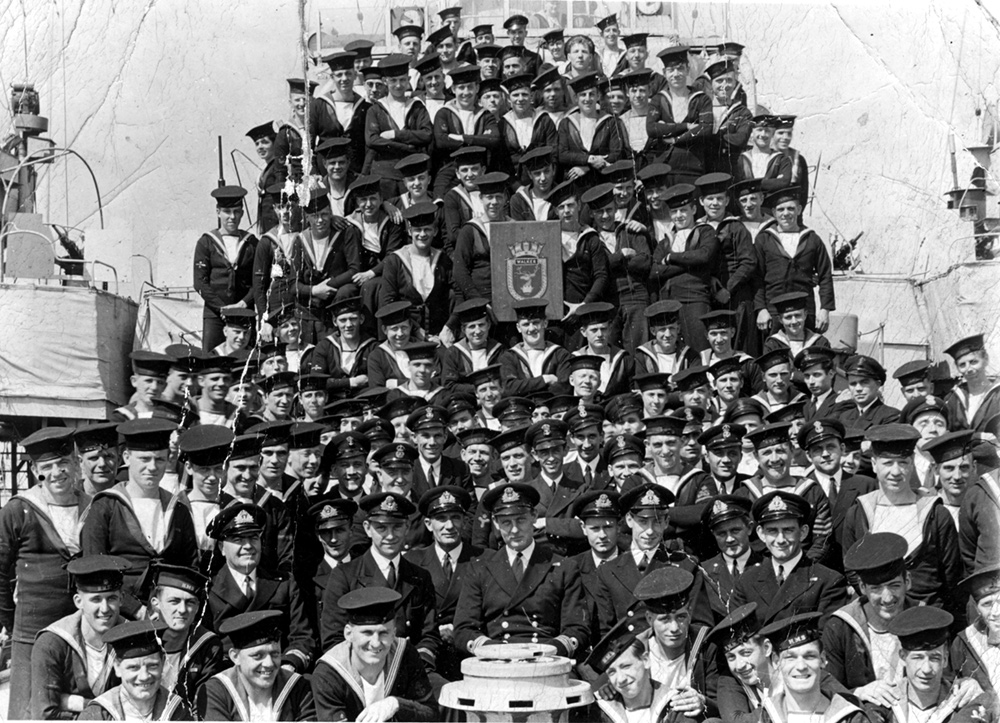 Click on the portraits of the officers below to view full size and on their names for more about them - only one officer remains unidentified
Officers
: Navy Lists, June 1943 - June 1944

the names of officers not identified above will be on this list
Lt R W D Bray RN (14 Jan 1941 - Feb 1945)
Sub Lt (E) R.R. Brooks RCNVR (14 Oct 1943 - March 1945)
Lt (E) E.C.Y. Hughes SANF(V) (18 March 1944 - Jan 1945)
Tp Sub Lt Eric Randolph Lawson RNVR (May 1943 - May 1945)
Tp Sub Lt R B Mann RNR (17 April 1941 - Feb 1945)

Tp Sub Lt A H B McClatchley RNVR (25 June 1942 - Feb 1945)
Tp Gnr (T) A W Norish RN (15 February 1943 - March 1945)
Cd Eng G F Osborne RN (9 March 1939 - Oct 1943)
Tp Sub Lt D Payne RNVR (21 June 1943 - March 1944)
Lt Frederick V Robinson RCNVR (13 Oct 1943 - 27 Feb 1944) MPK
These stories and photographs have been contributed by -
Albert Foulser and Bill Perks
Bill Perks best friend on HMS
Walker
was Albert Foulser.
Albert Foulser and Bill Perks

met for the first time when they joined HMS
Walker
at Chatham after her conversion to a Long Range Escort in April 1943.They were part of the new Commission; very few of the ship's company, if any, had served with Donald Macintyre, the renowned "U-Boat Killer" who commanded HMS
Walker
from March 1941 to February 1942.
Their first CO, Lt Cdr. Arthur Nichol Rowell, was Royal Navy, the second "wavy navy", a South African, Lt Cdr A.F. Trew SANF(V). HMS Walker "worked up" in Scotland and was then sent to Londonderry, her base for escort duties to Gibraltar. By April 1943 the shore base at Londonderry, HMS Ferret, was responsible for 149 escort and anti-submarine patrol vessels, two thousand shore-based personnel and twenty thousand British and Canadian seamen. Derry provided much needed rest and relaxation to Allied sailors following convoy duty. On one occasion while escorting a convoy to Gib Walker ran out of fuel and had to go into Azores, a neutral country, to refuel.

In January 1944 they went to Gairloch on the Clyde to be fitted out with cold weather gear for escorting Arctic Convoys. From now on their base was Greenock (HMS Orlando) on the Clyde. HMS Walker with HMS Keppell, Beagle and Boadicea formed the 8th Escort Group, part of the Close Escort for convoys to the Kola inlet in north Russia. In overall command was Vice-Admiral F Dalrymple-Hamilton RN, the Flag Officer of the 10th Cruiser Squadron in HMS DIadem. The convoys of merchant ships formed up in Loch Ewe, a deep enclosed sea loch on the west coast of Scotland. HMS Walker would escort ships from Liverpool and the Clyde to the assembly point at Loch Ewe. Bill Perks and Albert Foulser were on five Arctic Convoys (JW57.JW58, JW59, JW61 and JW63 plus the return convoys with the prefix RA) to Polyarnoe, the Russian naval base near Murmansk on the Kola inlet from 1944 to early 1945. Click on the links in the table at the top of this page to see the names of the merchant ships and the escorts in each convoy.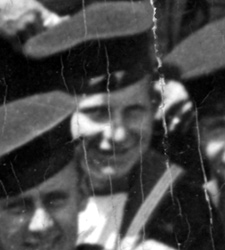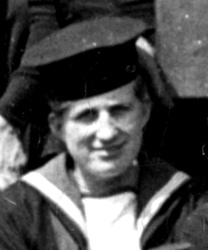 Albert George Foulser JX 396835
(left)

was born in Walthamstow, North East London, on 11 August 1924, the son of a green-grocer. He was the second of five sons and had four sisters. He left school at 14 and trained as a cabinet maker in a furniture factory but they were all made redundant when the factory changed to making aircraft. By the time he was eighteen and received his call-up papers he was "filling in" working for the father of a friend as a "bottle washer'! He "began his time" on 21 December 1942 with four months basic training at HMS
Glendower
at Pwllheli, a former Butlins holiday camp in North Wales. He returned to Chatham and on 22 June 1943 was posted to HMS
Walker
which had just been converted to a Long Range Escort (LRE). He lived with his wife in Loughton, Essex, and attended the annual meetings of the V & W Destroyer Association and met Russian veterans on Victory in Europe Day at the Imperial War Museum. He died on 15 December 2021, a few months after his wife.
Leslie William Perks (right) was born on 31 March 1925 at Leamington Spa and iived there all his life. He left school at 14 and became a despatch rider with the National Fire Service. He was a a few months short of his eighteenth birthday when he decided to join the RAF but was told to come back when he was older so he joined the Navy instead. He did ten weeks basic training at HMS Ganges and going up the mast in the early morning was "a frightening experience". He had to prove he could swim by putting on a big "duck suit" and floating in the pool for three minutes before he was allowed to go on the ferry to Harwich. If you couldn't swim you had to go to Ipswich for an evening out. He was sent from the depot at Chatham to Tobemory for an Asdic course but they were all "ping happy" so he deliberately failed the course. On returning to Chatham he joined HMS Walker as an OD at the start of her new Commission after conversion to a Long Range Escort (LRE). He died on Bank Holiday Monday in May 2016.
They were shipmates and close friends on Atlantic Convoys to Gibraltar and Arctic Convoys to Murmansk until Walker was paid off at Barrow in Furness at the end the war. They next met at the Cenotaph in 2005 when they were awarded the Arctic Emblem and heard their names called out. The photographs were taken by Albert Foulser whose parents bought him a Box Brownie camera in 1932 for 5/-. He was the only man with a camera on the lower deck and he gave copies of the photographs he took to his shipmates including Bill Perks. Albert took all the photographs on this page apart from the photographs of the ships company which were taken by a Royal Navy photographer. Albert Foulser is standing alongside Bill Perks in both these photographs. They were both long term members of the V & W Destroyer Association and I met them at annual reunions most years. I interviewed Bill Perks at the V & W reunion at Eastbourne in 2014 and Albert Foulser at St Ives near Cambridge in 2016.


Bill Perks, as a young rating in 1944 and wearing his Arctic Star in 2014, and a photograph of the Kola Inlet near Murmansk in Arctic Russia taken from HMS Walke
Courtesy of Albert Foulser
Lt James J Glossop RN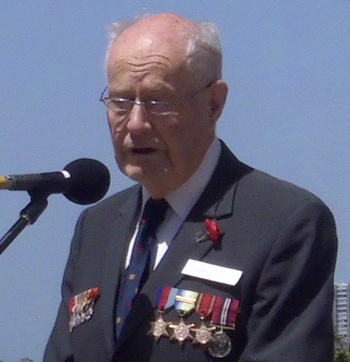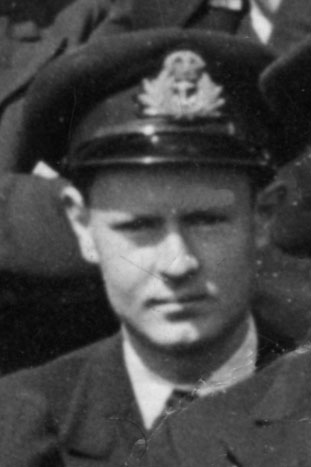 Lt Cdr James J Glossop RN
had joined HMS
Walker
as a Sub on 20 May 1943 when Lt.Cdr. Arthur Nichol Rowell, RN was the CO and was promoted to Lieutenant on 16 May 1944 and retired from the Royal Navy as a Lieutenant Commander in 1968.
He took part on
Arctic
C

onvoys JW.57 and JW.58 and the return convoys described by ABs Albert Foulser and Bill Perks
.

He described the part played by HMS

Walker

during the Normandy landings and served under
Lt. Cdr. Antony Francis Trew, SANF(V) escorting Arctic Convoys JW61 and JW63
to the Kola Inlet in North Russia.
He left HMS
Walker
on the 22 November 1944 to join HM Destroyer
Penn
on 23 November 1944 in refit at Chatham and spent the rest of the war operating with the East Indies Fleet based at Trincomallee in Ceylon. He stayed in the Royal Navy after the war until retirement at the age of 45 in 1969/70.
James Glossop is the son of an Australian naval hero of the Great War
,
Capt John C.T. Glossop RAN (1871-1934)
,
who commanded the light cruiser HMAS
Sydney
when she sank the
Emden
, a commerce raider which had created havoc in the Indian Ocean until outgunned by
Sydney,
set on fire and driven ashore she was forced to surrender in November 1914.
John Glossop was born at Twickenham, the son of a Vicar, but spent most of his service in the Royal Australian Navy and was descrbed by his officers as 'the embodiment of the true English gentleman'. He married an Australian girl from Bathurst, New South Wales, but retired to Dorset where James Glossop was born.


James Glossop was born at Burton Bradstock, a village in Dorset on 27 February 1924, but died at a retirement home in Bathurst, New South Wales. where his Mother came from, on Sunday 13 February 2022.
Father and son were both officers in the Royal Navy though better known in Australia than in the country of their birth. The portrait of James Glossop on the left was cropped from the ship's company above and the one on the right was taken on the centenary of the sinking of the

Emden

by HMAS Sydney.


Sub Lt Eric Randolph Lawson RNVR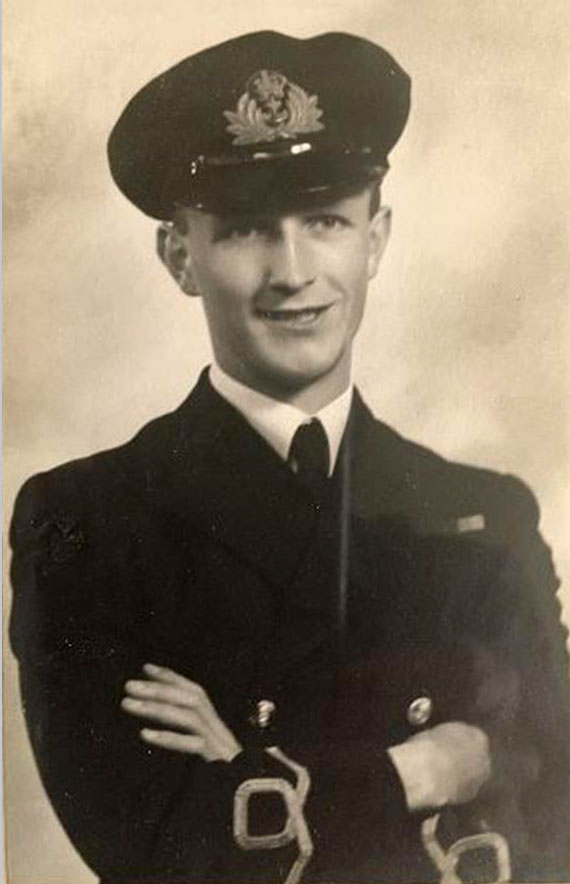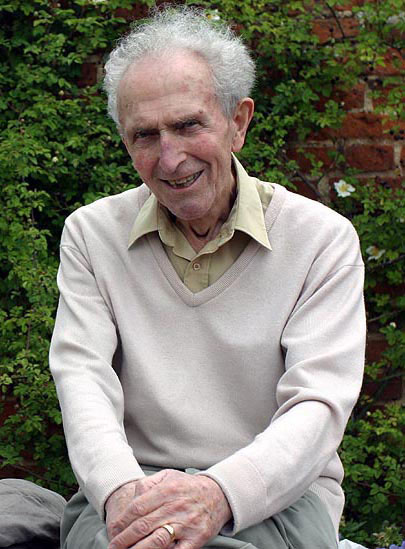 Sub Lt Eric R Lawson was identified by his son, David Lawson, who provided the photograph of him with the single stripe of a Sub Lt in the "Wavey Navy", the RNVR. Click on the image to view full size in a separate window. David Lawson wrote this brief account of his father's life based on personal memories, his service certificate and the "chitties" signed by his Conmmanding Officers:

"My father was born in West Hartlepool on the 4 December 1919, the son of Randolph Alfred Lawson (1889-1954), a captain in the Merchant Navy in WW1 who came out of retirement to rejoin the Navy and served on convoys in WW2. Eric was an insurance clerk working in the Marine Insurance department
of Price Forbes in London
but volunteered for the RAF and trained as a pilot. He wasn't successful and after nine months joined the Navy and trained at HMS

Ganges

in October 1940.

After doing his "sea time" as an Ordinary Seaman (OD) on the lower deck of HMS

Vanquisher

from March 1941 to February 1942 he was sent to HMS

King Alfred

for officer training and joined HMS

Watchman

as Temp Sub Lt in May 1942. He joined HMS

Walker

escorting Arctic Convoys in May 1943 and was promoted to Lieutenant by Lt Cdr Tony Trew in 1944 serving as "CB [Confidential Books] Officer, OOW and FDO [Fighter (aircraft) Direction Officer]" until May 1945. After leaving

Walker

he served on HMS

Roebuck

as "Victualing Officer" until the end of the war. He was released from service in April 1946.

He returned to his old job
with Price Forbes,
married Margaret Wyatt in 1946 (a nurse during the war) and and retired as a Director in 1981. He loved golf and sailing and had several boats over the years which he sailed around the South and East coast of England. He was a devoted husband, father, grandfather and great grandfather. He rarely talked about his war but was proud to have served his country and enjoyed a long happy life until his death in 2007." The photograph on the right was taken in 2005 - click on the image to view full size in a separate window.


Donald Frank Wright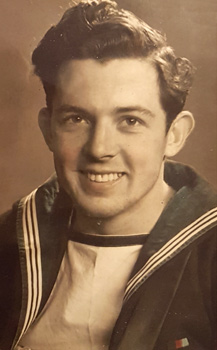 Donald Frank Wright (left)

was born at Norwich on 8 August 1925. He was living at home with his father and working as an "errand lad" when he volunteered to join the Royal Navy on 15 February 1943 "for the period of the present emergency".
After ten weeks basic training at HMS
Ganges
at Shotley Gate, on the north bank of the River Stour opposite Harwich, Ordinary Seaman Donald F Wright JX 407954 was sent to HMS
Valkyrie
at Douglas on the Isle of Man. This was the Navy's main shore base for training RDF operators.
The technology was top secret and the five week training course was too short to teach men fully: "Commanding Officers must appreciate that Ordinary Seamen (RDF) newly drafted to sea cannot be considered fully trained either in practical operating or in sea sense. The training must be continued afloat and every help and encouragement must be given to operators to learn" (
Churchill's Navy
; by Brian Lavery).
OD Donald F Wright was posted to HMS
Walker
at Chatham on 18 June 1943 and remained aboard her until the end of the war. Throughout most of this period HMS
Walker
was escorting Arctic Convoys but she also played her part in the Normandy landings. Donald Wright was rated as an Able Bodied Seaman (RDF) on 15 February 1944 when the Navy created a separate Branch for Radar Control Ratings. AB Wright was initially rated as RC3 but promoted to RC2 in December 1945. Throughout most of his time in HMS
Walker
she was based at HMS
Ferret
in Londonderry.

He was discharged 10 September 1946. His Grandson, Stephen Wright, briefly described his life after the war:
"I believe he worked or completed an apprenticeship as a carpenter and later on started his own construction company. He actually built his own and our family home in Taverham Norfolk. He basically remained in the building trade until retirement. He passed away in early 2001."
Arctic Convoys: Part One

Lt.Cdr. Arthur Nichol Rowell, RN in comman
d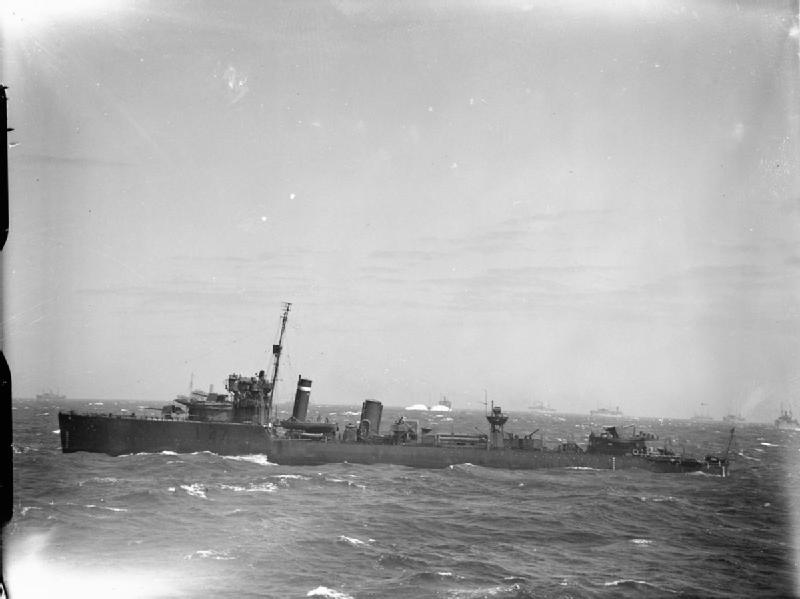 HMS

Walker

escorting a convoy in choppy conditions

Crown copyright IWM 4593

Arctic Convoy JW.57

20 - 28 February
In January 1944,

Walker

was transferred to the Home Fleet to escort Arctic convoys to and from the Soviet Union. In February 1944, she was part of the close escort group for Convoy JW.57 during its voyage from the United Kingdom to the Soviet Union along with

Keppel

, the destroyers

Beagle

and

Boadicea

, and four Flower-class corvettes. The convoy left Liverpool on 20 February and although it endured German air and submarine attacks during its passage, no merchant ships were lost but on the night of 25 February the destroyer HMS

Maharratta

was torpedoed by U-990 and only 17 were saved out of a crew of just over200.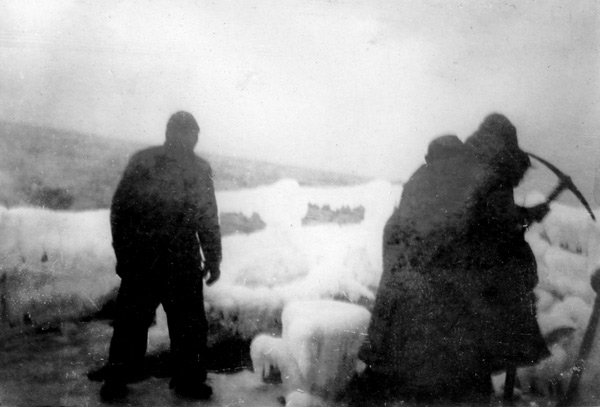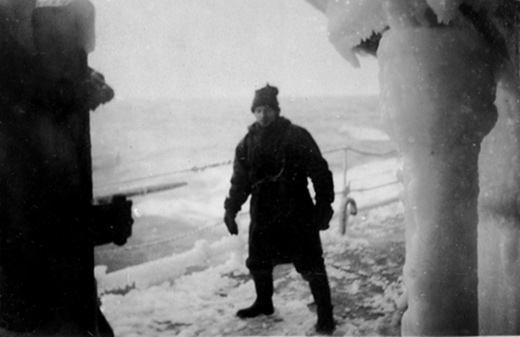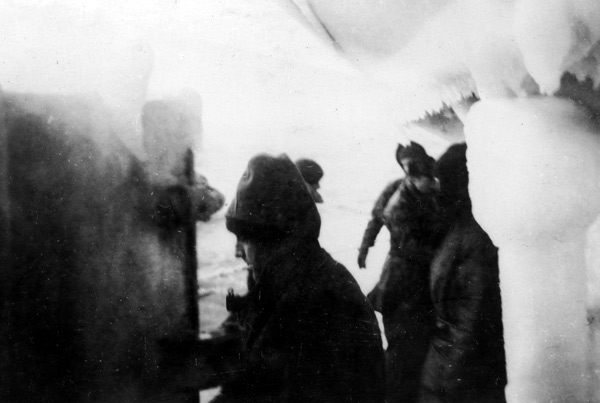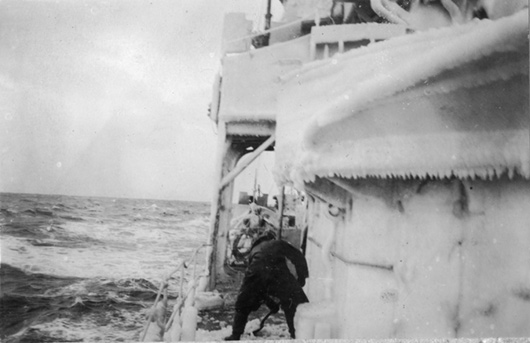 Photographs taken on Arctic Convoy JW.57 by Sub Lt Dennis W Foster RN from HMS
Wanderer
Water froze on the superstructure, guns, guard rails and focsle and had to be chipped away to prevent the ship becoming unstable and capsising. A safety line with a sling was slung the length of the ship to make it easier and safer for officers and men going on watch to move along the icy deck without slipping and being washed overboard. On 27 February, the day before they arrived at the Kola Inlet at the end of their first convoy to Arctic Russia the Canadian Gunnery Officer failed to turn up for the middle watch (0000 - 0400) and was found to have left the wardroom at the stern, slipped and been washed overboard on his way to the bridge. Lt. Stuart W M Farquharson-Roberts RN, the Navigator in HMS Westcott, describes how this could easily happen when making the the perilous journey from the officers flat on the quarterdeck at the stern to the open bridge at the bow in his account of Christmas at sea in HMS Westcott while escorting return convoy RW.55A on 25 December 1943.

Lt James Glossop RN remembers the night well. He was due to go on watch at 0800 and went to bed at midnight expecting to sleep the whole night through but was woken at 0400 and asked to relieve the First Lt who had conducted an unsuccessful search for the missing officer. Neither Bill Perks or Albert Foulser could remember the name of the Canadian officer but a search on naval-history.net identified him as Lieutenant Frederick Victor Robinson RCNVR who was lost, Missing Presumed Killed (MPK), on 27 February 1944, the day before HMS Walker arrived at the Kola Inlet. He was a 28 years old former school teacher from London, Ontario, a city north of Lake Eyrie near the US border. He had volunteered for the Navy in August 1940 and trained at HMCS Stadacona at Halifax, Nova Scotia, before being sent to Britain for officer training at HMS King Alfred. In June 1941 he was sent on a two months course at HMS Quebec, the No 1 Combined (Operations) Training Centre (No 1 CTC) at Inverary on the remote shores of Loch Fyne in Scotland before being posted to HMS Ferrett, the shore base for Atlantic escorts at Londonderry where he may have met his future wife, Elizabeth Wilson from Belfast. She was two years younger than him, the daughter of a deceased Captain in the Black Watch. He joined his first real ship, an elderly Town Class destroyer, HMS Clare, on 5 November 1941 and married Elizabeth at the Registry Office in Islington on 23 February 1942.

During his two years in HMS Clare in 1941-3 she was intially based at Liverpool with the 41st Escort Group for defence of West African convoys but after a refit escorted convoys to Gibraltar and was sent to the Mediterranean and took part in Operation Torch, the landings near Syracuse in Sicily. Lt Frederick V. Robinson RCNVR joined HMS Walker on 13 October 1943 with Sub Lt (E) R.R. Brooks RCNVR when she was part of the 4th Escort Group based at at Londonderry. Frederick Robinson's death was confirmed in a letter from the Canadian Navy Board to his father on 13 April 1944. By the time of his death Elizabeth had a daughter, Patricia Robinson. They were repatriated by the Canadian Navy aboard an elderly liner the SS Letitia in September 1946 and joined her father-in-law, Ernest Walter Robinson, a schoolmaster in London, Ontario.
Return Convoy RA.57
2 - 10 March 1944

The Russians provided air cover as the Convoy left the Kola Inlet and took a long detour eastward to avoid detection. The tactic worked and only one merchant ship was lost at the cost of three u-boats sunk by aircraft from the escort carrier HMS
Chaser.
Convoy RA.57 reached Loch Ewe on 10 March 1944.
Arctic Convoy JW 58
29 March - 4 April

On 29 March 1944, Walker joined Beagle, Boadicea and Keppel of the 8th Escort Group together with the sloops of the 2nd Escort Group – Magpie, Starling (commanded by Cpt Frederic "Johnny" Walker), Whimbrel, Wild Goose, and Wren provided a strong close escort for Convoy JW58. It came under German air and submarine attack, but arrived at the Kola Inlet on 4 April. The senior officer of the combined force was the Rear-Admiral in command of the cruiser, Diadem, a comparatively new ship and leader of the Tenth Cruiser Squadron. The escort carriers Tracker and Activity provided air cover. The convoy included USS Milwaukee which was being loaned by the US to the Russian Navy.

During this convoy six shadowing aircraft were shot down by aircraft from the carrier. On the 2nd April carrier aircraft carried out attacks on submarines causing damage and shooting down a Ju88 aircraft. On the next day Submarine U288 was sighted and attacked by Swordfish Aircraft of 819 Squadron. U288 was sunk North of North Cape by rocket attacks despite intense AA fire and manoeuvers by the submarine to avoid being hit.

Arctic Convoy JW.58 arrived at the Kola Inlet on 4 April 1944. "Walker Morning News" was received as naval signals by George Walker, Telegraphist in the Wireless Office, and posted on the ship's notice board. It was retrieved and kept by AB Donald Frank Wright, an RDF operator in HMS Walker and sent to me by Stephen Wright, his Grandson.




George Walker Telegraphist C/JX220093


Was "Walker Morning News" a pun?

HMS

Walker

was named after


Admiral Sir Baldwin Wake Walker (1802–1876)


who got the RN to adopt the Ironclad warship.


George Walker served in HMS

Walker

from

27 December 1943 - 9 April 1945

Arctic Convoy JW.58 arrived at the Kola Inlet on 4 April 1944

These messages were retained by AB Donald Frank Wright,
RDF operator in HMS

Walker

, June 1943 - Jan 1945

Courtesy of Stephen Wright, his Grandson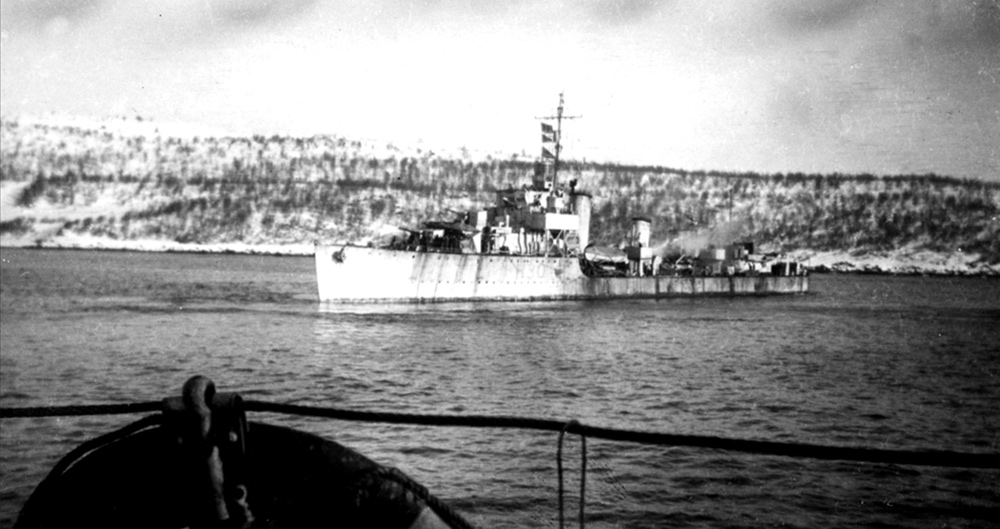 HMS Beagle (H30), a member of the 8th Escort Group, in the Kola inlet near the Russian naval base of Polyanoe
HMS Beagle (H30) and HMS Boadicea (H65) were B-Class destroyers built around 1930 which together with the V & W Class Leader HMS Keppell and HMS Walker made up the 8th Escort Group in 1944
HMS Boadicea, commanded by Lt. Frederick William Hawkins RN, a former CO of HMS Woolston, was torpedoed and sunk two months later on 13 June 1944 during the Normandy landings
Courtesy of Albert Foulser
Return Convoy RA.58
7 - 12 April 1944

Walker and the 8th Escort Group and the return convoy of 36 empty ships left the Kola Inlet on 7 April but the enemy did not learn of their departure until the following day. Ten u-boats attempted to block the passage between Bear Island and North Cape but the Convooy passed south of their patrol line, escaped unnoticed and returned to Loch Ewe without loss.
Operation FZ
20 - 23 April 1944

The supply route to the USSR had switched to the "Persian Corridor" to Azerbaijan via the Persian Gulf and Iran for the Summer months but although there were no more ships waiting to be escorted north there were empty ships in Russian ports waiting to be escorted south. In addition, the crew of the USS Milwaukee were waiting for a lift home and the Russian crew of the Battleship, Royal Sovereign, which was being transferred to the USSR, needed taking to Britain (Operation FZ). She would be renamed Archangelsk.

A strong escort force including the Activity, Diadem, Fencer, 14 Home Fleet Destroyers and 4 Canadian Frigates attached to the Home Fleet headed North to bring back the empty ships. The troop ship, TSS Nea Hellas, was taking passage to embark the Russian and USN crew members but mechanical defects forced her to turn back and they had to be accomodated on the merchant ships and warships. The Convoy reached the Kola Inlet unobserved on 23 April.

On the day of his arrival at Vaenga on the Kola Inlet Rear Admiral R.R. McGrigor commanding the 1st Cruiser Squadron along with the CO of the escort carrier Diadem, Captain D and the SBNO attended a party given by the CiC of the Northern Fleet, Admiral Levenchenko, and on the day of his departure he invited the CiC and a number of Russian officers to lunch but "the CiC did not attend either function on a plea of urgent business with Commissars from Moscow, his Chief of Staff deputising for him".

Return Convoy RA.59
28 April - 6/7 May 1944

Admiral Levchenko and his staff were riding in the escort carrier HMS Fencer to take command of the USSR's new battleship, Archangelsk. There were some 2,300 "passengers" distributed between the 43 merchant ships and the 23 escorts in the return convoy. The numbers aboard each of the merchant ships are given in brackets in the plan of the convoy below.

RA.59 was routed as far north as possible, the actual track being limited by the ice edge. At 2000 on the 30th April 1944, when the Convoy was 50 miles south of Bear Island, the United States Liberty ship William S Thayer, third ship in the third column (see warsailors.com below), which was carrying 164 Russian and American personnel was torpedoed. Whitehall and HMS Inconstant swept up the port side of the convoy and then joined HMS Boadicea hunting a contact on the port quarter of the convoy.

The dedicated rescue boat, the Liberty Ship SS Robert Eden, reported that there were many men in the water and that the bow section had sunk. William Chisholm, an engine cadet on the Robert Eden, described his part in the rescue: "I ended up in a motorized life boat. A sea painter wrapped around the propeller and we couldn't use the motor. The crew was forced to row. Being from Gloucester, Massachusetts I could handle the oar. We rowed over to the aft section of the Thayer and boarded a number of the crew. The rest returned to the Eden with survivors."


Meanwhile Walker joined Keppel searching for the attacking u-boat in the vicinity of the wreck (Operation Observant). At 2107 Whitehall was ordered to close and pick up survivors. As the after part did not appear to be in any danger of sinking it was decided to rescue men from the water first. Whitehall proceeded to windward of rafts and wreckage, all floating in thick oil. The whaler was lowered and Whitehall went alongside the rafts. Twelve men were rescued, and the whaler returned with 10 more.

Boadicea joined Walker alongside the wreck. Boadicea lowered a boat and also embarked some survivors over her bows on the lee side. Walker went alongside on the weather side and embarked the remaining 49 survivors, in about 4 minutes with little difficulty. All were Russians. Walker and Boadicea were ordered to sink the derelict. Boadicea set it on fire with gunfire, while Walker steamed past and lobbed two depth charges from the Port Throwers set shallow. A beautiful straddle was achieved and the wreck sank a few minutes later.

Click on the links to read Lt Cdr A.N. Rowell's Report of Proceedings and the Report of Proceedings by the CO of HMS Whitehall. Admiral Levchenko and his staff were riding in the escort carrier HMS Fencer to take command of the USSR's new battleship, Archangelsk. He requested that the ships assisting in the rescue of survivors from the William S Thayer telegraph the number of Russians saved. Walker's ROP includes the log of signals received in reponse to this request: Walker rescued 49, Whitehall 6 named survivors (plus two dead) and the rescue ship, Robert Eden, 34 making a total of 89 saved plus those who died after rescue and were buried at sea. In addition Whitehall rescued 10 Americans (plus four who died) and the Robert Eden 29 plus 4 who died.

The most accurate figures are probably those in "The names of those lost from the personnel of the ship squadrons of the Northern Fleet" issued by the Staff of the Ship Squadrons of the Northern Fleet on 16 September 1944, Ref No 011P Vaenga. This document gives the names of 23 who died out of the 164 Russian crew members known to be on the William S Thayer. It was standard practice in both Navies to record the names of those who died so that their families could be notified but less common to record the names of those saved and returned to their units. We have been contacted by the grandson of Snr Lt Valentin Aleksandrovich Martinov, a submariner, who died from exposure soon after his rescue by HMS Whitehall and shall be telling his story on the website of HMS Whitehall. We are hoping to hear from the families of some of the other Russian sailors aboard the William S Thayer when she was sunk. If a member of your family is on this list or you recognise one of the men in Albert Foulser's photographs you can e-mail details in Russian to his grandson, Alexander Kovalev.

The
William S Thayer
was the only ship lost on return convoy RW.59 and the Germans paid a heavy price for her sinking. The Russian Admiral Levchenko in HMS
Fencer
had the satisfaction of seeing three u-boats sunk by her Swordfish aircraft within two days of the loss of his men in
Thayer
. And HMS
Westcott
and HMS
Wrestler
made two depth charge attacks at 2130 on the 30 May on a submerged u-boat but reported this as inconclusive.
Albert Foulser's photographs of the Russian survivors aboard HMS

Walker

after their rescue bring this story to life.
Walker
already had some American sailors onboard as passengers so must have been quite crowded.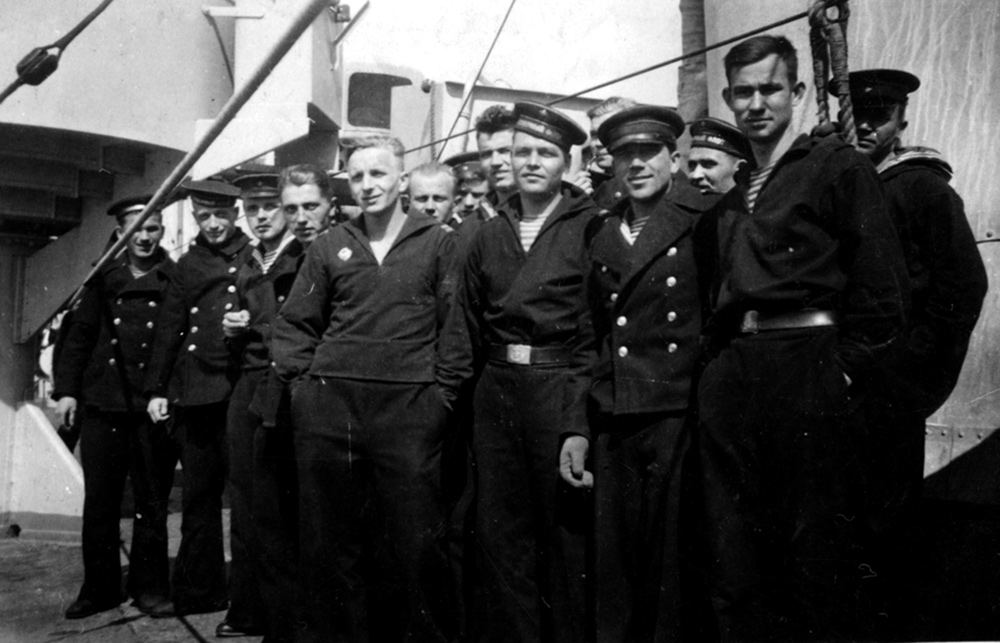 Russian seamen on HMS
Walker
after being rescued from the
William S Thayer
Courtesy of Albert Foulser
Lt James Glossop had an amusing memory of the Russians rescued when the William S Thayer was torpedoed. One of them, a large, overbearing fellow with a big boozer's nose, was never in uniform. He was less well educated than the others and not at all comfortable at sea but was rumoured to be a master chess player. The Ward Room arranged for six of its chess players to play against him. The agreement was that he would be blindfolded and the six players from HMS Walker would have their moves described and translated to the blindfolded Russian. Within 12-15 moves he had demolished four of the Walker team. The other two, including James Glossop, were saved when the rattles sounded an anti-sub alarm.

The friendly relations between the Russians rescued from the William S Thayer and the officers and men of HMS Walker did not last. James Glossop recalled that on Arctic Convoy JW.59, the first convoy back to the USSR after D Day, Walker escorted the Royal Sovereign now renamed Arkhangelsk to Murmansk. Even though Walker had played a crucial role in getting part of her crew to the UK, there was no cordiality in signals or chatter from the Archangelsk to Walker during the voyage.

On another convoy the stanchions above the focastle were washed away and mess deck badly damaged and they went into Iceland where the Mess Deck was shored up with timber instead of being repaired.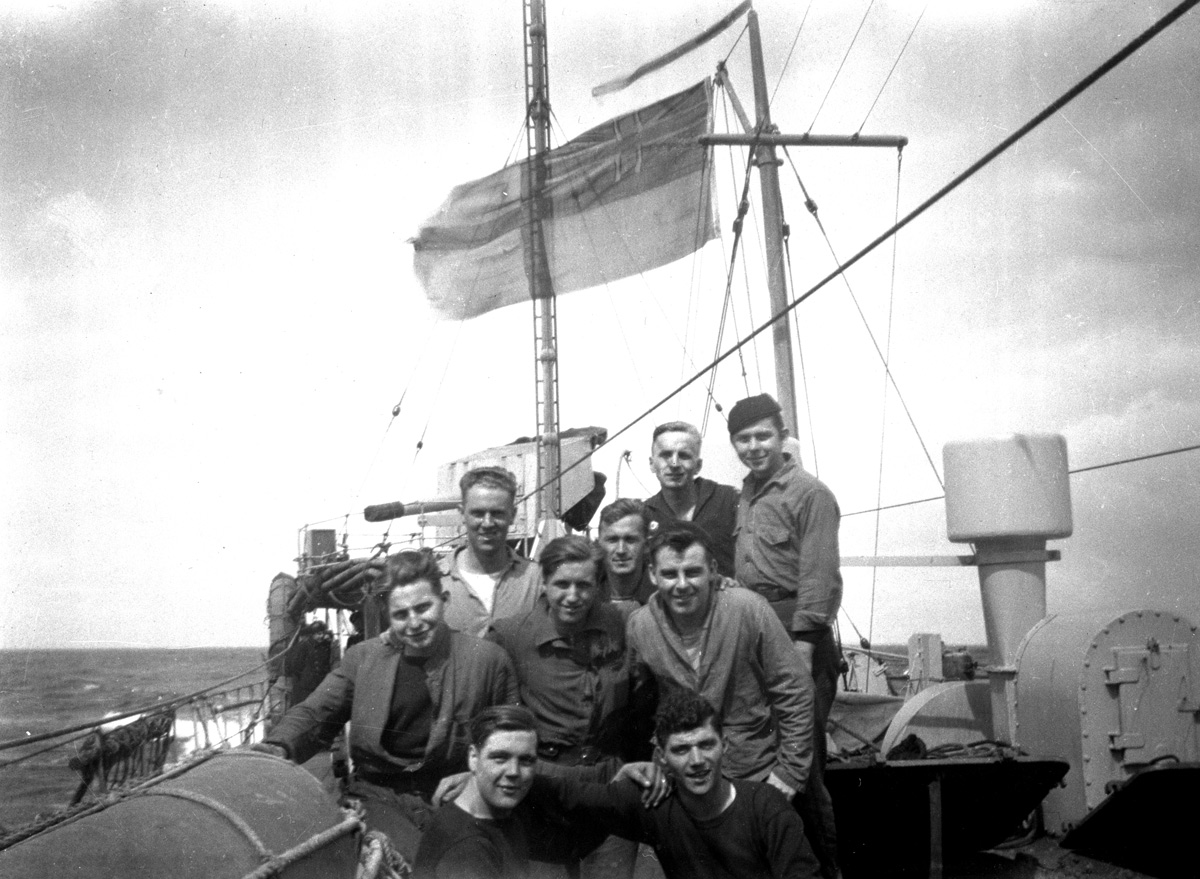 Albert Foulser is on the left in this photograph of his shipmates in HMS Walker with USN sailors taking passage to Britain and Russians rescued from the William S Thayer
This photograph was taken on Kodak 620 film in Albert Foulser's box Brownie camera and the image has been scanned from the negative carefully kept by Albert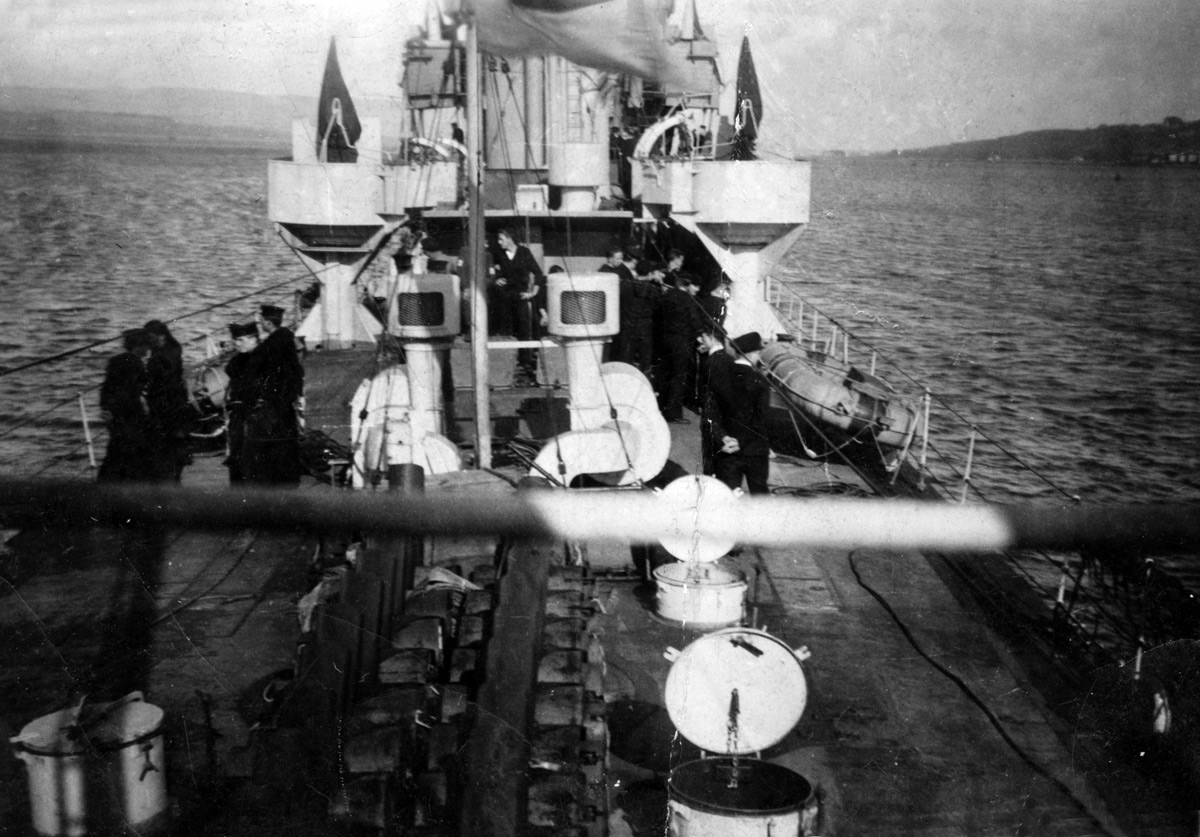 Some of the USN sailors who crewed the USS Milwaukee on her voyage north to Murmansk (Operation FZ) in April 1944 and returned to Britain aboard HMS Walker
They are easily identifiable by their USN peacoats and the USN tally on their caps and were photographed on arrival at Greenock by Albert Foulser
Please let us know if you recognise a mermber of your family in this group

HMS Walker escorted convoys from Milford Haven to the D-Day beaches in June but returned to escorting Arctic Convoys in August

Arctic Convoy JW.59
15 – 24 August 1944
Vice Admiral F.H.G. Dalrymple-Hamilton was the senior officer in the Convoy flew his flag in the escort carrier Vindex. Enemy aircraft located the Convoy on 20 August and U-344 sank the Sloop Kite with only 9 out of the crew of nearly 200 saved but Swordfish aircraft from Vindex gained revenge by sinking the u-boat the following day. Two days later ships of the 20th Escort Group sunk U-354 which had earlier that day sunk the frigate HMS Bickerton commanded by Walker's former CO, Donald Macintyre, and badly damaged the escort carrier Nabob. An abortive attack was made on Archangelsk by U-711 but the flagship of the Northern Fleet with Admiral Levchenko in command and all the merchant ships in JW.59 arrived safely at the Kola Inlet on 24 August 1944.
Arkhangelsk

was the largest ship in the Soviet fleet during the war and her main task was meeting Allied convoys in the Arctic Ocean and escorting them into Kola.


She was returned to Britain in 1949 but was in poor condition and was sold for scrap. She arrived at Thos W Ward's scrapyard at Inverkeithing, Scotland, on 18 May to be broken up.
The elevation mechanisms from her main battery gun turrets were later reused in the 250-foot Mark I radio telescope at Jodrell Bank, Cheshire built in 1955–7.

Bill Forster recorded an interview with Bill Perks at Eastbourne in 2014 and Albert Foulser (Reel 2) at St Ives in 2016
They cover similar ground but Bill Perks gives a clearer account than Albert's
You can click on the links to hear them describe their wartime service on HMS Walker
be patient - it takes a couple of minutes before the file opens and they start speaking
See more of the photographs taken by Albert Foulser aboard HMS Walker on his 5/- box Brownie camera
and at 10 Downing Street with Prime Minister Tony Blair in 2005
Arctic Convoys 2: Lt Cdr Tony Trew SANF(V) as CO
HMS Walker resumed escorting Arctic Convoys from October 1944 until January 1945 under a new CO, Lt Cdr A.F. Trew SANF(V).


If you have stories or photographs of HMS
Walker
you would like to contribute to the web site please contact

Frank Donald
---
Return to the Home Page for HMS

Walker
Return to the Home Page of the V & W Destroyer Association
Return to the Index Page for the 69 V & W Class Destroyers
---