---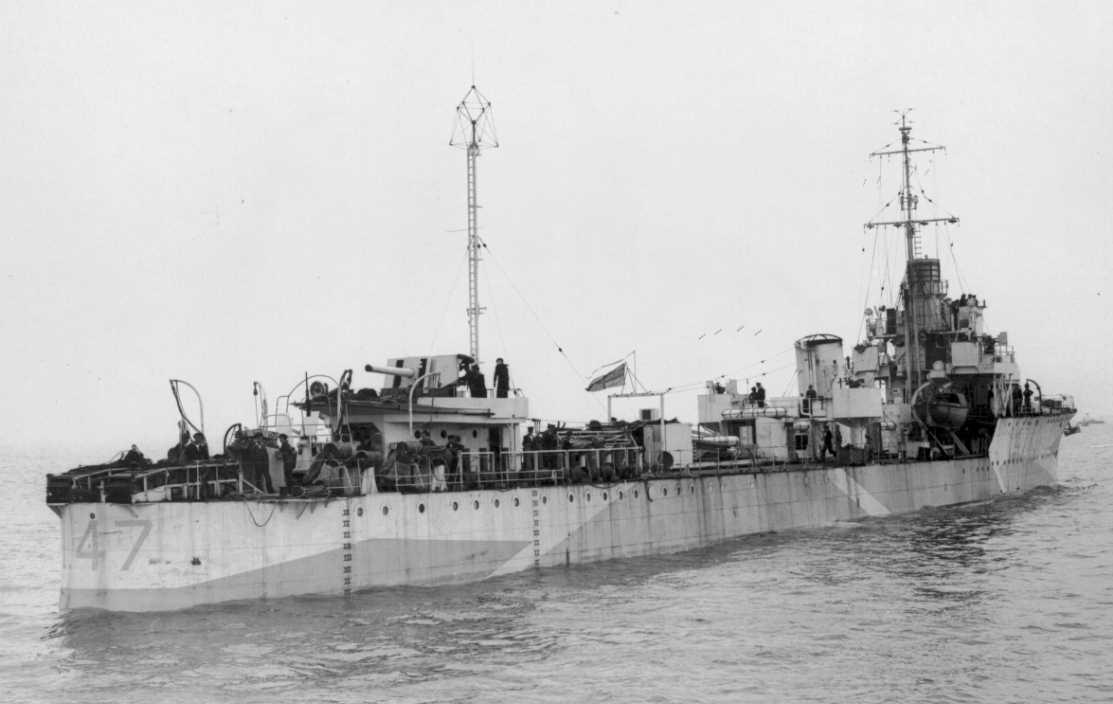 Click on the links within this brief outline for first hand accounts by the men who served on HMS Westcott and for a more detailed chronolgy see www.naval-history.net

HMS
Westcott
was an Admiralty W-Class destroyer built by William Denny and Brothers Ltd, Dumbarton. Named after Capt. George Blagdon Wescott RN, who was killed at the Battle of the Nile in 1798 while Captain of HMS

Majestic

, HMS

Westcott

was launched in February 1918 and entered service on 12th April 1918 with pennant number D47.

Sub Lt
S Lt Stanley Brian de Courcy-Ireland
described the surrender of the German High Seas Fleet in November 1918 and the scuttling of the Fleet in Scapa Flow, Orkney, in June 1919. HMS

Westcott

took part in the Baltic campaign against the Russian Bolsheviks. In 1920 she was in the Mediterranean when Constantinople was occupied by the Allies and carried out a number of bombardments against the Nationalist Turks in the Sea of Marmara. HMS

Westcott

returned home in August 1920, joining the 2nd Destroyer Flotilla, Atlantic Fleet, and in May 1921 was re-deployed to the 6th Destroyer Flotilla, Atlantic Fleet, until being paid off into reserve in April 1935. Briefly re-commissioned in September 1935 for the 21st Destroyer Flotilla, Home Fleet, HMS

Westcott

was again paid off into reserve at Devonport in May 1936.

HMS

Westcott

was re-commissioned on the 2nd October 1936 for service as a tender to the 4th Submarine Flotilla, China (and China Deep Diving Unit).
Part of the ship's role was to act as a target for submarine attacks and b
efore leaving Devonport for Hong Kong in November 1936
her after (Y) gun and torpedo tubes were removed to allow for fitting a winch for recovering torpedoes fired by submarines during trials and storage of the recovered torpedoes.

Westcott

was one of the first ships to be fitted with ASDIC equipment for detecting submerged submarines.

Newly appointed Ship's Writer
J.A. Jolliffe D/MX. 52106 describes the terrible conditions he experienced while taking passage in HMS

Westcott

to join HMS

Medway

on the China Station.

Jim Mills

was on the same outward voyage to Hong Kong as Joliffe but remained abooared

Westcott

until Operation

Pedesta

l in July 1942 where he witnessed the sinking of HMS

Eagle.

After the declaration of war in 1939 HMS

Westcott

underwent a further refit at Singapore when her Y' gun and the torpedo tubes were refitted and two depth-charge throwers and depth-charge release racks were added at ther stern. On 28th January 1940 HMS

Westcott

left the China Station to escort a large floating dock back to the UK. At Aden she joined the first of many convoys escorting liners carrying Australian and New Zealand troops to Suez and the Middle East
. On arrival in Malta, HMS

Westcott

was deployed with HM Aircraft Carrier

Glorious

in the Mediterranean until recalled to the UK in April 1940 for escort duties.

On 4 July

Westcott

joined the 4th Destroyer Flotilla at Devonport for escort duties in the North Atlantic and on 5 July rescued survivors from HMS

Whirlwind

when she was torpedoed, blowing off her bow, and then scuttled her with torpedoes when she could not stay afloat until rescue tugs arrived. On 2 September 1940,

Westcott

, with the destroyer HMCS

Skeena

, the sloops

Lowestoft

and

Scarborough

and the corvette

Periwinkle

, joined inbound Atlantic convoy SC.2 as escort. The convoy was subject to a series of attacks by German U-boats which sank five of the 53 merchant ships (four by U-47, commanded by GŁnther Prien). This was the first successful Wolfpack attack of the Second World War.

In February 1941 Cdr Ian H. Bockett-Pugh RN was appointed CO.

Westcott

became the first vessel to be equipped with the Hedgehog in August 1941 (but not without an accident loading this unfamiliar anti-submarine weapon) and transferred to the Gibraltar Escort Group in December. In the same month she was adopted by the civil community of Morecambe and Heysham, Lancashire, after
a successful Warships Week National Savings campaign.
The photographs of

Ordinary Signalman Albert Edward (Ted) Chitt

y show what life was like for ratings on the lower deck in 1941-2. On the 2 February 1942 HMS

Westcott

was escorting the troop carrier
Llangibby Castle

in the Azores and
rammed U-581 and rescued her crew when she was scuttled and sunk.

Between April and August 1942 HMS

Westcott

took part in repeated attempts to escort carriers carrying Spitfires within flying range of Malta

.

O
n 19 April,
Westcott
escorted USS
Wasp
during Operation

Calendar

(46 Spitfires reached Malta); in May
Westcott
was part of the escort for USS
Wasp
and HMS
Eagle
(Operation

Baritone

) when 61 Spitfires reached Malta.
Further operations took place in May and June when
Westcott
escorted
Eagle
and
Argus.


On 11 June,
Westcott
escorted a large supply convoy to Malta, Operation
Harpoon. Westcott
and the destroyer
Antelope
were detached from the convoy when the cruiser
Liverpool
was torpedoed by an Italian aircraft.
Antelope
took

Liverpool

under tow. They were under continual attack by Italian torpedo-bomber attacks and
Westcott
was hit by anti-aircraft fire from
Liverpool,
killing three of her crew. The three ships made Gibraltar on 17 June.

In August

Westcott

was an escort for Operation
Pedestal. HMS Eagle
was sunk by a German submarine (described by Jim Mills DSM),
and the carriers
Indomitable
and
Victorious
damaged by bombers. Five merchant ships out of fourteen, including the tanker
SS Ohio,
reached Malta by 15 August.

In November 1942, the Allies launched Operation
T
orc
h the Anglo-American invasion of French North Africa.
Westcott
formed part of the Centre Task Force, covering the landings at Oran in Algeria on 8 November. When the Vichy French submarines
Actťon
and
Argonaute
attempted to attack the Allied fleet, they were sunk by
Westcott
and
Achates.
Westcott

escorted HM Cutters

Hartland

and

Walney

in an attack on Oran Harbour.

After
Torch, Westcott
returned to the United Kingdom. In December 1942
Westcott
was converted at Portsmouth to long-range escort (LRE) by removing one boiler and its funnel, allowing additional oil bunkers to be fitted
(her pennant number changed to I49).
For the remainder of the wasr HMS

Westcott

was an escort for Arctic Convoys to Russia as described below.


Wesctcott
was withdrawn from service in June 1945 and sold to the British Iron & Steel Corporation (BISCO) to be scrapped the following year.
"Water, Water every where!" – The Life Story of HMS Westcott

(ISBN 0 9511701 8 X) by Tom Chapman, a member of the ships' company, describes Westcott's 28 years in commission and gives a good insight into what life was like for the crew of HMS

Westcott

.
Commanding Officers
* to be confirmed
Officers
Further names from the Navy List will be added later.

Lt. C P d'A Aplin, RNR (Dec 1940 -
Lt. F C V Brightman (Aug 1938 -


Tempy. Lt.

N D Britton RNVR (Oct 1943 -


Gunner C W Chadwick (Apr 1939 -
S.Lt. S B de Courcy-Iceland RN (1918 – 1919)
Tempy. Surg. Lt. P U Creighton, MB, BCh, RNVR (Oct 1944 -
Gunner (T) M Daniels (May 41-
Lt.(E) R J H Duffay, MBE (Jul 1938 -
Boatswain D H Easter (May 1940 -
Lt. J N Elliott (Apr 1940 -
Lt. S W M Farquharson-Roberts RN (Jun 1943 -
Lt Arthur Lewis Gulvin RN (Feb - April 1940)


Tempy. Lt.

W J C Higgs, RNVR (Oct 1944 -


Tempy. S.Lt. N J Hill, RNVR (Jun 1945
Lt. G R D Holland (May 1941 -
Mid. L T H Johnson RNR (Aug 39 -
Lt David Charles Kinloch RN (July 1930 - Jan 1932)
Tempy. Gunner F B Leathers (Apr 1943 -
Tempy. Surg. Lt. J D Loughborough, MRCS, LRCP, RNVR (Jun 1943 -
Tempy. Surg. Lt. J D Manning, MRCS, LRCP, RNVR (Jul 1941-


Tempy. Lt. A R A Marshall, RNVR (Jun 1943 -
Gunner (T) S T Newman (act) May 1945 -
Tempy. Act. S.Lt. A G C M Nightingale, RNVR (May 1941 -
Lt Denzil Richard Cranley Onslow RNR (Nov 1942)
Lt. C A H Owen (Aug 1937 -
Lt. A Parsons, RNVR (Oct 1944 -
Tempy. Act. S.Lt. W B Potts, RNVR (Apr 1944
Tempy Lt.(E) G R Raeburn, RNR (Jan 1944 -
Tempy. S.Lt. W A Reeve, RCNVR (Dec 1943


Tempy. Lt. T S Riches, RNVR (Jun 1943 -


Gunner J F Sangwell (Apr 1937 -
Tempy. Surg. Lt. R Scott, MB, BS, RNVR (Jun 1940 - July 1941)
Lt. J S de B. Smith (Jan 1945 -
Tempy. Wt. Eng. A F Stapleton (Dec 1940 -
Gnr Walter James Taylor RN (Sept 1936 - Feb 1937)
Lt. N J M Teacher (Feb 1939 -
Lt. A G Vanrenen (Dec 1941 -
Lt Cdr Arthur Oliver Watson RN (Sept 1934 - July 1935)
Tempy. S.Lt. J C Whitehead, RNVR (May 1945 -
Lt. (N) W Whitworth (Apr 1937 -

Former Full Members of the V & W Destroyer Assoociation who served in HMS Westcott
W. Ames (Newbury, Berks), A. Beckett DSM (Warrington, Lancs), Tom Chapman (Chorley, Lancs), HJ. Dixon (Kidlington, Oxon), Clifford Fairweather (Colchester, Essex),
A. Flisher (Leicester), A. Gardner (Bexleyheath, Kent), E. Grew (Waltham Cross, Herts), F. Lees (Rochford, Essex), B. Merry (Leicester), G. Moore (Chessington, Surrey),
E. Quarrie (Carlisle), B. Smale (St Helier, Jersey), L. Turner (Bicester, Oxon), J. Underwood (Ilford, Essex), E. Woods (Sunderland).
Please get in touch if you have a family member who served in HMS Westcott
A sad announcement ...

Clifford "Stormy" Fairweather, founder and Chairman of the V & W Destroyer Association, died on Sunday 19 March 2017.
He had been unable to attend the annual meetings of the Association since the reunion at Eastbourne in 2014 and in April 2017 the V & W Destroyer Association was dissolved.
The website of the V & W Destroyer Association will see that his name and that of the thousands of other men who served in a V & W Class destroyer in the war will not be forgotten.

Stormy Fairweather tells his own story below and in a recorded interview made at the reunion of the V & W Destroyer Association at Warwick on the 20 April 2013.
A 'Bunting Tosser' in HMS Westcott tells his Story of
Arctic Convoys to Russia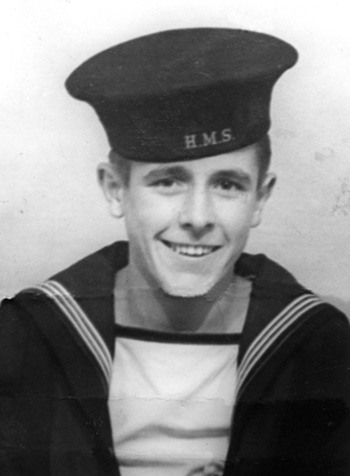 It was early January 1944, after initial training at 'Royal Arthur at Skegness and signals training at 'Scotia' at Ayr. I found myself on a draft from Chatham to HMS

Westcott

who was at the time berthed at Greenock. I arrived at Glasgow railway station after a long and tedious journey. There were three others on the same draft. When we reported our arrival, we were told that transport down to the docks would not be available for at least an hour, so to lose ourselves, we did not need a second telling so we adjourned to the nearest watering hole where I was introduce to my first 'Black and tan'. The most I had drank until then was the occasional 'Brown Ale'. After three pints of this nectar we were called to our transport, one of the Naval trucks. By the time we arrived at Greenock I was a little worse for wear. However, somehow, I still don't know how, I managed to negotiate two gang planks and landed on the deck of HMS

Westcott

. I was directed to what was to be my mess, down a hatchway to the mess deck.
Somehow, I managed, with the help of others, to sling my hammock and actually get in it. The next morning I was awakened to find that my hammock was swaying. We were at sea! I was told to report to the Yeoman on the flag deck. When I eventually found my way there I met the other members of the signals branch. I was shown around the flag deck, the flag lockers, halyards and various signal lamps, two ten inch, and an aldis, and the bridge, the binnacle various brass voice pipes, the chart table which was on the port side of the bridge with its canvas cover, which was to hide any light when the navigator or officer of the watch would be plotting or checking our course during darkness, which was almost twenty four hours during the winter months in those northern climes, this was where I was to be when on watch, when not busy with signals I would be at the side of the bridge, with powerful binoculars as an extra lookout. By this time the sea was getting a little rough and I was beginning to feel nauseated. Oh why did I leave the comfort of my home? Soon I was being violently sea sick and wishing that I could die. This was my initiation to being a matelot. I had never been on a boat before let alone go to sea. For three days I was so ill that I eventually passed out. Apparently I was rolling from one side of the flag deck to the other with the motion of the ship. When one of the other signal men said to the yeoman "What are we going to do about him Yeo? "Leave him there, he'll live" was the reply. However the ship pulled into Iceland and I had a chance to recover.
After a brief stay, riding at anchor we were off. Destination Russia! I was about to learn of the hazards and hardships of those who were being employed in the escorting of convoys to and from Murmansk and Archangel. A few days at sea and we were out of fresh food, from then on it was dehydrated vegetables, which was always packed in square tins. Meat too became non-existent except of course Corned beef, or corned dog as we called it. The only respite from this was when things were really quiet, we would drop a depth charge, and with everyone on deck with boat hooks, buckets, anything to grab as many as we could from the hundreds of fish that had been blown to the surface, with their guts blown out of their mouths. Of course the fish was delicious. But the memory of the intense cold (temperatures could get as low as minus 50 degrees with the wind chill factor) and the very rough seas are uppermost in my mind when I think of those trips to Murmansk. The ship, like most of the V&Ws had been built in 1917 as a short range destroyer with a speed of some thirty knots. In 1943 she had been converted to a long range escort vessel by removing her 'Woodbine' funnel and one of her boilers to make way for extra fuel space. This conversion reduced her speed to 22-25 knots, and when she was at full speed she vibrated violently. Conditions on board were primitive, no baths or showers, you used a bucket. This was also used for doing your dhobeying or to the uninitiated 'washing'. There was certainly no privacy. In the mess which was about 29 feet by 25 feet about twenty-five men had to sleep, prepare food and eat it. To wash your clothes you scraped 'flakes' off a bar of 'Pussers Hard' (soap) you would then take it to the galley and if the cook was in a good mood he would let you put it on the range to heat. Then you would take it on the upper deck and get busy with the scrubber. There were time when this routine was just not possible, and you would go many days before you were able to change into clean clothes. When in harbour, Sunday mornings would be 'Captains Rounds'. The mess had to be scrubbed out, hammocks stowed away, everything had to be neat and tidy, then you would retire from your mess whilst the Captain scrutinised the mess, everything had to be shipshape and 'Bristol Fashion'.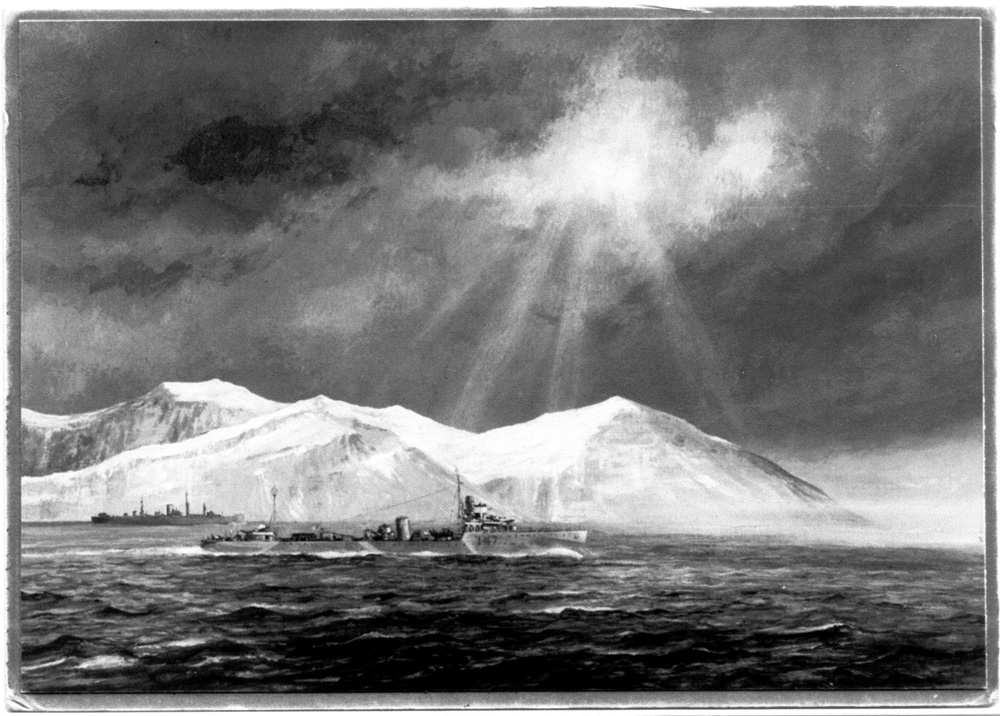 A painting by shipmate Leslie Lionel Lawrence of HMS

Westcott

off Iceland

Lawrence was a "bunting tosser" like "Stormy" but three years older and one rank highe
r
Courtesy of Stormy Fairweather


This routine was not possible whilst at sea, being 'Watch About' i.e. four hour on and four hours off (that is if you were not called to action stations). By the time you came off watch and removed your oilskin or duffle coat and then the other sodden wet clothing and climbed into you hammock, most times near exhaustion, there was not much of your four hours off left to snatch some sleep, and if action stations sounded you could go some time before you were able to do that. There was a time when I dozed off standing up while on watch, thank goodness it was only momentarily for if I had been caught 'napping' I would have been for the high jump, it certainly meant a very serious charge. Whilst on watch on the bridge, unless you were engaged signalling you had to keep a constant lookout with binoculars glued to your eyes watching for aircraft, U-boats and if you were close escort, keep an eye on the merchant ships, making sure they kept station and did not make too much smoke, for some of them were coal burning ships. Occasionally there would be one develop engine problems and would drop back out of line whilst the rest of the convoy carried on, then you may get detailed to stay with it for protection until it could get under way again. Convoy work was mainly boring, on the odd occasion we would get a 'ping' from the Asdic, Action stations would be sounded and then it was all systems go. Everyone at action stations would have their ears pricked listening to the Asdic and eye scanned the ocean looking for the tell tale signs of a periscope of the wake of a torpedo.

On one occasion a U-boat had been reported on the surface ahead of the convoy, being nearest we were despatched at full speed to intercept. We were accompanied by another V&W, the

Whitehall

(I think). We were Senior Officer Escort and were ahead of the

Whitehall

. The Yeoman (who was a very competent man) had his telescope to his eye scanning the horizon ahead. "Hook on" "Enemy in sight and the Battle ensign". We were breaking all speed records, vibrating like the devil pounding through the sea, (can you imagine what it was like for a seventeen year old to be on the bridge of a British destroyer in hot pursuit of the enemy?). "U-boat dead ahead sir!!" Hoist enemy in sight, battle ensign to the masthead!" was the yeoman's cry. He had spotted the U-boat long before anyone else. Everyone at action stations. Gun crews, depth charge parties. All those on the bridge had their binoculars trained on the U-boat. (My first and only sight of a U-boat until VE Day plus one). Then, "U-boat about to dive sir!" came the cry from the alert Yeoman Hall. How did he know? The range and direction was given to 'B' gun's crew. The Gunnery Officer, Trevor Riches confirmed that he had it in sight, but at extreme range, so with the gun at an angle of approximate 45 degrees the order came "Open Fire!!" With the crash of the gun the peak of the Gunnery Officers cape fell off! But what a brilliant shot. Dead in line with the U-boat but just a few yards short of the target which by now making a hasty dive to the protection of the waves. There was not enough time to get off another shot before the U-boat disappeared. Then the ensuing depth charge attack, first the 'Hedgehog' - to no avail, then the depth charges, what a spectacular sight when they detonate. On this occasion there was no evidence of a kill. We continued the search, but the conditions in those icy waters are of no assistance to the Asdic operators. We then had to resume our station in the most important duty that of protection of the convoy.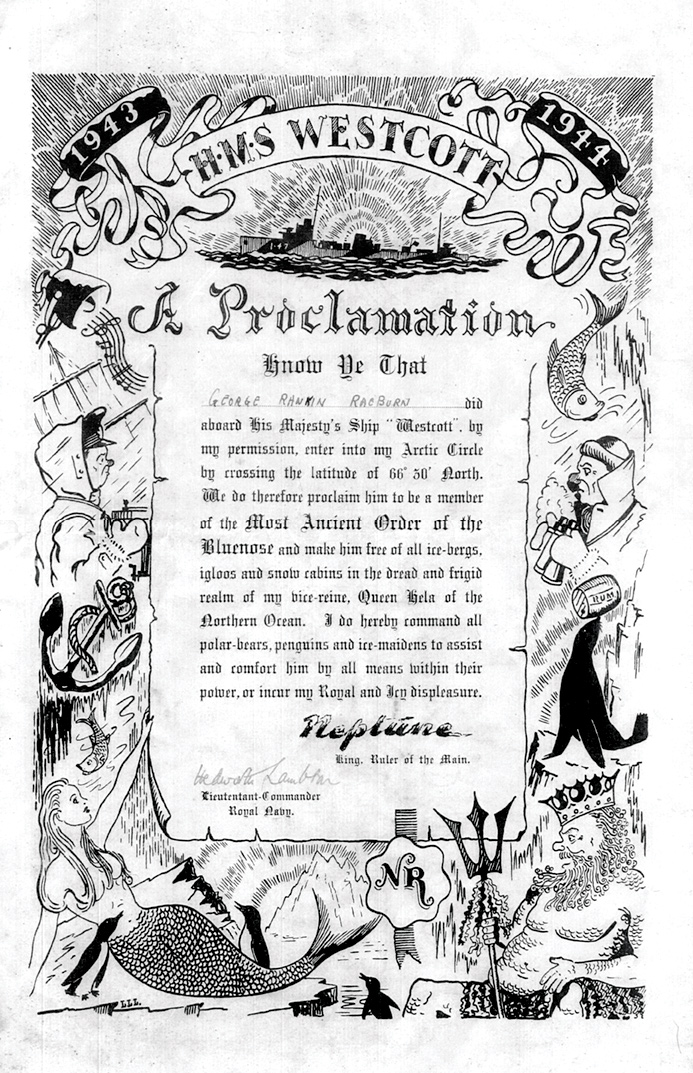 "Blue Nose Certificates" were awarded to crew members on entering the Arctic Circle for the first time
George Rankin Raeburn was a shipmate of Stormy Fairweather on HMS
Westcott
in 1943-4 when Lt Cdr Hedworth Lambton RN was the CO
So we continued our way to Murmansk, or should I say Polyarno, for that is where we naval vessels were (If you were lucky) berthed. Whilst the merchant ships continued up the Kola inlet to Murmansk. What a God forsaken place, not the ideal place for a run ashore. I did try to go our of the dockyard area once, only to be confronted by a Russian woman dressed in a dark khaki great coat and the usual Russian fur hat with the red star in the front, armed with a rifle with fixed bayonet, Nikt you are not going walkies was the impression she gave me when brandishing the bayonet. I'm sure she would have disembowelled me had I persisted. All the Russian people looked so very sullen, tho' the children were eager to barter for anything, they looked so pitiful. We escorted another three of these convoys before we were called to another task.
'D' Day and the Normandy landings. We left the Clyde on the 3rd June, armed with a pamphlet from General Eisenhower telling us of the great crusade that we were about to embark upon. When we turned left instead of right on leaving the Clyde we knew that it was not to be another Russian run. We rendezvoused with the

Warspite

, but because of the deterioration of the weather we had to sail around the Channel Islands for a couple of days before proceeding to the French coast.

Warspite

's task was the bombardment of shore batteries at Caen. What a thunderous roar when she opened up with a broadside, this went on most of the day. Come dusk a signal was sent asking permission to go in close, to do our little bit. We were told to stay where you are. The next day we developed a leak in one of the boilers, on reporting this we were told to return to the Solent for repairs. No lame ducks were welcome in this environment. As we steamed up the Solent, vessels of every conceivable type, Royal and Merchant ships cheered and blared away on their sirens etc; may be they thought that we had been wounded in battle! After we had anchored, I was on watch when I noticed among all these hundreds of ships a light was flashing our pennant number. On answering I found that it was my brother who was serving on an MTB. Looking at him through my binoculars I could just make out his balding head. Of course there was no possibility of meeting up. On completion of the temporary repairs we were detailed to patrol off the French and Belgian coast. This we continued to do calling in at Dover for fuel and supplies. Then it was off to Dundee to get the boiler cleaned and repaired.
On the 31st October we escorted two large personnel ships, this was a fast convoy, the two ships, the

Empress of Australia

and the

Scythia

had 11,000 Russian nationals on board who had been 'captured' in France, while serving with the Germans. When we arrived at the Kola Inlet we had to anchor in the mouth of the river. No one was allowed ashore, and the British shore establishments were not allowed near Murmansk. What happened to those unfortunate Russians? We did two more of those convoys to Russia, On one return convoy in December I was on watch and saw in the distance a huge flash, followed by the sound of an explosion. I was soon to learn that it was the destroyer

Cassandra

which had been torpedoed, lost her bows and had to return to Murmansk.

Our last convoy to Russia designated JW63 sailed on the 30th December, and arrived on the 8th January. By now there was almost 24 hours of darkness, with very much cloud, snow and ice which meant that there was no interference from the enemy. The return convoy RA63 sailed from the Kola Inlet on the 11th January 1945, once again we were not intercepted by the enemy, but we encountered a far greater and fiercer enemy, that of the weather. We were about three days out from Murmansk. North East of the Faroes when the storm blew up, soon the winds were at hurricane force, forcing the ships to heave to, or take shelter where they could. On the

Westcott

, it was horrendous, we were being tossed about like a cork I was on the bridge, soaked to the skin, hanging on for dear life, whilst those in the mess below were being thrown about to such an extent that some received injuries. 'Jock Gilmour our S.B.A had split his head open and had used his clean underwear to bandage it. Fuel oil had escaped through in to the mess deck mixed with the salt water was swilling around intermingled with various items that had not been stowed away. What a filthy stinking mess. One minute the ship was riding on the crest of a huge wave and then she would plunge down into the trough and the next wave would come right over the top of us. Everything had been battened down, no one dare move without a life line. How long the storm lasted I do not know, I do know that it seemed a lifetime. I think it was the only time that I feared for my life. How we survived I will never know, maybe by the skill of the Captain and the helmsman, or may be by the Grace of God. When the storm did eventually subside, it's severity was evident. Much damage had been done, anything not secured had disappeared boats had been smashed, carley rafts gone, rails were bent there was a heavy swell running and on attempting 180 degree turn, a wave caught our beam, and the old ship keeled over at an alarming angle, she stayed there for what seemed ages, but the old girl righted herself, I'm sure quite a few hearts missed a few beats. We again resumed our voyage, but we had to go to the Faroes for an emergency repair apparently rivets had been forced out of our keel!
On out arrival in the Clyde at the end of January 1945 we had to go into dock for storm damage repairs, this was to be

Westcott

's last Russian convoy. She did other work, a few trips across to Ireland escorting the ferry from Stranraer to Larne. The war in Europe was soon to end. We were anchored in the Clyde on VE day. "Splice the Main Brace"!! Celebration went on till late in the day we were firing Very Lights, star shells etc; the officers came forward on to the seaman's mess carrying bottles of beer and spirits. The Skipper, Lt, Cdr Reed asked for a cigarette and a light. Who ever gave him the light singed his beard! He accused me of trying to set light to his beard and threatened to throw me overboard! The next day we were ordered to proceed to Iceland. Apparently the marines there had gone on the rampage. We took with us some senior ranking officers to try and sort thing out. On the way we came across four U-boats which had been ordered to remain on the surface, on contact we gave them direction to proceed to Cambletown in Scotland.

On our return we were paid off. Soon the old

Westcott

was to be scrapped. She had served our country faithfully and well for 28 years, she had steamed thousands of miles without breaking down. During her very long and illustrious career she had been involved in incidents from China to Russia, from the Mediterranean to the North Atlantic. Now she was to be scrapped, a very sad end to a wonderful ship. Her name is spoken with great pride and affection by all who served aboard her as do I. Why? Maybe it was because she was my first ship, maybe because she had most of my guts, or perhaps it was in her that I grew up.
Clifford "Stormy" Fairweather
Ex 'Bunting Tosser' and
Chairman of the V & W Destroyer Association



On that day I was a 21 year old Lieutenant, one of three bridge watch keepers in HMS Westcott, a WWI destroyer, escorting the homeward bound convoy RA.55A, roughly south of Bear Island. I had the middle watch, so Christmas started for me at 0001 on the bridge. Course west, wind south west rising to gale force, plenty of icy spray. We spent much of the time finding four fleet destroyers, lent for protection, but to pass them the message that they were now required to join the eastbound convoy JW55B which had recently passed us.

My next watch was the afternoon, so Christmas lunch had to be taken alone in the wardroom at around 1130. Our course was now northwest towards the pack ice, presumably to distance us from trouble - intelligence reporting that the mighty battlecruiser SCHARNHORST was stirring and might be sailing north. The wind was now gale force and on our port beam, strong enough to roll us 45 to 50 degrees to starboard. To stop everything flying about, the wardroom staff secured the settee and the two arm chairs hard up against the starboard wall settee, thus making a comfortable channel in which to sit with lunch on one's lap, without fear of the meal taking flight. Despite the turmoil the steward produced delightful roast beef and a wonderful roast potato - why "wonderful"? Because we only had upper deck stowage for vegetables, so after three days out from our Russian port anything not eaten would be frost bitten and ditched. The wardroom cook [bless him!] kept enough spuds below to give us all one for Christmas. Otherwise it would have been rice balls - edible but not quite the same. Next came the usual figgy duff, nice enough!

Soon it was time for my duffel coat, oilskin and neck towel - at all costs keep the icy spray off your chest! - and now the very careful opening of the starboard watertight door to the upper deck. This has five steel clips, one above and below, three down the side, the middle where a handle would normally be. This one you leave to last, and seize the moment when returning from the big starboard roll to get out. You now have a few seconds in which to close all five clips, get round forward of your superstructure where you reach a long, high, taut jackstay reaching to the break of the forecastle. From it hang strips of rope called lizards, with hard eyes so they can travel along the jackstay. You grab one and start walking along the iron deck - V&W destroyers have no passage below. Once or twice progress will be interrupted when the big roll lets seawater foam across the deck - "shipping it green", as they say. This can dislodge your seaboots' slippery grip, but as long as you keep hugging that lizard you will soon get going again. At least you can see things; midday in midwinter at those latitudes gives you a dim dawn slowly turning into a similar dusk, with about 21 hours of darkness ahead. Arriving at the forecastle you change grip with care to a metal rung ladder - gloves essential, the icy rungs would take strips off your bare hands - and after three such ladders you are back on your open bridge.

Christmas afternoon brought the news that the Scharnhorst and escorting destroyers were at sea, probably after the laden outward convoy JW.55B, that three of our cruisers were joining its defence. One was Belfast, still alongside at London. The Home Fleet was steaming east at top speed to join the fray. In RA.55A we were fast leaving the scene but could follow the Boxing Day ensuing battle by radio, since Admiral Frazer in the battleship Duke of York decided to use plain language for signals for greater speed of action. As the gallant Scharnhorst finally went down fighting there was rejoicing, but 70 years on one remembers that only 36 survivors were picked up from 1,767 men. Men probably very similar to us, and often with a common enemy, the sea.

Lt. Stuart W M Farquharson-Roberts RN