---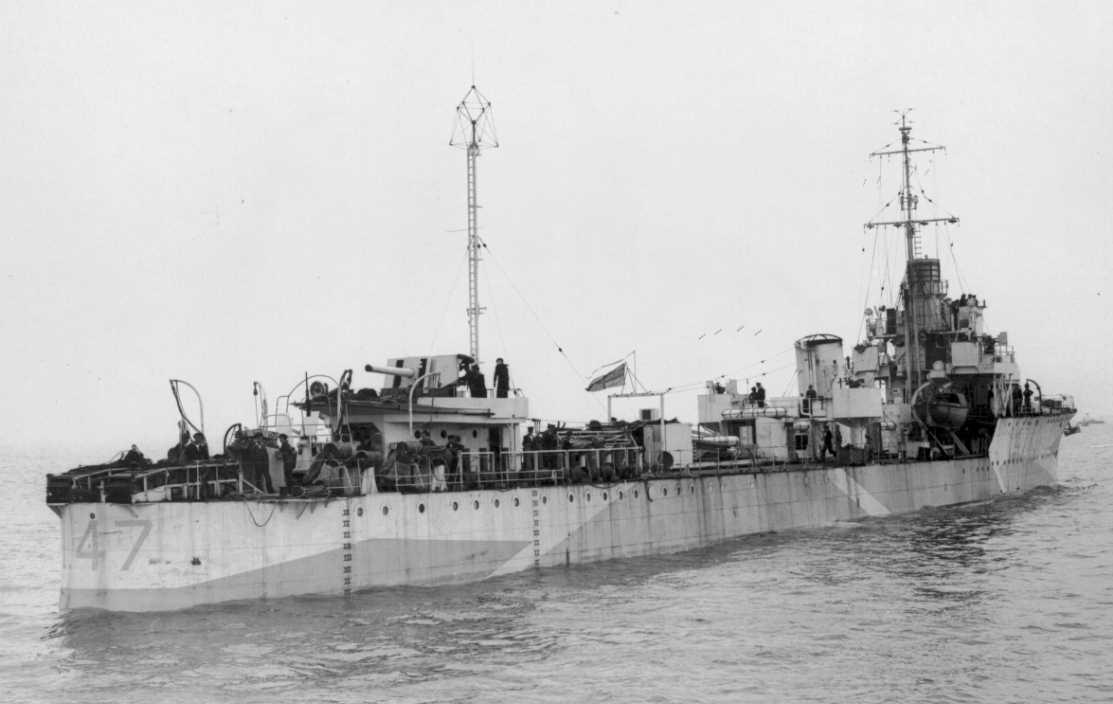 Click on the links within this brief outline for first hand accounts by the men who served on HMS Westcott and for a more detailed chronolgy see www.naval-history.net

Commanding Officers
* to be confirmed
Officers
Further names from the Navy List will be added later.

Lt. C P d'A Aplin, RNR (Dec 1940 -
Lt. F C V Brightman (Aug 1938 -


Tempy. Lt.

N D Britton RNVR (Oct 1943 -


Gunner C W Chadwick (Apr 1939 -
S.Lt. S B de Courcy-Iceland RN (1918 – 1919)
Tempy. Surg. Lt. P U Creighton, MB, BCh, RNVR (Oct 1944 -
Gunner (T) M Daniels (May 41-
Lt.(E) R J H Duffay, MBE (Jul 1938 -
Boatswain D H Easter (May 1940 -
Lt. J N Elliott (Apr 1940 -
Lt. S W M Farquharson-Roberts RN (Jun 1943 -
Lt Arthur Lewis Gulvin RN (Feb - April 1940)


Tempy. Lt.

W J C Higgs, RNVR (Oct 1944 -


Tempy. S.Lt. N J Hill, RNVR (Jun 1945
Lt. G R D Holland (May 1941 -
Mid. L T H Johnson RNR (Aug 39 -
Lt David Charles Kinloch RN (July 1930 - Jan 1932)
Tempy. Gunner F B Leathers (Apr 1943 -
Tempy. Surg. Lt. J D Loughborough, MRCS, LRCP, RNVR (Jun 1943 -
Tempy. Surg. Lt. J D Manning, MRCS, LRCP, RNVR (Jul 1941-


Tempy. Lt. A R A Marshall, RNVR (Jun 1943 -
Gunner (T) S T Newman (act) May 1945 -
Tempy. Act. S.Lt. A G C M Nightingale, RNVR (May 1941 -
Lt Denzil Richard Cranley Onslow RNR (Nov 1942)
Lt. C A H Owen (Aug 1937 -
Lt. A Parsons, RNVR (Oct 1944 -
Tempy. Act. S.Lt. W B Potts, RNVR (Apr 1944
Tempy Lt.(E) G R Raeburn, RNR (Jan 1944 -
Tempy. S.Lt. W A Reeve, RCNVR (Dec 1943


Tempy. Lt. T S Riches, RNVR (Jun 1943 -


Gunner J F Sangwell (Apr 1937 -
Tempy. Surg. Lt. R Scott, MB, BS, RNVR (Jun 1940 - July 1941)
Lt. J S de B. Smith (Jan 1945 -
Tempy. Wt. Eng. A F Stapleton (Dec 1940 -
Gnr Walter James Taylor RN (Sept 1936 - Feb 1937)
Lt. N J M Teacher (Feb 1939 -
Lt. A G Vanrenen (Dec 1941 -
Lt Cdr Arthur Oliver Watson RN (Sept 1934 - July 1935)
Tempy. S.Lt. J C Whitehead, RNVR (May 1945 -
Lt. (N) W Whitworth (Apr 1937 -


A sad announcement ...

Clifford "Stormy" Fairweather, founder and Chairman of the V & W Destroyer Association, died on Sunday 19 March 2017. He had been unable to attend the annual meetings of the Association since the reunion at Eastbourne in 2014. The funeral will be held at Colchester Crematorium on Wednesday April 5th. at 1.15pm. Donations in lieu of flowers to the Not Forgotten Association.

It is unlikely that the Association he founded will long outlive him but the website of the V & W Destroyer Association will see that his name and that of the thousands of other men who served in a V & W Class destroyer in the war will not be forgotten.

Stormy Fairweather tells his own story below and in a recorded interview made at the reunion of the V & W Destroyer Association at Warwick on the 20 April 2013.
A 'Bunting Tosser' in HMS Westcott tells his Story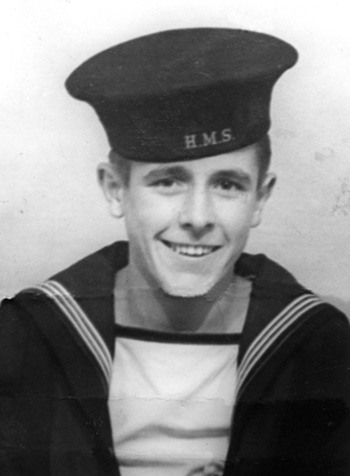 It was early January 1944, after initial training at 'Royal Arthur at Skegness and signals training at 'Scotia' at Ayr. I found myself on a draft from Chatham to HMS

Westcott

who was at the time berthed at Greenock. I arrived at Glasgow railway station after a long and tedious journey. There were three others on the same draft. When we reported our arrival, we were told that transport down to the docks would not be available for at least an hour, so to lose ourselves, we did not need a second telling so we adjourned to the nearest watering hole where I was introduce to my first 'Black and tan'. The most I had drank until then was the occasional 'Brown Ale'. After three pints of this nectar we were called to our transport, one of the Naval trucks. By the time we arrived at Greenock I was a little worse for wear. However, somehow, I still don't know how, I managed to negotiate two gang planks and landed on the deck of HMS

Westcott

. I was directed to what was to be my mess, down a hatchway to the mess deck.
Somehow, I managed, with the help of others, to sling my hammock and actually get in it. The next morning I was awakened to find that my hammock was swaying. We were at sea! I was told to report to the Yeoman on the flag deck. When I eventually found my way there I met the other members of the signals branch. I was shown around the flag deck, the flag lockers, halyards and various signal lamps, two ten inch, and an aldis, and the bridge, the binnacle various brass voice pipes, the chart table which was on the port side of the bridge with its canvas cover, which was to hide any light when the navigator or officer of the watch would be plotting or checking our course during darkness, which was almost twenty four hours during the winter months in those northern climes, this was where I was to be when on watch, when not busy with signals I would be at the side of the bridge, with powerful binoculars as an extra lookout. By this time the sea was getting a little rough and I was beginning to feel nauseated. Oh why did I leave the comfort of my home? Soon I was being violently sea sick and wishing that I could die. This was my initiation to being a matelot. I had never been on a boat before let alone go to sea. For three days I was so ill that I eventually passed out. Apparently I was rolling from one side of the flag deck to the other with the motion of the ship. When one of the other signal men said to the yeoman "What are we going to do about him Yeo? "Leave him there, he'll live" was the reply. However the ship pulled into Iceland and I had a chance to recover.
After a brief stay, riding at anchor we were off. Destination Russia! I was about to learn of the hazards and hardships of those who were being employed in the escorting of convoys to and from Murmansk and Archangel. A few days at sea and we were out of fresh food, from then on it was dehydrated vegetables, which was always packed in square tins. Meat too became non-existent except of course Corned beef, or corned dog as we called it. The only respite from this was when things were really quiet, we would drop a depth charge, and with everyone on deck with boat hooks, buckets, anything to grab as many as we could from the hundreds of fish that had been blown to the surface, with their guts blown out of their mouths. Of course the fish was delicious. But the memory of the intense cold (temperatures could get as low as minus 50 degrees with the wind chill factor) and the very rough seas are uppermost in my mind when I think of those trips to Murmansk. The ship, like most of the V&Ws had been built in 1917 as a short range destroyer with a speed of some thirty knots. In 1943 she had been converted to a long range escort vessel by removing her 'Woodbine' funnel and one of her boilers to make way for extra fuel space. This conversion reduced her speed to 22-25 knots, and when she was at full speed she vibrated violently. Conditions on board were primitive, no baths or showers, you used a bucket. This was also used for doing your dhobeying or to the uninitiated 'washing'. There was certainly no privacy. In the mess which was about 29 feet by 25 feet about twenty-five men had to sleep, prepare food and eat it. To wash your clothes you scraped 'flakes' off a bar of 'Pussers Hard' (soap) you would then take it to the galley and if the cook was in a good mood he would let you put it on the range to heat. Then you would take it on the upper deck and get busy with the scrubber. There were time when this routine was just not possible, and you would go many days before you were able to change into clean clothes. When in harbour, Sunday mornings would be 'Captains Rounds'. The mess had to be scrubbed out, hammocks stowed away, everything had to be neat and tidy, then you would retire from your mess whilst the Captain scrutinised the mess, everything had to be shipshape and 'Bristol Fashion'.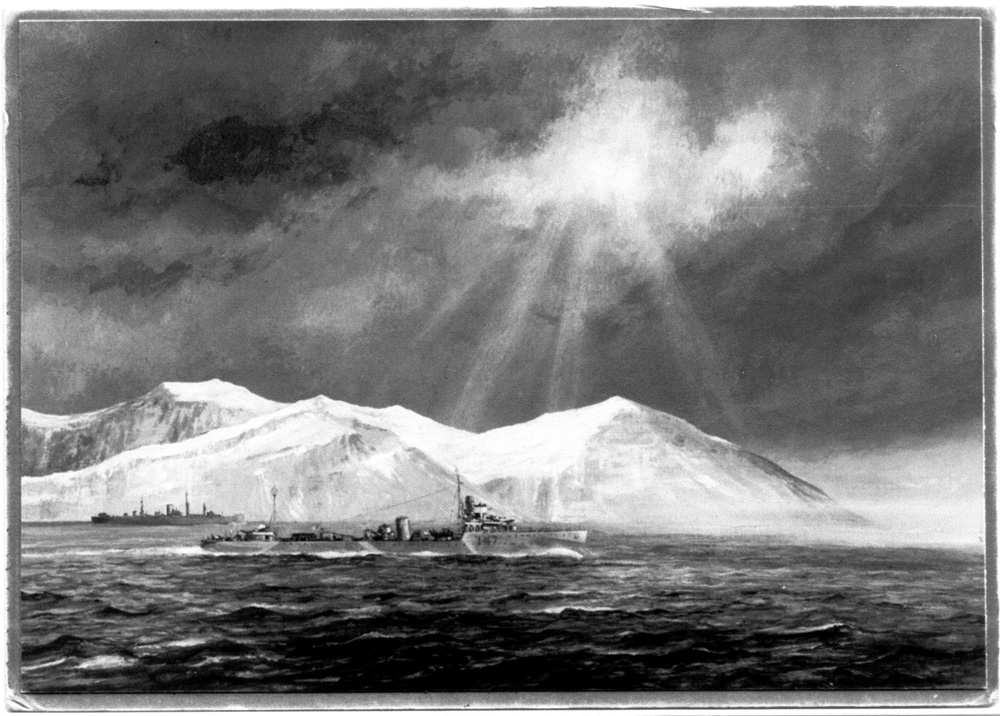 A painting by shipmate Leslie Lionel Lawrence of HMS

Westcott

off Iceland

Lawrence was a "bunting tosser" like "Stormy" but three years older and one rank highe
r
Courtesy of Stormy Fairweather


This routine was not possible whilst at sea, being 'Watch About' i.e. four hour on and four hours off (that is if you were not called to action stations). By the time you came off watch and removed your oilskin or duffle coat and then the other sodden wet clothing and climbed into you hammock, most times near exhaustion, there was not much of your four hours off left to snatch some sleep, and if action stations sounded you could go some time before you were able to do that. There was a time when I dozed off standing up while on watch, thank goodness it was only momentarily for if I had been caught 'napping' I would have been for the high jump, it certainly meant a very serious charge. Whilst on watch on the bridge, unless you were engaged signalling you had to keep a constant lookout with binoculars glued to your eyes watching for aircraft, U-boats and if you were close escort, keep an eye on the merchant ships, making sure they kept station and did not make too much smoke, for some of them were coal burning ships. Occasionally there would be one develop engine problems and would drop back out of line whilst the rest of the convoy carried on, then you may get detailed to stay with it for protection until it could get under way again. Convoy work was mainly boring, on the odd occasion we would get a 'ping' from the Asdic, Action stations would be sounded and then it was all systems go. Everyone at action stations would have their ears pricked listening to the Asdic and eye scanned the ocean looking for the tell tale signs of a periscope of the wake of a torpedo.

On one occasion a U-boat had been reported on the surface ahead of the convoy, being nearest we were despatched at full speed to intercept. We were accompanied by another V&W, the

Whitehall

(I think). We were Senior Officer Escort and were ahead of the

Whitehall

. The Yeoman (who was a very competent man) had his telescope to his eye scanning the horizon ahead. "Hook on" "Enemy in sight and the Battle ensign". We were breaking all speed records, vibrating like the devil pounding through the sea, (can you imagine what it was like for a seventeen year old to be on the bridge of a British destroyer in hot pursuit of the enemy?). "U-boat dead ahead sir!!" Hoist enemy in sight, battle ensign to the masthead!" was the yeoman's cry. He had spotted the U-boat long before anyone else. Everyone at action stations. Gun crews, depth charge parties. All those on the bridge had their binoculars trained on the U-boat. (My first and only sight of a U-boat until VE Day plus one). Then, "U-boat about to dive sir!" came the cry from the alert Yeoman Hall. How did he know? The range and direction was given to 'B' gun's crew. The Gunnery Officer, Trevor Riches confirmed that he had it in sight, but at extreme range, so with the gun at an angle of approximate 45 degrees the order came "Open Fire!!" With the crash of the gun the peak of the Gunnery Officers cape fell off! But what a brilliant shot. Dead in line with the U-boat but just a few yards short of the target which by now making a hasty dive to the protection of the waves. There was not enough time to get off another shot before the U-boat disappeared. Then the ensuing depth charge attack, first the 'Hedgehog' - to no avail, then the depth charges, what a spectacular sight when they detonate. On this occasion there was no evidence of a kill. We continued the search, but the conditions in those icy waters are of no assistance to the Asdic operators. We then had to resume our station in the most important duty that of protection of the convoy.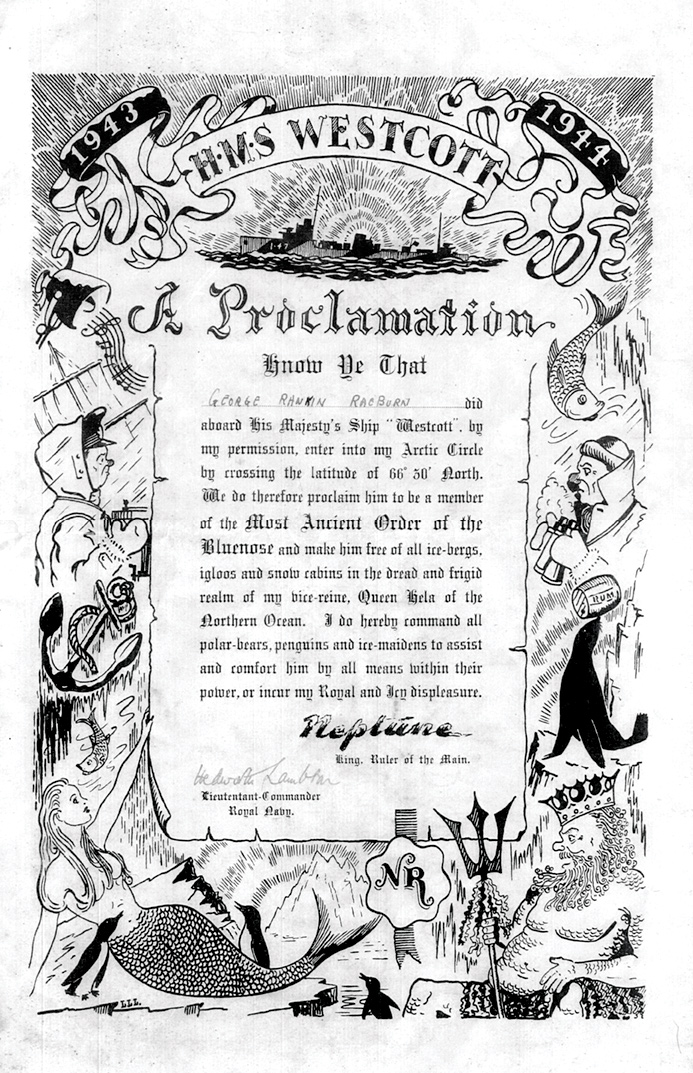 Blue Nose Certificates were awarded to crew members on entering the Arctic Circle for the first time
George Rankin Raeburn was a shipmate of Stormy Fairweather on HMS
Westcott
in 1943-4 when Lt Cdr Hedworth Lambton RN was the CO
So we continued our way to Murmansk, or should I say Polyarno, for that is where we naval vessels were (If you were lucky) berthed. Whilst the merchant ships continued up the Kola inlet to Murmansk. What a God forsaken place, not the ideal place for a run ashore. I did try to go our of the dockyard area once, only to be confronted by a Russian woman dressed in a dark khaki great coat and the usual Russian fur hat with the red star in the front, armed with a rifle with fixed bayonet, Nikt you are not going walkies was the impression she gave me when brandishing the bayonet. I'm sure she would have disembowelled me had I persisted. All the Russian people looked so very sullen, tho' the children were eager to barter for anything, they looked so pitiful. We escorted another three of these convoys before we were called to another task.
'D' Day and the Normandy landings. We left the Clyde on the 3rd June, armed with a pamphlet from General Eisenhower telling us of the great crusade that we were about to embark upon. When we turned left instead of right on leaving the Clyde we knew that it was not to be another Russian run. We rendezvoused with the

Warspite

, but because of the deterioration of the weather we had to sail around the Channel Islands for a couple of days before proceeding to the French coast.

Warspite

's task was the bombardment of shore batteries at Caen. What a thunderous roar when she opened up with a broadside, this went on most of the day. Come dusk a signal was sent asking permission to go in close, to do our little bit. We were told to stay where you are. The next day we developed a leak in one of the boilers, on reporting this we were told to return to the Solent for repairs. No lame ducks were welcome in this environment. As we steamed up the Solent, vessels of every conceivable type, Royal and Merchant ships cheered and blared away on their sirens etc; may be they thought that we had been wounded in battle! After we had anchored, I was on watch when I noticed among all these hundreds of ships a light was flashing our pennant number. On answering I found that it was my brother who was serving on an MTB. Looking at him through my binoculars I could just make out his balding head. Of course there was no possibility of meeting up. On completion of the temporary repairs we were detailed to patrol off the French and Belgian coast. This we continued to do calling in at Dover for fuel and supplies. Then it was off to Dundee to get the boiler cleaned and repaired.
On the 31st October we escorted two large personnel ships, this was a fast convoy, the two ships, the

Empress of Australia

and the

Scythia

had 11,000 Russian nationals on board who had been 'captured' in France, while serving with the Germans. When we arrived at the Kola Inlet we had to anchor in the mouth of the river. No one was allowed ashore, and the British shore establishments were not allowed near Murmansk. What happened to those unfortunate Russians? We did two more of those convoys to Russia, On one return convoy in December I was on watch and saw in the distance a huge flash, followed by the sound of an explosion. I was soon to learn that it was the destroyer

Cassandra

which had been torpedoed, lost her bows and had to return to Murmansk.

Our last convoy to Russia designated JW63 sailed on the 30th December, and arrived on the 8th January. By now there was almost 24 hours of darkness, with very much cloud, snow and ice which meant that there was no interference from the enemy. The return convoy RA63 sailed from the Kola Inlet on the 11th January 1945, once again we were not intercepted by the enemy, but we encountered a far greater and fiercer enemy, that of the weather. We were about three days out from Murmansk. North East of the Faroes when the storm blew up, soon the winds were at hurricane force, forcing the ships to heave to, or take shelter where they could. On the

Westcott

, it was horrendous, we were being tossed about like a cork I was on the bridge, soaked to the skin, hanging on for dear life, whilst those in the mess below were being thrown about to such an extent that some received injuries. 'Jock Gilmour our S.B.A had split his head open and had used his clean underwear to bandage it. Fuel oil had escaped through in to the mess deck mixed with the salt water was swilling around intermingled with various items that had not been stowed away. What a filthy stinking mess. One minute the ship was riding on the crest of a huge wave and then she would plunge down into the trough and the next wave would come right over the top of us. Everything had been battened down, no one dare move without a life line. How long the storm lasted I do not know, I do know that it seemed a lifetime. I think it was the only time that I feared for my life. How we survived I will never know, maybe by the skill of the Captain and the helmsman, or may be by the Grace of God. When the storm did eventually subside, it's severity was evident. Much damage had been done, anything not secured had disappeared boats had been smashed, carley rafts gone, rails were bent there was a heavy swell running and on attempting 180 degree turn, a wave caught our beam, and the old ship keeled over at an alarming angle, she stayed there for what seemed ages, but the old girl righted herself, I'm sure quite a few hearts missed a few beats. We again resumed our voyage, but we had to go to the Faroes for an emergency repair apparently rivets had been forced out of our keel!
On out arrival in the Clyde at the end of January 1945 we had to go into dock for storm damage repairs, this was to be

Westcott

's last Russian convoy. She did other work, a few trips across to Ireland escorting the ferry from Stranraer to Larne. The war in Europe was soon to end. We were anchored in the Clyde on VE day. "Splice the Main Brace"!! Celebration went on till late in the day we were firing Very Lights, star shells etc; the officers came forward on to the seaman's mess carrying bottles of beer and spirits. The Skipper, Lt, Cdr Reed asked for a cigarette and a light. Who ever gave him the light singed his beard! He accused me of trying to set light to his beard and threatened to throw me overboard! The next day we were ordered to proceed to Iceland. Apparently the marines there had gone on the rampage. We took with us some senior ranking officers to try and sort thing out. On the way we came across four U-boats which had been ordered to remain on the surface, on contact we gave them direction to proceed to Cambletown in Scotland.

On our return we were paid off. Soon the old

Westcott

was to be scrapped. She had served our country faithfully and well for 28 years, she had steamed thousands of miles without breaking down. During her very long and illustrious career she had been involved in incidents from China to Russia, from the Mediterranean to the North Atlantic. Now she was to be scrapped, a very sad end to a wonderful ship. Her name is spoken with great pride and affection by all who served aboard her as do I. Why? Maybe it was because she was my first ship, maybe because she had most of my guts, or perhaps it was in her that I grew up.
Clifford "Stormy" Fairweather
Ex 'Bunting Tosser' and
Chairman of the V & W Destroyer Association


Anecdotes from my father
Ordinary signalman Albert Edward (Ted) Chitty 1922-2009
HMS

Westcott

, 31 October 1941 – 23 December 1942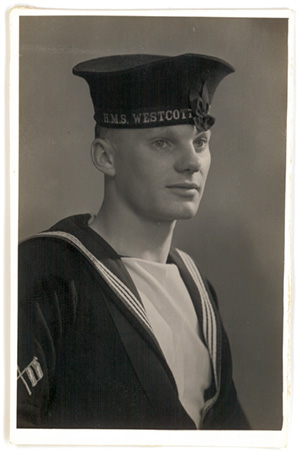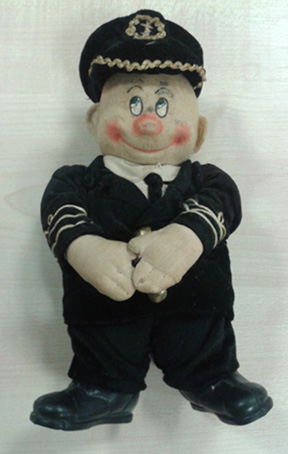 My father died in 2009 and never said much about his war and my own memories are fading now. I believe he was proud of his involvement and joining HMS

Westcott

, his first ship, at nineteen changed his life, and not always for the best. His fondest memories were of his time on HMS

Westcott

because of the sense of comradeship he felt but he went on to serve on HMS

Helvig

, a mine-layer (or floating bomb as he called it).
He almost didn't join up and could so easily have been killed, when a jettisoned bomb exploded on the footpath in front of him as he watched from an open door the German bombers returning after their raid on London. The house had to be demolished.
The two stories I remember best were the ramming of U581 and seeing HMS

Eagle

hit and sunk with one of his best friends aboard. I recently discovered that some of Westcott's signal staff had been assigned to the

Eagle

so it could have been one of them.
He liked sleeping in a hammock and told me he got 6d (equivalent to 2.5p) a time for colour washing black and white photos of wives and sweethearts for fellow shipmates. He liked to be smart and his bell-bottoms were always pressed (as can be seen in some of his photos). I remember him talking about the orange boats that came out from the Azores and watching out for Spanish trawlers spying. They liked escorting the larger capital ships because they would get fresh bread. He also described the changing weather, from Atlantic gales to the heat of the Mediterranean.
The captain during his time on HMS

Westcott

was Cdr Bockett-Pugh and he spoke fondly of the skipper although he was a disciplinarian. He kept a Winchester rifle on the bridge and the crew were taught to use it as he believed that even sailors needed to know how to shoot straight. I still have the mascot his mother made for my father out of one of his sister's dolls of Disney's Seven Dwarfs dressed as Cdr Bockett-Pugh (on right).
He recalled being knocked over trying to fire a stripped Lewis gun during an air raid and spending time reloading Oerlikon magazines. He was very scathing about the Hedgehog anti-submarine weapon and US escort ships that wouldn't stay in formation.
After his death I found his service record, his medals – never worn and still in their original packaging – and a number of small photographs of friends and crew-mates, mostly not named.

Christmas Day - at sea in the Arctic - in 1943


On that day I was a 21 year old Lieutenant, one of three bridge watch keepers in HMS WESTCOTT, a WWI destroyer, escorting the homeward bound convoy RA.55A, roughly south of Bear Island. I had the middle watch, so Christmas started for me at 0001 on the bridge. Course west, wind south west rising to gale force, plenty of icy spray. We spent much of the time finding four fleet destroyers, lent for protection, but to pass them the message that they were now required to join the eastbound convoy JW55B which had recently passed us.

My next watch was the afternoon, so Christmas lunch had to be taken alone in the wardroom at around 1130. Our course was now northwest towards the pack ice, presumably to distance us from trouble - intelligence reporting that the mighty battlecruiser SCHARNHORST was stirring and might be sailing north. The wind was now gale force and on our port beam, strong enough to roll us 45 to 50 degrees to starboard. To stop everything flying about, the wardroom staff secured the settee and the two arm chairs hard up against the starboard wall settee, thus making a comfortable channel in which to sit with lunch on one's lap, without fear of the meal taking flight. Despite the turmoil the steward produced delightful roast beef and a wonderful roast potato - why "wonderful"? Because we only had upper deck stowage for vegetables, so after three days out from our Russian port anything not eaten would be frost bitten and ditched. The wardroom cook [bless him!] kept enough spuds below to give us all one for Christmas. Otherwise it would have been rice balls - edible but not quite the same. Next came the usual figgy duff, nice enough!

Soon it was time for my duffel coat, oilskin and neck towel - at all costs keep the icy spray off your chest! - and now the very careful opening of the starboard watertight door to the upper deck. This has five steel clips, one above and below, three down the side, the middle where a handle would normally be. This one you leave to last, and seize the moment when returning from the big starboard roll to get out. You now have a few seconds in which to close all five clips, get round forward of your superstructure where you reach a long, high, taut jackstay reaching to the break of the forecastle. From it hang strips of rope called lizards, with hard eyes so they can travel along the jackstay. You grab one and start walking along the iron deck - V&W destroyers have no passage below. Once or twice progress will be interrupted when the big roll lets seawater foam across the deck - "shipping it green", as they say. This can dislodge your seaboots' slippery grip, but as long as you keep hugging that lizard you will soon get going again. At least you can see things; midday in midwinter at those latitudes gives you a dim dawn slowly turning into a similar dusk, with about 21 hours of darkness ahead. Arriving at the forecastle you change grip with care to a metal rung ladder - gloves essential, the icy rungs would take strips off your bare hands - and after three such ladders you are back on your open bridge.

Christmas afternoon brought the news that the SCHARNHORST and escorting destroyers were at sea, probably after the laden outward convoy JW.55B, that three of our cruisers were joining its defence. One was BELFAST, still alongside at London. The Home Fleet was steaming east at top speed to join the fray. In RA.55A we were fast leaving the scene but could follow the Boxing Day ensuing battle by radio, since Admiral Frazer in the battleship DUKE OF YORk decided to use plain language for signals for greater speed of action. As the gallant SCHARNHORST finally went down fighting there was rejoicing, but 70 years on one remembers that only 36 survivors were picked up from 1,767 men. Men probably very similar to us, and often with a common enemy, the sea.

Lt. Stuart W M Farquharson-Roberts RN

I joined the Navy to get a Job!

On Passage to Hong Kong in HMS

Westcott
By J.A. Jolliffe D/MX. 52106
During the 1930s unemployment was a great problem, good jobs were scarce. I was fortunate in having a job, but with strings attached. Located 60 miles away from home in Plymouth, it offered little in the way of prospects. A case of waiting for 'dead mans shoes'. Financially it was hopeless, after paying for digs and the fare home at the weekends, I was broke. Eventually with the consent of my parents I resigned so as to return to Plymouth to seek work locally. After several unsuccessful interviews my morale was at a low ebb. A family friend suggested that I might consider joining the Navy as a writer, it offered job security and, of course at the end there was a pension to be had. In those days a job with a pension was looked upon with envy.

From enquiries I learnt that entry into the Writers branch of the R.N. was by open competition held twice yearly, with an intake of about thirty. With my future uncertain, I decided to go ahead and try to join up. Following my success at the 1935 examination, I was granted my choice of Port Division - Devonport and joined HMS Drake in November as a new entry. Training was a combination of square bashing and technical instruction and was completed without incident. I was rated Writer and assigned to HMS Drake as a supernumerary. A few months later with my official number hardly dry I received a draft chit to join HMS Medway on the China station with passage as far as Singapore on the V&W class destroyer Westcott.

Initially it was an unsettling experience, particularly bearing in mind the distance involved and the period away would be at least two and a half years. Air mail had not yet started which meant a letter would take about six weeks to reach Hong Kong. The formalities of a foreign draft being completed the days began to slip by and it wasn't long before that on a cold blustery November morning with my kit-bag and hammock I reported on board HMS Westcott. My first impression was unforgettable, a mixture of super heated steam, hot metal and the sounds of auxiliary machinery. My adventure was about to begin! Most of the forenoon was occupied in settling in, stowing away my gear etc; The seaman's mess would be my home for the duration of the voyage, located in the fore part of the ship, by any standards it was spartan. In the centre of the mess was a steam engine used to drive the capstan, when the contraption was in use the whole mess was enveloped in steam. Time is running out. Tomorrow we leave these shores bound for the Far East and it's many mysteries. Time for last farewells. The ships company offered theirs some days earlier, being Chatham Division they had very few connections with the West country. Weather conditions throughout the night deteriorated, by daybreak the wind had reached gale force and was still rising. Many vessels were running for shelter. A grim prospect for us. With final preparations complete, securing lines were cast off, the ship severed her link with the Devon shore and into headed into Plymouth Sound, passing the mile long breakwater with it's familiar lighthouse before entering the English Channel only to encounter more severe weather, in fact, a 'No Go' area for an elderly destroyer of just 1100 tons. Suddenly it happened, the ship turned about and headed back to Plymouth, eventually making secure to the duty destroyer buoy off Drakes Island. There we remained throughout the day, come late afternoon there was a 'buzz', shore leave? Needless to say it never materialised, for me as a 'sprog' it was a disappointment, especially living in the locality. There was still a great deal to learn about the Navy, particularly the need to take 'buzzes' with a pinch of salt.

This voyage could be described as my introduction to Blue Water, I was quite unprepared for such an experience that lay ahead. Racing 14ft dinghies in Plymouth Sound offered little by way of preparation for such a lengthy ocean passage. At about 11pm there occurred much activity, the ship was being made ready for sea despite the weather which showed no sign of improvement. It seemed that the Commanding Officer, a Lieutenant Commander R.N. was faced with a thorny problem and the ball was squarely in his court. He could either wait for an improvement in the weather which would entail falling behind with his schedule as a result or set off now.

How could he possibly maintain a schedule under these conditions? He decided to slip and proceed. Leaving the shelter of Plymouth the motion of the ship became increasingly violent, it was evident that we were in for a trying night with the sound of the wind and the terrible pounding from the sea, it was unnerving to put it mildly. Then suddenly it happened, I collapsed being seasick violently and repeatedly. I really did not care whether we did a vertical take off or plunged straight to the bottom. I was not the only one, but the other victims seemed to be at a lesser degree than I, but they were destroyer men and used to this sort of situation. I take my hat of to them, one and all. Had I been left to my own devices I may well have been swept over the side. It was the Coxswain who put things right, patching me up and twenty four hours later I was up and almost ready to make myself useful. Never again was I to suffer from sea sickness despite going on to serve in a variety of ships from Aircraft carriers to Frigates.

Almost a week later we came alongside at Gibraltar where our stay was extended to repair the storm damage. This would be a lengthy itinerary which would offer countless opportunities for exploration of the 'Rock'. My first impression was its size, relatively small with an area of about two and a half miles on the south coast of Spain, commanding the North side of the Atlantic entrance to the Mediterranean Sea which makes it important strategically. The main town at the North western corner appeared to consist of a main street occupied by a number of bars, there seemed to be three types, some had an orchestra, others were a type of 'Bistro' bar, a drink that was popular at the time was 'Coffee Royal'. This visit offered the perfect beginning to a foreign commission, the easy stages in transit into a working ship broke one in gradually. At journey's end one felt less of being a fresh arrival on a foreign station. With repairs complete it was time to press on to Malta, our next port of call, it was an uneventful leg of the journey although useful in providing opportunities to increase the efficiency of the ship's company.

Upon arrival at Malta we did not rate very highly in the pecking order, instead of the convenience of going alongside it meant tying up to one of the many buoys. When shore leave was granted it meant going ashore in what can only be described as a cross between a gondola and a canoe called Dhaiso? The capital city, Valetta had much on offer to interest new arrivals, the other principal centre being Sliema. Familiar sights and sounds recalled are the milk vendor with his flock of goats, his cry "Aleep, eggs, bread", the "Egyptian Queen" and the "Lucky Wheel".

Leaving Malta in our wake we are now bound for Port Said. Since clearing Malta it has become warmer, the sun reflecting off the surface of Mediterranean with the sparkle of a million diamonds. The rig of the day was changed to tropical in keeping with this type of weather.

From now on more time must be allowed for washing clothes during dog watches. The routine is simple, get hold of a spare bucket and a bar of 'Pussers' soap and you are on your way. I soon became a dab hand at it. The time I spent in a seaman's mess as a junior rating was priceless. I was taught how to prepare a meal for the mess, take it to the galley, and fetch it when it was cooked. To keep the living space clean and tidy, and above all, to show consideration to others. These lessons I have never forgot and they stood me in good stead throughout my life. The stay at Port Said was a short one. I could not fail to be impressed by the statue in memory of Ferdinand de Lesseps, the builder of the 101 mile long Suez Canal which was opened in 1869 linking the Mediterranean and the Red Seas through which we were shortly to make our way. Also worthy of mention were the twin columns of the 1914-1918 War Memorial. The following incident remains undimmed in my minds eye, but as the years pass I can see the funny side of it. The ship was secured close inshore, it was during the early part of the forenoon. A party of official types came on board, it turned out that they were local Port Health Officials who had come to carry out a medical inspection of the ship's company. All junior ratings were summoned to fall in on the quarter deck, step up to the official, drop your shorts and allow the said official, with the aid of a large and powerful torch, to carry out the inspection, all this in full view of the interested locals on shore.

Entering the Red Sea, change was evident, Western influence gave way to the Eastern, particularly among the craft at sea, mostly sailing vessels. The weather varied from cloudy to bright sunshine with rough seas, nothing that I could not cope with. It was now that my request to take a turn at the wheel was granted. I was elated, it isn't everyone that could say that they had taken the wheel of a Royal Naval Destroyer, especially a young writer.

Passing through Hells Gates we crossed the Arabian Sea to arrive at our next destination Karachi, where much in the way of hospitality was received. One incident still unforgotten was the street entertainer with his act "Snake fight Mongoose 4 anna's."

Then it was on to Penang where Christmas was celebrated, the mess in common with the others was decorated with bunting and the menu supplemented. A present from the Captain, an unexpected one, two bottles of beer for each one of us. A generous act, particularly as, apart from the rum issue, the Royal Navy was dry at least as far as the lower deck was concerned.

Arrival at Singapore and soon a parting of the ways. Westcott would stay and take over from HMS Bruce which was shortly due to return to the U.K. whilst I was to make ready for the final stage of my voyage. In January 1937 construction of the new Royal Naval Base together with a vast dry dock was going along on apace. In the mean time local R.N. affairs were conducted from HMS Terror, a monitor armed with two 15" calibre guns, nearby was a medium sized floating dock. It was real Boy's Own stuff. It was to HMS Terror I made my way and explained that I had not been paid since mid October. Whilst interim payments were made to the Westcott's ships company no such arrangements had been made for personnel on passage. Had it not been for a postal order from my Mother received en route I would have been up the creek completely. I was made welcome in 'Terror', given a substantial advance of pay and told to avail myself of their Chinese laundry which transformed my No 6's. It was six days later that I reached Hong Kong, disembarked from H.M.T Lancashire and joined HMS Medway at last. The beginning of what was to be a happy commission of 2 years in a splendid ship during which time I would visit many places of interest throughout the Far East.

Many of the old V&Ws were now being put into reserve, others had been earmarked for alterations and modifications to convert them into the "Wair" type of destroyer. During the summer of !935 HMS Wishart which was still under the command of Commander Lord Louis Mountbatten was in the Mediterranean and whilst paying a visit to Cannes welcomed his friend HRH the Prince of Wales accompanied by Mrs Wallis Simpson aboard.

After taking my leave which was due after three years abroad I went to Vernon to qualify S.T. after which I was drafted to Valorous as Ldg Seaman S.T. We were soon sent to Malta to join up with the 19th Destroyer Flotilla and remained there until April 1936 when I was returned to depot until September. I was then drafted to Westcott which was at Devonport and being altered to attend on submarines, picking up their torpedoes after practice firing. Leaving Guzz (Gosport) in November 1936 in company with Thracian we sailed into a stinking force 9 gale and by the time we reached Gibraltar we were in a fine old state as we had aboard a number of spare crew taking passage to other ships, they had been violently sick in the galley flat for most of the trip, and as the coal for the galley was kept there, it was in a fine old state, so were the seamen who were covered in coal as the galley flat was always flooded in rough weather.

After a few days in Gib' cleaning up and drying out the messdecks etc; we carried on our journey to Malta and the Far East. During the journey we managed to play any team that we could find at hockey or football at every port that we called at, so by the time we reached Hong Kong we had very good teams at both and also quite a good water polo team. Back to work which consisted of chasing after and picking up the 'tin fish' that had been fired by the submarines.

While we were out there in 1937-38 we managed to get hit by a typhoon whilst in Hong Kong harbour. At the time I was Coxswain of the picket boat from the 'Medway' and had to take a party of sick people ashore, quite a trip. Earlier in 1937 when the Japs invaded China, our Ambassador, Huggeson Knotchbull was on holiday with his family on the island of Petaiho. Westcott was detailed as guard ship to the ambassador and eventually we had to transport the family from the island to a Cruiser for the trip back to Shanghai. After quite a few incidents of Jap bombing and clearing up hundreds of Chinese from the cables each morning we eventually came to the end of the commission and came home in April 1939.