---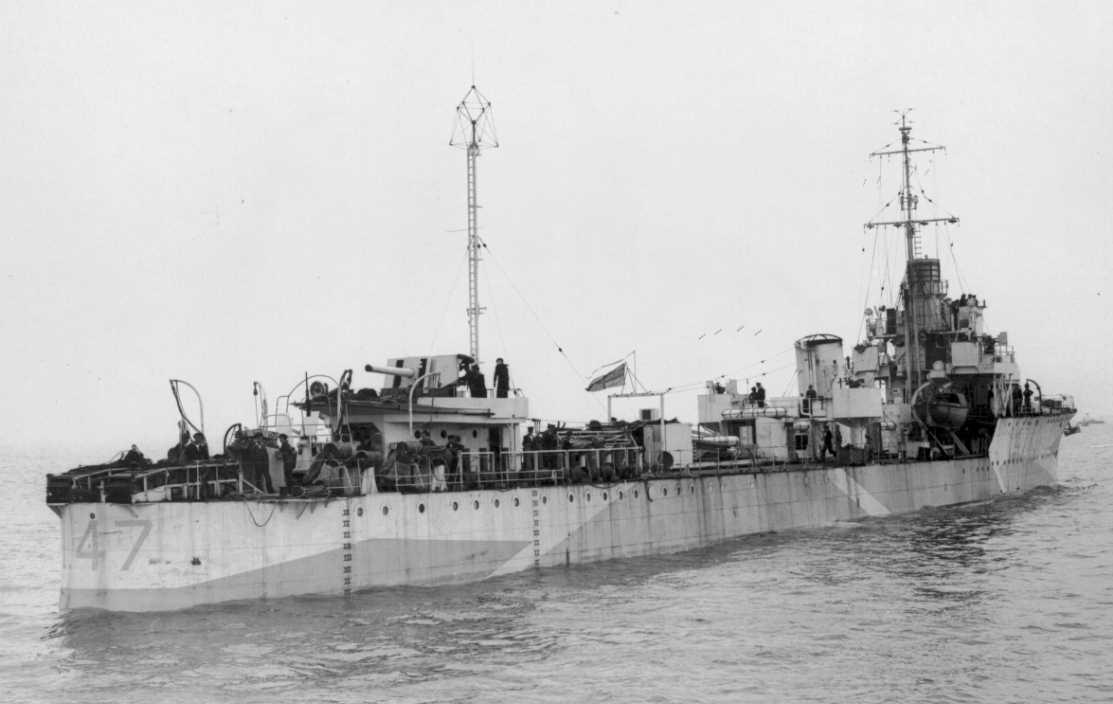 Click on the links to more detailed accounts by the men who served on HMS Westcott and for a more detailed chronolgy see www.naval-history.net

HMS
Westcott
was an Admiralty W-Class destroyer built by William Denny and Brothers Ltd, Dumbarton. Named after Capt. George Blagdon Wescott RN, who was killed at the Battle of the Nile in 1798 while Captain of HMS

Majestic

, HMS

Westcott

was launched in February 1918 and entered service on 12th April 1918 with pennant number D47.

Sub Lt
S Lt Stanley Brian de Courcy-Ireland
described the surrender of the German High Seas Fleet in November 1918 and the scuttling of the Fleet in Scapa Flow, Orkney, in June 1919. HMS

Westcott

took part in the Baltic campaign against the Russian Bolsheviks. In 1920 she was in the Mediterranean when Constantinople was occupied by the Allies and carried out a number of bombardments against the Nationalist Turks in the Sea of Marmara. HMS

Westcott

returned home in August 1920, joining the 2nd Destroyer Flotilla, Atlantic Fleet, and in May 1921 was re-deployed to the 6th Destroyer Flotilla, Atlantic Fleet, until being paid off into reserve in April 1935. Briefly re-commissioned in September 1935 for the 21st Destroyer Flotilla, Home Fleet, HMS

Westcott

was again paid off into reserve at Devonport in May 1936.

HMS

Westcott

was re-commissioned on the 2nd October 1936 for service as a tender to the 4th Submarine Flotilla, China (and China Deep Diving Unit).
Part of the ship's role was to act as a target for submarine attacks and b
efore leaving Devonport for Hong Kong in November 1936
her after (Y) gun and torpedo tubes were removed to allow for fitting a winch for recovering torpedoes fired by submarines during trials and storage of the recovered torpedoes.

Westcott

was one of the first ships to be fitted with ASDIC equipment for detecting submerged submarines.

Westcott

was on the China Station from January 1937 until her arrival at Malta in February 1940 and the best description of this period is that given by Tom Chapman in his book:

Water, Water, Everywhere: the life story of HMS Westcott

(Aedificamas Press, 1996).

Ship's Writer
J.A. Jolliffe D/MX. 52106 describes the terrible conditions he experienced while taking passage in HMS

Westcott

to join the submarine depot ship, HMS

Medway,

on the China Station. Alan Flisher travelled on the troopship

Dilwara

to join

Westcott

as a stoker when Cdr Edward M. Lolly was CO. Cdr Lolly and the ship's company were welcomed on a visit to Surabaya, the main naval base in the Dutch East Indies in March 1938. Loly was succeeded by Cdr Firth who died three months later on We-Hai-Wei island, was buried there and succeeded by Cdr James A. Carrie Hill.

Jim Mills

was on the same outward voyage to Hong Kong as Joliffe but remained aboard

Westcott

until Operation

Pedesta

l in July 1942 where he witnessed the sinking of HMS

Eagle.

After the declaration of war in 1939 HMS

Westcott

underwent a further refit at Singapore when her Y' gun and the torpedo tubes were refitted and two depth-charge throwers and depth-charge release racks were added at ther stern. On 28th January 1940 HMS

Westcott

left the China Station to escort a large floating dock back to the UK. At Aden she joined the first of many convoys escorting liners carrying Australian and New Zealand troops to Suez and the Middle East
.

On arrival in Malta the CO, Cdr James A. Corrie Hill, left the ship for the Admiralty's Plans Diviion, HMS President. HMS

Westcott

was deployed with HM Aircraft Carrier

Glorious

in the Mediterranean until recalled to the UK in April 1940 for escort duties. Her former CO, Cdr Corrie Hill,
was killed in the Netherlands on 11 May leading Operation XD-B and retrieving Dutch gold from Rotterdam.

On 4 July

Westcott

joined the 4th Destroyer Flotilla at Devonport for escort duties in the North Atlantic and on 5 July rescued survivors from HMS

Whirlwind

when she was torpedoed, blowing off her bow, and then scuttled her with torpedoes when she could not stay afloat until rescue tugs arrived. Tom Chapman vividly described the sinking and rescue in his book and on the website about HMS

Whirlwind

. On 2 September 1940,

Westcott

, with the destroyer HMCS

Skeena

, the sloops

Lowestoft

and

Scarborough

and the corvette

Periwinkle

, joined inbound Atlantic convoy SC.2 as escort. The convoy was subject to a series of attacks by German U-boats which sank five of the 53 merchant ships (four by U-47, commanded by GŁnther Prien). This was the first successful Wolfpack attack of the Second World War.

In February 1941 Cdr Ian H. Bockett-Pugh RN was appointed CO.

Westcott

became the first vessel to be equipped with the Hedgehog in August 1941 (but not without an accident loading this unfamiliar anti-submarine weapon) and transferred to the Gibraltar Escort Group in December. In the same month she was adopted by the civil community of Morecambe and Heysham, Lancashire, after
a successful Warships Week National Savings campaign.
The photographs of

Ordinary Signalman Albert Edward (Ted) Chitt

y show what life was like for ratings on the lower deck in 1941-2. On the 2 February 1942 HMS

Westcott

was escorting the troop carrier
Llangibby Castle

in the Azores and
rammed U-581 and rescued her crew when she was scuttled and sunk.

Between April and August 1942 HMS

Westcott

took part in repeated attempts to escort carriers carrying Spitfires within flying range of Malta

.

O
n 19 April,
Westcott
escorted USS
Wasp
during Operation

Calendar

(46 Spitfires reached Malta); in May
Westcott
was part of the escort for USS
Wasp
and HMS
Eagle
(Operation

Baritone

) when 61 Spitfires reached Malta.
Further operations took place in May and June when
Westcott
escorted
Eagle
and
Argus.


On 11 June,
Westcott
escorted a large supply convoy to Malta, Operation
Harpoon. Westcott
and the destroyer
Antelope
were detached from the convoy when the cruiser
Liverpool
was torpedoed by an Italian aircraft.
Antelope
took

Liverpool

under tow. They were under continual attack by Italian torpedo-bomber attacks and
Westcott
was hit by anti-aircraft fire from
Liverpool,
killing three of her crew. The three ships made Gibraltar on 17 June.

In August

Westcott

was an escort for Operation
Pedestal. HMS Eagle
was sunk by a German submarine (described by Jim Mills DSM),
and the carriers
Indomitable
and
Victorious
damaged by bombers. Five merchant ships out of fourteen, including the tanker
SS Ohio,
reached Malta by 15 August.

In November 1942, the Allies launched Operation
T
orc
h the Anglo-American invasion of French North Africa.
Westcott
formed part of the Centre Task Force, covering the landings at Oran in Algeria on 8 November. When the Vichy French submarines
Actťon
and
Argonaute
attempted to attack the Allied fleet, they were sunk by
Westcott
and
Achates.
Westcott

escorted HM Cutters

Hartland

and

Walney

in an attack on Oran Harbour.

After
Torch, Westcott
returned to the United Kingdom. From December 1942 until June 1943
Westcott
was being converted at Portsmouth to Long-Range Escort (LRE) by removing one boiler and funnel, allowing additional oil bunkers to be fitted
(her pennant number changed to I49).
She was ecommissionjed with a new ship's Company and for the remainder of the war

HMS

Westcott

was an escort for Arctic Convoys to Russia

as described by the Navigation Officer, the "pilot",
Lt. Stuart M. W. Farquharson-Roberts RN,
"Ted" Cross, RDF Operator and
Clifford "Stormy" Fairweather
,
a "bunting tosser".


Wesctcott
was withdrawn from service in June 1945 and sold to the British Iron & Steel Corporation (BISCO) to be scrapped the following year but "Stormy" Fsirweather kept the veterans in touch with each other by forming the

"Westcott Club"

in 1989.
"Water
.

,Water every where!" – The Life Story of HMS Westcott (ISBN 0 9511701 8 X) by Tom Chapman
Tom Chapman served in

Westcott

and knew her weell and his paperback is a good account of her 28 years in Comnmission
Commanding Officers
Lt Cdr C R Peploe (March 1918 – Jan 1921)
Lt Edward N. Mortimer (Jan 1921 – 15 Dec. 1922)
Lt Cdr Samuel A. Brooks (14 Dec. 1922 – 16 March, 1923)
Lt Cdr Samuel A. Brooks (27 Sept. 1923 – 14 Aug. 1925)
Lt Cdr Alfred C. Collinson (14 Aug. 1925 -
Lt Cdr Meredith S. Spalding RN (Dec 1928 - July 1930)
Lt Cdr Arthur D. B. James (22 July, 1930-)
Lt Cdr Geoffrey R. B. Back (22 July, 1932 – 28 July, 1934)
Lt Cdr Charles Nugent Lentaigne, RN (30 Sept 1936 - 1 Jan 1937)


Cdr Edward Masterman Loly (1 Jan. 1937 - 11 April 1938)
Cdr Cyril Joseph Firth (11 April - 1 Sept 1938)
Cdr James Alexander Corrie Hill, RN (Sep 1938 – Sep 1939 or 14 Feb 1940)
Lt Cdr William Francis Rodrick Segrave, RN (21 Aug 1939 or Feb 1940 – 2 Feb 1941)
Cdr. Ian Hamilton Bockett-Pugh, RN (Feb 1941 - March 1943)
Lt Cdr Hedworth Lambton, RN (May 1943 – Jun 1944)
Lt Cdr Edward Perry Reade, RN (Oct 1944 – Jun 1945)
Lt J S de B. Smith (Jun 1945 -

Officers
Further names from the Navy List will be added later.

Lt. C P d'A Aplin, RNR (Dec 1940 -
Lt. F C V Brightman (Aug 1938 -


Tempy. Lt.

N D Britton RNVR (Oct 1943 -


Gunner C W Chadwick (April 1939 -
S.Lt. S B de Courcy-Iceland RN (1918 – 1919)
Tempy. Surg. Lt. P U Creighton, MB, BCh, RNVR (Oct 1944 -
Gunner (T) M Daniels (May 41-
Lt.(E) R J H Duffay, MBE (July 1938 -
Boatswain D H Easter (May 1940 -
Lt. J N Elliott (April 1940 -
Lt. Stuart M.W. Farquharson-Roberts RN (June 1943 -
Lt Arthur Lewis Gulvin RN (Feb - April 1940)


Tempy. Lt.

W J C Higgs, RNVR (Oct 1944 -


Tempy. S.Lt. N J Hill, RNVR (June 1945
Lt. G R D Holland (May 1941 -
Mid. L T H Johnson RNR (Aug 39 -
Lt David Charles Kinloch RN (July 1930 - Jan 1932)
Tempy. Gunner F B Leathers (April 1943 -
Tempy. Surg. Lt. J D Loughborough, MRCS, LRCP, RNVR (Jun 1943 -
Tempy. Surg. Lt. J D Manning, MRCS, LRCP, RNVR (Jul 1941-


Tempy. Lt. A R A Marshall, RNVR (June 1943 -
Gunner (T) S T Newman (act) May 1945 -
Tempy. Act. S.Lt. A G C M Nightingale, RNVR (May 1941 -
Lt Denzil Richard Cranley Onslow RNR (Nov 1942)
Lt. C A H Owen (Aug 1937 -
Lt. A Parsons, RNVR (Oct 1944 -
Tempy. Act. S.Lt. W B Potts, RNVR (Apr 1944
Tempy Lt.(E) G R Raeburn, RNR (Jan 1944 -
Tempy. S.Lt. W A Reeve, RCNVR (Dec 1943


Tempy. Lt. T S Riches, RNVR (Jun 1943 -


Gunner J F Sangwell (April 1937 -
Tempy. Surg. Lt. R Scott, MB, BS, RNVR (Jun 1940 - July 1941)
Lt. J S de B. Smith (Jan 1945 -
Tempy. Wt. Eng. A F Stapleton (Dec 1940 -
Gnr Walter James Taylor RN (Sept 1936 - Feb 1937)
Lt. N J M Teacher (Feb 1939 -
Lt. A G Vanrenen (Dec 1941 -
Lt Cdr Arthur Oliver Watson RN (Sept 1934 - July 1935)
Tempy. S.Lt. J C Whitehead, RNVR (May 1945 -
Lt. (N) W Whitworth (April 1937 -

Former Full Members of the V & W Destroyer Assoociation who served in HMS Westcott
W. Ames (Newbury, Berks), A. Beckett DSM (Warrington, Lancs), Tom Chapman (Chorley, Lancs), HJ. Dixon (Kidlington, Oxon), Clifford "Stormy" Fairweather (Colchester, Essex),
Allen Flisher (Leicester), Arthur Gardner (Bexleyheath, Kent), E. Grew (Waltham Cross, Herts), F. Lees (Rochford, Essex), B. Merry (Leicester), G. Moore (Chessington, Surrey),
Ernest Quarrie (Carlisle), Bob Smale (St Helier, Jersey), L. Turner (Bicester, Oxon), J. Underwood (Ilford, Essex), E. Woods (Sunderland).
Please get in touch if you have a family member who served in HMS Westcott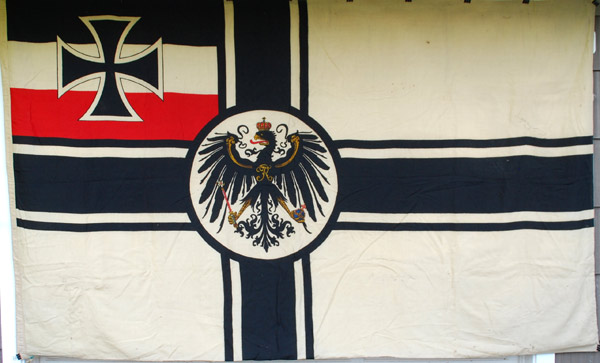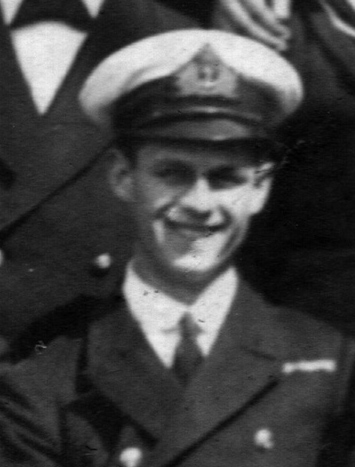 Sub Lt S.B. de Courcy-Ireland RN (on right) witnessed the 72 ships in the German High Sea Fleet being escorted into the Firth of Forth to surrender from the deck of HMS

Westcott
on the 21 November 1918
and was part of the escort when they were conducted to Scapa Flow in Orkney to be interned while the allies argued about what to do with them. My 18 year old father was stationed at Houton Bay Air Station as an Observer Gunner on anti-submarine patrol in Short 184 seaplanes and saw them enter the Flow and anchor between Houton Bay and Hoy on the 24th November. Their crews were demoralised and mutinous but made no trouble and when the Home Fleet was at sea two destroyers were left behind as Guard Ships.



On 21 June 1919 HMS

Walpole

and her sister ship HMS

Westcott

were the two Guard Ships left behind while the Home Fleet was at sea. At about noon

Lt Cdr Charles G. "Kit" Naylor, RN, the CO of HMS
Walpole
, saw the German ships hoist the Imperial German Ensign at their mainmasts and their officers and men lower boats and abandon their sinking ships. He deployed

Walpole's

boats to assist in beaching the torpedo boats in Gutter Sound before they sank and then boarded the light cruiser

Nurnberg

to release her cables to enable her to drift ashore on Cava. Charles Naylor took possesion of her
ensign, measuring ten foot by six
, and a hundred years later it is still a much prized family treasure (on left).



Brian de Courcy-Ireland in HMS W

estcott

describes events in

A Naval Life

(Englang Publishing, 1990 and 2002),

self published by the family. The Captain was Lt Cdr C R Peploe "who had done well at Jutland in another destroyer when his captain was killed and he had taken over - a jovial extrovert" ...

"We were secured to a buoy in Gutter Sound (among the German destroyers) by a slip rope. Most of us were in the Wardroom having a drink before lunch when the Officer of the Watch came tumbling down with the startling news that all German ships had hoisted a flag signal and some appeared to be abandoning ship".



After the initial shock and confusion: "we decided to concentrate on trying to save a few ships, and started on a couple of destroyers. We blew their cables to save time, and pushed them into shallow water where they settled pretty well upright. We then turned our attention to the great

Hindenberg

. No 1 and myself with a party of about 25 men with a young Engineer Officer got on board, and while the Captain tried to push her into shallow water we closed as many watertight doors, hatches and scuttles as we could. I thnk we closed about two hundred but it was hopeless. we were working largely in the dark in a ship we didn't know; many of the clips were rusty and stiff and we were being forced back all the time. No 1 and I were the last to leave as she sank under us, fortunately upright, climbing higher as she settled, finally coming to rest with bridge snd funnels, etc above water."

"Our final task was to salvage the two destroyers we had pushed into the beach. The water was cold and we had to swim and dive to close the scuttles and hatches. It was a dirty job too as they had oppened up a oil fuel tank and everything was coated with a film of oil. I was inspecting the Wardroom of one of the destroyers ... and found a signed oil painting of a scene in East Prussia perfectly preserved by the oil; "I have it still".


Charles "Kit" Naylor was promoted to Commander on 31 December 1921 but, tragically, died of a long standing heart condition aged 36 on 27 January 1924. Sub Lt Brian de Courcy-Ireland was born in 1900 and died in his sleep in the early morning of Remembrance Day 2001. He was a Lieutenant in HMS
Venomous
from 1920-1 and figured prominently in
A Hard Fought Ship: the story of HMS Venomous
(Holywell House Publishing, 2017). After retiring as Capt S. Brian de Courcy-Ireland in 1951 he served as Naval ADC to the King. The
Imperial War Museum have a copy of
his 454 page personal memoir

A Naval Life

and
eleven reels of recorded interviews
made in 1991 which can be listened to online.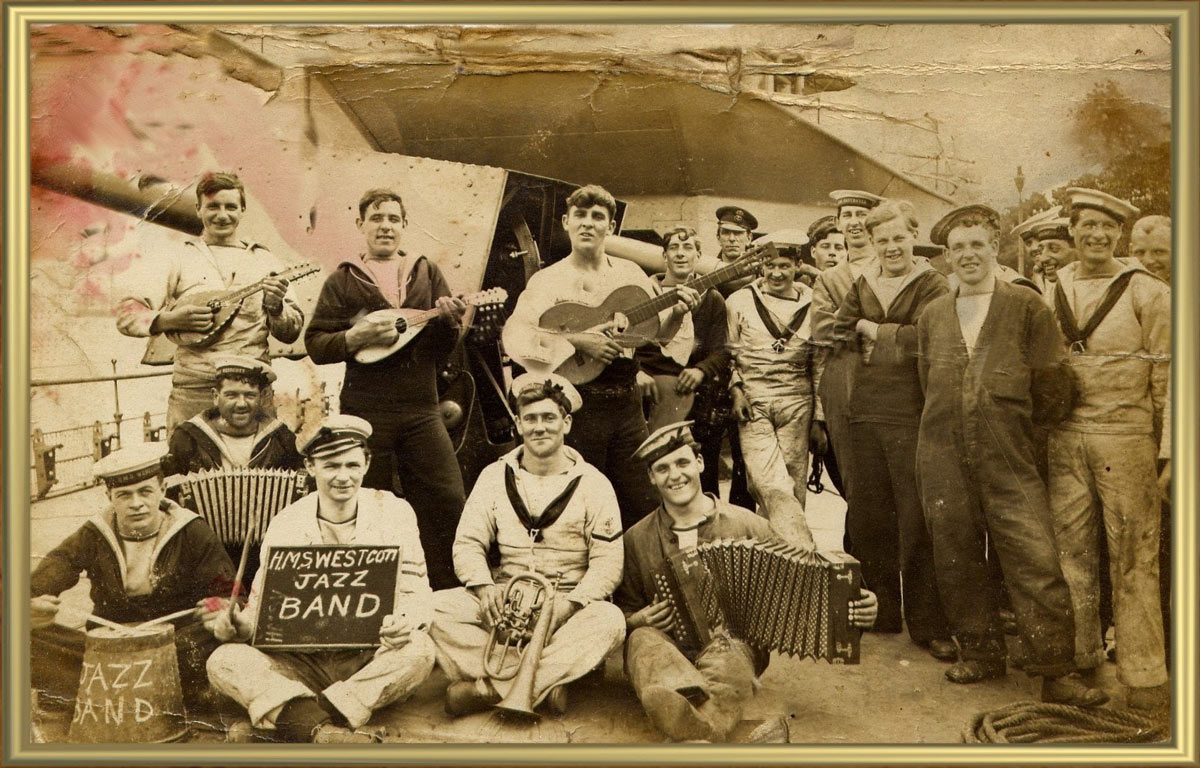 This postcard size photograph appears to be a copy of a much larger damaged print in a gilded frame

It was posted home by George Little and now belongs to Donna Lee
This unusual photograph was sent to me by Donna Lee who described herself as "a family history fanatic" in her e-mail. Her Uncle George LIttle is "the handsome guy playing the accordion in the front row". The cap badges have the name of HMS
Westcott
on them which was not permitted in wartime so the photograph must date from between the wars. I am hoping to find out more about George Little and his service in the Royal Navy with the HMS
Westcott
Jazz Band. If you can assist please do
get in touch with me by e-mail
.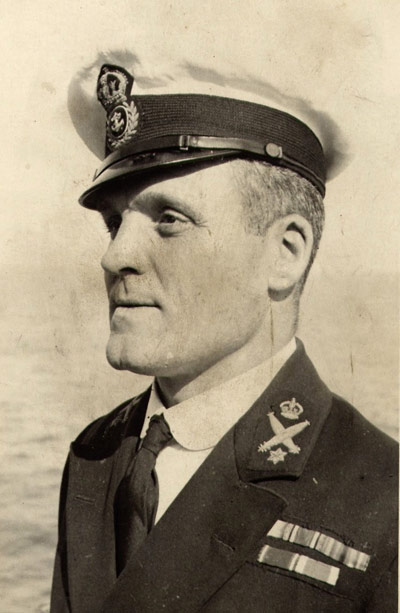 George Little, Torpedoman
I downloaded George Little's service record from The National Archives. These hand written records are difficult to interpret but it is clear that George George Little was a "case maker's labourer" from Liverpool when he "signed on" fot 12 years service in the Navy on his eighteenth birthday, the 16 August 1914. He had joined the Navy the previous year as a "Boy Sailor" in HMS
Impregnable
, the boys training ship at Devonport, Plymouth, before joining HMS
Defiance
, the Torpedo Training School at Devonport. By 1917 he was rated as a Leading Torpedo Man (abbreviated as LTO) in the Torpedo Branch of the Navy and worked as a practical electrician as well as a gunner-torpedoman. To find out more about his specialism read David Perkins description of "Rates" in the Navy and the
Development of the Torpedo Branch.
The torpedo was a formidable new weapon which enabled small warships originally known as Torpedo Boat Destroyers (TBD) to sink Battleships. The popularity of
Kiplings poem "The Destroyers"
led to the widespread adoption of the short form and may have influenced George Little's decision to become a Topedoman. He joined his first destroyer, HMS
Valkyrie
, a V & W Class Leader, in June 1917 when she was completed. After commissioning
Valkyrie
(F83) joined the 10th Destroyer Flotilla as Flotilla Leader with the Harwich Force. On 22 December 1917 she struck a mine while escorting a convoy to the Netherlands. Twelve men were killed, with seven more men dying of wounds in the next few days. Three more destroyers of the 10th Flotilla,
Torrent, Surprise
and
Tornado
, were sunk by mines on the next day.
Valkyrie
was under repair at Chatham Dockyard until July 1918.
George Little left
Valkyrie
and joined HMS
Westcott
(Lt Cdr C R Peploe RN in command) with the substantive rate of Leading Seaman on 11 April 1918 when she was first commissioned.
Westcott
joined the 13th Destroyer Flotilla of the Grand Fleet, based at Rosyth in support of the Battlecruiser Force, remaining there for the remainder of the war. In 1919, the Grand Fleet was disbanded, and the Atlantic Fleet took its place, supported by four destroyer flotillas.
Westcott
joined the Second Destroyer Flotilla, based at Rosyth.
In August 1919, the Second Destroyer Flotilla, including
Westcott
, was deployed to the Baltic as part of the British intervention in the Russian Civil War, relieving the First Destroyer Flotilla. The Second Flotilla remained in the Baltic until December 1919. Sub Lt Stanley Courcy-Ireland joined
Westcott
at the same time as George Little and described t
he scuttling of the German High Sea Fleet at Scapa Flow in June 1919 and the war in the Baltic in his memoir

A Naval Life.
In February 1920,
Westcott
was deployed to the Mediterranean, shelling Turkish forces during the Greco-Turkish War, before returning to Britain in August. The sailors in the Jazz Band were dressed in "whites" which suggests the photograph was taken at this time but it is clearly marked as being taken at Copenhagen. In 1921 the destroyers of the Atlantic Fleet were reduced in size and organised into six flotillas, each comprising a Flotilla leader and eight destroyers.
Westcott
was assigned to the Sixth Flotilla. George Little appears to have served in Westcott until 1923 by which time he was a Petty Officer.
George Little married Margaret in 1926 and they had two boys. They lived in Malta where the Mediterranean Fleet was based but after his wife's early death aged 26 in 1936 he retired from service to look after their sons. In the photograph on the right taken shortly before he left the Navy his uniform has on it the badges of a PO Gunnery Instructor and ribbons for his wartime service. He died from a heart attack a year later in 1937 when he was 40 and his sons were 6 and 4. They were brought up by George's parents in Liverpool. Donna Lee is hoping to find out more about the Uncle she never knew.
On the China Station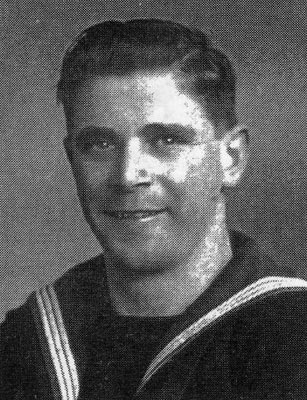 HMS

Westcott

was re-commissioned on 2 October 1936 for service as a tender to the 4th Submarine Flotilla, China (and the China Deep Diving Unit). Part of the ship's role was to act as a target for submarine attacks and before leaving Devonport for Hong Kong in November 1936 her aft (Y) gun and her torpedo tubes were removed to allow for fitting a winch for recovering torpedoes fired by submarines during trials and storage of the recovered torpedoes.

Westcott

was one of the first ships to be fitted with ASDIC for detecting submerged submarines.

Westcott

was on the China Station from January 1937 until her arrival at Malta in February 1940. Her Captain was Cdr Edward Masterman Loly RN, born in 1896, the son of a schoolmaster. He survived the sinking of submaring J6 on 15 October 1918 a month before the end of the Great War and commanded six submarines between 1920 and his appointment as CO of HMS

Westcott

on 1 January 1937.

The best description of this period is by Tom Chapman (on right) in his book:

Water, Water, Everywhere: the life story of HMS Westcott

(Aedificamas Press, 1996). Tom Chapman and his shipmates on the lower deck were mainly interested in the lives they led in the "exotic east" on a rating's pay but ever present in the background was the ongoing war between the Japanese army, the Kuomintang Nationalists and the competing Chinese Communist Party, the danger of being dragged into this and its threat to British interests.


***************

Tom Chapman joined HMS
Westcott
at Hong Kong in June 1939 but

Westcott

arrived at Hong Kong two years earlier on 6 January 1937 but Ship's Writer Joliffe describes the horrendous journey out and shipmates Alan Flisher and Jim Mills contributest their memories of these earlier years. On their first run ahore most men "made for the China Fleet Club for steak, egg and chips or chicken chow-main, and after to the pictures ... and back to the ship in the rickshaws waiting for them outside the cinema". The 'Sew-Sew Girl' was allowed on the mess-deck to mend clothes and the men could borrow money from her until pay day. 'Jelly Belly', the tailor, could make a suit in a few hours which would last for years. All the washing was done by dhobi girls. In May 1937 the

Westcott

's crew took part in the military parade to mark the Coronation of King George V1. Afterwards,

Westcott

sailed north to Wei-Hai-Wei an island leased from China, where the crew could buy roast chickens, "Wei-Hai Wei" runners.

From Ching Wang Tao, the "Back Garden of Beijing and Tianjin", the crew paid for tours by bus and train to the Great Wall of China, Tientsin and Peking and slept between white sheets in a hotel and
visited the "Forbidden City". Japanese troops nearby
brought their tour to an early end and they left
Ching Wang Tao with the British Ambassador, Sir Hugh Knatchbull, who was seriously wounded when machine gunned by a Japanese fighter pilot. Later they went to Vladivostock and were entertained by the Russian Navy and Army, who thrashed them at football and toasted them in vodka.

They returned to Hong Kong during a typhoon which sunk 28 ships and destroyed countless buildings with the number killed estimated at 11,000. The ship was drydocked and the crew helped the Army remove the dead and injured from the ruined buildings. After visiting Miri in Sarawak and Bali they exercised with Australian ships in the Indian Ocean before calling in at Malacca on the Malay peninsula, where a sailor lost his footing, fell overboard and was drowned. This delayed their arrival on a five day visit
to the Dutch Naval Base of Surabaya in Easten Java
with

Orpheus

and

Proteus,
two of the submarines
in the 4th Submarine Sqadron, until late on
8 March 1938.
The Dutch newspaper

Die Indische Courant

published lengthy articles on the visit and its readers must have found reassuring. A day trip to an open air zoo was organised for the crew and Cdr Edward M. Lolly RN and his officers were entertained ashore by the Dutch Submarine Service at Pasnan.
Surabaya lives on in the memory of lovesick ladies who have heard Lotte Lenya singing "Surabaya Johnny" (1929) and all those sailors who have visited Surabaya.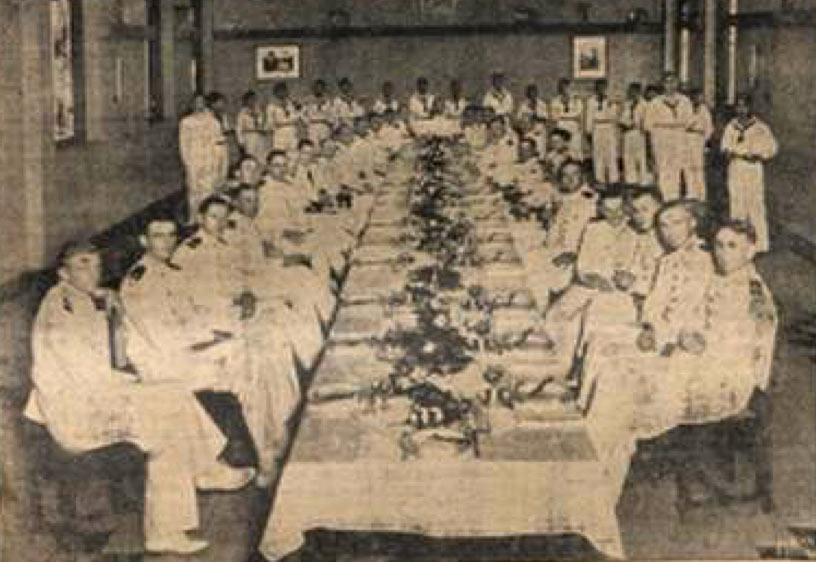 The English officers of HMS

Westcott

and the submarines dine in the long dinning room of the submarine base at Pasiran te Soerabaja, Surabaya

On leaving Surabaya

Westcot

t went to Singapore via Malacca and before returning to Hong Kong where some of the crew left to return to Britain on a troop carrer, the

Dunera

.
In April Cdr Edward M. Lolly left

Westcott

and may have returned to Britain on the

Dunera

and was relieved by Cdr Cyril Joseph Firth. S
ubmarine exercises were held off Malaya and one of the six torpedoes went missing and was found by an RAF plane being carried on their shoulders through the jungle by a tribe of natives and it took a search team a week to retrieve it!

In September, four months after joining HMS

Westcott

as their new CO, Cdr Firth took very ill and died at Wei-Hi-Wei:


"His funeral took place on the island and representatives from the whole of the Fleet attended together with most of

Westcott

's ship's company. Unfortunately, his family were on their way out to join and had to be greeted with this awful news."

Cdr Firth was succeeded on 1 September 1938 by Cdr James Alexander Corrie Hill, RN. He was CO on 21 October,
Trafalgar Day,
when a great parade was held on the Happy Valley race course in Hong Kong, possibly to impress the Japanese. Naval personnel from every ship, from cruiser to MTB took part. Dress of the day was "Number Ones" with belts, gaiters and fixed bayonets. The salute was taken by Sir Percy Noble, C in C Far East.


Alan Flisher has more to say about

Westcott

s activities in 1938-9 but fails to mention a visit to Tandjong Priok, the docks for Batavia, the capital of the Dutch East Indies, in March 1939, a year after

Westcott

visited the naval base of Surabaya. Batavia is today Jakarta, the capital of Indonesia. The caption for the photograph from the report in the Dutch newspaper

De Locomotief

reads:


"An informal cocktail party was held on Friday evening at
the spacious house
of the British Consul-General in Batavia,
Mr. Henry Fitzmaurice (XX),
for the visiting officers and guests from Batavia".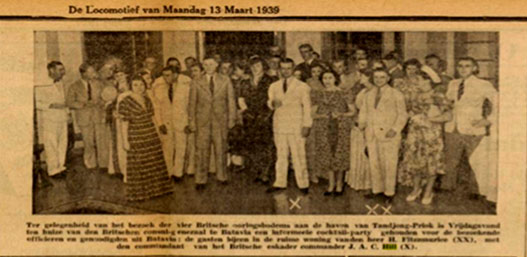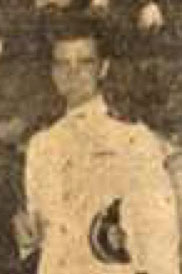 Cdr James A.C. Hill was entertained in the home of the Consul-General (left) and welcomed guests aboard HMS Westcott
This is the only photograph found of Cdr James Corrie Hill
The following day Cdr Hill entertained Henry Fitzmaurice and distinguished guests aboard his ship:


"T
he

Westcott

was
a pretty sight, lit with colored lights, the bright glare a sharp contrast with the submarines moored alongside the British destroyer. A merry company gathered on board, not large because the deck of a hunter like the

Westcott

is not suitable for a large number of visitors. The British naval officers were warm and jovial hosts, guided their guests around the ships and answered all their questions. Many took a look inside the mysterious twilight of a submarine, and found out about all the handles, wheels and levers in the narrow space. It was well past the appointed hour when the last visitors left the welcoming deck of the

Westcott

to return home."

Tom Chapman joined HMS

Westcott

on 1 April 1939 after a six week voyage to Hong Kong on the troop ship HMT

Ettrick

. The new boys boarded her wearing white pussser's shorts with solar topees on their heads and were gazed at
in disbelief!
He was startled to find the torpedo tubes had been removed to make room for strorage racks for 18 practice torpedoes without warheads. After retrieval they were returned to HMS

Medway

, the depot ship, for overhaul and then back to the submarines which fired them. He was one of only four torpedo-men out of total complement of 110. Each mess had a Chinese mess boy who bought and prepared their food.

Among the hundreds of Chinese junks and sampans in the harbour were Royal Navy cruisers, destroyers, submarines and HMS

Medway

:


"I joined up with some shipmates to go ashore. The first stop was the China Fleet Club, a four storey concrete building like the Navy House in Chatham but with Chinese staff who could not do enough for you. Girls were plentiful and available for about seven and half pence a time and although the wages of sin were somewhat meagre thy appeared to be pretty happy with their lot. Many lived in flats which were rented or loaned from older women called Almas. The money they earned was given to the Alma and in return they received food and shelter plus a little pocket money to buy clothes."

During the day we spent our time exercising with the submarines which fired the old Whitehead torpedooes which left a trail of bubbles. The Japanese had the "Long Lance Torpedo", 30 foot long which had a range of 20 miles and a one ton warhead which were powered by hydrogen - another deep, dark secret. When our subs fired their torpedoes at

Westcott

they were set to pass underneath the ship to prevent damage to us or the torpedo as they cost about £3,000. After completing their run the torpedo bobbed to the surface, a line was hooked to the ring in its nose and the electric winch hoisted it aboard, the whole job took 5 - 10 minutes.

In July

Westcott

and the China Fleet went to Wei-Hai-Wei and whalers from the different ships competed with each other at rowing and sailing. After the regatta the ships of the Fleet sailed past the flagship and the admiral took the salute, a signal was hauled to the mast head "Splice the Main Brace" and we all got an extra tot of rum. Our skipper, Cdr Corrie Hall, was a physical fitness enthusiast and "decided we would all compete in a run round the island and I had to join the happy throng". Tom surprised himself by coming twentieth but the winners had to race against other ships so "the British Fleet must have done a fair old bit of running around We Hai Wei in those days."



Westcott

went to Singapore and Tom Chapman who had suffered badlly from ear ache spent seven weeks in hospital having a mastoid operation:


"At 6 pm on 3rd September Singapore time, while listening to the radio, we heard the declaration of war against Germany announced. I remembered what we were told during our training, we were paid to kill or be killed and nothing could be done about it other than to obey orders without question."

Tom Chapman left hospital and on returning to

Westcott

found Y Gun and the torpdoe tubes had been replaced, two depth charge throwers added either side of the cabin flat and two depth charge release-racks at the stern. The whole ship's company, including officers, had to munition the ship the day he returned. T
he next day 30 depth charges were loaded, nine into the release racks and two into the throwers.


"We took aboard six 21" torpedoes and fitted their war heads, they weighed over a ton and the heads 500 lbs each. We torpedomen fitted the pistols, the firing mechanism, into the depth charges and torpedoes. Back in harbour after sea trials twenty-four Hostilities Only (HO) crew members joined us, including eight torpedomen. The ship now had a complement of 134."

On 28 Janury 1940 HMS

Westcott

left the China Station, escorting a large floating dock being towed back to England by sea-going tugs at about three knots. After a few days they left her on her own and headed for Colombo, Ceylon, to refuel and provision before heading for Aden with the cruiser, HMS

Devonshire.

Her CO complained about their dirty hull and while speeding along at 15 knots two men, hanging on a staging over the side, cleaned the hull at great risk to life.
On leaving Aden and entering the Red Sea they met up with HMS

Hood

escorting six liners filled with Australian and New Zealand troops and increased speed to 28 knots. The mighty

Hood

sent a nasty signal complaining about the smoke
Westcott
made but was an old ship in need of a boiler clean and the convoy had to reduce speed to that of the slowest ship, HMS

Westcott.





Westcott

was left behind at Suez and:


"We headed for Malta, arriving on 14 February. Here Cdr Corrie Hill left the ship and the new Captain, Lt Cdr Segrave took over. We were sorry to see Cdr Corrie Hill go and piping the side, said goodbye to him and welcomed our new Captain aboard."

According to Admiralty records Cdr Corrie Hill left HMS

Westcott

in August when he was appointed CO of HMS

Medway,

the submarine depot ship, but

Medway

was having a refit in the Naval Dockyard at Singapore from September to February and it seems reasonable to assume that he did not take up this appointment and remained aboard HMS

Westcott

as CO until her arrival at Malta.



HMS

Westcott

had three COs during her time on the China Station. Cdr Loly fell ill in February 1941, and was sent to the hospital at the South African naval base of Simonstown, and found to have Tuberculosis in both lungs. He was "placed on the Retired List (medically unfit) with the rank of Captain on 22 November 1941 and died on 18 February 1942".

TB was far more more prevalent in the Navy than the other services and could easily spread in the cramped quarters aboard a submarine and he may have had it for some time. Indeed, if he served alongside Cdr Firth, his successor as CO of HMS

Westcott

, he may have infected him. As we have seen Cdr Firth died in August 1938 four months after taking command of HMS

Westcott

and is buried on Wei-Hi-Wei island but the cause of death is not known.

Cdr James A. Corrie Hill RN joined the Admiralty's Planning Division at the shore base HMS

President

and worked with Cdr Peter G. L. Cazalet RN drawing up plans for destroying fuel reserves and harbour installations at ports in the Netherlands and France should they be occupied by German forces as proved to be the case. Cdr Czalet led a force which was sent in HMS

Brilliant

to Antwerp via Flushing on the Scheldt and retired as Vice Admiral Sir Peter Grenville Lyon Cazalet RN in 1953. Cdr Hill was sent to Hook of Holland in HMS

Wild Swan

with a team of sappers from the Kent Fortress Royal Engineers (KFRE) to destroy fuel reserves and refineries at Rotterdam, harbour installations at the Hook and bring back Dutch gold reserves from the Rotterdam branch of the national bank. He was killed on 11 May 1940 returning along the New Waterway from Rotterdam to the Hook when the pilot steamer carrying the gold detonated a magnetic mine dropped by a German aircraft the previous evening. You can read about this operation, code named Operation XD - Party B, on the website of HMS Wild Swan.

If you wish to know more about the part played by the V & Ws in protecting British interests on the China Station start by reading about e

vents at Wuhan
on the Yangste
during the Chinese Civil War
which led to China taking control of foreign trading concessions on China's largest river. In the 1930s the threat was from Japan. On 8 December 1941, the day Japan launched its attack on Pearl Harbour, its troops also attacked Hong Kong, landed on the Malay peninsula and marched south to Singapore, all without any declaration of war. Hong Kong fell on Christmas Day and Singapore was occupied on 15 February 1942. The Dutch East Indies was invaded on New Year's Day 1942 and Batavia surrendered in March.

What did the future hold for Torpedoman Tom Chapman? He describes the part played by

Westcott

at Narvik in the Norwegian campaign and the loss of HMS

Whirlwind

in the Atlantic. He remained aboard HMS

Westcott

until 1942 when he joined HMS

Lookout

which claims to be the most heavily bombed destroyer to survive the war but he choose to write a book about

Westcott

. The V & Ws were always the favourite ship of the men who served in them.

Stormy Fairweather recognised a drawing in the

Northern Lights

, the newsletter of the North Russian Club of Arctic Convoy veterans, by Les Lawrence, a former shipmate in HMS
Westcott
and set out to contact him. Leslie Lionel Lawrence, a Signalman like Stormy, was the talented artist who drew the "Blue Nose Certificate" (see above) presented to crew members after completing their first Arctic Convoy. Stormy and Les Lawrence contacted as many of their shipmates as they could and formed the
"Westcott Club"
which held its inaugural meeting in London at the
Victory Services Club
near Marble Arch in 1989.
The Wescott Club met at Westcott in 1990
In 1940, a year before the seaside resorts of Morecambe and Heysham on the Lancashire coast adopted HMS
Westcott
after raising £452,000 in their Warship Week, the village of Westcott near Dorking in Surrey, sent knitted comforts and other gifts to the destroyer which bore the name of their village. The veterans never forgot this informal adoption of their ship and decided to hold their next meeting at Westcott in 1990. Dave Knight arranged for them to stay as guests in private houses or the village pub and they met in October for the weekend. Tragically, Leslie Lionel Lawrence Hon FBDS, FRSA (1923-90), died from a massive hemorrhage on 2 September
a month before they met. A framed copy
of
his water colour painting of HMS
Westcott
was
presented to the village and hangs in the village hall with a brass plate and a short history of the ship. The reunion was attended by thirty-eight veterans and a service was held in the church. The following photographs are from Stormy Fairweather's albums and were provided by his widow, Viv Fairweather.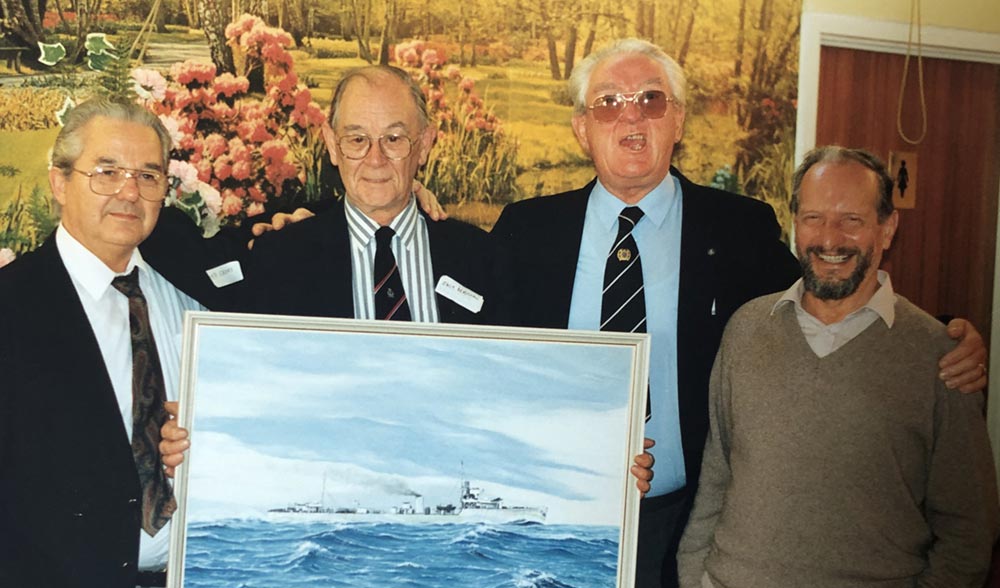 From left: Ted Cross, Jack Bradshaw, unidentified and David Knight from the village

David Knight (on right) was a comparatively young man when he died rom a heart attack in 1994 but Edwin (Ted) Cross on the left is a fit and active 95 year old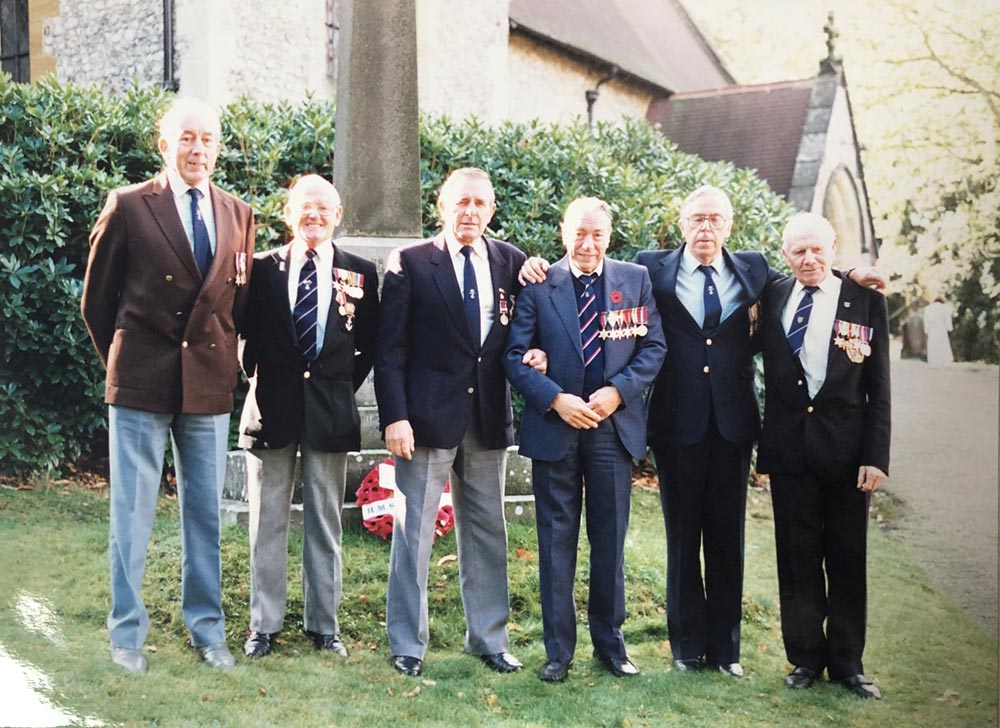 from left: Lofty Pacey, George Purslow, Stormy Fairweather, unidentified, Bob Smale and Nobby Hall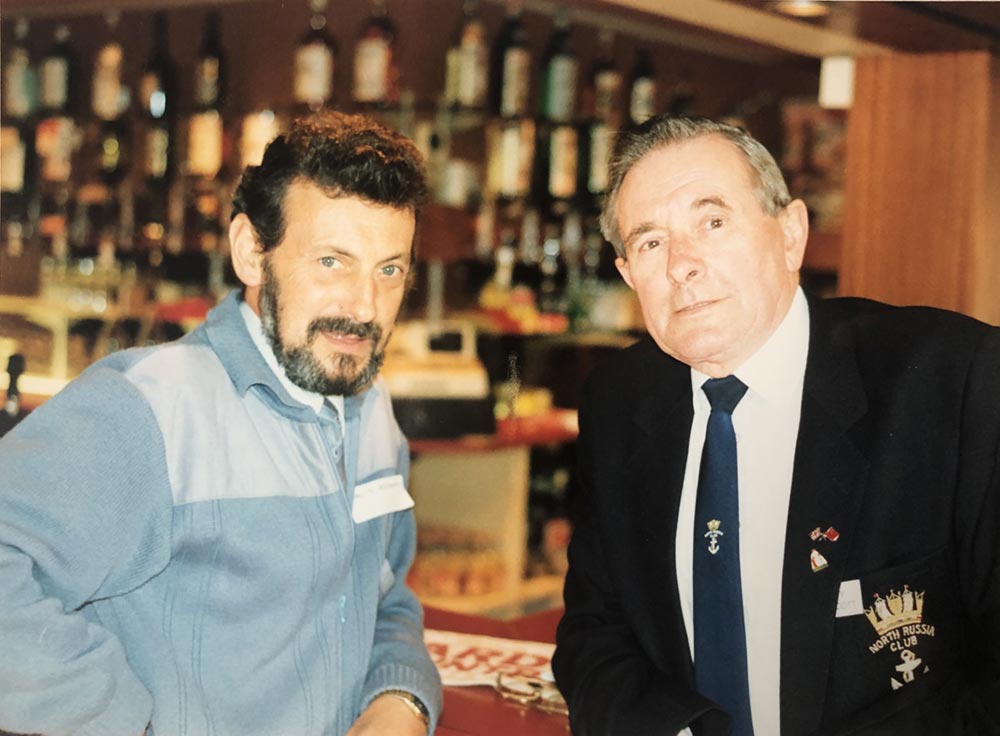 Dave Knight with Stormy Fairweather on the right at the reunion of the Westcott Club in 1990

Dave Knight of the
Westcott Local History Group
was a comparatively young man when he died in 1994 but Stormy lived a long life and was 90 when he died in 2017
Stormy is wearing the badge of the North Russia Club on his jacket




In 1991 the Westcott Club met at Morecambe

the Lancashire seaside resort which together with its neighbour Heysham adopted HMS

Westcott

after a successful Warships Week in December 1941. Warships Weeks were a very successful National Savings programme to raise money for the building of new warships by allowing towns and cities throughout Britain to adopt an existing ship if they raised enought money to pay for the building of a hull of a new warship. Morecambe and Heysham had between them raised £452,000 to adopt HMS Westcott.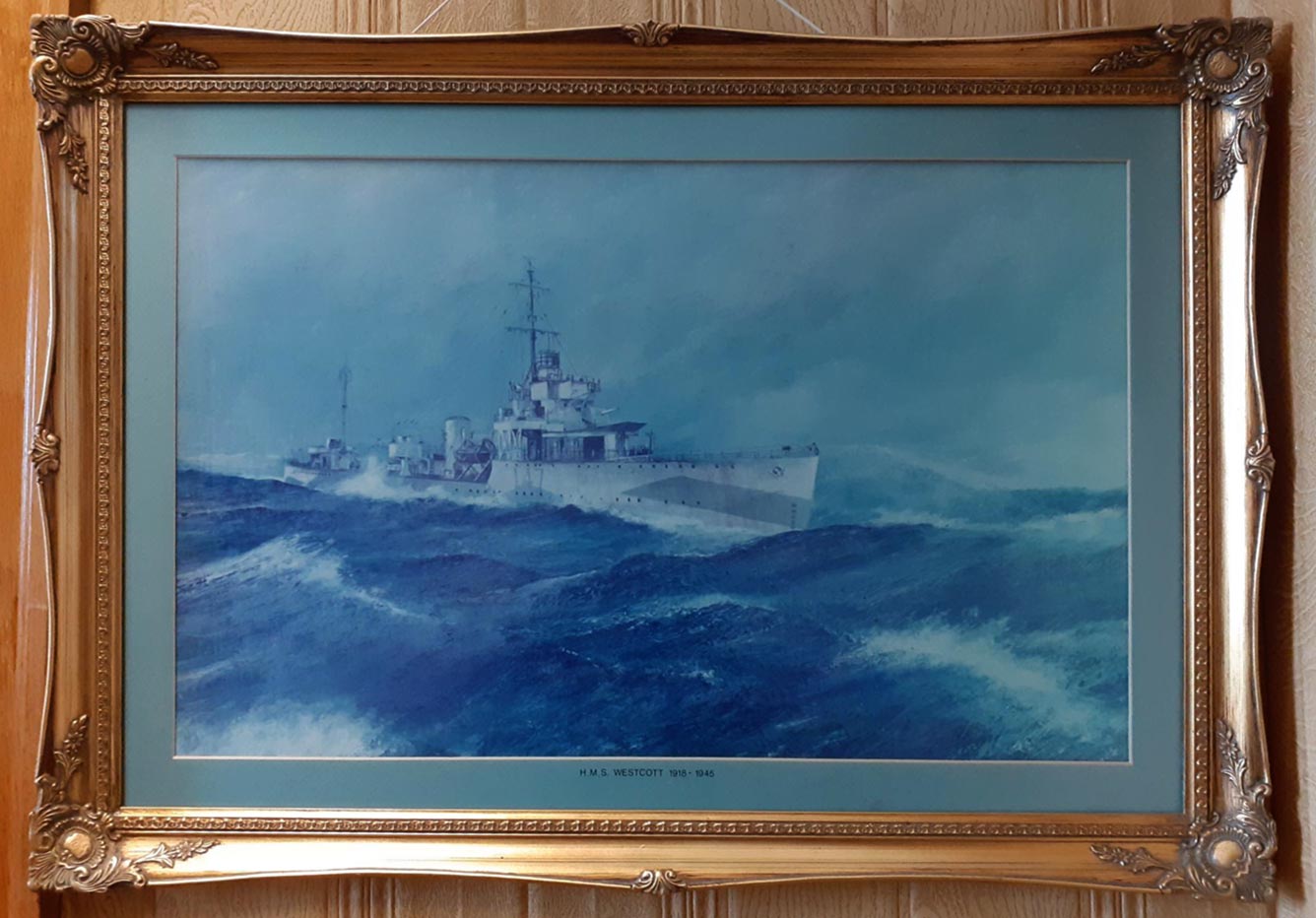 The veterans stayed at the Rutland Hotel on the seafront and marched with a police escort to the church for a service and then to the Mayor's Parlour in Morecambe's grand Town Hall and were received by the Lady Mayor and served sandwiches and tea. An identical framed copy of Les Lawrence's painting of HMS
Westcott
was presented to the town and hangs with the wooden shield bearing the ship's crest presented to the town by the Admiralty in the Mayor's Parlour. At present we do not have any photographs taken at the reunion in Morecambe but hope to be sent some for adding to this page.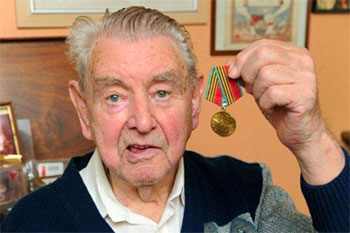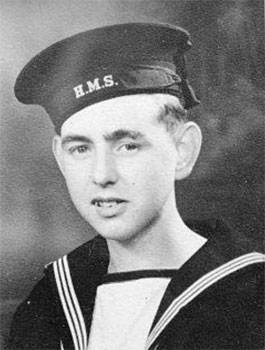 In October 2020 Ted Cross, a 95 year old former RDF Operator (Radar) on
Westcott
in 1943-5 with a remarkable memory, recalled the places where subsequent meetings of the Westcott Club were held. They took on a regular pattern with two meetings being held each year and a Newsletter edited by Stormy published. A one day meeting was held at the London Welsh Club in April and a two or three day meeting in September or October.

This was for many years organised by former
Able Seaman "Lofty" (Arthur) Gardner
who looked for a suitable hotel when on holiday and negotiated a discounted rate for a group booking. Arthur became a builder in Bexleyheath and was a hundred when he died a year ago so was unable to check this interim list of reunions provided by Ted Cross. "Lofty" was photographed on the left with his Ushakov medal awarded to Arctic Convoy veterans by Russia and on the right in a wartime studio portrait.

Please contact Bill Forster if you can add dates, further details or photographs.
The following list may not be comprehensive or in the right order so no dates are given: Scarborough, Southsea, Blackheath (London), Chatham (Gillingham), Blackpoool, Carlisle (where former 1st Lt Ernest M. Quarrie RNR lived), Torquay, Chester and Jersey where Leading Signalman Bob Smale owned the Westhill Hotel (now ran by his sons). The last reunion of the Westcott Cub was held at at Banbury in Oxfordshire in about 2004.
Stormy Fairweather formed the V & W Destroyer Association in 1993 and from then on it ran in tandem with the Westcott Club with "Stormy" running both but after 2004 the Westcott members either attended the V & W Association reunions or dropped out. My father served in HMS V
enomous
and like many others I joined the V & W Association as a family member and set up this website in 2014 before the Association was dissolved after the death of "Stormy" in 2017 to keep the memory of these ships and the men who served in them alive after they have "crossed the bar".
Clifford "Stormy" Fairweather, founder and Chairman of the V & W Destroyer Association, died on Sunday 19 March 2017.
He had been unable to attend the annual meetings of the Association since the reunion at Eastbourne in 2014 and in April 2017 the V & W Destroyer Association was dissolved.

The website of the V & W Destroyer Association will see that his name and that of the thousands of other men who served in a V & W Class destroyer in the war will not be forgotten.