---
AB Albert Foulser

Tales and photographs taken on his 5/- "box Brownie" camera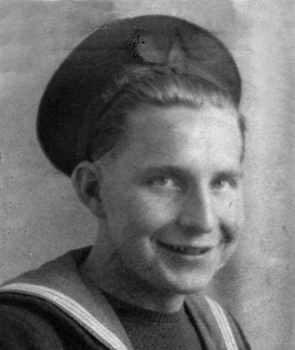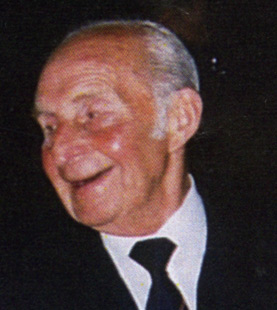 "My 21st birthday was on board ship as we made our way to Gibraltar on convoy duty. My shipmates had promised me that on landing at Gib. they would take me out to celebrate and get me drunk. While we were in ships mess, the crew gave me sippers from the rum ration so I was well on my way! My mates and I went ashore and had a good time, although I ended up carrying one of my shipmates back and he was sick all over my number ones! The next day was spent trying to wash them out even though I had a hangover. (I think we used to call it "dobin" or something like that).
I got into a spot of bother up in Greenock, while I was at the wheel of the ship. The night before, we had gone to a dance hall, which was situated on the dockside. All my shipmates were talking and laughing and while all this was going on, the ship was on her way to hitting the dance hall! When the Officer in charge saw what was happening, he quickly took over and a disaster was just avoided. I got a real dressing down from the old man, I can tell you, he was not happy with me. Needless to say, that was the last time they let me steer the ship!

I also got into a bit of bother over some tobacco. Without saying too much, I spent a bit of time in clink! I have many fond memories of my time on HMS Walker, she was a good ship

The photographs show myself returning from Russian convoy duty, also photographs of Russian, American and English sailors together on board the ship during Russian convoy duty (RA59). To take the photographs, I had to get permission from the Captain. I was the only crew-member with a camera so as you can imagine, all my shipmates wanted copies. The photograph of the ships' company could be useful to those who served on the ship with me, if they can still remember what they looked like!

When the war in Europe ended, we were paid off from HMS Walker at Barrow-in-Fumess. A few of us were sent to Scapa Flow to disarm U-boats and while we were there, some of us unscrewed a few clocks from them as they were all marked with swastikas and we thought they would make good souvenirs. There were also some other items which we kept too.

Some of the USN sailors who crewed the USS Milwaukee on her voyage north to Murmansk (Operation FZ) in April 1944 took passage to Britain aboard HMS Walker and were photographed at Greenock by Albert Foulser
They are easily identifiable by their USN peacoats and the USN tally on their caps
Shipmates in HMS Walker
Some of us were then sent back to Barrow-in-Furness and whilst we were on the station, I was pulled over by Customs and had all my kit thoroughly searched! I had lots of tobacco, cigarettes and whiskey, so I was charged with smuggling! I then got 14 days cells which I served in Walton jail, Liverpool I found out that all my clocks and "rabbits" were not mentioned at the beginning of the hearing. I never found out where they went but some of the officers were very interested in them! I had 3 days of only bread and water, and then they made me "peggy" which meant that I served all the food to all the other sailors who were under arrest. I enjoyed doing this, as it meant that I got to eat more!

When I came out of prison they sent me to HMS Eaglet which was shore-based at Liverpool. Then I was put on escort duty to a few prisons with a leading hand and two ratings. After a few weeks, they made me "tanky" on board the ship which I also enjoyed. After a few months, I was drafted to Chatham to be demobbed on 10th April 1946."



Receiving the Russian Medal from the Ambassador on 50th Anniversary of the end of the war in 1995


The Arctic veterans were honoured by Russia but no award was made by the British Government






Albert Foulser celebrated his 95th birthday quietly at home with his wife Joan and friends on 11 August 2019. When I phoned to give him he was picking runner beans in his garden and came indoors to take the phone from his wife. Every year he goes by taxi to the Imperial War Museum in London on the 9 May to meet Russian and British veterans of the Arctic Convoys. He can still surprise me with new stories about his time in HMS Walker. On this occasion he described how a Canadian officer failed to turn up for the Middle Watch. He slipped on the ice while making his way from his cabin on the quarterdeck at the stern, fell overboard and was lost. He was a popular officer but Albert could not remember his name but he has now been identified as Lieutenant Frederick Victor Robinson RCNVR who was lost, Missing Presumed Killed (MPK), on 27 February 1944, the day before HMS Walker arrived at the Kola Inlet at the end of her first Arctic Convoy, JW57.



British and Russian veterans meet at the Imperial War Museum on 9 May 2017 to celebrate Victory in Europe Day

Albert Foulser and his wife with Yelena Karl of the Cambridge Russian-Speaking Society, CamRuSS

,

photographed by Yelena Alexander. CamRuss have published a leaflet telling the story of 15 veterans of the Arctic Convoys including Albert Foulser - view it as a PDF




Albert Foulser on his front doorstep in June 2020 with his Russian medals

In his left hand he holds the medal awarded to all Arctic veterans on VE 75

Albert hopes to attend next year's reunion of Arctic Convoy veterans at Loch Ewe
Albert George Foulser celebrated his 97th birthday on 11 August 2021 and died on 15 December - his wife Joan died earlier that year.
I was in Hamburg when Albert died and only heard of his death when I tried to phone him in February 2022 about the death of Lt James Glossop, his shipmate in HMS Walker
Their deaths spared them from having to come to terms with the invasion of Ukraine by our wartime ally

Bill Forster recorded an interview with Bill Perks at Eastbourne in 2014 and Albert Foulser (Reel 2) at St Ives in 2016
They cover similar ground but Bill Perks gives a clearer account than Albert
You can click on the links to hear them describe their wartime service on HMS Walker
be patient - it takes a couple of minutes before the file opens and they start speaking
Arctic Convoys 2: Lt Cdr Tony Trew SANF(V) as CO
and his officers describe conditions on Arctic Convoys in 1944
If you have stories or photographs of HMS
Vesper
you would like to contribute to the web site please contact

Bill Forster
---
Return to the Home Page for HMS

Walker
Return to the Home Page of the V & W Destroyer Association
Return to the Index Page for the 69 V & W Class Destroyers
---