---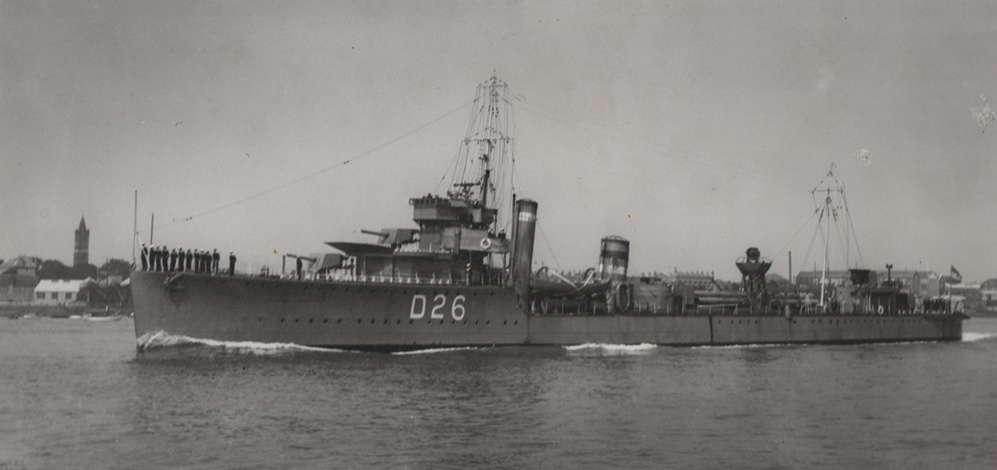 HMS

Watchman




Courtesy of W & L Queen St Portsmouth


HMS

Watchman

was built on the Clyde by John Brown & Company. She was completed on 26 January 1918 and commissioned the same day. She spent the remaining months of the war with the Grand Fleet at Scapa Flow. In March 1919 Watchman and her sister ship

Velox

visited Liverpool and made a five day visit to Preston (in appreciation of the role of Vegetable Products Committee in providing fresh fruit and vegetables to the Navy during the war) and were visited by 50,000 people.

Watchman

took part in the Baltic Campaign as described by Midshipman Lampden in his Journal. Lt Cdr William E.B. Magee RN DSO distinguished himself in 1920 and was awarded the DSO. In 1921 she was part of the escort for King George V when he visited Jersey in the Royal Yacht and then patrolled the coast of Ireland during the Civil War. Like many of her sister ships she was later put in Reserve.

She came out of Reserve

on the outbreak of war

and from September 1939 to July 1940 was based at Gibraltar on anti-contraband duties and escorting convoys to Liverpool. After the fall of France she was ordered to Casablanca to shadow the French battleship J

ean Bart

should she leave harbour in case she was seized by the Germans. On the 26 June

Watchman

and the 13th Destroyer Flotilla became part of the newly formed Force H at Gibraltar but in July she was transferred back to Britain.



In September 1940 she joined the 6th Escort Group at Liverpool until July 1941 when she transferred to the 8th Escort Group at Londonderry.

In November 1941 she was adopted by Brierley Hill in Staffordshire after a successful Warship Week National Savings campaign. In

April 1942 she became part of the 1st Escort Group and in July

Lt H.C. Kennedy RNVR better known in later life as the television personality Ludovic Kennedy joined her at Londonderry. This period escorting Atlantic convoys is described by Ken Flemming the son of AB Sydney Flemming who stood watch with Kennedy.

Watchman

escorted Atlantic convoys from September 1940 until early in 1943 when she entered Brocklebank Dock in Liverpool for conversion to a Long Range Escort (LRE).

After conversion she rejoined the 1st Escort Group at Liverpool and Sub Lt Dennis Foster described events on the website of HMS Wanderer. On the 24 December the Group Leader, HMS

Hurricane

(Cdr Westmacott), was torpedoed and had to be sunk by

Watchman

as described below by

Watchman

's temporary CO, Lt Cdr John Manners RN. Yeoman of Signals, Ralph Hill, described some of the characters serving in

Watchman

on the BBC's Peoples War website.



Continue this brief description of the the service of HMS Watchman from launch to scrapping in which links to subordinate stories can be inserted as required





NORTH SEA 1940-44 - ENGLISH CHANNEL 1943 - ATLANTIC 1944

Commanding Officers

Officers





Former Full Members of the V & W Destroyer Assoociation

G. Barton (London), J. Lowe (Stoke on Trent), T.F. Rogers (Newport, Gwent)

Please get in touch if you have a family member who served in HMS Watchman




My father joined HMS

Watchman

from HMS

Drake

, the naval barracks at Devonport, Plymouth, on 15 July 1942. Lt Cdr John Malcolm Rodgers DSC RN (1901 – 1971) had taken command ten days earlier on 4 July 1942. Lt Ludovic H. C. Kennedy RNVR (1919 – 2009), later Sir Ludovic, television presenter and interviewer, liberal politician, author and naval historian joined as her gunnery and watchkeeping officer on 30 June 1942, three days before her commanding officer.

Kennedy's book,

Nelson's Band of Brothers

(1951) contains an inscription to the commanding officers with a list of the ships in which he served. AB Sydney Flemming was surprised on being told about the connection, he obviously only remembered a Lt Kennedy. They were a similar age, Kennedy was nine months younger, but by the age of 23 both men had seen a notable amount of action in less than 3 years of war.

Sydney Flemming joined the navy 28 April 1937 at 18. Initial training was completed in HMS

Cornwall

(sunk 5 April 1942 in the Indian Ocean by Japanese dive bombers) and the destroyer HMS

Basilisk

(sunk by dive bombers at Dunkirk 1 June 1940). He joined HMS

Dragonfly

, the first of five Locust Class river gunboat, on the River Yangtze in China on 28 April 1939.



AB Sydney Flemming and HMS

Dragonfly




'From the Yangtse River Gunboats

Only one in ten returned

When the Little Ships Flotilla

Off Malaya redly burned

The jungled isles fell silent

And the heaving water sighed

As the women and the children

And the sailors rudely died.'



The Little Ships Flotilla

, Edwin Varley.




When war was declared in September the situation on the China Station became confused and the Yangtze flotilla was recalled to Hong Kong. He was finally drafted to HMS

Scout,

an S Class destroyer, on 1 November 1941. Seven weeks later the Japanese attacked the colony, 18 December 1941. He says of the period "the occupation of Nanking by the Japanese in 1937 during the Sino-Japanese War was intimidating but we never expected to go to war with them".



Scout

lay in drydock during the attack being hurriedly undocked by her ship's company who flooded the dock with the help of the European dock staff after the Chinese work force failed to turn up when the first air raids began. They left behind the officers steward, the Chinese mess boys and the wife and daughter of her Executive Officer Lt Christopher Briggs RNR who my father thought did not survive.

Scout

left the dockyard at about 1830 that same day in company with HMS

Thanet

for Singapore. I later found that Christopher Briggs wife and daughter survived their ordeal.

On reaching Singapore

Scout

was used in defence of that colony until Singapore itself was overrun. She escaped again, thanks to her engine room staff who effectively saved the ship by repairing her boiler brickwork allowing her to raise steam. As she left her berth shortly after completing repairs a Japanese advance party ran along the quayside in an attempt to board. The ship was bombed every day: "if they had been dive bombers we would not have survived". On the bridge as a lookout he passed messages to her captain, Lt Cdr H Lambton RN, when the planes attacked: "bomb doors opened" - and finally - "bombs gone".

The Dutch Vice Admiral C E L Helfrich RNLN gave orders for her escape via the Sunda Strait between the Indonesian islands of Java and Sumatra which connects the Java Sea to the Indian Ocean. She escaped two hours before the Battle of the Java Sea in which every allied ship was sunk with very few survivors.

Scout

entered the port of Padang, Sumatra, to refuel. She lost no time in leaving; fully laden with hundreds of refugees who scrambled and fought to get on board to escape the Japanese, she headed for the open sea. The

exhausted

ship's company found no relief from the constant watch keeping while also continually being closed up at action stations. All the space and what little provisions they had remaining were given over to their new passengers. Deliriously happy, clapping, waving and cheering, the civilians almost hysteric with relief, they reached Ceylon and safety on 5th March 1942.




Lt Ludovic H.C. Kennedy RNVR


Kennedy gained his experence serving for two years in HMS

Tartar

, a Tribal-class destroyer deployed to defend the Atlantic convoys. It is recorded that

Tartar

was in the action to sink the

Bismark

but although she was present during the chase she

took no part in the battle except as a spectator. The destroyers in the final action at her sinking on 27 May 1941 were HMS

Cossack

(

Captain Philip Vian RN

),

HMS

Maori

, HMS

Sikh

, HMS

Zulu

and the Polish destroyer ORP

Piorun

. T

arter

saw

Bismark

ablaze and dead in the water

after the battle

and her ship's company were somewhat relieved they had been spared the battle itself.

Tartar

was very low on fuel and left just before B

ismark

sank.

The day after the sinking on 28 May she was returning to Scapa Flow with HMS

Mashona

a Tribal-class destroyer when they came under heavy air attack west of Ireland. It is estimated that 50 aircraft took part in the attacks over 13 hours.

Mashona

was hit and badly damaged, eventually capsizing, in return

Tartar

shot down one of the attacking aircraft and rescued 14 officers and 215 ratings, transporting them to Greenock. They were under heavy and sustained air attacks while deployed for Atlantic convoy defence. In January and February 1942 they escorted Russian convoys.



Personalty and upbringing



While serving as officer of the day in HMS

Tartar

he was summoned by the captain, Commander R.T. White RN DSO who told him:



"I was on deck a little while ago and the cat's gone adrift". Since the fleet was at battle stations, Kennedy wondered about his commander's mental stability, "Should I perhaps arrest him?"

Having decided against, he eventually found the ship's cat lying on a coil of rope. "Are you trying to make a fool of me Kennedy?" the captain demanded as he reported back. "No, No, you bloody idiot. The catamaran. Bugger the cat." Obituary,

The Telegraph


To find out more about the use of CATs to counter the threat from acoustic torpedoes, GNATs, see GNATs versus CATs

.





His early years were blighted by his relationship with his mother, a "hearty, beefy tweedy sergeant-major of a woman", who treated her only son with cold contempt and stern discipline. "She was an ogre. I hated her"





His father was the only "true and good" thing in his life. He had been a naval captain during the First World War, and in 1921 had narrowly averted a mutiny by Royal Fleet Reservists by negotiating off his own bat with the disaffected men, an act for which he was court-martialled and forced out of the navy. The naval authorities seemed to acknowledge the injustice when in 1938, aged 60, he was recalled for active service and given command of the

Rawalpindi

, a P&O liner inadequately converted into a battlecruiser. A few months into the war in 1939, the

Rawalpindi

was sunk by the German battlecruiser

Scharnhorst.





Ludovic Kennedy heard about the sinking on the BBC nine o'clock news bulletin and immediately rang the War Office to find out about his father. "The Captain? No I'm afraid he's gone," he was told. Bitter grief mixed with an unutterable sense of pride proved an emotionally shattering combination.



It was during the war that he experienced his first symptoms of the anxiety neurosis that would afflict him with insomnia, acute stomach pains and cold sweats for the next 20 years. He noticed that these symptoms manifested themselves whenever he went on shore but disappeared when he returned to sea.



For the wartime service record of Lt Ludovic H.C. Kennedy RNVR see his entry on Unithistories.com. For more details of his wartime service read his books.

Sub-Lieutenant: A Personal Record of War at Sea

(Batsford, 1942) was subject to wartime censorship but provides a vivid contemporary account of his time in HMS

Tartar

.

Pursuit: the chase and sinking of the

Bismarck (Viking, 1974) and

Menace the life and death of the

Tirpitz (Sidgwick and Jackson, 1979) are more naval histories than personal accounts.

On My Way To The Club, The Autobiography Of Ludoviv Kennedy

(1989) contains an illuminating account of his time as a Watch Keeping Officer in HMS

Watchman

.





During 1941 Western Approaches Command formed eight escort groups. These typically comprised four to eight ships, under the command of an RN officer, usually a Commander or Lieutenant Commander. By operating together under a single leader, groups were able to develop group tactics and practice their use; with the issue of a single short command the various ships of the group, often out of sight of each other, could be relied upon to act in a coordinated fashion providing protection for trade convoys.



Escort groups were a World War II tactical innovation in anti-submarine warfare by the Royal Navy to combat the threat of the Kriegsmarine's "wolfpack" tactics, rigorously trained in anti-submarine tactics to use teamwork emphasizing the unique sensors, weapons, speed and turning radius of each ship. The development of these 'escort groups' proved an effective means of defending shipping convoys through the Battle of the Atlantic.



In practice, escort group cohesion was impaired by frequent changes of escort personnel and transferring ships between groups. Personnel shuffling was inevitable as trained crewmen with combat experience were promoted and transferred to the expanding fleet of new ships. Shuffling of ships from one escort group to another was often necessary to maintain escort group strength by replacing ships temporarily disabled by battle damage or the frequent machinery breakdowns of older warships.



In 1941 the 8th Escort Group was formed from the following ships.

HMS

Malcolm

, was the Admiralty type flotilla leader, HMS

Watchman

an old V & W, two Town-class destroyers, HMS

Beverley

and HMS

Newmarket

, two S-class destroyers, HMS

Sardonyx

and HMS

Scimitar

, and the Flower-class corvettes, HMS

Arabis, Dahlia, Monkshood, Petunia, Violet

and

Verbena.

The 8th Escort Group was based at Londonderry in Northern Ireland. Lt Derek Lawson RNVR took some fine photographs while serving with the 8th Escort Group at Londonderry in HMS

Beverley

. In 1944 he become the first RNVR CO of HMS

Venomous

.



Watchman

continued operations with the 8th Escort Group until April 1942, when she transferred to the 1st Escort Group with the Havant class Destroyer HMS

Hurricane

, the ex-American lend lease destroyer HMS

Rockingham

, and the Flower class corvettes

Anchusa, Borage, Dahlia, Meadowsweet, Monkshood

, and

Wallflower

.




Force Eight in the Galley

AB John Whitehouse HMS

Watchman

off Iceland 1941.

He doesn't wear a tall hat;

He wasn't trained in France,

The chef in this destroyer,

Became a chef by chance.

Tall, pale-faced, a lonely lad,

We seldon see him smile,

For his job is the hardest,

Of any in the pile.

His range is fixed to the ship, of course;

But that's not the only thing –

Like now, at sea his language,

Would make the devil sing.

Cauldrons and spud nets and bags holding peas,

Straight bakes and hashes all slde with such ease,

The tally for Five mess has flopped into Three;

He can't know whats what, in this Icelandic sea.

Yet in spite of all this,

He has only one moan,

"You seasick sods won't eat it,

So I'll scoff the lot ------- Alone."





Serving together in HMS

Watchman


AB Sydney Flemming and Lt Ludovic H.C. Kennedy RNVR served together in HMS

Watchman

from July 1942 to May 1943 as part of the 1st Escort Group escorting Atlantic convoys from its base at Londonderry. AB Sydney Flemming lived in the Seamen's Mess below deck in the foecasle and Lt Kennedy in the officers quarters on the quarterdeck at the stern but they came to know each other while sharing watch at sea, Kennedy as the Officer of the Watch and Flemming as the lookout.

Two men of widely differing backgrounds and education came to rely on each others experience gained over almost three years of constant watchkeeping duties, action and remorseless weather on different stations and in different ships. On seeing the photograps of

Watchman

for the first time in 1986 Ludovic Kennedy said of them; "They reminded me of some very nasty Atlantic crossings".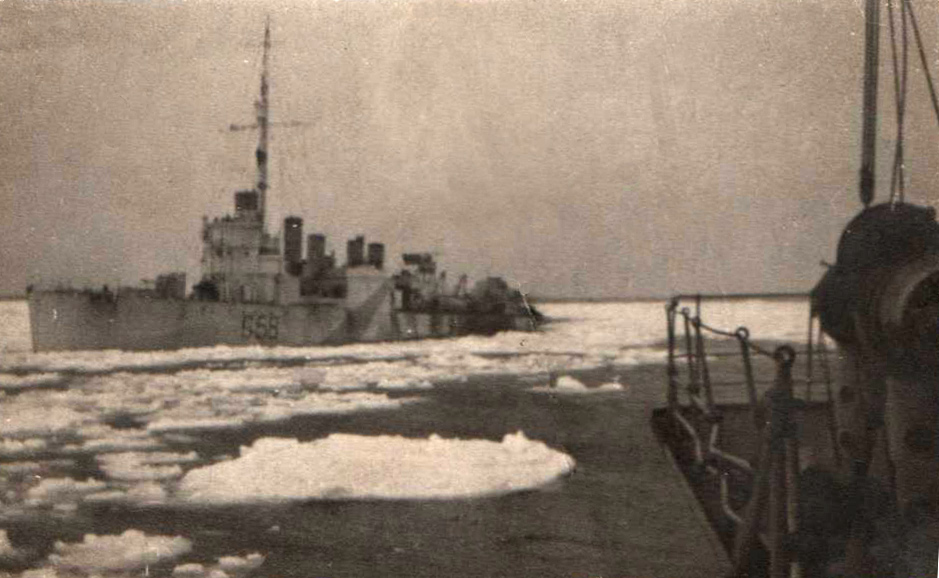 HMS
Rockingham
photographed from
Watchman
by AB Sydney Flemming
Courtesy of Ken Flemming

Ludovic Kennedy described this period in his autobiography

On My Way To The Club

:


"Once a month or so the group would slip down the River Foyle, watched from the left bank by the representatives of the German ambassador in Dublin who lost no time in informing Berlin of our departure. At sea we would join with the next onward bound convoy from the Clyde or Liverpool and take station around it. The Atlantic crossing took eight to ten days depending on the weather and the speed of the slowest ship; and having handed over the convoy to a Canadian group off the south west of Newfoundland, we entered Argentia Bay to rest and repair damage alongside an American depotship. After two or three days there, we would sail round to St John's, the capital, for shopping and a night ashore, then back with the next eastbound convoy to Londonderry. This routine never varied.
When we sailed with our first convoy the Battle of the Atlantic was at its height. In June [1942] U-boats had sunk 144 ships, in July 96, in August 108. Now with no less than forty-two U-boats on station between Greenland and the Azores, Admiral Donitz was about to launch a new offensive. We guessed it would be only a matter of days before we were in action.
Astonishingly we had an uneventful passage, both on the outward and homeward legs. For a total of eighteen days we zig-zagged to and fro across the front of the two convoys, lookouts straining their eyes to catch a glimpse of a conning-tower or periscope. But none came. Convoys ahead and astern of us were mauled, some savagely, but we remained inviolate.
Back in Londonderry we thought, oh well, we'll buy it next time, but amazingly next time was the same as the last, and so were all the future times. For as the months went by and the shipping losses again mounted (94 in October, 119 in November) and we heard on the radio the Admiralty warning convoys that U-boats were gathering to attack them, and later their escorts reporting ships burning and sinking, our convoys remained untouchable as pariahs.
We came to assume every trip would be a peaceful one; and - the weather apart - every trip was."
The ship's low morale was very low, especially in the wardroom: "Our bete noire was the first lieutenant, disliked equally by the wardroom and lower deck. A peacetime RNVR officer, he was as petty-minded and obsessed with detail as his background of a solicitor's office in a small town in Wales might have led one to expect, and we all resented the high-handed, often petulant way he addressed the ship's company.
Before leaving Newfoundland with the homeward bound convoy, we always spent a night in St John's. On Christmas Day – the first I had spent ashore for three years – I received an invitation to a lunch party at Government House and then sailed that afternoon."

AB Sydney Flemming and his shipmates on the lower deck celebrated their Christmas rather differently - see below - before leaving Newfoundland that afternoon to escort a homebound convoy.


Celebrating Christmas Day at St John's, Newfoundland; AB Sydney Flemming is third from left (on left) and centre (on right)
They left St John's that afternoon to escort a returning convoy


All photographs are courtesy of Kenneth Flemming



During the period August 1942 to March 1943

Watchman

escorted 13 convoys to
Sydney and Halifax in
Newfoundland and Nova Scotia and ports on the east coast of the United States including New York and Boston. Often, she would leave the convoy after a week or less or sometimes staying with them but then always turning around and joining the homeward bound ones to escort them back. Very monotonous duties. By the end of 1942 Ludovic Kennedy says he was beginning to feel he had had enough of

Watchman

.
There was no rest for

Watchman

from escort duties when not deployed or in refit; her ships company were contantly exercising with "friendly" submarines off Lough Foyle, the estuary of the River Foyle, on the north coast of Ireland. The lough is about 16 miles long and varies in breadth from 1 to 10 miles. A shallow coastal embayment Lough Foyle swells at the mouth of the River Foyle and meets the North Atlantic Ocean. It receives most of its water from the Rivers Foyle, Faughan and Roe. It has a maximum depth of 50 feet and an average depth of 17 feet. While 20 percent of its area is in fact intertidal mudflats.
From 3 August 1942 until January 1943

Watchman

conducted A/S exercises off Lough Foyle with HM Submarine H 32 & H 34 both being laid down at a similar time as

Watchman

in 1918.


Watchman

operated with her new group on North Atlantic convoy operations until August 1942, when she had a special assignment to carry out trials of the prototype Radar Plan Display (PPI), later known as Outfit JE. Ludovic Kennedy describes the impact it made:


"We had been supplied with one brand new and quite revolutionary piece of equipment, a circular radar scan called PPI which we set up in the charthouse. Until recently primitive radar antennae had been fixed in positions pointing only in the direction of ahead, and any contacts gained were passed orally by the radar operator. But the antenna that fed the PPI revolved on its own axis and all contacts made were translated into luminous blobs or lines on the screen which were calibrated in yards or miles from the centre. This was the fore runner of what is in common use today in every modern ship, aircraft and aircraft control tower in the world; but ours was the first to be installed operationally. When with a convoy, the scan showed us the exact positions of all the ships in it and their relationship to us and each other; and, in inland waters, the delineation of the coastline with it bays and promontories, a luminous replica of the chart. All this is old hat now; but to us then, it was breath-taking."

It was during one of these convoys that

Watchman

made a positive contact with a U-boat and the order was given by her commanding officer Lt Cdr Rodgers to fire depth charges which would probably have made a kill. Unfortunately they failed to fire due to a problem with the firing pistol. Her commanding officer flew into a rage remembered years later by AB Flemming who he blamed saying, "he would have him before him at defaulters if he missed the U boat". He rescinded the remark which had been made over the ships intercom system very shortly after, acknowledging "it had not been his fault".

After continuing her convoy defence duties in the early months of 1943,
Watchman
entered a commercial shipyard at Liverpool to undergo conversion into a Long-Range Escort. She underwent post-conversion acceptance trials and pre-deployment work-ups in August 1943 before rejoining the 1st Escort Group to defend convoys steaming between the United Kingdom and Gibraltar.

Lt Ludovic Kennedy and Able seaman Sydney Flemming left her at this time.
In May 1944 AB Sydney Flemming joined HMS
Wessex
which with her sister ship HMS
Whelp
commanded by Prince Philip, Patron of the V & W Destroyer Association, was serving with the Americans in the British Pacific Fleet where they were subject to many Kamikaze attacks. He left the Navy in February 1946 but was recalled for the war in Korea from 1951-2.


Lt Cdr John Manners RN had been appointed CO of HMS
Viceroy
while she was undergoing a refit at Jarrow on the Tyne but in December 1943 he took over as temporary CO of HMS
Watchman
for six weeks
while she was based at Londonderry escorting Atlantic convoys
when her CO, Lt.Cdr. George H.D. Williams, RN was taken ill.
"After a week or two on arrival on board I was surprisingly and unexpectedly told to report to Londonderry in Ireland as soon as possible. On reaching there I was told to command the

Watchman

and we sailed almost at once. Her captain had gone ill and they wanted someone with experience to take his place temporarily.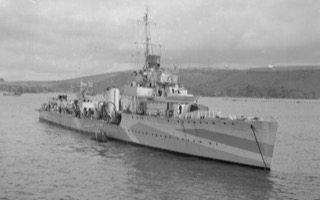 The

Watchman

was built in 1917 and was made into a 'long legger' by removing her foremost boiler and funnel and replacing it with a fuel tank enabling her to have a longer endurance for convoy work in the north Atlantic.
The dirty pink 'elephants breath' camouflage had gone out of fashion and after her refit as a Long Range Escort (LRE)

Watchman
was given a new form of camouflage in shades of light grey, white and light blue taken from a book of designs
(on left)
.


We formed part of the 1st Escort Group which attached itself to an outward bound convoy and transferred to an incoming one, staying at sea for a fortnight or so.
On return from the first trip I had been expecting to leave but was ordered out to sea immediately after re-fuelling. The U-boats had recently been fitted with acoustic torpedoes called 'gnats' which were designed to home into the propellers of an attacking craft. One such torpedo had struck the destroyer

Hurricane

[on 24 December 1943]. We arrived at the scene and there she was stationary and looking undamaged. However, her propellers and rudder had been irreparably damaged and she was a thousand miles or so from land, there was no option but to sink her as towing that distance was out of the question. Anyhow, by this time with new ships being commissioned so frequently a single destroyer was less valuable, her trained crew being more so.


We encountered some nasty rough weather and our Asdic dome, which was in its lowered position, was broken off necessitated us going into dry dock to have a replacement fitted. On the way back to port we passed an outward-bound Atlantic convoy and the leading merchant ship signalled to us asking our name. It turned out that it was from my father who was commodore of the convoy. I altered course and drew up alongside and spoke to him on the loud hailer. He must have found out in Liverpool that I was in

Watchman

."


On 24 December 1943,

Hurricane

(Cdr. Charles Edward Eustace Paterson, RN) was hit by an acoustic T5 torpedo fired by the German submarine U-415
in mid Atlantic at 45°10′- N 22°05′W.45.167°N 22.083°W whilst escorting Convoy OS 62/KMS 36. The torpedo homed in on the noise from the ship's propeller and blew off 30 feet of her stern. The explosion killed three and wounded nine and rendered her unable to move. She remained afloat after heavy gear was jettisoned, but had to be sunk on Christmas Day by a torpedo from
Watchman
after HMS
Glenarm
(K 258) a River Class Frigate had taken off her crew.
John Manners was 105 and the oldest living CO of a wartime destroyer when he died on 7 March 2020
You can read more about his wartime service in destroyers on the website of HMS
Viceroy.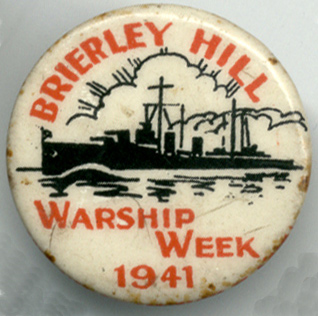 Warship Week
22-29 November 1941
Brierley Hill raised £227,950 to adopt HMS Watchman


Birmingham Mail
, 15 November 1941 – Mr. Arthur Greenwood launched Brierley Hills Warship Week appeal at a luncheon at the Town Hall today. The object is to raise £210,000, the cost of a hull of a destroyer. If successful the town will adopt HMS Watchman.
Evening Despatch
, 21 September 1943 – Officers and men of HMS Watchman, the ship adopted by Brierley Hill, have presented to the town the white ensign which the ship has flown in many exiting incidents of the seven seas. This is in acknowledgement of gifts to the ship from the special comforts fund Brierley Hill has inaugurated.
Birmingham Daily Gazette,
20 January 1948 – Whether Brierley Hill Councillors will in future be called in order by the sharp clang of a ship's bell remains in doubt. When informed that HMS Watchman adopted by Brierley Hill during the war was out of commission, it was decided to ask the Admiralty for the custody of the ship's bell. At last night's meeting of the council members were informed that it is 'not lawful for naval stores to be made the subject of free gifts. Watch-bells of ships cannot be disposed of until their availability for sale has been published in Fleet Orders.' If and when this happens the council can make application.
If you have stories or photographs of HMS
Watchman
you would like to contribute to the web site please contact Bill Forster
---
Return to the Home Page of the V & W Destroyer Association
Return to the Index Page for the 69 V & W Class Destroyers
---