---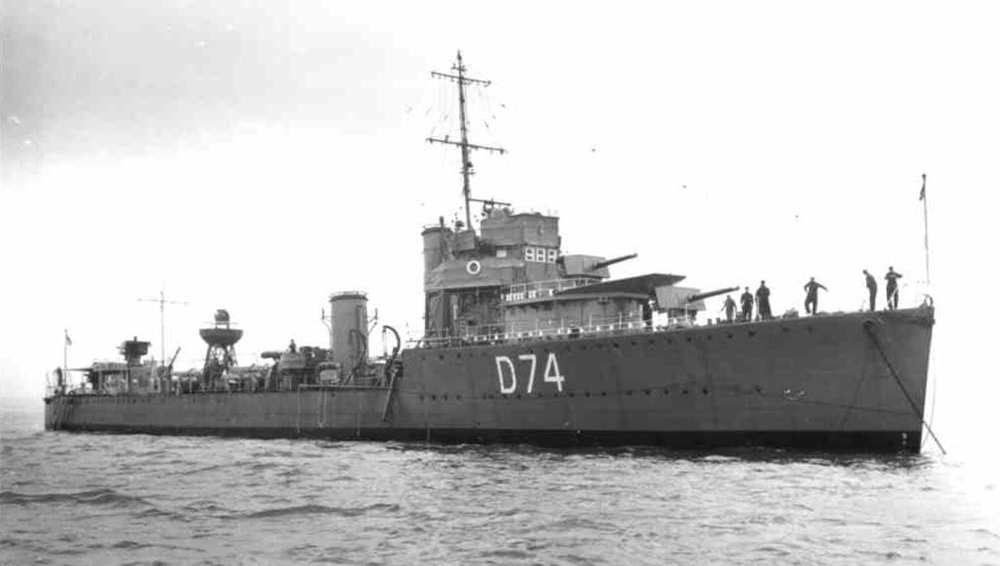 Click on the links within this brief outline for first hand accounts by the men who served on HMS Wanderer and for a more detailed chronolgy see www.naval-history.net

HMS Wanderer (pennant number D74 and later I74) was an Admiralty Modified W class destroyer built at the Fairfield Shipbuilding and Engineering Company, Govan in Glasgow from 7 August 1918, being launched on 1 May 1919. During the interwar years she served in the Atlantic and Mediterranean fleets and on the China Station with the Third Destroyer Flotilla (1927) (Lt. Cdr Donal Scott McGrath, RN) before becoming a training ship at Chatham Naval Base.

During WWII she spent most of her time operating out of the Western Approaches Command where she escorted convoys in the North Atlantic, Mediterranean, and Arctic. Life in the engine room of HMS Wanderer is described by Alf Lloyd who joined Wanderer as a stoker in May 1941 and by Bill Riseborough, a "Tiffy" (Engine Room Artificer) who joined in August 1941. In December 1941 she was officially adopted by the community of Sutton Coldfield in Warwickshire

Lt Cdr R.E. (Bob) Whinney, RN was appointed CO in 1943 during her conversion into a Long Range Escort (LRE) and described his time as CO of HMS Wanderer in U-boat Peril: An Anti-submarine Commander's War (Weidenfield Military, 1986). Sub Lt Dennis Wyndham Foster RN joined Wanderer in April after her conversion to an LRE and spent eleven months on Wanderer. He describes operations in the Med in 1943, the sinking of U-523 and the terrible conditions escorting Arctic Covoy JW.57 on this website and in the first volume of his unpublished memoir based on the journal he began as a midshipman and kept up until the end of the war. Capt Dennis W. Foster RN died on 17 November 2021 aged 97.

HMS Wanderer was jointly credited with the destruction of five German U-boats:

- U147 on 2 June 1941 with Corvette HMS Periwinkle
- U401 in August 1941 with HNoMS St Albans and HMS Hydrangea
- U523 on 25 August 1943 with HMS Wallflower
- U377 on 17 January 1944 with HMS Glenarm and HMS Geranium
- U390 on 5 July 1944 with HMS Tavy

Between 4 and 6 June Escort Group 105 (Wanderer, HMS Tavy, HMS Dianella and HMS Geranium) and the Royal Canadian Navy corvettes Summerside, Woodstock and Regina escorted Convoy EBM2, composed of 30 motor transport ships and five others, from the Bristol Channel to the Western Task Force unloading area off Omaha Beach, arriving on D-day plus one.

After HMS Wanderer and HMS Tavy sunk U390 in the English Channel while supporting the Normandy invasion, her Engineering Officer Lt. Short reported that she had "one hundred leaks from the sea and two hundred and fifty internal" and that due to steam the engineers couldn't see their way around the engine room while at sea. Her commander Lt. Cdr Bob Whiney refused to take her back out to sea and she was put on the disposal list." HMS Wanderer was sold for scrap on 31 January 1946.

Commanding Officers
Officers
This short list of officers who served on HMS Wanderer during World War II link to their entries on the unithistories.com web site. Further names from the Navy List will be added later.
Former Full Members of the V & W Destroyer Assoociation
C. Armstrong (Birmingham), A. Baker (Colyton, Devon), H. Baynard (Horsmonden, Kent J. Clark (London)
C.H. Clement (Henlow, Beds), R. Cook (Canvey Island, Essex), A. Floyd (Tacoma, Australia), J. Leishman (Aldingbourne (West Sussex), C.H. Clements (Henlow, Beds), ), Sub Lt Dennis W. Foster RN, A.E.F. Young (Renfrew, Scotland), M.S. Tansey (Reading, Berks), J. Rayner (Gosport, Hampshire), E. Well (Wimborne, Dorset)
Please get in touch if you have a family member who served in HMS Wanderer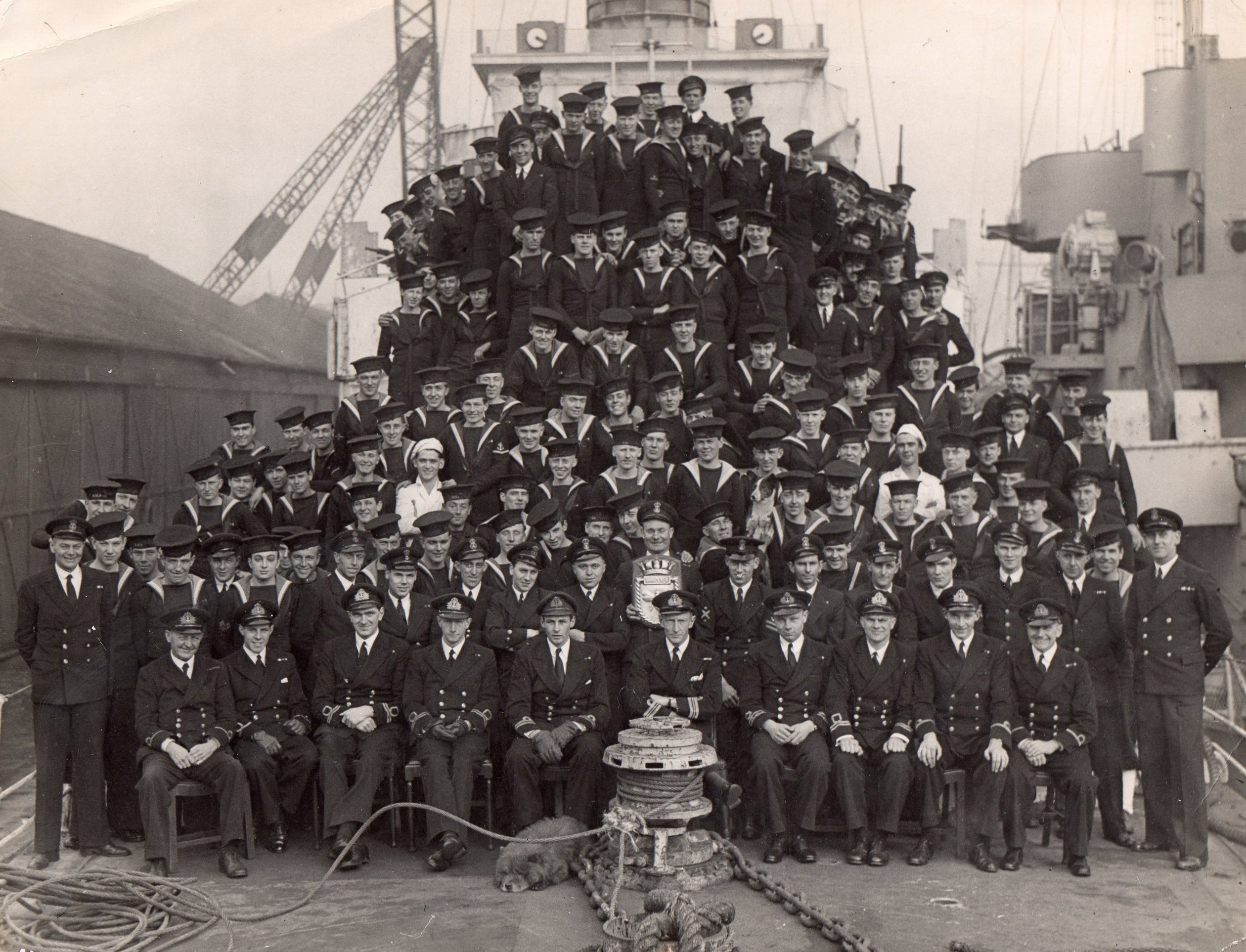 This photograph of the ship's company of HMS

Wanderer

was probably taken after her conversion to a Long Range Escort (LRE) in May 1943

The photograph is reproduced courtesy of Mark Lawrence whose grandfather, CPO Collins (1905-75), a "Range Taker", is standing on the far left

Double click the image to zoom in on faces
Sub Lt Dennis Foster, second from right in the front row, tells his story below
Dennis Wyndham Foster
From Midshipman in the Cruiser HMS Edinburgh to ...
Sub Lieutenant in HMS Wanderer
2 May 1943 - 24 March 1944

Dennis Wyndham Foster was born in Minehead Hospital in 1924, the son of Major John Vere Foster OBE, a large jovial man passionately fond of horses, and Dorothy Wyndham Foster (nee Baker). His parents lived "in a remote farmhouse on the top of Exmoor" but moved to Belgium when his father took up a job as manager of the Polo Club in Antwerp. As Dennis Foster explains in the introduction to his autobiography they returned to England when "a lady invited him to run her son's pony polo stud farm at Osmaston in Derbyshire and there we lived for the next 19 years".

He went from pre-preparatory school to a boarding school in Warwickshire and from there "I was fortunate to get into the Royal Naval College at Dartmouth in 1937". In March 1941 he was posted as a Midshipman to his first ship, the cruiser HMS

Edinburgh,

at Scapa Flow. He spent "an exciting nine months in her, firstly chasing the battleship,

Bismarck

, then taking part in two convoys to Malta, escorting another to Simonstown in South Africa and then one to Murmansk in North Russia where we spent Christmas 1941".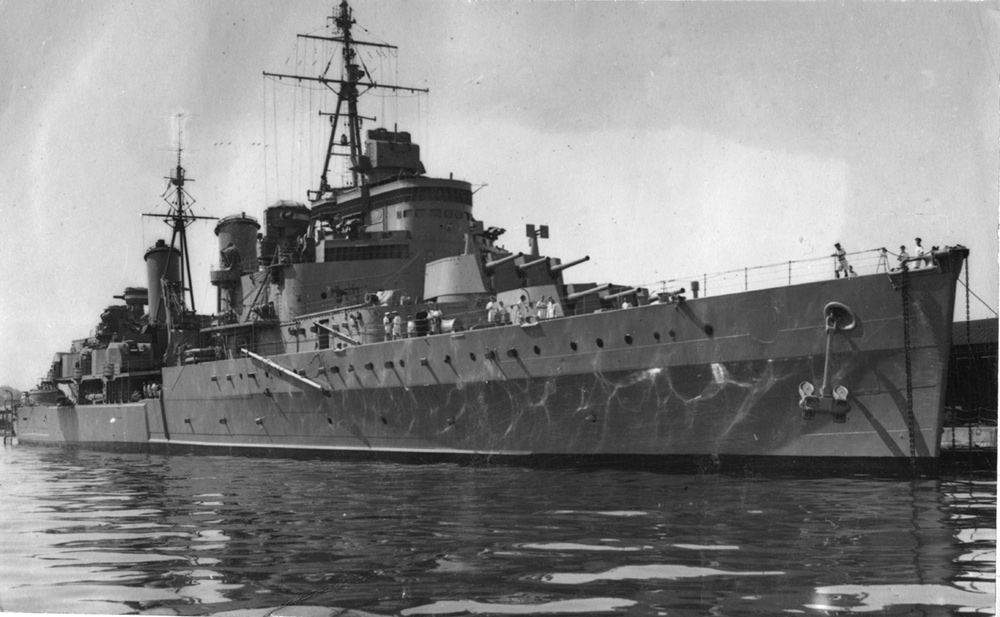 Dennis Wyndham Foster
had an exciting nine months in HMS

Edinburgh

as a Midshipman after leaving the Royal Naval College, Dartmouth

Courtesy of Capt Dennis W. Foster RN (Ret)

"Midshipmen had to spend time in a destroyer and mine was a small one based on Plymouth", the Hunt Class destroyer, HMS

Cleveland: "

it was a pleasant surprise to be welcomed and shown to a cabin, tiny but it was a luxury to have some privacy at last." For the next three months HMS

Cleveland

escorted convoys, mostly small coasters, along the South Coast between Portsmouth and Milford Haven. "Our most interesting operation was in support of the famous commando raid on St Nazaire where the battleship drydock was destroyed."

He joined HMS

Nigeria

at Scapa on 19 April 1942 and:


"We had three days 'to sling our hammocks' before we went to sea and two days later were back in Havelfjord where a large convoy for Russia assembled. Next day we were off to Seidesfjord for a final top-up of fuel. That afternoon Crossley and I were able to go for a rare walk shore up the beautiful valley behind the village. Finally, a 100 foot waterfall blocked our way and we reluctantly returned from a scene of peace for one of war. We sailed at 5 am next morning, 29 April, led by the destroyers, always a moving occasion but especially so in the calm of an early morning departure, hemmed in by the steep mountains ether side, only the whine of the engine room fans to break the silence. At 2 am next morning we came up with our convoy of 25 ships, PQ.15. The most interesting ship in the convoy was an ancient Russian icebreaker, the

Krassin

. She had two tall funnels which constantly belched black smoke, but she had steamed all the way across the Pacific from Vladivostok, through the Panama Canal and then across the Atlantic to her homeland."

Today the

Krassin

is a museum ship in Saint Petersburg, the only icebreaker maritime museum commemorating the Arctic convoys.

PQ.15 was tracked by reconnaissance aircraft; the first attack came at 9pm on 2 May, but without loss. The next morning "we sighted the smoke of the homebound convoy QP.11 to the south of us. It's cruiser escort had been our old ship, the

Edinburgh

, now sunk together with our hopes of rejoining her. Fortunately, only 50 out of the ship's company of 860 had been lost, but the survivors had a bad time in camps near Murmansk before being repatriated."

"Cruisers were too valuable to risk them anymore in the Barents Sea and we were ordered to withdraw to support the Westbound convoy QP11. We returned to Scapa but on 11 May "were off to sea again" to meet the cruiser HMS

Trinidad

, bombed while returning from Murmansk with QP.12, but she had to be sunk by HMS

Matchless

after her survivors transferred to the escorting destroyers. The Royal Navy had lost two cruisers on successive westbound convoys. Back in harbour the next day [16 May] "we were all introduced to our new Admiral, Harold Burrough". The next convoy to Russia, PQ.16, was attacked by U-boats as well as from the air and six ships were lost after

Nigeria

was ordered to return.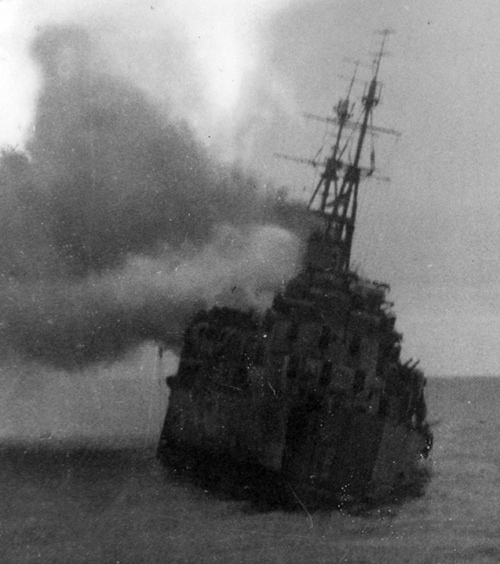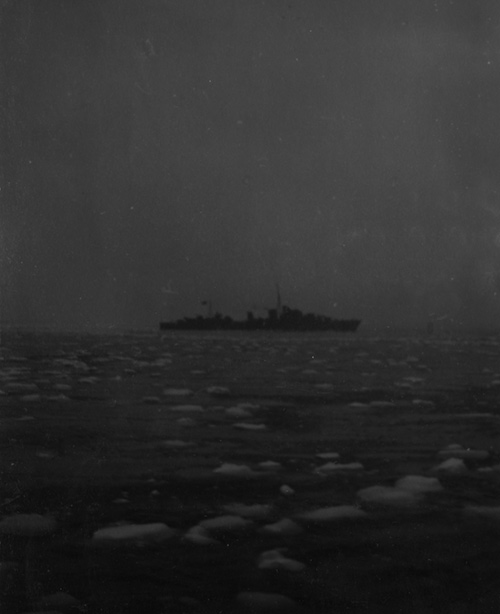 Left: HMS
Trinidad
abandoned in the Barents Sea
Right: a Tribal up North

Courtesy of Capt Dennis W. Foster RN (Ret)

"On the 31st May Crossley and I left the

Nigeria

for the Fleet Flagship, the battleship

King George V

". The KGV spent most of her time, as Flagship, secured to the only buoy in Scapa with a direct telephone line to the Admiralty. She only went to sea for exercises and to cover convoys threatened by the

Tirpitz

and other major ships in the Norwegian Fiords. She was refitting in Liverpool's Gladstone dock and on joining her there we were sent off on leave and, after a few days on a minesweeper with a fisherman crew, returned to Scapa on KGV. After working up exercises at sea the CinC, Admiral Jack Tovey, transferred his Flag back to her. Admiral Tovey was short, stocky and "four-square"; he was impressive but in no way pompous or flamboyant, rather quiet but friendly, even towards us Midshipmen. He asked us in turn to supper on Sunday nights and for the cinema in the Wardroom."

After Christmas at home in Derbyshire, Dennis started his Sub-Lieutenants course and spent "glorious long weekends in London". After long courses in Gunnery, Navigation, Torpedo and Mining and a final three weeks at Whale Island, Portsmouth, Mid Dennis Foster, secured top results in the vital exams, which determined seniority on appointment as a Confirmed Sub Lieutenant.


The following account of Dennis Foster's eleven months as a sub lieutenant on HMS

Wanderer

is taken, word for word, from Chapter Eight of the first volume of his unpublished four volume memoir. It draws on the jounal he began as a young midshipman and kept up until the end of the war.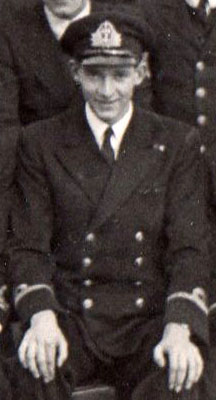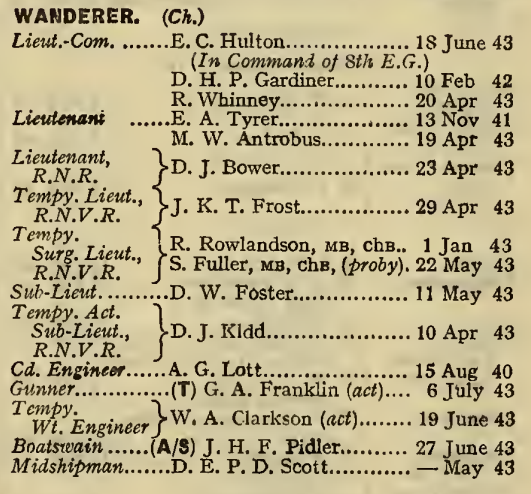 "Courses finished at the end of April 1943 and we all said farewell to our term mates and went off on fourteen days leave before joining our next ships. Mine was to be the WW1, V&W destroyer

Wanderer

, just completing her conversion into a long range escort for the North Atlantic convoys. I joined her in Devonport on 11th May in a state of some euphoria having just got engaged.



Wanderer

was due for re-commission the day after I joined her and to be ready for sea by the end of the month. This appeared to be an impossible task as she was still in a state of chaos, red lead paint everywhere, a tangle of wires, leads and pipes, a gaping hole where the funnel was to be and much equipment yet to be fitted, a depressing sight. She had two of her 4.7-inch guns removed and replaced by the latest A/S weapon forward, the Hedgehog, and lots more depth charges aft. One boiler and its funnel gone to make way for extra fuel tanks and another mess deck for radar and asdic operators. She also had one of the new warning radars fitted to detect submarines attacking on the surface at night and an air warning radar.

My job was to be Gunnery and Radar Officer and Forecastle officer. Although gunnery would have been my last choice, it turned out to be quite fun. There was a 4.7-inch BL Mark 1 at each end of the ship and four twin 20mm anti aircraft Oerlikon guns. The control system for the 4.7-inch guns was basic. It consisted of a sight on the bridge Pelorous compass to indicate target bearing to the guns, operated by me, ranges from the radar and a range/rate clock in a tiny TS to give predicted ranges based on enemy course and speed. But for a submarine at close quarters, all I had to do was to lean over the front of the bridge and order the Captain of the gun to open fire, he did the rest! For firing at shadows at 5 - 7 miles I devised a system using a sextant (to measure angle of sight), radar range, a stop watch and a series of trajectory graphs on a portable board to work out an angle and fuse setting for the guns. Sadly, I never had the chance to use it in action, but my successor did against E-boats in the English Channel with good results. For firing practice we often used to drop a dan buoy and use it as a target 'periscope', and bang away at it, Up ladder, spread line shoots usually only sub calibre at 2-3,000 yards, but good fun.

Our Captain was Lt Cdr R.E. (Bob) Whinney, RN an anti submarine specialist, he was an enthusiastic and skilled submarine hunter. His First Lieut had a tough time under him and we had three in the first year. The Navigator was a tough and unflappable R.N.R Lieut'. The Second Lieut' was Jack Frost R.N.V.R who kept watch with the Gunner 'T', the officer in charge of the depth charges. The Kindergarten watch consisted of two nineteen year olds, myself and the Asdic Officer, S/Lieut Derek Kidd R.N.V.R. A splendid fellow and good at his job, not an easy one with a specialist boss who knew it all. If a sudden emergency arose it always seemed to come in our watch. At sea Kidd and I did standing forenoon's, 8-12, the first dog watches 4-6 and the first 8-midnight, and the rest were done by the opposite watch led by Jack Frost, with whom I shared a cabin, so we only saw each other when we were turning over as Officer Of the Watch (OOW) on the bridge.





"The Skipper"


Lt Cdr Reginald Fife Whinney RN

Courtesy of Capt Dennis Foster RN (Ret)




"The Rogues Gallery" - the members of the Wardroom
Lt Doug Friar RNR, Lt Jack E. Allen RNZNVR ("Kiwi"), Gunner S.C. Warren ("Guns"), Lt Peter R. Michell RN or Michael W. Antrobus ("No 1"),
Lt John K.T. Frost RNVR ("Jacko") and Surg Lt S. Fuller RNVR ("Doc")


The approach to our cabin was directly from the 'Iron deck' down a vertical ladder, topped by a two-foot high casing with a hatch on top. Getting in and out in rough weather was exciting and often wetting. I had the top bunk and had to wear an oilskin coat in wet weather because the deck leaked. In very rough weather the upper deck was out of bounds and if we were marooned aft we slept in the wardroom; those on the bridge had to stay there until the weather moderated! Kidd and I always seemed to be the lucky ones aft.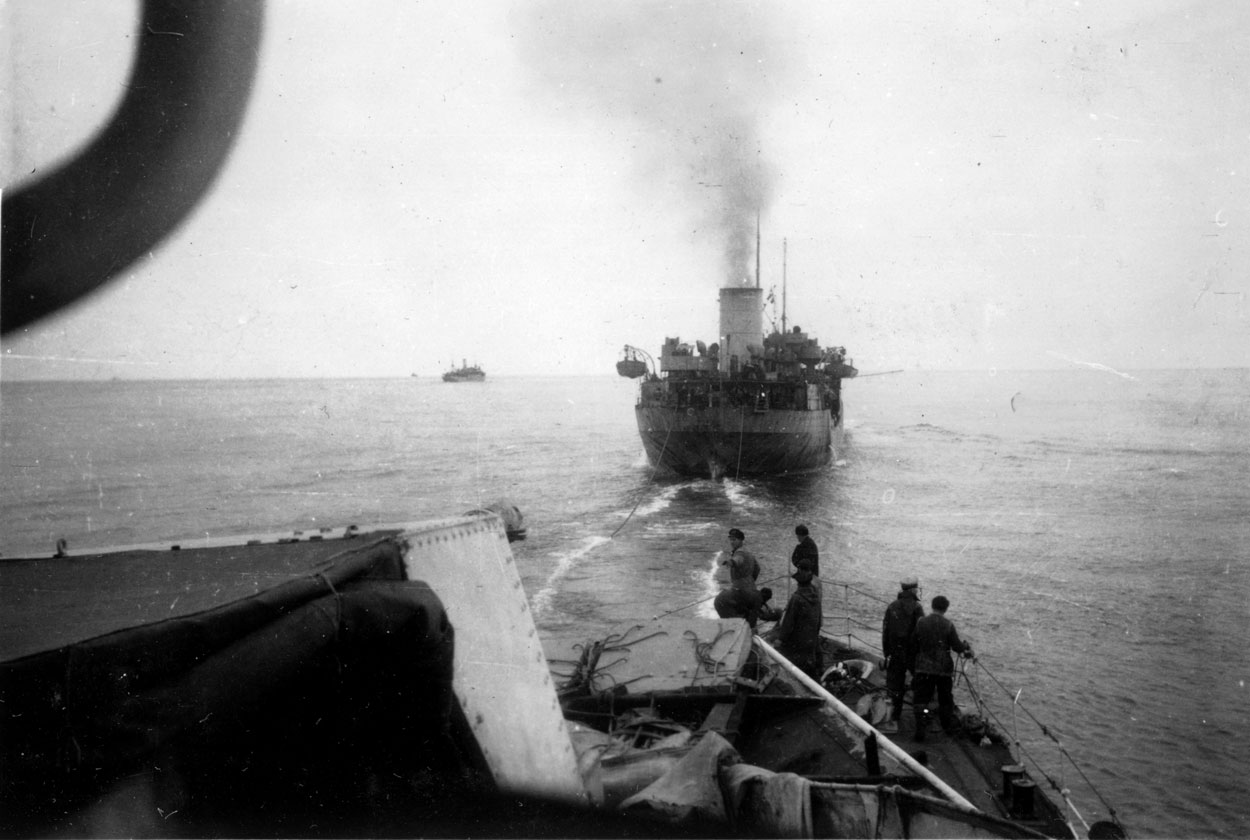 Oiling astern from a Royal Fleet Auxilliary (RFA) oiler directed by Sub Lt D.W. Foster RN

Despite her conversion to a Long Range Escort in 1943
Wanderer
still needed to refuel while escorting Arctic Convoys
Courtesy of Capt Dennis Foster RN (Ret)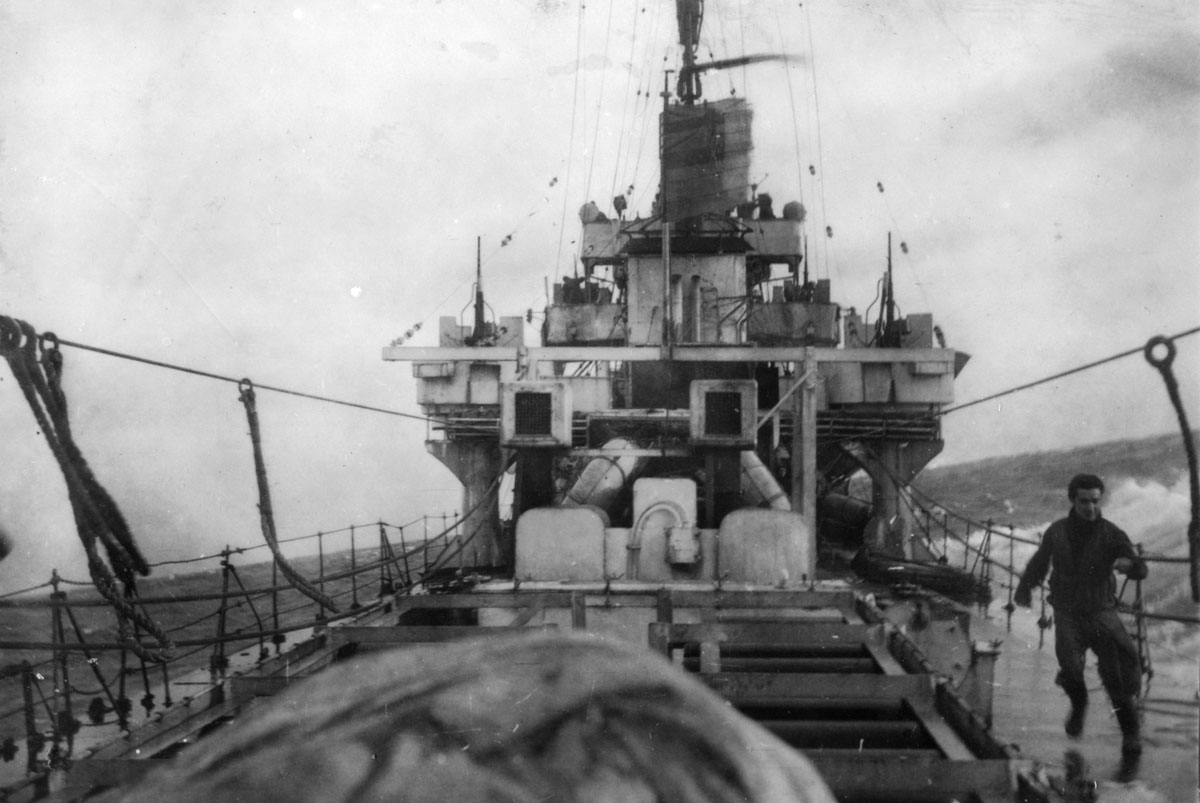 Looking forard from the cabin flat at the stern - note the lifelines strung both sides of the ship

Officers were lost moving along the iron deck from their cabins to the bridge
Courtesy of Capt Dennis Foster RN (Ret)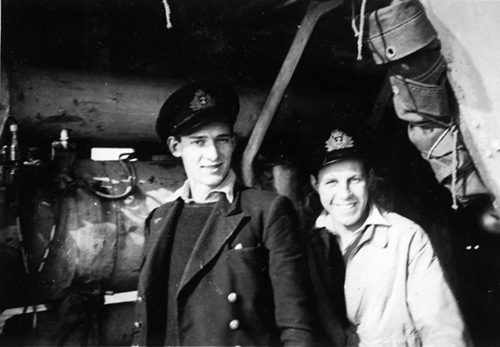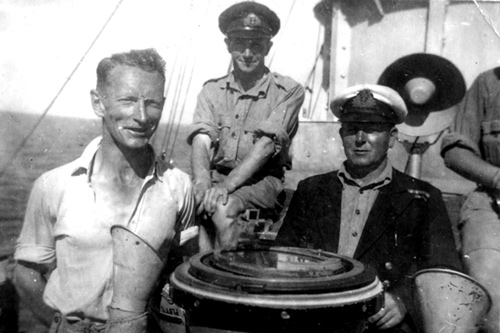 On left: "The Kindergarten": Sub Lt Dennis Foster RN (left) and the Asdic Officer, Sub Lt Derek Kidd RNVR (Derek Kidd crossed the bar 1 April 2016)
On right: Capt "Bob" Whinney, "Jacko": and "Guns"

Courtesy of Capt Dennis Foster RN (Ret)

Amazingly we managed to leave Devonport after a day's sea trials, on the 1st June for a rough passage to Greenock, escorting a submarine. It certainly shook us down - and a lot of other things up! We then did our work up, one day in the Clyde and four day's off Londonderry; this was followed by two days at Larne leading our Escort Group in group exercises with the destroyer

Inconstant

, the frigate

Glenarm

and two others. We were now considered full operational and on the 1st July we sailed from the Clyde with our group as escort for a large fast convoy KMF19 with troop reinforcements for Sicily.

On the way the destroyers nipped into Gibraltar and Algiers for fuel and finally handed the convoy over off Bizerta on the day of the landings on Sicily, Operation

Husky

. We then had to search for a reported submarine off the Galite Islands and were passed by the Battle Fleet steaming at High Speed to carry out their bombardments for the landings on Sicily. A fine sight.

On our return we escorted a liner from Bone and took her to Algiers, off which our consort, the

Inconstant,

made an Asdic contact which she reported as a confirmed submarine; as all her contacts had been so reported and had proved otherwise, we left her to it. This time she was proved right and was able later to claim the sinking of an Italian submarine, almost single-handed after many hours and at great depth.

After calling at Algiers and Oran to collect a convoy for the UK we had to detach off Gibraltar and go into the dockyard for engine room repairs, as well as some welcome rest and relaxation in the sun.

On the 28th July we had to go to the assistance of a merchant ship off Cape St Vincent. She had been bombed and abandoned by her crew. We put a party on board her, led by the Midshipman and they were able to secure a tow to a tug which had arrived. We were escorting them back to Gib' when during my forenoon watch the merchant ship suddenly sank. One minute she was there and the next she had gone. Apparently her bulkhead had collapsed. Our Midshipman had just time to tell the tug to slip the tow before she went down like a stone. Fortunately, the boarding party were soon picked up and back on board after their ducking.

We finally left Gib' with a homeward bound convoy on the 4th August and were back in Londonderry six day's later after a trouble free trip. But a week later we were off again for Gib' escorting a slow convoy KMS24. Our new group leader was the destroyer

Hurricane.




The sinking of U-523



On the 21st August we sank our first U-boat,

U-523

, in the Bay of Biscay. At about 3.00 am the alarm bells rang and I was quickly up on the bridge, an unidentified radar contact had been made at about eight miles by our wizard operator, A.B. Herbert, and we were racing towards it. I went into the radar cabinet to check it, and at just two miles it disappeared; it had to be a submarine and must have sighted our bow wave. We reduced speed and at once got asdic contact, two ten depth charge attacks quickly followed. Apparently these put all her lights out and drove her down to 600 feet. We then lost contact and there followed an anxious three hours as we carried out a square search, our patience was rewarded and contact was regained.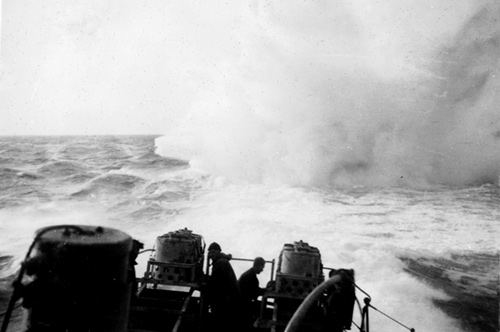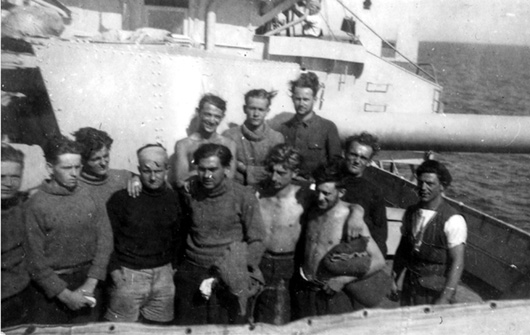 Wanderer

attacks U-523 in the Bay of Biscay and some of the survivors, "a bunch of scruffy youngsters"

Courtesy of Capt Dennis Foster RN (Ret)

For the first time we carried out an attack with our new weapon, the Hedgehog; this fired twenty four small bombs ahead of the ship and landed in a circle above the predicted future position of the submarine, they sank to arrive at the right depth and time as their target. The scientist had told us that, if one bomb hit a kill was guaranteed, so when a small rumble came up from the depths after seventeen seconds we felt sure of success. However to make absolutely sure, the Captain carried out another attack with twenty depth charges and was wheeling round for one more when the submarine rose dramatically to the surface in a flurry of foam only a thousand yards on our port beam. At last the guns were able to take a hand in the action and shells were quickly on target. Her crew came tumbling up from below and threw themselves overboard. Initially the Captain had turned to ram, but this was not going to be necessary, the guns ceased fire and we stopped to pick up survivors. About twenty were hauled up the scrambling nets, and after being given survivors clothing, were bedded down in the tiller flat. After just a few minutes the submarine slid stern first back beneath the waves to the cheers from our ships company. Our prisoners were seen to be just a bunch of youngsters, scruffy, and unhealthy looking, and glad to be out of the war.

We then rejoined the convoy and received congratulations all round. Our passenger, an RAF Officer and four men, had something extra to talk about when we took them into Lisbon harbour two nights later. They were on some clandestine operation and were taken off into the night by a darkened boat.

We then left as silently as we had arrived thinking wistfully of the joys that lay behind all those bright lights we could see so near. On arrive in Gib' the Army came aboard to escort our prisoners into captivity, blindfolded. We then got down to the serious business of celebrating our first success. In due course both the Captain and Derek Kidd were awarded the D.S.C.

After five days in harbour we steamed back into the Atlantic to join a homeward bound slow convoy. This time we had no excitement and arrived back in Londonderry on the 15th September, now it was my turn for some home leave.

Ten days later we were of for some group exercises, with our new leader Commander Westmacott in the

Hurricane

, before a slow convoy across the Atlantic. We had one successful submarine attack on the convoy and arrived at Argentina in Newfoundland on the 9th October. Four days later we left St Johns to await our next convoy. On the way we tested our Hedgehog just off the coast with predictable success, the sea surface was quickly covered in stunned cod, our whaler was immediately lowered and filled with lovely fresh fish. The Newfoundlanders were quick to react too and several boats were on their way out from the shore, they were grateful for the unexpected bonanza!

On the 16th October we left with another slow convoy, SC144, homeward bound and we had a trouble free crossing. Back in 'Derry I was sent off on a gunnery course in Belfast, this was enlivened by Charles Crossley and Chris Eason who had recently arrived from the U.S.A. in their brand new American built Captain Class Frigate, a total contrast to my splendid old 'Hooker'.

Our next task was to escort yet another slow convoy to Gibraltar. This too was trouble free except for the attention of one Junkers 290, unfortunately this was only recognised as such too late for my A/A system to be brought into action. Very annoying!

On the 24th November we left Gib' to join a convoy coming up from Freetown, homeward bound. As we approached it from astern we detected a shadowing U-boat on radar but we were unable to make Asdic contact when it dived. The Admiralty had assessed that there were twelve U-boats homing in on the convoy and had sent the crack 2nd Escort group to reinforce it. This was under the command of the legendary Captain Johnny Walker in the

Starling

. On the night of the 27/28th November the submarine pack made a mass attack from the port side of the convoy. Walker had anticipated this and his group were well placed to detect them from the out field, they were nearly all driven off or sunk, aided by Coastal Command aircraft fitted with the Leigh lights. We were part of the escort on the starboard side of the convoy so we had to watch it all going on and listening to the radio traffic between the ships actually involved in the hunting, very frustrating! The sky was frequently lit up by star shells, flares and by the lights of the aircraft as they went into attack. The one submarine that did get through the convoy was sunk by the Corvette

Dahlia

before it could do any damage, two or three others were sunk without any losses on our side. This was one of the last convoy engagements of the war, at last we were beginning to win the Battle of the Atlantic. The weapons and tactics and more escorts together with the good intelligence from Bletchly were turning the tables on the U-boats just in time.

Next day brought a gale so there were no more attacks. One of the merchant ships reported a man overboard and we were detailed to search for him, a hopeless task in that weather. Added to which our Doctor, Sidney Fuller, had to perform an operation, using the Captain's cabin. It was virtually impossible to keep the ship steady for even a few minutes, but all was well and we arrived back at our base on the 5th December.



Christmas at Derry



We were soon back at sea again in foul weather to support Transatlantic convoys, our sister ship

Watchman

soon lost her Asdic dome in the heavy seas and had to return to base. We then had 'condenseritis' and had to return to 'Derry too. Our leader the

Hurricane

was then torpedoed by a 'Gnat' on Christmas Eve and, because of the impossibility of towing her to safety, she had to be abandoned and sunk by her consort, the

Glenarm

. We heard this sad news when we arrived when we arrived back in 'Derry on Christmas Day. Yet again Christmas had to be celebrated on a different day, this time on Boxing Day. After a short service on deck we repaired to the Wardroom with the Chiefs and Petty Officers as our guests for a 'dram' or two. We managed to sink fifteen bottles of spirits between twenty-five of us before sitting down to Christmas dinner at 2.30 pm after which we slept well.

Repairs took a few days but at last we sailed down the twisty river Foyle only to hit an underwater obstruction and end up on the mud. We had to return for damage inspection, but fortunately there was none and we left the next day, 5th January 1944 in company with

Watchman

and

Woodpecker

to rejoin the poor

Glenarm

who had been at sea throughout Christmas and New Year and was not to get back until the 20th January, a total of thirty-four days continuously at sea in mostly foul weather.



The sinking of U-305 and a narrow escape



After refuelling at Horta in the Azores we carried out a sweep towards Ireland. On the afternoon of the 17th we got an Asdic contact with a deep submarine in poor sea conditions and carried out a whole series of attacks, including a successful one with the Hedgehog and some slow creeping attacks with our consorts. Unfortunately the latter had difficulty in keeping in contact. After ten hours, contact was finally lost and we assumed that the submarine had been sunk. This was confirmed sometime later by intelligence as the U-305. We then returned to 'Derry for another celebration.

As we never took our clothes off at sea and we did not have a bath on board, or indeed much fresh water to spare for washing, our first action on return to harbour was to go ashore for a bath. The Northern Counties Country Club in the centre of Londonderry generously offered this facility to all visiting officers for a charge of one shilling! One of the best shillings worth I have ever had, particularly as it required two lots of bath water to get really clean and what bliss that was!

Two other features of the time spent in 'Derry were visits to the tactical trainer where we fought paper submarine battles assisted by a bunch of pretty Wrens and, at the opposite extreme, battles at the town hall called ship's company dances. These were just an excuse for letting off steam after a spell at sea. We were off to sea again on the 2nd February for a patrol in a U-boat area with the

Watchman

, the new American built frigate the

Byron

and the river class frigate, the

Strule

. We detected one submarine and carried out an inconclusive hunt with the

Byron

. We then had to refuel at sea, this was from a tanker using the astern method, it occasioned much shouting between the bridge and forecastle as we manoeuvred to pick up the tow. After which we had to rejoin our group on our own. It was a dark and dirty night, the A/S speaker on the bridge suddenly began to emit a roar. Derek leapt to the Asdic direction indicator to check the bearing as we both knew it to be a torpedo fired at us from short range and urgent action was required. I ordered the wheel hard over to starboard and the engine to slow in case it was a 'Gnat'. The roaring increased the bearing of the torpedo drew all to slowly aft and we were convinced that we would be hit in the stern. Happily it just missed us. If we had been sunk on our own in bad weather, in mid winter and without getting a distress signal out, we would have a poor chance of rescue. Meanwhile we had sounded the alarm rattlers and called the Captain, so the bridge quickly filled with people and reports of crews closing up at their action stations. We carried out an Asdic search, but in bad weather conditions we never made contact and went on our way rejoicing not to be swimming.

Our search area took us further North, finally we were ordered to return to Scapa Flow where we arrived on the 16th February. We went alongside the depot ship

Tyne

outboard of the brand new 'M' class destroyer

Mahratta

. We felt like an ugly duckling beside the immaculate swan. However we were made to feel very welcome and everything was done to prepare us for our next operation, to escort a convoy to Russia. Horror of horrors we were ill equipped, not arcticised, poor A/S armament and held together with rust.


Arctic Convoy JW57 to the Kola Inlet, February 1944
Four days after a tremendous rush to fit an extra Oerlikon gun, get in specially warm clothing and make good all our defects, we sailed for the Faroes to top up with fuel. It also gave some of us the opportunity to go ashore for a rare leg stretch. Next morning at 3.30am on the 22nd February we left the shelter of the fjord for what was the most unpleasant days of my life. We caught up with

Convoy JW57
(click on link and select JW.57 from menu on left) during my forenoon watch, it was a cool calm and grey day when suddenly came the dreaded cry 'Man Overboard' from the starboard side, We quickly turned round, called away the lifeboat's crew and closed the man, now lying face down in the sea. The Doctor had managed to get away with the boat and started resuscitation as soon as he was pulled into the boat, alas it was to no avail. Although he was one of the strongest swimmers in the ship the shock of hitting the water at 30° F had killed him after just two strokes. It boded ill for any other unfortunates who might have to swim for it. The young man, an ordinary seaman, had been cleaning his gun, lost his balance when the ship rolled and toppled over the guard-rail. Two hours later we buried him in his hammock with full honours, the gloom on board deepened.
The threat became increasingly obvious as we steamed northwards, first of all Junkers 88's began to circle and report us and we could hear U-boats radioing their sighting reports. Destroyers dashed about to investigate the bearings of these but the Asdic conditions were notoriously bad in this area, a layer of cold water on top of a warm one deflected the sound beam upwards, the submarines just went below the water to escape detection.
The weather then deteriorated, snow storms, a biting wind and an increasingly rough sea combined to make the upper deck work almost impossible, at times spray froze on bare metal which entailed a continuous struggle to keep the guns from freezing up, while too much ice on the upper deck was a threat to the ship's stability, so the duty watch was kept busy chipping. Watch keeping on the bridge for four hours at a time was a wretched business and we considered reducing to two-hour watches, but then of course we would virtually have no sleep, so we kept to four hours and many layers of clothing.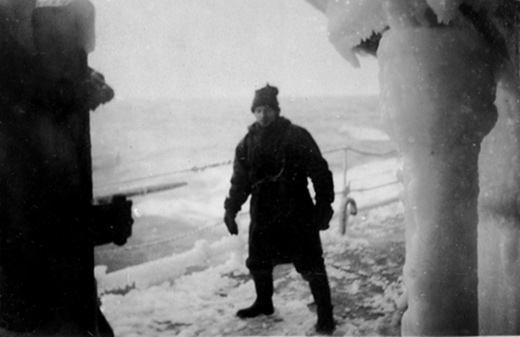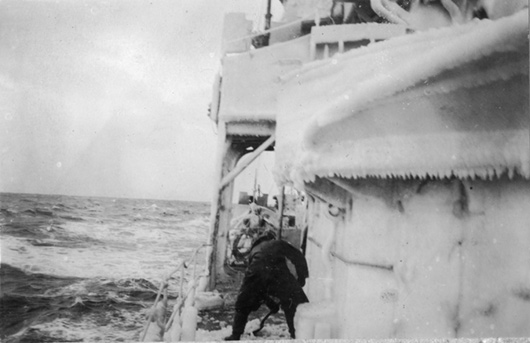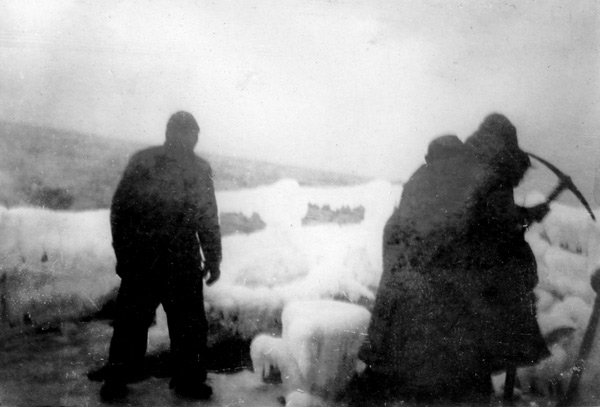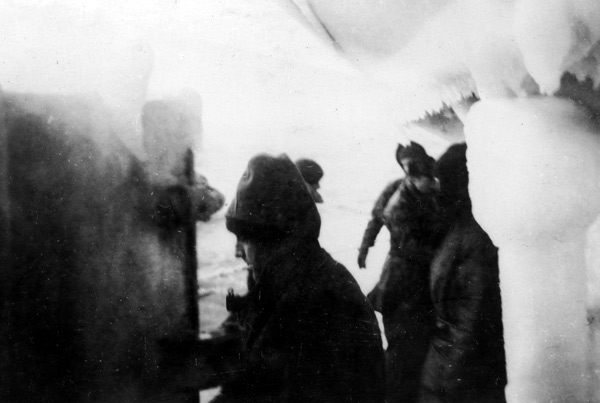 Iced up escorting Arctic Convoy JW.57, 20 - 30 February 1944

The Skipper, Lt Cdr R.F. Whinney RN, is top left
Courtesy of Capt Dennis Foster RN (Ret)

At about 10.00pm on the night of the 23rd, we heard a dull thud from the other side of the convoy, a red glow lit up the low cloud and almost at once

Mahratta

reported that she had been torpedoed. A couple of minutes later she was hit by a second torpedo and we knew that nothing could save her or most of her crew on a night like that. Her radio operator continued to report the hitting of the second torpedo over and over again, because his receiver had been put out of action, his voice rising to a pitch until finally there was silence and we knew that the end had come. It was terrible to listen to him and imagine the scenes of distress. For just three days she had been our 'chummy' ship and they could not have been a more friendly crowd in a fine new ship. We felt so sad and hoped that at least a few would be saved, in fact less than a score were picked up, no officers despite the efforts of two consorts.

Shortly after this our Asdic set broke down, without it we felt defenceless against a submarine, we could neither detect it or hear an approaching torpedo. We were then ordered to sweep down a bearing of a submarine's radio transmission. Our Asdic mechanic was hopeful that he could mend the set quickly and the Captain was reluctant to report the breakdown, so down the bearing we went, blind, and on our own. It was a wrong and dangerous decision. Midnight came and still no Asdic. Derek went down to the bottom of the ship to try and help the mechanic and I turned in. My bunk was on the ship's side and on the water line, the noise of the waves was clear and I was more conscious than usual that only a rusty thin sheet of steel was between me and a freezing cold sea. That was the night that I prayed my hardest, and then, in faith, read myself to sleep with my favourite childhood book 'The Wind In The Willows'.

Throughout the following day there were submarine alarms and many attacks were made on the submarines but none were reported as successful due to the difficult conditions. The convoy steamed steadily on, so far unscathed. That night the submarines attempted to attack on the surface and the order was given to illuminate with star shells. The ancient

Wanderer

was the only one able to comply, all the rest reported that their guns were frozen up. We felt proud that all our efforts had proved successful.

The next morning 27th February we reached the limit of our endurance 73.30 North 26 East, and were ordered to return to the Faroes. We were glad to be off in company with our old friend

Watchman

, who almost immediately reported a contact with a 'confirmed submarine', probably a shadower astern of the convoy, we had a short hunt, but again we were defeated by the layer.

We then ran into a force 11 North Westerly gale which quickly built up tremendous seas, we should have hove to, but were too short of fuel, so we corkscrewed along with the waves rushing at us on the starboard quarter, threatening to poop us or make us broach to and roll over. The Captain decided the only way to save the ship, now almost empty of fuel and lacking in stability, was to fill some of the fuel tanks with sea water, a desperate measure, but it worked.

At last we arrived off the fjord entrance at midnight on the 1st March, but our troubles were not yet over. There was a blinding snowstorm and the gale funnelled by the fjord seemed to have redoubled its strength. We found our way through the boom entrance but then had to turn the ship to go alongside the oiler. She began to drift sideways, high out of the water and beam on to the gale, engines alone could not turn her in the narrow confines of the fjord, the lee shore was getting perilously close. The Captain ordered me to let go the anchor, but this would not hold her up into the wind. He then ordered me to slip the cable, but this was impossible, so I cleared the forecastle and waited for the cable to part as the Captain went full ahead on the engines in the last attempt to get clear. This we did. The cable parted round the stem but we managed to get round and alongside the tanker. We were thankful people.

Watchman

was not so fortunate, she managed to crash through the boom and anchor with insufficient fuel to go any further. The tanker had to go to her the next day when the weather had moderated.

Next morning we sailed for home at best speed. It was an exhilarating ride in bright sunshine and a huge quarter swell, but with full tanks, our worries behind us, we rolled merrily southwards with thankful hearts.

On return from leave there was a draft chit for me ordering me to the new 'W' Class destroyer

Wessex

, still building in Glasgow. The

Wanderer

was to go to Newport in Wales for a minor refit to prepare her for the 'D' day landings. Naturally I would have preferred to have stayed on my old ship for the greatest invasion in history, but it was not to be. I went with her to Newport and left her there on the 24th March for two weeks leave. My time in

Wanderer

had been a time of growing up fast, neither Derek or I had watch keeping certificates on arrival, we were the youngest officers on board and faced with many crisis whilst on watch together, we never had a cross word or disagreement. My only regret is that we never kept in touch with each other, but in war time one tended to make new friends and after the war, Derek became a Doctor and went to Canada, where he could not be traced. Bob Whinney got a second D.S.O. for sinking another submarine in the Channel during the invasion. Many years later he got in touch with me about the book he was writing. I lent him some sketches made at the time of the sinking of the first submarine, but they were not used. I would like to have seen his draft, but only saw it after it had been printed.

The old

Wanderer

finished her 25 year life on a high note, the sinking of a submarine in shallow waters in the Channel proved too much for her weakened hull. The explosion of the depth charges caused numerous leaks and she had to go into dock. She was found to be too badly damaged to be worth repairing. Three submarine sunk in a year was a fine record to go out on."

Capt. Dennis W. Foster RN
On leaving

Wanderer

and gaining his second ring a new phase in the long naval career of Dennis Foster now began as described in the introduction to his memoir:
"At the beginning of 1944 I was sent as Navigator to another destroyer, the
Wessex
, building in Glasgow. On completion we went to Scapa Fow to work up before sailing for the Far Eastern Fleet via 55th anniversary the Mediterranean, the Suez Canal and the Indian Ocean to Trincomalee in Ceylon (Sri Lanka). From there we took part in raids on the Japanese in Sumatra before moving on to Australia and the Pacific for the last few months of the war. There we supported the four aircraft carriers whose aircraft were attacking the airfields on the islands held by the Japanesee who were attacking our ships with Kamikaze aircraft. For Vistory Day we were in Aukland, New Zealand, having our boilers cleaned before rejoining the fleet in Tokyo Bay. From there we visited the port of Nagazaki, recently atom bombed, and Tokyo City, badly fire bombed."
Dennis Foster was flown home from Sydney in time to spend Christmas with his parents at Exford on Exmoor before beginning his training as an Aircraft Director and Nasvigator "for a whole series of jobs in those speciaslisations". He went on to have a long and varied career which included commanding his own ships as well as working at the Ministry of Defence. He retired from the Royal Navy in 1975 as Captain Dennis Wyndam Foster RN.


Dennis Foster's life of service did not end with his retirement from the Royal Navy as explained by his son, Jonathan Foster:
"From early 1975 to 1984 my father Dennis Foster was conference administrator/secretary at the
Ditchley Foundation
, set up at Ditchley Park, near Enstone and Charlbury in Oxfordshire by the late Sir David Wills to further understanding and cooperation between the UK, the USA and the wider world. Conferences brought together key politicians, academics and other experts from around the world (approx one third USA, one third UK and one third 'Rest of the World') to discuss important global issues, often looking ahead to the medium- and long-term future, far from the eyes of the press so that there could be 'free and frank' discussions and friendships could be established and cultivated between key players. For example, in 1975 conference subjects included climate change/the environment, and the possible consequences if the UK were to leave the EU (a referendum was due in 1976), and long-term relations between Japan/USA/the West. Conferences were organised over a long weekend, with usually around thirty attendees, with plenary sessions and key note speakers, opportunities for formal, open discussions and lots of informal time together, including over meals, when some important exchanges and bonding took place."
His latter years were spent in Poole, Dorset where he lived near his son and daughter until his death on 17 November 2021 aged 97.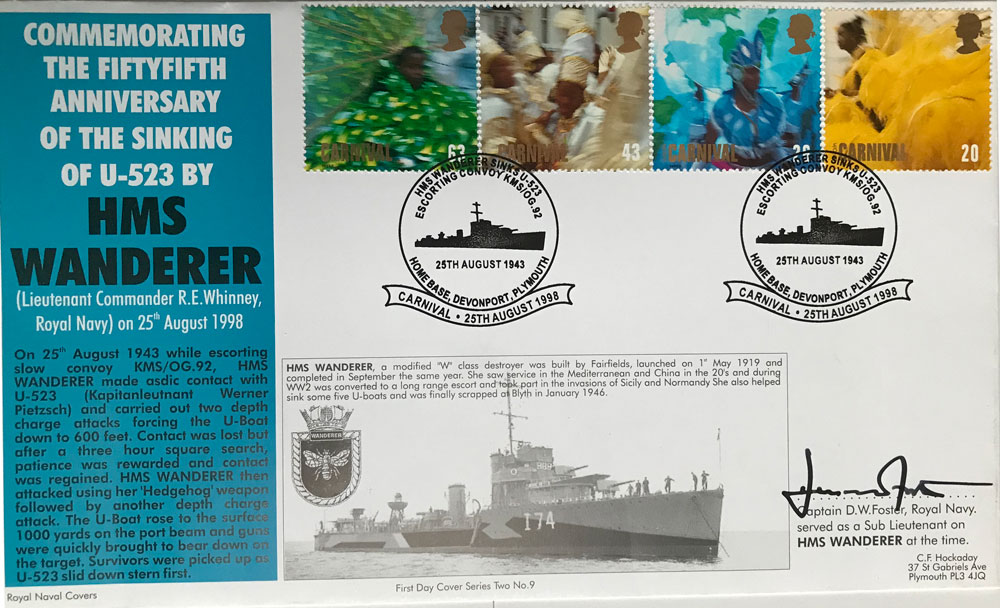 For more about the HMS
Wanderer
after her conversion into a Long Range Escort (LRE) see
The U-boat peril: an anti-submarine commander's war
; .Cdr. Reginald Fife "Bob" Whinney, RN (Poole: Blandford 1986).