---
Life in the Engine Room
Alf Floyd was the senior rate in the Engine Room

in May 1941



Alfred George Floyd and his wife Dorothy emigrated to Australia as "£10 Poms" in 1952 and fifty years later were interviewed at their home in Tecoma, a suburb of Melbourne, by the Upwey Branch of the Returned Servicemen's League (RSL). This brief description of his early life and his wartime service after leaving HMS Wanderer is based on that interview (see "Snapshot" from the DVD of the Interview).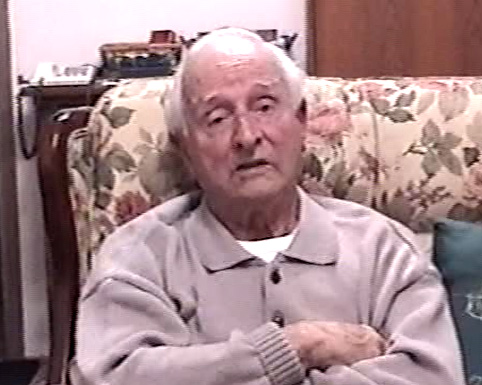 Alf Floyd was born in 1915. His father was a Londoner but his Mother was Edinburgh Scottish. Alfred and his Mother lived with his paternal grandfather in Walthamstow, London, while his father was in the Army. His earliest memory is of a Zeppelin caught in the glare of searchlights on a bombing raid over London. After the war his parents returned to Edinburgh and Alfred was sent to the Royal High School, a "toffee nosed school" whose distinguished alumni included Sir Walter Scott and Ronnie Corbett. When he left school in January 1930 he got a job as a telegraph message boy in the Post Office for four years. He was bored at the prospect of spending his life as a civil servant and left in 1932 to join the Territorial Engineers but he did not like the army and in 1934 he enlisted in the Royal Navy.

He went by train to London and from there to Chatham Naval Barracks, a horrible place. He disliked the rigid class system and after Christmas leave back home in Edinburgh he joined a mechanical training establishment in the naval dockyard. He shoveled coal into a dummy boiler, lit the fires and learned "all about boilers, steam and engines". He was posted to his first ship, HMS Cairo, a light cruiser, as a "sprog" and served his apprenticeship as a stoker with her crew, old hands who had served in the war. Some of her crew members had taken part in the Invergordon Mutiny of 1931 in protest at having their pay reduced. After two years he joined the destroyer, HMS Intrepid, in the Mediterranean. During the unrest in Palestine the crew were sent ashore to drive trains between Haifa and Tel Aviv and a Palestine Campaign Medal was awarded.

He was back at Chatham in 1938 during the Munich crisis when the troops were mobilised. He left by train for Folkestone, crossed the channel in the Maid of Orleans and from there to Marseilles where he joined HMS Sussex. In early 1939 he volunteered to serve in 70 ft long torpedo boats and went to Portsmouth to join them. His glamorous service on MTBs was interrupted by a posting to an old trawler towing a barge laden with barrels and wire coils up and down the Thames estuary to detect the magnetic mines which were sinking ships and threatening to block the Thames to shipping. The barge detonated a mine off Southend Pier and sank. He was engaged to Dorothy (he sent his engagement ring by post to Edinburgh) and they were married on 23 December 1939. Alfred was 24 and his young bride 17. They spent their honeymoon in North Berwick where the landlady cooked them a Christmas dinner. He returned to his MTB at Dover where they lived in the Old Warden Hotel when not at sea (or in air raid shelters). He enjoyed his time in the MTBs, real "Boys Own" adventure stuff, landing spies in France, picking up pilots shot down in the Channel, evacuating troops from Dunkirk and Cherbourg, entering the harbour of one of the Channel Islands and backing out hastily when they saw it was occupied by German troops.

When Dorothy became pregnant she was looked after by the "Navy wives" but went home to Edinburgh for the birth. Alf was posted to HMS Wanderer at Liverpool on May Day 1941 and left in December 1942 when she was converted to a Long Range Escort (LRE).

Alf Floyd describes his wartime service in HMS

Wanderer

below

Alf was a member
of the V & W Destroyer Association and he wrote this article for their magazine

Hard Lying

which was republished by Clifford ("Stormy") Fairweather in the book of the same name which is now out of print.

"In the Navy one rarely leaves a ship for another without going through barracks. During the war I never spent more than three weeks in barracks, after getting leave entitlements. This time was to be no exception, but it did not worry me for I was never enamoured with the place (Chatham Barracks).

It was usually overcrowded and run by those men that we called 'barrack stanchions', this because for the duration of the war, they had nice office jobs and were able each night to go to their homes in the area. At this time it was probably the most unpleasant. There were air - raids and all personnel had to go underground into the 'tunnel'. Sleeping in the tunnel was most uncomfortable to say the least, it was smelly due to bad ventilation. At first I decided to take my chance and sleep in the barrack room where there was plenty of room, given that most had billets in the tunnel. On one occasion the raids came too close for comfort, and I did spend some time in the tunnel. It seems in retrospect that I had become more conditioned to air raids and the events of war. Nevertheless, I still get funny feelings in my stomach when I hear a siren. This is because, out here in the hills overlooking Melbourne the siren is used to call the volunteer fire fighters when there is a bush fire.

This time I managed to get a weekend leave pass and decided to go to Edinburgh. Rail travel in those days was tiresome due to the air-raid warnings and the like. I was returning to Chatham, the train was held up several times. This meant that I arrived in London too late to get my connection to Chatham. I had to spend time in the centre of London to await the first train out, which was the paper train. What to do? I went to the canteen that I had often used at London Bridge. It was non-existent having been the subject of many air-raids. However I decided to cross London Bridge to find somewhere to stop. There was a raid on and the searchlights were sweeping the sky. I got half way across London Bridge when the bombs came down rather close. I retreated to the London Bridge Station to the drone of the bombers. The station was full and the steps leading down to the platform were covered with human beings of all sizes. I reached the platform to find that people of both sexes and all ages were sleeping up to within twelve inches of the platforms edge. The canvas toilet facilities were inadequate by far for so many people and the smell was obnoxious. I only had to spend one night there. I pitied all those who were spending night after night during the Blitz. I eventually reached Chatham in the early hours. I was to again experience air-raids when I reached Liverpool, for that is where I was about to go.

In a few days, I was posted on the drafting board to go to a Flower Class Corvette. They had been introduced to act as convoy escorts and equipped with depth charges. They were rather small an saucer shaped, so they rolled quite a bit. I understood that there was no Engineer Officer on the one I was to go to and I would be the senior engine room rating.

I went off to the drafting office to explain that I was to get a posting nearer to home. There was a huddle in the back room, and eventually the draft to the Corvette was canceled and in it's place I was to go to Liverpool to join HMS

Wanderer

.

On arrival at Liverpool,

Wanderer

was at sea and I had to spend some time ashore in the building that used to house Vernon's football pools. There were many of us staying there and the night was spent sleeping on the floor. Lying there I was not too happy as the roof was made of glass. It recalled the story that I had heard of Chatham Barracks in WW1 when survivors were sleeping under the drill shed glass roof.



Wanderer

returned to Liverpool on the first of May and I joined her at Gladstone dock. She was due for a boiler clean and each watch had a few day's leave. I didn't get any as it was thought that I had had enough before joining ship. During those eight days Liverpool was heavily bombed, and whilst ashore I witnessed many homeless children and young adults, unwashed, following water tankers to catch a few drops of water from the tankers dripping taps. So many homes had been demolished and many had lost their parents. They lived in air-raid shelters. The worst hit area was Bootle and the dock area where most of the working class lived.

At the time, the aircraft carrier

Furious

was lying in Gladstone dock, lying at right angles with her were nine destroyers in rows of three. We were the outside of the last three. The worst night of the bombing was when an ammunition train and Bryant & Mays match factory were hit and set ablaze. I stayed in my hammock trying to remain calm until the shrapnel was rattling on the ships side. I went up top and saw the outside ship of the first three sinking, she had been hit below the water line. The next stick of bombs missed us, but the ship next to us had a fire in the ready use ammunition magazine. I doubt there was any ammunition there as the fire was soon put out. The bombs that missed us went on and hit the dock gate, so we were imprisoned in the dock until a tug came and pulled the gate open. HMS

Furious

, the main target, remained untouched. She was one of the pre-war carriers and I believe she survived the war.

Eventually we were able to get free and put out to sea, leaving the raging fires of Liverpool in our wake. I was glad to get away, Feeling much safer at sea. My first trip in

Wanderer

was not to be a happy one, the old V&Ws were never intended for the job in the North Atlantic. Toilets were few and very basic, water for washing had to be pumped from a tank on the upper deck by a semi-rotary pump. Sometimes the sea was coming over the deck and getting a bucket of water was hazardous.

Convoys were usually in three groups, slow, medium, and fast. Fast was best for us as the speed was about fifteen knots. We had quite a few of those, which were mostly troop convoys going South. Most though would be slow, where we would go to 20 degrees West and then return with another home bound convoy.

With all the additions of war aboard this ship. Radar Degaussing and the Acoustic hammer, meant that the space for living (which had never been a priority in the V&Ws) had been reduced even further. It was not unusual to have a foot descend on to the mess table whilst having a morning cup of tea. Once a foot landed alongside my cup of tea followed by the rest of the body, he immediately grabbed some bread and started to eat it, not the done thing in the peace time navy, then we were very fussy about cleanliness and no one would handle food without visiting the bathroom. I remonstrated with this stoker, but he just ignored me. So I said "Get your cap and be outside the office" this was normally sufficient to make the point and then the incident is then usually forgotten, but not this stoker, he grabbed his hat and went to the office. I got a dressing down from the Warrant Officer for being too particular. I learned that I was looked upon as an interloper, as most of those on the mess deck had been together for a long time. Even though I was senior rating on the mess I kept to myself and vowed to never again discipline a rating. That was my first and my last.

At this time the U-boats were hunting in 'Wolf Packs'. They would follow the convoy until there was a break in the escorts pattern, then at night they would surface and sink a ship before diving and scampering away. We were powerless in that situation, as depth charging endangered those survivors in the water. The convoy screen was really insufficient. We being Senior Officer zig-zagged ahead of the convoy whilst another did the same astern. On each flank were corvettes or the American four stackers. These U.S. destroyers were too heavy and rolled badly in heavy seas. We received fifty of them in exchange for bases in the Indies and other places. The best use for one of them was at St Nazaire where

Cambeltown

breached the lock and was blown up.

On one of these trips we received a 'hurry up' signal to go to the assistance of one of theses American destroyers, which had a Dutch crew. It had been hit and was sinking. She actually sank as we came up from astern. It was dark and we could hear the cries of those in the water. We did rescue some of them but many were lost. It was after that event that we were issued with battery operated red lights which clipped to our life belts.

One of my earlier trips in

Wanderer

was to the North where we expected to go to Iceland. We left Liverpool and steamed between the islands of the coast of Scotland to Loch Ewe where we anchored for the night and refueled. We left Loch Ewe and steamed out into the Atlantic though the Faroe's and on to Iceland escorting an outward bound convoy. Somewhere around the Denmark Straights we took over a homeward bound convoy designated SC31 The position of this convoy was just South of where the

Hood

was sunk, which put us in the path of the

Bismarck

which was making South after sinking the

Hood

.



Hood

and the

Prince of Wales

were patrolling South when HMS

Suffolk

and

Norfolk

sighted the

Bismarck

. The

Hood, Prince of Wales

accompanied by six destroyers steamed to intercept. On that fateful day I had the first watch in the engine room. As I came off watch at 0400, the torpedo men were lowering the guard rails and getting the torpedo tubes ready I asked what was up and was told that we were in the path of the

Bismarck

. I did not worry as we knew that the

Hood

was on her way to intercept, we all felt that nothing could stop the

Hood

. I turned in, and during the middle watch, at 0600 I awakened and everyone was saying that the

Hood

had gone. It was unbelievable that our great unsinkable ship had in fact been sunk. So it was that

Hood

had intercepted and opened fire at 0540 and by 0600 she was no more. Actually when I came off watch and we were getting ready to have a go, the

Hood

was still in the game and

Bismarck

was trying to shake off the two cruisers that had been shadowing her though out the night. By 0800 we were only about 100 miles from the

Bismarck.



On our way back to the UK we passed the force on its way back to Scapa Flow after

Bismarck

had also been sunk. We received a signal from the carrier

Victorious

in reply to our congratulatory signal saying how lucky we had been. It was pinned on the notice board for all to see. I was devastated when I learned that there had been only three survivors, and my brother was not one of them; 94 Officers and 1321 ratings had perished.

It had taken the entire Home Fleet, plus Force H from Gibraltar, the Fleet Air Arm together with Catalina's from Coastal Command to finally find, and sink the

Bismarck.

Her accompanying ship the

Prinz Eugen

managed to get clear and returned to Brest unscathed. Personally I think that was a great feet of seamanship.

Bismark

had sunk in flames, the crew fought to the last singing

Sieg Heils

. Survivors were few. So,

Hood

was lost,

Prince of Wales

damaged, HMS

Mahona

was sunk on the return journey. The position of the graves of those who went down with the

Hood

is 63.20 degrees North 31.50 degrees West.

On a convoy returning from Freetown, Sierra Leone, I was asleep in my hammock when there was an enormous crash and the ship shook. I was out of my hammock and half way up the ladder before I had time to think, this was it, I thought, we have been hit. To get out of our lower mess deck we had to go through a manhole just wide enough for one man at a time. Despite the swiftness with which I had got to the ladder I was not the first. In fact we had not been hit, when I got up on deck I found that we were on the top of a U-boat, sending it to the bottom. We had torn our Asdic dome in doing so and were lucky not to have taken in water. We were credited with the sinking and the Skipper received the D.S.O.

Nearly every convoy during 1941-42 was fraught with danger. In most cases the sea was the next big worry for the Atlantic is more often rough than it is calm. From the time we left Liverpool Bay and caught up with the convoy, we were on the alert. I rarely changed clothing until we left the outward bound and raced to rendezvous with the returning convoy. It always seemed safer then to change clothing. Life belts were our constant companions.

All the glamour of the M.T.B's was gone and in its stead was the misery of a small ship in stormy waters. The food was kept in wire cages on the upper deck and was usually covered in salt spray. Cooking was difficult to say the least, tinned meat and vegetables were the norm with corned beef as an alternative. Little wonder that I made a bee-line to an eating place that I got to know in Lime Street, to taste real food without the sea spray.

On our return I was able to get home to see my distraught parents. My Father could not believe that my Brother Charlie had gone, and when an impostor arrived claiming to be a survivor, Dad went off to meet him. Of course we knew that there was no chance of anyone surviving in those bitterly cold and rough waters.

The sinking of our merchant ships were far too frequent, the U-boats were having a 'Happy Time' sinking so many of our ships that Britain was on the verge of running out of food. It was vital to find a way of protecting our convoys against the U-boats or Britain would starve, long range German bombers and Focke Wolf Condors were able to give the precise position of the convoy's to the Wolf Packs. It was necessary to have air protection. One day I witnessed the first flight of Sea Hurricanes being catapulted from the foc'sle of a merchant ship. I thought it was

Audacity

, but later found out that it was in fact '

Maplin

' I remember the pilot's name Lt. Everett. He had to ditch his plane and did so alongside us. He was quickly picked up. That was the beginning of the escort carrier, of which the

Audacity

was one. Sadly she was sunk in December of that year.

The rescue of survivors and ship's boats and the pitiful state that some of them were in when we reached them, some had been adrift in open boats for as many as ten days made me feel then, and still do, that the Merchant Service never received the recognition that they deserved. Some of their ships had been retrieved from the scrap heaps and should never had been at sea. A six inch gun mounted on their deck made them prey for the U-boats.

My last trip on

Wanderer

was tricky, the constant dropping of depth charges had shook the condensers badly, so much so that the tubes were leaking, so that the salt water was contaminating the fresh water in the boilers. To correct this we had to get away from the convoy routes and shut down. We had a Flower class corvette circling round us while we in the engine room took the inspection plates off the condenser and the E.R.A. plugged the leaks. It was only a temporary repair. When we got nearer home we did a few ahead and astern movements, only to find that we still had problems. It was then decided that we would have to go to Chatham for a major refit. It was to be a long job, so, I, and most of the ships company returned to Barracks."

Alf Floyd left
Wanderer
at Plymouth in December 1942 when she was being converted to a Long Range Escort in the naval dockyard at Devonport. His next ship was an LST (Landing Ship Tank) repair ship, part of the Eastern Fleet in the Indian Ocean but he was soon back in the Mediterranean on Lake Bizerta in Northern Tunisia across the strait from Sicily. It was here that he heard that his brother-in-law, Leading Signalman David Travis, had been killed when his ship, the minesweeper HMS
Abdiel
detonated two mines laid by German E-boats at the Italian naval base of Taranto in September 1943. Dorothy also lost her Mother and Alf was sent home on compassionate leave, a journey which took five days for what should have been a two hour flight.

Alf was by now a PO Stoker and was posted to a brand new S Class destroyer, HMS

Serapis

, Leader of the 23 Destroyer Flotilla escorting Arctic Convoys. Alf's next ship, HMS

Suffolk

, a heavy cruiser, was sent to join the Pacific Fleet. Alf left her at Sydney where he was stationed at the shore base, HMS

Golden Hind

, before joining HMS

Ariadne

, a sister ship of HMS

Abdiel

in which Dorothy's brother had been killed. She called in at Nagazaki six weeks after the dropping of the atomic bomb and Alf was deeply effected by standing on the ashes of the fifty thousand men, women and children who were killed. He returned to Britain from Singapore in HMS

London

and was discharged from the Navy unfit as a CPO Stoker in 1946.

In 1952 Alfred Floyd emigrated to Australia with his wife Dorothy as "ten pound Poms" taking advantage of the assisted passage scheme which brought so many new immigrants to Australia, the land of opportunity, in the post war years.
He was given a house in Sunshine, a suburb of Melbourne, but had no qualifications and started as a boiler makers mate on the Victoria State railways. After matriculating from Melbourne High he obtained a clerical job and was soon running the newly established data processing section and went on to work in the Education Office and started the railway police service. He continued his studies and graduated from Monash University and after retirement in 1980 went on to organise and run courses for the University of the Third Age.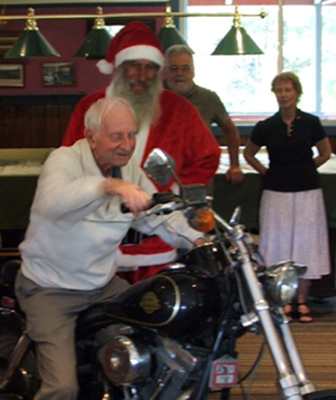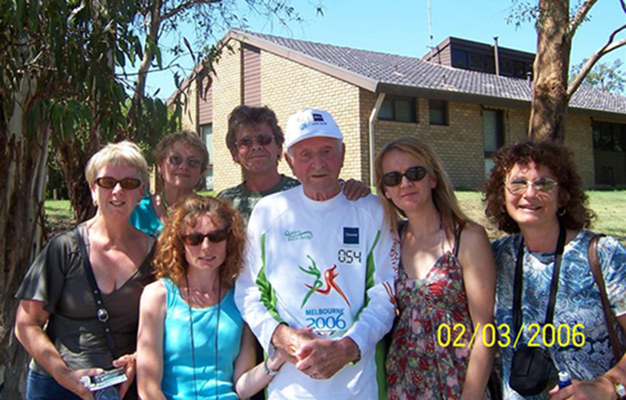 Alf Floyd on his motor bike at the Christmas party of the Upwey Branch of the Returned Serevicemen's League (RSL)
Alf Floyd with his family outside his home at Tecoma, Melbourne, in 2006


Courtesy of John Leigh of the RSL's Running Rabbit Military Museum




In 1999 Alf and Dorothy were interviewed for three hours
as part of a programme to record the experience of the postwar immigrants who settled in Australia under the assisted passage scheme.
The six half hour audio cassettes
in the National Library of Australia can be listened to online.
They include
more about Dorothy than the RSL interview (in which she hardly said a word) but only brief fragmentary details of Alfred's wartime service in the Navy. Dorothy Floyd was 82 when she died 2004 but Alfred Floyd lived another eight years and died on 11 October 2012 aged 96.

Bill Riseborough used to say


"all stokers became seagulls when they died..."
Readers interested in a social history of the engineering branch of the Royal Navy and more particularly of stokers will find this thesis worth reading

It is available as a free download from the University of Exeter

'Stokers-the lowest of the low?'
A Social History of Royal Navy Stokers 1850–1950

If you have stories or photographs of HMS Wanderer you would like to contribute to the web site please contact

Bill Forster
---
Return to the Home Page for HMS Wanderer

Return to the Home Page of the V & W Destroyer Association
Return to the Index Page for the 69 V & W Class Destroyers
---