---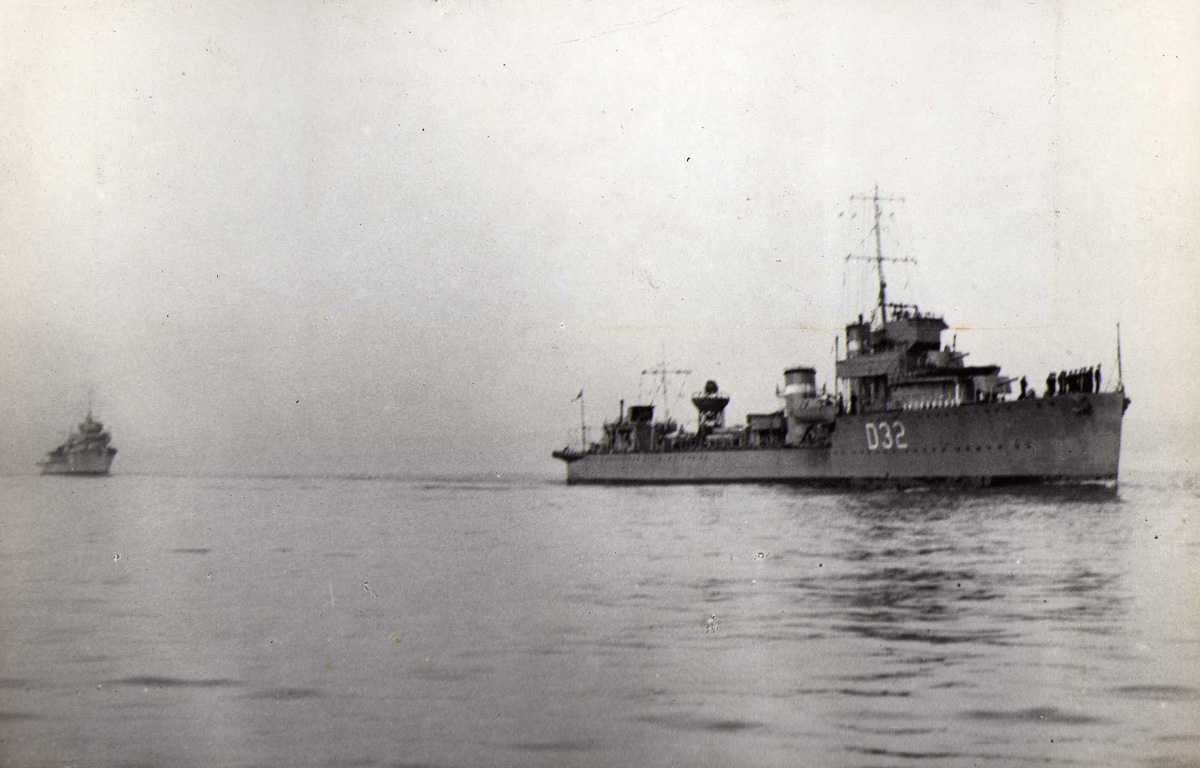 photograph courtesy of Frank Donald
Click on the links within this brief outline for first hand accounts by the men who served on HMS Versatile and for a more detailed chronolgy see www.naval-history.net

HMS Versatile was a ....

Commanding Officers

Cdr Victor L.A. Campbell RN (Sept 1920 - Dec 1922)
Cdr. (retired) Thomas Andrew Hussey, RN (15 June 1939 - June 1940)
Cdr. (retired) John Henry Jauncey, RN (June 1940 - 29 Apr 1941)
Lt.Cdr. Jack Barrington Palmer, RN (29 April 1941 - Nov 1942)
Lt. Denis Guy Douglas Hall-Wright, RN (Nov 1942 - early 1943)

Lt.Cdr. Geoffrey Stuart Corlett, DSC, RN (1 Sep - Dec 1943)
Lt. Gilbert Charles Potter, DSC, RN (Dec 1943 - 3 Oct 1944)
Lt. Alfred Lee Harper, RN (3 Oct 1944 - mid 1945)

Officers


Channel Escort, 1944-5
Sub Lt Alan Marsh RNVR
Alan Marsh had been evacuated to South Africa in 1940 and returned to England on the Queen Mary to sign up in 1943. He did his basic training at HMS Raleigh and officer training at Greenwich in 1944. Sub Lt Alan Marsh RNVR served in HMS Versatile from July 1944 until she was decommissioned in 1946. Although he was a member of the V & W Destroyer Association he did not write anything for publication in the Association's magazine, Hard Lying, and I am indebted to his widow Elaine Marsh for the scans of photographs from his album and the few random memories of his wartime service in Versatile. She admitted that when Versatile was sent for scrapping he took possession of the Ship's Log and the wooden name plate with the ship's name spelled out in brass letters.
*******************
Alan Marsh joined
Versatile
after the sucess of the D-Day landings on the Normandy beaches. The u-boats abandoned their bases on the Atlantic coast of France and the Atlantic convoys reversed their directtion and instead of rounding the north of Scotland and meeting the Rosyth Escort Force at Methil on the Firth of Forth for the the journey south down the east coast to the Thames estuary they took the direct route through the English Channel. HMS
Versatile
was one of the escorts for the convoys in the Western Approaches and the Channel.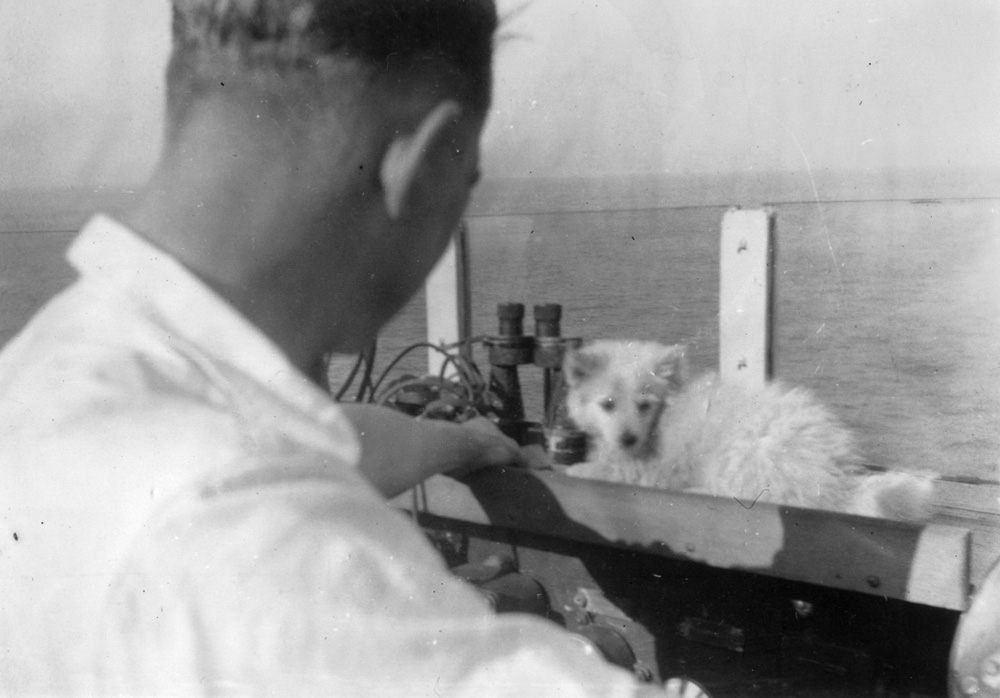 The Ship's dog "Tilly" and Sub Lt Alan Marsh RNVR share a Watch on the open bridge of HMS Versatile on a fine day
Courtesy of Elaine Marsh

HMS Versatile was on hand to assist in the beaching and salvage of the Horace Binney
Deal is on the East coast of Kent just south of the North Foreland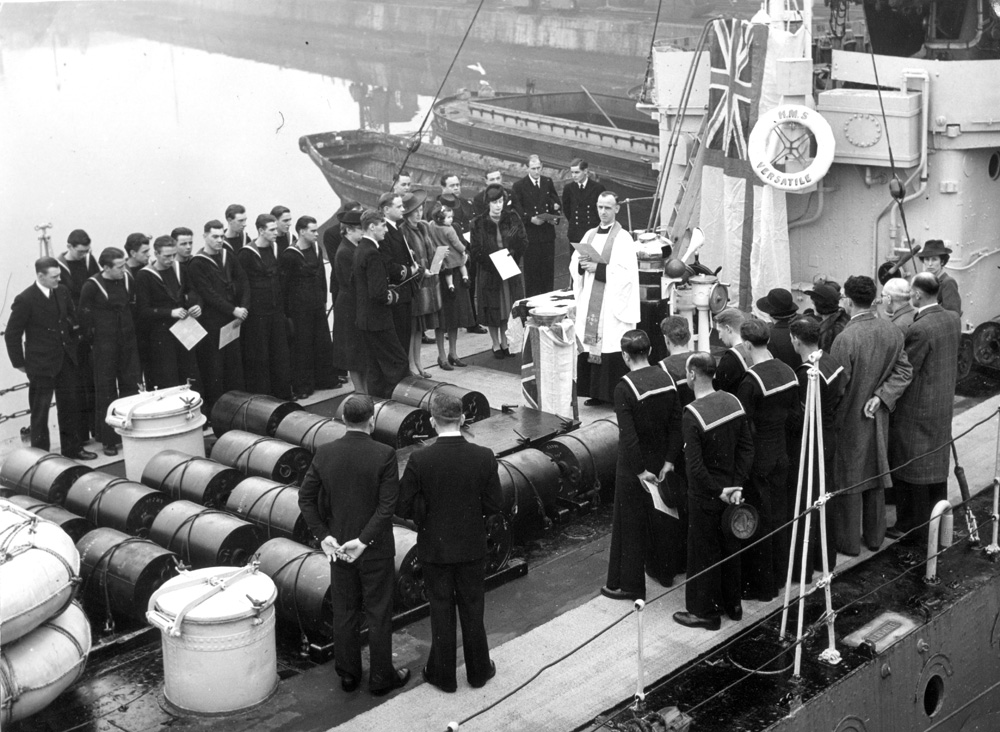 Baptism of the daughter of the CO, Lt. Alfred Lee Harper, RN, at Chatham in October 1944
Courtesy of Elaine Marsh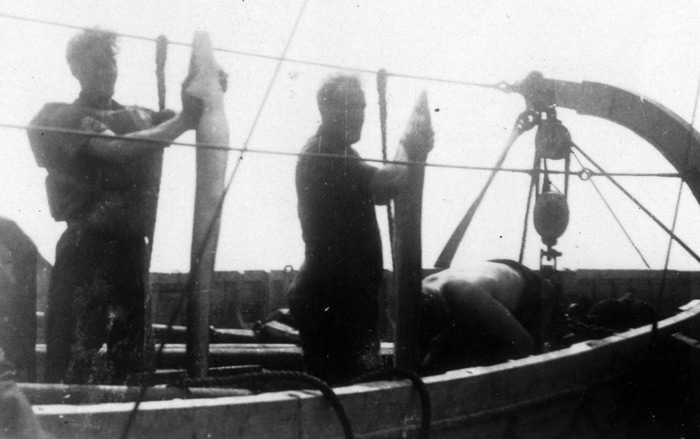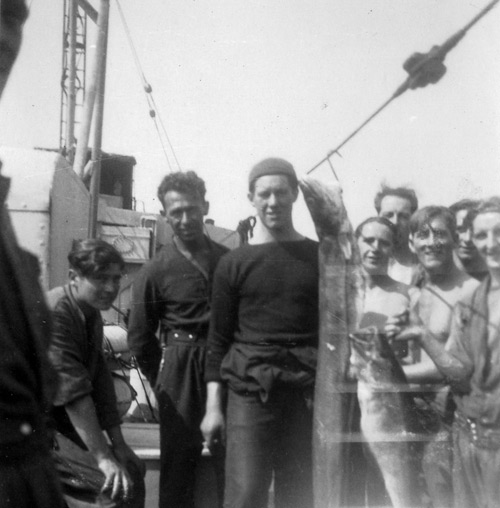 Leisure time as the war draws to its end
Courtesy of Elaine Marsh