---
"My Grandad"
John Gerald Francis Hawkins KX 79737
Stoker in HMS

Versatile

11 April 1940 - 29 September 1942
by Maria Rose

This is an edited abridged version of a post on the BBC Peoples War website about an anonymous stoker who served in HMS

Versatile

from 11 April 1940 to 29 September 1942. He was born in 1910 and served as a stoker in the Navy for seventeen years from 1929 - 46 and died in 1971 aged 61. It was posted by his Grand Daughter, Maria R, and I am hoping she will contact me so that I can credit her and her Grandfather more fully and, perhaps, add some photographs. Do please get in touch if you read this Maria - see my contact details at the foot of this page. I shall start with a brief outline of her Grandfather's service in the Royal Navy before he joined

Versatile.

For a fuller account of this period in his life see the original posting on the BBC site.



My Grandad was born on 11 January 1910 at Gillingham, Kent. His father served in the Royal Navy as a Stoker Petty Officer in the Persian Gulf (1909-14) and in World War 1 so Grandad couldn't have seen very much of him in his childhood years.
When Grandad left School, he worked at the Brickfields in Lower Gillingham, carting the bricks around. After a couple of years he went to work for the Orange Coach Company as an Omnibus Driver as it was a bit better paid and easier to get to than cycling to the Brickfields. At the age of 19, disillusioned at the type of jobs available locally and the low pay, and inspired by his Father's Career, he joined the Royal Navy on 18 March 1929 and trained as a Stoker 2nd Class. He joined for 12 years but ended up serving for 17 years.
He trained at HMS

Pembroke

in the Chatham Dockyard. His first ship was HMS

Ramillies

, a battleship. He kept a photo album of places that he visited and sights that he saw whilst serving on the

Ramillies

(which I now feel lucky to own). These included Malta, Algiers, Athens and Egypt. He visited his Sister Elsie in Malta, whose husband was stationed there in the Army. Grandad was promoted to a Stoker 1st Class (on 2 Jan 1930) and received his first Good Conduct Badge on 18 Mar 1932 (after 3 years of service), a chevron sewn on the upper left arm of the uniform. Grandad suffered from bouts of seasickness aboard the

Ramillies

and only served on Destroyers for the rest of his Naval career, as these did not seem to affect him. He returned to HMS

Pembroke

at Chatham on 13 August 1932 and remained there until 21 Feb 1934. During this time, he married my Grandma at St Mary Magdeline Church, 17 Dec 1932, he was nearly 23 years old and she was 20. Their first son was born seven months later on 22 Feb 1934.

Grandad served in the

V & W Class Leader HMS

Bruce

for exactly three years, and was promoted to Acting Leading Stoker on 6 Aug 1936. He returned to HMS

Pembroke

on 24 Feb 1937, and received his second Good Conduct badge on 18 Mar 1937 (after eight years of Service), and was promoted to Leading Stoker on 6 Aug 1937. Grandma says he was studying for his Petty Officer exams when his father fell ill and Grandad spent a lot of time visiting him in hospital and Grandma used to spend the evenings copying drawings of machinery from books for his exams (apparently he got full marks). On 21 Nov 1937, his father died in All Saint's Hospital, Chatham, from heart failure.
Grandad found an interested in sport, especially boxing and football and these contributed to the cartilage trouble which dogged his later years in the Navy.
*******************
From 14 June to 24 Aug 1939 he served in

HMS

Walpole

, a V & W Class destroyer operating out of Portland but he was
at HMS

Pembroke

, Chatham, when Britain declared War on Germany on 3rd September 1939. He was posted to

HMS

Vivien

on 6 Oct 1939 which had been in Chatham Dockyard for a refit and was commissioned for service in the Rosyth Escort Force for the defence of East Coast convoy defence. After three months he transferred back to HMS

Pembroke

on 5 January 1940 and was promoted to a Temp Acting Stoker Petty Officer on
26 Jan
uary 1940.
Bombed off Hook of Holland!



On 11 April 1940, Grandad joined the 128 strong crew of

HMS

Versatile

.
By May 1940, the enemy had invaded the Netherlands and France and HMS

Versatile

was attached to the Nore Command. On 12 May she grounded on the Dutch coast and had to be towed off by HMS

Walpole

. On the following evening HMS

Malcolm

and HMS

Vivien

commenced operating off the Hook of Holland, and HMS

Versatile

escorted HMS

Hereward

carrying Queen Wilhelmina of the Netherlands from the Hook to Breskens. At 8.45pm that evening HMS

Versatile

was attacked by enemy aircraft. A bomb hit the upper deck over the Engine Room, causing minor structural damage and flooding to the Engine Room. Splinters from this bomb and other near misses, caused damage from 'A' gun to the quarterdeck and the auxiliary machinery also suffered minor damage. The steam pipe was damaged and it was impossible to get up steam and the ship was immobilised. Nine of Grandad's shipmates were killed with one dying later of his wounds. Thirteen wounded men were transferred to HMS

Janus

and a third of the crew were wounded. Apparently, Grandad had only just walked from the section of the ship that took the direct hit having just finished his watch. HMS

Janus

towed HMS

Versatile

to Sheerness on 14 May where she underwent repairs taking several weeks. A couple of days later, on 16 May, Grandad was promoted to Acting Stoker Petty Officer. The names of those killed given below are from

HMS Versatile: 13 May 1940; damaged by enemy action, aircraft attack off the coast of Holland (ADM 358/3649):




BURRUS, David, Able Seaman, RFR, C/J 110569, DOW
EGGLEDEN, Harry, Able Seaman, RFR, C/J 62771, killed
HATTON, Patrick H, Able Seaman, RFR, C/J 99729, killed
HOLMES, Leonard J, Chief Engine Room Artificer 2c, C/M 35350, killed
RAMFORD, George, Able Seaman, RFR, C/SS 9361, killed

SHIACH, Colin S I, Midshipman, RNR, killed
STURGESS, Charles A C, Able Seaman, RFR, C/SS 11777, killed
TURNER, George L, Gunner (T), killed
WARD, William D, Ordinary Seaman, C/JX 165321, killed
WEST, William A, Leading Stoker, C/KX 78847, killed

Grandma was aware at the time of the

Versatile

having been damaged from the propaganda broadcasts Lord "Haw Haw". He broadcast the successes of the enemy by naming the "Number" of the Ship(s) that had been damaged. Grandma knew the official number of the

Versatile

and therefore knew that there had been an incident involving her. She found out for sure what had happened when Grandad docked at Sheerness. He used to send her Telegrams when he was coming into dock which would say "Don't forget xxxxx's birthday on xx date", this would be the date that he was due to dock and therefore a cue for Grandma to go and meet him there.



The crew that died in this tragedy are buried in the "War Graves" Section of Woodlands Cemetery, Gillingham; and according to Grandma, Grandad never really got over that terrible night for the rest of his life;





On the Home Front



Back at home, Gillingham was suffering its fair share of raids. At one time, Grandma, Uncle Charlie and Aunty June spent every night for three months down the Air Raid shelter buried in their back garden. Grandma's father built bunk beds in it. Grandma doesn't remember feeling particularly cold or scared in there and when the Air Raid siren sounded, the first to enter the shelter was the cat! Grandma remembers looking out and seeing the Barrage Balloons that were released on chains to prevent the enemy from flying too low over potential targets (as they would get tangled in the chains) and hearing the "pom-pom" guns. Bombs were occasionally dropped on the railway behind their back garden, which sent dirt flying over their Shelter. On one occasion when Grandad came home on leave the Air Raid siren sounded but he didn't think they needed to go down to the shelter until all of a sudden they heard the enemy flying overhead and threw themselves on the floor under the table. Grandad exclaimed "I wish I was back on the Ship now!" presumably, he thought he would have been a lot safer!



Just before midnight on Tuesday 27th August 1940, German Bombers scored a direct hit on the Nelson Road bus station. This created numerous fires and extensive blast damage; the entire area was completely gutted, leaving little more than a few collapsed girders and the remains of fifty useless buses. That night, bombing throughout Gillingham reached its peak, with numerous shops and houses having been destroyed. Incendiary bombs fell upon both the Co-op and a local theatre.



Rescue of survors from HMS

Cape

Howe

On 27 June 1940

Versatile

was searching for a U-boat and rescued the survivors of the Merchant Ship,

Prunella

, torpedoed 118 miles south west off Lands End.

Prunella

was a Royal Navy special service vessel HMS

Cape Howe,

operating under the cover name RFA

Prunella

to conceal her identity a

s a submarine decoy vessel or "Q-ship". She was sunk by the German submarine U-28 on 21 June 1940 with the loss of 56 lives. Thirteen of the crew on a life raft were rescued by

Versatile

. Sub-Lieutenant Duncan Cameron Kennedy, RNR (later Captain Duncan Cameron Kennedy) was Mentined in Despatches for saving the lives of the remaining survivors in the ship's whaler which was sighted by a British flying-boat after being scattered in a storm and picked up by SS

Cassamance.

For a more detailed account by one of the survivors in the life raft see the article in

The War Illustrated

August 1940, IWM Doc 11785). and the eight page account of Philip R. Pragnell, a stoker in HMS

Cape Howe

, at the Imperial War Museum containing the two photographs of the survivors below (IWM Doc. 11785). Some of the photographs beow also appeared in the wartime photograph album of "Killick" (leading Seaman) Jim Brown, the father of David Brown, the former Treasurer of the V & W Destroyer Associayion.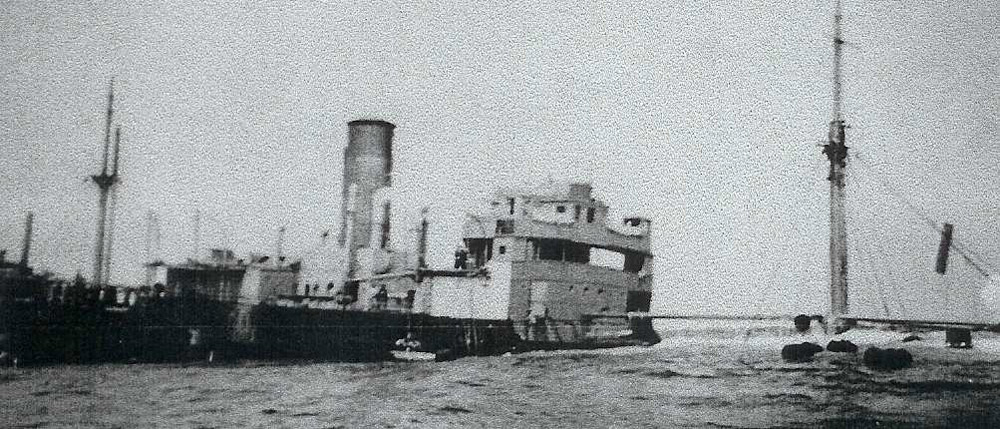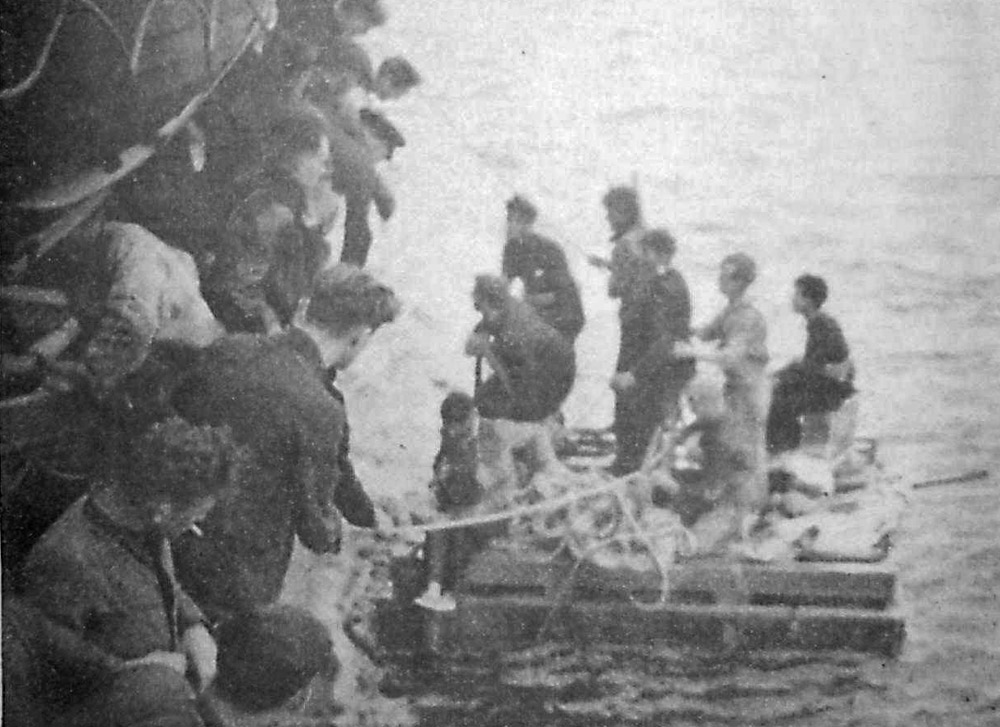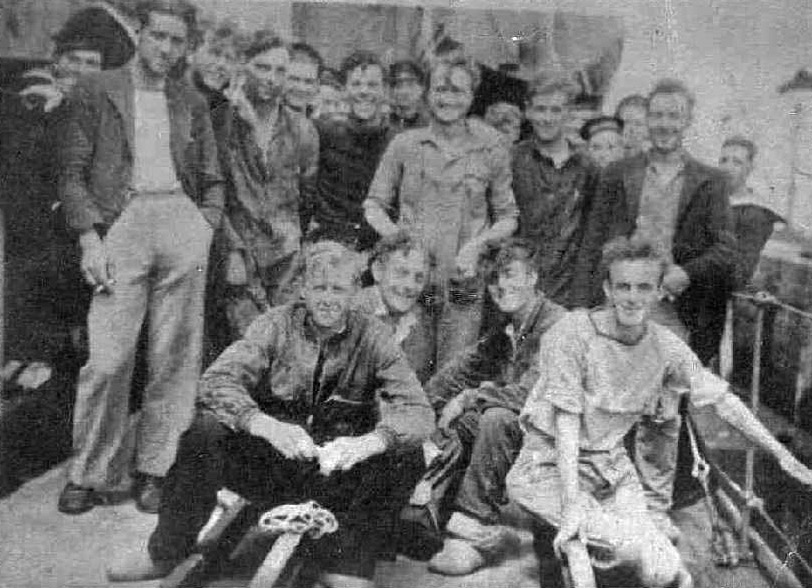 HMS

Cape Howe

(RFA

Prunella

) sinking and the rescue of the survivors on the life raft by HMS Versatile
In the photograph of survivors on the deck of HMS

Versatile

Arthur Brimfield is second left (with cigarette) and Philip Pragnell is in the middle in the dark sweater


HMS

Versatile

reverted to the Nore Command and was bombed again (but without damage) on 3rd July. After a boiler clean at Chatham

Versatile

took part in the Sheerness Force, Group 6 for Operation

Purge

(anti-invasion measures). While escorting a Channel convoy on 10 July enemy aircraft sank one of the ships in the convoy but

Versatile

was not hit.
On 25 August,

Versatile

and the

Vimy

were ordered to join the Home Fleet at Scapa, and on the 31st both ships were ordered to 'raise steam as an enemy force is reported to have shelled Eastbourne'. Early in September, operating in Scotland, HMS

Versatile

escorted Convoy BAS3 from the Clyde to Iceland, altering her course en route because of a possible German invasion force approaching Iceland. On 11 Sep she and

Jacka

l and others escorted a mine laying force on a sortie called Operation 'SN41' and the

Versatile

spent the rest of the month engaged on escort duties in Scottish waters. On the 30th she and an Anson aircraft searched for a U-boat whose periscope had been reported by the merchant ship

Fort George

. Early in October,

Versatile

was escorting Convoy WS3 when she and

Harvester

screened the Liner

Highland Brigade

, and during this interlude her Asdic and degaussing coil became defective. The following day, in addition to this defect, there were serious oil fuel leaks into living spaces. HMS

Versatile

had temporary repairs at Londonderry on 10 October and then she sailed round to the Tyne for refit and repairs.
Grandma remembers traveling up to Newcastle early in the War (which could have been at this time) with Uncle Charlie and a very young Aunty June, to be with Grandad. She says that after a couple of weeks, one evening, she decided that she had had enough and Grandad agreed that she should return home. She caught the train with the children, which had to travel during a blackout, so it was in total darkness. She remembers the train being packed full with Sailors sleeping in the luggage racks! They arrived back in Gillingham during a heavy raid, and a kind lady who lived near Gillingham Station invited them in for a cup of tea, until it was safe to walk back home.
Grandma says that despite rationing they actually ate well. Grandad used to save up his chocolate ration on the ship, hide it in his gas mask case and bring it home for the family when he was on leave. He wasn't allowed to leave the Docks where his ship berthed during the War which is why Grandma used to travel around to see him. Often, if he wasn't allowed to leave the ship, Grandma and the children would go aboard and have tea with him. Although Grandad used to be searched when he left the ships, to ensure that he wasn't carrying food ashore, occasionally, according to my Dad, he did succeed. Although Grandma remembers one occasion at Sheerness, where he was searched and the Police confiscated a big piece of ham that he was concealing, Grandma thinks that the Policeman probably had it for dinner that night, and she hopes that he choked on it!! She feels that they should have turned a blind eye, considering the Crew were risking their lives for them all.
Uncle Charlie remembered Aunty Beat (Grandma's sister) getting hold of some banana's (bearing in mind that Banana's were not imported during the War as the boats were needed for more important shipments) and she cut one in half and gave half to Aunty June and half to Uncle Charlie. Uncle Charlie peeled the skin off his and turned around to see Aunty June eating the whole of hers, skin and all! This was an easy mistake to make, as she had never seen a banana in her life before!
East Coast Convoys



After her refit on the Tyne HMS

Versatile

rejoined the Rosyth Escort force. Among the many convoys she escorted on the East Coast were Convoys FN45, FN70, FS70; nearly all the convoys were heavily bombed. Grandad was promoted to a Stoker Petty Officer on 26 Jan 1941. The following day,

Versatile

's steering engine failed, which would have been a most uncomfortable situation, being alongside unwieldy merchant ships in rough water in narrow channels with no room to manoeuvre! Attacks by enemy aircraft and E-boats were now becoming the rule rather than the exception and mines were also a serious hazard.
On the 14 and 16 March 1941, HMS

Versatile

reported the merchant ships,

Mexico

and

Hereport

, were mined and she took eleven survivors off the latter ship to Sheerness. On 13 March she attacked a U-boat contact, and on the night of the 14th, she herself was unsuccessfully attacked with torpedoes by an E-boat off Cromer.
The "Times" National Daily newspaper on 27th March 1941 reported the following incident: "A further Admiralty Communiqué stated: "A German Aircraft was shot down yesterday while attempting to attack a convoy in the North Sea. The German, a Messerschmidt 110, was hit full in the nose by the guns of the HMS

Versatile

(Commander J H Jauncey, RN). No damage or casualties were sustained either by HMS

Versatile

or the Merchantmen to which she was acting as Escort".
The convoys and bombings continued throughout the remainder of 1941, with the

Versatile

visiting Rosyth in July, where she had platforms for Oerlikon cannon fitted. The USA joined the War in December 1941.
Laid up



Grandad left HMS

Versatile

on 29 Sep 1942 and did not go to sea again but served at Shore Establishments and Ships docked for short periods. Grandma says that this was due to his increasing knee cartilage problems, which meant he was unable to climb up and down ladders efficiently.
Grandad was back home on HMS

Pembroke

from 30 September 1942 to 30 June 1943; then spent a year (1 July 1943— 9 July 1944) on HMS

Beaver

, a Shore Establishment in Hull, where he was awarded a Long Service and Good Conduct Medal on 18 March 1944. It was during his time on HMS

Beaver

, that Grandma gave birth to my Dad on 3 May 1944 in the Royal Naval and Marine Maternity Nursing Home. The cost of the nursing fees for the two weeks that Grandma was there amounted to £5 6s 6d, a lot of money, but Grandma says that they really looked after you.
During the summer on 1944, Grandad spent a week (10 - 18 July) on the destroyer, HMS

Faulknor

, docked at Grimsby. He then went back to the

Beaver

in Hull from 19 July 1944 to 7 May 1945, the day the War ended, VE Day. As Britain was celebrating its victory, he went to work for a few days on HMS

Bootle

, a Minesweeper, docked in Harwich and then transferred back to HMS

Beaver

from 7 September to 13 October.
Grandad then went to HMS

Royal Arthu

r, a Shore Establishment for training Hostility Only ratings, at Skegness. Grandad served there as an Instructor until he was invalided to shore, permanently unfit for Naval Service on 24 January 1946, aged 36. He was awarded three medals — The 1939-45 Star, The Atlantic Star and the War Medal 1939-45. While he was at Skegness, Grandma visited him and stayed in a Guest House with the children. Uncle Charlie remembers that he and Aunty June went to School up there. The owners of the Guest House were so impressed by how easily the children went to bed, that they used to look after them so that Grandma and Grandad could go out to the NAAFI social activities.
Grandad returned to Civvy Street and was employed by the MOD in the Royal Engineers at Brompton in the Boiler House until 22 Aug 1948, when he transferred to the Royal Naval Torpedo Depot in Chatham Dockyard as a Skilled Labourer until his retirement at 60 years on 11 Jan 1970.
My Grandad died on 27 Aug 1971 of a heart attack, aged 61. He was taken by God prematurely and deserved to enjoy a long retirement after giving his best years to serving for his country. He died ten months before I was born, so I never had the opportunity to know him. However I consider myself fortunate in that my Grandma has so far survived him by 32 years, and she has been able to give me an excellent insight into the lives lived by her generation.


Yesterday, on the 32nd anniversary of my Grandad's death, I visited the Chatham Crematorium at Blue Bell Hill where his ashes were scattered; his name has been entered into the book of remembrance, with a crest of a crown and anchor with gold leaves around it. Part of the inscription under his name read "Courageous in life and death…". From the memories that my family have shared with me about him and the information that I have discovered about his life and experiences, I think that this inscription is very apt.



If you have stories or photographs of HMS
Versatile
you would like to contribute to the web site please contact

Bill Forster
---
Return to the Home Page for HMS Versatile


Return to the Home Page of the V & W Destroyer Association
Return to the Index Page for the 69 V & W Class Destroyers

---