---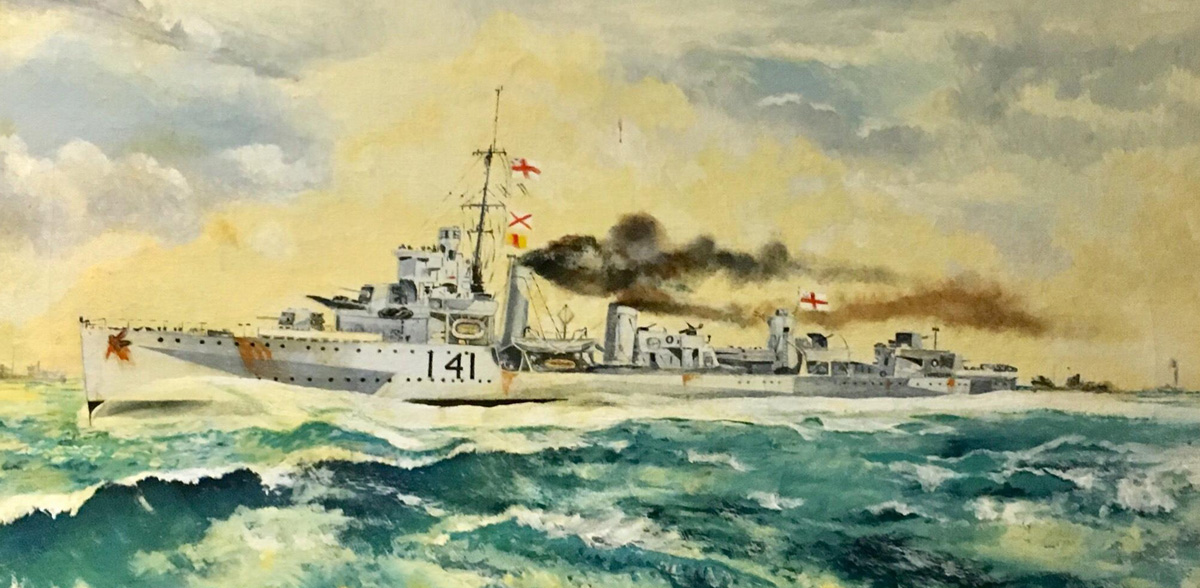 A painting of HMS

Walpole

presented to Ely Museum by her last CO after his retirement as
Rear-Admiral George C Cowley RN
Painted by L.R. Fraser

HMS

Walpole

was built by William Doxford at Sunderland on the Wear and commissioned on 11 July, 1918. HMS

Walpole

(Lt Cdr Charles G. Naylor, RN) was one of the Guard Ships for the German High Sea Fleet at Scapa when their officers scuttled their ships on 21 June 1919.

Walpole

lowered her boats and was able to board six torpedo boats before boarding the light cruiser

Nurnberg

, loosing her cables and allowing her to drift ashore.The other Guard Ship, HMS

Westcott

, boarded the

Hindenburg

to close her watertight doors while the destroyer pushed her ashore.

HMS

Walpole

was one of thirty plus V & W Class destroyers which took part in naval operations in the Baltic against Bolshevik forces in defence of the newly established Baltic States. She then transferred to the 2nd Destroyer Flotilla as part of the Atlantic Fleet. In 1936 she was assigned to the First Anti-Submarine Flotilla out of Portland.

At the outbreak of war she joined the 11th Destroyer Flotilla of V & Ws led by HMS

Mackay

at Plymouth.
On 28 October 1939 the 5,000 ton SS

Bronte

was torpedoed by U-34 some 180 miless west of Lands End and

Walpole

took on board 42 crew members - and shot a bull!
On the 21 December Lt.Cdr. Harold Godfrey Bowerman, RN took command of HMS

Walpole.

He was CO of the submarine, HMS

Oxley

, when she was torpedoed and sank by submarine HMS

Triton

on 10 September 1939, and was one of two survivors. On 8 March 1940

Walpole

was escorting inbound convoy HX.22 when SS

Counsellor

detonated a mine in Liverpool Bay.

Walpole

took onboard the 78 survivors including the Commodore, Rear Admiral Harold G.C. Franklin , and his seven staff.

As German forces invaded the Netherlands HMS

Walpole

was one of many V & W Class destroyers detached from Western Approaches flotillas and moved to Nore Command at Harwich. On 13 May 1940, Whit Monday,

Walpole

was charged with taking three men to IJmuiden on a secret mission to steal industrial diamonds from under the noses of the invading German forces. A fictionalised account of this mission by David E. Walker was published as

Adventure in Diamonds

(Evans Brothers, 1955) and made into a popular film,

Operation Amsterdam,

starring Peter Finch, Eva Bartok and Tony Britton, in 1959. The true story of the diamond operation has been researched by Darron Wadey who lives in the Netherlands and can be read on this website.

On 28 August 1940 W

alpole

was bombed off Dover and repaired at Chatham but on 28 October she detonated a magnetic mine near the Sunk Light Vessel off Harwich and had to be towed to Sheerness by HMS

Windsor

and was under repair at Green & Silley Weirs' Blackwall Yard on the Thames until April 1941. Lt.Cdr. John Henry Eaden, DSC, RN succeeded Bowerman as CO while she was under repair. On 12 February 1942

Walpole

was part of the 16DF which attacked the German Battleships

Scharnhorst

and

Gneisenau

and the Cruiser

Prinz Eugen

on their Channel Dash from Brest to Wilhelmshaven but she was forced to withdraw by engine problems.


Following a successful "Warships Week" savings campaign in March 1942 HMS

Walpole

was adopted by Ely in Cambridgeshire. On 13 March

Walpole

and

Windsor

supported Light Coastal Forces in an unsuccessful attempt to block the passage of the German commerce Raider

Michel

through the Dover Straits.

Walpole

resumed patrol and convoy escort servicess in the North Sea until August when with a new South African CO, Lt. Arthur Shubrook Pomeroy RN, she was detached for duties with the Home Fleet at Scapa Flow and anti-submarine operations off Iceland. She returned south to Tilbury in September for repair to the underwater dome of her Asdic and resumed East Coast Convoy duries with the 16DF at Harwich.

In mid December she returned to the Home Fleet at Scapa as a local escort and on 13 January suffered weather damage taking passengers and mail to Iceland and returned to Scaps for repairs and afterwards served as the Emergency Destroyer until she rejoined the 21 DF at Harwich in February 1943. From March - April she under refit at Chatham and then resumed convoy escort duties in the North Sea.

In September Lt. George Clement Crowley, DSC, RN was appointed as her fifth and final wartime CO. He had served as 1st Lt in four destroyers, the previous two, HMAS

Nestor

and HMAS

Norman

, being N Class destroyers on loan to the RAN. He took a special interest in

Walpole

's links to Ely and in December hosted a visit to the ship at Harwich led by the Dean of the Cathedral.

HMS

Walpole

was his first command and his two sons have provided a chapter from his unpublished memoir written
after his retirement as Rear Admiral George C Crowley DSC, RN on 18 November 1968,
describing his time in command escorting East Coast convoys and supporting the Normandy landings. HMS

Walpole

hit a mine off the Dutch coast on the 6th January 1945, was beyond repair and was sold for scrap the following month. A ceremony to commemorate HMS

Walpole

was held in Ely Cathedral in June 1949. It was attended by the whole crew and the ensign of the HMS

Walpole

was laid up in the North Transept of the Cathedral where it can still be seen.


Commanding Office

Lt Cdr Charles G. Naylor, RN (19 June, 1918 – 15 April, 1921)
Lt Cdr Hugh B. Wrey, RN (15 April, 1921 – 23 June, 1922)
LLt Cdr James C. Colvill, RN (23 June, 1922 – 14 August, 1925)
Lt Cdr William S. Moor, RN (14 August, 1925 - 30 March, 1926)
Lt Cdr Bernard A. W. Warburton-Lee, RN (30 March, 1926 – 5 April, 1928)
Lt Cdr Richard F. Jolly, RN (5 April, 1928 – c. April, 1929)
Lt Cdr Eric B. K. Stevens, RN (1 April, 1930 -
Lt Cdr Harold W. Seaman, RN (22 April, 1932 -

Lt Cdr Arthur F. C. Layard, RN (4 May, 1933 -
Cdr Frank M. Walton, RN (12 April, 1937 -
Lt Cdr Anthony F. Burnell-Nugent, RN (9 January, 1939 – 21 November, 1939)
Lt.Cdr. Harold Godfrey Bowerman, RN (21 Dec 1939 - late 1940)
Lt.Cdr. John Henry Eaden, DSC, RN (14 Mar 1941 - Aug 1942)
Lt. Arthur Shubrook Pomeroy, RN (Aug 1942 - Sep 1943)
Lt. George Clement Crowley, DSC, RN (Sep 1943 - early 1945)

Officers

Sub Lt P.R.A. Brown RN (2 May 1940 - 6 January 1945)
Wt Eng T.F. Clunn RN (15 June 1939 - 6 January 1945)
Lt Michael R.E. Faning RN (4 April 1938 - February 1941)
Lt Surg K.S. MacLean RNVR (11 Jan 1940 - 6 January 1945)
Lt J.S. Truscott RNVR (28 November 1939 - 6 January 1945)
Sub Lt R.M.E. Varley RN (3 Jan 1940 - 6 January 1945)
Mid R.J. Watson RNR (28 Aug 1939 - 6 January 1945)

Former Full Members of the V & W Destroyer Assoociation
P. Cable (Romford, Essex) and R. Thrift (Thetford, Norfolk)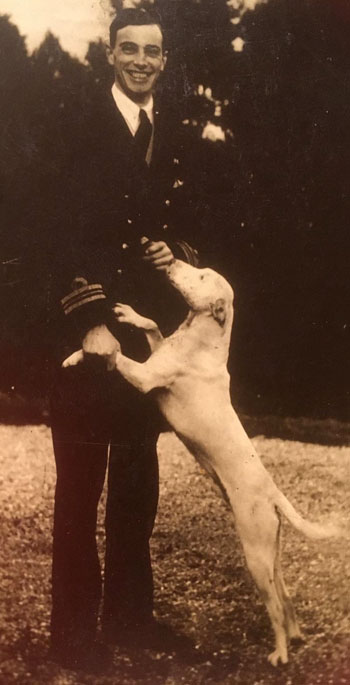 Charles "Kit" Granville Naylor was born at Lichfield, Sussex, on 26 April 1888, the son of Charles Topham Naylor and his wife Katherine Eleanor Granville.He entered Britannia Royal Naval College Dartmouth in January 1903 and was appointed Lieutenant on 15 November 1908 and given command of a torpedo boat TB33 on 6 September 1912. He took command of the River Class Destroyer HMS

Moy

on 24 October 1914, part of the 9th Flotilla at Hartlepool during

the German raid on the Yorkshire Coast 15-16 December.

He commanded the destroyer HMS

Milbrook

at the Battle of Jutland in 1916 and on 15 November was promoted to Lt Cdr. He was made CO of HMS

Walpole

on 19 June 1918 and looks very youthful in the photograph on the right wearing the stripes of a Lt Cdr.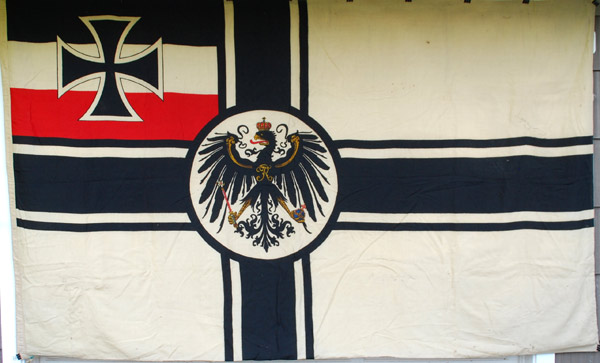 Sub Lt S.B. de Courcy-Ireland RN witnessed the 72 ships in the German High Sea Fleet escorted into the Firth of Forth to surrender from the deck of HMS

Westcott
on the 21 November 1918
and was part of the escort taking them to Scapa Flow in Orkney to be interned while the allies argued about what to do with them. My 19 year old father was stationed at Houton Bay Air Station on Scapa Flow as an Observer Gunner on anti-submarine patrol in Short 184 seaplanes and saw them enter the Flow and anchor between Houton Bay and Hoy on the 24th November. Their crews were demoralised and mutinous but made no trouble and when the Home Fleet was at sea two destroyers were left behind as Guard Ships.



On 21 June 1919 HMS

Walpole

and her sister ship HMS

Westcott

were the two Guard Ships while the Home Fleet was at sea. At about noon

Lt Cdr Charles G. Naylor, RN, the CO of HMS
Walpole
, saw the German ships hoist the Imperial German Ensign at their masts and their officers and men lower boats and abandon their sinking ships. He deployed

Walpole's

boats to assist in beaching the torpedo boats in Gutter Sound before they sank and then boarded the light cruiser

Nurnberg

to release her cables to enable her to drift ashore on Cava. Charles Naylor took possesion of her
ensign, measuring ten foot by six
, and a hundred years later it is still a much prized family treasure (on left).



Brian de Courcy-Ireland (below left) in HMS W

estcott

describes events in

A Naval Life

(Englang Publishing, 1990 and 2002),

self published by the family. The Captain was Lt Cdr C R Peploe "who had done well at Jutland in another destroyer when his captain was killed and he had taken over - a jovial extrovert" ...

"We were secured to a buoy in Gutter Sound (among the German destroyers) by a slip rope. Most of us were in the Wardroom having a drink before lunch when the Officer of the Watch came tumbling down with the startling news that all German ships had hoisted a flag signal and some appeared to be abandoning ship".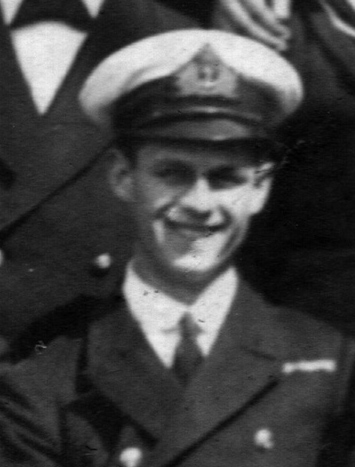 After the initial shock and confusion: "we decided to concentrate on trying to save a few ships, and started on a couple of destroyers. We blew their cables to save time, and pushed them into shallow water where they settled pretty well upright. We then turned our attention to the great

Hindenberg

. No 1 and myself with a party of about 25 men with a young Engineer Officer got on board, and while the Captain tried to push her into shallow water we closed as many watertight doors, hatches and scuttles as we could. I thnk we closed about two hundred but it was hopeless. we were working largely in the dark in a ship we didn't know; many of the clips were rusty and stiff and we were being forced back all the time. No 1 and I were the last to leave as she sank under us, fortunately upright, climbing higher as she settled, finally coming to rest with bridge snd funnels, etc above water."

"Our final task was to salvage the two destroyers we had pushed into the beach. The water was cold and we had to swim and dive to close the scuttles and hatches. It was a dirty job too as they had oppened up a oil fuel tank and everything was coated with a film of oil. I was inspecting the Wardroom of one of the destroyers ... and found a signed oil painting of a scene in East Prussia perfectly preserved by the oil; "I have it still".

The official report on the

Sinking of German Fleet at Scapa Flow

(ADM 116/2074) and the efforts made by the two Guard Ships to prevent the SMS

Nurnberg

sinking is in
the National Archives at Kew.

HMS

Walpole

and HMS

Westcott

both served in the "forgotten war" in the Baltic which preserved the independence of Estonia, Latvia and Lithuania from the twin perils of Bolshevik naval forces based at Petrograd and a German General with substantial land forces trying to repulse the Bolshevik forces while seizing command of the Baltic States.

Charles "Kit" Naylor left Walpole on 14 April 1921 and joined the Danae Class Light Cruiser HMS

Dragon

as second in command and was promoted to Commander on 31 December 1921. He was given a shore posting in April 1922 and, tragically, died of a long standing heart condition aged 36 on 27 January 1924. Sub Lt Brian de Courcy-Ireland was born in 1900 and died in his sleep in the early morning of Remembrance Day 2001. He was a Lieutenant in HMS

Venomous

from 1920-1 and figured prominently in

A Hard Fought Ship: the story of HMS Venomous

(Holywell House Publishing, 2017). After retiring as Cpt S. Brian de Courcy-Ireland in 1951 he served as Naval ADC to the King. The
Imperial War Museum have a copy of
his 454 page personal memoir

A Naval Life

and
eleven reels of recorded interviews
made in 1991 which can be listened to online.
The first month of a new War against Germany

Twenty years later at the beginning of September 1939 HMS
Walpole
was involved in the very early detection of U-boats as Leading Seaman William Hutchins relates:-
"Saturday night on the 2nd of September 1939 we were in asdic contact with two submarines and assumed that they were German U-boats. Contact was lost with one and on hearing of the sinking of the SS
Athenia
on the 3rd September we believed that this was the U-boat that had sunk her, as it was not too far away from where the
Athenia
was attacked. War had not been declared therefore
Walpole
did not drop depth charges. We remained in contact with the second submarine until the announcement of the declaration of war at 1100 hrs on 3rd September. At 1103 we attacked with depth charges and assumed that these attacks had been successful (never verified). The other destroyers which were in company with us were
Vanquisher
and
Wolfhound
and another."

The Sinking of the

Bronte



The British merchantship SS

Bronte

was torpedoed and badly damaged on 27 October 1939 180 miles SW of Lands End
by U-34
and eventually after attempting to tow her back to harbour had to be sunk by HMS

Whirlwind

and HMS

Walpole

with their guns.

Walpole

took onboard the 42 crew members. Leading Seaman Henry Martin recalled what happened:
"on one trip to 13 degrees West (actually 10.52 West) a torpedo passed under the
Walpole
. I saw it as clear as if it were daylight although it was night time. The torpedo ran on and struck a ship called SS
Bronte
and she settled down at the bow. Before the dust had settled the crew of
Bronte
were alongside us. Our Commanding Officer was none too happy but he sent over a crew from
Walpole
and they, in true matelot fashion, purloined a lot of their navigational equipment. The boarding party returned and reported that the
Bronte
was fit to sail. So, back went the crew of the
Bronte
and the C.O. decided to take her in tow. We secured the
Bronte
's hawser from her stern and took the strain but - guess what? These hawsers had "Liverpool splices" in them and pulled straight out. Our skipper went berserk, so we employed our own wires and once again took up the strain and proceeded to tow her. After towing her for some time the weather deteriorated and the SS
Bronte
broke up and sank, taking the remains of a prize bull with her. We rescued
Bronte
's crew and returned them to Liverpool. While going to and fro from Liverpool we had an asdic contact and dropped twenty five depth charges, we had to fit pistols with detonators flying about and load them into carriers; on the bridge the skipper was going mad but we managed it."
PO Stoker Arthur Suffolk writes:
"The
Bronte
was carrying a prize bull destined for Argentina.
Walpole
's First Lieutenant went over to the
Bronte
to shoot the bull as it was felt that it would be more humane than to leave the poor beast to drown. Unfortunately, the officer failed to take any ammunition for the revolver with him and had to return for some! Eventually, with mission accomplished the
Bronte
was sunk."
A few days after the sinking of the
Bronte
the C.O, Lt. Cdr A.F Burnell-Nugent RN DSC, wrote to a fellow officer:
"My Dear Hoar, Thank you very much for your letter which I was pleased to get and hear all your news. I sympathise with you not being at sea but no doubt it would be fatal if everybody in important jobs like yours all left at once. I suppose I am damned lucky to be in command of a destroyer in war time, which is the job that I have always wanted. But I had no idea what a hell of a sweat it would be. We are employed entirely on convoy work in the Atlantic and do seven days out and two days in harbor and so on. It would be grand if the weather at this time of year was not always so bloody awful. I am writing this in my sea cabin. Last night we had the worst gale that I have ever met, hove to all night quite helpless and everything getting bust; thank God in the morning we met another destroyer whpch took charge of me, otherwise I should have no idea which way to go to find the convoy again.
My Officers are a Lieutenant RNR, two acting subs (sub lieutenants), an acting Gunner and a Midshipman. Very decent fellows, but not very experienced at keeping station at night without lights, but they do it damn well on the whole. Crew are almost all reservists, mostly men who left after twelve years, but there are a few who are pensioners, the oldest is 54. We also have a few very young RNVR seamen aged about 18, very willing but it is absolute cruelty to send the very young, or the very old on a job like this.
What rather gets me down is the paper work - when one gets back to harbour and expect a 'stand easy' about twenty bags of different official mail arrive - mostly ticking us off!
One has incredible adventures. Last trip we brought back 42 survivors from a British ship [the
Bronte
] that had been torpedoed. I tried to tow it back to harbour stern first, but a gale came up and the bloody thing sank only 60 miles from harbour after two days towing. Maddening, for I had hoped for a spot of salvage money.
I have shared a U-boat; I thought it was U-34, the U-boat that attacked
Bronte
, but I was mistaken as
U-34 sank HMS

Whirlwind

off Lands End in July 194
0. By chance,
Whirlwind
was one of the destroyers escorting the convoy it attacked, but it is not a pleasing business as I felt sorry for the fellows trapped inside.
There is a good deal of semi-confidential stuff in this, but as you are in the reserve I reckon it will be all right. Anyhow, I will censor it myself, but don't show it to everyone you know. It is still blowing like stink but clear weather. My job certainly teaches one to rely on oneself and I have learnt more since this war began than in years of peace.
Always delighted to hear from you. I hear that your sister has married some nice Naval Officer but I'm ashamed to say that I don't know who it is".
Lt. Cdr A.F Burnell-Nugent RN

joined

Walpole

as CO on 9 January and left on 21 November 1939 when Lt Cdr Harold Bowerman RN took over as CO. Burnell-Nugent took command of HMS

Havant

(H32) which was bombed off Dunkirk on 1 June 1940, the last day of the evacuation of the BEF and she had to be sunk by the minesweeper, HMS

Saltash.

He went on to command four more destroyers: HMS

Jervis, Hostile, Jersey and Racehorse.
A wonderful start to 1942!
An anonymous contribution to

Hard Lying

, the magazine of the V & W Destroyer Association:

"Without wishing to appear too dramatic, we have managed to survive up to now, and as you will see 1942 was quite an eventful year for HMS
Walpole
. From the 1st of January to the 11th we saw continuous convoy escort duties and further E-boat patrols, if the weather was too rough the patrols would be cancelled, E-boats did not sail if the sea was at all turbulent.
Walpole
left Sheerness on the 11th to escort convoy FN88, all the way to Rosyth, then on the 14th escorted the county class cruiser HMS
Suffolk
to Aberdeen.
The next day we joined convoy FS 100 to act as close escort with the Hunt class destroyer HMS
Waddon.
On the 17th January FS 100 and escorts approached the Thames Estuary in the late afternoon and the merchant ships prepared to anchor. At this time, convoys were not allowed to trade up the estuary during the hours of darkness on account of enemy mine laying. As
Walpol
e slowed down at the rear of the convoy to protect stragglers and advise on anchoring, a Dornier 217 bomber attempted to strafe and bomb
Walpole
- possibly a dummy run?
Each convoy is given a code name as well as a number. In the event of imminent danger to a convoy, as assessed by shore radar, a plain language message is flashed by ship-shore radio to the convoy escorts. For air attacks the word 'Blue' followed by the convoy code name is given. At this time I was on ship-shore frequency watch and knowing the FS 100 code word I was able to pass the 'Blue' warning to the bridge within minutes of receiving it. This gave the Captain and the crew a few vital moments to be fully prepared, as they would normally be at stand by, not action stations, and our Captain, Lt Cmdr J.H. Eaden, exercised great skill and coolness in these moments.
The Dornier made another run, machine gunning
Walpole
and making several holes in the funnel, as well as shooting away one of our W/T aerials.
Walpole
had by now almost stopped at the rear of the convoy and the enemy must have mistaken us for a merchantman. The Dornier made a low-level run from astern, and when the bomb doors opened, our Captain ordered, 'Full ahead both', to the engine room. As we picked up speed quite quickly the bombs exploded in our wake. After releasing her bombs the enemy aircraft turned away and presented us with a perfect target. Excellent shooting from our gunners made sure that the enemy did not escape. The plane crashed in flames, there were no survivors.
Lt Cdr Eaden was mentioned in despatches and one of our gunners received the DSM - a wonderful start to 1942!"
HMS
Walpole
and
Windsor
attack the Commerce Raider
Michel
in the Channel
On 13 March the
Walpole, Windsor
and the escort destroyers
Blencathra, Calpe
, and
Fernie
deployed in the English Channel to intercept the German merchant raider
Michel
sailing from Flushing in the Netherlands to German occupied France under escort by five torpedo boats and nine minesweepers.
Windsor
exchanged gunfire with the German ships on 14 March and made a torpedo attack, sustaining superficial damage from German gunfire.
0552 Altered course in succession to 135, and received 'Enemy in sight to Starboard'.
0553 Received "Stand by to turn to Starboard to fire torpedoes" Tubes were brought to the ready Port
0554 Received "Enemy in sight to Port" While altering back in succession to 100 degrees, tubes were trained for and aft, as it was not clear at this stage on which side the torpedo target lay.
Fire was opened on a destroyer bearing 130. 'B' gun illuminated with star shell. Short range weapons opened fire on destroyer and E-boats.
0555
Walpole
was observed to turn away to Port. At the same moment a merchant ship was sighted bearing approximately 100, range 4000, approximate course 230.
Tubes were brought to the ready Starboard. Enemy sped was estimated at 15 knots. Speed was increased to 25 knots.
0557
Windsor
turned to Port and fired torpedoes at an estimated range of 2,500 yards and enemy inclination m090 right.
0559 Ship was steadied up on a retiring course 315, with
Walpole
on the Starboard beam, distance 2 cables.
0600 A large explosion was seen amidships in the merchant ship. Fire was ceased after torpedoes had been fired
Calpe
and
Fernie
were by this time somewhere between
Windsor
and the enemy, and a large amount of smoke made it impossible to select targets.
0605
Windsor
took station astern of
Walpole.
Windsor
was under erratic fire from 0554 to 0559, a number of shells fell close, at 0556 she received a direct hit, a shell estimated as 3 or 4inch caliber demolished the motor boat and caused superficial damage.
The
German auxiliary cruiser

Michel

(HSK 2)
, known to the Kriegsmarine as Schiff 28 and to the Royal Navy as Raider-H, was a converted German auxiliary cruiser or commerce raider.Post war details indicate that no serious damage was done. During the war the Commerce Raider
Michel
spent 358 days at sea, during which she sank or captured 18 ships totaling 126,632 ton and by the time she berthed at Kobe for repairs on 2 March 1943 she was the last operational raider. Her CO, Korvettenkapitän Helmuth von Ruckteschell, requested and was granted relief of command on medical grounds.
Michel
was sunk by US submarine
Tarpon
east of Yokohama on 17 October 1943.
East Coast Convoys and the Normandy Landings
Lt Cdr George C Crowley RN
Lt George C Cowley was appointed as CO of HMS
Walpole
in September 1943. He had joined the Navy as a 17 year old cadet in 1933 and this was his first command and although

Walpole

was an old ship he was very proud of her. In the 1970s, after his retirement as Rear Admiral George C Crowley DSC and bar, he wrote an unpublished account of his life at sea and this month I succeeded in tracing his two sons, Roger and Patrick Cowley, and they sent me a copy of the chapter dealing with his time as CO of HMS
Walpole
which will be added to this website.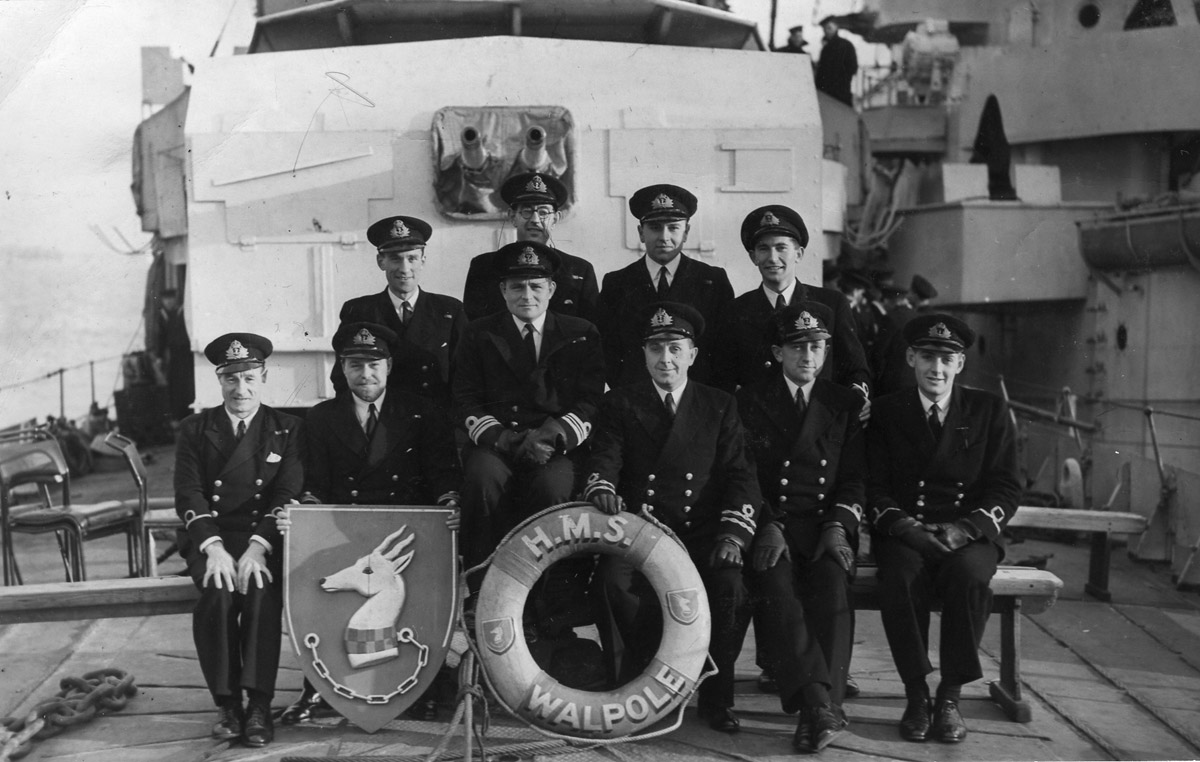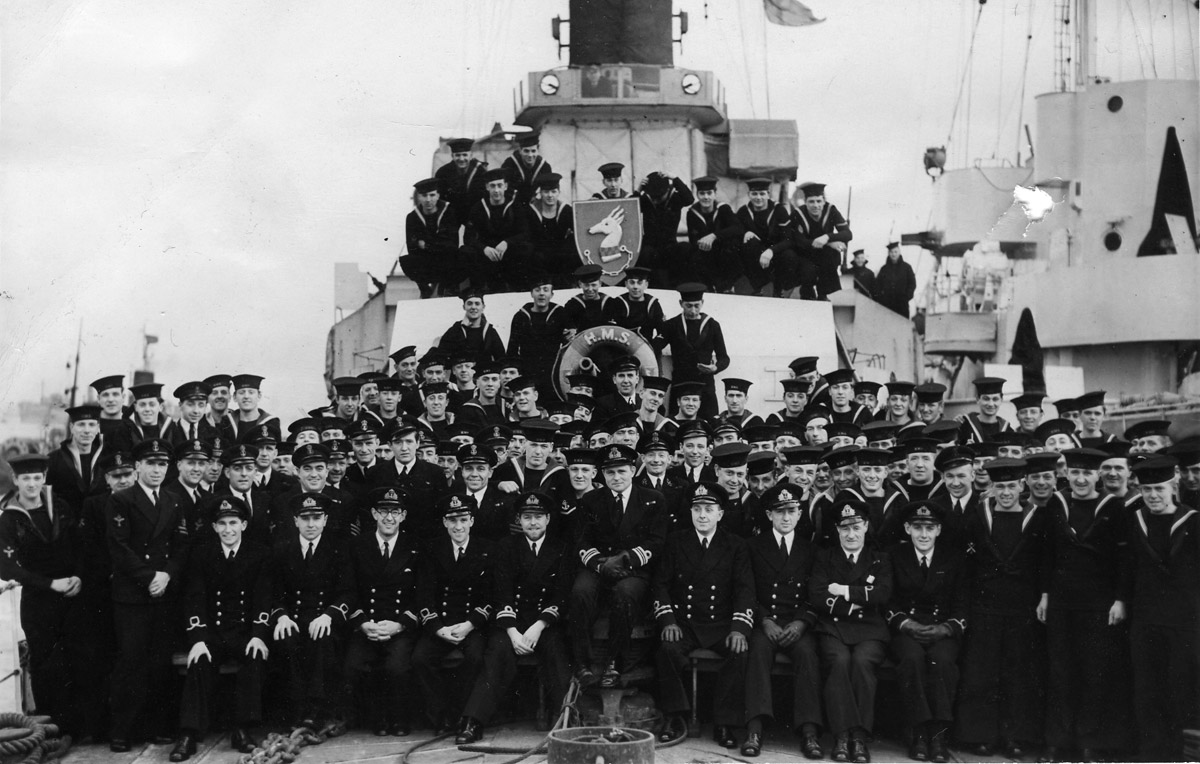 T
he Commanding Officer, Lieut Cdr G C Crowley, DSC, RN, officers and ship's company of the
Walpole
at Harwich, December 1944

Click on the iink to view the names of officers in the
Navy List for January 1945
Please e-mail
Bill Forster
if you can identify any of the officers or men in this photograph
Courtesy of Vic Green
On 6 January 1945 HMS

Walpole

detonated a mine off Flushing in the Netherlands killing two of the crew. She was taken back to Kent where she was declared a constructive total loss not worth repairing and was sold to be broken up for scrap on 8 February 1945. Her CO, Lt Cdr G C Crowley, DSC, retired as Rear-Admiral George C Cowley in 1968. He presented this painting of HMS
Walpole
to Ely, the town which adopted her as their own after a successful
Warships Week in March 1942.
In June 1949 a ceremony was held to Commemorate the ship in Ely Cathedral and the Ensign she flew was laid up in the North Transept. The entire crew attended the ceremony. Rear-Admiral Crowley died on 14 December 1999 in Gloucester and an obituary was published in the Old Pangbournian Record of the Nautical College, Pangbourne, and in
The Telegraph.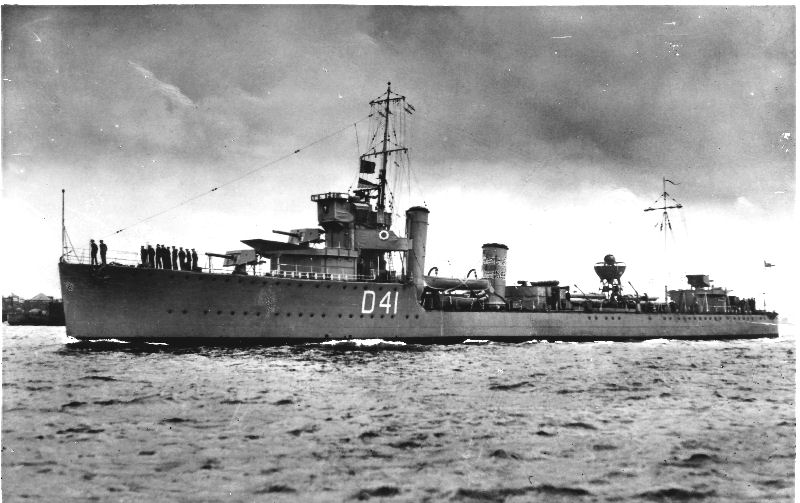 HMS

Walpole



Copyright reserved
If you have stories or photographs of HMS
Walpole
you would like to contribute to the web site please contact

Bill Forster
---
Return to the Home Page of the V & W Destroyer Association
Return to the Index Page for the 69 V & W Class Destroyers
---