---


The aftermath of Convoy ONS.5
Lt Raymond Hart RN continues the story of

HMS Vidette and Escort Group B7

More convoys - D Day - the Scrapyard


After a four day layover in St. Johns, which gave all the ships' companies a chance to catch up on some much needed sleep and also time for a patch to be put on

Sunflower

's bows where she had struck a U-boat, B7 Escort Group, minus

Sunflower

which joined 24 hours later, left St. Johns on 18th May to rendezvous with homeward bound Convoy SC 130.
"Homeward bound" with Convoy SC 130





Lt Raymond Hart, Cdr Peter W Gretton and Lt Cdr James Plomer RCNVR

"The Canadian Corvette

Kitchener

, on passage to UK, had joined up with us, which was fortunate as we had to leave one of the trawlers behind. The escort therefore consisted of two Destroyers, one Frigate, five Corvettes, a Rescue Trawler and a hospital ship.

The first night out in very low visibility, my radar operator picked up a large iceberg in the path of the convoy. Naturally I was detailed to stand by it and indicate it by all means possible. All our upper deck lighting was switched on and our large signalling lamps were trained on the iceberg and we sounded our siren. All ships managed to get past without incident – I was glad when it was over!

The next morning, 16th May, the fog cleared, which gave the Captains the chance of a quick kip. What, with a busy and somewhat jubilant few days in St. Johns, followed immediately by fog at sea, we were all feeling a bit jaded.



By 18th May we knew that U-boats were in contact with our convoy and over the next four days nineteen U-boats were trying to break through the screen to attack. They were frustrated on every occasion by a combination of circumstances. We had constant air cover by day – the skilful way in which the Senior Officer of the Escort ordered the convoy to execute emergency turns, which succeeded time and time again in putting the U-boats out of position to attack and by anticipation and aggressive tactics of the now well-trained and experienced escorts of the B7 Group. Not a single ship was lost in this four-day battle, but six U-boats were destroyed; one by B7 Group, one by the First Support Group; aircraft from 120 Squadron despatched two and Hudsons on patrol near the convoy a further two U-boats.


Lt Hart was promoted to Lt Cdr Raymond Hart in June 1943
After the excitement and success against the U-boats in defence of convoy SC.130, B7 Group continued to escort convoys across the Atlantic for the next four and a half months, without a single U-boat putting being seen. By the time they next made an appearance, our Group was given a supporting role and we sailed from Londonderry on the 12 October to support the outward bound convoy ON.206 and over the next twenty five days we supported five convoys and sank three U-boats without loss in the convoys we supported. We had steamed nearly seven thousand miles and fuelled at sea six times. All ships had kept going well and all radar sets and asdics were working on our return to harbour, except for

Loosestrife

, who had lost her asdic dome in heavy weather.

The only real problem we suffered from was a shortage of fresh food. As far as

Vidette

was concerned, one of the high spots was the detection of a U-boat by radar in bad weather conditions at 11,500 yards. The Senior Officer, Commander Gretton, questioned the report and suggested that my radar operator had mistaken a rain cloud for a U-boat; he was adamant that it was a U-boat and I had complete confidence in him, he had proved to be an outstanding Operator. Gretton backed our judgement and after a long hunt the U-boat was destroyed with a good hedgehog attack.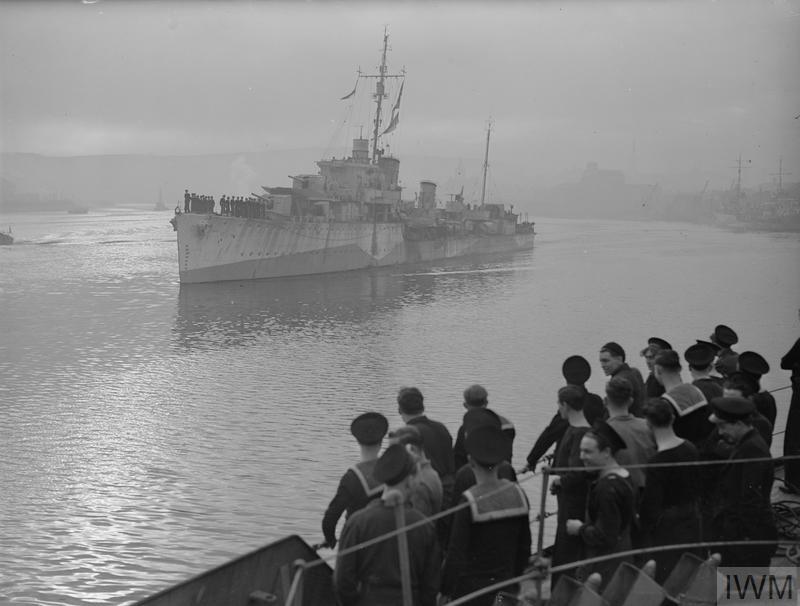 HMS

Dunca

n, Leader of Escort Group B7 returning to Londonderrry on 7 November 1943
Photographed from HMS
Sunflower

(
Lt Cdr James Plomer RCNVR} by an official RN Photographer
Courtesy of Imperial War Museum, IWM A-20153

The return of the U-boats to the Atlantic after several months' absence was more of a nuisance value. They had some limited success with a new homing torpedo, which had some success against the escorts, but little against the convoys. They next tried to regain the initiative with the schnorkel fitted breathing apparatus in the inshore waters, but this failed too.



Senior Officer B7 Escort Group



In March 1944, we said goodbye to Commander Gretton, it was very sad to see our team breaking up after the stirring times we had shared, but big things were afoot; the invasion of Europe was not far off. I was appointed as Senior Officer of B7 Group in place of Commander Gretton and sailed with the Group on 16 March to join convoy ON 228. This convoy crossed the Atlantic without incident but on the homeward passage with convoy SC.156 two ships were sunk, but the U-302 was destroyed by HMS

Swale

.

On 12th April 1944 B7 Group sailed up the Foyle to Londonderry for the last time – it was disbanded on 13th April. On arrival I was informed that I was to assume command of the Fleet Destroyer, HMS

Havelock

, which formed part of the 14th Escort Group. I received this appointment with mixed feelings – nothing could ever be quite the same as my first command, HMS

Vidette

, it was a very sad moment when I said goodbye to the ship's company who had served her and her country so well.

Having sent off all my reports and prepared

Vidette

for sea again, I handed her over to the new Commanding Officer, Lieutenant Commander Woolley, RNVR on 21st April and stepped aboard HMS

Havelock

the same day.


Joe Whittaker completes the story of HMS

Vidette



In the few months preceding the invasion of Europe (Operation Neptune),

Vidette

worked variously out of Milford Haven, Weymouth and Portsmouth and on 6th June the

Vidette

was cover for the invasion ships against E-boats and U-boats.

On 20th August 1944

Vidette

, along with HMS

Forester

and HMS

Wensleydale

, made several attacks on a U-boat, which had sunk the SS

Enogat

the previous morning in the Channel. The attacks, which took place early in the morning of the 20th off Brighton, lasted three hours. The sole survivor was the Chief Engineer, who had gone to the forward section of the boat to investigate damage. He got out through the forward escape hatch and floated 90 feet to the surface.


"At 0715 FORRESTER attacked with depth charges, without result. At 0736 VIDETTE attacked with Hedgehog, and two distinct explosions were heard some seconds before the vemainder of the pattern detonated on the bottom. Slight oil streaks began to appear and at 0752 a five charge pattern from WENSLEYDALE resulted in diesel oil and ar bubbles.


At 0808 a survivor surfaced and was picked up by WENSLEYDALE while FORRESTER and VIDETTE held contact. The oil increased but the contact still showed movement not attributable to tide. As tank blowing sounds were heard, the attaack wasresumed in spite of the prisoner's assertion that serious damage had been done. Several attacks were made, until a five charge pattern from WENSLEYDALE at 0955 produced wreckage which was considered to indicate the destruction of the U-boat."

The attack report shows that U-413 was considered sunk by the Admiralty's U-boat Assessment Committee. German U-boat archives confirm 45 lost (

Gefallene

) and one survivor (

Überlebender

).
Six months earlier on 20 February 1944 U-413 commanded then by Gustav Poel sunk HMS

Warwick

off Padstow in Cornwall with 66 men killed.

In June 1945

Vidette

was paid-off at Portsmouth and then proceeded to Rosyth with a care and maintenance crew onboard. She was later moved to Grangemouth, where the ship was broken up during 1948.
If you want to find out about the wartime service of a member of your family who served on HMS

Vidette

you should first obtain a copy of their service record
If you have stories or photographs of HMS Vidette you would like to contribute to the web site please contact Joe Whittaker

---
Return to the Home Page for HMS

Vidette
Return to the Home Page of the V & W Destroyer Association
Return to the Index Page for the 69 V & W Class Destroyers
---