---
The Loss of HMS Warwick
78 years ago on Sunday 20 February 1944




The official report into the loss of HMS

Warwick

on 20 February 1944 (ADM 358/4320) is in the National Archives at Kew. The 75th anniversary of the loss of HMS
Warwick
was commemorated by the families of the 66 men who died at ceremonies around Britain. Events were held at Padstow Harbour in Cornwall, in the grounds of Warwick Castle and at the Chatham Naval Memorial in Kent. There were also be services at the National Memorial Arboretum at Alrewas in Staffordshire, on Plymouth Hoe and at the city's Devonport naval base, Penzance Cemetery and the Old Cemetery on the Isles of Scilly. Click on the link for further details of the events commemorating the
75th anniversary of the loss of HMS

Warwick.
***********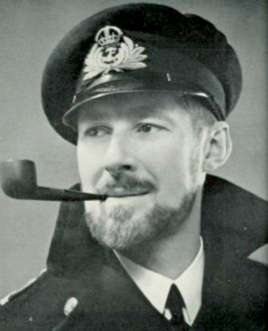 HMS

Warwick

was commanded by Commander Denys A Rayner RNVR (on left) when she was sunk by U 413 on the 20th February 1944. He was rescued by the trawler

Lady Luck

as described by her skipper Victor Crisp below.
HMS

Warwick

and HMS

Scimitar

had been ordered from Plymouth to the Bristol Channel to search for a u-boat sighted between Pendeen Head near Sennen Cove and Trevose Head west of Padstow on the north coast of Cornwall. On Sunday 20 February the two ships were zigzagging abeam of each on the fifty miles line of search when

Warwick

obtained an Asdic contact at 0815 which was attacked with depth charges. This and several subsequent signals were attributed to shoals of fish and Cdr John Heath RN, the Anti Submarine Officer in Plymouth, who was aboard

Warwick

, recommended changing the Asdic amplifiers. The Head of the Asdic Department, the Higher Submarine Detector (HSD), had to switch off the Asdic to tune it. At 1145 HMS

Warwick

was hit in the stern by an acoustic torpedo, a Gnat, fired by U-431, when she was 254 degrees and 14.7 miles from Trevose Head. Cdr Rayner was looking aft at the time and described what he saw:


"Everything turned red and there was a terrific blast of hot air, a violent explosion occurred in the after magazine which cut the ship in half abaft the bulkhead of the captain's cabin. The stern was blown clean away and floated separately. The ship remained on an even keel and was remarkably steady. A few seconds later another and minor explosion occurred which shook the hull more than the first much larger explosion. Even so, the ship remained on an even keel and it was considered there was every chance of saving the main hull."
Within six minutes HMS

Warwick

sank in 60 m of water. The stories of four of the ninety survivors rescued by fishing boats (see below) give a vivid picture of what happened next. They were landed at the fishing harbour of Padstow on the estuary of the River Camel ten miles north east of Newquay. Accounts, in the form of short ms and ts memoirs and letters written circa 1984 - 1985, by eighteen of the eighty five surviving members of the ship's company recording their experiences together with copies of presscuttings concerning the loss of the ship, the rescue of the survivors by some fishing trawlers and a reunion of the survivors held in 1984 can be seen at the Imperial War Museum, London (Document 1956)

The Board of Enquiry was held at Plymouth in March and the witnesses included Cdr Derek Rayner RNVR, Crdr John W. Heath, the A/S Officer and Sub Lt R.T. McIndoe RNZNVR, the A/S Control Officer. Cdr Heath said there was no evidence of a u-boat being in the area after the attack by

Warwick

on an Asdic contact at 0815. He also told the enquiry what Skipper Crisp of Lady Luck had told him about the two explosions. Victor Crisp was in Plymouth but was not called to give evidence. Cdr Heath was told by Skipper Dewulf of the Belgium trawler

Blauwvort

that a "strange light had been seen in the fishing fleet between 9 and 10 on the Saturday evening" which may have been U-413 "surfacing at night to charge my batteries and freshen up the air in my boat" (Kapitšnleutnant Gustav Poel) and Cdr Heath reported this conversation to the Enquiry. For a full description of the loss of the

Warwick

see Cdr Rayner's report in the National Archives (Reference ADM 358/4320) and the Report of the Board of Enquiry (ADM 199/957 72868 and MO 2716/44).
Denys Rayner, s
ailor, author and yacht designer served for 24 years in the "wavy Navy", the RNVR, and his book
Escort: The Battle of the Atlantic
(1955) is still in print. There is a fine account of his life in Wikipedia.
The ensign flown from HMS

Warwick

by Rear Admiral Sir Roger Keyes during the Raid on Zeebrugge on St George's Day in 1918 was presented to the town of Warwick to honour the memory of the sixty six men who died
when HMS

Warwick

was torpedoed and sunk by U-431 on 20 February 1944
. The V & W Destroyer Association held its annual reunion at Warwick in 2013.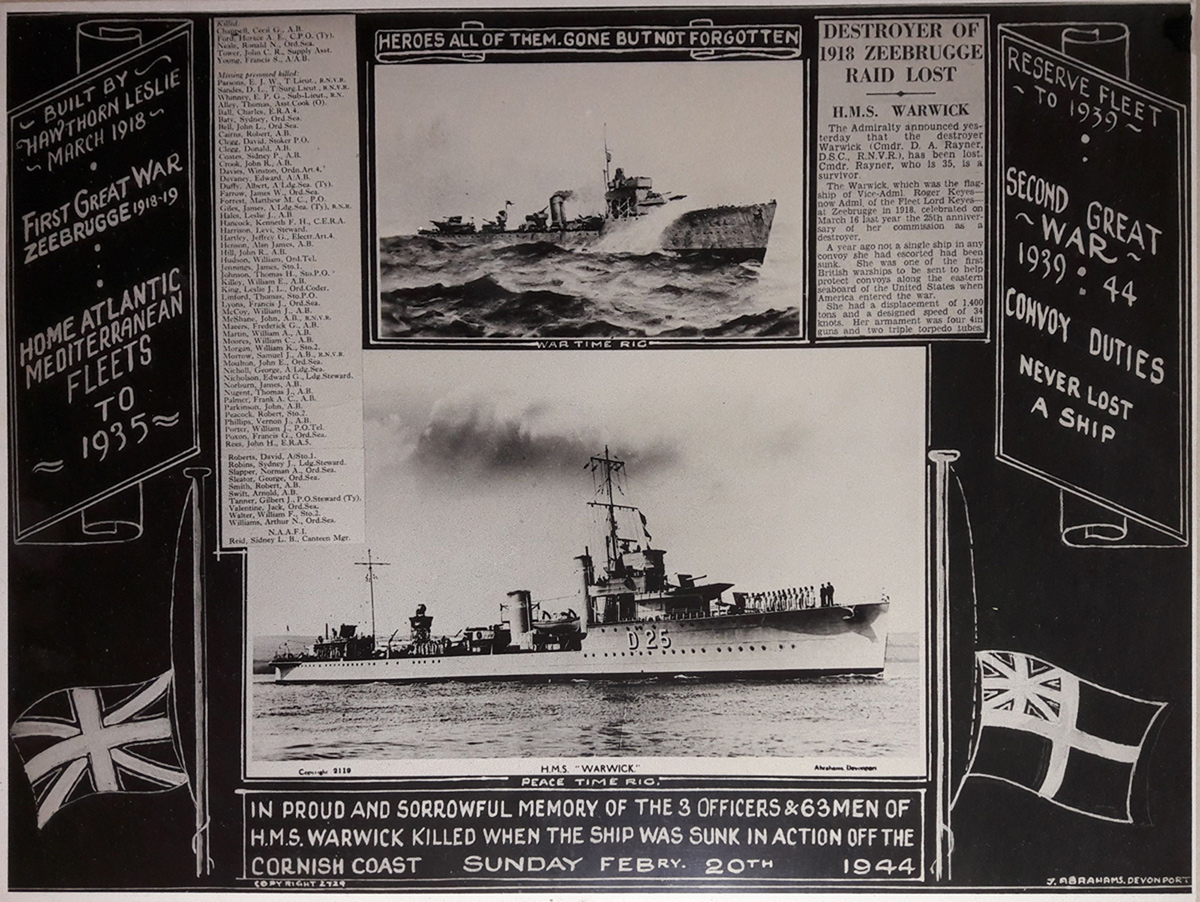 Courtesy of Ken Holmes, the sole survivor of HMS
Warwick
alive on the 75th Anniversary of her loss
Ken Holmes was born on 1 November 1923 at Kingston upon Hull near the mouth of the Humber and is 99 years of age

. HMS

Warwick

was his first ship. He joined her in June 1943 with Bill Hole. They had trained together as Telegraphists. There were five telegraphist's plus the Petty Officer, William Porter. Bill Hole was from Plymouth, Bill Hudson from Leeds and there was one
from Scotland
. Ken told his daughter Annie Holmes what happened to them:


"The fifth Telegraphist was Bobby Mortimer, the grandson of Harry Mortimer the cornet player and trombonist. He had a leg problem and was taken off the ship before she sunk. Dad met up with him in barracks when he was on survivors leave and Bobby was having a laugh about getting off the

Warwick

before she was sunk. Unfortunately, the next ship Bobby was on sunk on the way to Russia and he didn't survive. Petty Officer William Porter
called the men to action stations and was in the wireless office
with Bill Hudson when the

Warwick

turned over and sunk and they were both kiilled."

Find out more about "Sparkers" and "bunting tossers", Wireless Telegraphy Operators and Visual Signalmen, aboard V & W Class destroyers, sister ships of HMS

Warwick

. Ken Holmes story was first published in

Hard Lying

, the magazine of the V & W Destroyer Association and republished in 2005 by the Chairman of the Association, Stormy Fairweather, in the book of the same name which is out of print. Ken Holmes is 95 and is the only crew member of HMS

Warwick

alive today.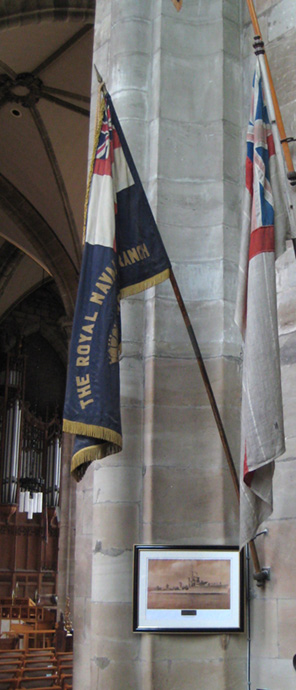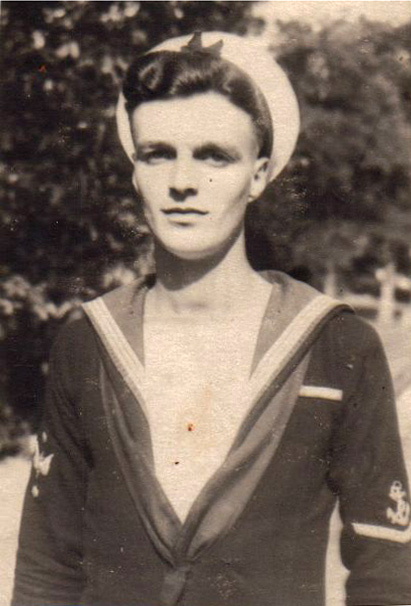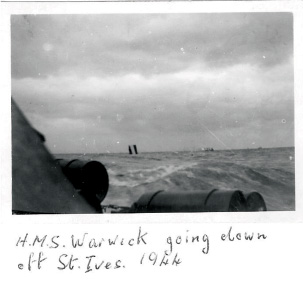 I was on board HMS

Warwick

on Sunday 20th February 1944 at the age of twenty. I was in my mess at about 1145 when an explosion shook the ship violently and a cloud of dust fell from the overhead pipes that ran through the mess. My first thoughts were to get my life belt and head for the upper deck. My life belt was the type that had to be blown up like a car inner tube, was rolled up and hung on a hammock hook near the door. I grabbed the life belt and made for the door. The mess was on the starboard side of the ship and the only access to it was by a ladder that lead upwards to a hatch which opened out on the upper deck aft of the forward superstructure. This ladder also served the ERA's mess which was on the port side.

I was first to the doorway of my mess but was beaten to the ladder by one of the ERA's. On looking up I could see some burning wreckage across the hatch top. The ERA went ahead of me and either him or someone on the upper deck cleared the wreckage away. I proceeded on to the upper deck where I found oil, some of it burning on the deck, and seemingly spurting up somewhere near the funnel.

The wireless office was at the rear of the forward superstructure and as I came on to the upper deck. I saw the P.O. Tel' who was my boss, shouting for people to go their action stations. Mine was in the H/F, D/F office in the stern of the ship, and when I looked in that direction, I could see that the stern was no longer there. I was actually standing on the port side of the ship by the whaler, and efforts were being made to lower it. Unfortunately, burning oil had dropped into it and it was obvious that it would not float when it got into the water. I had, by this time donned my life belt and was in the process of blowing it up, and seeing that the whaler was useless, I moved to the starboard side where efforts were being made to lower the motor boat. This was also proving fruitless as it appeared that the lowering gear had jammed. I was standing next to a P.O. Who said, if I remember correctly, that this was the third time this had happened to him. As he said this the ship heeled over to port and I grabbed the wire hand rail that went round the ship. I was fortunate, as I got hold of it, but some of the others waiting by the rail didn't and they slid down the oily deck out of my sight. I climbed over the rail and on to the side of the ship which was now almost level, I slid down it and jumped off the bottom of the ship into the water. I was fully dressed in overalls and wearing boots, but my life belt was inflated and I remembered during my training being told that if such an emergency happened to me, that I should hold my life belt down to prevent it striking me under the chin when I hit the water. This I did, and I arrived in the water amid a flurry of arms and legs belonging to the others who had jumped with me.

The water was icy cold and came as a bit of a shock, but my first thought was to swim away from the ship before she sank and pulled me down with her. There was a heavy swell on the sea and I found that I would go up on one rise, and then down, but I didn't come up quick enough before the next rise, consequently that one came over my head. So, half the time I was in the water I seemed to be under water as well. The oil that covered the top of the water was a problem as well, it meant that I had to make sure it did not get into my eyes. At first I could hear men shouting, but from the time I jumped into the water I never saw another soul. For all I knew I could have been the only survivor.

Having swam away from the ship as far as I thought safe, I turned to look behind me. The bows of the

Warwick

were still above water and I could see a man sitting on the capstan on the forecastle. Who he was I didn't know (the lad was Jamie Norburn - he could not swim, thought he might be rescued, but went down with the ship). I was treading water or doing a bit of breast stroke whilst looking round to see if any help was in view, when I saw a destroyer heading our way. I began swimming towards it and I could see some of the crew lowering scrambling nets down the side. Then just when I thought I was going to be saved the destroyer sped away. To make matters worse, a few minutes later she started dropping depth charges, although I was a good distance away, as each one exploded it was like being punched in the stomach.

I swam away to increase the distance from the explosions, and, after some time (I don't know how long) still not having seen any other person in the water, or the Carley floats, which I found out later had been launched, I sighted on one of my upliftings on the swell what appeared to be three boats heading in my direction. I started to swim towards them. At first I thought that I had done too well as it appeared that I was going to be run down by one of them, but, I adjusted my direction and found myself alongside one of them. I raised myself up in the water and shouted. There seemed to be no one on deck, but as I shouted a man came out of the deck house. How he saw me I don't know as the water was covered in oil and so was I. He did see me though and threw me a rope. I grabbed it gratefully but was dismayed to find that because of the oil it was sliding out of my hands. I promptly took a turn round my wrists and hung on. My saviour must have been a very strong man because he hauled me up the side of the ship with no help from me and threw me on the deck. He said something to me in a language I did not understand and for a few minutes thought that I was going to end up in a prison camp! He realised that I did not understand, and then in English he told me to go down below. I went to a cabin with a roaring stove blazing in it, and I began stripping off my clothes. I could not do anything with my boots, which were of course wet through, then a man came down and cut them off for me. At that time there was no one else in the cabin, and I stood over the blazing stove and was unable to feel the heat. I was so exhausted that I got into a bunk. I must have passed out, because I don't remember any more until I was awakened by another survivor still in his wet and cold clothes! This was quite a shock as I was in the nude and was just started to get warm. I looked round and saw that there were a number of the

Warwick

's crew aboard, but they were unrecognisable to me as they were all covered in oil. I understood by this time that we were on our way to Padstow, but I lost all track of time and have no idea how long it took us.

On arriving at Padstow a member of the fishing vessel's crew gave me a pair of trousers and an old blanket to go ashore in. I climbed up the ladder to dry land and the realised how lucky I had been to still be alive. I owed grateful thanks to the man who had hauled me out of the water. It seemed that most of the survivors had been landed by this time and we were directed to get into a lorry which was standing by and we were transported to the RNAS (Royal Naval Air Station) at St Merryn. We were greeted by a P.O. With a basin full of rum and given a cup full!! It was only after that I began to feel human again! We were fed, kitted out in Battle dress, and given a bed for the night before being transported to the Royal Navy Base at Plymouth. There we went through the joining routine, issued with new kit and eventually sent on survivors leave.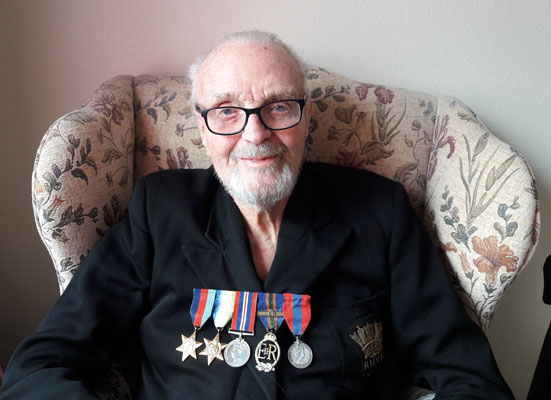 Ken Holmes went to the Admiralty in London after the
Warwick
was sunk and worked underground in the wireless station, 24 hours on and 24 off, for about a year. On his days off if they were short of cash they would go to Tower Brewery and work as a labourer for a day.
He returned to Barracks in Devonport and was drafted to the Faro islands but the draft was canceled and he was sent to Australia as a passenger on the SS
Aquitania
and joined an aircraft carrier to Hong Kong where a high speed telegraphist was needed at the wireless station. He returned to England via Australia on the cruiser HMS

Cumberland

. He met his wife in Australia in 1945 and she came over to join him and they married in 1947 and had five children, four boys and a girl, his daughter Annie Holmes. Sadly, his wife passed away in 2012.
After the war he returned to his prewar job in the Post Office as a sorting clerk, assistant inspector, inspector, chief inspector, assistant superintendent and postmaster. He was 54 when he retired in 1977 and has been drawing his pension for 43 years. He was in the Royal Navel Postal Reserve for 25 years
and retired as a lieutenant commander
. The Navy were concerned at the lack of security from the wartime use of the GPO for forwarding postal mail to ships and he was given the job of setting up a post office in an undisclosed building on the Atlantic coast of Scotland. He can't remember the town. He also worked as a courier flying on RAF planes from England to Gibraltar, Malta and Cyprus, never knowing what was in the briefcase but he was always the last man on and the first man off.

In 1984 Ken Holmes planted one of the six trees in St Merryn Churchyard, Padstow, in memory of the sixty six boys lost when

Warwick

sank, and went to the unveiling of a plaque on the harbour wall at Padstow in 1996. There is also a plaque dedicated to HMS

Warwick
at the back of the Church in St Merryn
.
In Ken's own words, "I'm a fortunate man."


The photograph of Ken on the left was taken by his daughter, Annie Holmes, on Tuesday 21 July 2020.
Ken was interviewed by BBC South West in February 2019.
Postscript
by Shipmate J. Wood
, HMS

Whitshed
Nearly half of the

Warwick

's crew were lost. Ken was rescued by a Belgian fishing trawler
Christophel Columbus
whose skipper was Marcel Bacquaert. At six foot two inches tall and wearing a size eleven boots, that fisherman must have been one hell of a strong fellow. When I think of him St Peter always come into my mind.
The ship that turned away was the Hunt Class destroyer HMS W

ensleydale

- six months later to the very day she sank U-413, the U-Boat which sunk

Warwick.

There was only one survivor, the engineer. In the 80's we learned from his son, that for the rest of his life he spoke nothing but praise for the men of HMS

Wensleydale

who picked him up. They could not do enough for him! Funny Old War.

Ken Holmes daugher Annie Holmes emailed me on Wednesaay that


"Sadly I have to inform you that my father passed away peacefully in his own home on Wednesday. He was 99yrs old Bless him.
I am attaching the photos i sent out to friends and family."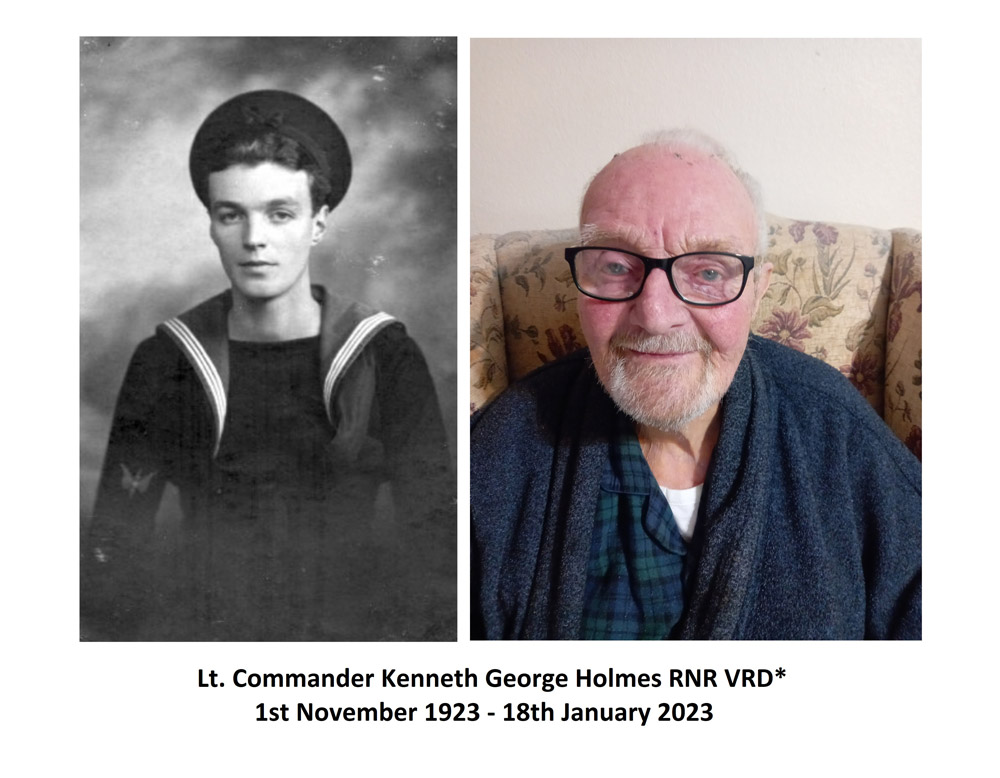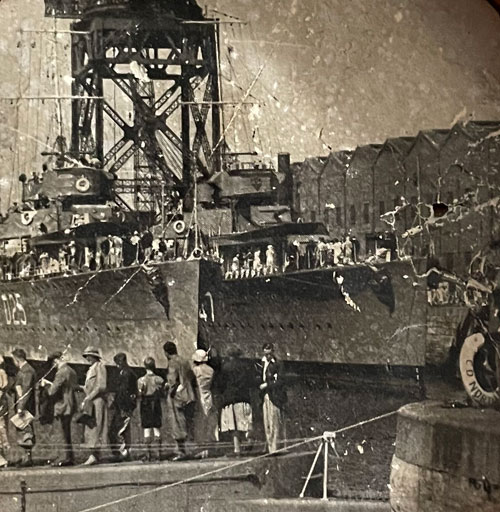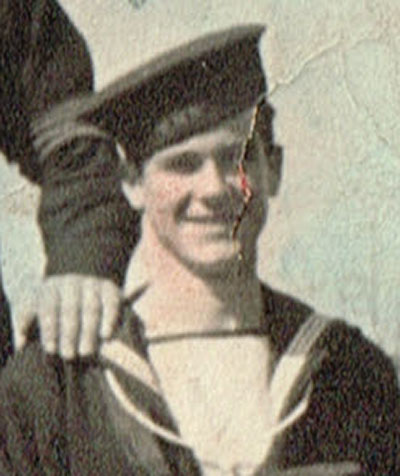 Steve Graham in Canada e-mailed me about his father, one of the survivors:
My father Edmond Holmes Graham was on duty above deck when the torpedo hit. He was thrown into the water and survived by wrapping his arm around a cord that surrounded a life raft because the water was extremely cold and he couldn't pull himself into the raft. The sea was on fire due to fuel from

Warwick.

I've read eyewitness accounts of that day and they mention seeing sailors clinging to the outside of rafts. I assume one of them was my father.
He had five brothers with four of them in the Royal Navy. My father never knew which vessels picked him up or where they were from. His family lived in Stornoway.
Steve provided this additional information about his father:
Edmond Holmes Graham was born 31 October 1921 in a suburb of Montreal Canada. His mother Catherine Matheson was born in Stornoway and his father Donald Graham was born in Glasgow. Donald was a Seaforth Highlander in World War 1. His family moved from Montreal to Stornoway, the main town in the Western Isles of Scotland, when my dad was a teenager. He and his five brothers were in Air Cadets in Stornoway. He joined the Royal Navy in 1941. He was aboard several ships as a signalman including the

Warwick

. I believe the

Warwick

was in a convoy when she was torpedoed because his brother Dan told him in later years that he was on another ship behind

Warwick

in the convoy and saw his brother's ship explode. My father described the carnage to me but did not like talking about it. He left the military in 1946 and returned to Toronto, Canada ,where he met my mother. He was 86 when he died in November 2007.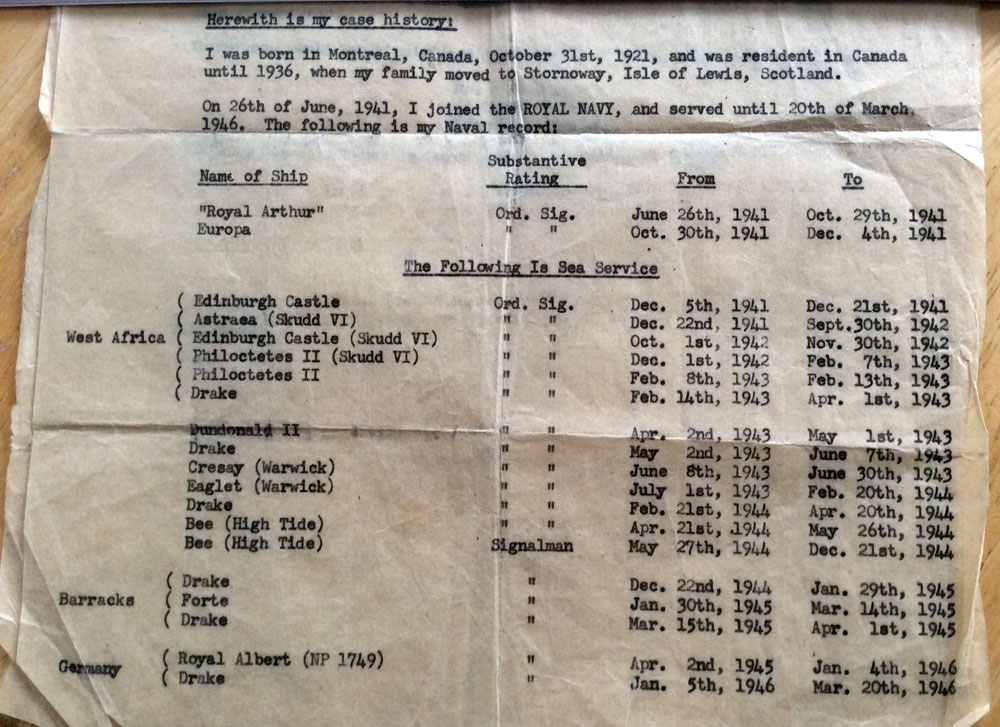 Signalman Edmond Holmes Graham typed this summary of hs
Service Certificate
sent to me by his son
Edmond Graham joined the Navy in June 1941 and was photographed with his year group training at HMS

Royal Arthur

, a former holiday camp near Skegness on the Yorkshire coast, requisitioned for training Hostility Only (HO) ratings. In December he joined HMS

Edinburgh Castle

as an Ordinary Signalman. She was a commercial liner converted for use as an Armed Merchant Cruiser in 1919 but in World War II remained docked in Freetown, West Africa and housed men displaced from sunken merchant ships. With the Mediterranean closed to allied shipping the only safe way to Egypt was round the Cape. Freetown in Sierra Leone was the main port where Philocetes 11, the destroyer depot ship for the Freetown Escort Force, was based.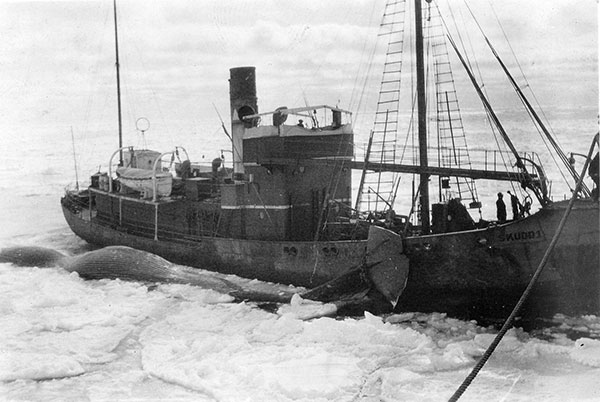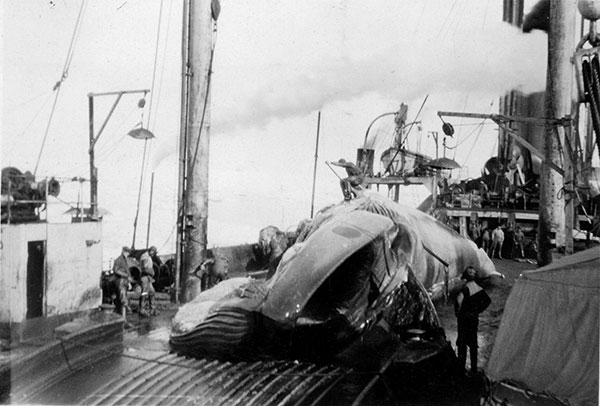 Left:
Skudd
whale catcher in Antarctica
Right:
the
Skyterren
Factory ship
Both photographs were taken by my father William Redvers Forster in 1930

Signalman Graham was serving in S

kudd V1

, a 300 ton Antarctic whale catcher owned by a Norwegian shipping company, one of several which worked with the

Skyterren

factory ship before the war.
My father took some wonderful photographs of Skudd whale catchers and their factory ship when he was a marine engineer on

Skyterren

in 1930.
Skudd VI

and her sister ships were stranded at Simonstown in South Africa when Norway was invaded and were rquisitioned by the Ministry of War Transport and used by the Navy as mine sweepers and "u-Boat catchers".
Signalman Graham would have crossed the line for the first time in

Skudd

and received the traditional welcome to his Kingdom from Neptune.
It was not unknown for convoy escorts to depth charge whales and in 1941 the Skipper of HMS

Vimy

was awarded the "Order of the Whale" by her proud crew during a "Crossing the Line Ceremony".
Ordinary Signalman Graham joined HMS

Warwick

on 8 June 1943 and remained aboard until she was torpedoed and lost on 20 February 1944.
The cover of Edmond Graham's Signal's Book, the last entry and his Discharge (on right - click to enlarge)
66 men were killed when HMS

Warwick

was torpedoed on 20 February 1944

From 21 April until 21 December 1944 Edmond Graham was a Signalman on HMT

High Tide

(S H Christian RNR), a trawler mine sweeper based at HMS

Bee

, a Coastal Forces training establishment at Holyhead on Anglesey. He left her before she founded off the coast of North Wales on 30 March 1945 and joined HMS

Royal Albert

, the name given to Naval Party 1749, a small unit of the occupying forces in Germany, which was based at Minden near Hanover until 15 September and then moved to Hamburg, Germany's largest port. There were dozens of these small Naval Parties set up to carry out specialist jobs ashore in Germany, tasks very different from any they had done before. Ratings normally wore khaki army uniforms but with naval caps. On 4 January 1946 Signalman Edmond Graham (DJX 269701) returned to Britain and was demobilised from HMS

Drake

at Devonport, Plymouth, on 20 March. See his

Order of Release from Naval Service

and returned home to Canada.
This story by Jim Gold was published
by the BBC on on the People's War website and copyright belongs to Jim Gold and his estate. Please get in touch if you can put me in touch with
his family
.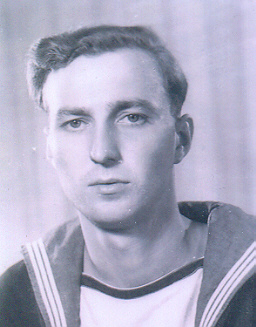 I am probably the only survivor who can give his complete experiences on

Warwick

in this story. As an eleventh hour replacement for a rating who had gone astray, I was sent up to join the ship in Ardrossan and had barely stepped on board when we were under way back to Plymouth.
Being brand new, I was in contact most with the Buffer and the Gunner's Mate but managed a Radar watch on the way to familiarise myself with the set, which was new to me. On arrival at Plymouth, the "natives" as usual were ashore as quick as we could tie up but before we had time to settle down we were on our way again minus "natives" on a sub hunt with two "S" boats

Saladin

and

Scimitar

in the Bristol Channel. We were not on station very long when we had Asdic trouble and the ship had to slow down while repairs were carried out, at this stage we were very much a sitting duck. An enquiry was heard later as to why a listening watch, which should have heard the torpedoes running, was not kept but I do not remember hearing the result.

We were down in the mess preparing for dinner, the rum ration was being dished out aft when there was a terrific explosion which seemed more felt than heard, all the lights went out and the mess table with all the crockery dropped on my legs. By the time I sorted the debris out and got to the hatch ladder everyone else seemed to have beat me to it and realising I had no lifebelt with me went back to look for it. When I got back to the ladder it was clear though at an awkward angle so I climbed up and made my way aft to the upper deck passing the canteen manager on the way who was going back to his office safe for some papers or something. I arrived on the upper deck on the starboard side beside the Gunner's Mate and the first thing I saw was the stern of a destroyer apparently down by the head, almost alongside us. I assumed it was one of the other two and asked the GM who it was to be told in no uncertain manner it was us and realised the complete stern from aft of the 25 pounder was torn off by a torpedo in our after magazine. Although my body was completely numbed, my brain and everything else seemed to be functioning and I began to take in the fact that the boats were on fire and quite a few hands were already in the water to the annoyance of the Buffer.

Whether the order to "Abandon Ship" was given or not was all irrelevant as just then she rolled to port and abandoned us shooting me through the space left where the forward funnel had originally been. As I landed in the sea by the mast I became entangled in a wire rope and at much the same time someone with no lifebelt grabbed onto me but as I was being pulled under with the ship I managed to push off my fellow traveler hoping he would find a better insurance risk. I seemed to spend hours under water trying to free myself when suddenly I was aware of brilliant lights all around me and as my head broke the surface I realised it had been shafts of sunlight in the bubbles I was creating. When I looked around I was surrounded by debris, bodies, oil which was ablaze in places, and deciding this was no place for me started swimming my way through. The burning oil was the biggest hazard as when to swam into a clear lane you had no guarantee there was a way out but the bodies were the most upsetting and I remember on in particular which I automatically Identified as the buffer but could not explain why as he was face down.

By now our partners were on the hunt and dropping depth charges, which were another hazard as the concussion was like someone kicking you in the stomach but in any event turned out, to be harmless though at the time I made a few uncomplimentary remarks. Eventually I arrived at a Carley Float and although it was pretty crowded they managed to squeeze me in. It was all pretty miserable and uncomfortable but when I took in the fact that the person beside me, who turned out to be Bill Clay had a mass of raw flesh for a head all things slipped into perspective and survival was all that mattered. By now the R.A.F were flying over dropping rafts and eventually one of the fishing fleet we had been operating amongst pulled up alongside our float. We were smartly brought aboard the appropriately named "Lady Luck" shoved down below with towels and dry clothing to clean up and thaw out. Shortly after this the skipper joined us and I felt quite flattered when he enquired if the new bloke had made it as if he was responsible for my change of fortune.
When we climbed ashore at Padstow the whole village seemed there waiting for us and we were whisked off in a bus to the R.N.A.S. On the way we were issued with emergency clothing, which we changed into after having a hot bath and at this stage I discovered I had no jersey. Thinking there had been a mistake I went to the supply store where I was informed it was just my bad luck and found out having lost everything there is no insurance against thieving. My faith in humanity was slightly restored by a Wren who insisted that I borrow hers till we were leaving in the morning. Strangely I cannot recall us being fed but we went to a memorial service then headed for the canteen where we were told the drinks were on the house but after one pint I was violently sick and went back to our hut where most of the lads seemed to be anyway. In the morning we were bussed back to barracks where we were messed about in general prior to going on leave.
From the newspaper cuttings there are facts that puzzle me — where did I find the third destroyer

Saladin

— why no mention of Asdic failure — if the ship went down in three minutes how did I do so much in such a short time — how was Bill Clay picked up alone when we were all with him packed like sardines. The memory of Bill has been with me all those years and I think the most important part of all this is knowing he has come out of it reasonably well.
When I saw the TV programme on the Welsh lad from the Falklands, in comparison he was relatively unharmed and I thought of the suffering Bill must have tolerated. My problem now is what happened to the lad I pushed off in the water, if he survived did he realise I was trying to help him or if not, in hindsight, could I have saved him.
As a longstanding emotional part of my life this has been more difficult than I could have imagined and I believe I could have filled a book with minute details I left out. Most of this has been locked up for over forty years, maybe it is time for it to come out but I could never get through a lump in my throat when I thought of all the really young lads we lost that day, the ball is in your court now, you have got to the bottom of the barrel, the "Jonas" has spoken.
Lieut. Cdr. David Harries RN
An extract from the account by David Harries, the Navigating Officer on HMS
Warwick
, published in the
Cornish Guardian
on Thursday 8 March 1984, forty years after her loss. David Harries died on the 2 September 2018 at the age of 95.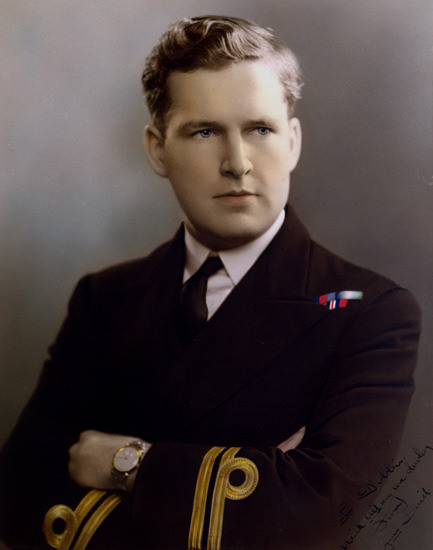 It was a wintry morning off the north Cornish coast in February 1944 and out beyond Trevose Head a cold wind was blowing from the south west. Two Destroyers HMS

Scimitar

and HMS

Warwick

are on patrol. HMS

Warwick

fought with the famous Dover Patrol and was Admiral Lord Keyes flagship at the raid on Zeebrugge in the First World War. Now she has spent over 3 years in the battle of the Atlantic. On shore at St. Merryn Fleet Air Arm Station duty air crew are on standby and in a matter of minutes as a result of a distress signal, they will be air borne heading out to sea - the radio call that set them running for their aircraft is the last wireless signal that one particular naval telegraphist will ever make.

In Newquay people are going about their familiar wartime routine. The congregation at St. Merryn Parish Church is filing up to the communion rail – but before the blessing at the end of the service is pronounced one of the destroyers will have been sunk with heavy casualties.

The time is 11.40 am and the date is Sunday, February 20, 1944. For the previous two days the "enemy below " has been lying in wait on the seabed off Newquay and now the German submarine U413 is moving stealthily into an attacking position.

Ten minutes earlier, her captain, Kapitan Lieutenant Gustav Poel had sighted the two British Warships and had brought the larger of them, HMS

Warwick

into the centre crosswires of his periscope sight, at the same time ordering the forward torpedo tubes to be brought to the ready. These house the very latest German acoustic torpedo which, once fired, will automatically steer itself on to the noise of a ships propeller.

The time is now 11.41 and in HMS

Warwick

the ships doctor, Surgeon Lieut. Lindsay Sandes, a South African from Cape town, and the Royal navy coder King are busily decoding a secret message - but they both have less than three minutes to live.

At 11.42 Kapitan Lieutenant Poel fires his torpedo and it starts its sinister voyage of destruction towards the warship. In her messdecks the ship's company are getting ready for their midday meal - they will never start it and many of them will shortly be trapped inside her sinking hull.

On the bridge are three people. one is her commanding officer Cmdr. Denis Rayner, DSC, RNVR - he has another 25 years to live. With him is Sub Lt. Peter Whinny, recently married - he has less than an hour to live. The third is the navigating officer - I am still here today to remember it all and to write of the last minutes of those who are about to die.

It is now 11.43 and the Petty Officer Telegraphist William Porter is pulling open the sliding door of his W/T Office, prior to going down to his mess - he never gets there because at exactly at 11.44 am the torpedo explodes against the hull just by the starboard propeller.

There follows a searing flame and a second but much more violent explosion as the after four-inch ammunition magazine and all the fuel tanks blow up.

William Porter, a very brave man and in the finest traditions of the Royal Navy, steps back into his wireless office and calmly starts to send out the distress call which is to alert the aircrew at St. Merryn Fleet Air Arm station. He sits at the morse key tapping out the message. As he does so the stricken ship starts to roll quickly over to port and the door of his office slides shut, its slowly distorting frame jamming it tightly closed. Perhaps it is still closed today with its solitary occupant.

It is 11.46 am and in accordance with Naval Emergency Instructions the Navigating Officer destroys the secret charts he had been using that morning and, with his captain slides down the ship's side into the chilling water and begins swimming away from the foc'sle that is towering vertically above, before it sucks them both down with it.

Seconds later and only three minutes after she was hit, at 11.47 am, HMS

Warwick

is gone. An ominous silence settles over where she has gone down but slowly another deadly enemy starts to take its toll of those who are swimming for their lives - thick black oil fuel from her shattered tanks rises to the surface and finds its way into eyes, ears and mouths making it hard to distinguish the living from the dead.

HMS

Scimitar

came into the rescue and the Fleet Air Arm aircraft are soon on the scene, dropping self-inflating liferafts. A fishing vessel called the

Christopher Columbus

was close by and the Belgian fishermen that manned her risked their own lives by jumping over her side to rescue survivors who, having by now been swimming for nearly three -quarters of an hour, were reaching the end of their endurance of surviving in such cold seas.

By 1 pm when no more could be found the journey to Padstow was began and where, in the early afternoon, local people came down to the harbour to help us up the stone steps in the wall there. I am told that we were first taken to a local school hall, but of this I can remember nothing.

That night we were looked after by the Fleet Air Arm at St. Merryn but not all lived to see the next day - six more died during Sunday night. They were Petty Officer H. Ford, J.L.v Bell, J.C.R.Tower, C.G. Chappel, W.K. Morgan and F.S. Young, and they are still at Padstow buried in the little War Graves Cemetery St. Merryn Church. Nearly half of those onboard were killed and their names are inscribed on the Naval War Memorial on Plymouth Hoe.


The rescue of survivors by the trawler
Lady Luck
off Trevose Head, Cornwall

An excerpt from the report by Victor E. Crisp, Skipper, of

Lady Luck
There were three trawlers fishing nearby when HMS

Warwick

was torpedoed. The
Christophel Columbus

(Skipper Bacquart) and

Blauwvort

(Skipper Dewulf)
were from Belgium but escaped to Britain when their country was occupied. One of the Belgium trawlers rescued three survivors and the other rescued one with a further survivor rescued by an Admiralty trawler.
Most of the survivors estimated at 51 were rescued by a British trawler,

Lady Luck

, based at Milford Haven in South Wales but with a skipper from Lowestoft, Victor Crisp. They included the CO of HMS

Warwick

Cdr Denys Rayner RNVR and Cdr John Heath RN, the AS Officer at Plymouth. In 1958 Denys Rayner sent "Skipper Crisp" a signed copy of his autobiography

Escort: the Battle of the Atlantic

inscribed to "Skipper Crisp, who pulled me out of the drink, in gratitude". It was also signed by John Winfield Heath, the A/S Officer at Plymouth who wrote "I owe my life to Skipper Victor Crisp" and was signed later by Gustav Poel, the commander of U-431.

Victor Crisp included a detailed description of the part he played in the rescue of survivors from HMS

Warwick

in his autobiography
Trawler Boy to Trawler Man
published by the Heritage Memorial Centre in Lowestoft.
He was born in Lowestoft in 1900 and died in 1976 without him or his crew of five (four over the age of 60) ever receiving any public recognition for rescuing 51 survivors from the W

arwick

.
Victor Crisp's family still live in Lowestoft and have a page on Facebook about HMS

Warwick

and

Lady Luck

.
The painting of

Lady Luck

by local artist, David Cobb, was commissioned by Cdr John Heath RN and presented by him to Victor Crisp.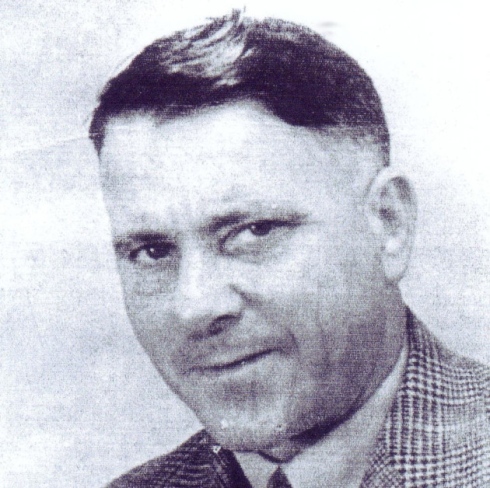 Arriving back at Padstow, a letter was waiting for me from Milford, asking me if I would care to take the trawler L

ady Luck

. The ship belonged to the same company as

Resplendent

. I replied that I would accept the berth. Leaving Padstow, for Milford Haven, I joined

Lady Luck

early in the New Year, 1944.
The weather since Christmas had been pretty bad. Heavy southwest gales with rain continuously blowing curtailed the movements of the fishing fleets. Even the convoys were held up. Perhaps we would steal a few hauls during lulls in the weather. The Trevose fishing grounds, at this time of the year, are most prolific for all kinds of fish, the main being sole. But it was hopeless to think about it. The special swept routes had to be strictly adhered to. One could not wander far off these routes without asking for trouble, our own minefields being only a short distance from the track. The enemy was constantly dropping magnetic and acoustic mines in the Haven and ships had been blown up with these.
HMS

Warwick

- 20th February 1944
Time went by. The weather had shown some improvement, the winds having veered to the North. We sailed from Milford for the Trevose fishing area, taking the route as given by the authorities. We were a lone ship. Instead of making a direct course we had to make a detour to the eastward of Lundy Island and thence to Trevose, keeping inside the minefield, and close to the Cornish coast.


Arriving at the fishing grounds in the early hours of the 16th February, I saw there were more ships fishing in the area than I had seen since the beginning of the war. There had not been so many convoys attacked by the German aircraft. I suppose they were needed elsewhere, now that the Allies were on the offensive.
When daylight came, I saw the old

Boy Clifford

with the other four ships from Padstow, also two Belgian trawlers and some from Milford, like ourselves – some twelve ships in all. The weather was clear with a fresh breeze. The long roll of the Atlantic swells running from the westward, were causing the vessel to roll considerably. We were able to get our hauls in regularly.
The fishing ground where we were working was some twenty-four miles from Trevose Head. This we called "The Hole in the Wall" owing to a V-shaped dip in the high hills of Pendeen highland. This was a landmark for us, which we use by daylight – having a moored channel buoy for night fishing. All went well. On Saturday evening the wind had freshened and was inclined to veer easterly. On the morning of the 20th, which was Sunday, the wind was blowing strong. The day was bright, with a wintery sun, bitterly cold, and almost at freezing point. I noticed some of the vessels had left – most likely, they had gone to harbour, owing to the wind strengthening. After breakfast, we had hauled and shot the trawl, the crew washing and gutting the fish. I saw to the north of us two of the larger type of Kilford trawlers heading in the same direction as ourselves.
One Ostend ship was proceeding to the eastward, probably making for Padstow and shelter. To the south, almost hull down was a small convoy of escort ships. Owing to their being so far inside their normal route, I wondered why – our hauling time was 11 am. I had not noticed the two destroyers approaching from the westward at that moment. They were not travelling at speed and passed us on our starboard side, heading towards Trevose Head. We were now heaving our trawl net up, and, after taking the fish out of the cod end, we shot again, heading to the eastward. The wind was now blowing from that direction.
Our position was some twelve to fourteen miles from Trevose Head. The crew were on deck, gutting and washing the catch ready for stowing down the fish-hold in ice. Glancing ahead I could see the destroyers had turned and were coming towards us. They would pass some two or three miles on our starboard side. My crew had finished what they were doing and were walking aft towards the galley. The two trawlers were 2-3 miles on our north side, their names,

Trumpeter

and

St. Vincent

. At this time the destroyers were on our starboard beam. The nearest swung to starboard and was stemming us. I immediately went to the flag locker, where our flag signals denoting our ship's name were always bent on the halyards, to hoist on the approach of one of our warships. This was a standing order given us by Naval Patrol.
Noticing the destroyer turning on to her original course, I picked up the ship's binoculars and focused them on to the ship, curious to know what she was up to. The destroyer was now in bold relief – then it happened! The time was 1155 am.
There was a cloud of smoke tinted with flame and a tremendous explosion from her stern. She was before the wind, causing the smoke to envelope her for a moment. This soon cleared. The ship was nosing her way through the water. At this time she seemed all right, then the second explosion came just aft side of her funnel. With the same, the after part of the ship rolled over to starboard and sank beneath the waves. Hardly anyone could have have got clear from this part of the ship. The suddenness of the two torpedoes could not have given them a chance. I was dumbstruck.
The gear was hove up in record time. It was bundled on board in a heap. The destroyer was very close at this time. The fore end of the destroyer, from her bridge to the stem, was floating high on a level keel. It lay broadside to the wind and swell, with her head pointing north. It was then I saw the U-boat's periscope only yards from us. We were heading towards the destroyer at full speed. She was approximately one mile distant when the bulkhead gave way. She rolled over to port. We could see her men running and sliding down her starboard side into the icy water.
The destroyer had now almost disappeared, except for part of her bows, which pointed to the sky. This floated for some considerable time after the men were picked up. As we approached where the sailors were in the water; our small boat was made ready for launching. At the time my ship was short-handed. Three of the crew were over sixty years of age. I decided against the small boat launching, owing to the choppy sea and the ages of the men who would have to man it. They were not really fit for the job to be done. Another factor was the time it would take to get the boat into the water. Our own vessel was low in the water, freeboard amidships knee high. We could reach over the side and pull the survivor on board – no trawlers of our class had low freeboard.
We were now approaching the scene of the catastrophe. The oil fuel from the destroyers was covering the area. Men were calling for help; their plaintive cries could be heard. I had to be cautious as we came amongst them. The

Lady Luck

's engines were now stopped and we were in the middle of the thick oil and men. I decided to pick up the men who were in the water. There was one carley float filled with men and a smaller one with two sailors clinging to it. Each man was wearing a life jacket. There was no other raft or boat – only the two mentioned.
As we began to pull the men on board I saw a terrible mess with which they were covered – thick sticky oil. One could not tell their rating owing to their clothes and faces being thickly coated with it. After we had the men out of the water we turned towards the two men on the raft. We could see one man who seemed lifeless. My crew, to a man, were helping the men into the galley or down into the cabin to get warmth to their bodies. I, myself, could not tell if they were injured owing to my having to cox the ship and jumping on to the deck to help pull the men on board – then when we had to manoeuvre to where the rafts were, I was back into the wheelhouse again to steer the ship.
The small raft was now alongside. The man who seemed lifeless was at one end. As our boat rolled, I grabbed him under his armpits, the mate holding on to my legs. The strain on my arms was too much and I had to let go as the ship rolled away from the raft. As she came back again we had a rope with a bight in it ready to slip over him. This was done with three of us pulling the man aboard but the weight was too much for us. It was then that we saw that his legs were through the hand lifeline around the raft. This line was cut and he was safely on board. I saw that he was alive but the cold had got him and he was in a stupor. The other man with him was pulled on board. They were both taken aft to the cabin. It was at this moment when one of the other trawlers arrived on the scene. She was so close that her stern crashed into ours – slight damage was done. The large raft was drifting towards us. On this were eleven men. One I particularly noticed was lying in the oil and water, which covered the raft floor. His head was on the raised side. He looked to me to be in a very bad way. My mate threw a heaving line, which fell across the raft. It fell across the body of the injured man and he grasped this line by his own hands as we pulled on it to draw the raft alongside. Each man had to be helped off and carried or helped aft owing to their condition. These were about the last to be saved. We, ourselves, were wet through and smothered in oil from contact with the sailors and the sea.


I now had the chance to look around. The other destroyer was searching to locate the submarine well to the south. There was also a government T-class trawler now on the scene. We had been too busy to see what was happening around us. At this time I did not know the names of the destroyers.
I saw a naval trawler taking a man out of the water. She was going ahead on her engines. I believe this was the rule when enemy submarines were in the vicinity, where a naval vessel had been hit. They must not stop to pick up survivors. The man was hanging onto the end of a rope looped under his armpits and was swinging backwards and forward from her forecastle head which was high out of the water.
Flying overhead were aeroplanes, which had been set out from the base some ten miles distant. They dropped rubber dinghies but they were too late. All the survivors were picked up. When we found we could do no more I went to the wheelhouse, ringing the engineers' telegraph for full speed. As we turned to come onto course I noticed a lone man was still in the water, not far from where the nose of the destroyer was still pointing to the sky, although lower in the water now. Heading towards this man we stopped as we drew alongside. Going on deck to help pull him on board I noticed he was in a bad shape and, at first, thought he was dead. His uniform was saturated with seawater and the messy oil and, with the inertness of his body; it took all four of us to pull him up over the rail and on board. He was taken to the engine room. The galley and cabin were full of these men.
We got under way again telling the chief to step on it to save the tide into Padstow, eighteen to twenty miles distance. Telling the mate to take the wheel I went aft to the cabin. I asked where the man was who had been in the raft. They told me he was in the cabin. Going down I saw he was lying prostrate; his uniform scorched at the front, his eyebrows and hair at his forelock was burnt off. He was blinded and could not see. He was moaning with pain. There was nothing I could do. My knowledge of first-aid was not enough to be able to attend to him. All I could do was to make him as comfortable as possible and get into harbour for professional attention. All my crew's spare clothing and rugs were given to these men. I did have some whiskey I always carry for colds of flu'. This was passed around but did not go far. I forgot exactly how many men we had saved but it was forty or more.
Going on deck I looked down into the engine room. Some men stood close to be near the boiler for warmth to thaw out after their dreadful ordeal. It would not have been long before they succumbed to the iciness of the sea. From the time the warship was struck to the time we were steaming to harbour was not much over the hour. Going back to the wheelhouse, after satisfying myself all was done that could be done, I saw one young fellow, with a rug draped over his shoulder, standing in the alleyway. He had a nasty gash in his leg. I asked him if it hurt, he replied, " Not much, I'm not worrying about that, I'm thankful to be alive." A bandage was put round his leg for the time being. A lot of these men had swallowed a lot of oil and seawater. The sooner we got them in, the better. I noticed my Chief in the engine-room was trying to get some of the oil off those who were down there.
Arriving at the wheelhouse, I saw the two Milford men coming astern of us (we were having the tide in our favour) were drawing near Trevose Head. The medical W-flag had been hoisted - denoting that we needed medical assistance. One of the survivors came up to the bridge, he was in very good shape, the top of his uniform was hardly soiled, and I saw a three-badge coxswain, PO. He told me his ship's name and that of the other ship – they were HMS

Warwick

and HMS

Scimitar

– the first being the ship sunk. He began talking after this and, owing to what he said, I told him to 'button his lip' and shut up. He told me we had saved his skipper. Somebody shouted to me telling me I was wanted down in the cabin. Going aft again I asked what was wrong, thinking one of the survivors had had a turn or something, I was told the destroyer's commander wanted me. I asked where he was and was told in the after port bunk. Going towards it I saw man lying on his back with a rug covered over him up to his shoulders. He had a small beard and, on his face, were streaks of oil. He did not look very old.
What I saw of his face was very pale; he asked if I was the skipper. I replied, "Yes." He then said, "I have been blasting you trawlers while on this patrol but thank God you were near. I don't know for sure if we were mined or torpedoed. If we were torpedoed, the submarine we were looking for got us first. I advise you to keep in the swept channel." As I turned to go back on deck again he leaned out from the bunk, asking one of his men as to the fate of some members of his crew and was he a survivor. He then said something about the 'Asdic', which I did not catch.
When I got back to the bridge we were almost abreast of Trevose. Coming from the direction of the River Camel entrance was one of the Air-Sea rescue launches, stationed there, and which had been detailed to help in the rescue work, as had happened years ago on the occasion when thirteen unnamed sailing trawlers had met their doom, and I was a survivor, only a very few miles from this position. "Too late again," I thought. History had repeated itself. They had been refuelling at the time they were wanted and then got stuck in the mud for six hours between half flood and ebb.
As the two boats closed with each other, the launch slowed down. A voice over the loud hailer shouted, "

Lady Luck

stop your ship. I have orders from the C in C St Eval to transfer your survivors to my boat." This did not make sense to me. We were flying the W flag, I needed a doctor, with the scanty requirements from my first-aid box and a knowledge there was nothing more that could be done, I was concerned about the badly burned sailor and whether he would live. I went to the cabin and spoke to the destroyer's commander stating what had transpired on deck between the launch's skipper and myself. The man asked me how his men were and how long before we would be at the quayside. I answered, "As well as can be. In another half hour we will be moored to the quay and I am worried regarding the severely burned man and we should just make it as the ebb was now running out of the river." He replied, " Ignore him and carry on."
The

Lady Luck

had a full head of steam, the white feather coming from her steam exhaust. If I stopped her the boiler, would blow off. It was always advisable to give the chief engineer ten minutes to close all dampers to ease the steam back to avoid the strain on her steam valves, and stopping the noisy rushing of steam from her exhaust.
As we entered the river the ebb tide had made and was fast running. We were just able to get alongside the quay. The two boats astern of us were not able get a berth alongside, they were both stuck in the middle of the dock. One had two, the other nine survivors on board.
There were several conveyances waiting, some for those who were able to help themselves, others, Royal Navy ambulances for those that were not so fortunate. Mr Harry Wescott came to the quay. The Mission Room was only a few yards from where we were laying. He and his wife had prepared for the survivors, some of who were by this time aboard the conveyances. Hot water for baths and tea urns had been got ready but the red tape stopped this. The sailors had to wait before being taken out to an airfield, some five miles outside to town.
I went on the quayside almost in my birthday suit, wearing only a vest and a pair of Long John underpants. It was icy cold standing there. The hold-up was caused by the burnt man being attended to before being strapped onto a stretcher, owing to the height of the quay from the ship some ten feet below. I was standing there shivering like an aspen leaf I was so cold that a man took off his overcoat and put it over my shoulders. The few clothes I had were saturated with oil and seawater.


I had given my suit to the commanding officer who came ashore wearing it. He was taller than me and the trouser bottoms were some four inches above his ankles, the sleeves short on the wrist. One could see was suffering from shock by his drawn features and the way he walked. The different clothes and rugs were sent back to the

Lady Luck

and lay near the berthing master's hut. They lay in a sodden mess, wringing wet with oil from the sea, which had escaped from the stricken destroyer. They were not fit for any man to use again. I had to send my son home to get a spare outfit of clothes to put on before I could go into the town.
Orders came from the Naval authorities that no vessel was to sail until further orders. They were still hunting the U-boat and the rumour was that the accompanying destroyer HMS

Scimitar

had depth charged the U-boat and destroyed it but this was only a rumour.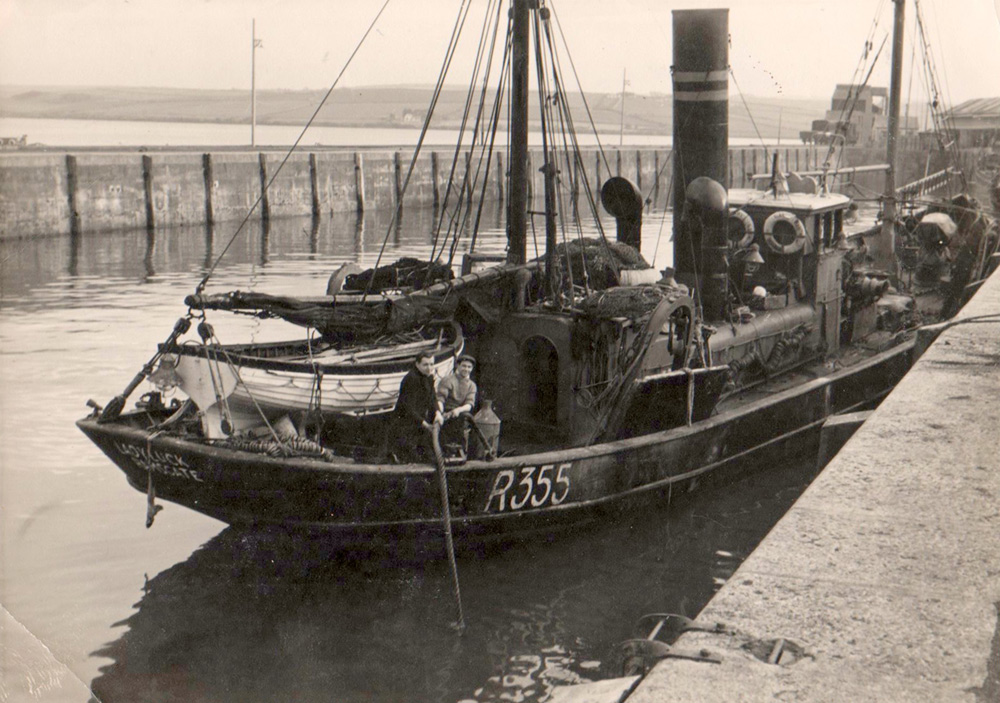 Lady Luck

in Padstow Harbour


Courtesy of Padstow Museum



it was Monday 21st
, approaching the end of the month, the day was warm with brilliant sun. Although we had four days fishing ahead, we had the catch on board. Being concerned about this, I telephoned Milford Haven to see what I should do, and also enlighten them as to what had happened. I needed advice. Telling them I had fish on board, which was perishable goods, and also that we were not allowed to sail, not knowing how long we should be detained.
The man to whom I was speaking, an undermanager, was very rude to me, saying that I should have taken my ship with survivors to Milford. I replied, "It's alright for you people, you just sit on your arses and don't realise there's a war on." With that I hung up the phone.
It was Thursday, 24 February when a messenger came to the dock and informed us that, " All ships can sail." We sailed with the evening tide and arrived at the 'Haven' next day. On going to the office I was greeted by a curt "Good morning Skipper" the manager began to carry on about me not obeying orders etc. finishing with the phone conversation. "We cannot stand subordination from skippers in the firm. You had better sign off the log book."
Telling him of those men with injuries and shock, also the state of my ship, which took two days to clean up, owing to the oil that had stunk everywhere, both on deck and down below and which had saturated the bodies of the men and their clothing. I then said, " Give me the pen." I signed off

Lady Luck

's logbook and caught the next train back to Padstow.
On arriving home I found a letter was waiting for me from the Fishery Officer who was in charge of the South West Area Fisheries, ruled by the Minister of Agriculture and Fisheries. He asked if I would go and visit him at his office, which was at the Citadel, Plymouth Hoe.
Arriving there he congratulated me on my rescue work and said he would write to Head Office for an award, which I never received. Neither did I get a mention in dispatches from the CO Plymouth, although others concerned in the rescue did, following an enquiry to do with the warship's loss.
I was in Plymouth when the enquiry took place there in March 1944. Commander Collard of the Ministry of Agriculture and Fisheries had asked me to take an armed steam trawler named

Rattray

registered at Milford Haven. She had seen better days and was not under Naval jurisdiction, being too old for Admiralty work. She was armed with the quick-firing gun on a platform aft. Two Lewis guns, with anti-aircraft parachute flares on the wheelhouse. When at sea, a kite balloon was attached to her mizzenmast. Two Marine Regimental personnel were in charge of the defence of the boat.
Why I was not asked to attend that enquiry I shall never know. Being an eyewitness, and very close to

Warwick,

I knew her movements from her first appearance on that Sunday morning to the very end. It was due to

Lady Luck

being in such close proximity that so many lives were saved. Had they spent any longer in that icy water there would have been more dead bodies than live ones floating in the area.


U 413 was attacked and sunk during the preparation for D-Day the following year. I learned of this when I carried out a programme of research concerning the events of

Warwick

's loss. I discovered a Kapitanleutnant zur See Gustav Poel was in command of the German U-boat and he escaped from the Trevose area after lying 'doggo' for some hours and then made his way to Brest where he was relieved. The U-boat was in command of another commander in the English Channel when she was sunk.
The last man to be picked up, the one I thought was dead, has written to me every year since his vessel was sunk. I hear from him every Christmas, and again on the 20 February 1944, the anniversary of the sinking and his life being saved.
An English translation of the letter received by Victor Crisp from Kapitšnleutnant Gustav Poel in 1961 regarding his part in

Warwick

's loss:
"Some time ago I received your friendly letter of January 3rd which I am very pleased to answer. It is interesting to hear after such a long time of events we experienced as enemies which we can now regard with detachment.

I remember that day on the coast of Cornwall in the neighbourhood of Trevose Head. I had been there with the boat U-413 for several days but owing to the changing of your convoy routes I had not had the opportunity of making an attack.
I was surrounded by a screen of steam fishing vessels and fishing fleets which gave me the opportunity of surfacing at night to charge my batteries and freshen up the air in my boat. Early on the morning of 20th February I went into the area of Trevose Head in the hope of meeting up with a southbound convoy. Unfortunately for me this convoy also took a course outside my range, however, I ascertained the presence of two escort Destroyers, HMS

Warwick

and HMS

Scimitar

, without knowing the actual names at the time, merely recognising the type of vessel. The

Warwick

was apparently searching for a U-boat by means of her asdic, without any success. This was because in the area in question different layers of water and currents changed the density causing a layer of water, which affected the asdic by giving false echoes. As I kept the narrow part of my silhouette towards the

Warwick

, I was able to escape despite the close proximity of my vessel.
After

Warwick

had turned away and steamed off at moderate speed I came into an attacking position. I waited, however, until

Warwick

had settled down to a constant course when I found myself in a position to attack from astern and fired two torpedoes, which turned on opposing courses after running off. Only one of the torpedoes found its target and hit abreast of the funnel. It is possible that the blowing up of the boiler caused the second explosion on

Warwick

because the second torpedo missed altogether.


I immediately withdrew well back and laid still while

Scimitar

searched further south for my boat, her search was fruitless and I was able to observe his efforts. A little time after the explosion the first of the trawlers came on the scene apparently to pick up the crew, while aircraft also appeared. Thus I was unable to remain at periscope depth any longer and after the sinking

Warwick

I retired submerged.
I had a difficult time during the next four days as constant air reconnaissance made it impossible to surface and I was obliged to stay submerged. After two more days I was able to take advantage of a severe thunderstorm to charge my batteries and freshen the air in the boat. Two days later I was able to escape from the danger zone.


My boat U-413 was stationed at Brest and I set course for there after sinking two escort vessels on the way. U-413 was sunk during the channel invasion whilst in charge of another commander.
I should be happy to have a copy of the book and would like to know the title and the publishers so I can obtain a copy. If you wish I can let you have a photograph of myself taken at the time of these events.
Yours sincerely
Signed
Gustav Poel
The U-boat (a type VII C) was built by Danziger Werft in 1941 and was commissioned on the 3rd June 1942 under the command of KL Gustav Poel.
Leaving Brest on the 26th January 1944 for the North Atlantic U-413 operated initially SW of Ireland. In the early morning of 11th February she encountered convoy KMS 41/OS 67 (UK to Mediterranean slow November 1942 onward and Outward Southbound, Liverpool etc to Freetown 1941 onwards) and made unsuccessful attacks against destroyers of the escort, hearing only end-of-run detonations. She escaped the hunt that followed, using 'Aphrodite' balloons and anti-radar foil.
The submarine was patrolling off the North Cornwall coast when she was sighted and reported by a fishing vessel on the 20th. Destroyers arrived and began to hunt for the boat. U-413 was able to torpedo and sink HMS

Warwick

WSW of Trevose Head before slipping away.
U-413 served with


8 U-Flottille, Danzig June to October 1942.
1 U-Flottille Brest November 1942 to 20th August 1944.


She completed 8 patrols whilst in service and sank four ships (31,399 tons) MV

Warwick Castle

(British 20,107 grt) SS

Mount Mycale

(Greek 3,556 grt) SS

West Portal

(American 5,376 grt), SS

Saint Enogat

(British 2,360 grt) and one destroyer (1100 tons) and was, herself sunk on the 20th August 1944.
On the 2nd August 1944 she left Brest for the English Channel.


Now schnorkel equipped, U-413 moved towards the Allied invasion area at the eastern end of the Channel. In the evening of the 19th she came up with convoy ETC 72 (Thames to France coaster convoys June to October 1944) and sank SS

Saint Enogat

. The boat was located immediately afterwards but escaped. She was followed by the destroyer HMS

Forester

(Cdr G W Gregorie), joined next morning by the destroyer HMS

Vidette

(Cdr G S Woolley) and the destroyer HMS

Wensleydale

(Lt Cdr W P Goodfellow). Between them they located and destroyed U-413 on the 20th SSE of Brighton.
The Commander (OL Dietrich Sachse) and 45 members of his crew were lost. The sole survivor was the Chief Engineer, who had gone to the forward section of the boat to investigate damage. He got out through the forward escape hatch and floated 90 feet to the surface.
The account of the rescue of survivors by Victor Crisp the skipper of

Lady Luck

is from his autobiography
Trawler Boy to Trawler Man;

by Victor Crisp (Lowestoft: Heritage Workshop Centre, 2004?) ISBN 1-904413-37-4.
Keeping alive the memory of HMS

Warwick
HMS

Warwick

is remembered in the town of Warwick which adopted her in 1942 and in Padstow where six of the men who died are buried in the church yard of St Merryn's parish church three and a half miles south of Padstow. The names of the three officers and sixty three men who died can be seen on the website of the Commonwealth War Graves Commission. Survivors and the families of the men who died attended memorial services in the church on the fortieth anniversary of her loss in 1984 and and again in 2004 and 2014. Contact John Puddicombe of the
HMS

Warwick

Family Association for details of future events. John is the grandson of Chief PO H.A.E. Ford D/J 24801 who died after rescue and is buried in the church yard of St Merryn.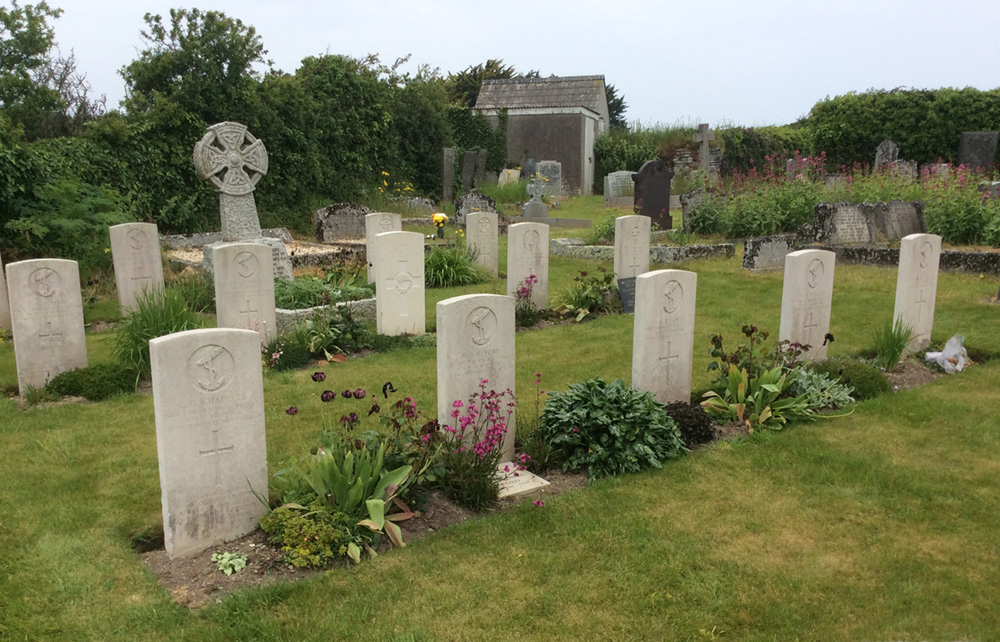 The garaves of six men who died after they were rescued
are
in the churchyard
of St Merryn
, three miles south of Padstow
:

AB F.S. Young D/JX 199780, AB C.G. Chappell D/JX 167582, Chief PO H.A.E. Ford D/J 24801, Supply Asst. J.C.R. Tower D/MX 617463, Stoker 11 W.K. Morgan D/KX 527790, OD J.L. Bell D/JX 580280
The names of those who died
This list is taken from
Casualty Lists of the Royal Navy and Dominion Navies, World War 2
(researched & compiled by Don Kindell). Brief biographical entries for the men who died can be added if requested by their families.
ALLEY, Thomas, Assistant Cook (O), D/MX 107820, MPK
BALL, Charles, Engine Room Artificer 4c, D/MX 75939, MPK
BATY, Sydney, Ordinary Seaman, D/JX 558604, MPK
BELL, John L, Ordinary Seaman, D/JX 580280, killed
CAIRNS, Robert, Able Seaman, D/JX 346967, MPK
CHAPPELL, Cecil G, Able Seaman, D/JX 167582, killed
CLEGG, David, Stoker Petty Officer, D/KX 81559, MPK
CLEGG, Donald, Able Seaman, D/JX 366861, MPK
COATES, Sidney P, Able Seaman, D/JX 305237, MPK
CROOK, John R, Able Seaman, D/JX 302974, MPK
DAVIES, Winston, Ordnance Artificer 4c, D/MX 64084, MPK
DEVANEY, Edward, Act/Able Seaman, D/JX 238853, MPK
DUFFY, Albert, Ty/Act/Leading Seaman, D/SSX 22620, MPK
FARROW, James W, Ordinary Seaman, D/JX 422902, MPK
FORD, Horace, Ty/Chief Ty/Petty Officer, D/J 24801, killed
FORREST, Matthew M C, Petty Officer, D/J 86820, MPK
GILES, James, Ty/Act/Leading Seaman, RNR, D/X 20369 A, MPK
HALES, Leslie J, Able Seaman, D/JX 368912, MPK
HANCOCK, Kenneth F H, Chief Engine Room Artificer, D/MX 49764, MPK
HARRISON, Levi, Steward, D/LX 27277, MPK
HARTLEY, Jeffrey G, Electrical Artificer 4c, D/MX 86642, MPK
HENSON, Alan J, Able Seaman, D/JX 406905, MPK
AB Alan J Henson was the son of Frederick Henry Henson of High Wickham, Kent. At the time of his death he was engaged to be married to Leading Aircraftwoman Jean Abbott Baker and I have been contacted by her daughter, Jane Rowland, who would like to trace his family and hopes to obtain a photograph of her Mother's fiancee. She e-mailed me from her home in Canada:
"My mother was Mentioned in Despatches in June of 1944 for which I am exceedingly proud. She met a Canadian in the RAF and they married after the war and lived in England for a while. My brother was born in England and I was born in Montreal. Before my Mum died she told me that she wanted the hymn "Eternal Father Strong To Save" in memory of Alan at her funeral which of course I did. She talked about Alan quite a lot before she died, and you could see the great sadness in her as she recalled their happy times together before the war began. What I would love to find is a picture of Alan. I wonder if there was a group photo taken of the ship's company somewhere? I have no idea if there is any family - he had a brother and a sister. Whether his brother survived the war I don't know."

Please get in touch if you can help.
HILL, John R, Able Seaman, D/JX 230315, MPK
HUDSON, William H, Ordinary Telegraphist, D/JX 359338, MPK
JENNINGS, James, Stoker 1c, D/KX 137551, MPK
JOHNSON, Thomas H, Stoker Petty Officer, D/K 61807, MPK
KILLEY, William E, Able Seaman, D/JX 306364, MPK
KING, Leslie J L, Ordinary Coder, D/JX 509003, MPK
LINFORD, Thomas, Stoker Petty Officer, D/KX 80562, MPK
LYONS, Francis J, Ordinary Seaman, D/JX 558495, MPK
MAEERS, Frederick G, Able Seaman, D/JX 419237, MPK
MARTIN, William A, Able Seaman, D/JX 367965, MPK
MCCOY, William J, Able Seaman, D/JX 215636, MPK
MCSHANE, John, Able Seaman, RNVR, D/MD/X 3115, MPK
MOORES, William C, Able Seaman, D/SSX 35994, MPK
MORGAN, William K, Stoker 2c, D/KX 527790, MPK
MORROW, Samuel J, Able Seaman, RNVR, D/MD/X 1951, MPK
MOULTON, John E, Ordinary Seaman, D/JX 404681, MPK
NEALE, Ronald N, Ordinary Seaman, D/JX 419683, killed
NICHOLL, George, Act/Leading Seaman, D/JX 159832, MPK
NICHOLSON, Edward G, Leading Steward, D/LX 24760, MPK
NORBURN, James, Able Seaman, D/JX 366864, MPK
NUGENT, Thomas J, Able Seaman, D/JX 419669, MPK
PALMER, Frank A C, Able Seaman, DJ 41748, MPK
PARKINSON, John, Able Seaman, D/JX 171581, MPK
PARSONS, Eric J W, Ty/Lieutenant, RNVR, MPK
PEACOCK, Robert, Stoker 2c, D/KX 161772, MPK
PHILLIPS, Vernon J, Able Seaman, D/SSX 27822, MPK
PORTER, William J, Petty Officer Telegraphist, D/JX 146518, MPK
POXON, Francis G, Ordinary Seaman, D/JX 570036, MPK
REES, John H, Engine Room Artificer 5c, D/MX 102570, MPK
REID, Sidney L B, Canteen Manager, C/NX 703557, MPK
ROBERTS, David, Act/Stoker 1c, D/KX 155776, MPK
ROBINS, Sydney J, Leading Steward, D/LX 28188, MPK
SANDES, Denis L, Ty/Surgeon Lieutenant, RNVR, MPK
SLAPPER, Norman A, Able Seaman, D/JX 422146, MPK
SLEATOR, George, Able Seaman, D/JX 420406, MPK
SMITH, Robert, Able Seaman, D/JX 416594, MPK
SWIFT, Arnold, Able Seaman, D/JX 303973, MPK
TANNER, Gilbert J, Ty/Petty Officer Steward, D/LX 20801, MPK
TOWER, John C R, Supply Assistant, D/MX 617463, killed
VALENTINE, Jack, Able Seaman, D/JX 407098, MPK
WALTER, William F, Stoker 2c, D/KX 580880, MPK
WHINNEY, Edward P G, Sub Lieutenant, MPK
WILLIAMS, Arthur N, Ordinary Seaman, D/JX 421139, MPK
YOUNG, Francis S, Act/Able Seaman, D/JX 199780, killed
Most of those who died or were Missing Presumed Killed are commemorated on the Plymouth Naval War Memorial but the name of the Canteen Manager, Sidney Reid is recorded on the Chatham Naval War memorial. There are also memorials to those who died in Padstow and the National Arboretum and the flag flown by HMS

Warwick

at Zeebrugge in 1918 hangs in St Mary's Church, Warwick.
Memorials at Padstow
On the outside wall of the "red brick building" used by the RNLI down by the harbour in Padstow is a slate plaques dedicated to HMS

Warwick

. The inscription reads: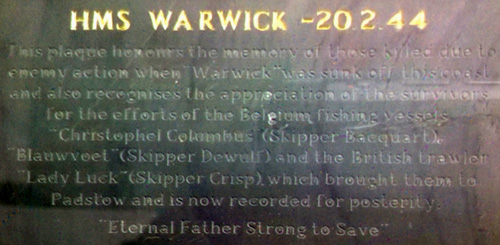 This plaque honours the memory of those killed due to enemy action when "Warwick" was sunk off this coast and also recognises the appreciation of the survivors for the efforts of the Belgian fishing vessels

Christophel Columbus

(Skipper Bacquart)

Blauwvort

(Skipper Dewulf) and the British trawler

Lady Luck

(Skipper Crisp) which brought them to Padstow and is now recorded for posterity.
"Eternal Father Strong To Save."



The museum in Padstow holds many momentos of the loss of Warwick including a brass porthole salvaged from the wreck and presented to her Navigating Officer, Lt David Harries RN, who told his story of the loss of HMS

Warwick

in the

Cornish Guardian

in 1984, the fortieth anniversary of her loss.
In that anniversary year eighteen of the eighty five surviv

ors

wrote down their memories of that day. Some can be seen on this page and the others
are in the Imperial War Museum London.



This porthole from HMS Warwick was presented by the salvor to Lt Cdr David Harries and is now in the Padstow Museum


The dedication of a tree in the National Arboretum presented by
Warwick Council and Warwick RNA in May 2008

Memorials at Warwick
HMS
Warwick
was informaly adopted by the Warwick after the raid on Zeebrugge in 1918 but this was conformed by its adoption during Warship Week, 1942. The banner flown by Rear Admiral Sir Roger Keyes during the Raid hangs in St Mary's Church in Warwick as a memorial to the 66 men who died when she was torpedoed on 20 February 1944. The following report was published in the
Warwick Courier
on 14 May 2008.
"Warwick Town Council and the Warwick Royal Naval Association have dedicated memorials to SS
Warwick Castle
at Warwick Castle and to HMS
Warwick
at the national arboretum in Alrewas, Staffordshire.
The ships were HMS
Warwick
, built in 1917 and adopted by the town in 1918 and SS
Warwick Castle
a 20,000 tonnes troop ship. Both were sunk by the same German submarine U413; the SS
Warwick Castle
off the Portuguese coast in November 1942 and HMS
Warwick
off Trevose Head, Cornwall in February 1944.
The planting at Warwick Castle was attended by Warwick mayor Coun Martyn Ashford, John Coles of Warwick RNA and members of the town council and naval association.
The dedication and service at the National Arboretum, Alrewas on May 9 was attended by HMS
Warwick
survivor Lt Commander David Harries, David Raynor, the son of Commander Denys Raynor DSC who captained the ship and Coun Ashford. The service was conducted by WRNA padre Canon Rev Mervyn Roberts.
HMS
Warwick
was the first Royal Navy ship to adopt a badge, which was based on the town's emblem of the Bear and Ragged Staff and since 1918 this trend has been followed by all Royal Navy ships from that date.
The Warwick Badge is incorporated into a plaque beside the tree."
This year is the 75th anniversary of the loss of HMS

Warwick

and a memorial service was held as part of the morning service of worship at St Merryn church near Padstow at 11.00 on Sunday 17th February 2019,
the closest Sunday to the 20 February
. On Wednesday 20th February 2019, the anniversary of her loss,
a short memorial service organised by the Royal British Legion was
held at 11.00 in the Red Brick Building Padstow Harbour.


Ken Holmes is now the only survivor at 95 years of age.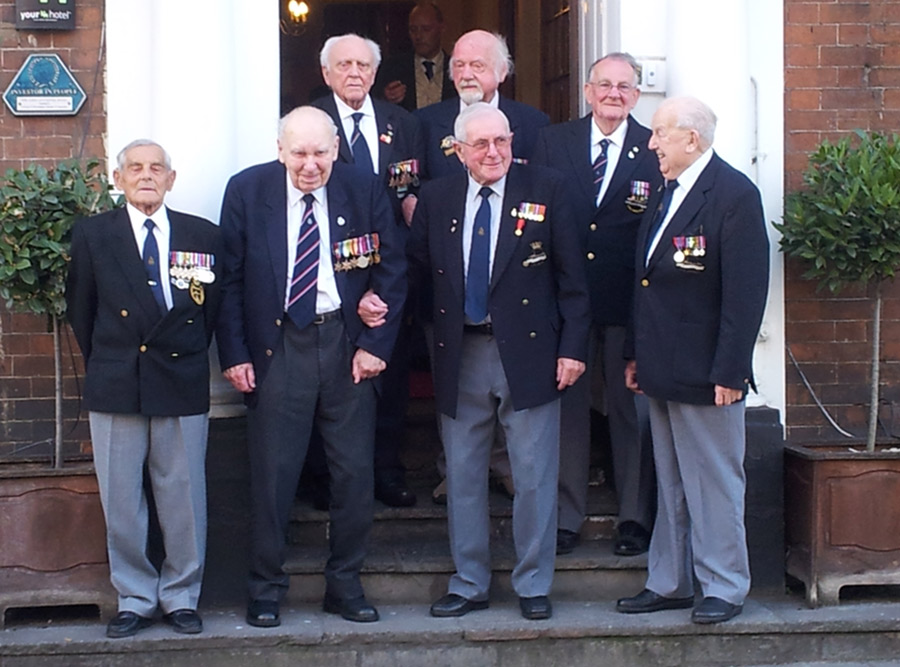 Reunion of the V & W Destroyer Association at Warwick in 2013


Front row, from left: John Waters (HMS

Wakeful

) from Market Drayton, Ron Rendle (HMS

Wishart

) from Braintree, "Stormy" Fairweather (HMS

Westcott

) from Colchester, Mick Baron (HMS

Westminster

) from Scarborough
Back row, from left: Dick Fernside (merchant seaman) from Langham, near Colchester, Peter Scott (HMS

Wolfhound

) from Oxted, Frank Witton (HMS

Woolston

) from St Albans - the only one still alive.


Courtesy of John Ellson
Acknowledgements to
John Puddicombe,
Padstow Museum,
the Colin Crisp,
John Buckingham, Derek Lindsey, Brian French, David Helyar - and Peter Brown

If you want to find out more about the wartime service of a member of your family who served on HMS

Warwick

you should first obtain a copy of their service record
If you have stories or photographs of HMS Warwick you would like to contribute to the web site please contact

Bill Forster
---
Return to the Home Page for HMS

Warwick
Return to the Home Page of the V & W Destroyer Association
Return to the Index Page for the 69 V & W Class Destroyers
---