---
"Crossing the Line"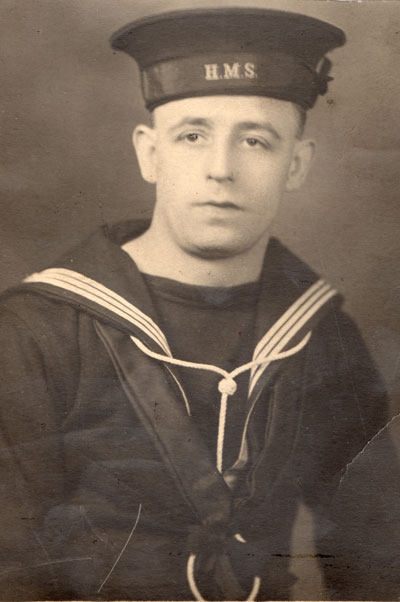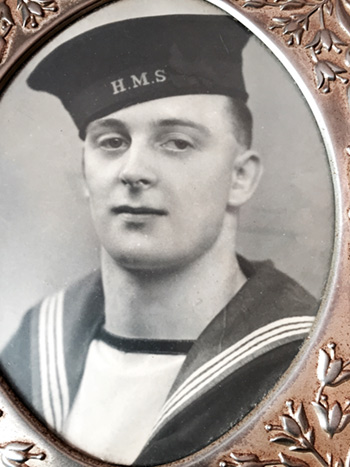 "Shortly after conversion to a Long Range Escort in June 1941

Vimy

was steaming from Gib en route to Freetown, West Africa when the Asdic made a positive contact. With a new Skipper,

Lt Cdr J.G.D. de Chair RN

, and a green, but enthusiastic crew, everyone dashed to action stations. A depth charge was dropped and it was reported that the target was surfacing. All guns were immediately trained on the likely spot, when up came a ruddy great whale, he spouted, looked at us reproachfully and leisurely swam away.

At the later 'Crossing the line' ceremony we presented the skipper with "The Order of the Whale" with a tin replica to hang around his neck. We later attacked and seriously damaged the Italian submarine

Luigi Torelli

so the 'dress rehearsal' had proved useful."


Shane Harley's maternal grandfather, Robert Holland, was an AB in HMS

Vimy

, and his paternal grandfather, Henry Harley, was in the Sherwood Foresters and was evacuated from Dunkirk but, as far as we know, not by HMS

Vimy

. The story of Shane Harley's two grandfathers is told on the page about HMS

Vimy

at Dunkirk. Peter McQuade's grandfather, LS Arnold Ludlow (P/5X 323893), was on B-Gun in

Vimy

.

They were present at both Crossing the Line ceremonies (see below), the rescue of the survivors from the

West Lashaway

on 14 September 1942 and at the sinking of U-!87 on 4 February 1943 and the photographs they brought home bring these events vividly to life. They almost certainly knew each other but their grandsons have never met.


**************



HMS

Vimy

joined the Freetown Escort Force in June 1941 and the "Crossing the Line" ceremony recorded in the photographs below brought home by

LS Arnold Ludlow

(on left) and his shipmate

AB Robert Holland

(right) probably took place while

Vimy

was escorting a convoy to Cape Town, possibly WS.14 or WS.15, so the most likely dates are 27 December 1941 or 24 January 1942 as the Equator is about 500 nautical miles south of Freetown. They were both Gunners, part of the new Commission after

Vimy

was converted to a Long Range Escort (LRE) at Portsmouth. The identity of the photographer is not known but I was sent scans of the photographs by their grandsons for use on this website.

The "victim" in the crossing the line photograhs was probably the Doctor. When he left

Vimy

in May 1942 the Captain noted in his book

Let Go Aft

:

The indiscretions of a salt horse commander

; by Henry Graham De Chair (Tunbridge Wells: Parapress, 1993).


"We were sorry to lose our Doctor (Surgeon Lt H Fitzgibon). He was a gynaecologist and felt that his talents had been rather wasted in a destroyer on the west coast of Africa, where his sole duty was to administer quinine and various other perquisites of a tropical nature. When crossing the line, the sailors lashed him with adhesive tape, squirted red ink down his back and made him drink a double dose of quinine. He had a fearsome beard."
Despite sitting with his back to the camera) the victim can be seen to have a thickset beard which matches De Chair's description of the "Doc".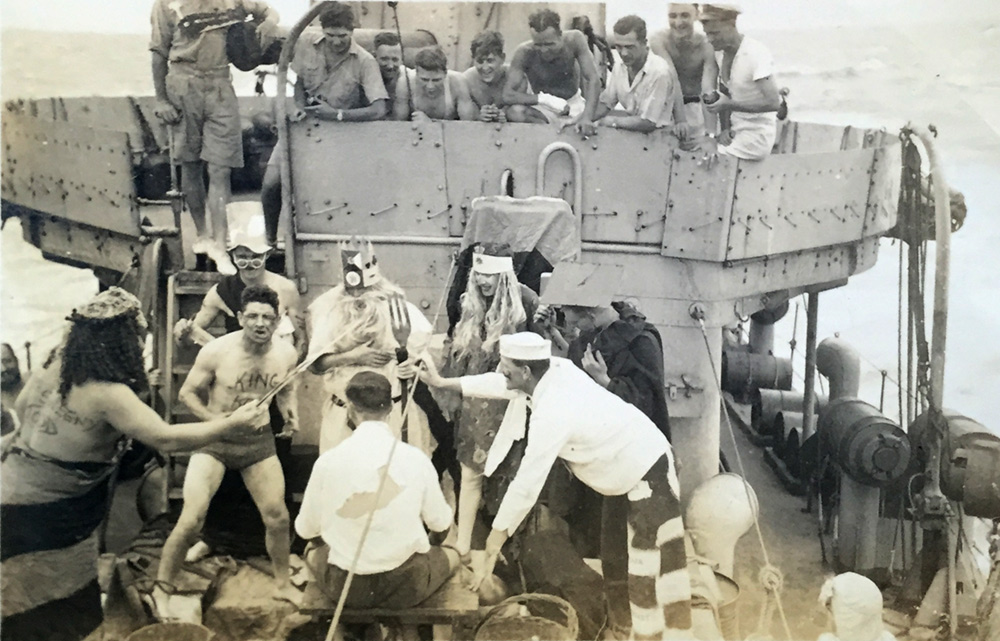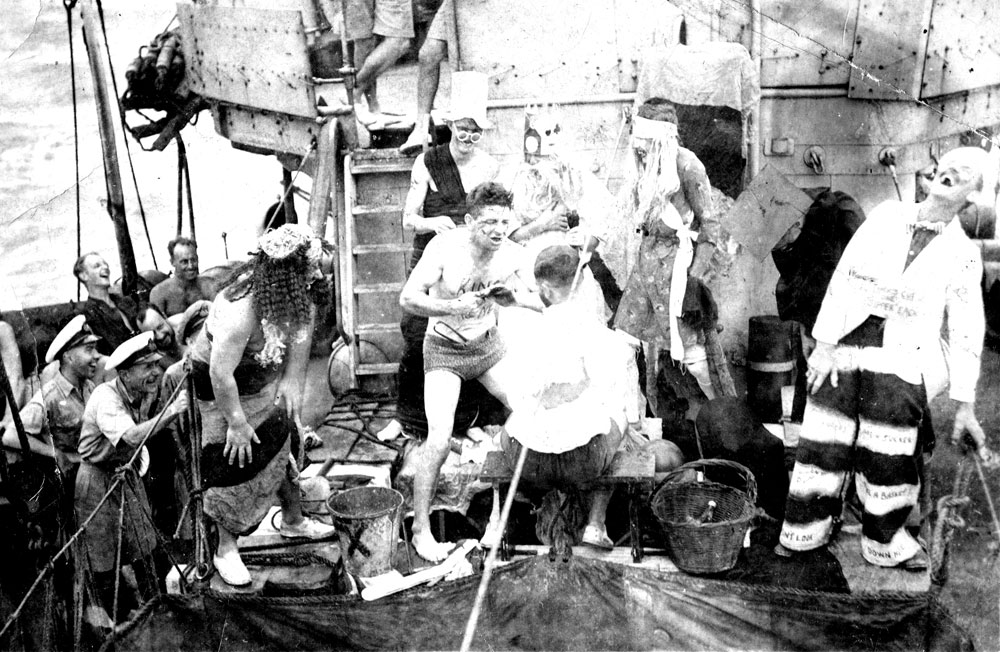 Vimy

returned to UK after the first Crossing the Line "ceremony" to have new condenser tubes fitted. This should have been done during her conversion to an LRE (Long Range Escort) at Portsmouth in June 1941 but was overlooked and now needed doing urgently. She left for UK with Convoy SL101 (Sierra Leone - Liverpool) on 22 February 1942 and arrived in Londonderry on 15 March after a hairy passage during which she had to refuel at sea four times
under difficult conditions
. On arrival at Falmouth to have her repairs done by Silley Cox she ran aground as described by AB Lucas-Garner:


When V

imy

was entering Falmouth she ran aground on a sand bank. Despite going 'full astern' she wouldn't shift. The skipper was desperate, as running your vessel aground meant big trouble for a Captain. He had 'Clear lower deck, hands lay aft' piped and all proceeded to the stern. The order was given for everyone to jump simultaneously (all together, at the same time, for the uninitiated). After several jumps by all concerned and with the engines going full astern, the suction of the sand was broken and we became unstuck. It must have been an unusual sight for the people ashore to see so many matelot's behaving in such a peculiar manner. Although on second thoughts I don't know.

This embarrassing incident occured in full view of Silley Cox's dockyard and the ships moored in the Carrick Roads and was mentioned by

Sub Lt Raymond B. Venables RNVR

who joined

Vimy

after her refit at Falmouth in Reel 6 of an amusing interview in the Sound Collection of the IWM in London. The repairs took ten weeks and were followed by a workup, so she probably did not get away till the end of June.

"We had 35 new youngsters and had lost most of our old hands" who all required initiation into Neptune's Kingdom which provided the excuse for the second crossing the line ceremony held when

Vimy

went south from Freetown to rendezvous with the battleship HMS

Queen Elizabeth

which had been mined at Alexandria and escorted her to the USA for repair.
On 29 July HMS

Vimy

was an escort for Convoy ST029, from Freetown to Takoradi on the Gold Coast (Ghana), and she joined ST030A
near Freetown on 4 august and went south to join Queen Elizabeth on RT001 (Capetown - Freetown) on 11 July which would be her furthest South. The
ceremony would probably have been on 7th August
1942 and is described in this press cutting, reproduced in Let Go Aft.



---
Return to the Home Page for HMS

Vimy
Return to the Home Page of the V & W Destroyer Association
Return to the Index Page for the 69 V & W Class Destroyers
---