---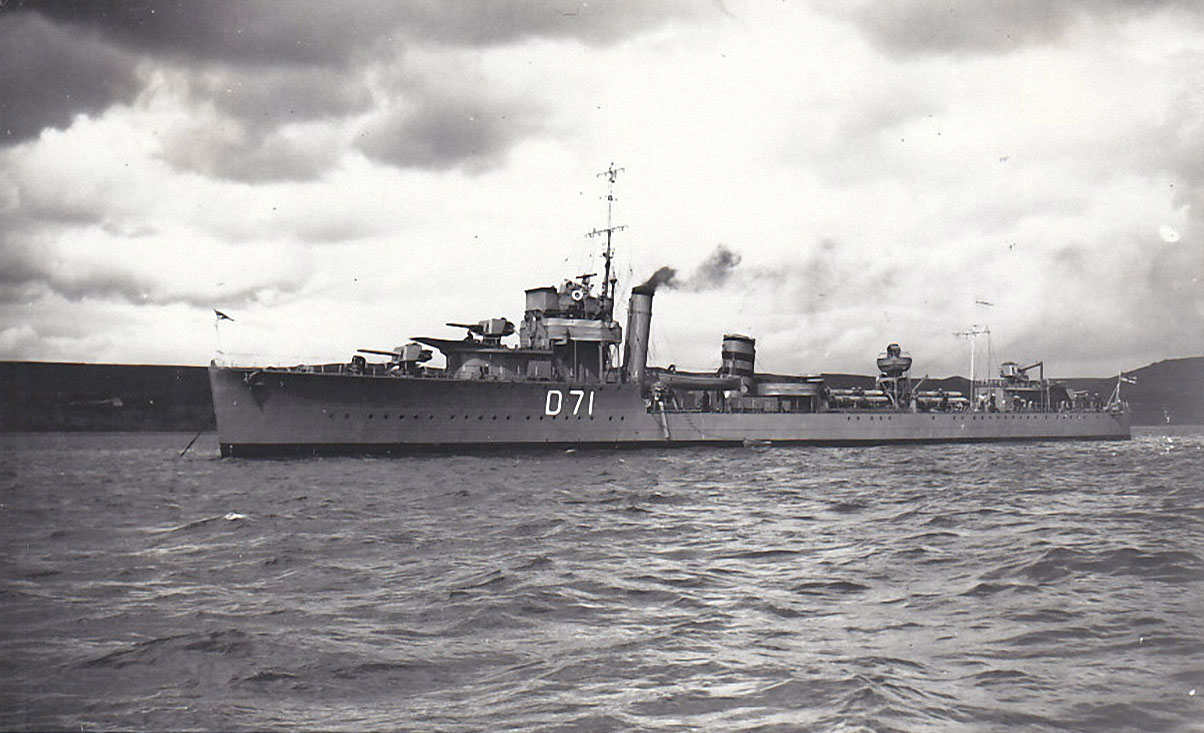 HMS

Volunteer

was ordered from William Denny of Dunbarton, laid down on 16 April 1918, launched a year and a day later on 17 April 1919 and completed on 7 November a few days before the end of the war. During 1921 she was part of the 4th Destroyer Flotilla, Atlantic and In 1925 was transferred to the Mediterranean with the Flotilla. During the early 1930's she reduced to Reserve in the Nore and was later laid up in the Maintenance Reserve at Rosyth until 1939 when she brought forward to attend the Royal Review of the Reserve Fleet at Weymouth in August.

After a successful Warships Week National Savings campaign In December 1941 she was adopted by the city of Hereford.






Commanding Office

Lt Cdr Richard C. A. Littleton, RN (29 Oct 1919 – May, 1921)
Lt Cdr John H. Jauncey, RN (14 July, 1921 – 11 Jan. 1923)
Lt Cdr John W. Durnford, RN (5 Jan. 1923 – Oct. 1923)
Lt Cdr Edward S. F. Fegen, RN (c. Sept. 1923 – 1 Sept. 1924)
Lt Cdr John D. Harvey, RN (1 Sept. 1924 – 9 Feb. 1925)
Cdr (I Gr.) Thomas C. C. Bolster, RN (9 Feb. 1925 – 1 April, 1926)
Cdr Henry M. Coombs, RN (1 April 1926 – 2 May 1928)
Cdr Edward N. Syfret, RN (3 Aug. 1928 – July 1929)

Cdr Eric J. Shelley, RN (1 July,1929 – c. 1930)
Lt Cdr Richard F. Jolly, RN (12 April 1930 -
Lt Cdr John Bostock, RN (5 July, 1933 – 1933 (left for Whitley's trials)
Lt Cdr Hugh Gartside-Tippinge, RN (31 July – 30 December, 1939)
Lt Cdr Norman Lanyon, RN (30 Dec. 1939 – 12 Jan. 1942)
Lieutenant in Command Arthur S. Pomeroy, RN (12 Jan. 1942 – mid 1942)
Lt Cdr Gordon J. Luther, RN (3 Dec. 1942 – 3 Feb. 1944)
Lt Cdr R.N.R. James E. R. Wilford, RN (3 Feb. 1944 – mid 1945)

Officers

T/A/Gnr. S.J. Bell, RN (30 Dec 1943 - June 1944)
S.Lt. C.B. Fetherston-Dilke, RN (25 July 1941 - Oct 1943)
T/S.Lt. C.S. Finnigan, RN (5 May - Aug 1942)
T/S.Lt. A.G.C. Franklin, RNVR (29 Dec 1942 - June 1943)
T/Sg.Lt. J.B. Gibson, RNVR (28 March 1944 - July 1945)
T/S.Lt. | T/Lt. R.G. Goudy, RNVR (13 Oct 1942 - July 1945)
Lt. A.D. Gynn, RCNVR (20 Nov 1942 - June 1944)
S.Lt. G.J. Hooper, RN (Oct 1943 - June 1944)
T/Sg.Lt. J.B. Houghton, RNVR (2 Aug 1941 - Aug 1942)
Lt. G.C. Leslie, RN (8 Sept. 1942 - Dec. 1943)

Lt. C.D. Mackenzie, RN (Nov 1942 - Dec 1943)
T/S.Lt. D.V. Massie, RNVR (8 Jan - June 1944)
Sg.Lt. H.F. Osmond, RN (9 Jan - Dec 1943)
T/Lt. G.H. Parry, RNVR (28 July 1941 - August 1942)
Lt. N.V.B. Thurston, RN (24 July - August 1939)
Lt. (E) T.R.J. Tidman, RN (19 Jan - June 1944)
T/Gnr. A.J. Tomalin, RN (28 Oct 1942 - Dec 1943)
T/S.Lt. D.E. Tunnadine, RNVR (24 March 1943 - June 1944)
T/Wt.Eng. G.H. Ward, RN (22 Jan 1942 - Dec 1943)



Former Full Members of the V & W Destroyer Association
Alan Flisher (Leicester), R. Mumsford (Walthamstow, London), T. Simpson (Melton Mowbray), T. Wilkinson (Fleetwood, Lancs)


Volunteer

's collision with HMS

Newark
by Allan Flisher, a
Stoker in
Westcott
and
Volunteer
Alan Flisher, a stoker in HMS
Westcott
and
Volunteer
, wrote this article for "Hard Lying", the magazine of the V & W Destroyer Association, edited by its Chairman, Clifford "Stormy" Fairweather.
"I was born in September 1919 at Lydd in Kent, a small limb of the Cinque ports on the sixth continent - Romney Marsh. I always wanted to join the Navy, but when I left school at 14 my father would not sign the necessary documents so I had to wait until I was eighteen and a man! So, it was that on September 20th 1937 I reported to Chatham barracks for my basic training."

Alan Flisher described his six months in HMS

Westcott

on the China Station and, rather to his diappointment, being posted to HMS

Volunteer.

HMS

Newark

was an old "American four-stacker", one of fifty transferred to Britain in 1940 under "Lend Lease", named after British towns and known as the Town Class. HMS

Volunteer

had just brought a convoy home into the Clyde and was detailed to join the HMS

Newark

in the Irish Sea. During the night of 10th April 1941 the bow of the

Newark

ploughed into the stokers' mess-deck. Four stokers and two seamen, who had been playing cards at the time, were killed on the

Volunteer

. One man died on the

Newark

. Both ships were repaired in Belfast


After my foreign leave, I joined HMS
Volunteer
to bring her up to sea worthy condition after many years in Reserve, ready for King George VI's review of the Reserve Fleet at Weymouth in August. After that we all became HM Ships because war was now imminent and our destination was Milford Haven, from there to Liverpool where our first trip of the North Atlantic convoys began. We remained on the Atlantic convoys until the Norwegian campaign.
On our last trip from Norway we called at Petsamo and in June 1940 escorted HMS
Devonshire
bringing the Norwegian Royal Family and government out of Tromso, Norway, to the U.K. After that we were engaged in the evacuation of Dunkirk followed by a short spell of escorting convoys up and down the Channel before returning to the North Atlantic.
On one occasion our food rations were low, we were out of bread and meat so our Commanding Officer decided to drop a depth charge to see if we could obtain some fresh fish. Not one measly fish came to the surface!! However, a little later we made contact with a fishing vessel who supplied us with enough cod to feed all the crew. Everyone was looking forward to dinner!
It was soon after this that we were in collision with HMS
Newark
, her bows struck the port side of the stokers mess deck. I was asleep in my hammock when I was awakened by a 'flash and bang' and water on my face. Four shipmates who were playing cards were immediately lost along with two men from the seamen's mess. I could see the sky through the ships side. The ladder to the upper deck was bent so I had to use the hammock rails to pull myself across to get up to the deck. I was left with what I had on when I went to sleep in my hammock - my vest and pants! Some of the seamen were already packing their gear. I stood in the seamen's mess for a while, dazed, others too were standing in a dazed state.
I swore and made my way to the upper deck, as I did so the Chief Stoker ordered me to help on the Downton hand pump. The effort was in vain as the suction line had been damaged. At 0400 I was ordered to relieve the stoker on watch in the number one boiler room. As I climbed the ladder to the deck plates I was standing in two feet of water. When I saw the duty S.P.O. I had no qualms about being down below for he stood by the pumps puffing away at his pipe as calm as could be, just as if nothing had happened and giving great confidence to us youngsters.
At 0800 when the boiler was shut down, we went up on deck. I went into the engineers officers cabin and borrowed a pair of overalls. I also found a pair of rubber boots which I purloined. Being dressed made me feel much more comfortable. A tug was sent out to tow us to Belfast.
Newark
had limped home under her own steam and when we arrived we found
Newark
in the same dry dock!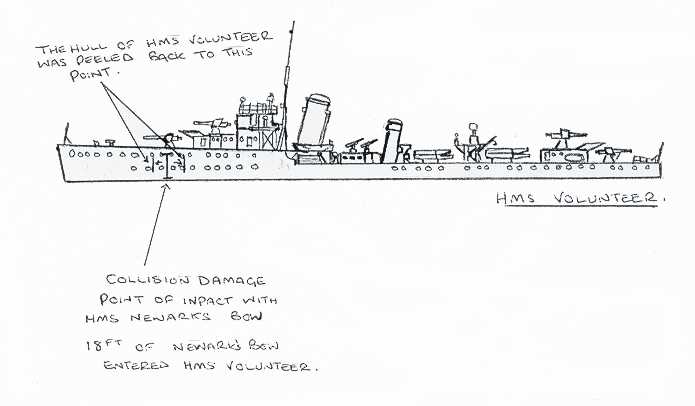 This drawing appears with a similar account by Alan Flisher on
warlinks.com
All the compartments on the
Volunteer
had to be pumped out, oil and ammunition removed, and a length of the keel cut off so that the rivet holes could be plugged. When the compartments were drained we found the four stokers, unfortunately the bodies of the two seamen were still missing. Apart from one empty hammock everything had gone, crockery, tables, lockers, bedding had all been washed away. The messdeck ladder was completely distorted which accounted for me not being able to get out of the mess. It took until September for the ship to be repaired and resume duty. It had cost me everything except the most precious thing - my life!
It was not long before we resumed duties in the North Atlantic, It was then that I was made up to Leading Stoker and Liverpool was made H.Q for Western Approaches. At this time escort ships were at a premium and there were times when
Volunteer
and
Witherington
were the only escorts for quite a large convoy. In early 1942 I was drafted back to Chatham where I completed my P.O's course.
AB Robert A. H. (Tony) Robinson was aboard HMS
Newark
when the accident happened:
I joined the HMS
Newark
on 4th April 1941 in Plymouth in time for the "Blitz" on the city that night. I joined her with Ordnance Artificer (O/A) Colin Kidger. We travelled down together from Portsmouth, he was from Mansfield and I from Derby, and as 'townies' we became pals - but for a very short time as he was fatally injured by the collision on 10th April (he was the sole fatality on our ship). It affects me to this day, he calling my name when he was trapped forward and I being totally unable to help; I was 16 years old at the time.
After the collision we proceeded stern first under our own power and tugs did not assist us until nearly in Belfast. Also, my understanding is that we were some 80 miles from Belfast when the collision occurred. It was just after midnight and I had just come off watch and turned in on my bunk. I believe we arrived there later on the 10th (I have no record of the actual dates). Because my mess was in the bows and was damaged, I was billeted ashore in Belfast with others before being sent on 'survivors' leave, returning in time for the Belfast Blitz. which caused further damage to my ship. (You can say she was a bit of a 'Jonah'!)
I was sent back to Portsmouth and within days joined
HMS

Vimy
, a sister-ship of HMS
Volunteer
. I served on three further destroyers and in combined operations, leaving the Royal Navy in 1954.
Arctic Convoy PQ.16
The sinking of the CAM Ship
Empire Lawrence
and the rescue of the CAM Pilot by HMS
Volunteer
In May 1942 the
Volunteer
was part of the escort of the Russian Convoy PQ.16 to Murmansk on the Kola Inlet. The convoy was continuously shadowed by enemy aircraft in the early stages and later heavily attacked by torpedo aircraft and bombers. Several U-boats joined in the attack. Seven of the thirty-four ships in the convoy were lost and four damaged and the Polish destroyer
Garland
severely damaged, but on 30 May the convoy passed Toros Island at the entrance to the Kola Inlet, 'reduced in numbers, battered and tired, but still keeping perfect station', in the words of the Commanding Officer, HMS
Ashanti
.
Alexander Rothney, a Radio Officer in the merchant ship, SS
Atlantic
, gives
a vivid description of this convoy
on the BBC Peoples War website but fails to mention the shooting down of the CAM Pilot launched by the CAM Ship
Empire Lawrence
and his rescue by HMS
Volunteer
.


Lt. Cdr Arthur Pomeroy, the CO of the
Volunteer
, describes the rescue of his fellow South African, Alastair Hay:
"Let me tell you how I met a fellow South African in the Arctic. Our station was on the port bow of the leading ship of the port column, the
Empire Lawrence
which was fully loaded with explosives and ammunition. Mounted on her forecastle was a catapult with a Hurricane fighter aircraft piloted by Alastair Hay. On the first day of intense bombing, he was shot off into the air to engage single-handed the squadrons of Heinkel III and Junkers 88s.
Eventually, wounded, he had to bale out, as there was no carrier to land on. I lowered a boat to pick him up, and just as the boat's falls were hooked on again for hoisting, two torpedo-bombers came at us low down from the North. With the boat still only a few inches out of the water and my hair standing on end, I ordered Full Ahead and Hard-a-Starboard to steady course to comb the tracks of the torpedoes, which we could see, one on each quarter.
This took us on an exact collision course with the
Empire Lawrence
. There was just time to alter to port ahead of the port torpedo, and then both of them struck her and she disintegrated in an immense explosion, just a grating and a few bits of wood left floating"
Alastair Hay was exceptionally lucky. The chance of surviving after parachuting into Arctic waters were always low but in his case he was pulled aboard HMS
Volunteer
minutes before the torpedoes aimed at her sunk the
Empire Lawrence
. John Kennedy, the pilot of the Hurricat on the
Empire Morn
, the CAM-ship which escorted the PQ.15 died from exposure after his recue. The CAM-ships were the only means of providing fighter protection until the introduction of the "Woolworth Carriers", converted merchant ships with a landing deck.
Anthony Rothney, a Radio Officer in the merchant ship, SS
Atlantic
, described how the officers in the merchant ships agreed to accomodate the survivors from the seven ships lost including the CAM-ship:
"We were all aware that survivors from the section of the convoy that had succumbed to attack were having a pretty rough time of it. Billeted in a ramshackle camp further down the inlet, nobody seemed to know what to do about them. With this in mind, our chief officer called all the other officers into the saloon. His proposal was that each of us might share our cabin with a surviving fellow officer. There was the facility to do this with each cabin furnished with a full-length settee as well as a bunk. Accommodation for other ranks was to be provided in an upper hold; army gunners were already thus accommodated.
The scheme was adopted, and survivors were distributed among the various ships. We three radio officers were joined by the three fellow officers from the CAM-ship E
mpire Lawrence
. All of them insisted on sharing our duties. I had started the voyage with one assistant. Now I had five. On cargo ships, which in peace time only had one radio officer, it was usual to have the radio officer's cabin next to the radio office or at least accessed through it. The SS
Atlantic
was different, in that everyone had to go through my cabin to get to the radio office. With one lodger and four radio officers constantly passing through, as well as the odd visitor, I sometimes felt I was camping in a corridor. That didn't worry me. Still a teenager, like all the other radio officers except one, I had the optimism and resilience of youth."
On 27 June, four weeks after our arrival, we left Murmansk in convoy QP13. At the same time, the next supply convoy, PQ17, left Iceland for Archangel. The following day we met up with the PQ16 ships that had gone to Archangel, plus some that had been frozen in there all winter. We were soon spotted by a German plane, though no attacks followed. On 2 July we passed PQ17.
The following day we split up, and, with 18 other ships, headed for Loch Ewe. The rest of the ships headed for Iceland. At Loch Ewe all the survivors we'd accommodated were taken ashore, and we docked finally at Leith to discharge our cargo. We were fully expecting to go back to Russia, but, instead, we were despatched to Philadelphia, USA, because the Russian convoys had been cancelled. It was only later that I heard of the disaster that had befallen PQ17. The Germans, it seemed, had preferred to concentrate their fire on them.
The
Volunteer
was one of five destroyers included in the escort of
the return convoy QP.13
which after an uneventful passage divided off the north-east coast of Iceland on 4 July. The
Volunteer
parted company in the vicinity of Bear Island to proceed to Rosyth for a refit, on the 6 July, but the other part of the convoy ran into a British minefield in thick fog, and four merchant ships and the minesweeper
Niger
were lost.
When Arctic Convoys resumed in September after the disasterous losses experienced on PQ.17 they were accompanied by Escort Carriers which for the first time gave adequate protection against attacks from the air and could spot u-boats and sometimes sink them or, at least, make them keep their heads down.
---
Return to the Home Page of the V & W Destroyer Association
Return to the Index Page for the 69 V & W Class Destroyers
---