In 1938 with the winds of war blowing, the Admiralty decided to modernise the fleet of V & W's and convert them to fast escort vessels. The main aim was to give them high angle guns and better protection from air attack for the purpose of protecting the convoys planned to sail the east coast. The new class was designated the 'Wair' type. Initially 20 ships were earmarked for this conversion but a further ship had to be added later because on the 12th February 1938 while in tow from Rosyth to Chatham for conversion to a 'Wair' HMS
Walrus
broke her tow off the North Bay at Scarborough, on the North Yorkshire coast.
On Saturday 12th February HMS
Walrus
was being towed by a single Admiralty Tug HMS
St Mellons
W81, As they passed the Whitby Lighthouse the tow broke, and despite repeated attempts by the crew of the tug, and the four man passage crew on board
Walrus
, the line could not be re attached. Accordingly
Walrus
started to drift at the mercy of the atrocious weather and a very bad northerly gale. She ran aground on the Manascus rocks on the North Bay of Scarborough (near where the Sea Life Centre is now). Prior to grounding the crew had released both anchors to the full extent of their chains, but they did not bite. Once the ship grounded the passage crew launched a 'Carley Float' which capsized upon entering the water, however, they managed to right it and scrambled aboard. After desperately paddling for an hour they were blown ashore near the end of the 'Bungalow Parade'.
In the meantime the Pulling Lifeboat, the 'Herbert Joy 11' was launched from South Bay and pulled by local fishermen, towns people and children along the Marine Drive,with the intention of launching from the Corner Café, but before she could be launched the men were blown ashore. When the gale had abated, the Lords of the Admiralty sent a team of salvage experts to remove fittings and other reusable spares but the wreck was considered to be beyond repair and accordingly was sold to Round and Sons for £2,550 on the 5th March 1938, the equivalentt of £91,800.00 today [Feb 2007]. on the 12th March she was made watertight and towed round to the South Bay where she was beached until the tide allowed her to be towed into harbour where she was moored alongside Vincents Pier.
The salvager, Round and Sons, sold her on September 12th 1938 to the ship breaking company of Clayton and Davy for £39,000 [in February 2007 this equated to £140,400.000] and towed her to Dunstan on Tyne for breaking up.
At the time of the grounding, she is shown in the Navy List as being in 'Maintenance Reserve' at Rosyth with no names of Officers being shown.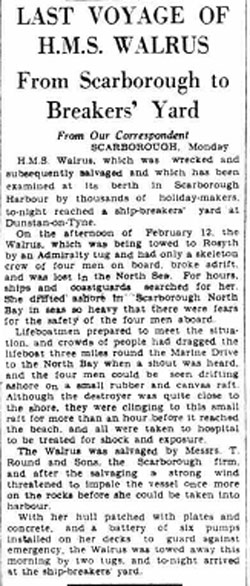 The wreck of a destroyer on the North Yorkshire coast far from any port of the Royal Navy attracted widespread public interest and was covered extensively by the Press. Newspaper reports differ as to whether she was being towed south from Rosyth on the Firth of Forth to Portsmouth or Chatham for her conversion to a Wair anti-aircraft escort or north to Rosyth but since she had beern in Reserve at Rosyth since 1932 logic suggests she was heading south.