---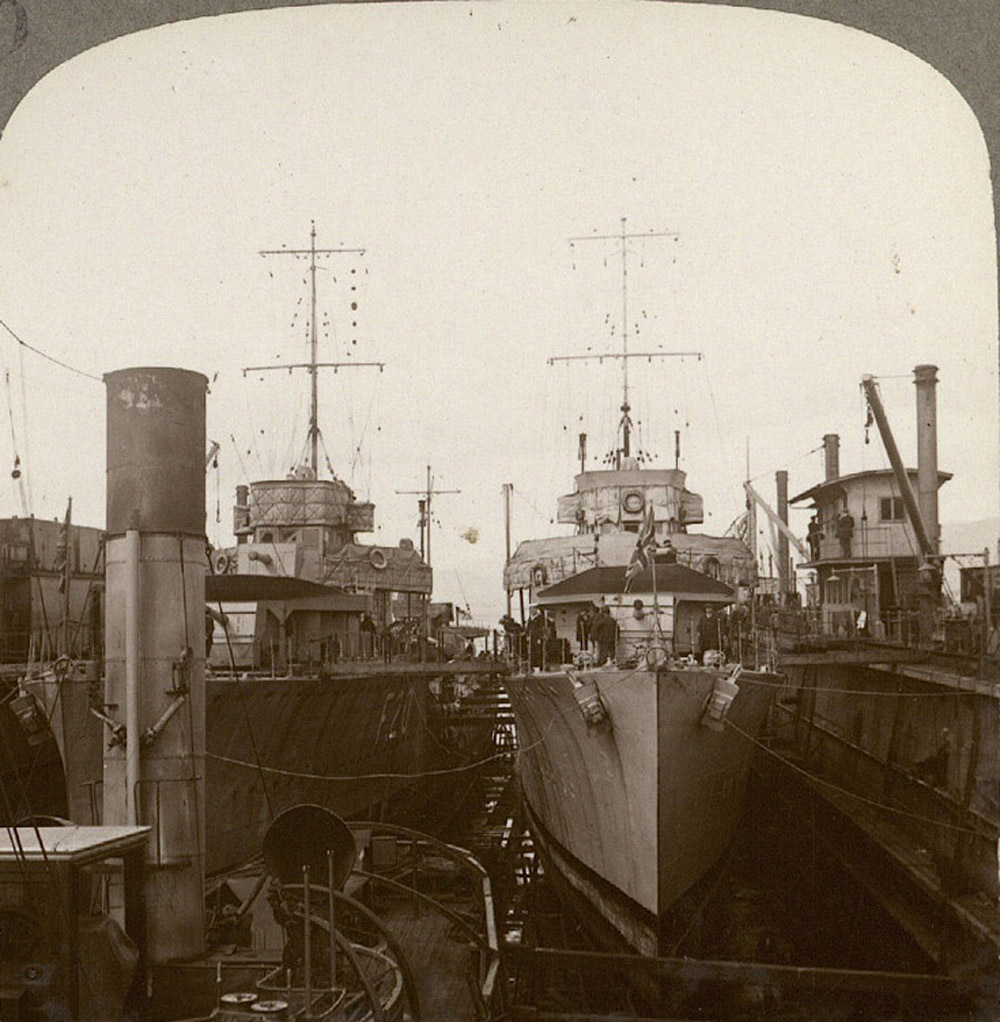 HMS
Whitley
(F20) and HMS

Wolfhound

(F18) in the Schiedam drydock at Invergordon on the Cromarty Firth in 1919-20

Both ships were launched in 1918 and the Schiedam dry dock left Invergordon in 1920
Courtesy of Alan Kinghorn and the Invergordon Archive
HMS
Whitley
was built by Doxford (Doxford & Sunderland Shipbuilding & Engineering Co Ltd) at Sunderland and laid down in June 1917. This ship was intended to be named HMS
Whitby
but, as the name was incorrectly written when selected, she was given the name
Whitley
when launched on 13th April 1918. She was the first RN ship to carry the name and build was completed on 11th October that year.
After acceptance trials and work-ups,
Whitley
deployed in 1919 to the Baltic Sea, where she served in the British campaign against Bolshevik forces during the Russian Civil War. She returned from the Baltic in 1920 and was decommissioned in 1921 but operated with the 9th Destroyer Flotilla (9th DF) and the 5th DF as part of the Atlantic Fleet between 1923 and 1925 and with the 1st DF in the Mediteranean from 1925-32 before being put in Reserve at the Nore and, from 1933, at Rosyth.


Whitley
was selected for a WAIR conversion to an anti-aircraft escort with twin 4-inch dual purpose HE guns in 1938. She was the first of fifteen V & Ws to be given this conversion under the 1938 WAIR programme. Her conversion at Chatham dockyard was completed in October 1938 and she was recommissioned with Pennant Number L23 in 1939. On 9 August 1939 she took part in the Reiew of the Reserve Fleet in Weymouth Bay. In September
Whitley
was assigned to duty escorting convoys in the North Sea along the east coast of Great Britain, which she continued through April 1940. On 14 December 1939 she went to the rescue of MV
Inverlane
, badly damaged and on fire after Convoy FN.53 entered a mine field in the North Sea. While escorting Convoy FN.12 from the Thames Estuary to the Forth Estuary on 12 January 1940, she assisted in driving off a German air attack.
In May 1940,
Whitley
was transferred to Dover Command and placed at the disposal of the French Navy for operations in support of Allied ground operations in France and Belgium. On 19 May 1940 a German dive bomber attack badly damaged

Whitley

two nautical miles (3.8 km) off Nieuwpoort, Belgium, forcing her to beach on the Belgian coast between Nieuwpoort and La Panne to avoid sinking. To prevent her capture by advancing German ground forces, the British destroyer HMS
Keith
destroyed her with gunfire at position 51°09 04″N 002°39 34' E, leaving her wreck on the bottom in only five meters (16.5 feet) of water. See the Damage Report in the
National Archives, ADM 358/3656
.
Commanding Officers
Wartime Officers

Sub Lt W W Almond RNVR (23 Aug 1939 – early 1940)
Lt Brian Edward Aidan Bell RN (12 Oct 1938 – Aug 1939) 1st Lt
Sub Lt L E Blackmore RN (2 Jan 1939 – late 1939)
Lt (G) Edward Keats Urling Clark RN (11 Aug 1938 – early 1939) 1st Lt
Lt Basil Ford RNR (26 Nov 1939 – 19 May 1940) 1st Lt
Wt Eng R D Goodier RN (3 Aug 1938 – 19 May 1940)

Sub Lt R M Marshall RN (22 Aug 1939 – 19 May 1940)
Gnr G Martin RN (9 Aug 1938 – May 1939)
Sub Lt J Murray RN (9 Jan 1040 – 19 May 1940)
Surg Lt J Ritchie RNVR (5 Apr 1940 – 19 May 1940)
Gnr W F Tompkins RN (8 May 1939 – 19 May 1940)
Lt Geoffrey F. Walker RNVR (23 Aug 1939 - 19 May 1940) 1st Lt


AB John Pearce described the problems he faced on joining HMS
Whitle
y in
an online recorded interview in the Sound Collection
(Reel 3,
at 28 mts
)
at the Imperial War Museum in London.
In 1938 John Pearce was posted to HMS

Whitley

, the first V & W to be given 4-inch anti-aircraft guns and was told that if war broke out she would be based in the Thames to defend London. Seventy tons of ballast were put in the bilges to make up the weight of the 4.7-inch guns removed. The 4-inch shells included cartridges and were raised on a cruet by a hoist to the gun crews; there was no need to assemble shells and cartridge before loading as in the case of the old 4.7-inch Guns.

He was made Ship's Writer as he could type and was "clerk" to Lt B.E.A. Bell, an "upper deck officer", who was the Correspondence Officer. He had a hut as an office on the dockside at Chatham as it was too noisy aboard ship during the conversion. Everybody was worried about "fifth columnists" and very security conscious. Everything received and sent out were registered in a book. The CO, Cdr J.W. Boutwood RN, inspected the book in which he recorded packages signed for by Lt Bell and found a book recording future ship movements of all the ships in the Fleet on the forthcoming Spring Cruise, including

Whitley

, was missing. Lt Bell was away on leave but was court martialled for the loss of the book and Pearce was a witness.
Bell's officer "friend", Lt Norman Lanyon RN, promoted to Lt Cdr was CO of HMS

Volunteer

during the Norway campaign, proved that the book could not have been received as it would not have fitted in the size of envelope used.
Lt Bell was severely reprimanded
.
The Spring Cruise was the roughest trip Pearce ever experienced!

John Pearce left

Whitley

to serve as Leading Seaman and Quartermaster in HMS

Wolfhound

and describes the fast moving dramatic events at Dunkirk on the audio recording at the IWM.


The splendid painting by
Harold Wyllie (1880-1973)
is in the collection of the National Museum of the Royal Navy at Portsmouth. Apart from the title nothing further was known about the subject of the painting
or who commissioned it but the fate of the oil tanker MV
Inverlane
was easily found by Googling the Internet. MV
Inverlane,
a 9,141 ton tanker built in 1938, was on a voyage from Abadan on the Persian Gulf to Invergordon near Inverness on the east coast of Scotland. She was near the entrance to the Tyne (her reported position was 55°05'00"N - 01°07'00"W) when a huge explosion, thought to be caused by a German mine, ripped through her hull on 14 December 1939.

HMS
Whitley
coming to the rescue of MV
Inverlane
, badly damaged and on fire after the convoy entered a mine field in the North Sea, 14 December 1939
National Museum of the Royal Navy, Portsmouth

The reports of the Senior Officer of the Escort for northbound convoy FN53 and the officer in command of HMS

Whitley

provide the official accounts of the loss of MV

Inverlane

. Cdr John Herbert Huntley RN was the SO in HMS

Flamingo

, a new Black Swan Sloop commissioned the previous month.

Lt.Cdr. Eric Hart Dyke, RN had been appointed CO of HMS
Whitley
on 24 June 1939 during her WAIR conversion at Chatham and had been in command at the Royal Review of the Reserve Fleet at Weymouth on 9 August but had fallen ill and Cdr Robert A. Cassidi RN, a retired 46 year old, had been given temporary command of
Whitley
on 24 November. He wrote the Letter of Proceedings to Captain (D) Rosyth Escort Force on 15 December 1939 describing the southbound convoy FS52 and the northbound convoy of 21 merchant ships including MV
Inverlane
and five other tankers. The third escort was HMS
Stork
but she left the convoy a few hours before the sinking of the
Inverlane.


HMS

Whitley

led FS52 into the Thames Estuary via Knock Deep and the Edinbugh Channels and the merchant ships were ordered to proceed independently up the river at daylight.

Whitley

anchored near the Nore Light Vessel to await the arrival of FN53 at 0700/11 December but thick fog delayed the northbound convoy which finally joined

Whitley

and

Stork

at 0930/12 December. HMS

Flamingo

took over command of the convoy at 1339 and thirty minutes later they were joined by six oil tankers including MV

Inverlane

and a Polish destroyer.

Lt Cdr Cassadi: "Convoy then proceeded North up searched channel without further incident until dark on 13th December. At 1810 orders were received to take Convoy into Tees Bay and anchor them there, an enemy minefield having been laid off the Tyne."

Cdr John H. Huntley: "With considerable difficulty the Convoy was turned ... all ships anchored in Tees Bay for the night. In accordance with orders received the convoy was got under way and left Tees Bay at 0910 14th December proceeding up the searched channel. HMS

Whitley

, acting on my orders, led the port wing column, which had been organised to consist of the Tyne contingent, into the Tyne. HMS

Whitley

had orders to rejoin me on completion."

HMS

Flamingo

(Cdr J.H. Huntley) led the starboard column of seven ships for the Forth and one for Blyth on a diversion to avoid the minefield. "The fifth ship was struck on the port siide by what can be, little doubt, a torpedo. A vast column of smoke rose higher than the masts, and the ship immediately caught fire. A little later SS

Athelstemplar

was similarly struck but did not catch alight."

HMS

Whitley

arrived at the scene at approximately noon:


"

Inverlane

was a blazing inferno, SS

Atholtemplar

abandoned and stopped, down by the bows, anchors awash. This ship should never have been abandoned and appeared capable of steaming at slow speed, her propeller being still submerged. The remainder of the Convoy disappearing in the mist to the Northward.

Flamingo

and two trawlers rescuing survivors from

Inverlane

. A signal was received from

Flamingo

on arrival, 'submarines about' so an all round Asdic sweep was commenced but no contacts made. To me it seemed unlikely that the attack had been made by a submarine, as we were at that moment close to the edge of a known enemy minefield (reported the previous evening), and it would appear improbable that an enemy submarine would operate in waters so closely adjacent."

Cdr Huntley reported on the number rescued and those lost: "Trawler 175 rescued 38 from

Athelstemplar

, HMS

Whitley

two from

Inverlane

, Trawler

Loch Oskaig

7 from

Inverlane

, HMS

Flamingo

27 from

Inverlane

; total 74. It is believed that the losses were 4 from

Inverlane

and 2 from SS

Athelstemplar

".

The laying of the Minefield



Confirmation that mines were responsible was soon received. Five German destroyers, the
Hermann Künne, Friedrich Ihn, Erich Steinbrinck, Richard Beitzen

and

Bruno Heinemann

had laid 240 mines off the mouth of the River Tyne, where the navigation lights were still lit, during the night of the 12-13 December. On the return,

Heinemann

had a fire in her turbine room and had to stop,

Steinbrinck

standing by, but she was able to restart and carry on. Destroyers

Ihn

and

Steinbrinck

later suffered equipment defects and were detached to Wilhelmshaven, the north German naval base near Bremerhaven.

Even before Convoy FN53 arrived at the mouth of the Tyne on 14 December several ships had been lost in the minefield. Eleven Allied merchant ships grossing 18,979 tons were sunk and destroyer

Kelly

and a large tanker were badly damaged in the field. On the 13 December the Belgian steamer

Rosa

(1146grt) was sunk six and a half miles off the Tyne Breakwater with one crewman lost. The minesweeping trawler

William Hallet

(202grt, Skipper C W Hannant RNR) went down three and a half miles miles ESE of St Mary's Light; eight crew were missing with the one survivor picked up by the trawler

Ben Arthur.




One has to read between the lines of the facts recorded by senior officers in reports of proceedings. Cdr Huntley attributed the loss of the

Inverlane

to to a u-boat attack but Lt Cdr Cassidi's belief that it detonated a mine was more convincing. Who made the decision that the convoy should proceed before the minefield was cleared?

Harold Wyllie and his painting



HMS

Whitley

was not present when

Invelane

detonated the mine and she played only a minor role in the rescue of survivors. That being so how does one explain

Whitley

being the focus point of Harold Wyllie's painting? I can think of two explanations, both of which might apply. The painting may have been commissioned by Lt Cdr Cassidi or one of his officers. Or Harold Wyllie aboard HMS

Whitley

when she "went to the rescue" of MV

Inverlane

.

It was not unknown for war artists to spend time on Royal Navy ships, especially on short convoys along the east coast between the Thames estuary and Rosyth on the Firth of Forth, for example Charles E. Turner spent some time on HMS

Woolston

escorting east coast convoys. Harold Wyllie was not only a highly regarded marine artist but had the unusual distinction of having served in all three services and in three wars. He might well have been permitted to join HMS

Whitley

for this east coast convoy.


HMS
Whitley
and her Commanding Officers

Lt.Cdr. Eric Hart Dyke RN, the first wartime CO of HMS

Whitley

did not return to take command of his ship. He was succeeded by Lt.Cdr. Guy Neville-Rolfe who was CO of HMS
Whitley
when she was bombed and sank off the coast of Belgium in May 1940. Guy Neville-Rolfe waa appointed as the fiirst CO of the Hunt Class Destroyer HMS

Mendip

and distinguished himself in actions on the east coast againsst e-boats before joining the Scott Class Flotilla Leader HMS

Montrose

as her last CO in October 1943.

Eric Hart Dyke became a clergyman after the war and one of his twin sons,
Captain David Hart Dyke RN
, achieved fame as the CO of HMS
Coventry
in the Falklands War (
and his sister as Ms Hart in "Call the Midfwife")
. The son of Cdr Robert Alexander Cassidi RN, who was
CO while Hart Dyke was ill
and escorted Convoy FN53, became
Admiral Arthur Desmond Cassidi RN
.

Four of the crew of MV

Inverlane

were killed and many more injured. She was abandoned and left to sink but drifted south through stormy seas for 36 hours until she ran aground at Seaburn, Sunderland. The
Inverlane
burned for five days and was used as a marker by German bombers searching for the entrance to the Tyne. The stern settled on a sandy bottom and when a salvage team got aboard they decided that the fore section (over 300ft) could be refloated. This was done and it was first taken to South Shields and then to Blyth to be converted into a blockship. Over 3,000 tons of rubble and stone were put into the hull which was towed up to Scapa Flow and sunk in Burra Sound where she lies to this day and is a popular shallow water dive site. The stern section lies off Seaburn, near Sunderland, in 10 metres of water with parts of her awash at low spring tides.


This brief factual account based on extracts from the Admiralty War Diaries was researched and extracted by Don Kindell (
1947-2021)
and published on naval-history.net
HMS
Whitley, Valentine
and
Winchester
were operating off Flushing during the night of 14-15 May 1940. At 1300,
Whitley
and
Valentine
were ordered to cover the Terneusen - Brosele (Beveland) Ferry. HMS

Valentine

(Cdr H.J. Buchanan RAN) was bombed and badly damaged by a German Ju. 88 bomber at the mouth of the River Scheldt leading to Antwerp within a mile of Terneusen. She was struck by two bombs, her boiler blew up and she was run aground and abandoned as a total loss. Thirty-one ratings were killed and twenty-one crew, including Surgeon Lt N. F. E. Burrows RNVR, Lt R. M. MacFie RNVR and Acting Gunner S. F. Burrow were wounded. HMS
Whitley
was bombed but was not damaged. She blew up
Valentine
and remained at Flushing during the afternoon and evening.
On Sunday 19 May HMS
Whitley
(Lt Cdr G.N. Rolfe) was under French orders in port blocking and refugee evacuation operations, was bombed at 0526 and badly damaged by German bombing two miles 006° east of Nieuport on the Belgium coast. After three near misses, with both engine rooms flooded and her back broken she was run aground to prevent her sinking. Four engine room ratings were killed. HMS
Vimiera
rescued the crew and tug
Lady Brassey
was dispatched to bring
Whitley
back to England.
HMS
Keith
(Captain D.19) arrived on scene and found
Whitley
beyond salvage and shelled her to prevent her use by the German forces. HMS
Vimiera
with the crew of HMS
Whitley
, the rest of the crew from HMS
Westminster
and the Flushing demolition party (Operation XD "C") departed Dunkirk at 1700 for Dover. HMS
Vimiera
arrived at Dover after taking the crew of
Whitley
to Portsmouth.
Leading Telegraphist Anthony Walter Story, P/JX.I40026

, was Mentioned in Despatches on the 27 August 1940, and gives his account of the loss of HMS

Whitley

in

Destroyer Down: an Account of Hm Destroyer Losses 1939-1945;

by Arthur S. Evans (Pen and Sword, 2010).


"At about 0620 on 19 May 1940 we were off the Belgian coast between Nieuport and Ostende when we found the Walcheren Lightship adrift, badly damaged, and with the two occupants dead. As it constituted a serious hazard to shipping we laid off and sunk it by gunfire. It was another lovely day. I was on duty in the W / T office with an ordinary telegraphist. Barely had the sound of our guns died away when I heard the familiar whine of a Stuka diving on us. This one was different. The bombs sizzled down and all hell let loose. The ship heaved. The lights went out. All power was lost. Equipment flew about. As I tried to obtain power for the transmitter, I realised we had been struck by a mortal blow as our ship lay dead in the water. I sent the ordinary telegraphist onto the upper deck fast, and informed the bridge we were out of action. The familiar voice of my 'oppo' of

Penelope

days, Tom Webster, the signalman, called down: 'It's OK, Tony. We are in contact. Help is on the way. Get up here out of it.' I reported it to the bridge, taking the codes with me.

The captain was perfectly calm and matter of fact. I looked to port and saw the Belgian coast about four miles distant. Our ship was in a sorry state. The bombs had apparently destroyed the forward boiler room, the men on watch there being killed instantly. We were indeed fortunate casualty wise. Some crewmen were off watch sleeping down below. The captain informed us that help was near . He advised us to stand by to abandon ship and to keep together in the water, and clear of the leaking oil. I then saw

Vimiera

and

Keith

approaching from seaward at high speed. I became engrossed with my task of lighting a bonfire of the codes and ciphers on the bridge. Fotunately we were only carrying 'dangerous waters' extracts, relatively easy to ignite.

Vimiera

was preparing to come alongside the starboard side and was lowering life-lines and scrambling nets. The captain ordered abandon ship. The ship was now deserted and looked in a very sorry state.

Vimiera

had stood off, and

Keith

was standing by. The captain ordered us into the motor-boat, which was coming alongside. It was obvious he intended to stay with the ship. I remember plucking up courage and insisting he joined us. Eventually he did.

On bord

Vimiera

I suddenly felt bereft of all respoonsibility. Having had no sleep for days, I fell fast asleep on the upper deck. I remember putting into Dunkirk and the ship topping up with assorted passengers, soldiers and the like, and heading for Portsmouth."



This account by Pauline Riley, the daughter of

Norman C. Huttley

, was published on WW2 People's War, an online archive of wartime memories contributed by members of the public and gathered by the BBC. The archive can be found at bbc.co.uk/ww2peopleswar

"My father Norman Colgrave Huttley was posted to HMS
Whitley
after his initial training and joined the ships company a few weeks before the sinking of the ship. He was the youngest on board and was nicknamed the baby from Blackpool.
At approx.0620 hrs on the 19th may 1940 the ship was attacked by Stuka dive bombers and suffered direct hits, at least one on the boiler room which killed the men on duty watch there. My father was off watch and asleep below when the bombs hit. Amid the confusion of the evacuation he somehow made his way on deck in a dazed and disoriented condition; he was also naked! Seeing his predicament a burly seaman picked him up and threw him into the sea close to HMS
Vimeira
which had come to pick up survivors. As he flew through the air he was heard to shout "I can't swim" to which the burly seaman replied "well now's your bloody chance to learn". He was quickly hauled out by the crew of the
Vimeira.
The
Vimeira
took my father and other survivors to Portsmouth where they were loaded into cattle trucks and taken to
Victory
barracks where he was fed and kitted out.The next day he was sent home to Blackpool on 14 days survivors leave. He continued his naval service at RNAS
Tangmere
and was part of the ground crew who serviced the aircraft which sank 6 German R boats in 1943.He survived the war and was a stalwart of the Dunkirk Veterans Association Blackpool branch. He died in 1999."
The four men who died were all Stokers
BLACK, Arthur W, Stoker 1c, P/KX 86641, killed
FARRAR, Joseph F, Stoker Petty Officer, P/K 95967, killed
HERBERT, Charles, Stoker Petty Officer, P/K 59601, killed
LONSDALE, Septimus C, Stoker 1c, P/KX 82998, killed

HMS

Whitley

was decommissioned and put in Reserve in 1932 and within nine months of the start of World War II she was bombed and lost
.
Her
WAIR conversion in 1938 could not save her from the dive bomber which sank her on the 19 May 1940.
If you have stories or photographs of HMS Whitley you would like to contribute to the web site please contact

Bill Forster
---
Return to the Home Page of the V & W Destroyer Association
Return to the Index Page for the 69 V & W Class Destroyers
---