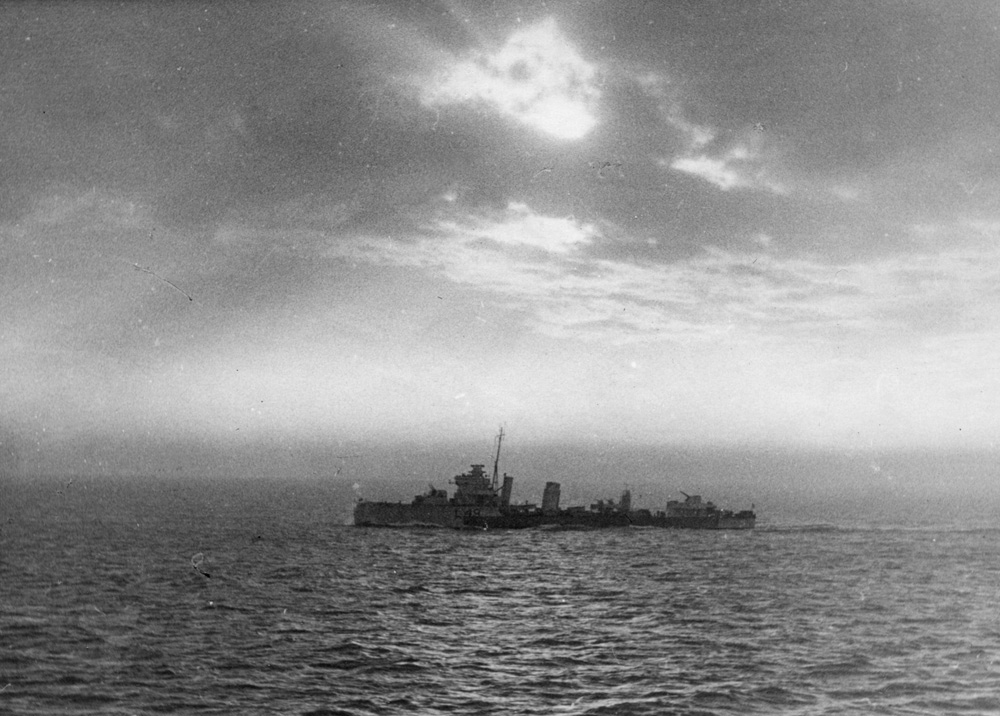 HMS

Woolston

in 1944
Photographed by
Lt Cdr John E Manners RN
from HMS Viceroy
Click on the links within this brief outline for first hand accounts by the men who served on HMS Woolston and for a more detailed chronolgy see www.naval-history.net

HMS Woolston was one of six Thornycroft W-Class destroyer built at Thorneycroft's Woolston shipyard on the opposite side of the River Itchen from Southampton. She was launched in January 1918 and named after the shipyard where she was built. The Woolston made news when she entered Scapa Flow with Harry Hawker and Cdr Kenneth Mackenzie-Grieve after their unsuccessful attempt to fly across the Atlantic in May 1919. From 1926 - 8 HMS Woolston was part of the 3rd Destroyer Flotilla on the China Station but in August 1927 she was put in Reserve until 1931. Her CO, Lt Cdr Donal Scott McGrath RN became CO of HMS Wanderer and remained on the China Station with the 3rd DF. On 11 September 1931 HMS Woolston was commissioned at Devonport for service with the First Anti-Submarine Flotilla out of Portland.

In 1939 she was converted to a WAIR type Anti-Aircraft (AA) escort (her pennant number changed to L49) and spent most of 1939 - 42 escorting east coast convoys in the North Sea. Her first wartime CO, Lt Cdr W.J. Phipps RN, described this period in his diary (Imperial War Museum, Docs.7510) and a CW Candidate, Samuel Gorley Putt, described life as a rating on the lower deck of HMS "Tiddley" (Woolston) in Men Dressed as Seamen (1943). In March 1941 Woolston was transferred to Western Approaches Command at Londonderry as an Atlantic escort but returned to Rosyth Command escorting east coast convoys in November 1941. During National Warships Week in February 1942 the Cheshire town of Congleton adopted HMS Woolston after raising £220,000, the cost of building the hull of a destroyer. In March she was part of the escort for Arctic Convoy PQ.12 and returning Convoy PQ.8.

In June and July of 1943 HMS Woolston (Lt Frederick William Hawkins RN) escorted convoys to Gibraltar and the invasion beaches on Sicily, Operation Husky. From 1944-5 she resumed her service as an escort for east coast convoys and the war artist, Charles E. Turner, spent some on HMS Woolston during this period. At the end of the war she made two trips to Bergen, Norway, Operation Conan (part of Operation Apostle) to accept the surrender of German naval forces. HMS Woolston was paid-off and reduced to Reserve status after VJ Day and broken up in 1947.

Commanding Officers
With acknowledgement to the Dreadnought Project and Unithistories.com

Cdr Alexander S. Douglas, RN (8 June, 1918 – 22 May, 1919)
Lt Cdr Desmond Maxwell, RN (22 May, 1919 – 14 July, 1921)
Lt Cdr Hamilton E. Snepp, RN (14 July, 1921 – 27 Sept, 1923)
Cdr Cecil R. E. W. Perryman, RN (27 Sept, 1923 – 1 Jan, 1924)
Lt Cdr John D. Harvey, RN (1 Jan – 1 Sept, 1924)
Lt Cdr Austen G. Lilley, RN (19 Feb – 1 April, 1925)
Cdr Charles G. Stuart, 8 May, RN (April – 10 Sept, 1926)
Lt Cdr Donal Scott McGrath RN (Sept 1926 - 1927)
Cdr Charles G. Stuart, RN (March – 8 Aug, 1927)
Lt Cdr Meredith S. Spalding, RN (24 May – c. 11 Sept, 1931)

Cdr Alfred G. Hine, RN (11 Sept 1931 – 1 Jan, 1932)
Cdr Hamilton E. Snepp, RN (1 Jan, 1932 - 17 Jan 1934)
Cdr Henry T. W. Pawsey, RN (17 Jan, 1934 – 16 July, 1936)
Cdr Henry J. Haynes, RN (25 June, 1937 - 5 Sept 1939)
Lt.Cdr. Walter John Phipps, RN (5 Sep 1939 - 24 Apr 1941)
Lt.Cdr. Kenneth Walter Michell, RN (24 Apr 1941 - Sep 1942)
Lt. Frederick William Hawkins, RN (Sep 1942 - Oct 1943)
Lt. John Valentine ("Jack") Brothers, RN (May 1945 - mid 1945)

Officers
This short list of officers who served on HMS Woolston during World War II all have entries on the unithistories.com web site.
Further names from the Navy List will be added later.

Former Full Members of the V & W Destroyer Assoociation
R. Barton (London SW11), W. Barton (Launceston, Cornwall), J. Begg (Ormskirk, Lancs), Jack Boore (Hemel Hempstead), G. Cooks (Wells, Somerset), A. Easy (Bedford), W. Grant (Dunfermline, Fife), K. Grimsey (Ipswich, Suffolk),
C.W. Hill (Leigh on Sea, Essex), G. Hutchinson (Romford, Essex), H. Kelley (Southend on Sea), L. Lee (Nottingham), R. Marsh (Bristol), L. Jones (Bournemouth), G. Neal (Greenford, Middx), L. Overhead (Hemel Hempstead), L. Sayer (Colchester, Essex), Frank Witton (St Albans, Herts)

Transatlantic aviators saved by Woolston in 1919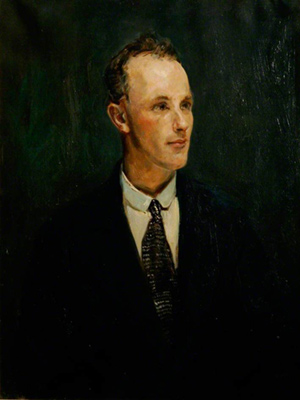 Everybody knows that John Alcock and Arthur Brown made the first non-stop transatlantic flight in June 1919 in a modified First World War Vickers Vimy bomber and the Secretary of State for Air, Winston Churchill, presented them with the Daily Mail prize for the first crossing of the Atlantic Ocean by aeroplane in "less than 72 consecutive hours".
But they were so nearly beaten by the Australian pilot, Harry Hawker (on left), and his navigator, Lt Cdr Kenneth Mackenzie-Grieve RN (on right), who set off from Newfoundland on 18 May 1919 in their Sopwith biplane named Atlantic but had to ditch in the Atlantic after fourteen hours. They were rescued by the Danish ship, Mary, which had no wireless to report their rescue and it was assumed they died when their plane crashed in the sea.
HMS Woolston, the Navy's newest destroyer, had "short legs" and never crossed the Atlantic but she was in the area and had wireless communication. The Mary transferred the brave aviators to the Woolston who reported their rescue and took them to Scapa Flow. The Illustrated London News carried the news to their readers in their issue of the 31 May:
"The steamer Mary which rescued Mr Hawker and Commander Mackenzie-Grieve RN, was intercepted on May 25th off Loch Erribol by the destroyer Woolston which conveyed them to the fleet at Scapa Flow, where they spent the night on board HMS Revenge as the guests of Admiral Freemantle."

A minor incident for the

Woolston

at the start of 27 years of service in the Royal Navy but one which signalled the dawn of a new era of trans Atlantic travel by air.
The portrait of Harry Hawker (1889-1921) is in the Museum of Army Flying and that of Kenneth Mackenzie-Grieve (1880-1942) in the Athenaeum
Both portraits are by
by Ambrose McEvoy (1878-1927)
One of Frank Witton's shipmates in HMS Woolston was "Eboat", the ship's cat. He was a stray black cat who joined ship at Chatham as a HO only rating and was "adopted" by a Petty Officer at the end of the war. Alan Witton: "Both dad and E-Boat were on board for his entire time with HMS Woolston so she went to Archangel and Sicily". He certainly deserved a medal for all the hardships he suffered but was popular on the lower deck though less so with the CO. On one stormy day at sea Eboat lost his paw-hold, was swept overboard and the cry, "cat overboard" rang out about the ship. The captain on the bridge turned the ship round and, miraculously, Eboat was rescued from the foaming-brine. He was frozen and exhausted and had to be wrapped in a blanket and put in an oven to recover.

He was actually a "she" and led a lonesome life at sea and an attempt was made to find her a companion but the cat selected was a poor sailor, suffered dreadfully from sea-sickness under the hard-lying conditions endured by all the V&Ws and, at the first opportunity, jumped ship and Eboat was back on her own again. She was always a favourite with the sailors who made a great fuss of her but, sadly, I am still waiting for somebody to send me her photograph.
The Cat's Whiskers!
Frank Witton in September 2022 aged 99 years and 9 months
- and the ship's cats on Vesper (left) and
Viscount (right) -
Sadly, their names are not recorded and their service certificates have not been traced.
I would like to acknowledge Frank Witton for the story of his old shipmate - you can read Frank's own story below


The men in HMS Woolston tell their stories
Frank Witton
This introduction focuses on Frank Witton's links to St Albans where he was born, click on the links to find out about his wartime service in HMS

Woolston

.

Francis Charles Witton

(on left in 1942) was born in St Albans on 16 December 1922. He lived there with his wife Cath until the age of 98 when they moved into a new home at Devizes near one of their two sons. His father, Charles Witton, was in the Royal Artilery in World War 1 and "rode the lead horse on one of the gun carriages". After the war he worked as a coachman for a retired judge in the Indian Service who lived in Battlefield Road and paid for Frank to attend Holywell House School at 40 Holywell Hill, run by two spinster sisters a hundred yards from where I live.

On leaving school Frank joined Handley Page at Radlet, a reserved occupation, but they released him in 1941 to join the Royal Navy. After six weeks training as a stoker at HMS

Duke,

a shore base at Great Malvern in Worcestershire, he was one of five stokers drafted from HMS

Pembroke

at Chatham to join HMS

Woolston

at Rosyth in February 1942.

Woolston

was at sea and they stayed aboard HMS

Vortigern,

a sister ship of

Woolston,

until

Woolston

returned to port
eleven days later
. Had he stayed on

Vortigern

he would have been killed as HMS

Vortigern

was sunk on 15 March 1942 and only twelve men were saved.

HMS

Woolston

joined the Home Fleet at Scapa Flow and escorted Arctic Convoy PQ.12 to Archangel and Frank described the terrifying conditions in appalling weather without any winter clothing "the ship was almost going 45 degrees". The bad weather kept the U-Boats away. There was no time to go ashore, they left for Scapa Flow with the capital ships within 24 hours. HMS

Woolston

became an escort for east coast convoys from Rosyth to Sheerness. Frank was on

Woolston

when she escorted the troop ships from Malta to Sicily.

Woolston

escorted a convoy from Tripoli and Bone to Malta and then returned to Plymouth, low on fuel (HMS

Valorous

had to be towed). Fuel was stored in the fresh water tanks to extend their range.


HMS

Woolston

was a happy ship. Lt Hawkins, the CO at Sicily in 1943 was a bit of a tartar but Jack Broughton was "a smashing bloke" (above right) and "all his officers were really good". Lt Frederick William Hawkins was killed when comanding HMS

Boadicea

during the Normandy landings when she was bombed and sunk off Portland on 13 June 1944. There were only 12 survivors from a total complement of 182.

In May 1945

Woolston

went to Norway to accept the surrender of the U-Boats at Bergen. Admiral Otto von Schrader was in command of the U-Boats and came aboard

Woolston

to surrender to Captain B D Nicholson RN, NOIC Bergen, and the Norwegian naval commander. Dr Mathews, a future Dean of St Albans Cathedral, was Padre on HMS

Norfolk

which arrived at Bergen the next day and spoke at the service in the Church. Frank joined HMS

Suffolk

and was sent to Melbourne, Australia, but when Japan surrendered
returned to Britain.


Frank met Catherine at a dance in Dunfermaline near Rosyth where Frank was based. She grew up in Dunblaine Perthshire, where her father was Commander of the Queen Victoria School for "boy soldiers". They married on 29 June 1945 and lived in Edinburgh before returning to St Albans in 1947. Frank's wartime experience as a stoker on ships' boilers got him a job as a boiler man at Roses Lime Juice which had relocated to Grosvenor Road, St Albans, after its London premises were destroyed in the Blitz. They rented a house from Rose's in Sadlers Road but moved later to
New Greens Avenue.
Frank worked there for 35 years. Their first child, Catherine Anderson Witton (Jr) was born in October 1947 at Brocket Hall, a commandeered stately home which had been turned into a hospital, and two sons, Alan and Ian Witton, followed.

On 12 March 2014 he was awarded the Arctic Star for escorting Arctic Convoy PQ.12 to Archangel in Northern Russia and on 22 November 2019 he was presented with the Norwegian Medal of Honour by Colonel Dr Prof John Andreas Olsen, the Defence Attaché at the Norwegian Embassy, for his part in the liberation of Norway.
Frank and Cath left St Albans to live near one of his two sons
afte
r the unexpected death of his daughter in 2018 from a stroke
They had been married for 75 years when Frank's wife died on 20 July 2020
Frank was 100 on the 16 December 2022 and received congratulations from the King and the First Sea Lord


I hope to add the photographs taken at his Birthday Party later today
Frank Witton at his home in St Albans in 2013 holding a print of a painting of HMS Woolston by Charles E. Turner who spent some time on Woolston
Left: Alan Witton bought the ship's bell of HMS Woolston in North Carolina, USA, and flew to Britain in May 2019 to present it to his father on the anniversary of Woolston liberating Bergen
Right: Frank Witton holding one of the bronze tompions which covered the barrel of Woolston's 4.7 inch main guns, October 2019
Photographed by Bill Forster in St Albans where Frank was born 99 years ago

Some of Frank's photographs taken during his wartime service in HMS

Woolston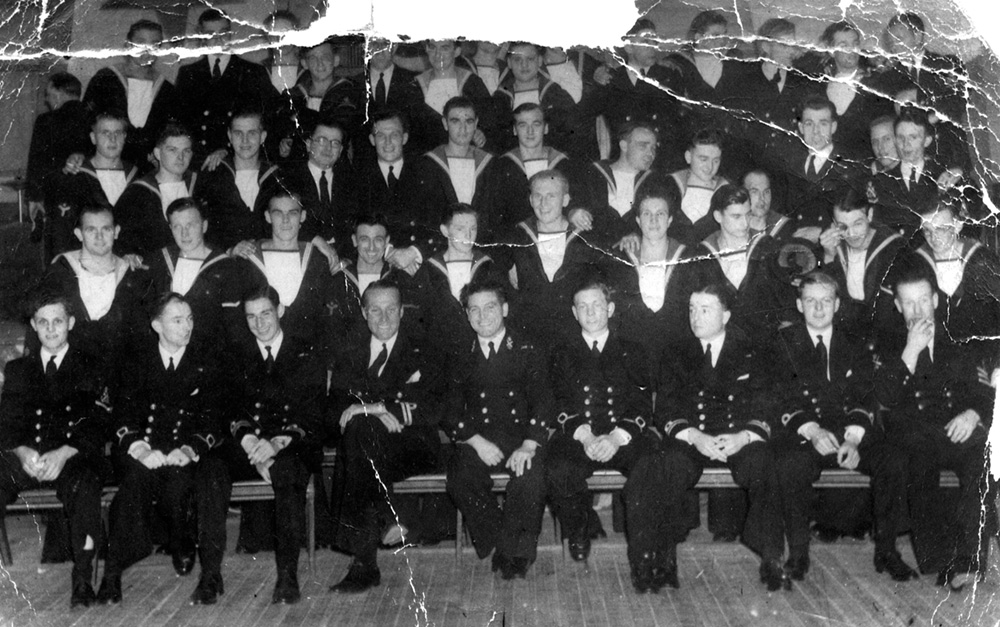 A ship's dance at the Co-operative Dance Hall in Dunfermelin

Seated in the front row are the CO,
Lt Jack Broughton Cox RN
, fourth from left and Lt(E) Rose third from right
Courtesy of Frank Witton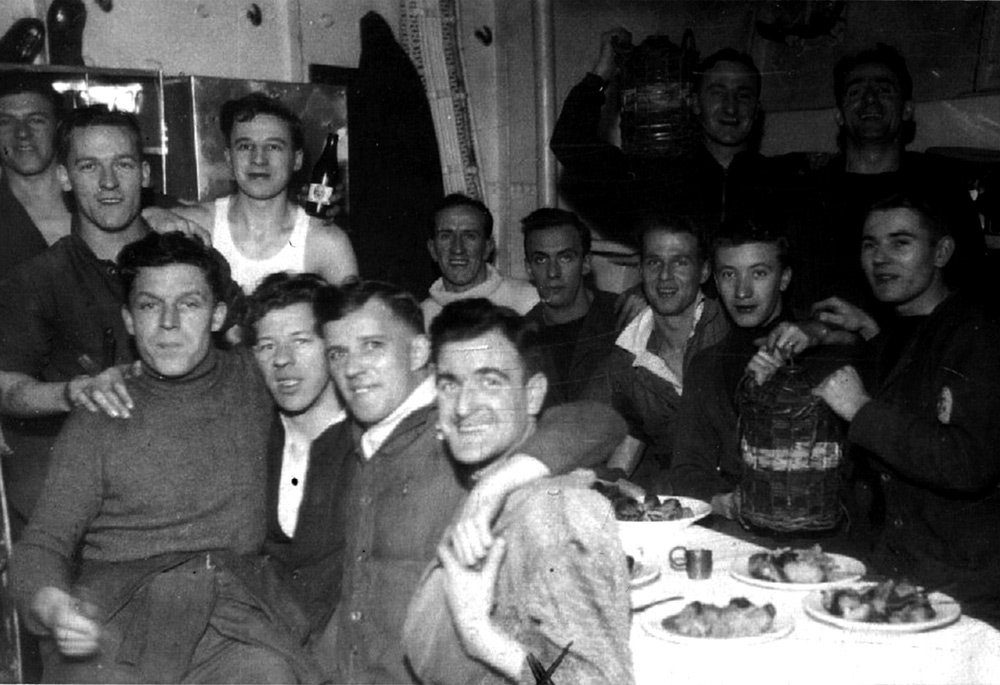 Cod, dried biscuits and rum for Christmas Dinner on the stokers' Mess Deck, HMS Woolston, in 1942
The CO ordered two depth charges to be dropped and they lowered a boat to collect the cod covering the sea
Neil O'Rouke from Glasgow is centre nearest the camera, Bill Perry holds a binnacle lamp and Jack Boore and "Spider" Kelly are seated holding the keg of rum
Also in the photograph are "Smokey" Meadows and Ronnie Barnes
Courtesy of Frank Witton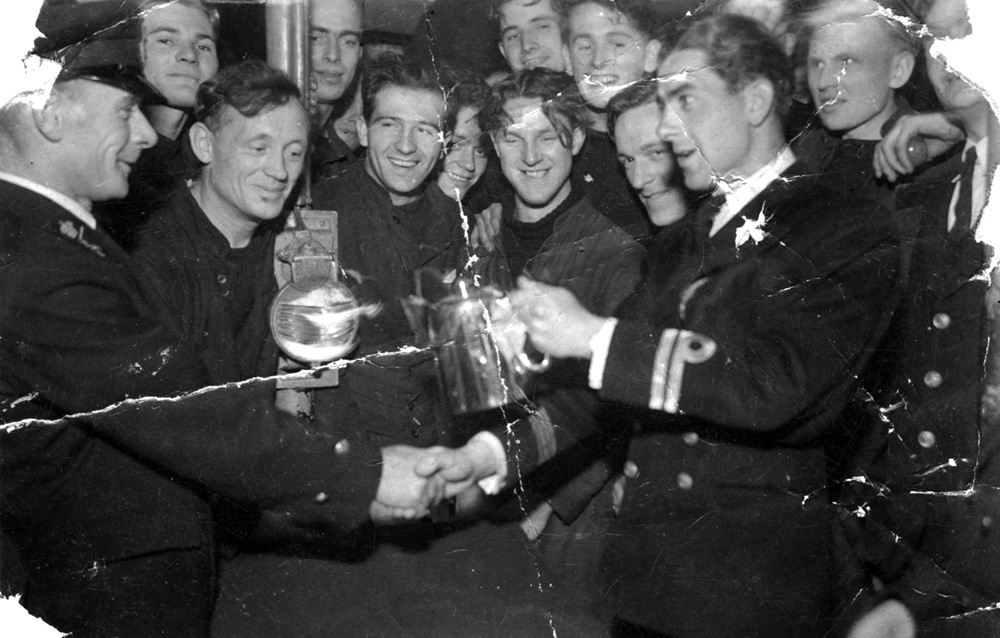 The Coxon presents a silver teapot as a wedding gift to First Lieutenant Bingham on HMS Woolston
Bill Perry, Stoker, is second left and "Smokey" Meadows is on Lt Bingham's left
Courtesy of Frank Witton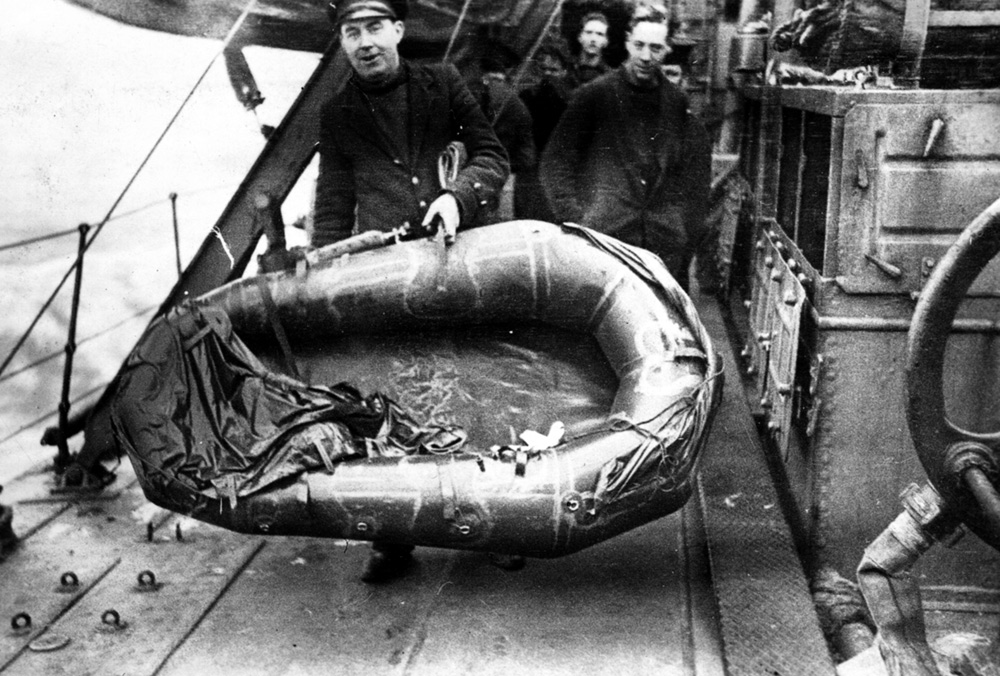 The dinghy of an allied airman rescued by HMS Woolston
Courtesy of Frank Witton
Bill Forster recorded an interview with Frank Witton at his home in St Albans in 2013
You can click on the link to listen to Frank describe his wartime service on HMS Woolston
The recording is on the website of the Imperial War Museum

Jack Boore tells his story on the BBC Peoples War web site: http://www.bbc.co.uk/history/ww2peopleswar/stories/08/a2070208.shtml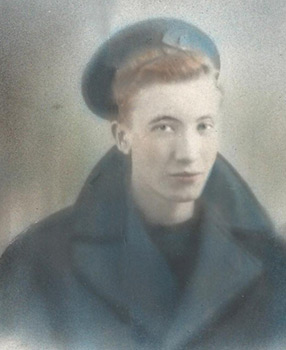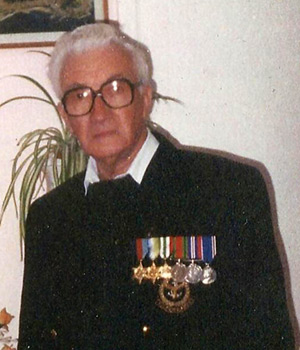 I spent my nineteenth birthday square bashing, not a very good day! Six weeks later came reality, posted to Royal Naval Barracks, Chatham. My introduction to HMS Pembroke came as a shock, thousands of sailors in barracks and on ships in the dockyard, whistles blowing if you happened to be on the wrong side of road, i.e. officers only area, yelling orders and doubling across massive parade ground, fire fighting school, gas school, working in boiler or engine rooms that were on the ships in dockyard and many more tasks I never dreamed of.

After this chaotic routine I was posted to a mine sweeper at Grimsby. The boat was in the midst of a refit, pipes wires and hoses cluttered the decks, my vision of a sleek modern destroyer or cruiser was shattered, the ship was filthy, so, as you can imagine I was not a happy sailor. Four days later the German air force bombed Grimsby naval area, a bomb fell next to the ship causing damage so, once again pack bag and hammock and return to the navy barracks at Chatham. That was the only time in my life that I was pleased to see the Germans. A few weeks later ordered to drafting office, five of us were posted to HMS Woolston, a 1917 destroyer based in Scotland, so I packed my kitbag and hammock and was off once more. We travelled all night and arrived at Inverkeithing the next day.

HMS Woolston was at sea and we were put onboard HMS Cochrane, a depot ship in Rosyth. A few days' later plans were changed, HMS Vortigern was to be my assignment; I packed my worldly possessions and went to Vortigern, unpacked my gear and settled down in my new home (so I thought). A few days' later plans were changed again!!! HMS Woolston arrived in harbour, lots of activity in harbour, ships getting ready urgently to go to sea. I was ordered to join HMS Woolston, once again I packed my gear and went aboard my original ship. We were topped up with oil and ammunition.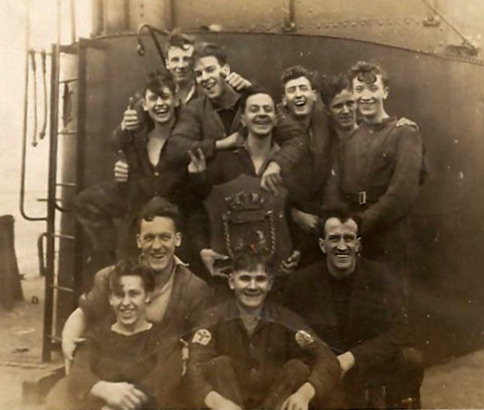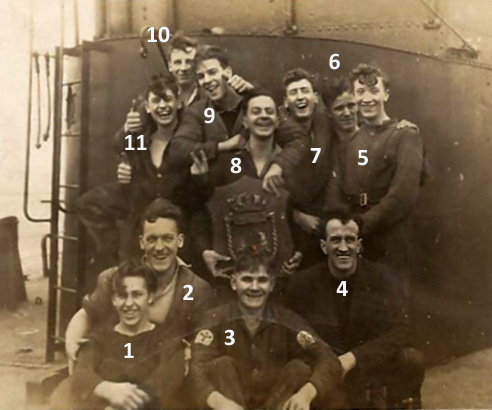 "The Dustmen in a group on a windy day": the Stokers after a boiler clean holding the ship's crest
The photograph includes: "Smokey" Meadows (2), "Flash" Bowman (11), Ronnie Barnes (10), Frank Witton (9), Sid Winch (8), Stan Bister (7), Jack Boore (5) and Bill Perry (3) plus Frederick Alexander MacIver, A PO Supplies (4), who shared their Mess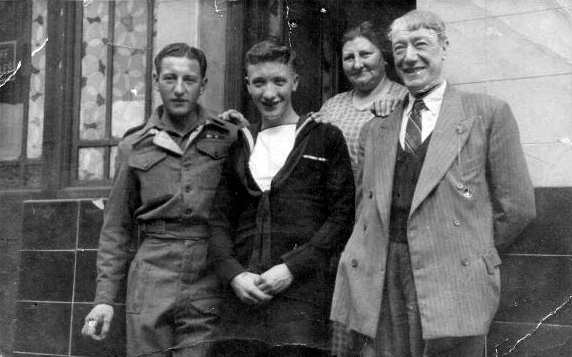 Left: Jack Boore home on leave with his parents, Fred and Liz Boore, and his brother Albert home from Burma
Courtesy of John Boore
The German battleship Tirpitz had left her base in Norway and all available destroyers in our area were dispatched to intercept her. We then began a chase at full speed up into arctic waters. Not a nice initiation into life in the Royal Navy (the thought of Bear Island still makes me shiver). Fortunately we never sighted the Tirpitz, apparently she got information about a fleet at sea to intercept her and Tirpitz, to our relief returned to Norway.
Shortly after our return to Rosyth we heard the tragic news that HMS Vortigern had been torpedoed by German E-boats off the East coast and out of a crew of 212 only 12 survived. Lady luck was with me.

Sixty nine V&W Class destroyers were built during the First World War, the ships' names all began with V or W. Modesty and privacy was forgotten as soon as you arrived on these ships, washing facilities consisted of five hand basins in a room no bigger than a broom cupboard, and toilets were five stalls (no doors) for about 160 ratings, fortunately being engine room branch our clothing at sea was minimal i.e. a boiler suit over our underwear. Washing was done in a bucket and put to dry in the boiler room above the boilers. The seamen often never took their clothes off on putting to sea.

Life was horrendous, trying to get along the deck to your place of duty, boiler or engine room during rough seas, or trying to have a meal when sometimes the side of the ship was above your head was beyond description. The stokers' mess deck was forward on ship, down a round hatch about 36" diameter, twenty-two ate and slept in an area no bigger than an ordinary living room, if action stations sounded there was a mad rush to get out as soon as possible. When in northern waters condensation poured down the side of the ship, giving permanent damp conditions , if in the Mediterranean area the air conditioning was insufficient to keep cool, so one went from one hell to another, it wasn't unusual to be in Arctic waters one month and then in the Mediterranean a month later.

HMS Woolston was my home for three years. Atlantic convoys, Arctic, North Sea Convoys, patrols in Northern waters, Mediterranean, North Africa, Italy and the Sicily Invasion. Joining as a 2nd class stoker on 2/- a day (10p), leaving as a Leading Stoker. I returned to Chatham and then got posted to HMS Suffolk a 10,000 ton cruiser going out to Australia. War ended as did my four and a half years service in the Royal Navy. For my efforts I got £83.
Jack Boore was 90 when he died in March 2013 and never forgot his time on HMS Woolston
His son John followed him into the Royal Navy and retired as a Chief Petty Officer after 25 years service

HARD LYING

Conditions on V & W Class destroyers were so bad in rough weather that the men who served on them were paid hard-lying money. These stories by veterans who served on HMS Woolston were published in Hard Lying, the magazine of the V & W Destroyer Association and republished in 2005 by the Chairman of the Association, Clifford ("Stormy") Fairweather, in the book of the same name which is now out of print. They are reproduced here by kind permission of Clifford Fairweather and his publisher, Avalon Associates. Copyright remains with the authors and photographers who are credited where known.

G Hutchinson describes conditions on HMS Woolston
"On the 15th July 1944 I was posted to HMS Pembroke to await my first sea posting. I purchased a gold wire winged flash of lightning to sew on the right arm of my best Naval suit to indicate that I had now passed out as a R.A.D.A.R. Operator.

Although not permitted in peace time, the 'in' thing for the war time sailors was to be 'tiddly'. This meant, first of all to form a near 'tiddly' bow on the cap band by sewing a small button in the centre of the bow, and instead of wearing the bow over the left ear as per regulations it would he next to the HMS on the hat band and whilst on leave the hat would be worn on the back of the head, something that you would not dare do whilst in barracks.

Next the collar, with the three white stripes attended to, the issue collar was dark blue, so we would bleach it to attain a lighter blue, then you did not look like a 'sprog' who had just joined, and to give the impression that you had served in some warmer climes and your collar had been bleached by the sun. The tunic issue had a distinct 'V' cut in the front which we cut to a 'U' shape, and the silk neck piece would be tied in a 'tiddly' bow at the front. The tunic was also machined in at the waist to give a tighter fit. The bell bottom trousers when issued would have 22 inch bottoms, these would have a 4 inch gusset in each leg to give a 26 inch bottom, then to finish off the trousers would be given a good press with seven horizontal creases. Those who could afford to would go to a naval tailor and have all these modifications carried out professionally, then you would keep your 'tiddly suit' for going ashore or on leave only.

Whilst in Chatham barracks we were kept busy square bashing, peeling spuds, mess cleaning, white line washing and generally having our bodies and minds occupied. Walking across Chatham parade ground was not permitted, everything had to be done at the double, otherwise it was at your own peril and you would find yourself with stoppage of pay or stoppage of leave.

I enjoyed some weekend leave whilst there, until I was posted to HMS Woolston at Rosyth dockyard on the 24th September. I caught the train from Kings Cross to Waverley station Edinburgh. Struggling with my kit bag and hammock and weekend case I caught the next train to Inverkeithing, seeing, and crossing the Forth Bridge tor the first time. When I finally arrived at Rosyth dockyard I had to catch a Naval tender to the Woolston who was anchored in mid stream. I was accompanied by another ordinary seaman, Roy Cantwell.

No sooner had we been detailed to the forward port mess deck, stowed our kit bags and hammocks, when we were told that we could go ashore until 230O; Roy and myself took up the offer, even though we had been traveling all day, so back we went to Edinburgh. On our return we found that we had to kip down on the port side lockers because there was insufficient room to sling our hammocks.

Early next morning reveille was piped at about 0500 and after getting dressed we had to muster with the other seamen on the forecastle port side as an equal number, eight men, were lined up on the starboard side.

We weighed anchor or slipped the buoy. It was very calm, but I had not yet found my sea legs and found it very difficult standing still as HMS Woolston slowly made her way under the Forth Bridge out into the Firth of Fourth and on in to the North sea to escort a convoy going South. For the next three days I was seasick and did not feel too good, as a matter of fact I wished that I had never joined. Some of my mess mates did not mind, because they helped themselves to my rations.

Woolston was an old V&W destroyer built in 1918 by Thornycrofts, her recognition and pennant number which was L49 was painted on her sides just forward of the break in the forecastle.

There was a steam capstan in the mess deck and for this inconvenience we were entitled to an extra I/- a day classified as Hard Lying money. The stokers and artificers mess was just below the seamen's mess. Just forward of the break in forecastle and between the port and starboard gangways was situated a small cooks galley, two members from each mess would prepare the food and take it to the galley for the cook to do his duty. The heads (toilets) and washrooms were situated between the bulkheads from the break of the forecastle to the mess decks. You could not afford to be shy when using the toilets, because the partition between the pans were so low that you could pass the time of day with you 'oppo' sitting on the next pan. The officers' quarters and wardroom were situated aft.

HMS Woolston was armed with twin four-inch gun turrets fore and aft coupled with rocket launchers. On port and starboard amidships were single Bofor guns. For submarine warfare there were depth charge rollers astern and depth charge throwers on both starboard and port quarters. There was an Asdic set plus two radar sets, one amidships and one just above the bridge.

Invariably there would be three escort vessels on patrol and occasionally four. Sometimes we would have the old American four stackers which had been transferred under the Lend Lease Agreement. During theses escort duties I would spend my watch on the midship radar set. This set did not have a cathode ray tube which showed a circular sweep. Instead it depicted echo's in a straight line with blips bobbing up and down. One could distinguish between low flying aircraft and ships. I would also do a watch on the forward gun turret. In the winter, one of the crew would go down to the galley and bring back a jug of 'Kye'. It was a very thick chocolate drink which was made from scraping a solid block of this special chocolate into a 'fanny' and adding water, then brought to the boil, depending on who made it, it could be thick enough to stand a spoon up in it.

At times we would have a little quiet sing-song among the gun crew, but we would get a very curt command from the bridge if we raised our voices too high. It was different when I was on the radar set, for I would be alone for four hours, just watching the echo's bobbing up an down on the screen and only reporting if there was anything suspect occurring.

The washing of clothes or 'dhobeying' would be done in a bucket and was either hung amidships between the two smoke stacks or hung down in the engine room to dry. At sea we were permitted to wear overalls as rig of the day, with leather sea boots which reached up to the knee and thick white sea boot stockings which were turned over the top of the sea boots, but as soon as we sailed into harbour it was back to Naval uniform.

It could be very cold on convoy and if the weather was bad, as it often was, the heavy seas would wash over the destroyers low deck line from the break in the forecastle to the stern. I was fortunate to be one of those recipients of one of the lambs wool lined leather coats donated by South Africa. Also in rough weather, life-lines would be rigged from the break in the forecastle to the stern. On these lines would be short lengths of rope with an eye splice and thimble, so that anyone walking along the deck could do so with reasonable safety.

There were times when the convoy would come to a complete standstill due to thick fog. The escort vessels had radar, but not all the merchant ships were so well equipped, I can remember one day when I was on duty on the forward gun turret, in one of the lay-to situations when a submarine conning tower just slid past our bows. I can only assume that it was one of ours. On other occasions the nearness of the enemy became was plain to see. Action stations would be sounded and then some unfortunate merchant ship would receive the full force of an exploding torpedo and within minutes would be going down to the bottom. Sometimes action stations were not sounded until the first torpedo had struck. In either cases it would be full steam ahead and as soon as the depth charges had been set, they were either rolled off the stem or fired from the quarter throwers.

From the time I joined the Woolston to the end of the war with Germany I think we only had one possible sinking of a U-boat. We saw oil and clothing come to the surface, but as that was a ploy played by both sides to mislead the attacking surface ships, it could not be classified as a kill only a probable.

When we eventually returned to the mess deck, we would find that the enormous pressure of the exploding depth charges had stressed the ship's riveted plates and she had let in water. Another consequence of depth charge explosions were that some of the hammock slinging bars would snap and some of the matelot's would have to find somewhere else to sleep. I had to wait four or five weeks before I was allocated a berth when one of my shipmates was drafted off the ship. The hammocks were so closely slung that we were virtually in one large swaying bed. To avoid breathing each others breath we used to sleep alternately head to foot.

If there happened to be action stations during the night, we would immediately come awake, grab some clothes and run like mad to our action stations. On one occasion a German E-boat sped up between the lines of the merchant ships, firing its torpedo's and guns. There was a bit of a 'ding-dong', but no major hit, just shell holes in the ships funnels and side. Sometimes the rough sea would free mines from their moorings and these floating hazards would give the gun crews some extra practice.

We were granted four free travel warrants each year, so when the Woolston went into Leith dockyard for a refit I used one for some home leave. The train journey from Edinburgh took some 8 to 9 hours overnight, the train was always completely crowded with service personnel going on or returning from leave. When the train pulled into Kings Cross it was an experience to see the number of service men who had no ticket, with just one or two ticket collectors on duty, they had no chance to slop the surge of passengers, some would jump over the barriers or would offer any piece of cardboard that looked like a ticket. Most of the ticket collectors could not care less as they probably had some member of their family serving in the forces anyway. Some of the servicemen would just push their way through the barrier without offering tickets or fare.

In early May 1945 HMS Woolston with another six destroyers left Rosyth and headed towards Norway.


Memories of HMS Woolston by A.M. Lee
In war time the warship sheds its spit and polish. Shining brass and ivory
decks are all very well in peace time when there is time for shining and scrubbing. In war there are guns to be manned and extra lookouts to be maintained in a steady, constant search for the enemy. We sailed with the crew at action stations, a trying duty, and at a state of instant readiness. Some respite when the order is cruising stations, but there is scarcely a minute of the voyage when there isn't some tension.
"Aircraft on the Starboard side"; all eyes try and identify it. A moment later, though no word is said, we all relax, a friendly plane.
But they were not all friendly planes. At dusk one night, there came hurtling through the sky a venomous attacker, and this time the staccato announcement "Aircraft" was for something we all knew too well, a German bomber. It was over very quickly, and no damage done, at least not to us, but
only the Nazis
would know
whether or not the raider escaped
. A machine gun spat out at a dive-bomber, which was less than a hundred feet above the water and looked as if it might crash into us. The pilot climbed sharply from his level course and the high explosive bombs dropped harmlessly into the sea, the incendiaries sparkled beautifully for a short time on the water. A hit? Possibly but he climbed out of his dive and was away with a roar.
It was not long until there was another similar attack. I was standing amidships, my eyes and ears straining like all the others, when, like some winged nocturnal whale, the second bomber dived low to attack. There were loud explosions as the bombs came down and gunfire shot up at him. I lay flat on the deck under the firm impression that the whole lot had crashed down on me. I soon realised that I was quite wrong, and found out why. I had dropped down right under the Pom-pom gun with its withering crash and blast.
I grateful to the seaman who a few minutes earlier had pushed some cotton wool into my hands saying, "Put this in your ears, sir, it will help". It helped a great deal.
From my prone position I was able to see the bomber skim the water at a terrific speed, through furious fire, his own machine-gun bullets rattling the funnels of the ship on our port side. With one accord the convoy answered back, and the sky was alight with gun flashes, green and red tracers, darting up or down, a fine display of pyrotechnics. Shore batteries added their full weight of flying metal and crashing explosions. Once again, the bombs fell harmlessly in the sea some yards from our stern, and the bombers rear gunner had done us no harm. So, in a matter of minutes, the danger had come and been beaten off. All the time the convoy moved slowly on.
Nobody on board had much to say, it was all in a nights work. Attacks were expected, and we were ready for the next. The third when it duely came was less exciting, the bomber shearing off as our guns struck first blow. So, it wasn't a bad night after all, other nights were quieter still except fro the stream of invaders who flew high over our mast into a hail of shells from the shore.
What had all this to do with determining defeat or victory? An attack beaten off was a battle won. Our aim was to keep the seas open for traffic, which if denied would put too great a strain on the railways. As the Prime Minister said, it would he easy to avoid all losses at sea by keeping the ships in harbour but that is not the way Britain fights its wars. She sets the ships on their course and defends them every inch of the way.
On every ship in that convoy the keen eyed men on perpetual lookout, the skippers who scarcely left their bridge throughout the voyage, the gun crews and seamen were fighting tor Britain
all that night
by sailing on and never flinching, sailing on and hitting back.
There were half a dozen New Zealanders in the crew, who had come from the other side of the world to join in the great work, and were proud to do it. Over a cup of cocoa on the moonlit deck, one of them remarked that it was grand to be having a crack at Jerry, but as we sat under the cover of the gun mounting, we talked less of war but of simpler, sweeter things in life.
I read a day or two later the German communique on ships lost in attacks on coastal convoys. How ridiculous they seemed in the light of what I had seen and experienced.
The tonnage of ships sunk was given but, think a moment, what can a bomber pilot know of the tonnage of the wrecked ships in the brief seconds of his dive in the night? Further more he is so swiftly harried away that he can have tittle opportunity to observe results. At all events, the Nazis could not rightfully claim that night or any other night of the voyage a hit on the convoy.
'Number One' who is second in command found opportunities by day for pursuing his favorite sport, which was shooting at floating mines. A mine for him is something of a private 'nark' with the Nazi's or a diversion which is his prerogative by divine right. "The Germans don't play according to rules" he told me whilst explaining how the British mines, should they break their moorings owing to, say, a rusted cable, are automatically made safe.
Firing at them with a rifle was no more than target practice, but if a prong of a German mine is hit, up she goes with a bang. While we were having lunch one day, word was brought to the wardroom of a mine on the starboard side fairly close in. 'Number One' shot out of the room, and I, hoping to see one explode, followed, arriving just in time to see a pile of water shoot up into the air with a terrific explosion, a dark heavy mass of turbulent sea. Framed in the doorway, I took a great deal of the blast and was all but floored by it. I was warned to seek cover to avoid the pieces of falling mine casing. I had clear evidence of the tremendous power of the mine and the menace that it can be. But it is a menace quite under control, cunning and ingenious though the Nazi's are. "Another ship saved" a seaman aptly remarked.
HMS
Woolston
celebrated her 25th Birthday at the landings on Sicily in 1943
An anonymous contribution to Hard Lying, the anthology of articles first published in the newsletter of the V & W Destroyer Association
"Woolston

was among the Naval vessels that took part in the invasion of Sicily, and celebrated her birthday by escorting a convoy to the landing beaches. Once the ships were safely in, her job was to patrol for lurking U-boats and stand by to give a blazing reception to enemy aircraft which might try to interfere with the convoy.
"We thought things were going to be a bit hot " said Lieut, E.G. Jones RNVR, a chemist in peace time, who came from Croydon "But the only thing that came up to expectations was the sun".
Altogether

Woolston

spent only nine days off Sicily she opened fire on enemy aircraft many times and her log hook reports one enemy plane crashing in flames. It was impossible to tell who had shot it down.
From the time she left Britain until a few days ago the

Woolston

had steamed seven thousand miles spent 60 out of 62 days at sea. Lt was not until the last lap that her Commanding Officer, Lt F.W. Hawkins RN told the ships company where they were going. He read over the loud speaker system the order of the day from Admiral Ramsey: "The capture of Sicily has been decided upon". There was a cheer from the ship's company as he read on "You must continually bear in mind that the army is helpless and entirely dependent upon us until we establish them ashore. We did not let them down when they had to retreat from Dunkirk, Greece or Crete and we shall not let them down when they are advancing". The Woolston and the other ships of the Royal Navy made "We will not let them down" their slogan. And they did not let the Army down, and look forward to further opportunities of showing their fighting qualities."


If you have stories or photographs of HMS Woolston you would like to contribute to the web site please contact Bill Forster

Bill lives in the same town as Frank Witton but they met for the first time in 2013 at a meeting of the V & W Destroyer Association

Find out how you can help us research this ship and build this web site
---
Return to the Home Page of the V & W Destroyer Association
Return to the Index Page for the 69 V & W Class Destroyers
---