---

Charles E. Turner (1883 - 1965)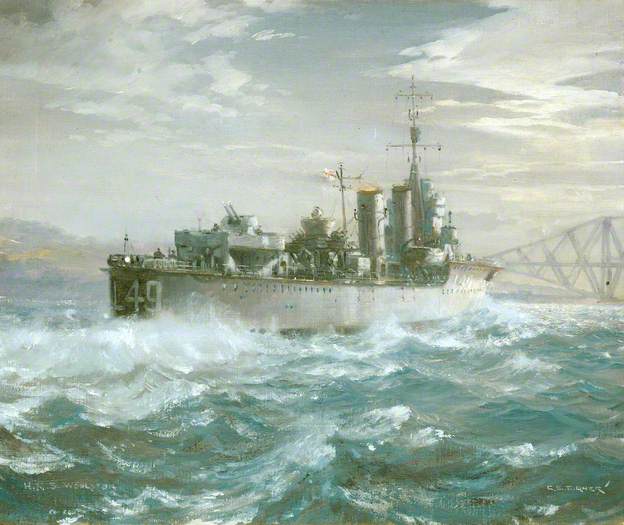 Charles Eddowes Turner was born in Lancaster on the 14 September 1883 and described by E.H.H. Archibald in his Dictionary of Sea Painters (1982)as "a reticent man, it is difficult to find out much about him".

He was based in Liverpool and specialised in landscape and marine views. Proficient in watercolours and oils, Turner exhibited at the Royal Academy in London as well as Manchester and Liverpool. Turner fought in both the First and Second World Wars, as a captain in the Fleet Air Arm, combining active service with service as a war artist, signing his work C.E. Turner. Inter-war Turner had developed series of illustrations for Thomas Forman and Cunard, becoming a 'series of excellent postcards'.

Turner worked for for commercial clients including Dunlop Tyres and Churchill Cigar Boxes but his best-known work, however, dates from the two wars. Alongside paintings demonstrating his first-hand experience of combat he produced illustrations for Illustrated London News and Sphere magazines. These included 'closely observed and highly detailed' naval actions, which presented 'a heightened sense of the drama of events such as this, and these appeared as double-page spreads'.

Frank Witton recalled that in 1943 Turner by then aged sixty joined HMS Woolston at Rosyth on one of the East Coast Convoys to Sheerness on the Thames Estuary and back. He was a guest of the officers in their quarters at the stern. The fine painting on the left (Oil on canvas, NMM BHC 3731, National Maritime Museum, Greenwich, London) with Woolston approaching the Forth Bridge with its pennant number clearly visible on her stern dates from this time.

For many years he lived at Looe in Cornwall and he died on April 14 1965. Many of his oil and watercolour paintings of the two World Wars are preserved in the collection of the National Maritime Museum, London, and at the IWM, London. You can see a slideshow of 21 of his paintings on the "Your Paintings" web site established by the BBC in partnership with the Public Catalogue Foundation.
HMS Woolston

,

by Charles E.Turner (1893-1965).
Oil on canvas, NMM BHC 3731.

National Maritime Museum, Greenwich, London.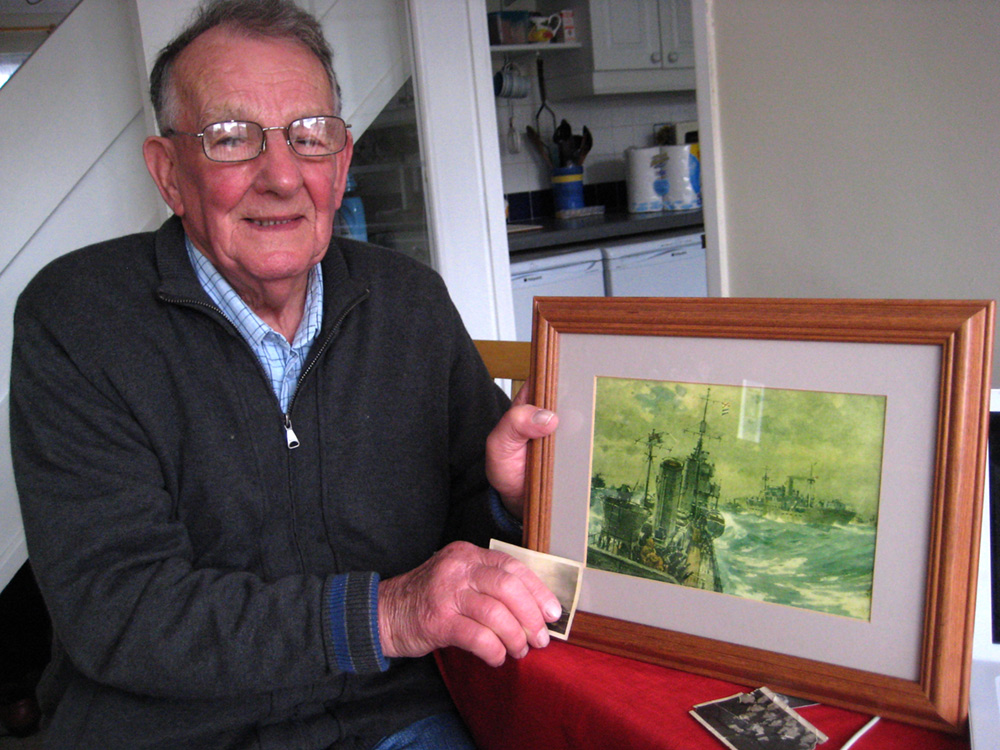 Frank Witton at his home in St Albans in 2013 holding a print of a painting of HMS Woolston escorting an East Coast convoy by Charles E. Turner
Photographed by Bill Forster


Frank is holding a framed print of a painting by Charles Turner of HMS

Woolston

escorting an East Coast Convoy. It was presented by Turner to the ship and was reproduced on Christmas cards which the sailors bought and posted home to their families. This large size print which Frank had framed was on card with a calendar mounted underneath followed by this quotation from Alfred Tennyson.

Not once or twice in our rough island-story,
The path of duty was the way to glory.

From

Ode on the Death of Wellington

by Alfred Lord Tennyson
If you have stories or photographs of HMS Woolston you would like to contribute to the web site please contact Bill Forster or Vic Green
---
Return to the Home Page for HMS Woolston

Return to the Home Page of the V & W Destroyer Association
Return to the Index Page for the 69 V & W Class Destroyers
---