---

The view from the seamens mess
AB Thomas "Spikey" Murray C/SSX.28952
from AMC to V & W and LST

Barbara Waller (aka Murraymints) read the account of HMS
Woolston
on the V & W Destroyer Association web site and contacted me about her father, Tom Murray, who served on
Woolston
as AB Thomas Murray from the 18 October 1940 to the 26 May 1944. Tom was born at Brandon, County Durham, on the 14 July 1919, as one of ten children and left school when he was fourteen. His father, a coal miner, did not want any of his four sons to "go down the pit" and Tom started his working life as an apprentice blacksmith in Spennymoor, seven miles south of Durham, before signing up for seven years in the Royal Navy on the 14 February 1939. His older brother Michael had joined the Navy when he was only sixteen and a half.

On the 20 December 1939 Tom Murray joined HMS

Dunvegan Castle

, a 15,000 ton Union Castle liner built by Harland and Wolfe at Belfast in 1936 and requisitioned by the Admiralty on the 7 September 1939 and converted to an Armed Merchant Cruiser (AMC). The photograph of her above is © National Maritime Museum, Greenwich, London.

Tom joined the

Dunvegan Castle

on the day she was commissioned and eight months later she was the sole escort for
Convoy SL.43
, a large convoy of 47 merchant ships from Freetown in West Africa. An escort group of destroyers took over for the last leg of the convoy to Liverpool and the

Dunvegan Castle

continued on its course to Belfast alone.

At 21.47 on the 27 August 1940 she was torpedoed by U-46, came to a halt, caught fire and foundered the next day. Tom Murray was on the mess deck when he felt the first torpedo strike and rushed on deck with two Geordie shipmates. He helped them release a Carley raft into the water but there were so many men struggling in the water he thought he would not have much chance of getting onto the float. He went to the bow and instead of jumping with his knees tucked in to make a ball he dived in head first (and blamed this for the tinnitus he suffered from for the rest of his life). HIs daughter said -


"Dad always maintains he was the last man off the ship. He explained that when a ship goes down it 'cries', ie the infra structure crashes, so with the thought of being dragged down with the ship and the oil catching fire he began to swim. He can't recall how long he was in the water, he alternately swam then floated on his back to rest. He said at this time his thoughts were of home and his family, in his mouth he had a small prayer book given to him by his father, he still has the book with the teeth mark in it. He heard voices and one said "There's one over there" and he was picked up by a lifeboat. He was dragged on but the officer on board feared it would capsize so as the last one on, Dad had to get back into the water and hold onto the side; he said he could feel fish nibbling at his feet. They were picked up by the HMS

Primrose,

Dad was so exhausted he couldn't climb the rope ladder, a stoker pulled him up by his hair, which, at the time, he wore long and combed back. He then just lay on the deck, the Captain then said 'Grog up' and they were given double rations of rum before sleeping in the mess deck."

Three officers and 24 ratings were lost. The commander, Capt H. Ardill (retired), and 249 crew members took to the boats and were picked up by HMS

Primrose

(K 91)
and HMS

Harvester

(H 19) and
landed at Gourock on the Clyde early the next morning. They were taken by truck to Victoria station, London, where they sat in their boiler suits and he remembered the kind act of a uniformed naval officer who brought them buns and hot tea. They went by truck to the naval barracks at Chatham and Tom found h
Is two Geordie shipmates were killed before he was sent
home for his two weeks survivor's leave.

Barbara told how "this event resurrected a childhood speech impediment and Dad began to stammer very badly, he said at the time he was in a bad way with his 'nerves' and had to go before a Board and was told he would be put back onto destroyers 'to get his nerve back'. He was sent to Scapa Flow but the ship he was to join was hit by a mine returning to port and all hands were lost. On the 18 October 1940 he joined HMS

Woolston

.


We have an intimate view of life on the lower deck of HMS
Woolston
written by one of Tom Murray's shipmates, a Commissioned and Warrant (CW) Candidate, Samuel Gorley Putt. Gorley Putt was born at Brixham in 1913 and won a Devon County Scholarship to study English Literature at Christ College, Cambridge, and was awarded a double first in both parts of the English Tripos. A Commonwealth Fund Fellowship led to a an MA from Yale University and an opportunity to travel widely in the USA. On returning to Britain in 1936 he joined the BBC but was bored and took up a one year lectureship in English at University College, Exeter, and in 1940 found himself a somewhat elderly Ordinary Seaman (OD) on
Woolston
doing his six months service on the lower deck before being sent for officer training.


Barbara Waller told me that her father "always said it was a good ship and during that time he befriended Samuel Gorley Putt, an unlikely friendship, my dad a tough Northerner, a blacksmith by trade and Gorley Putt who would become a Naval Intelligence Officer in Bletchley Park and later a Cambridge Don. Dad said anyone who slighted Gorley-Putt was told they wouldn't be in his book

Men Dressed as Seamen

which was first in published in August 1943; the ship is named as 'Tiddley' in the book but is HMS

Woolston

." Tiddley as every wartime veteran knows is a naval expression for neat and stylish as explained by AB Hutchinson.
Putt's shipmates included Maurice, a company director, and a young unnamed actor but most were "hostilities only" conscripts from all walks of life. Gorley Putt (he disliked being called Samuel) came to like them and although they called him the "Professor" they also took to him.
Only the most mundane aspects of life on the lower deck of "Tiddley" are described by Gorley Putt in

Men dressed as Seamen

but these are the aspects which are never - or rarely - recorded in books of naval history and they give his brief account its peculiar charm but it is the the line drawings of Roger Furse of life on the lower deck of a wartime destroyer which are unique. Roger Furse never served on

Woolston

but he had also been a CW Candidate on the lower deck of a warship before training as an officer at HMS

King Alfred

in Hove.

It is hardly surprising that it went through four impressions in 1943 and as a result this largely forgotten slim small format book of one hundred pages can be bought today for as little as £5 - or borrowed for free from the digital library of the Internet Archive. Gorley Putt dedicated his book "for my Mother and in memory of my father, torpedoed and drowned, 1918" when he was five years old.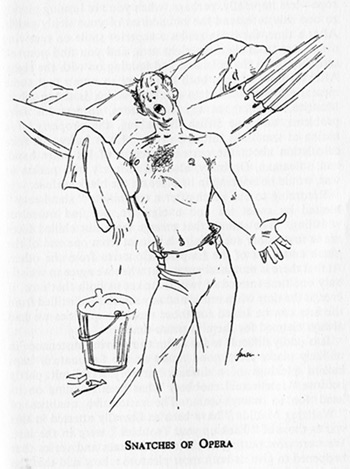 Two of Roger Furse's pencil drawings from
Men Dressed as Seamen
(Christophers, 1943)



"Spike" Murray came from a musical family and had a deep love of opera and Roger Furse's pen drawing "A snatch of Opera" catches him in mid aria against the backdrop of a swaying hammock. Gorley Putt asks "What was Murray's constant bellowing but a tribute to the music he so rarely heard but maddeningly remembered". He recognised that the passions of the men on his mess deck for wood carving, whippets or opera defined them as individuals and were
just as important to them as his own love of iterature and Roger Furse's love of the theatre
.


Gorley Putt gives a clearer explanation of the system of watches aboard a Royal Navy warship than any I have seen:


For the ship's routine, the entire ship's company (except "Daymen" - stewards, sick-bay attendants and so on) is divided into three watches - Red, White and Blue. The 24 hours are also divided into watches - First (8pm to midnight), Middle (midnight to 4 am), Morning (4 am to 8 am), Forenoon (8 am to noon), Afternoon (noon to 4 pm), First Dog (4 pm to 6 pm), and Last Dog (6 pm to 8 pm - and scorned is the novice who would call it Second Dog!). These spells of duty are kept by the watches in rotation; that is the reason for the two short Dog Watches, ensuring an uneven number of watches in the 24 hours and so arranging that Red, White and Blue keep a different "trick" each day. In wartime the Duty Watch is "closed up" at the armament while ... the other two watches are industriously engaged in routine duties invented with equal industry by the Petty Officers of the Watch.

And also explains how -


... the transverse divisions of the ship's company into three watches (Red, White and Blue) for ordinary routine, into two watches (Port and Starboard) for leave and larger administation, into three divisions (forecastle, iron-deck and quarterdeck) for the working of the ship and allocation to "Divisional Officers", and into eight teams or messes for living arrangements, mixed us all up into different groups at different times and made the arrangement of a chosen social life as difficult at sea as it is anywhere else.
Gorley Putt's "cruising station" was
on the forward gun platform where he
hauled down shells and cartridges from the metal lockers and passed them up to the "loading number" and this hard but routine work went on undisturbed until the middle of one watch when there was a general bustle and he was suddenly blinded by light and deafened by noise as the gun was fired and, then, the "action station" gun crew came tumbling up from below to take over. But his main problem on

Woolston

was coping with
the cramped conditions in which they lived
and sea sickness brought on by greasy food and smells occasionally relieved by a solitary hour on look-out observing the "ships of our convoy as we changed station with our escorts, steaming ahead or astern, to port or to starboard of the flock".


Veterans forget the
shipboard routine,
the monotonous background to their war at sea and Gurley Putt's liitle book will help their families know what it was like to live on a V & W destroyer in wartime.



On leaving HMS

Woolston

the lives of Gorley Putt and Tom Murray followed very different courses. Gorley Putt went to HMS

King Alfred

for officer training where he met Roger Furse and first discussed ideas for a book about life on the lower deck of the fictional HMS "Twiddley". AB Thomas Murray remained on HMS

Woolston

until the 26 May 1944 and then served on a very different type of ship in another part of the world.


Gorley Putt, the "Prof"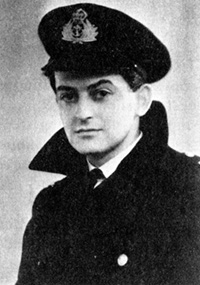 After six months on the lower deck of HMS W

oolston

Gorley Putt went to HMS

King Alfred

at Hove for officer training and on the 14 August 1941 was commissioned as Temporary Sub Lieutenant (T/S.Lt) S. Gorley Putt RNVR. He was not posted to a ship but assigned to Naval Intelligence Division "for duty outside Admiralty" at Bletchley Park, a large Victorian mansion near Milton Keynes which became the Code and Cypher School famous for breaking the Enigma Code and shortening the war by two years.

He became a "Fellow" of the Duncombe Arms, Great Brickhill, whose "Common Room" he shared with like minded academics between contantly changing shifts at Bletchley where he interpreted the decoded naval messages from enemy convoys and their escorts supplying Axis forces in North Africa and contributed to the daily precis demanded by Churchill. It was here between "watches" at Bletchley that he "pieced together the little book

Men Dressed as Seamen

which came out late in 1943 and astoundingly whizzed through eight impressions".

In his memoir,

The Wings of a Man

(Claridge Press, 1990), Gorley Putt described
the "hot-house confinement" of the Park and how it created a fervid atmosphere in which "sexual infatuations and personality clashes alike became obsessional. One after another, in one way or another, we would all go off our rockers. We shot up and down from elation to despair and back again. Nerves tautening to breaking point by round-the-clock speedy exactitude would fumble in off-hours for emotional nourishment".


On the 14 August 1942 Gorley Putt was given his second ring as Lt S. G. Putt RNVR and in 1945 his rings "increased to a dizzy climax of two and a half" when he was promoted to Lieutenant Commander. He remained in Naval Intelligence at Bletchley Park until the bomb brought an end to the war in the Pacific. The work of the men and women at Bletchley Park was top secret at the time but has since been the subject of several books and, most recently, a film about Alan Turing, The Imitation Game.



Roger Furse, the artist



Roger Kemble Furse was born in 1903 in Kent the son of Lieutenant General Sir William Furse and was educated at Eton and the Slade School of Art. When he joined the Navy in 1940 he was
a 37 year old costume and set designer for the theatre
and was on first name terms with actors who were household names. He was very old for a rating and must have seemed out of place on the lower deck but he was a brilliant artist and his quick sketches in pencil must have made him very popular in the seamen's mess.

Six of Roger Furse's naval sketches were bought by the War Artists Advisory Committee in 1941 and can be seen in the Imperial War Museum.
They include a water colour dated April 1941 after he was commisioned of the Flag Deck of HMS

Nigeria

.
At present little is know of his "war at sea" but in 1941 Lt Roger K. Furse RNVR he was able to offer Alec Guinness advice on how to present himself before the Board deciding which cadets should be appointed as officers and which should be returned to their ships as ratings. In 1944 he was temporarily released from the Navy to design the costumes and armour for Laurence Olivier's film of

Henry V

.



"Spike" Murray



Tom Murray remained on HMS

Woolston

until the 26 May 1944 and during this time

Woolston

escorted Atlantic and East Coast Convoys, Arctic Convoy PQ.12 to Murmansk in 1942 and in 1943 convoys to Gibraltar and in July the troopships from Alexandria to the landings on the south coast of Sicily but he left no memoir and told his daughter little about these times.

On leaving

Woolston

he was sent on a ten weeks course at the RN Torpedo School at Chatham and on the 11 August 1944 qualified as a Seaman Torpedoman. The torpedoes on the V & Ws were rarely if ever fired and most were replaced with additional depth charge throwers or 3 inch HA dual purpose guns and the torpedomen needed specialist electrical training to work on the depth charges and their throwers.

On the 9 December 1944 he was posted to LST 373. This was one of the US Navy's Landing Ship (Tanks) which had transported tanks, troops and other heavy equipment to the Normandy beaches in June and were now transferrred to the Royal Navy for use in regaining control of the Malay peninsula and the Dutch East Indies from the Japanese. Despite her shallow draft required to disembark at a beachhead she was a large ocean going ship, 328 feet in length and 1625 tons in weight capable of carrying up to 1,900 tons on ocean crossings of up to 24,000 miles at 9 knots.




LST 373 was based at HMS

Braganza

, the Royal Navy's shore base at Bombay, India, from the 1 May 1945 until the 5 December. She was one of nine LST which made up Force W commanded by Captain G. F. Owles DSO, DSC, RN. The others were LST 331, 410, 538, 315, 385, 237 and 326. As part of "W" Task Force LST 373 worked down the Arakan coast of Burma and participated in the recapture of Rangoon, before proceeding to the eventual invasion of Malaya at Morib and Port Swettenham, and so to Singapore and Bangkok doing relief work repatriating ex POWs of the Japanese.


Tom Murray worked the bow doors and ramp which were lowered when LST 373 beached to land troops and tanks. Barbara Waller recalled him talking about "liberating the Dutch from Surabaya and Batavia, these people were waiting outside the dockyard and allowed to take only the clothes they were wearing; they were taken to a displaced person camp in Madras, India, before being returned to Holland." And that "one day he heard a roaring of wings and a plague of locusts landed on the ship".


Tom Murray returned to Britain on the 5 December 1945 and was discharged from active service in the Royal Navy on the 12 February 1946 but
in line with the terms of his enlistment on the 14 February 1939
for "7 plus 5 years"
he
remained in the Reserve for another five years.
Force W was paid off at Singapore on the 9 February 1946
and LST 373 returned to US Navy custody at Subic Bay, Philippines, on the 16 March.
Peacetime

Roger Furse (1903-72)


Roger Furse is remembered today as a designer of costumes and sets for the theatre. His portrait of costume designer Margaret Furse, his wife at the time, is included in the permanent collection of the National Portrait Gallery in London. His sister, Judith Furse (1912-74), was a well known actress known for her roles in

Black Narcissu

s (1947),

Goodbye, Mr. Chips

(1939) and

The Browning Version

(1951).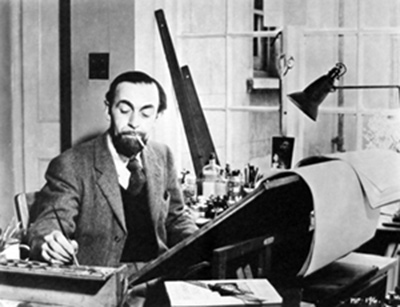 "In 1946 Furse made his first essay into 'production designing' when he worked with Carol Reed on one of the best films of the year, 'Odd Man Out'; in this case the art director was Ralph Brinton and together they made some of the most convincing impressionist pictures of an Irish City in troubled times.
As the production designer for Sir Laurence Olivier's latest production of 'Hamlet' he has proved himself to be one of England's most promising film designers. As his collaborator on this last production he has had Miss Carmen Dillon as art director.
Roger Furse has always been regarded as an artist of great talent, his colouring is very rich in tone, and his approach to costume design has always been realistic. His figures are full of beauty and are not distorted to conform to the usual formula." From

Art and Design in British Film: Roger Furse.


Roger Furse was 68 when he died on the 19 August 1972 in Corfu, Greece.

Gorley Putt (1913-95)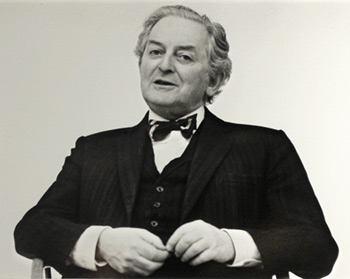 While still serving as an officer in the RNVR Gorley Putt stood unsuccessfully as the Liberal candidate for Torbay in the 1945 election. In 1946 he returned to University College Exeter as Warden of Crossmead Hall and Tutor for Overseas Students. Three years later he moved to London as Warden of Harkness House, the British base for the Commonwealth Fund's Fellowship (renamed the Harkness Fellowships after the American founder) the programme which enabled him to study at Yale before the war. He became the first non-American Director of the fund's Division of International Fellowships in 1966.

He returned to Christ College Cambridge as Senior Tutor in 1968 and remained there until his retirement in 1978. This period started with much student unrest and finished with women being admitted to the college. It seems appropriate that his love of English literature should have focussed on the work of Henry James and he is remembered today as the author of

A Reader's Guide to Henry James

, 1966, and

A Preface to Henry James

, 1986. In his autobiography

Wings of a Man's Life

(1990) he described his "lifelong love affair with my college". The photograph on the right was taken in 1968, the year he was appointed as Senior Tutor at Christ College, and is reproduced by kind permission of the Master and fellows of Christ's College Cambridge.

He died on the 24 April 1995 and his obituary in the

Independent

began -

"The death of Gorley Putt, two months short of his 82nd birthday, has removed from the Cambridge scene a prominent member of an increasingly rare species - a bachelor don of the university whose college is his home and his family. For nigh on 30 years Putt's upright, astonishingly youthful figure was usually to be seen at the centre of any festive occasion; he was the one Fellow of Christ's College who seemed to know and befriend every undergraduate and whose "mini-combinations", in which he dispensed wit, wisdom and good wine in his rooms late into the evening, were legendary."

Independent

8 May 1995

Thomas Murray (1919-2013)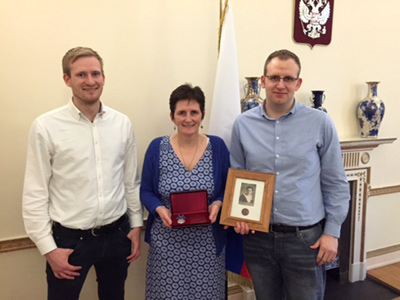 Tom Murray's parents were lucky to get all four sons back from the war. The eldest son Michael had joined the Navy as a sixteen year old and was awarded the DSM for "courage, skill and devotion to duty in many hazardous mine-laying operations" and promoted to Petty Officer. His younger brother Jack was a Petty Officer in the Fleet Air Arm and the youngest son, William Murray, a radio telegrapher in the Navy at Gibraltar. Two of his sisters were also in the Forces, Theresa as an LAC in the WAAF flying wounded back from Normandy after the D Day landings.

Tom returned home and got a job as Smart and Browns (later part of Thorn EMI) in Spennymoor as a machine operator charge hand working on extruders making the panels for refrigerators. He continued to sing at events around County Durham and had an allotment supplying the family with vegetables, fruit and flowers and over the years kept chickens, geese and pigs. He married his wife Mary Whitfield in 1956 and had two daughters, Barbara and Ellen and two grandsons, Martin and Michael. Tom Murray was 94 when he died on the 3 December 2013.

On Tuesday 11 August 2015 I received this e-mail from his daughter, Barbara Waller:
"Just a Postscript to my father's story; last week we received dad's 70th commemorative medal from the Russian Federation for his part in the Arctic convoys and on Monday 10th August myself and my two sons, Martin and Michael travelled to the Russian Embassy in London to be presented with his Ushakov Medal - a very special and proud day."
If you have stories or photographs of HMS Woolston you would like to contribute to the web site please contact Bill Forster or Vic Green
---
Return to the Home Page for HMS Woolston

Return to the Home Page of the V & W Destroyer Association
Return to the Index Page for the 69 V & W Class Destroyers
---