---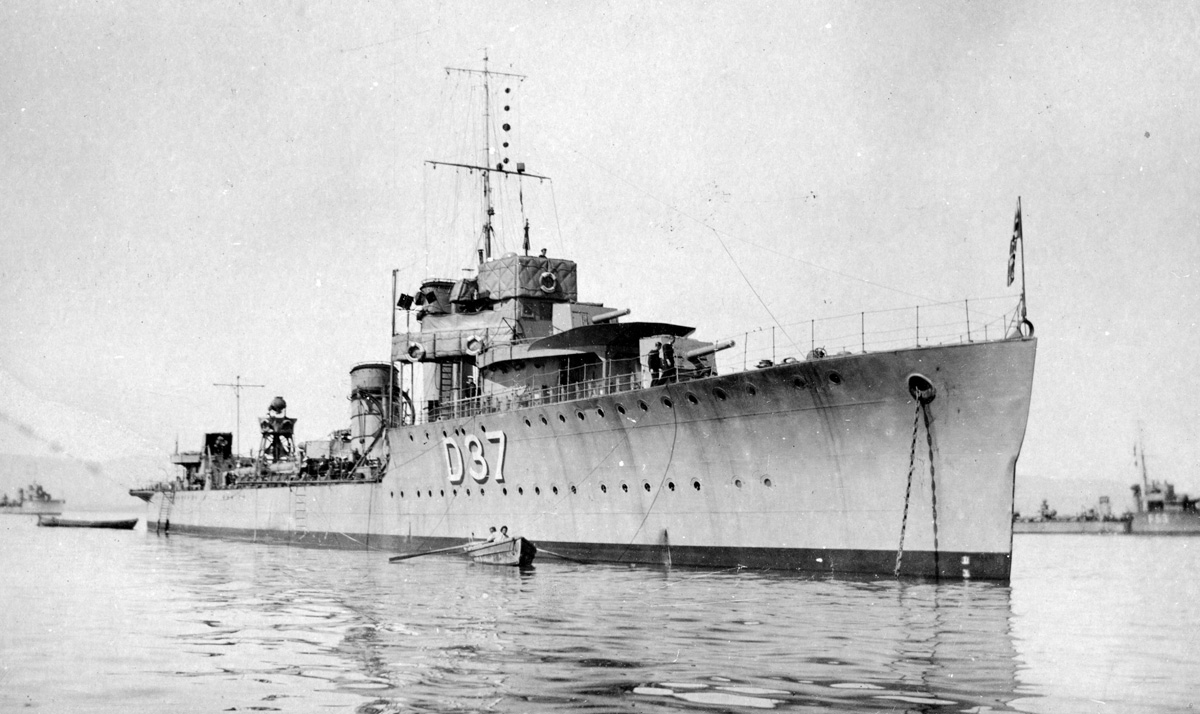 HMS
Vortigern
- between the wars
Postcard from Stormy Fairweather's Collection in Hard Lying

HMS

Vortigern

, the ...



Commanding Officers
Officers

| | |
| --- | --- |
| Temp Lt ???????? (Apr 1941 - 1942) | Sub Lt B?????????? (2 Apr 41 -1943) |
E-Boat Alley March, 1942
The loss of HMS

Vortigern



HMS
Wolsey
was escorting a South bound convoy, when she developed an 'echo' and attacked with depth charges. Unfortunately one of the depth charges malfunctioned and exploded on making contact with the water instead of the depth setting. The damage caused entailed the

Wolsey

being towed back to Leith Dockyard for repairs. HMS

Vortigern

was sent to take over the Wolsey's duties. During the night whilst the convoy was off the coast of Great Yarmouth it was attacked by a number of E-boats. During the scrap that ensued the

Vortigern

was torpedoed with the loss of 110 men. Because of the action that was going on the other escorts were unable to go to her assistance. It was not until daybreak that the "Guillemot" returned to the scene and found that the stern of the

Vortigern

was protruding above the water with two seamen clinging to it. She proceeded to pick up 14 of the crew and returned them to Harwich. The R.N.L.I lifeboat "H.F. Bailey", skippered by the renowned Joe Bloggs, was also in attendance recovering bodies. Another body, that of Petty Officer George Blundell was washed up on to the beach at Cromer.
I joined the
Vortigern
at Rosyth in early '41 after passing out as S/T at Vernon and Roedean college Brighton. We did a lot of convoy duties and at one time we were escorting a cruiser from Dundee, going South. We picked up a young drafter there, the weather was terrible, no one was allowed fore or aft unless absolutely necessary, but this young lad, on his very first trip was washed overboard and was lost. I never even got to know him.
Whilst proceeding South we received a signal to proceed to the Channel. Three German battleships were trying to break out. Our sister ship
Worcester
was hit and one of my shipmates, Jim Adams was injured.
At the time of our sinking, we had left Portsmouth on Sunday 13th March to meet up with the convoy. The weather was again bad, corned beef sandwiches was all we could have. On the night we were torpedoed, we were at action stations, I was on duty middle watch, luckily. I had just switched on the degaussing motor forward for we knew there was trouble in store because merchant ships were being blown up. My duty was right aft with the depth charge party, keeping in touch with the bridge by manning the telephone. The night was pitch black, all we could see was the silouhettes of the merchant ships. At about 0200 we were hit forward. I always thought that it was two torpedoes, because the ship went down so very quickly.
I managed to free a carley raft which was lashed around upright by a thick sling. I had to punch the wood toggle out with my fist. I damaged my hand but did not notice it. These rafts had a lamp aboard which was activated on contact with the sea, so we had a light. I remember the officers steward who had his quarters aft came up to me on the deck and I told him to jump overboard, we had no order to abandon ship because all those forward had been killed. He said to me "I've got to go back to retrieve something". I never saw him again. I took my duffle coat off, all I had on was a boiler suit and my rubber safety ring. I jumped in and managed to swim to the raft. I helped some of the others to get on. The oil fuel and the sea were so very cold. Quite a few died and slipped away. Our First Lieutenant was hanging on, but he too died and drifted away. Two others died on the raft, one named 'Sharky' Ward our L/S LTO also a three badge A.B. Sharky had only got married on his last leave. He came from Liverpool.
We must have been adrift for about eight hours, after a lot of singing and talking about different things just to keep ourselves awake. We were of course overjoyed to see a corvette, HMS
Guillemott
e on the horizon, they had been searching for survivors. I tried climbing the scrambling nets, but I was too cold, however I was hauled aboard, put in the shower room and scrubbed down with hard brushes to bring back the circulation. The M.O. refused us rum because we had swallowed oil fuel. We were then taken to Lowestoft hospital. I was there for three days, my feet and legs were very bad. Luckily I got over it and was allowed home on leave. I received a telegram to go to Lowestoft to help identify the shipmates that are now buried there. I was met at the station by two Nuns, and taken to a 'mock up mortuary' a tin hut. It really upset me to see the lads laid out there. Then I was called to the Admiralty, and before Admirals and other high ranking officers had to answer questions about the sinking.
I finished my Naval career as a L/S LTO on two carriers, the
Argus
on the North African landings and the HMS
Indefatigable
out in the Pacific.
The sinking of the

Vortigern

and the loss of life, was the biggest loss on the East Coast Convoys. Those who are buried in the Lowestoft cemetery are:-
Lt Comdr., R.S. Howlett D.S.C. Lt, P.A.B. Powell Sub Lt, J. Gilmour A/B J Muir A/B D. McLeod Wierman R.C. Nutt A/B L.W. Grace. A/B J Flynn A/B J.H. Jones A/B H. Smith A/B J.R. Leigh
A/B J.L. Stewart , A/B D. Mcleod H. Farrow.

Petty Officer George Blundell's body was washed up at Cromer one month later.
He is buried in Cromer cemetery.
Bill Bradshaw
If you have stories or photographs of HMS
Vortigern
you would like to contribute to the web site please contact

Bill Forster
---
Return to the Home Page of the V & W Destroyer Association
Return to the Index Page for the 69 V & W Class Destroyers
---