---
The Channel Dash
12 February 1942

The part played by
the V & Ws

Campbell, Vivacious, Worcester, Mackay, Walpole

and

Whitshed
At the end of 1941 the pocket battleships
Scharnhorst
and
Gneisenau
together with the heavy cruiser
Prinz Eugen
had gathered at Brest where they could put to sea and wreak carnage upon the Atlantic convoys. Fortunately they were within range of Bomber Command and were subjected to continual bombing raids which failed to sink them but did at least prevent them from putting to sea. The Admiralty believed Hitler would decide to move these ships back to Germany for refitting and then send them to Norway, which he considered the pivotol area, and began to make plans to intercept them, which became known as Operation
Fuller
. The German High Command came to the same conclusion and decided that the best route for the ships to take would be the most direct one, through the English Channel, and proceeded to make plans for Operation
Cerberus
. The thinking of one Command was mirrored by the other, both selected the same route and the same period for the operation, the only difference being in the time of day the ships would pass through the Straits of Dover.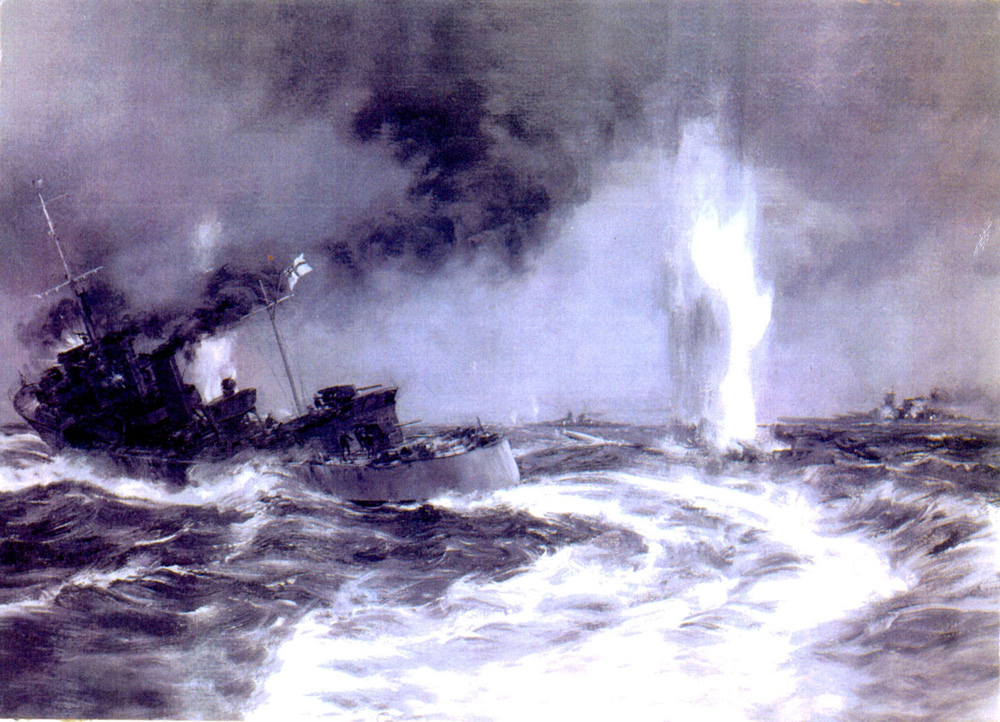 HMS Worcester launches her assault on the pocket battle ships; a painting by Montague Dawson.
Montague Dawson (1890-1973) served as a Lieutenant in the RNVR during the First World War and achieved artistic success with his paintings of large clipper ships
By courtesy of Felix Rosenstiel's Widow & Son, London
© Estate of Montague Dawson
The Admiralty saw this as a golden opportunity to remove the threat posed by the German Battle fleet and issued orders which should see the German ships were detected as soon as they moved, torpedoed by M.T.Bs, attacked by torpedo carrying aircraft, bombed, shelled by the big guns at Dover, mined at intervals on their passage and, if anything was left, torpedoed by destroyers east of Dover. Orders were issued, units moved to their positions and everyone settled down to wait for this golden opportunity.


The German High Command also issued its orders, the route was swept by minesweepers piecemeal to conceal the planned route, the swept areas were gradually joined up to give a clear run, destroyers, torpedo boats and E-Boats gathered at ports along the route and the Luftwaffe moved aircraft to suitable bases and everything was set for 12 February 1942.

The big ships prepared to move at dusk but were delayed by an air raid and finally set off at 22.00 accompanied by six destroyers, five more to join them off Le Havre, a further five from Dunkirk, five more from Flushing and three flotillas of E-Boats along the way forming a considerable armada guarded by night fighters. A British submarine patrolled the approaches to Brest to report any movements by the German ships and to attempt an attack should they leave but she had to be withdrawn to charge her batteries and the German Battle Fleet left Brest unobserved. There were also three Coastal Command aircraft on patrol around Brest but as luck would have it all three suffered malfunctions and returned to base leaving the area open and so the Battle Fleet sailed on into the night.


By 8.00am the following morning, 12 February, the German ships had steamed about 250 miles with another 40 miles to go before reaching the Straits of Dover, about an hour away. The night fighters were replaced
with continual cover
by Me 109s which leap-frogged along the coast, dropping in at a series of airfields to replenish fuel and ammunition. This massive array of ships and aircraft was still undetected. The Admiralty thought the big ships were still at Brest but that was about to change. Spitfires routinely flew a coastal patrol each morning and evening to discover any ship movements. The pilots were under orders not to break radio silence but to report after landing and, more crucially, they had no knowledge of the imminent breakout of the German forces. One of the pilots spotted some E-Boats leaving Boulogne to join the fleet but was 15 minutes too early to see the main body of ships which steamed on unchallenged.


The Radar station at Swingate picked up three big blips at about 10 am and connected these with Operation

Fuller

but attempts to telephone this information to Dover Castle came to nothing as the telephone line was defective. Two Spitfires flew off from Kenley on a routine sweep and at 10.30 am ran into the Me 109's providing air cover and in evading them flew over the big ships but didn't break radio silence to report them but waited until returning to base. The news was finally out but

Scharnhorst

,

Gneisenau

and

Prinz Eugen

were approaching the Straits of Dover. The weather worsened as the day wore on, by now there was low cloud, rain and so poor visibility. By noon the armada was off Cap Gris Nez and about to enter the narrowest part of the Straits and face the heavy guns; these guns fired a few shots but to no effect. The next attack came from five MTB's which left Dover and sighted the German ships at a distance of about 5 miles; they risked everything to close the range, fired their torpedoes and managed to retire but no hits were scored.


The next attack was by the Fleet Air Arm's 825 Squadron which had flown their Swordfish biplanes against the

Bismark

the previous year. They had been training for this but had not expected to make their attack by day as the Admiralty believed the German ships would pass through the Straits at night. Daylight, a slow aircraft and a massive array of fighters waiting to shoot them down, it could only be described as a suicide mission. Lt. Cdr. Esmonde knew this, requested fighter cover, was promised five squadrons to cover his single squadron and set off. Only one squadron of fighters accompanied him, the others never arrived. All the Swordfish were shot down without scoring a hit. The Channel Dash carried on unscathed.


Back at Harwich Captain (D) Pizey and his destroyers had been coming to instant readiness every night and stood down to 4 hours notice at dawn but Cpt. Pizey felt that today was likely to be the day and had taken his destroyers out for a practice shoot that morning. At 11.56 am he received a signal informing him that the enemy battle cruisers were passing Boulogne at about 20 knots. The targets were cast adrift and

Campbell, Vivacious, Worcester, Mackay, Walpole

and

Whitshed

set off to intercept. They, like the Swordfish, had been expecting to attack at night, off the Hinder Banks, but a further signal gave the enemy's speed as having increased which meant the only chance of catching them was by crossing our own minefield which they did without damage.

Walpole'

s engines broke down and she had to return to Harwich leaving the remaining five to steam on at 28 knots, though being bombed by Luftwaffe and RAF alike.


By now the weather had deteriorated still further; there was a choppy sea and it was snowing when at 1517 Campbell's radar showed two large blips at a range of between 9 and 10 miles followed a couple of minutes later by a third. As they closed the range gun flashes were seen and at 15.43 the enemy ships were sighted about 4 miles away and the destroyers, already in 2 divisions, turned in to attack.

Campbell, Vivacious

and

Worcester

attacking the leading ship while

Mackay

and

Vivacious

attended to the second. Cpt. Pizey in

Campbell

led the First Division. As they steamed in they were fired on by the battle cruiser's main armament and attacked by aircraft guns and torpedoes, at 3,300 yards a shell dive under

Campbell

, feeling that their luck couldn't hold out much longer Pizey turned to fire her torpedoes and

Vivacious

followed suit.

Last in line

Worcester

pressed in even closer before turning to fire at 2,200 yards. Her 12 pounder gun (which had replaced the aft torpedo tube) and the starboard Oerlikon locker below the bridge were hit, causing many casualties and destroying the bridge communications. Cd. Gunner Wellman, assuming the bridge (and torpedo sight) was out of action fired the torpedoes by local control.

Worcester

was hit repeatedly and lost power, drifted round to expose her port side and received more hits. Lt. Cdr. Coats gave the order 'prepare to abandon ship' but due to the lack of communication and the deafening noise of the explosions some took the order to be 'abandon ship' and took to the water. The ship was on fire, without power, low in the water and seemed ready to sink. The Gunnery Officer aboard

Gneisenau

ordered cease fire, it seemed a waste of ammunition to fire at a ship that was going to sink. The German Battle fleet moved on.
Chaos reigned aboard

Worcester

. She had taken six hits from 11-inch and 8-inch shells, had holes from 6 inches to 2 feet in size made by large splinters, both boiler rooms were flooded and there were many dead and injured. Gradually order was restored, the engineers, working by torchlight in icy-cold waist-deep water managed to get up steam in one boiler, got the water pumped out and, though low in the water

Worcester

started to move again.

Campbell

and

Vivacious

picked up the men in the water but while doing this were attacked by a Beaufort which dropped a torpedo.

Campbell

had to go hard astern to avoid being hit and the wash swept some of the survivors away. After an hour or more in the water they were too weak to cling to a rope and some were lost. The undamaged destroyers had been ordered back to Harwich to refuel and re-ammunition and

Worcester

was left to make her own way back. Anything moveable was jettisoned to keep the ship afloat, the boilers had to use salt water, the damaged feed pumps broke down but somehow she stayed afloat and limped home to Harwich.



Vic Green, Wireman

Courtesy of Vic Green Jnr

Harold "Barney" Barnett ERA

(left) and




Vic Green Wireman (centre)


are interviewed by Radio 4 on the 60th Anniversary of the Channel Dash in 2002



Vic Green, Wireman 1944

Courtesy of Vic Green Jnr
Meanwhile the German Battle Fleet steamed on,

Scharnhorst

hit 2 mines,

Gneisenau

hit another but they all continued,

Scharnhorst

arriving at Wilmhelmshaven and

Gneisenau

at Brunsbuttel, both on Friday 13 February.
Vic Green


Secretary of the V & W Destroyer Association
and son of Vic Green, Wireman of the Torpedo Branch, HMS

Worcester

Sub Lt J.F.N. "Bill" Wedge, RNVR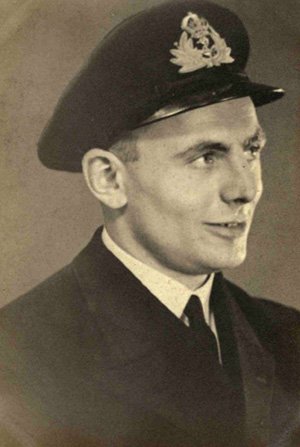 John F.N.Wedge was born on
13 July 1921
and has been known since birth as Bill. He joined Barclays Bank in August 1938 and a year later "finally managed to get on the RNVR waiting list". He was mobilised in September 1939 and trained as a Telegraphist. He served in the minesweeper HMT

Norse

, in the Thames estuary and elsewhere, from March 1940 to February 1941. After officer training he joined HMS

Worcester

as a Midshipman in May 1941. He is the last surviving officer in

Worcester

who took part in the Channel Dash and this account was first published in

Hard Lying,

the magazine of the V & W Destroyer Association.



"Following a boiler clean alongside at Parkeston Quay, we had been coming to 15 minutes notice for steam each evening, though at my lowly level I did not know why. It was therefore something of a welcome change that the 16th destroyer flotilla sailed on the morning of the 12th February for gunnery practice at sea with a tug-towed target.

As Officer of quarters, Pom-Poms, mine was a passive role, but my mental peace was severely shattered when Sub' Lieut; Bill Bowmer R.N.V.R. Came down from the bridge to say "Roll on my ***** V.C."Proceed in execution of previous orders." We are to intercept the pocket battle ships!!!

I went down the hatch in the iron deck to my cabin to get my bible, which fell open at an agreeable reassuring passage.

We crashed our way at full speed through a choppy sea under low cloud, with little said, aircraft appeared through the clouds every now and again, mainly British and some apparently of the opinion that we were German.

"Enemy In sight" battle ensign hoisted, and a tense silence at the pom-poms which had earlier been in action against threatening aircraft. Dark shapes in the misty distance and our 4.7's began firing and the flotilla attacked. As I recollect

Worcester

was centre ship of the five and thus became the main target for the enemy. The others released their torpedoes, but Lt, Comdr., E.C. 'Dreamy' Coats R.N. pressed on for what seemed an eternity before firing our torpedoes. The last RDF (Radio Direction Finder) reading was just over 2,000 yards.

We were already being hit, but it was a relief at least to be turning away. However we continued to be straddled and hit and quite shortly we were lying stopped. The shelling ceased. In the silence which followed no one appeared to move. From the Pom-Pom it seemed inconceivable that anyone on the bridge could still be alive, given the battering that the structure had taken. I walked aft to the twelve pounder, which had been hit. Gunner 'T' L.G.C. Wellman R.N. was lying on the deck, conscious and not too badly wounded. For a moment I thought he and I were the only Officers left alive, but miraculously our Number one Lieut Anthony Taudevi R.N.V.R appeared, and then began to take order, unhappily not before some people had gone over the side.

As we wallowed, a Junkers 88 flew above, firing recognition flares, then later an R.A.F. plane dropped torpedoes, aimed at us!

Quiet bodies lay in flats, and Surgeon Lieut D.C. Jackson R.N.V.R. And the S.B.A. (Sick Bay Attendant) Shelley worked heroically on the wounded in various parts of the ship.

The Chief Commissioned Engineer, Hugh Griffiths RN, and his team were achieving miracles and an engine started turning; two destroyers approached,

Vivacious

and

Campbell

(not German ones sent to finish us off as I had feared) and rescued some of the survivors from the sea. On satisfying himself (Captain Mark Pizey in the

Campbell

, the flotilla leader) that we were under way they returned to Harwich to replenish their torpedoes etc. Later, we lost power again and languished very anxiously in the dark before the engine room again triumphed. Then slowly but surely we made our way home to Harwich.

It had been a long, cold and a very uncomfortable night on the Pom-Poms, and throughout the ship. As we approached land a 16th Destroyer Flotilla, Hunt Class destroyer,

Hambledon

appeared and offered assistance, this was proudly turned down by the Captain who indicated that we had managed so far on our own and would like to finish the job.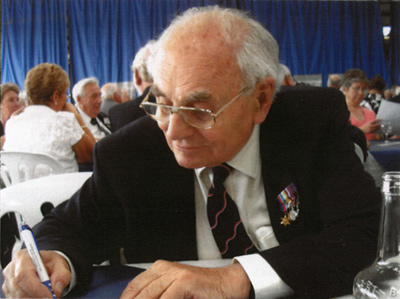 Alongside at Parkeston and after the sad disembarkation of the dead and wounded, we were all checked over by a medical team. I was completely deaf for a time, someone even tried semaphore to talk to me! I
ncongruously, m
ost of my hearing returned sufficiently to play word games that evening in the Railway Hotel with
Bill Bowser and Sub Lt. Guy Agard-Butler R.N.
along with Beatrice Lilly, her agent and her sister, after they had performed at an E.N.S.A. concert.

I left Worcester a few days after the action. We brought her up the Thames to a ship repair dockyard and, apart from No 1 and the Chief Engineer, we were sent on leave immediately.

Among those killed was telegraphist Denis Gibson in the W/T office which was in part of the Bridge structure that had been so badly damaged. Denis and I had trained together at the beginning of the war after mobilisation of the R.N.V.R.

Of the officers of

Worcester

Lieut W.F.L. Winterbottom R.N. was later to lose his life in a submarine. Guy Agard-Butler died whilst serving in the Fleet Air Arm at Gibraltar and Bill Bowmer was lost in HMS

Martin

off the North African Coast. 'Dreamy' Coats became a Commander and went to a shore job. Anthony Taudevin eventually commanded a 'Captain' Class frigate as a Lieut Cmdr R.N.V.R. 'Doc' David Jackson went on to HMS

Dolphin

and after the war returned to Australia to practice in Brisbane. It was there that he wrote the book

One Ship, One Company

(1996) which is a history of all the seven R.N. Ships named 'Worcester' and his own fascinating account of the 'Channel Dash'."

Bill Wedge served in HMS

Mistral

from March to July 1942 while she was based at the Isle of Arran as a training and as an FAA target ship. He suffered a "war injury" when he broke his leg playing Rugby and in November joined HMS

Iron Duke

, a depot ship at Scapa. In August 1943 he was sent to USA to join the newly built Captain Class frigate HMS

Garlies

, based on Belfast and operating in Western Approaches and the English Channel until June 1945. He joined HMS

Wheatland

in Plymouth and went into reserve with her at Saltash. He "got engaged to a Plymouth Boatscrew Wren to whom I am still married" and in April 1946 rejoined Barclays.




Bill Wedge autographing programmes at the innauguration of the Channel Dash Association, 10 June 2007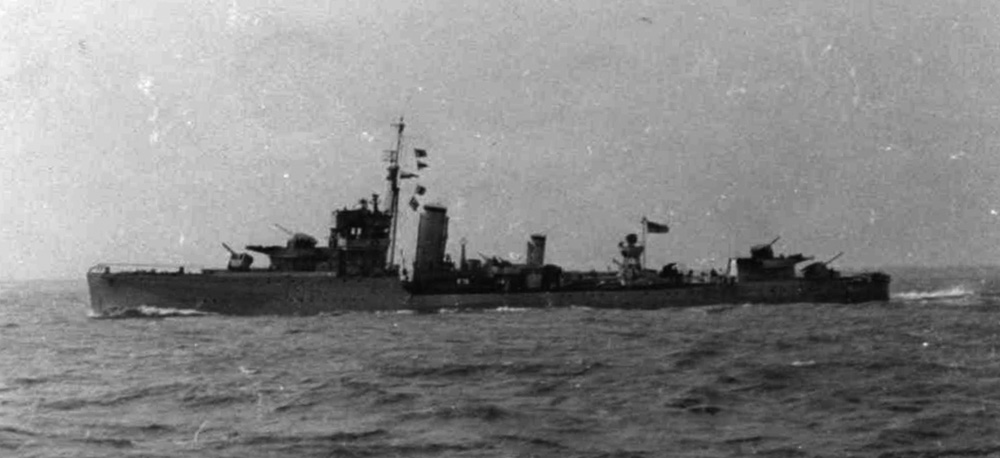 HMS
Worcester
Courtesy of Bill Wedge

The Channel Dash

Harold Barnett, Engine Room Artificer (ERA) on HMS

Worcester



Worcester

had just completed a boiler clean alongside at Harwich, and on 12 February 1942 we happened to be exercising together with our flotilla leader HMS

Mackay

, Captain P.J. Wright, and two other V&Ws,

Whitshed

and

Walpole

. Captain 'D' of the 21st flotilla was Captain Pizey and as senior Officer he was in command in HMS

Campbell

, also of the 21st was

Vivacious

. We were just off Harwich. I was keeping the forenoon watch. Some time towards the end of the watch the bridge ordered an increase of rev's and by the time I had handed over the watch, we were very close to full power. It was about then that the skipper told us what we were about to do.

It seemed that we were on our way to intercept three German capital ships off the Scheld estuary. This meant crossing an uncharted minefield, a risk Captain Pizey was prepared to take with his six ships. It was a dull murky day with poor visibility. About mid afternoon we were closed up at action stations. Word went round that we had two big ships on the Radar at about nine miles range. Twenty minutes later the enemy was in sight at about four miles.

Walpole

had turned back earlier with engine trouble (condenseritis). an endemic disease in V&Ws, that left just the five of us to carry out the attack. The two large ships turned out to be

Scharnhorst

and

Gneisenau

. The poor visibility had helped to cover our approach, but we now came under heavy fire,

Campbell

and

Vivacious

who were ahead of us had fired their torpedoes at about 3,000 yards, when out of the murk came the

Prinz Eugen

. We came under fire from her, but we set course to intercept and fire our torpedoes at 200 yards and as we made our approach and turn we were hit several times and 'A' & 'B' guns were put out of action. The bridge, radio room and sick bay were badly damaged, and we were on fire from right forward to abaft the bridge.

My action station at that time was with the forward fire and repair party. As we started to fight the fires, we were hit and straddled by another salvo, it seemed to me at the time that this had the effect of reducing the fire, whether it was the deluge of water from the straddle, or concussion from the explosion, who knows? But the fire was reduced and the fire party was bringing it under control. Only trouble was, the hit as we made our turn, and after firing our torpedoes, had added to our problems, and this took me away from the fire. A shell had entered the forward boiler room at the base of the forward funnel Port side, it had gone across the boiler room and exploded in the Starboard boiler water feed tank, blowing a hole in our ships side. We of course lost all of our feed water and the boiler room started to flood. The Stoker PO And his stoker were able to shut down main and auxiliary steam and the isolating valves between the forward and the after boiler rooms before evacuating. We sealed the hatches and reported the damage and our actions to the Engineer. He sent me to the bridge to report the damage and the situation to the Skipper.

It was then that I saw the damage that we had suffered forward and on the bridge and the casualties that we had sustained, they were quite considerable. The immediate task was to secure the bulkhead between the forward and after boiler rooms. In the after boiler room this was in hand and I joined in when I got back from the bridge. Shrapnel had pierced the bulkhead and water was leaking through. We managed to plug these holes and reduce the level of water by using hand pumps. All the damage we had suffered meant that we had lost steam and had stopped. But now we were able to commence raising steam again, trouble was we had no distilled water for the boiler feed, so were forced to use salt water. "To be done only in extreme emergency" as the engineering manual puts it. We figured we had one.

By now it was completely dark.

Campbell

had been standing by us for a long time, and fought off one attack from the R.A.F but had been ordered back to base. When we had raised enough steam, we set course slowly back to Harwich, over the minefield again. The next twelve to fifteen hours are a vague jumble of memories of things we had to do. Spells at the evaporator trying to make distilled water to dilute the salt to reduce the salt damaging our machinery. A hopeless task really, that evaporator was a temperamental beast at the best of times, but we had to try. Spells at the throttle whilst the other E.R.A's were off doing some other essential tasks. Blowing down boilers to get rid of the deposits left by the salt water, and so to keep them priming, inspecting the damaged bulkhead and re-plugging the holes as required. There was so much to do and not many of us on our feet to do it.

We brought the ship into Harwich at about 1800hrs on the 13th and put her alongside at Parkeston Quay where the base staff immediately put salvage pumps aboard as we proceeded to shut down. They worked on tidying away the damage and getting her reasonably seaworthy for us to take to dock, meanwhile we were able to rest and reflect on what had overtaken us. Our casualties were high, we had lost 27 killed or died of their wounds on our way in, 46 seriously injures and 24 slightly wounded. We buried our dead in the little churchyard at Shotley close to HMS

Ganges.

One poor lad had married whilst we were on the five day boiler clean leave. I quite distinctly heard his young wife say as his coffin was lowered into the grave, "He'll get cold down there". There she was, sweetheart, bride, and now widow all in about ten days, and possibly mother too before the war was over. The white poppy wearers say we old fellows glorify war on Remembrance Sunday. They have no idea, have they?

When the ship was ready, we took her into dry dock in London docks. The damage to her was so great that it meant that she would be there for some considerable time, so she was paid off and those not 'standing by' were returned to depot. We came into R.N.B. Pompey on the 18th February 1952. I think of

Worcester

with a great deal of affection. She was my first ship, and I definitely 'grew up' in her. When her story was published in the newspapers they called her "The ship that refused to die". A great deal of effort and dedication went into keeping her alive. In some ways I am sorry that I did not go back to her when she sailed again. But I may not have been quite so lucky next time round.

During our set to off Dunkirk, I was in the engine room with the Chief who told me to keep my eye on the water level of the drain tank. It had no practical use, because the watch keeper was doing it anyway. It was simply giving me something to do and to keep my mind off what was going on up top. When we were back in Dover, I was following him around as we were shutting down (part of learning process) he took me aside and said "You are not to worry about what has gone on today, when this is all over and you are back home, you'll tend to think only of the good times" for me that is largely true, but I often think of Mr Smillie and that young widow at Shotley in her distress. "Thanks Sid". I would not have dared to call him that way back in 1940 - 42.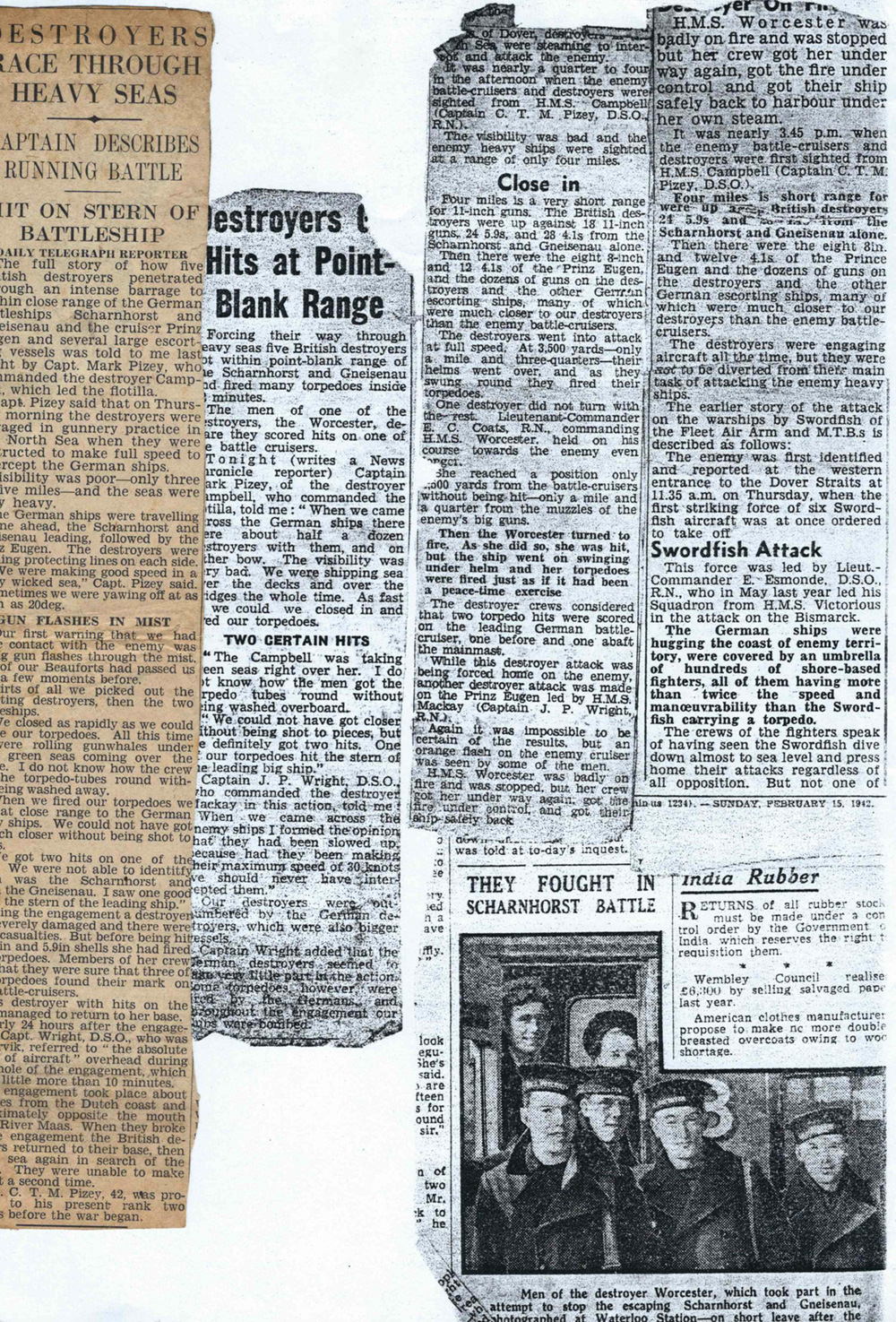 HMS

WORCESTER
Two anxious hours to contemplate bleak death
At thirty knots consuming cold grey seas.
Action Stations, duffel coats, tin hats —
Below a throbbing engine room reprise.
Junkers aircraft bombing from the clouds
Brought urgency, then "Enemy in Sight!"
The forward four point sevens bellowed out
Their challenge to the battlecruisers' might.
Tall shell-spouts cased her as she turned to fire
Torpedoes. As they leapt, cacophony
Erupted, brute bombardment wrenched apart
The bridge, chewed steel in vicious gluttony.
Five minutes' devastation. Sudden peace,
Uncanny, as she wallowed without power.
Miraculously the lower hull survived
But Gibson, Dow and Grant, and twenty more
Lay dead. Doc Jackson's needle eased the pain
Of others. Pom-poms warned the RAF away.
Bizarrely, Junkers' recognition flares
Confirmed the wild confusion that day.
So, vulnerable, rolling helplessly
She lay for seeming hours. Then nervous ears
Rejoiced at turning screws. By fits and starts
She staggered home, a frozen fifteen hours.
John (Bill) Wedge Sub. Lieut. RNVR

For more of Bill Wedge's wartime poems

see his blog





To view and read the Press Cuttings on left full size


double click on the image.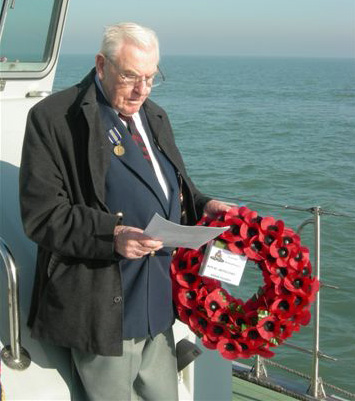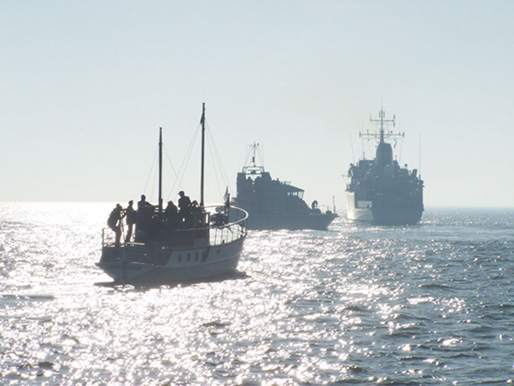 The ships assemble for the laying of the wreath on the anniversary of the Channel Dash
There was a memorial service to commemorate the 75th. anniversary of the Channel Dash on
Sunday February 12th. 2017 at the 825 Squadron Memorial, Ramsgate
. Rear Admiral Keith Blount (Fleet Air Arm) attended as did representatives of 825 Squadron, 72 Squadron RAF and civic dignitaries. There was a flypast by Wildcat helicopters of 825 Squadron and Tucarnos of 72 Squadron. Vic Green represented HMS

Worcester

and the V & W Destroyer Association.


If you have stories or photographs of HMS Worcester you would like to contribute to the web site please contact Vic Green
---
Return to the Home Page for HMS Worcester

Return to the Home Page of the V & W Destroyer Association
Return to the Index Page for the 69 V & W Class Destroyers
---