---

Dunkirk

The V & W Class destroyers played a vital part in evacuating the troops of the British Expeditionary Force (BEF) from the beaches to the east of Dunkirk and from the North Mole, the breakwater of concrete piles at the entrance to Dunkirk harbour.
Cdr. John Hamilton Allison, RN (below left) was the CO of HMS

Worcester

during the evacuation of the troops from Dunkirk. He aquired the nickname "Crash" Allison during his service with the Fleet Air Arm.


A PDF of Cdr J.H Allison's Report of Proceedings (ADM 199/786) for the six trips to the beaches and East Mole at Dunkirk is attached.
A PDF of the Medical Organisation and the names of those injured and killed has also been added followed by the Recommendations for Decorations.
The officers listed in the issue of the quarterly issue of th Naval List when Cdr Allison was the CO of HMS

Worcester

durong the evacuation of troops from Dunkirk:




Surg Lt F Whitwell RNVR joined HMS

Worcester

on 6 May in time to cope with the wounded
Six men died including Sub Lt Humpreys who had only joined

Worcester

on the 20 April and died from his wounds on 2 June 1940
Wt Engineer Smillie was also killed at Dunkirk - as described by "Lofty" Childs below


Vic Green describes below the part played by HMS

Worcester

, the V & W in which his father later served.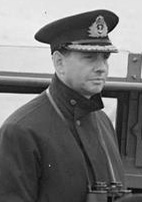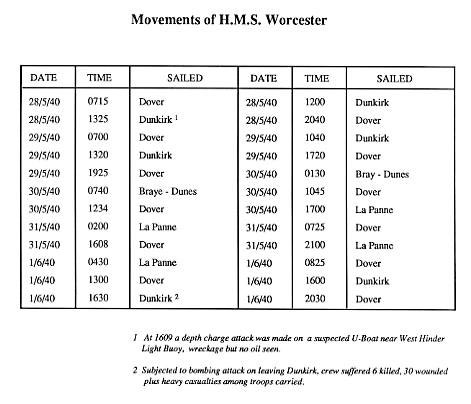 Following an extensive refit

Worcester

recommissioned on May 8th. 1940 and after working up at Portland took up her duties with the 11th. Destroyer Flotilla in the Western Approaches. When some 120 miles north of Lands End she received a signal to proceed to Dover where she arrived at 07.15 on May 28th. and immediately set off for Dunkirk albeit at reduced speed owing to a lack of fuel. Arriving at Dunkirk she took 509 troops on board and attempted to refuel from HMS

Anthony

but could only get 10 tons so the return journey was made at a more economical speed (18 knots). A possible submarine was detected near West Hinder so a pattern of depth charges was dropped resulting in wreckage but no oil.

After unloading her passengers and refuelling it was back to Dunkirk to load 800 troops during a heavy bombing attack;

Worcester

escaped unscathed but HMS

Grenade

was sunk.

Worcester

returned to Dover, unloaded and set off again, this time to Bray beaches to embark troops from small boats, a slow process during which German aircraft approached but were driven off by the ship's guns. Back to Dover to unload and collect Rear Admiral Dover and his staff and ferry them across before collecting 800 troops from boats at La Panne and Bray beaches. On her return journey at low water

Worcester

rounded a buoy in Dunkirk Roads a bit too close and went aground for a while before being refloated. Back at Dover she unloaded, refuelled, had her propellers examined by divers and then set off for the beaches again, reaching them at dusk on May 31st. The mole at Dunkirk was full and Worcester visited each of the beaches in turn. The minesweepers with their shallow draught were able to get closer inshore and the small boats took the troops to them instead of

Worcester

. When dawn came shore batteries began to fire at her so she moved to the East Pier which by now was less congested, embarked 750 troops and returned to Dover.

The next journey almost ended in disaster. On approaching Dunkirk she had to weave around wrecks and pick up survivors from sunk transports. A signal was received instructing them to return to Dover immediately but Cdr. Allison thought that having got this close it wasn't worth going back empty handed so took the ship into Dunkirk, berthed at the East Pier and took 900 troops aboard before obeying his instructions and setting off to Dover. En route the ship was attacked by successive waves of dive bombers and as the attacks were pressed home down to a couple of hundred feet it seemed that only a miracle prevented the ship from being sunk. The raids resulted in 46 dead and 180 injured and splinter holes all over the ship; oil tanks were ruptured, electrical circuits disrupted (including the gyro compass). Holes in the oil tanks allowed water to enter the tanks,

Worcester

lost steam and her engines stopped near the Goodwin Sands. A tug was sent to tow her in but hard work by the engineers got her going again and she continued to Dover. The damage done to engines, rudder and propellers made manoeuvering to enter the inner harbour difficult and

Worcester

collided with the ferry

Maid of Orleans

suffering further damage which put an end to her part in the evacuation from Dunkirk. On securing

Worcester

alongside Commander Allison was heard to remark 'Well, that finishes me with this ship!'


Before the last trip Cdr. Allion ordered the stores to be opened, nutty (chocolate), cigarettes etc. were available on a help yourself basis; as the opposition got worse on each trip they didn't expect to return.
Worceste

r made six trips to Dunkirk and brought back 4,350 troops, expended 266 rounds of 4.7" ammunition, 360 rounds pom-pom and over 10,000 rounds .303. The majority of the dead and injured were army personnel, the ship's crew lost 6 dead and suffered 40 injured. After patching up

Worcester

went to Tilbury for repairs.




Lofty Childs, Doug Jordan and Harry Phillips shared these memories of Dunkirk with Vic Green
Harry Philips and "Lofty" Childs hve been identified in the photo of the ship's Company taken while

Worcester

was under repair after Dunkirk, Can you identify others?


Lofty Childs

- Mr. Smillie (C. Eng,) was standing on the ladder leading from the engine room, I picked up his cap which had been blown off and returned it to him saying ' Here you are sir,' only to find that shrapnel had taken off the back of his head.
Harry Phillips

– After the fifth trip Cdr. Allison considered enough was enough, Lt. Woods pointed out that there were a hell of a lot of men still left there so Cdr. Allison changed his mind.
Doug Jordan

– Once alongside at Dover we rigged secondary lighting to remove the dead and injured and were then marched to Dover Castle for the night, we had beds but no mattresses but we slept like logs. One A.B. fell asleep still wearing his tin hat and ended up with a stiff neck in the morning.
"Barny" Barnett

– On one of the return trips we came across a small boat making its way back with a load of soldiers, as we came up it was being machine gunned by German planes so we joined in with our guns and drove them off. The boat was called

Sundowner

, owned and skippered by Mr. Charles H. Lightoller who was one of the surviving officers from the

Titanic

. Last time I was in Ramsgate I was delighted to see

Sundowner

berthed in the harbour there.

An Engine Room Artificer's
Memories of Dunkirk

Harold "Barney" Barnett E.R.A.


I joined

Worcester

in Sheerness dockyard on 24 April 1940. She was at the end of a fairly extensive refit. The Engineer Officer was Mr Smillie, commissioned Warrant Officer, the C.E.R.A. was Sid Silkins, and the watch keeping E.R.A's (Engine Room Artificers) were in order of seniority Ron Brenton, Bill Peters, and George Angus I came bottom of the pile, supernumerary 5th. Our skipper was commander Allison.

I had a lot to learn, and was given a large book and a 'Pussers' notebook and sent off to trace the source of oil and water, main and auxiliary steam, pumping and flooding systems, identify valves, the bits of the machinery and their valves in the engine room and boiler room. Then after spending all day crawling through bilges and under deck heads of the machinery spaces, I was told to find a quiet corner in the mess to make fair sketches and write details of my days work. This was presented to the Chief and the Engineer the next morning, who both questioned me closely to make certain that I had learnt something, before sending me off to clamber over or under something else. Hard men to please, but looking back they were fair, and making sure that I had learnt my trade thoroughly, and become a good member of, what was, in the end, a good team.

The refit complete, we were soon at sea, what we were doing, or who we belonged to I had no idea. I do remember going into Portsmouth and then steaming over to Le Havre for some reason, then back to Portland. May 27/28th we were steaming down the western end of the English Channel when we increased speed, steaming East through the night, we were off Dover early in the morning. And were ordered straight to Dunkirk. We were berthed alongside another V&W who's name I cannot recall at the extreme end of the Western Mole, we immediately started to embark troops and, at the same time transfer oil from our neighbour, it seems that we were running pretty low after our fast run up the Channel. I seem to remember it was very noisy, but troops continued to come aboard in an orderly fashion. How long it took I know not, but we were back in Dover harbour with over 500 troops at 2000 hrs.


Time meant very little during the next five days, we were back and forth, Dover - Dunkirk, picking up troops and survivo
Stories told by the "pongos" (troops) brought home by HMS
Worcester
Lance Corporal Pethord
was one of the men in the 8th Batallion of the Worcestershire Regiment picked up from the beaches at Dunkirk by a boat from HMS

Worcester

and brought to Dover by

Worcester

and - since he came from Worcester - "felt quite at home". The Worcestershire Regiment Museum provided first hand accounts of their rescue which can be read as a PDF by clicking on this link. In March 1942 the cathedral city of Worcester on th River Severn adopted HMS

Worcester

after a successful Warships Week fund raising campaign.
"Belt, Boots and Spurs"
- Jonathan Raban on his father's flight to Dunkirk
Peter Raban was born in Worcestershire and joined the Royal Artillery 67th Field Regiment, Territorial Army, in the summer of 1939.
"The war rescued my father, Peter Raban, from his first job as a probationary teacher in the West Midlands and restored him to his proper station as an officer and a gentleman".


His son Jonathan described his father's "flight to Dunkirk" in the

London Review of Books

on the 15 October 2017. Most of his Regiment escaped from Dunkirk aboard HMS

Worcester

on 1 June but Second Lieutenant J.P.C.P. Raban RA (TA) got away on HMS E

sk:
"Bad weather on 30 and 31 May had largely grounded the Luftwaffe, but 1 June was a day of clear blue skies and an air raid had just started when the truck arrived in the already bombed-out city. A Troop immediately took shelter in a basement. The remainder of the regiment were already on the beach, from where they would eventually be rescued by HMS

Worcester

.
My father and his troop were extraordinarily lucky, at least in his own savagely abbreviated notes. As soon as the Luftwaffe raid was over, they were ordered to move at the double to a destroyer at the end of the narrow eastern breakwater (or mole). HMS

Esk

was about to cast off to answer a mayday call from a requisitioned passenger ship, the

Scotia

, which had been bombed in the raid and was sinking fast near No. 6 buoy with around two thousand French soldiers aboard. Since the

Esk

had only just arrived in Dunkirk during the raid, A Troop may have been the first and last British soldiers to embark on her.
The

Esk

, after rescuing close to a thousand French troops from the

Scotia

, with HMS

Worcester

assisting (though she was badly bombed, and several soldiers on the

Worcester

's open deck were killed or injured), sailed, unmolested by the Luftwaffe, to Dover, from where my father caught the train to Victoria Station."

HIs well researched and vividly told account is well worth reading in full.
A Pongo's story
Gunner S.T.Kester,

Sitting at home one evening the telephone rang and a voice said I've been waiting over 55 years to say this "Thank you for saving my life" Blimey I thought, I'm a hero, but whose life had I saved? He went on "You won't know me, but I was a 'Pongo'. You took me off the beaches at Dunkirk". Now, I was too young to have been at Dunkirk, it was the crew of HMS

Worcester

he wished to thank. He was replying to an advert that I placed for V&W shipmates to contact me. This is his story:-


"The first time I saw HMS

Worcester

was on the evening of the 30 May 1940 off the beach at La Panne. We had been holding the line at Nieuport for two days as makeshift infantry until relieved by the Royal Fusiliers. We were told to make our way to La Panne where the Navy would pick us up. We got there in the early hours of the morning. During the day an assortment of ships were picking up troops, but we did not get lucky until HMS

Worcester

appeared.
They sent us out in small boats and we had to board via a rope ladder, it was a job for me as I had been wounded in my right arm and shoulder. Progress up that ladder was very slow, when I got near the top a sailor looked over and said "Come on mate, your holding the cinema queue up." Then he saw the reason and leant over the side and grabbed my webbing braces and lifted me bodily on to the deck. He then said to me "Walking wounded in the stern, you can sit down there." I then asked him if that was the back end of the boat. I cannot put in to print his comment.
We sailed at 2200 hrs but not before a German bomber came over, it was pitch dark, but it was that low we could see the outline of the plane. By this time there must have been over 600 troops on board, but there was complete silence, until one of the Oerlikons opened up. I believe it was the Captain who made the comments which followed. In plain English it was "Why don't you send him a postcard and tell him we are here." In actual fact I have never heard so many swear words put in to one short sentence. I think it must have even frightened the German because he did not come back.
I got talking to one of the gun crew, an old sweat, and I got a quick history of the ship, including the fact that she had won the destroyer trials in the 1930s. He was very proud of her. I dropped off to sleep, when I awoke there was a sailor swinging the lead and calling the depth up to the bridge. The ship was first going forward and then astern, after repeating this operation several times we then shot forward and picked up speed. I asked the gunner what had happened. He told me that we had run aground on a sand bank, I made a remark about bad driving, he then said "You missed the fun." A German torpedo boat fired two torpedoes at us and in taking evasive action we had run aground.
As dawn broke we were going at full speed, my friend the gunner came along with a steaming mug which he gave to me, it looked like cocoa, but it was thick and the spoon was 'standing to attention', and it smelt like rum, I think he called it "Pussers Kye." Whatever it was it was a great drink.
We entered Dover at about 0730 on the 31st May, as we went into the harbour every destroyer there sounded their sirens, when they finished the

Worcester

replied. I was nineteen years old at the time, but even now if I hear those sirens it sends a shiver down my spine.
As I went down the gangway I looked for my sailor pal, but none of the ships company were to be seen, so I could not thank anybody for bringing me home - I did thank the ship. I do know that the next day

Worcester

was dive bombed and suffered a lot of casualties. Later when I read of the German capital ships and the 'Channel Dash' I felt a great sense of pride when I learnt that

Worcester

had played a brave part in the action.
Just before the Normandy invasion we had some nineteen year olds posted to the Regiment. One day one of them said to me, "You were at Dunkirk, how did you get home?" I simply said to him, "La Panne to Dover via

Worcester

". I think that he is till trying to work that one out.
In closing this story I would like to quote a drill sergeant I had when I first joined the army in 1938. When the squad did not perform to his liking he would say, "When I look at you lot, I say to myself, thank God we have got a Navy". I said those words to myself in 1940. In defeat most of us have reached an all time low, we felt let down by our own Generals, the French, the Belgians and most of all the RAF (at that time). What we did not question was the statement that the Navy will pick you up. I think that the

Worcester

was one of the finest ships ever to fly the White Ensign. (All of us who served in the V&Ws feel the same about our own ship). I know I have gone on a bit, but it has been in me for the past 57 years waiting to come out."
Gunner S.T.Kester,
R.H.Q 53rd Medium Reg't Royal Artillery.

If you have stories or photographs of HMS Worcester you would like to contribute to the web site please contact Vic Green
---
Return to the Home Page for HMS Worcester

Return to the Home Page of the V & W Destroyer Association
Return to the Index Page for the 69 V & W Class Destroyers
---