---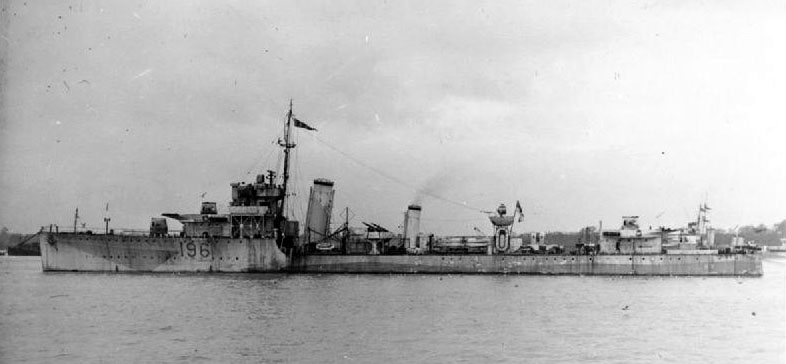 photograph from Wikipedia
Click on the links within this brief outline for first hand accounts by the men who served on HMS
Worcester
and for a more detailed chronolgy see
www.naval-history.net


The modified W class destroyer

Worcester

was built by J. Samuel White at Cowes, launched on October 24th. 1919 and then towed across to Portsmouth Dockyard for completion. She was commissioned on September 20th. 1922, the last but one of the class to be put into service. In 1924 she was part of the 4th. Destroyer Flotilla, Mediterranean Fleet and apart from a brief spell in China she spent most of the interwar years in the Med. She was extensively refitted from 1938 onwards before recommissioning in 1940 in time to take part in the evacuation from Dunkirk during which she was damaged. After repairs she went to Harwich and served most of the war escorting East Coast convoys with the odd trip north covering Arctic convoys.

She was severely damaged during the Channel Dash action of the German battleships

Scharnhorst, Gneisenau

and

Prinz Eugen

on 12 February 1942 and was undergoing repairs in the naval dockyard when

she was adopted by the City of Worcester

after a successful Warships Week "National Savings Programme" from 7 - 14 March. After a lengthy period in dockyard hands she returned to the North Sea and convoy escort duties. In December 1943 she struck a mine but refused to sink, was towed round to Sheerness but was not considered worth repairing and was taken to London as an accommodation ship and source of spares for her sisters. She was renamed

Yeoman

in June 1945 probably to release the name

Worcester

for use on a new destroyer and finally scrapped at Grays in February 1947.
Commanding Officers
Lt Cdr James Abernethy McCoy RN (Dec 1931 – July 1932)
Cdr. John Hamilton Allison, RN (March - June 1940)
Lt.Cdr. Ernest Colin Coats, RN (June 1940 - July 1942)
Lt.Cdr. William Anthony Juniper, RN (July 1942 - Feb 1943)
Lt. John Anthony Hodnot Hamer, RN (Feb 1943 - Feb 1944)

Officers
This short list of officers known to have served on HMS Worcester during World War II, further names will be added later. The links are to entries on the unithistories.com web site.
Former Full Members of the V & W Destroyer Assoociation
H. Barnett (Portsmouth), R. Barton (London), H. Does (Salisbury, Wilts), H. Davis (Caldicot, Gwent), A.W. Eaton (Nottingham), Vic Green (Cheltenham, Glos.), Hardman (Haslemere (Surrey), J. Henley (Witham, Essex), Norman Hollis (Wrexham, Clwyd),
Dr David Jackson (Brisbane, Australia), R. Madden (Kings Lynn, Norfolk), J.F.N. "Bill" Wedge (Carshalton, Surrey), D. Williams (Troon, Ayrshire)


The Training Ship of the Sea Cadet Unit at Worcester is TS
Worcester
When the V & W Destroyer Association was dissolved in April 2017 its funds were distributed to the eight Sea Cadet Units with Training Ships named after a V & W Class destroyer
Please get in touch if you have a family member who served in HMS Worcester



This web site about HMS
Worcester
is researched and edited by
Vic Green, Hon Secretary of the V & W Destroyer Association

Vic's father, who had the same name as his son, was a wireman in the torpedo branch on HMS

Worceste

r from 1940-2 and this inspired his son to spend several years researching her history:


"At that time electrical supply aboard ships was dealt with by the Torpedo branch, they covered all the low power circuits such as telephones, gunnery torpedo and depth charge circuits, supplies to radio and so on. Dad was rated as Wireman and his action station generally alternated between the rear of the bridge and aft at the torpedo tubes. During the Channel Dash he was on the bridge, his opposite number was on the tubes, had it been the other way round I would not be here now!"
*****
The name "Worcester" was first carried by a 48 gun warship as part of Cromwell's Navy of the Commonwealth in 1650; the name was continued in 1698, 1735, 1769, 1820, 1876 and finally 1918. The third Worcester had the distinction of having a certain Horatio Nelson as Acting Fourth Lieutenant; he joined on October 1st. 1776 and spent 6 months aboard before leaving having passed the examination for Lieutenant and no doubt looking for greater glory!

The fifth and sixth

Worcesters

give rise to confusion since they were both training ships established to train boys for a career in the Merchant Navy. The Admiralty granted permission for them to use the HMS prefix but they did not fly the white ensign, they carried the defaced blue ensign to show their honorary Royal Naval Reserve status, all very well for them but sadly Google can't tell the difference so an internet search will throw up thousands of irrelevant sites.

The V & W

Worcester

was ordered from J. Samuel White shipbuilders on March 20th 1918 as one of 44 Torpedo Boat Destroyers and Leaders most of which were cancelled when the Armistice of November 11th. 1918 was declared.

Worcester,

however, survived this first hurdle and in August 1919 J. Samuel White were instructed, "Work of dismantling

Wrangler

&

Werewolf

may be proceeded with at once, also work necessary to launch

Worcester

", which finally took place on October 24th 1919 after which she was to be towed to Portsmouth Dockyard for completion. Fairfield Shipyard in Glasgow were instructed to send the machinery they had made for HMS

Wave

to Portsmouth to be fitted aboard

Worcester

. It must have fitted because in September 1922 the full power trials took place and presumably the engines were satisfactory since the report is mostly concerned with excessive vibration of the cupboards in the galley. Gunnery trials took place later in the month and the ship was formally commissioned on 16 November 16 1922 with the crew from HMS

Vampire.



Her first commission was with the 1st. Destroyer Flotilla, Home Fleet, when she was sent to Ireland to support the Irish Free State Government though it was never clear what support a destroyer could give. This was followed by a period at Gallipoli to curtail the activities of Mustapha Kummel though again how this was to be achieved was a mystery to the crew (and remains a mystery to researchers.)



Worcester

spent most of the interwar years as part of the Mediterranean Fleet. This was a time of cutbacks when most orders were prefaced by W.U.E (With Utmost Economy) and destroyers went in and out of reserve on a rotation basis which at least meant that they all received a certain amount of maintainance. 1936 saw the hard up Admiralty swopping some destroyers for a liner to be used as a training ship, with her customary talent for survival

Worcester

avoided that fate.

As the war clouds began to loom training became ever more important and on 16 February 1937 some of the destroyers were at sea off Malta practising torpedo attacks with the cruiser

Galatea

as their target. The log entries are a masterpiece of brevity:


HMS

Active

11.18 collided with

Worcester
11.19 collided with

Antelope
HMS

Antelope

11.21 in collision with

Active
HMS

Worcester

11.20 in collision with

Active
11.21

Active

in collision with

Antelope

And by 7 o'clock that night

Worcester

and

Active

had discharged fuel and ammunition and were tucked up in No. 3 dock at Malta.

By the end of 1937

Worcester

was back in U.K. waters as part of the Portsmouth Local Flotilla for Gunnery School duties before paying off into dockyard control at Chatham for a lengthy refit. She recommissioned as part of the 11th. Destroyer Flotilla, Western Approaches on May 9th. 1940 with Cdr. J.H. Allinson in command and Lt. F.G. Woods as First Lt. Lt. Woods was one of the four who escaped from the submarine

Thetis

when she went down in Liverpool Bay in June 1939. Many people blamed him (unjustly in my view) for the catastrophe which cost 99 lives and as a result the other officers sent him to Coventry so orders had to be passed to him via a signalman, not a pleasant position to be in.

May 25th. 1940 saw

Worcester

some 120 miles north of Lands End when she received orders to proceed to Dover, the evacuation from Dunkirk was about to begin.


The Wardroom and Ship's Company of HMS

Worcester

after Dunkirk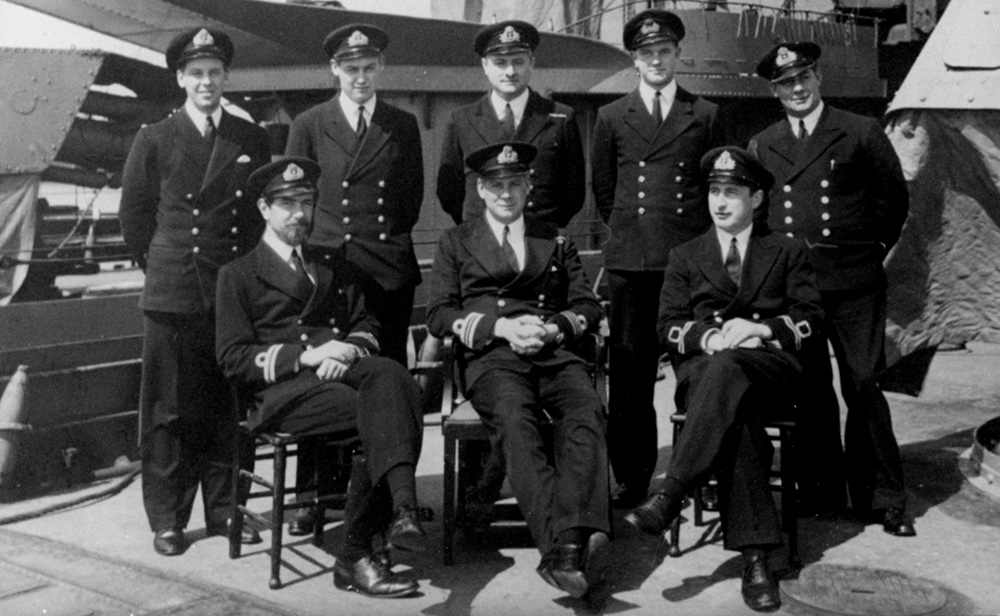 This photograph of the new CO, "Dreamy" Coats, and his officers

was taken in Poplar Dock, London, while she was undergoing repairs after Dunkirk
Back row left to right: Sub. Lt. Dennis Williams RNVR, Sub.Lt. Ronald Hardman RNR, C.Eng. Hugh Griffiths RN, Lt. F.W.L. Winterbottom RN, Gunner (T) L.G. Wellman
Seated left to right: Lt. F.G. Woods RN, Lt.Cdr. E.C. Coats RN, Lt. Morgan RNVR


Courtesy of Vic Green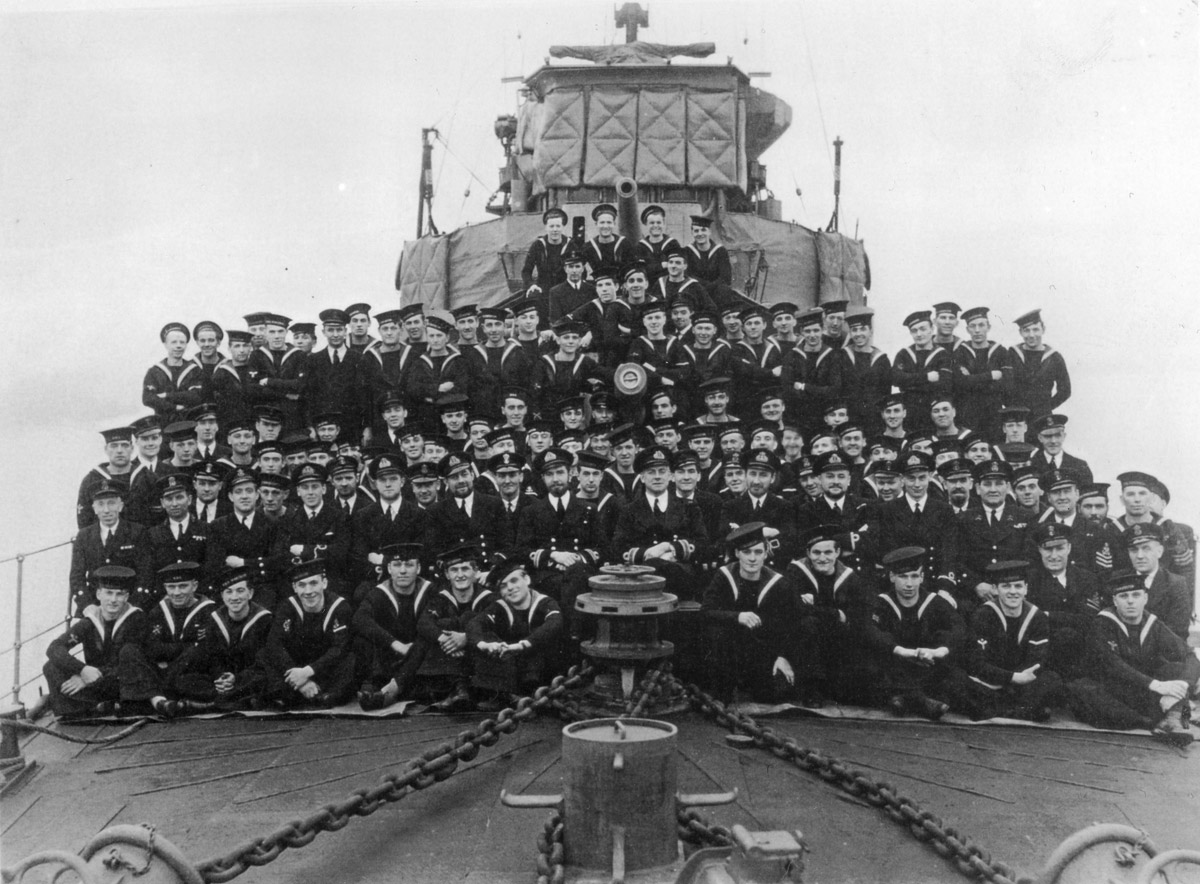 This photograph of the Ship's Company of HMS

Worcester

was taken in Poplar Dock, London, while she was undergoing repairs after the Dunkirk evacuation
The officers can be easily identified by comparison with the photograph above but only three ratings have been identified so far - it is hoped that further names can be added later
Lofty Childs and Tom King are third and second from the end of the long row top right and Harry Philips is sitting crosslegged to the left of the capstan


Courtesy of Vic Green
Bill Wedge was the last officer alive who took part in the Channel Dash when he died aged 98 on the 7th January 2020
Bill wrote this informal account of his fellow officers in the Wardroom of HMS

Worcester

:


"Much has been written about service in the V and Ws, and 'Hard Lying' very successfully covers almost every aspect except perhaps life in the wardroom, which I joined in

Worcester

in May 1941 as a very green midshipman after service as the telegraphist in a magnetic-minesweeper, HM Trawler

Norse

, based in the Thames estuary. Wardroom was a term used to describe the officers as a group as well as the actual room.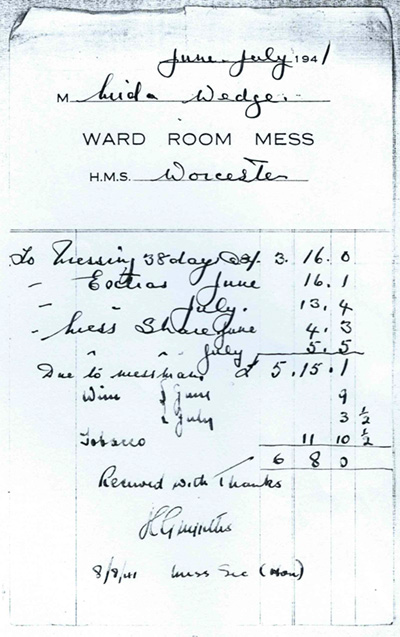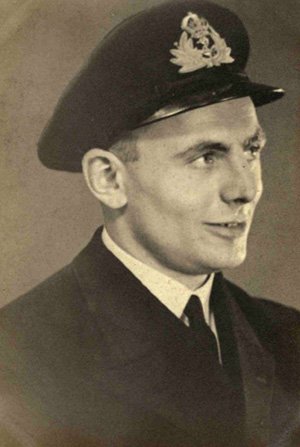 The wardroom was overseen by the First Lieutenant. The catering was run by a Petty Officer steward and the three shillings a day messing item on my bill from 1941 (on right) must have been paid to him to enhance the basic food allowance. The steward reported to the Mess Secretary and the signature on the Mess Bill is that of the Commissioned Engineer, Hugh Griffiths, who was awarded the DSC for getting us home safely after the Channel Dash action. He kept the accounts, issued the monthly bills and bought the duty-free drinks and cigarettes from a firm called Saccone and Speed whose representatives had access to HM Ships.

Officers and men were also entitled to buy cheaply monthly tins of cigarettes or pipe tobacco supplied by the Navy. Pipe smokers could instead take bunches of tobacco leaves which were placed on a piece of cloth, sprinkled with rum from someones ration and bound very tightly with thin rope. After some weeks this produced a hard block of tobacco from which were shaved pipe fillings which were very strong and, to me, a very unattractive smoke.

The captain had his own cabin in which he ate alone and only came into the wardroom if invited. On the other hand he would occasionally ask officers to join him, in my case to play chess, rather unwillingly.
The other officers ate and spent much of their spare time in the wardroom, where there was a gramophone fed by members' own records. Probably deliberately to encourage physical activity the First Lieutenant would sometimes initiate a "rough house" - some sort of game involving wrestling.
Executive officers never drank at sea, though the ship's company still had their rum, so almost as soon as we were back in harbour we were likely to send or receive a signal "RPC " - Request the Pleasure of your Company [for a lunch time drink]. The reply was "WMP", With Much Pleasure [or occasionally "MRU", Much Regret Unable. Those free to accept almost always drank gin and Rose's lime juice which cost the mess twopence a time. Whisky was three pence, and few risked the unpopularity of asking for a sixpence-a-glass beer. Wren officers were, of course sometimes entertained and, rather surpisingly, non commissioned officers and I married a Plymouth boats' crew member. I think the cost of mess entertainment was shared equally between the members of the Mess.
Runs ashore for the then youthful, non-drinking virtuous me, at base at Dovercourt, were for a cinema visit, a café or a little shopping.
Away from the social side, each officer was responsible for a part-of-ship and its men [forecastle, quarterdeck etc.] but the First Lieutenant was responsible for the daily allocation of work, among other things. Wardroom members were allowed the services of a volunteer seaman to do their dhobeying, polish shoes, bring hot water to cabin washstands, etc. He also filled the wardroom bath as required - this was in the ship's office and had a wooden cover which served as the desk top. The office was my responsibility and moistened papers were not unknown.


Pen portraits of my fellow officers, 1941-2
Lt Cdr E. Colin Coats RN


Had served in first war. Greying rather curly hair, reddish complexion. Light blue eyes. Wife Swedish. Two children - girls, I think. He often had a pleasant half smile, but was rather taciturn and difficult to know. Was certainly keen to get into action and during my time with him collected a Mention in Despatches, a DSC and a DSO. At sea he rarely left the bridge, where he sat, muffled in a heavy woollen jersey, seaboot stockings, an old reefer jacket and duffel coat. He drank gin, of course and liked Wrens [didn't we all?] He had been called back as a reservist, having been into some sort of antique dealing, which he probably continued after the war. Lived in Kensington.


Lt. Morgan RNVR


First Lieutenant. Broke fingers in collapsed deckchair very soon after I joined, April /May 1941.




Lt Anthony R Taudevin RNVR


First Lieutenant, bearded, dark haired. Hard-working, efficient. Popular. Was, I think, In some sort of market gardening in Cheshire.




Sub Lt. Dennis Williams RNVR


Glaswegian. Left soon after I joined. Amusing, cheerful, rather raffish. Grew hair rather longer than most and had a certain style. Survived the war though wounded in Malta.



Sub Lit. Ronald Hardman RNR


Left soon after I joined. Was taught in the

Conway

, a Merchant Navy training ship. A cheerful and able man, survived the war and worked in the city.



Lt. F.W.L. Winterbottom RN


Tall, good looking. Typical RN young officer Efficient, friendly. Volunteered for submarine service and was killed in one.



Surg. Lt. David C. Jackson RNVR


An Australian , always keen to point out that he was not RANVR having joined the British Navy after gaining paediatric experience in London. Average build, dark hair, slim. Good company. Became absorbed in "Worcester" history. Wrote an article about the Channel Dash for

Blackwoods

magazine and later published a book, "One Ship One Company" about the seven

Worcesters

, 1650-1950. Following the channel action he worked in HMS Dolphin on the development of midget submarines and human torpedoes. After the war he returned home to Brisbane where he practised as a consultant paediatrician and was president of the Australian College of Paediaterics. He was made a member of the Australian Order (AM) for his services to medicine.



Sub Lt. Guy D. Agard-Butler RN


Slim, dark haired, good looking, charming. Believed to be a vicar's son. Switched to Fleet Air Arm and was killed flying from Gibraltar.



Commissioned Engineer Hugh Griffiths RN


Tall, well-built, greying hair. Very sound, pleasant man who won a DSC for bringing

Worcester

back from the channel.



Gunner [T] L.G.C. Wellman


Average build, sturdy, dark haired. Responsible for torpedoes and 12 pounder gun. Pleasant but a little reserved.



Sub Lt. W. Bowmer RNVR


Joined just before channel action. Was later killed in HMS

Martin

off North Africa.

Bill Wedge was the last survivng officer in HMS

Worcester

when she took part in the Channel Dash on 12 February 1942 and described his memory of that day on this website. He joined

Worceste

r in May 1941 and Sub Lt J.F.N. Wedge RNVR left while she was under repair after the Channel Dash. He served in HMS

Mistral

, an Air Target Ship for the FAA, from March to July 1942. After breaking his leg playing rugby he joined HMS

Iron Duke

, a depot ship at Scapa. In August 1943 he was sent to USA to join the newly built Captain Class frigate HMS

Garlies

, based on Belfast until June 1945. He joined HMS

Wheatland

in Plymouth and went into reserve with her at Saltash. In April 1946 rejoined Barclays Bank. Bill Wedge was 98 when he died at Carshalton on 7 January 2020.


Sub Lt John F.N. "Bill" Wedge, RNVR
was the last officer alive who took part in the
Channel Dash
when he died aged 98 on the 7th January 2020
For more about Bill Wedge's life read Ron Crompston's obituary of his father-in-law
With the Home Fleet in Iceland and
Escorting QP.14 from Arctic Russia in September 1942
H.L.T. Davis, Sick Berth Attendant (SBA)
Conditions on V & W Class destroyers were so bad in rough weather that the men who served on them were paid hard-lying money. This story wasa published in Hard Lying, the magazine of the V & W Destroyer Association and republished in 2005 by the Chairman of the Association, Clifford ("Stormy") Fairweather, in the book of the same name which is now out of print. It is reproduced here by kind permission of Clifford Fairweather but copyright remains with H.T. Davis who we would like to acknowledge more fully if his family gets in touch with Bill Forster or Vic Green.

HMS

Worcester

was in East India Dock, Poplar, London where she had been repaired after the 'Channel Dash'. On leaving Poplar Docks she headed for Scapa Flow for trials, etc. In August

Worcester

received orders to rendezvous with HM Ships

Ashanti, Victorious

and

Rodney

and escort them back to Scapa. During this voyage to rendezvous with them we sailed through the Minches in a howling gale, pitching, rolling, corkscrewing and hitting a milestone every inch of the way. Off the North West coast of Ireland, the sea was so rough that a member of the crew was washed overboard. Lifeboats were manned, but we were unable to rescue our shipmate.



Worcester

soon rendezvoused with her charges, it was then that the

Victorious

decided to do flying exercises. 'Curses!' -

Worcester

was detailed as 'Crash Boat'. Back to Scapa from where we carried out U-boat sweeps and patrols and then headed for Iceland with a passenger on board, a regulating P.O. (Crusher) bound for HMS

Norfolk

. Our crew were at day defence stations and this 'crusher' went round the ship shouting "Put that cigarette out". It was not long before he was missing. On the mess deck with his head over a bucket.

On arrival at Hafnarfjordhur while lying alongside the

Duke of York

, No. 2 Boiler flashed up and a pall of black smoke blew across her uperstructure.

Worcester

received a signal from the Admiral stating that if there was a repeat performance, the

Worcester

crew would have to scrub down the superstructure. A large number of the Home Fleet were also in the fjord, K

ing George the Fifth, Norfolk, Cumberland

, plus a number of destroyers.

The

Norfolk

challenged the

Worcester

to a game of darts. Three legs of 1001. A team was hurriedly recruited and went aboard the

Norfolk

. Our team beat them! Liberty men had a few hours in Reykjavik, made a few purchases and drunk a few bottles of beer. One per cent alcohol. Iceland was a prohibition country.

Worcester

left the fjord and dropped anchor in Seydhisfjordhur on the East Coast, to take on fresh food. All that came aboard were crates of tinned potatoes - two crates per mess. The contents of quite a number were rancid and there must have been a trail of tins from Seydhisfjordhur to Spitzbergen.



Worcester

rendevoused with two oil tankers and joined the 'Home Fleet' escorting the Russian Convoy QP14. This convoy was bringing home survivors of that disastrous convoy PQ17 and had sailed from Murmansk on 13 September. On the 20th the minesweeper

Leda

was torpedoed and sunk, later that day HMS S

omali

was also torpedoed, however, she did not sink immediately, and was taken in tow by HMS

Ashanti

but she broke in two during rough weather and sunk four days later. The

Worcester

was ordered to sink a merchantman whose bows and stern had been blown off, this vessel was carrying a cargo of timber which was preventing her from sinking, thus the

Worcester

had to sink her by gunfire. This ship was the

Grey Ranger

which had been torpedoed by U-435 which had penetrated the screen and sank two other ships on the 22nd September. On the 23rd a Liberator of Coastal Command found and sank the U-253. The convoy arrived at Loch Ewe on the 26th.

Next a signal was received saying that the enemy, in the shape of the

Von Hipper

was out from her Norwegian fjord. I thought 'Here we go again, if it is not the

Scharnhorst

and Co; It's the

Von Hipper

. December 1942

Worcester

, was in action again in the English Channel against two German supply ships, plus escorts. This was to be my last spell of action in the

Worcester

.

I left her in Pompey harbour. I was on a stretcher. A fine S.B.A. I turned out to be, knocked out in the first round. There was a rating who lived in the city of Worcester, he was severely wounded in, I believe, the right arm.
If you have stories or photographs of HMS Worcester you would like to contribute to the web site please contact Vic Green

Find out how you can help us research this ship and build this web site
---
Return to the Home Page of the V & W Destroyer Association
Return to the Index Page for the 69 V & W Class Destroyers
---