---
memories of my father
Lt. Cdr. Aymé Arthur Carrington Ouvry DSC, RN
by Jeremy Ouvry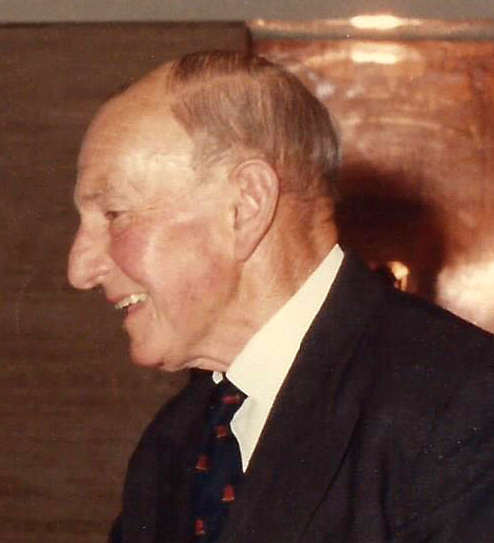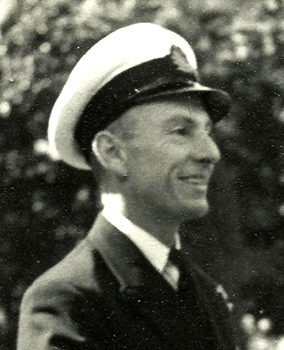 Lt.Cdr. Aymé Arthur Carrington Ouvry RN (1904-89) was CO from December 1939 to August 1942 and earned

Westminster

the title of "E-boat Killer No 1" after an action on 12 October 1941 in defence of Convoy FN.31. His son Jeremy Ourvry was five years old at the time and has written his memories of HMS
Westminster.

"My family is of French Huguenot extraction, silk weavers, so that it would not have been unusual to perpetuate the name Ayme or Aimee (I can't remember which is male and which female!) The name means Dearest or Beloved for which there seems to be no English equivalent but my father would have insisted from an early age to be known by his second name Arthur. I don't think my father was teased unduly – he was quite successful at Navy sport.

We have 2 trophies "Polo Gymkhana Scurry Gibralter 1930" and a very handsome cup "Commander in Chiefs Cup East Indies Squadron Sailing Race March 1933 presented by Vice Admiral M E Dunbar Nasmith VC CB won by Lieutenant A A C Ouvry HMS
E
merald
" which my dear wife now uses as a firm base for sundry floral displays from the garden. In Malta in the 1920's he was a member of Lord Mountbatten's polo team - you did not get invited to that role unless you were likely to contribute to Mountbatten's side winning! My father was an accomplished dancer so was always much involved with Naval social events. Happy days for a young Naval batchelor!"
Jeremy Ouvry

Arthur Ouvry in later life

.



Blown up!



In November 1939 my father had a miraculous escape being blown from his ship, HMS

Mastiff

. She sunk almost immediately after trying to recover, on Admiralty orders, a then unidentified acoustic mine in the Thames.


"We were actually stopped at the time weighing a buoy mooring so I had left the bridge and gone aft on the quarterdeck. There was a sudden thud - no real noise, and I found myself about halfway to heaven, somersaulting through the air and No 1 doing likewise. I don't remember going down again or hitting the water but, some way under I swam up and was pleasantly surprised to find I had reached the surface before my breath ran out and that I came up clear of the ship. When I looked round I found that I was over 50 yards clear so had made a not inconsiderable flight"

As he tried to swim back to the ship he felt that -


"as Captain I ought to have been the last, not the first to leave her. I could not make much headway however against wind and tide. The poor old ship was in a bad way - both masts gone - motor boat completely smashed - skiff entirely blown away and the stern already awash. The boiler had burst and was blowing off great clouds of steam with a continuous roar. She only lasted about 5 minutes and then heeled over and sank, but fortunately the majority left on board managed to get clear and get out the Carly raft".
"I was picked up after about 3/4 hour by which time I was most damnably cold but the next half hour in the boat picking up the others was infinitely worse. However, within half an hour of getting on board the other trawler, I was much recovered and, thanks to a tumbler of neat rum, really none the worse and have had no cold or anything. Only my left heel, off which I was precipitated is rather bruised, although an X ray shows all well and nothing broken. It is a very sad loss, as I was very fond of the ship and much regret the six good chaps who did not survive".

Five days later on the 23 November his first cousin,
Lt Cdr John Garnault Delahaize Ouvry RN
(1896-1993), defused one of these new mines which had been parachuted into the sea at Shoeburyness and was accessible at low tide. Arthur Ouvry read about the award of the DSO to his cousin and since they had the same rank and were often confused was congratulated on the award by his friends.


HMS

Westminster



In December 1939 my father was appointed to command HMS

Westminster

newly commissioned from reserve to duties in the North Sea based at Rosyth.
This list of the ships complement dated 16 June 1942 was found in his private papers after his death.
My parents were fortunate in being able to rent Benarty House on the south side of Benarty Hill in Fife. There we spent two and a half happy years as children often sharing the house with another family while fathers were away on Naval/Military duty.

In 1955 my father wrote an account of their time at Flushing (Vlissingen) on the Scheldt estuary and at Dunkirk in May 1940.

Westminster

had the misfortune to strike a submerged wreck while under the guidance of a local Dunkirk pilot, the damage requiring immediate repairs in the Dunkirk dry dock. The Germans were bombarding the docks and were expected any day to capture the town. The local dockers were reluctant to carry out repairs so my father sent an armed party ashore to requisition baulks of timber, cement, etc with which the ships company repaired the damage sufficiently for them to flood the dock themselves and escape back to Portsmouth. At about the same time HMS

Valentine

on which my father had served in earlier times was lost to enemy bombing off Dunkirk. But for the hole in her bottom

Westminster

might have suffered the same fate. I believe the temporary repairs proved sufficiently good for

Westminster

to go on to Devonport for major repairs.


My father was awarded the DSC for his part in defending Convoy FN.31 (see his RoP in ADM 199/31) against a determined attack by e-boats on the 12 Otober 1941. Lt Adrian H.G. Butler RNVR, Gnr Geoffrey J. Harrison and PO Herbert A. Peach also received awards for this action and

Westminster

came to be known as "E-Boat Killer No. 1".


In December 1941 when my father and half the officers were ashore the Press arrived to do an article on "Christmas Cheer". I remember "No 1" John Hamer as great fun who had no less than 2 small monkeys as mascots not included in the crew lists.
Lt John Anthony Hodnet Hamer RN
succeeded my Father as CO and was appointed CO of HMS

Worcester

later in the war.


Lt Cdr Bowerman RN
Lt.Cdr. Harold Godfrey Bowerman, DSC, RN
, a former submariner, succeeded John Hamer as CO and carried on with

Westminster

's successes escorting East Coast Convoys as can be seen by the list of decorations the ship's company earned during the war.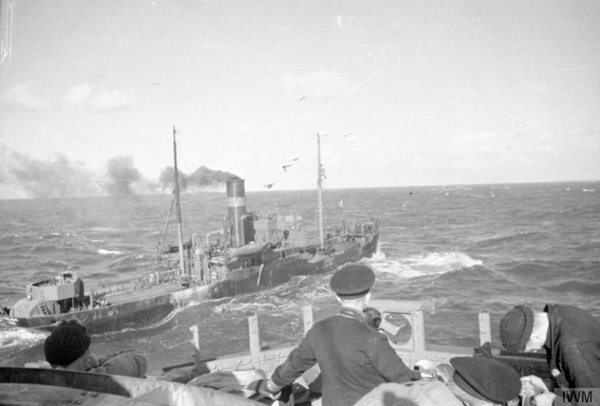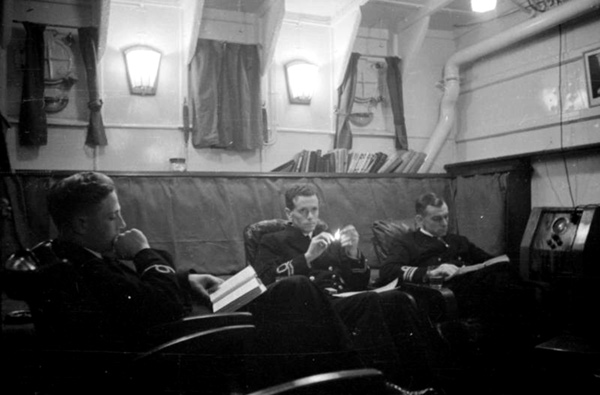 Lt Cd A.A. Ouvry RN on the bridge of HMS Westminster (left) and as a guest in the Wardroom (right)
IWM Non-Commerical Licence
I remember joining my father on

Westminster

's bridge as he took her from Rosyth to dry dock in Leith for a hull scrape and paint. Passing under the Forth rail bridge on a cool sunny early morning was a great treat. At the same time my father arranged for a sizeable number of the crew to help with the wheat harvest on Benarty's home farm. I can picture it still – a lovely sunny day – some crew building "stooks", others feeding the threshing machine driven by a large steam tractor. Many hands made light work but my memory is one of a lot of happy sailors enjoying the space and larking about on the wheat field.

Being the wife of a naval officer my mother had to be pretty frugal but we did enjoy the odd hare from the gamekeeper and milk, butter and eggs from the home farm. My mother made "waterproof" outdoor snow suits for myself and my sister out of salvaged barrage balloon material. Dressed overall in "silver" was very smart but the seams leaked horribly and an immediate change of clothes once back indoors was a must.

Given fears of a German invasion my father gave me rifle practice in the garden at Benarty but not very successfully. I was hard pressed to manage the weight of the rifle and couldn't close my left eye while aiming with my right. My father fashioned a bandage across my left eye with only marginal improvement. I did not actually fire any live rounds and I doubt whether any invading German would have been at risk.

On one occasion the King visited

Westminster

in Rosyth harbour. He remarked that the officers and men were looking tired - as a result of fairly incessant warfare? While convoy duty at that time was pretty incessant my father later admitted that they had been to a reception in Edinburgh the night before, On the way back to Rosyth they had found that the Queensferry had stopped running and had had to drive all the way round via the Kincardine bridge.


It would appear that the peacetime ship's complement was about one hundred. I have two crew lists which my father would have asked for with some notes of his on the lists. "This is the complement" is undated and may have been the original 1939 ship's company when commissioning from reserve. The second listing the number of men in each of the ten messes would seem to have been put together around the time of my father's handover. Given wartime complements of 150 – 160 living conditions aboard must have been very uncomfortable.
Posting to South Africa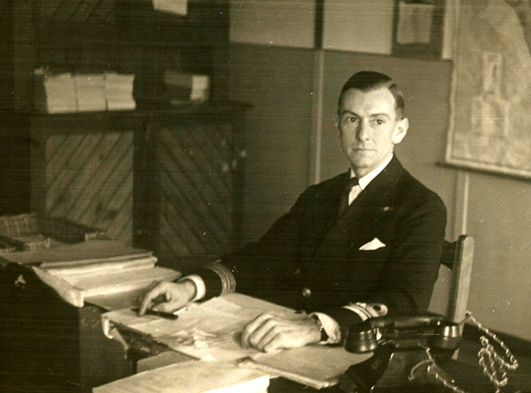 When after two and a half years in command during an intense period of the war in the North Sea my father was posted as liaison officer in Cape Town for all the South Africans serving with the Royal Navy (on right). The family accompanied him on the voyage from Liverpool in the former Blue Funnel passenger liner, Nestor:


"It was August/September 1942 when we sailed for Cape Town aboard the Blue Funnel passenger ship the

Nestor

leaving Liverpool in a convoy increased by further vessels from the Clyde. I believe we then proceeded to about half way across the Atlantic where the convoy split in two; half continuing to the USA and half turning south until a latitude with Gibraltar where all but ourselves turned east for the Med.
Alone we stopped at Freetown for food and fuel heading on for Cape Town. Shortly before Cape Town we sighted a German U Boat charging batteries on the surface ahead so we did a 180 and spent the rest of the day in Saldana Bay and shot down to Cape Town during darkness. I believe the whole trip took about 6 weeks."

Jeremy Ouvry

To his and my mother's great disappointment (she the daughter of a retired Surgeon Captain) my father was passed over for further promotion. I remember my mother telling me how angry First Lieutenant John Hamer was at the news. I think my father was rather more highly regarded by his ship's company than by the Admiralty's top brass. It is perhaps noteworthy that my father took over

Westminster

from reserve. Many of his crew had but recently joined up (hostilities only) and worked up very quickly to become a very effective fighting ship.

Some years later when my father had transferred to the small South African Navy he had been somewhat unimpressed with the efficiency of

Simon Van de Stel

which was senior to his ship

Bloemfontein.

However on one occasion when both ships were sailing from Durban to Cape Town the Captain of

Simon van de Stel

was not aboard and thus my father was senior officer afloat. He took this opportunity to exercise both ships continuously during the 3 day voyage. On arrival in Cape Town there were complaints from

Simon Van de Stel

that they had been over worked and my father thereafter was known as Manouvry. Meanwhile my mother taught herself viticulture and exported grapes to the UK while my sister and I grew up in the wonderful environment of South Africa.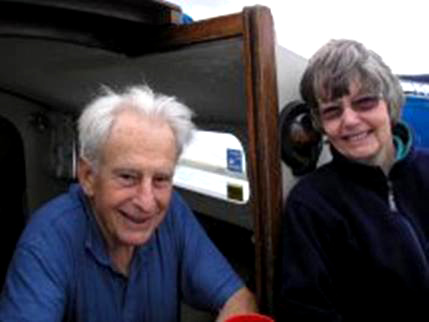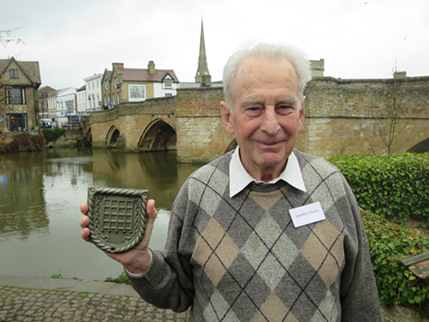 After seven slightly frustrating years with the South African Navy (the South African government were not pro Brit) all the family returned to UK where my father became a prep school master finishing at age 70 still teaching Divinity and Under 11 Cricket. In retirement he was, among other things, a member of Westerham Parish Council and a member of Crockham Hill PCC. In the former role he took a particular interest in footpaths following in his great Aunt Octavia Hill's footsteps slashing bracken to left and right with a sword said to have belonged to his Great Uncle Henry at the relief of Lucknow in 1858. When attending PCC meetings my father sometimes used expressions better attuned to a Naval environment. The Vicar would quickly move on to the next item on the agenda. (Prince Philip would have understood!)
Although I had been a keen Army and Sea Cadet who hoped to follow my father into the Navy it was not to be and I found myself on a cold February morning in 1954 in the Apprentice Training School in John Brown's Yard Clydebank. In 1934 my father had commissioned HMS
Halcyon
alongside the half completed
Queen Mary
. In 1954 over 12,000 men were building ships on several slipways. Today it is all gone. How things have changed in one's lifetime.

Jeremy Ouvry with his wife Sue on their 26 ft yacht,

Seadust

(left) and holding the crest of HMS

Westminster

at the V&W Destroyers Association's Reunion in St Ives, Camb, in 2016 (right)
If you want to find out more about the wartime service of a member of your family who served on HMS

Westminster

you should first obtain a copy of their service record
If you have stories or photographs of HMS Westminster you would like to contribute to the web site please contact Bill Forster

---
Return to the Home Page for HMS

Westminster
Return to the Home Page of the V & W Destroyer Association
Return to the Index Page for the 69 V & W Class Destroyers
---