---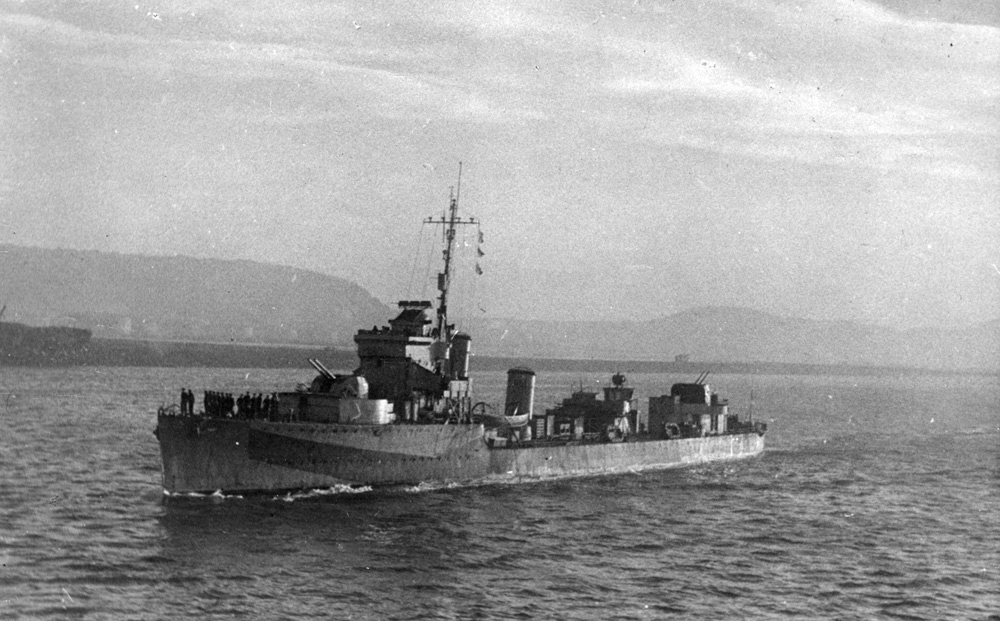 HMS

Westminster

as part of the Rosyth Escort Force in 1944

Photographed by Lt Cdr John E. Manners RN from HMS
Viceroy
Click on the links within this brief outline for first hand accounts by the men who served on HMS Westminster and for a more detailed chronolgy see www.naval-history.net

HMS Westminster was the first ship to bear this name and was built by Scotts at Greenock on the Clyde and completed on the 18 April 1918. She was present at the surrender of the German High Seas Fleet in November 1918. She was sent to the Baltic where she rescued the crew of the cruiser, HMS Cassandra, when she struck a mine in the Gulf of Finland on the 5 December 1918. The next day she collided with HMS Verulam in thick fog and needed extensive repairs. In 1921 she joined the 6th Flotilla, Atlantic Fleet, but was later put into Reserve.

Lt.Cdr. Aymé Arthur Carrington Ouvry RN (1904-89) was CO from December 1939 to August 1942 and this list of the ships complement was found by his son amongst his private papers. In 1939 she was converted to an AA Escort (a WAIR conversion) at the Devonport Dockyard and in January 1940 joined the east coast Escort Force at Rosyth upriver of Edinburgh. In April she transferred to Dover Command and assisted in the evacuation of Flushing in the Netherlands and then reinforced French AA defences at Dunkirk. She struck a submerged wreck at Dunkirk and was the last ship to be repaired before the evacuation and as a result took no part in the evacuation of troops from Dunkirk. Herbert Dyer, Asdic operator, joined Westminster at Portsmouth while she was being repaired after Dunkirk before she rejoined the Rosyth Escort Force and resumed escort duties along the east coast.
On the 12 October 1941 Westminster carried out attacks on E-Boats of 2nd German Flotilla with HM Destroyers Wolsey and Cotswold in defence of Convoy FN.31 off the Norfolk coast. An amusing photograph of Christmas dinner in the Wardroom in 1941 was taken for the "benefit of the "Great British Public". In December 1942 Midshipman Derek Tolfree RNR joined Westminster and his Journal provides a detailed factual account of events from the the 23 December 1942 to the 9 March 1944 backed up by an interview at the IWM which can be heard online which includes an account of the sinking of two E-Boats off Lowestoft on the 15 April 1943. Mick Baron joined HMS Westminster as a 17 year old telegraphist in November 1942 and described how German speaking Hungarians shared their office and listened in on voice communication between the E-boats. HMS Westminster escorted east convoys for the remainder of the war.
The City of Westminster raised £11 million during its Warships Week in March 1942 to adopt the Illustrious Class aircraft carrier HMS Formidable but subsequently unofficially adopted the elderly V & W Class destroyer HMS Westminster and supplied "comforts" to her crew.

In May 1945 Westminster was one of the destroyers of the Rosyth Escort Force sent to accept the surrender of German naval forces in the entry ports on the west coast of Norway. She remained there for three months as the "trot boat" carrying mail and people through the inner leads between the ports and to and from Rosyth. On return to Rosyth she was left on the mud at Grangemouth lying alongside HMS Venomous, stripped out and broken up at Charlestown in August 1948.

The second HMS Westminster, a Type 23 Duke Class frigate of the Royal Navy, was launched on 4 February 1992, and looks very different from her wartime predecessor. In 2000 she was visited by Lt Cdr Derek Tolfree and three of his fellow veterans who served on V & W Class destroyers during the war. Derek Tolfree presented the ship with a copy of his Diary recording events day by day while escorting East Coast convoys in 1942-4.

Officers and Gentlemen in HMS
Westminster

Commanding Officers
Officers
A short list of officers who served on HMS Westminster during World War II - some have links to entries on the unithistories.com web site.

The Ship's Complement
Lt.Cdr. Aymé Arthur Carrington Ouvry RN, the the CO of

Westminster

from December 1939 to August 1942, had a list of the ships complement made before he handed over command to Lt.Cdr. Harold Godfrey Bowerman, DSC, RN. Arranged by rate and by Mess it gives a snapshot of the Ship's compliment of 160 men in July 1942. There is no crew list for

Westminster

but see the list of decorations awarded during the war.
The men in HMS
Westminster
tell their stories

Photographs of HMS

Westminster

at the Imperial War Museum

There is a fine collections of photographs at the IWM taken aboard HMS

Westminster

while escorting East Coast Convoys by Lt R.H. Darwall RN in October 1940 when
Lt.Cdr. Aymé Arthur Carrington Ouvry, RN was the CO
. They are Crown Copyright which expires after fifty years and can be used under the terms of the IWM Non Commercial Licence. Some of them can be seen on this web site.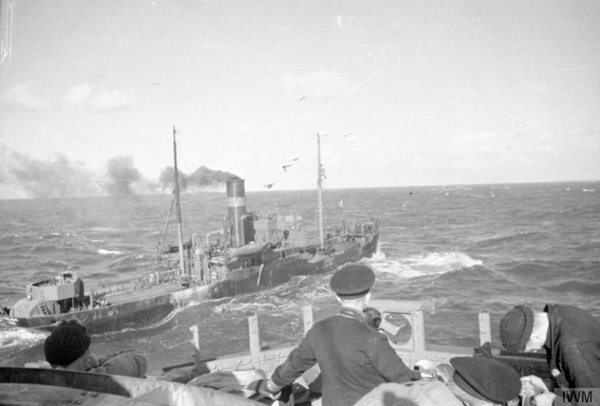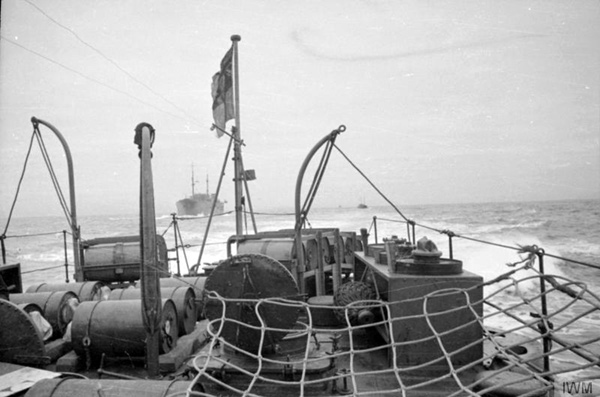 The Captain, Lieut Cdr Ouvry, talks to the leading ship of the convoy through microphone and loud speaker, October 1940

© Crown Copyright: IWM

Midshipman Frank Derek Tolfree RNR (1925 - 2015)

Derek Tolfree spent three years on HMS

Westminster

joining as a 17 year old Midshipman in December 1942 and leaving as Navigating Officer when she was discharged in July 1945. His Midshipman's Journal covering the period from when he joined

Westminster
on 23 December 1942
to 9 March 1944 has been transcribed by Mike Lewis, the son of a rating on

Westminster

, and published on this web site.
You can listen to him describing his time on Westminster in a ninety minute interview on three reels recorded by the Imperial War Museum in 2008 which is held in their S
ound Archive but can heard online. Click on this link to read his DIary and listen to him describe his time on HMS Westminster.

Herbert Reginald
Dyer (IWM interview)

Herbert Dyer was an Asdic operator on HMS
Westminster
(1940-1) and on ML 457 at the St Nazaire raid
Herbert Dyer (1917-2004) was born in Filey, Yorkshire, the son of a farmer at Peterborough, left school at 14 and was playing football
professionally
at Scarborough when war was declared. He wanted to join the Navy up but they only offered him the Army so he waited until he was called up and they agreed to let him join the Navy. HMS

Westminster

was
his first ship.
He joined her
at Portsmouth while she was being repaired after Dunkirk in the Summer 1940. They were "pushed for space" and he slept on the steam capstan at first.

He was an Asdic operator on the bridge with the CO and officers; the Skipper would say "sweep from ten degrees ahead, or "sweep from 10 degrees starboard / port", etc. They never picked up submarines but often detected wrecks, their ping sounded different. The E-boats tended to be waiting for them just off Aldeburgh before they turned into the Thames estuary. The E-boats sank one or two merchant ships on each convoy. He remembered a near miss when he saw a torpedo go past their stern. They attacked at night, came in fast and were off again immediately. By the time the starshell came down they were gone. They just fired at them and hoped for the best. They brought one plane down. They often had a Blenheim as an escort (not fighters) which kept the enemy away. The Forth estuary up to Rosyth was also mined abnd was being swept all the time. He liked the

Westminster

and liked the officers. The bearded first lieutenant used to bet a bottle of whiskey on the results of football matches against other ships at Rosyth. A lot of the crew were trained at HMS

Flying Fox

in Bristol.

After a year with

Westminster

he volunteered to serve on Motor Launches. He trained at Campbeltown and joined ML 457 at Brightlingsea. The MLs were armed with Oerlikons and twin Lewis guns and also had depth charges. ML 457 had nine or ten crew and he was the sole Asdic operator, ASD (Anti-Submarine detector). They had bunks instead of hammocks on the ML. They went to Falmouth and he joined the CO on a Commando boat and learned they would take part in a raid on St Nazaire. They went on a trial trip to the Scilly Isles in dreadful weather (the Commandos were all sick) but had beautiful weather on the crossing to St Nazaire. Sixteen motor launches, two destroyers and the

Campbeltown

took part in the raid. ML 457 was one of the eight motor launches in the 28th Motor Launch Flotilla. They had a nice easy passage until they neared the Loire. The defence was supposed to have been softened up by an air raid, but it came too soon and alerted the defence making things worse. They were fired at from both sides of the river as they ascended the Loire to the Old Mole. They were the only ML to make it to the Mole, the petrol tanks stored on deck to increase their range caught fire on the others and they had to turn back.

The Skipper was a Lt Thomas Alexander Mackay Collier RNVR, the Yachting Correspondent for

The Times

. They tied up at the Old Mole landed their Commandos, a demolition team of about ten or twelve who set off without first tackling the Germans in the Pill Box. T
he twin Lewis guns, their only defence, jammed and the Germans
dropped hand grenades on the bridge which took the skippers leg off and killed or severely wounded all the others on the bridge. The Skipper gave orders to push off from the Mole, they were hit on starboard side and caught fire. They were worried the fuel tanks on the deck would explode and
he ordered them to abandon ship
. Dyer was untouched, swam to the Carley Raft, but the tide was washing them out to sea; they tied up to the mast of a wreck, boarded the wreck. The Skipper died and and another man simply said "goodbye" and slipped into the sea and was gone. The Germans came and picked them up at dawn. Dyer was unwounded but very cold; they were put into an air raid shelter and "all of a sudden they heard the big bang, the

Campbeltown

had blown". They were put in a hotel before being sent to a POW Camp for Naval men.


Courtesy of Mick Baron
Mick Baron was a telegraphist in HMS Westminster from November 1942 - 4

Michael Baron was born at Reading on the 28 October 1925, the son of a self employed builder. He left school in 1940 a few months short of his sixteenth birthday and worked in a solicitor's office for a few months. He tried to join the Army as a Despatch Rider but was told to come back "when he changed his nappies"! He crossed the road to the Navy Recruiting Office and when they learned he could take down Morse at 18 - 20 words a minute
they took him without asking about his age
. He and his brother had learned Morse by sending messages between their bedrooms. He was 16 when he went to HMS

KIng Alfred

at Skegness for basic training and from there to Gordon College in Aberdeen run for the Admiralty by the GPO to learn Morse. When he was seen doodling in class because he already knew Morse and was bored he was sent to Leydene House, Peterfield, on a two week coding course and posted to HMS

Westminster

at Rosyth in November 1942.
Bill Forster recorded an interview with Mick Baron at the Reunion of the V & W Association at Eastbourne in 2014.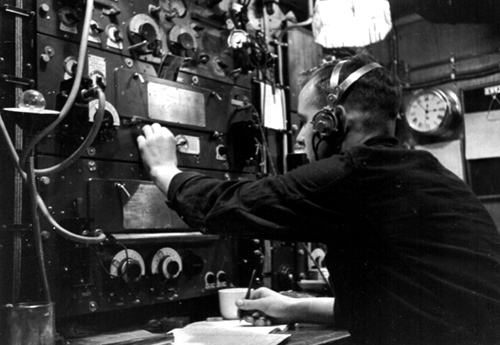 He spent fourteen months on East Coast Convoys, from Methil on the Firth of Forth to Sheerness on the Thames estuary, and estimated that

Westminster

did 66,000 miles during that time.
Her

4.7-inch guns had been replaced with 4-inch AA guns (a WAIR Conversion) to fight off German aircraft. She was often accompanied by a sister ship, HMS

Wolfhound

, or a US "four funneller" transferred to the Royal Navy under Lend Lease.
The convoys of up to twenty ships assembled at Methil and met the escort force of two destroyers and two trawlers at the Isle of May. The Senior Officer of the Escort, Lt. Cdr. Harold Godfrey Bowerman, DSC, RN was on

Westminster

. "Stumpy" Bowman was only 5 ft 3 inches and had to stand on a box on the bridge to be seen but was greatly respected.
Earlier in the war

Westminster

earned the title "E-Boat Killer No 1".


Depending on the speed of the convoy (set by the slowest ship) it took from 8 - 10 days to reach Sheerness. The main danger was from E-boats which had a top speed of 40 knots and mainly attacked at evening or night.
When they came within range of the E-boats, south of Grimsby, they followed one of four channels behind the East Coast minefield
, labelled A to D
. Channels were often closed while they were swept for mines laid by the E-boats. They occasionally called in at Grimsby and sometimes continued round the south coast to Portsmouth.


A Petty Officer Telegraphist was in charge of four telegraphists, two per watch. The photograph on the left is of P.O. "Tubby" Watts. Stan Hanniford was another member of his team. Two Hungarian interpreters who spoke German
shared the office and listened in on voice frequencies to the E-boats. On one occasion Mick saw the Hungarian coder turn white when an e-Boat asked permission to fire at the escorts. On arrival at Sheerness they left immediately to take a waiting convoy north but generally spent a couple of days at Rosyth for maintenance and repairs which allowed time for a trip to the Church Hostel in Dunfermelin for a bath and relaxation. On his first trip south, being very young, he did not hear the alarm go off and slept right through an attack. He remembered one man being half washed overboard and then washed back.
Westminster

was not attacked but
occasionally lost a merchant ship.
Derek Tolfree described in his journal how

Westminster

and sloop

Widgeon

attacked and "routed" a strong e-boat force off the east coast on the morning of the 15 April 1943.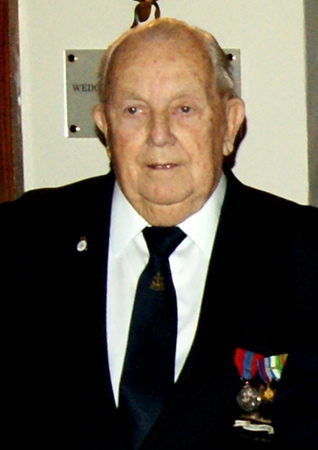 On leaving

Westminter

he was sent on short courses at
Leydene House, Peterfield, and posted to the Combined Operations station at Sheerness. He joined LCT 740 in Scotland as Telegraphist. She was powered by two 500 HP Paxman Ricardo diesel engines and commanded by a lieutenant who had a junior officer, a Coxon, a motor mechanic with assistant and Mick Baron as telegraphist. They took her through the Irish Sea to Falmouth and loaded Canadian tanks for the Normandy beaches on D-Day but this was cancelled without explanation. Two months later LCT 740 and LCT 741 were ordered to the Far East. They broke down in the Bay of Biscay and had to call in at neutral Portugal where they went ashore for two hours in civvies. The LCT could only do 4.5 knotts and without the tanks aboard it was a bumpy uncomfortable trip. They were at Gib for a month and spent a few weeks in Malta where they celebrated VE Day before continuing to Alex and through the Suez Canal to Kabrit where they heard the news of the Atom bomb being dropped on Japan. They left the LCT and returned to Britain on troop carriers. On arrival further courses at Petersfield were followed by a posting to Arbroath on Air Sea Rescue boats where he was stationed until he was demobbed.


Home and back to his parents at Reading but he needed a job and the Admiralty offered him one at the Y-Station (intercept station) at Scarborough where they did a lot of "naughty things". They picked up signals from Russia, mostly naval and diplomatic. At first they took them down by hand but switched to typewriters later and sent the signals to Blethchley for deciphering. That was Mick Baron's job for forty years. Computers came in in 1980s. In 1982 he was sent to the Ascencion Islands to intercept Argentinian traffic during the Falklands War. Unknown to Mick, his son joined Sigint
(Signals Intelligence Agency)
in 1985 and later moved to GCHQ. Michael Baron's wartime job as a telegraphist became his lifelong occupation and he has lived in Scarborough since moving there to work for Sigint at the Y-Station when the war ended.

Mick Baron always attended the reunions of the V & W Destroyer Association and Bill Forster recorded the following interview with him at Eastbourne in 2014. He was 92 when he died at his home in Scarborought shortly before Christmas 2017.


HMS Westminster and the City of Westminster

The City of Westminster raised £11 million during its Warships Week in March 1942 to adopt the Illustrious Class aircraft carrier HMS
Formidable
but subsequently unofficially adopted the elderly V & W Class destroyer HMS
Westminster
and supplied "comforts" to her crew.



Pimlico and Westminster News




Friday 11 December 1942





Westminster and Pimlico News


Friday 8 January 1943




Westminster and Pimlico Times

Friday 30 April 1943




Pimlico and Westminster News

Friday 7 May 1943




Pimlico and Westminster News
Friday 1 February 1946








HARD LYING

Conditions on V & W Class destroyers were so bad in rough weather that the men who served on them were paid hard-lying money. These stories by veterans who served on HMS Westminster were published in Hard Lying, the magazine of the V & W Destroyer Association and republished in 2005 by the Chairman of the Association, Clifford ("Stormy") Fairweather, in the book of the same name which is now out of print. They are reproduced here by kind permission of Clifford Fairweather and his publisher, Avalon Associates. Copyright remains with the authors and photographers who are credited where known.
The war in the Baltic 1919



Celebrations for nine of the V&Ws (

Valkyrie, Veralum, Veralum, Vendetta, Venomous, Wakeful, Wessex, Windsor, Wolfhound,

and

Woolston

) was very short lived, for they were despatched to the Baltic to show the flag against the Bolshevik regime. At that time the Baltic was strewn with mines laid by the Russians and Germans and it was not to be long before casualties would occur. One of our cruisers, the

Cassandra

struck a mine and started to sink, two of the V&Ws (

Vendetta

and

Westminster

) immediately went to her assistance and in total darkness and freezing temperatures took her crew off.


If you have stories or photographs of HMS Westminster you would like to contribute to the web site please contact Bill Forster or Vic Green

Find out how you can help us research this ship and build this web site


The current HMS
Westminster
, a Type 23 Frigate, was presented with a "book of memories" compiled when her namesake was paid off at the end of the war
---
Return to the Home Page of the V & W Destroyer Association
Return to the Index Page for the 69 V & W Class Destroyers
---